10Bet is an interesting online UK bookmaker. Not only it is on the market for more than a decade and a half, but it also sports some decent odds, intuitive interface, and lots of interesting promotions. It might sound like it's all perfect, but it isn't. For that reason, we suggest you stay with us until the end of the review and see what we liked about 10Bet and what we didn't like.
10Bet Welcome Bonus – Is It Generous?
As always, we start our review by talking about the welcome bonus. After all, it is one of the most important factors for an online bookmaker. 10Bet won't offer the most generous welcome bonus you've seen, despite it looking like that. In the image above, you can see that it gives you £50, which is… well, a decent sum of money, right?
Usually, UK online bookies will give you up to £30 but will impose no wagering requirements. This is a perfect balance that makes the bonus not very attractive, but on the other hand, easy to wager. Unfortunately, 10Bet's welcome bonus conditions aren't the best out there. Let's take a look at the bonus conditions applied by 10Bet: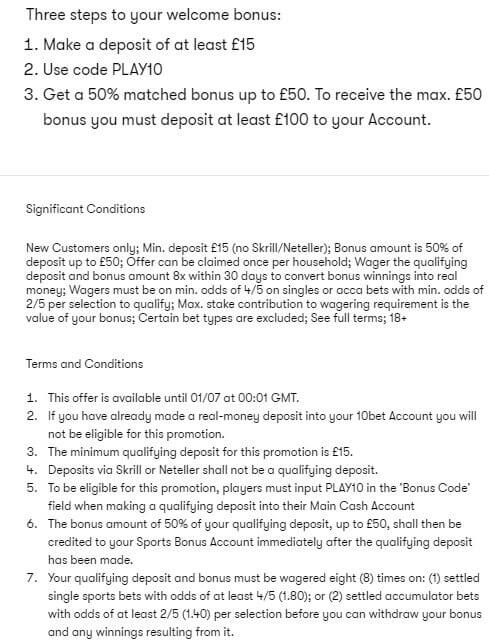 The first thing to do is to deposit at least £15. After that, you'll need to use the code PLAY10 to become eligible for a welcome bonus. An easier route would if you use the button below. If you click on it and register, we'll automatically apply the bonus code, making you eligible for a welcome offer as soon as you deposit the required amount of money.
In 10Bet, you don't get a 100% bonus. Instead, it's a 50% bonus, up to £50. Since it's 50%, you must deposit £100 or above to get a £50 bonus. As always, you'll need to somehow wager your rewards. To do so, you need to play a qualifying bet on the odds on 4/5 (singles) or 2/5 (Acca), and if you manage to wager the bonus ANd your deposited funds 8 times, you can withdraw your bonus-related winnings.
To be honest, such high wagering requirements aren't a standard for online bookies in the UK. Bookmakers such as 888Sport and Bet365 won't do something like this. They don't have wagering requirements, making it easy to withdraw your bonus-related funds. If you want a more generous welcome offer, the aforementioned bookmakers are far better options.
10Bet Promotions – Are There Some?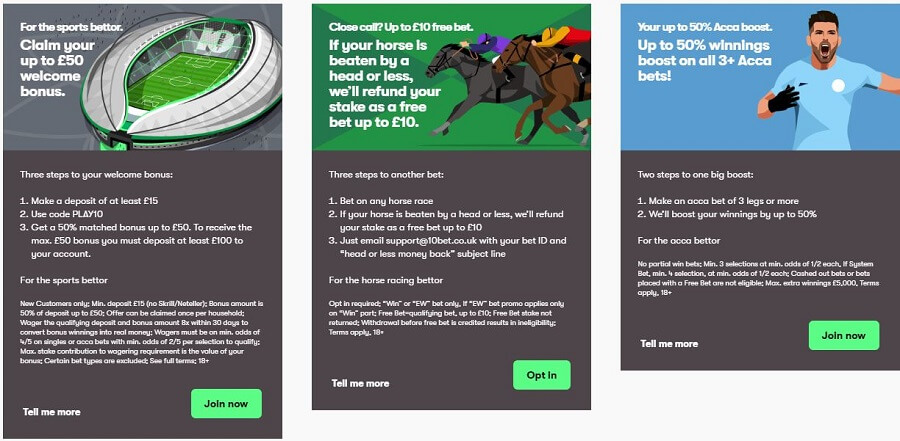 Promotions at 10Bet aren't very abundant, but they're generous and aimed towards the most popular sports – football and horse racing. In the UK, these are the most popular sports for betting, and in most cases, an array of promotions is for them. Here, we have one promotion for horse racing and one for Acca bets. Of course, the welcome bonus promotion is here and we covered it a moment ago.
What about the promotion in the middle?
It's nothing unique or special, but significant nonetheless. If you bet on a particular horse to win and it's beaten by a head or less, you can get up to £10 in free bets. All you have to do is to email support@10bet.co.uk with the bet ID and get your money back. There are some conditions applied to the promotion, logically, but they're not very strict.
Moreover, if you often bet on horse racing, you'll have no problems getting the promotion from time to time.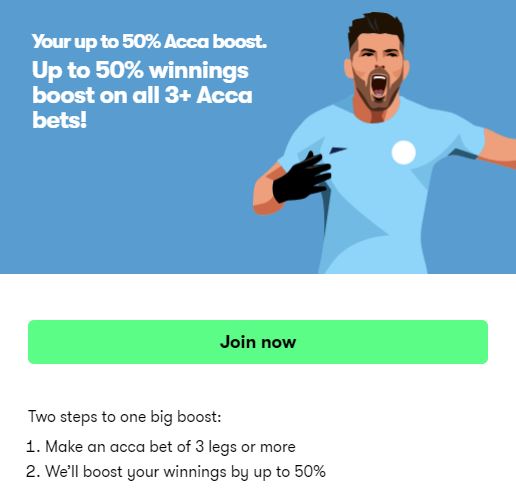 Do you want to boost your winnings by up to 50%? If so, 10Bet offers you a chance to do so. To be eligible for this promotion, you just have to make an Acca bet of 3+ legs and the bookmaker will host your winnings by 2-50 percent, depending on the number of folds. Trebles, for example, give you a 2% boost, while 16 folds let you get the maximum boost.
When it comes to the odds, you must make sure that each selection is at least 1/2 (1.50).
As you can see, getting rewards on 10Bet is quite easy, despite having only 2 promotions for the sportsbook section. Even if you don't manage to wager your welcome bonus, you'll still get some money from these offers.
Deposit/Withdrawal Methods and Limits
Being a relatively popular bookmaker in the UK, 10Bet must adapt to the ever-growing customer needs. Some people pay with their VISA cards, while some prefer E-Wallets. And the hardest thing is to satisfy each and every player. Well, the bookmaker did an excellent job of including some of the most popular payment methods in the UK. Here's a screenshot from the 10Bet website:
You'll say that other bookmakers will give you more payment methods. In some cases, you may be right. However, it's not about the quantity but about the quality of the payment methods. For instance, 10Bet offers PayPal. Are there other bookies with more methods but with no PayPal? Sure! Is it good? NO.
Apart from credit/debit cards, 10Bet gives you the possibility to deposit/withdraw money using Skrill, Neteller, PayPal, Paysafecard, and so forth.
Let's review the payment limits on 10Bet. Upon creating your account, the bookmaker will ask you if you want to limit your deposits. The minimum deposit here is £10, which is lower than the amount eligible for a welcome bonus. As for the upper limit, 10Bet is pretty generous – take a look: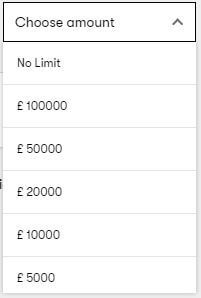 You can limit your deposits up to £100,000, which is awesome if you're a high-stakes player. The minimum withdrawal is also £10, and the maximum withdrawal isn't stated anywhere. But, given that the deposit limit is so high, we can only assume that the upper limit for withdrawals is the same.
Luckily, the bookmaker doesn't impose any withdrawal fees, so everything you win is yours to take. Deposits are instant while withdrawing money will take some time. For credit/debit card users, it's around 3 to 5 days, while E-Wallet users will enjoy faster withdrawal times of up to 48 hours.
10Bet Betting Variety
If you love betting on a multitude of sports, 10Bet will be God-given to you. This is one of the largest sports varieties we've ever seen!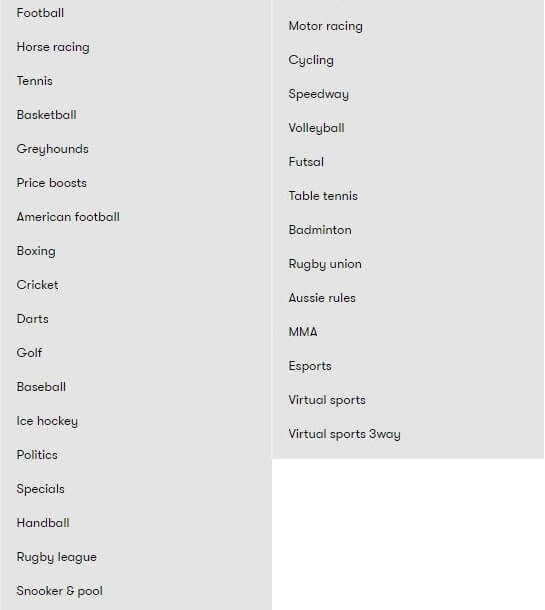 We couldn't fit it vertically here, as it is displayed on the site, so we had to do some editing to fit it all together. 10Bet offers 31 sports in total (on more in comparison to Betfred), which also include some non-sports events. What we don't like here is that sports aren't displayed from A to Z. Instead, you have football and horse racing at the first two spots, and then, you're looking at other popular sports such as tennis, golf, darts, Greyhounds, and so forth.
The bad thing is that you can't switch to the "A-Z" view, making it hard to get used to in the beginning. In terms of betting variety, as we said, the bookmaker will impress you. Tons of football leagues, worldwide Politics betting, Specials, rugby, Aussie rules, Esports, and even Virtual Sports are there. We like the addition of Futsal, as well. Not only it is fun to bet on but also to play in real life.
Now that 10Bet got us covered with all of the sports events, it's time to review the betting options and see what kind of bets can we place. Pay close attention to the next paragraph!
Betting Options
Without a shadow of a doubt, football is the most popular sport on this betting site. There are literally tons of options that will make even the most experienced betting lover sometimes confused. Just look at this – holy cow!
And just so you know, that's NOT all. Just imagine having all of these bets at your disposal for every single football match. You could say that this is overwhelming and for 90% of gamblers, you'd be right. However, these are all new chances at winning some good money if you know how to utilize different bets for different matches and situations.
Apart from the standard fixed-odds bets, you get to bet on the exact score, goalscorer,  handicap alternative, 1X2 fouls, double chances and goals, exact score first half, and so on and so forth.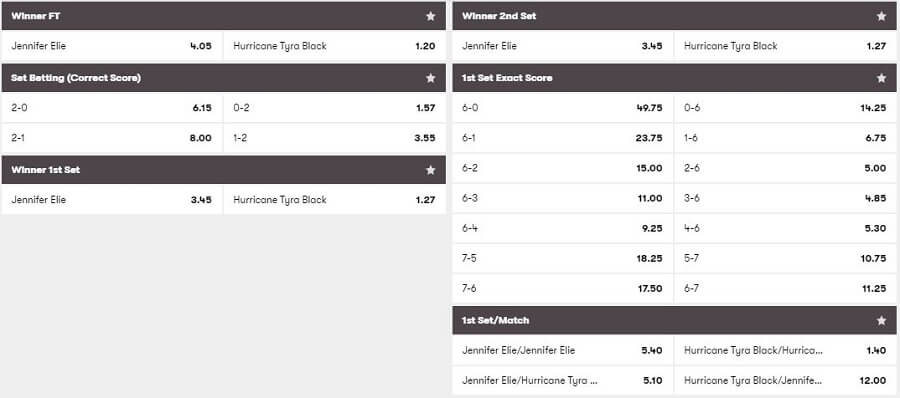 Can you guess the sport? Tennis – of course! The betting options here aren't very impressive, but also not scarce. William Hill did a poor job of allowing us to bet on different factors of a tennis match, whereas, 10Bet did that very well. Apart from the simplest 1 or 2 bets, you can bet on the correct score of the set, winner of the 1st/2nd set, the exact score of the whole match, and others.
Finally, we'll show you a bit of MMA, where 10Bet also shines: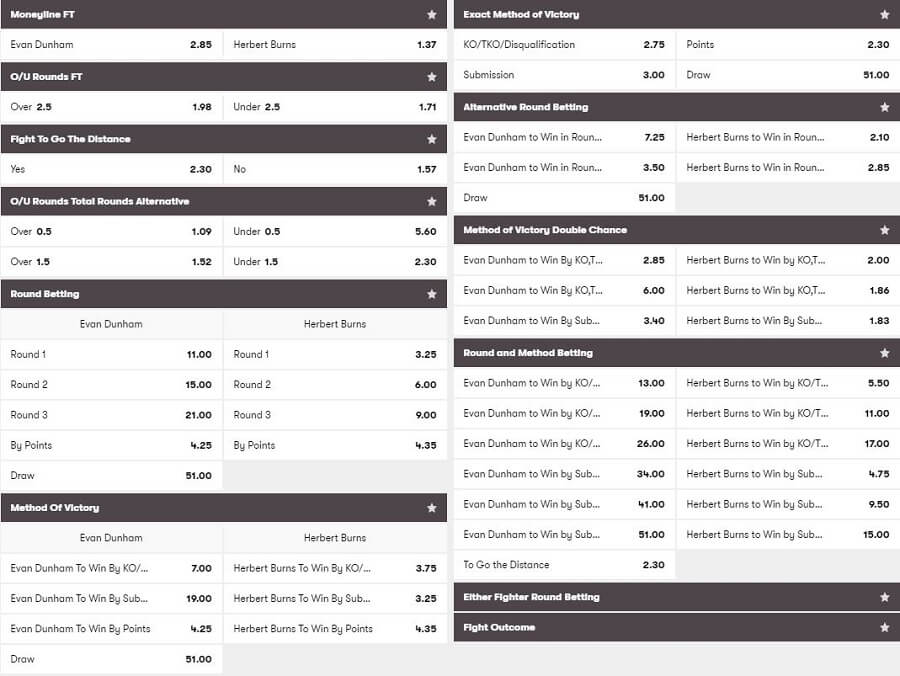 We'd like it to be the same when it comes to boxing, though. Boxing offers betting just on the winner of the match and that's all. MMA, on the other hand, is a completely different ballgame. You can bet on rounds, method of victory, fight to go to the distance, alternative round, the exact method of victory, etc, etc. We encourage you to visit the website and see for yourself.
What you'll see is the impressive betting variety that will not leave you indifferent.
The Odds at 10Bet – Are They Competitive Enough?

The odds of online bookmakers in the UK are quite important. They determine how much money you can win if a certain bet wins. The higher the odds, the better it is, simple as that. Our research showed that 888Sport has the highest odds, closely followed by Bet365. These two are the best online bookies you can bet on right now.
10Bet holds its end of the bargain but definitely not on the highest level. In the image above, we compared it with Karamba, yet another popular bookie in the United Kingdom, so it's best to analyze the results we got ASAP.
In the first match, Karamba is a clear winner, with slightly higher odds on all of the outcomes. The second match is a draw, as both bookmakers have the exact same odds on all three outcomes shown in the image. Finally, in the third match, 10Bet gains an advantage over Karamba. The odds for Draw are higher by 0.1, while the odds for the away team are 0.25 higher.
As we can see, these aren't the highest odds you'll see around, but they've serviceable nonetheless. 888Sport is still a much better choice in this regard, though.
10Bet Special Features
The goal of every online bookmaker is to make you feel as if you were in a land-based bookmaker. 10Bet also tires the same, but once again, it's not on the level we'd like it to be. Let's see what special features this bookmaker will give to you:
10Bet Bet Builder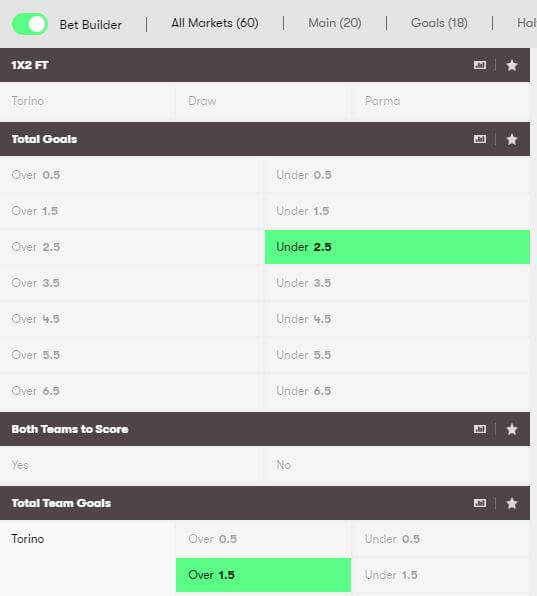 The bookmaker offers a pretty simple Bet Builder feature. It's not under Promotions or displayed anywhere explicitly. You'll have to click on the match you want to bet on, and then, tick the Bet Builder box. From here, you just have to pick two bets from the betting options below and make your own bet. We did so to show you how to do it and it's very easy.
It's like placing two separate bets on the same match, but both bets are actually one combined bet. Making a combination like this can yield some good money if you're lucky.
Price Boosts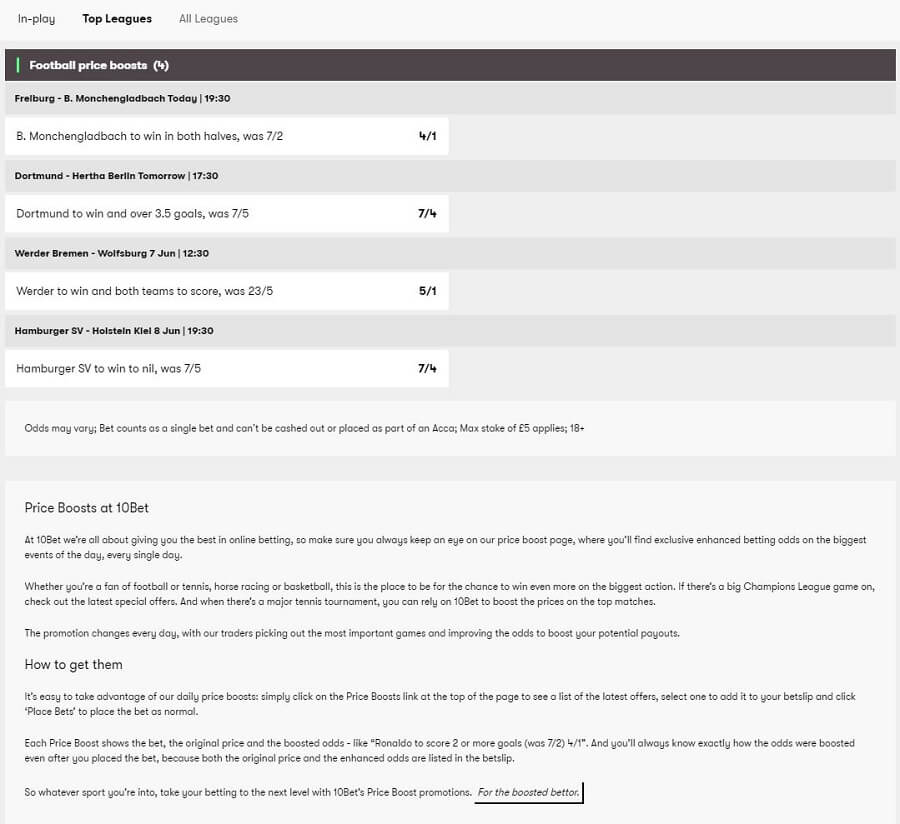 Price boosts are an excellent way of making more earnings from betting. Essentially, these are mini-promotions that will give you odds boost each day for eligible matches. Football price boosts are here, but you can find them in other sports, as well. We can see that the odds are quite increased in the screenshot above – from 7/2 to 4/1 in the first match, which is a 0.5 difference in decimal odds.
The trick is that you can only play them as singles and you can stake up to £5.
In-Play Betting
In-Play betting is a must-have for every online bookmaker in the UK. Nowadays, pre-match betting isn't a big deal, as it's much easier to win money with in-play betting. To explain it better, it's a live betting, where you place bets while a certain match or a game lasts. For instance, you can place a bet on what you think will happen in the next 5 minutes, who is going to get a red card, etc.
We like that 10Bet shows you the match stats while you bet, which makes it easier to determine the next event in the game.
10Bet Mobile Gaming Experience
While the majority of online bookies are focused on marketing both PC and mobile experience, 10Bet takes a different approach. On its website, you won't find anything about 10Bet mobile, mobile gambling, betting, and so forth. That doesn't mean that the platform is unoptimized for mobile phones, but rather that there are no apps for it, which is okay… only if the mobile version of the site works well.
Surprisingly, the bookmaker provides a decent experience on mobile phone. And to be honest, the website is a copy-paste of the one on the PC – seriously. It looks the same, just without the side menu where you choose sports. 10Bet fixed it easily, with another side menu that you can open in the top-left corner. Placing bets is easy from there.
Everything you choose goes to the Bet Slip, and since banking options are available, depositing the money for your bets is easy. Using the site, you can also contact the support about potential issues and switch to other 10Bet's brands such as Casino and Live Casino. All in all, an intuitive and pleasant experience.
How Fair and Secure is 10Bet?
It's time to review 10Bet in terms of safety and security. If we scroll down to the bottom of the website, we'll see what we see in the image above. Some data about the company, Responsible Gambling companies, and that wraps it up. The important data is in the company's data. We can see that 10Bet is owned by Blue Star Planet Limited, a company stationed in Malta.
The exact location of the company is provided, which is the proof that they're not hiding behind masks. Furthermore, the bookmaker has a license from UKGC, with the license number clearly shown. Given that it operates with BeGambleAware and GamStop, it's clear that we're talking about a verified online UK bookie.
These companies are responsible for keeping your gambling in check, preventing a possible addiction. For security, 10Bet uses 128-bit SSL encryption, which is technology's last word for this purpose. It will ensure that your data stays safe, even if hackers try to break into the site.
Loyalty Program
Loyalty programs are great for rewarding your loyal players with some decent rewards. Whereas 888Sport has one, 10Bet falls short of it. In some instances, we can forgive that, especially if the provider has five, six, and more promotions that you can take advantage of.
Here, though, you get 2 promotions, with no other ways of getting your loyalty rewarded. 10Bet is definitely going to have to do better than that. And while it does so, you can still register on 888Sport and enjoy a fully-featured experience.
10Bet Customer Support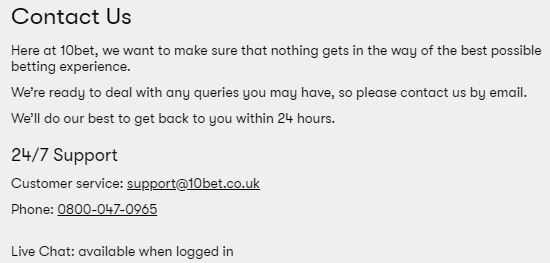 A trustworthy online bookie should have its customer support in check. You have no idea about how BAD reviews we saw about bookmakers who have poor customer support. Despite being somewhere in the background, customer support is what keeps a bookmaker rolling. Without it, it's practically a dead company, as no one can help the players fix their betting-related issues.
10Bet ticks all the boxes in this regard. They give you email support, phone support, and live chat support, with all three of them being available 24/7. Finally some good news!
Live chat support is almost instantaneous and you'll get a response within a few minutes. For minor issues, this is a much-needed solution. Email support is a lot slower and will take up to 24 hours to respond, while phone support is instant and great for severe and urgent issues.
We can say that we're satisfied with 10Bet's customer support and we didn't have any issues in our review period with it.
What do Other Users Think About 10Bet?
Before we wrap up our 2021 10Bet review, let's see what other users think about this UK online bookie. We'll focus on Trustpilot reviews and give you one positive and one negative feedback, to see that people's bad reviews aren't always credible.

A new review from May shows us a satisfied user. He's satisfied with odds, bonuses, and customer support, which is perhaps one of the best things about 10Bet. You can find at least 20 reviews regarding customer support, especially particular support team members. We suggest you take a read – the feedbacks for this bookmaker are quite interesting!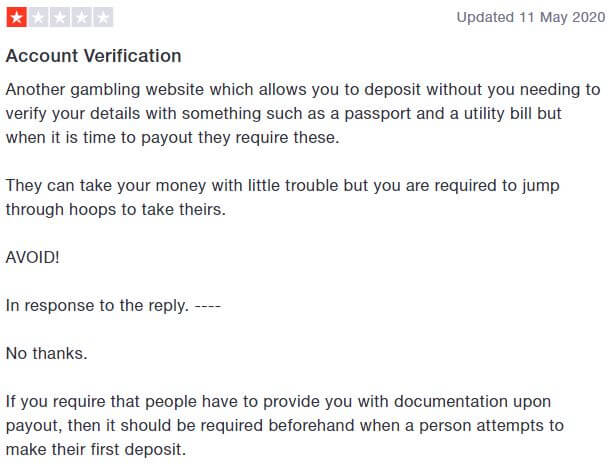 This user with a 1-star review complains about 10Bet requiring verification before the withdrawal. We have many questions for this user and one of them is – why is it a problem for you to verify your account? If you're so keen on betting, why not do that? Or perhaps, why did you even deposit your money? Before depositing, read the bookmaker's policy and terms & conditions.
These types of reviews aren't valid for us and neither should be to you.
Conclusion – Should You Bet on 10Bet?
Let's give our review a proper conclusion. Should you play on 10Bet?
It depends on what your criteria are. We like it mostly because it looks beautiful and has an intuitive interface when compared to Bet365, for example. While its odds aren't the best, the betting variety and the sports market are second to none.
The main let-down for us is that you have to wager your welcome bonus 8 times and the lack of certain promotions. But in the end, 10Bet managed to leave quite a positive impression on us, which means that we can recommend betting on it.
Should you decide to do so, you can claim your welcome bonus simply by using the button below.
How to Register on 10Bet?
Let's quickly go over the registration process on 10Bet. To initiate it, click on the green Registration process in the top-right corner:

This is a three-step registration and the first step is displayed below: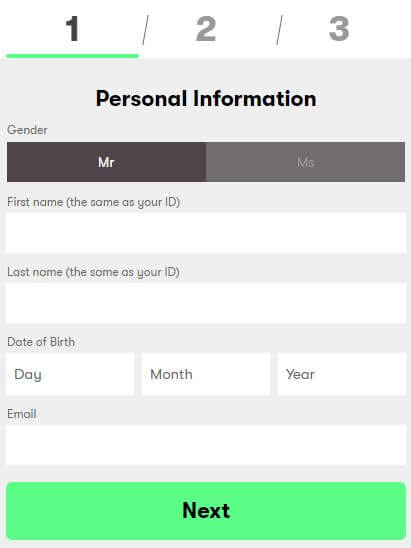 Here, you need to enter basic info about yourself – full name, gender, date of birth, and email. Click Next to proceed to the next step: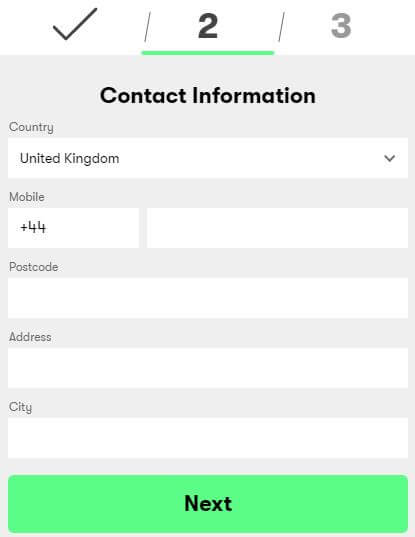 This is a very important step where all of your information needs to be TRUE. The bookmaker will hold you accountable for giving out false info by terminating your account later on. Choose your country, mobile phone, postcode, address, and the city, and click Next: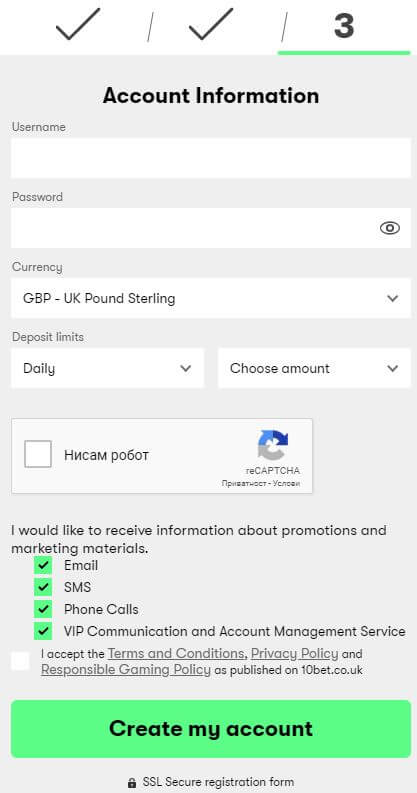 The last step is an easy one. Create a unique username and password, choose your currency, and if you want, set your deposit limits. Choose if you want to get notified about promotions by 10Bet and accept Terms and Conditions.
Click on Create My Account and you'll become a registered user of 10Bet.
Verification Process – What Do You need?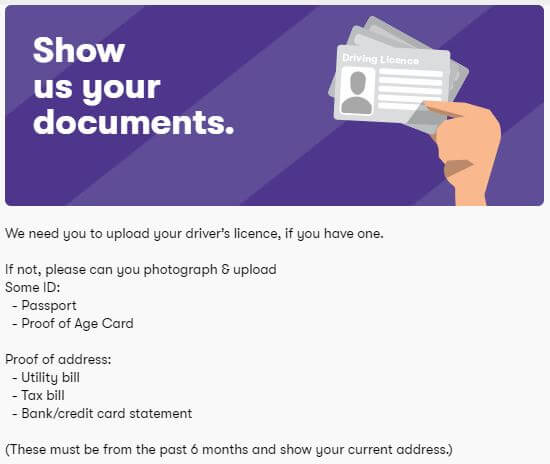 Verification at 10Bet is quite simple, which is shown in the screenshot from the website. You need a few basic documents, upload them to the 10Bet website, and you're good to go. They want your driver's license if you have it, and if not, you can upload a copy of the passport or ID. This will verify your identity.
The second step is to verify your address by uploading either a utility bill, tax bill, or a bank statement. When you fulfill both conditions, the bookmaker will fully verify your account, allowing you to withdraw funds.
FAQ
For the end of our 10Bet review, let's answer some of the frequently asked questions about this sportsbook:
🔎 Is 10Bet safe?
Yes, 10Bet is safe. It's an online bookmaker with a UKGC license, hence it's approved by the UK to operate without problems. Just click here to open an account on 10Bet!
📌 Who owns 10Bet?
10Bet is owned by Blue Star Planet Limited, a company based in Malta.
💻 Does 10Bet have live chat?
Yes, it has live chat, but only for registered users. If you're not a registered user, you can still use email or phone support.
💰 Do 10Bet ban winning accounts?
No, it doesn't ban winning accounts, except if it detects some irregularities. If your account isn't verified, you'll probably be banned, as 10Bet requires verification to be able to withdraw money.