Betfred is a well-established online bookmaker in the United Kingdom. It was founded in 1967, and for a long time, it was only a land-based bookmaker. Nowadays, this is really a popular option for many UK players, which made us wonder if it's any good. We've done our due diligence, analyzed Betfred, and wrote the review below. We suggest you read it thoroughly before registering on Betfred, as there are some important things to talk about.
Betfred Welcome Bonus – Is It Generous?

Let's start off our review of Betfred with the welcome bonus. Betfred is generous right off the bat, albeit, it has slightly higher conditions for getting that welcome bonus. First of all, you must be from the United Kingdom to be eligible for it. Also, you can access the website only if you're either from the UK, Ireland, or Gibraltar. In other words, ALL other countries can NOT place bets on Betfred.
Now, if you fulfill these conditions, let's talk more about the bonus itself. Betfred gives you a welcome bonus in the form of free bets, up to £30, if you place a qualifying bet with a stake of £10. The qualifying bet here is the one with the odds of 1/1 (2.0) or higher, and getting your welcome bonus is possible within 10 hours of settling your first bet.
It is, more or less, the standard bonus for the UK online bookies. We like, for instance, Mansion Bet's welcome bonus, as it is a much higher one, although it has six times wagering requirements. Here, Betfred won't require you to wager your bonus. You just get it, place bets on the matches you want, and withdraw your winnings easily.
Not all is perfect on Betfred, though. This bookie doesn't allow you to get a welcome bonus if you deposited cash using VISA, MasterCard, or E-Wallets, leaving a small window for you to even claim it. After all, many users use PayPal, including us, as well as VISA, Skrill, and Neteller, for funding their accounts.
Betfred Promotions – Are There Some?
A welcome bonus is just one of the promotions that Betfred has in its sleeves. This online bookmaker is a true galore of promotions, letting its active users enjoy constant rewards and bonuses. The good thing is that they're not catered towards football players strictly. Instead, we have some horse racing and Greyhounds promotions as well, that will satisfy even the most demanding betting lovers. Here's a glimpse of what Betfred offers: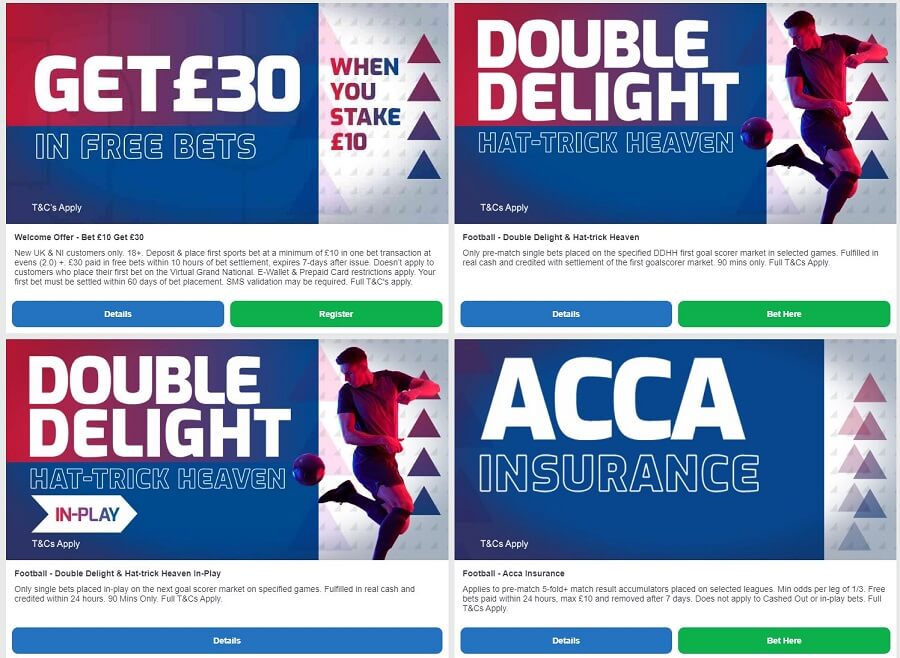 The promotion in the top-left corner is the welcome bonus, while in the top-right corner, we have a promotion called Double Delight Hat-Trick Heaven. Quite a fancy name, huh?

This is a football-oriented promotion that you can get into by playing a pre-match single bet on the first goalscorer from any of the eligible games. The goalscorer you've vouched for needs to score two goals, and in that case, Betfred pays you double the odds. If the hat-trick happens, you get treble the odds in pure cash. We like this promotion a lot, as it can bring you a lot of money. However, it's not the easiest one to win.
You need to bet on a player that usually scores a lot of goals, such as Messi, for example. There's another version of this promotion, too. Whereas this one applies to pre-match betting, the second promotion is for in-play betting, and similar rules apply. As for horse racing, we like this one:

Free Bet if 2nd? It is possible with Betfred! Simply place a bet on some of the nominated races on the specified day, and if your dear horse ends up being second, you get a free bet, up to £10. Such a nice way to get back some of the money you lost!
There are lots of other promotions on the website, but we implore you to take a look at them by yourself. We could go on and on like this – you get the point. Many players from the UK, even the demanding ones, will most likely enjoy what the bookmaker has to offer.
Deposit/Withdrawal Methods and Limits
A trustworthy online bookmaker should always have a plethora of payment methods at your disposal. The United Kingdom isn't a small country, and many people use different payment methods. Some use VISA, some use PayPal, and some like depositing cash using Bank Transfer. Whatever the case might be, you need to check if the bookmaker you've chosen supports the payment method you're using to fund your account. Here's what Betfred supports:

Unfortunately, the bookmaker isn't very generous when it comes to payment methods. Sure, VISA and MasterCard are there, but PayPal isn't on the list. Arguably, PayPal isn't the best method out there, but for us, it's the most convenient one. On top of that, it allows for some quick withdrawal times that VISA cards can't accomplish.
In terms of E-Wallets, Betfred supports Neteller, Skrill, and Pingit. Finally, there's Paysafecard, which is seemingly the only payment method eligible for a welcome bonus. Remember what we said previously in our Betfred review – VISAs and E-Wallets aren't eligible, leaving Paysafecard as the only option. But then again, how many of you use it?
Exactly.
Now, let's talk a bit about the limits. Both minimum deposit and withdrawal limits are £5, regardless of the payment method you're using. The bookmaker doesn't clearly state what are the upper limits, as you can also limit your deposits manually. The deposit limit can go up to £99.000, whereas, withdrawals aren't mentioned anywhere.
Should you decide to withdraw money, know that there are no fees, but withdrawals also won't be instant. You'll have to wait for about 24 hours when using Neteller and about 3 working days when using credit/debit cards. Deposits, on the other hand, are instant, whatever method you're using.
Betfred Betting Variety
Okay. It's THAT time of the review again, where we talk about betting variety and sports that you can place bets on. We must admit that Betfred did an amazing job in this regard, offering some of the sports markets that are rarely seen in other UK online bookies. And if we count them all, we'll get 30 sports in general, which is simply impressive and a little bit more in comparison to Unibet!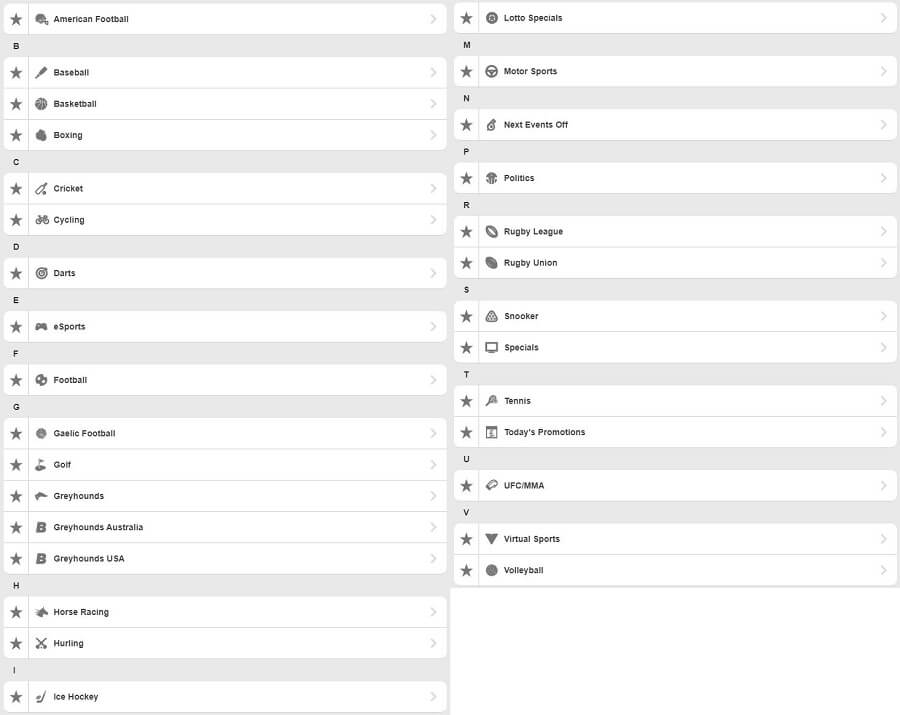 The bookmaker even sorted them out beautifully, from A to Z, making it easier to find the sport you like. We like that it called Football Football and not Soccer. Soccer is in the USA and Football is in the UK – some bookies need to learn the difference!
So, what is unique here? Well, in our opinion, the addition of several sports markets, such as Greyhounds USA, Hurling, and Lotto Specials. Not all of the available markets are sports events. Politics, for example, aren't, yet they're very interesting, especially if you bet on the next USA presidential election. You can also enjoy the aforementioned Lotto Specials, which let you earn a huge amount of money.
Virtual Sports are also there, and for gaming lovers, Betfred offers E-Sports. They have a bit of something for everyone, and that's never a bad thing.
Betting Options
Recently, we reviewed William Hill. This bookmaker, despite being one of the oldest in the UK, didn't impress us in this regard. There were too little betting options, which isn't something that ambitious betting lovers look forward to. On Betfred, the situation is different. Let's take a look at the football betting options: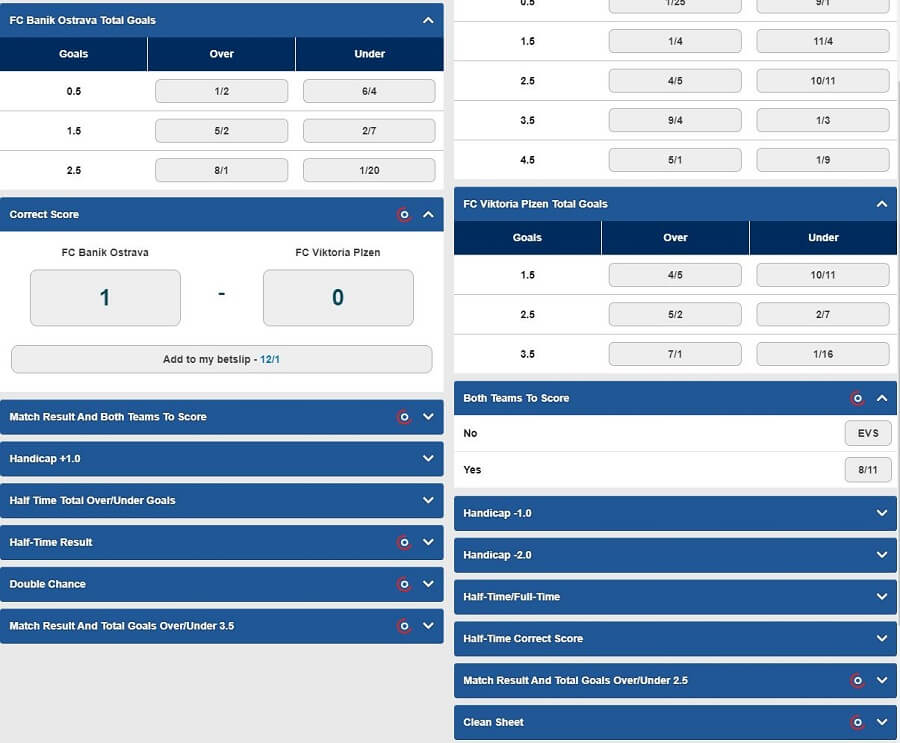 This is a pre-match betting screen, with LOTS of options. You can bet on correct score, goals, handicap, clean sheet, double chance, half-time result, and so forth. Furthermore, Betfred lets you choose betting categories for football, where different bets can be found. Apart from these, you can bet on goals, red/yellow cards, corners, and literally every aspect of a football match. That's how you treat your loyalty fans – kudos to you!
Wait – can we say the same for the other sports? Well, here you go, you be the judge: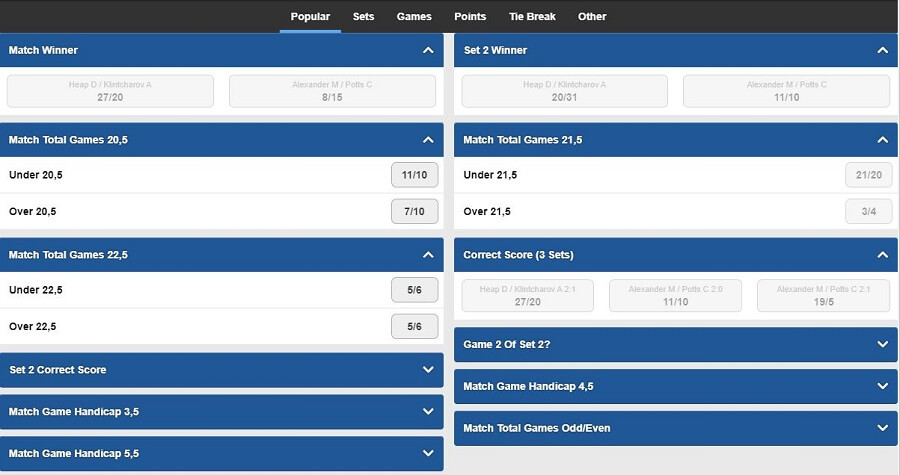 Wanna bet on tennis? Good. You'll enjoy it as much as we did. This is a "Popular" category of bets, but there's more. If you click on Sets, Games, Points, Tie Break, or Other, you can see different types of bets. You can then bet on sets, games, and even points, regarding how many points will the player have at the end of the game, and so forth.
Handicap options are here, as well as betting on a correct score in the particular set. Betfair goes ballistic with its betting options, which is one of the reasons why we're so impressed with it.
Oh, did we mention cash-outs? Betfred offers them on selected matches when you bet in-play. With a cash-out, you can get the money back if you think that your bet is going to lose. Conversely, there are partial cash-outs that let you return a certain amount of money, while the rest of it will stay on the bet, in case it wins.
The Odds at Betfred – Are They Competitive Enough?
Let's review the odds at Betfred. This bookmaker has, overall competitive odds when compared to some of its competition. Sure, it's not better than 888Sport or Bet365 by any means, but we can't say it's not good enough. This time, we compared Betfred with Karamba, as it is another very popular online bookie in the United Kingdom. Here is our comparison: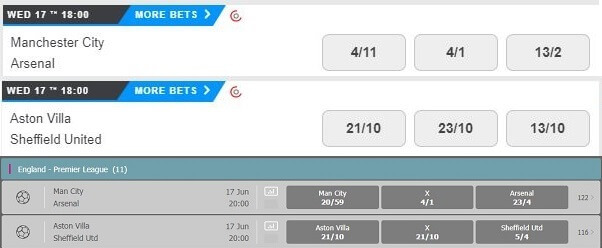 Premier League is perhaps one of the best football leagues in the world. Hence we decided to compare some odds there. In the first match, the odds are slightly higher for Manchester City on Betfred, while for Arsenal, the odds are MUCH higher. If we convert them to decimal odds, it's 7.50 on Betfred and 6.75 on Karamba. Now, just imagine you placing a bet on that team and winning – the money you're going to win will be significantly higher on this bookmaker.
In the second match, Betfred once again wins. While the odds for Aston Villa are the same, the odds for X and 2 are higher on Betfred. That's why Betfred is in our top-ten list and Karamba isn't. Our list of best UK online bookies isn't made just like that. We conducted thorough research in every aspect, and this is just another proof of that.
Betfred Special Features
So far, this online bookie left a pretty good impression on us. With the odds being an all-time high, it's time to see if it offers some special features.
Live Streaming

Live streaming, who doesn't love that? Betfred offers a pretty good live-streaming platform for its users, letting you enjoy a multitude of sports. Many online bookies focus primarily on Greyhounds and horse racing, which is great. But, it's always better to include more sports in your basket.
Here, we can see that the bookmaker offers not only horse racing, but also football, tennis, badminton, basketball, and even ice hockey. The only condition for streaming is to be a registered user and to have as little as £0.1 in your account.
Bet Builder

#PickYourPunt Builder is yet another interesting feature of Betfred. But don't fret – it's just a fancy name for a Bet Builder. This a great feature for inserting some variety to your betting and coming up with custom bets for each match.
In return, you can make a bet with fairly high odds that still has a decent chance of winning.
Betfred Blog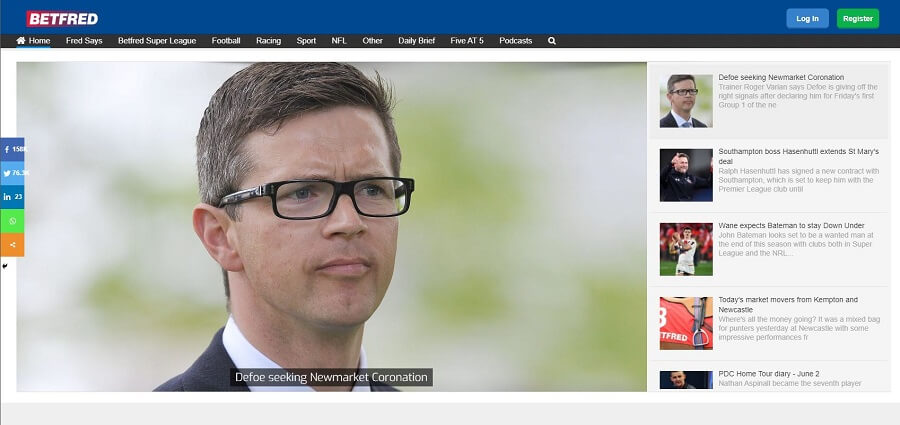 Betfred also has another interesting feature – a blog! We know that not many of you betting lovers aren't particularly interested in reading blogs, but this one is a blast. It offers interesting articles not only regarding sports but also sports betting. For those who want to stay in touch with the latest happenings, this is a must-read.
And to be honest, it makes betting more interesting and less tiresome. As soon as you get bored with it, just do some reading, and you'll be back in the game in no time!
Betfred Mobile Gaming Experience

Do you love betting on the fly? If so, you can consider downloading Betfred's dedicated betting app for iOS. Sadly, the bookmaker doesn't have an app for Android, but on the brighter side, the PC app is there. These days, not many online UK bookies offer any kind of apps, but Betfred is a step above its competition. The question is – are the apps any good?
And the answer is – yes!
iOS users will be pleased to know that they can get all the functionalities in a small, lightweight application. Apart from placing even the most complex bets, the app lets you take advantage of online banking and contacting the support team. Since iPhones aren't very big in general, you can comfortably use the app with one hand, which is a big plus.
The PC app is quite similar to the website, while the mobile app is adapted to smaller screens, but with no reduced functionality. It's great for betting while you're on a vacation or simply traveling to your workplace with a bus or trolley.
How Fair and Secure is Betfred?

Fair play and security are two very important things that we mention in our review. Being in the game for so long, Betfred isn't a bookmaker you'll hear anything bad about. It's not known for any shady business tactics or fixing matches and RTPs. However, it's still important to check its whereabouts, so to say. The company is based in Gibraltar, which is still under UK jurisdiction.
The bookmaker has a license from the Gambling Commission of Great Britain (UKGC), and since it's located in Gibraltar, it's regulated by Gibraltar Gambling Commissioner. As we can see, Betfred clearly displays its license number and when you click on it, you can see the proof and the validity of that document. This implies that we're talking about a respectable and trustworthy betting brand.
Lastly, there's 128-bit SSL encryption which plays a huge role in securing your personal data. And if you're having some betting problems, companies like GamStop and GamCare are here to help you through the Responsible Gambling section.
Loyalty Program
Much like a vast majority of UK online bookmakers, Betfred doesn't come with any loyalty scheme. For some of the bookmakers, that's a pity, because they don't offer a substantial amount of promotions.
Betfred, on the other hand, isn't like that. This bookie offers at least 10 promotions that will spark your interest from day one. And since they aren't strictly for the new players, active players can take advantage of them on a daily basis.
If you still feel like you're missing something, Betfred maybe isn't for you. Will 888Sport suffice? This is our number one bookmaker in the UK with a great loyalty scheme, so don't hesitate to register on it!
Betfred Customer Support
Despite being fair and secure, users on Betfred, and every other gambling platform, can encounter certain problems. That's all a part of the "game." For these issues, the customer support team must stand ready to help the players. Here's how you can contact them here:

At the time of writing the review, Betfred had increased volumes of contacts via email, which you can see in the image above. Nevertheless, if offers email support, live chat, and a phone number, which once again, wasn't available at the time of writing our analysis.
The support team, sadly, isn't available 24/7. It's available from 9 am to 5 pm, every day. How's the support team, actually? Pretty good in our experience.
They are responsive enough, providing valid answers and solutions. When using live chat, they take less than three minutes to respond, while email support is a bit slower and can take up to 24 hours to get a response.
Overall, it's nothing to brag about, but also not bad.
What do Other Users Think About Betfred?
Before we wrap up our review of Betfred bookmaker, it's time to see what other people think about it. We'll search for reviews on Trustpilot, which is the most credible source of bookmaker reviews. Also, we're going to give you one positive and one negative review, just to see that the majority of them are written due to money losses.
So, let's start with the positive review of Betfred:

This is how you write a review – with facts and opinions. The user mentions good promotions and bonuses, as well as efficient customer service. He also mentions that withdrawal times aren't up to his taste, but they're always on time, which is important in the end.

And now, look at this review. Can it actually be called a review? It sounds like a joke, with no real explanation as to why the user gave it such a low rating.
Betfred actually has many negative reviews on Trustpilot and many of them are with no valid arguments, which for us, is not to be taken seriously.
Conclusion – Should You Bet on It?
A review isn't a review without a proper conclusion.
Betfred is truly an amazing bookmaker overall. It managed to impress us with its promotions, ease of use, mobile gambling experience, and much more. Furthermore, it has competitive odds that even the most spoiled players will like. In terms of downsides, we'd mention the lack of the loyalty program and the fact that VISA and E-wallets aren't eligible for a welcome bonus, making it a bit harder to get.
If you're from the United Kingdom, this online bookie will probably be one of the best choices you can get. That being said, don't hesitate to sign up now and get a £30 welcome bonus by using our button below.
How to Register on Betfred?
Did you register on Betfred yet? If no, let's quickly go over the registration process to help you get going faster. First off, you'll need to press the green Registration button in the upper-right corner: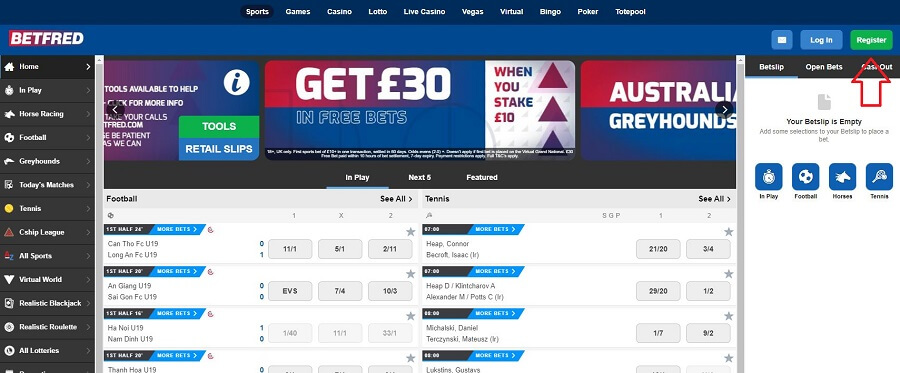 The first registration screen will now appear: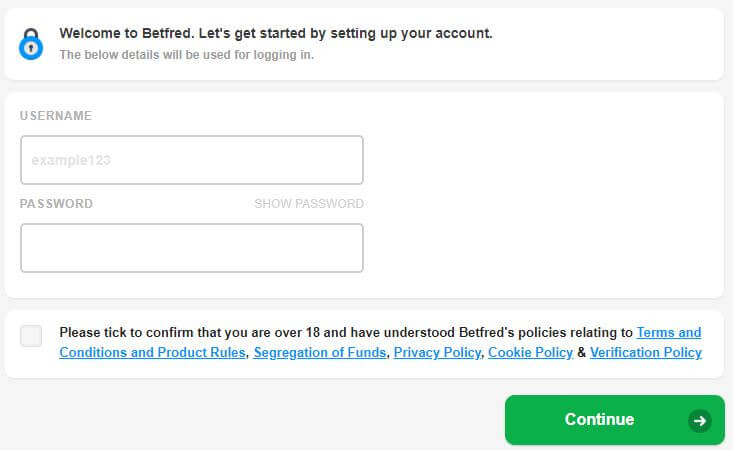 Betfred has 5 registration steps to go through, making it a bit of a chore, to be honest. In the first step, you need to come up with a username and password, and after that, click Continue.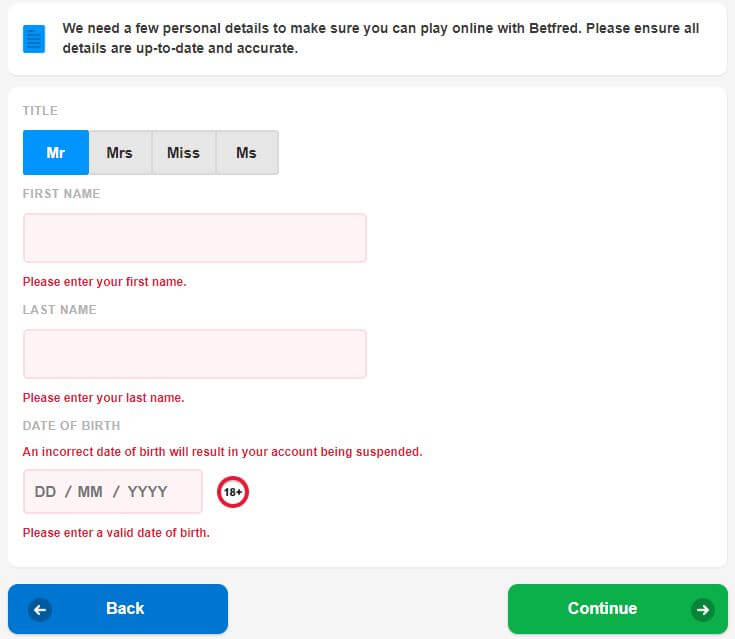 Now, choose your title, enter your full name, and date of birth. You can see that Betfred will suspend your account if it's not correct, so make sure that you're 100% honest.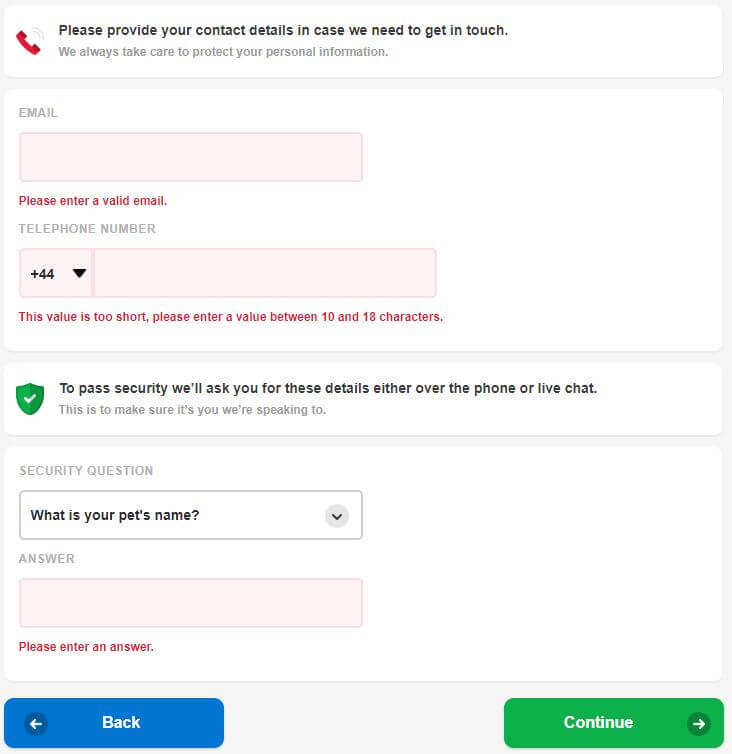 In the next step, provide your email address, phone number, and choose a security question and answer. Click Continue:
Type in your postcode and Betfred will automatically detect your address. After that, move on to the next step: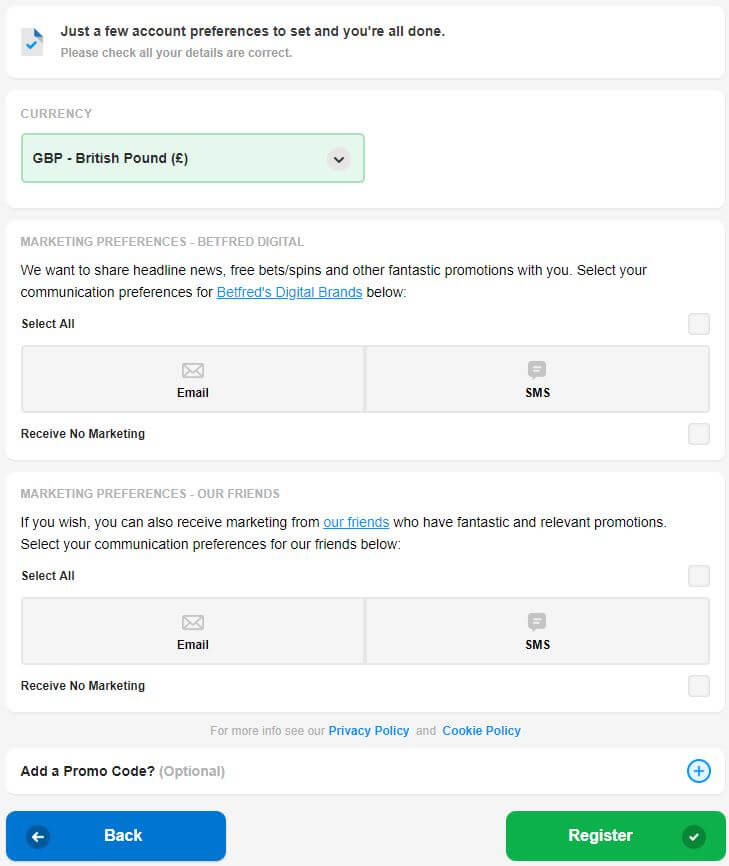 This is an easy one. Choose the currency you want to use, and if you want, choose an option to receive marketing either via email or SMS. Click Register and the bookmaker will want you to verify your identity. More about that in the next step.
Verification Process – What Do You need?
Account verification is obligatory for every UK online bookmaker and Betfred wants you to do it right away.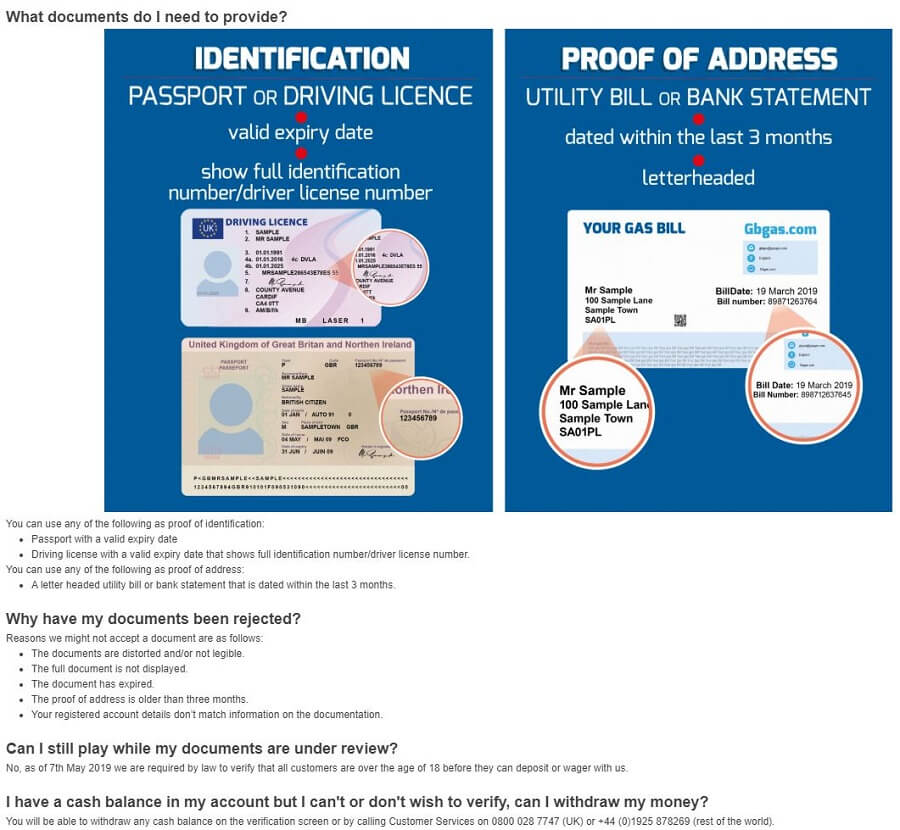 The bookmaker clearly displays what documents you need and they're the standard ones – passport/driving license/national ID and a utility bill/bank statement for address verification.
Make sure to follow the instructions shown above and you should have no problems verifying your account. Also, if you're under 18, don't try to sneak your way because Betfred will immediately notice that. And as some of you know, underage gambling is a serious criminal offense.
FAQ
Let's end our 2021 review of Betfred by answering some of the frequently asked questions:
💰How to claim your free bet on Betfred?
You do so by fulfilling the conditions for a welcome bonus. Alternatively, you can opt-in for some of the promotions that give you free bets. Click here to get your free bet on Betfred.
📍 Who owns Betfred?
Betfred is a subsidiary of Lightcatch Limited.
⏳ How long do Betfred withdrawals take?
It depends on the payment method you're using. You can expect it to be 24 hours to 5 working days.