Bethard is a relatively new betting brand established in 2014. Since then, it gained huge popularity in both Sport and Casino departments, thanks to the co-ownership of Zlatan Ibrahimovic. Football fans know who this player is – one of the best strikers of the era. But, is Bethard one of the best bookmakers on the market as well? We've yet to see that in our comprehensive review of Bethard. 
Bethard Welcome Bonus – Is It Generous?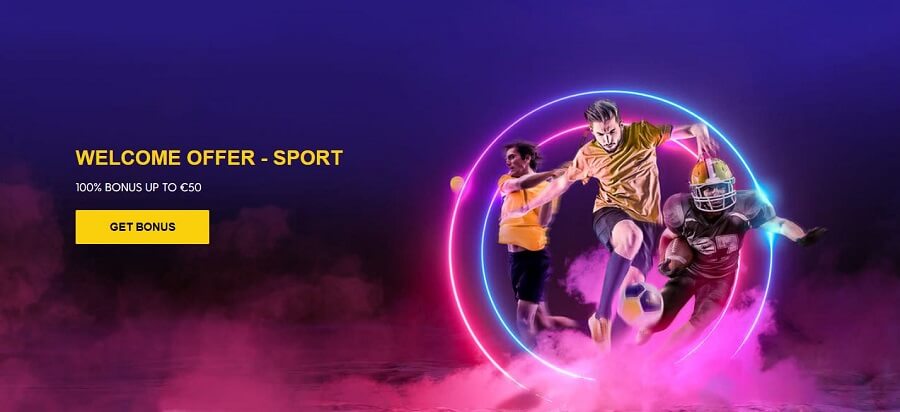 If you're a new player, a welcome bonus will be like the sun after the rain for you. You register on a betting site and you just need one small pat on the back to continue betting. Well, Bethard knows exactly what you want, hence it gives a generous welcome bonus. From the image above, we can see that this is a 100% bonus, up to £50.
That's quite generous, isn't it?
Especially considering that many UK online bookies give you not more than £30, and in many cases, just £10. Let's review the bonus conditions and see if it's easy to wager on Bethard: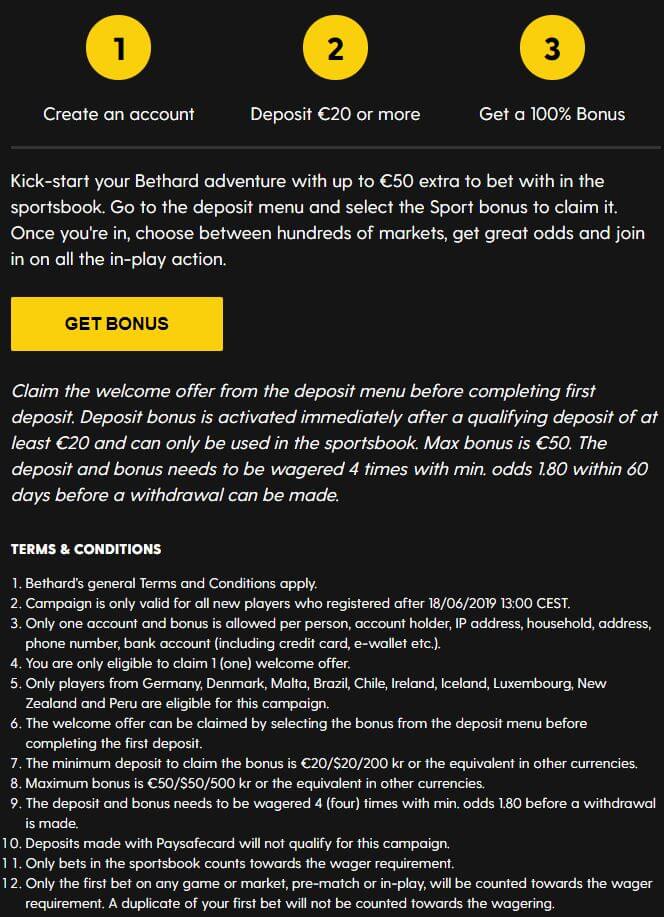 To get a welcome bonus, you have to register, deposit £20 or more, and you'll get a 100% bonus. Right from the start, you'll see that the initial deposit is quite large. Usually, it's £10, but on Bethard, it's £20, which isn't great for those who don't plan to spend a lot of money on betting.
Nevertheless, there are a few more conditions related to this bonus, so let's examine them.
The welcome bonus is eligible only for new players whose accounts aren't older than 30 days. Furthermore, there are some geographical restrictions, and depending on the country you're located in, you might not be able to get the welcome offer.
One thing we don't like is that there are wagering requirements imposed. To be able to withdraw bonus-related winnings, you'll have to wager your deposit AND bonus 4 times, with minimum odds of 1.80. The qualifying bet is, as you can see, okay. However, 4 times wagering requirements aren't.
On the other side, that's what we expected. Whenever a bonus is very generous, expect some wagering conditions. A smaller bonus is easy to get, but it's not as rewarding as the larger one. 888Sport has a £30 welcome bonus with NO wagering requirements, making it a better option in this regard.
Bethard Promotions – Are There Some?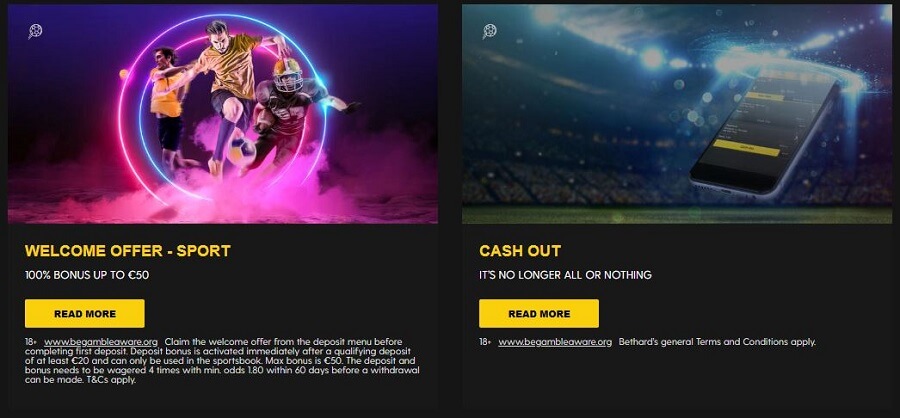 Let's say you manage to wager the welcome bonus on Bethard. In that case, you get your fifty pounds and you're all happy. This welcome bonus will run out at some point, and after a while, you just want some new promotions that will entice you to continue betting on this website.
The best bookmakers in the UK offer quite a few lucrative promotions that users can take advantage of pretty much on a daily basis. As we can see, Bethard isn't one of them. The promotion on the left is a welcome offer and that's something you'll take upon registration.
Another promotion is called Cash Out and we think you already know what that is. We wouldn't even count it as a promotion. It should be a feature of every quality online bookmaker. Still, we decided to see what Bethard has to say about it.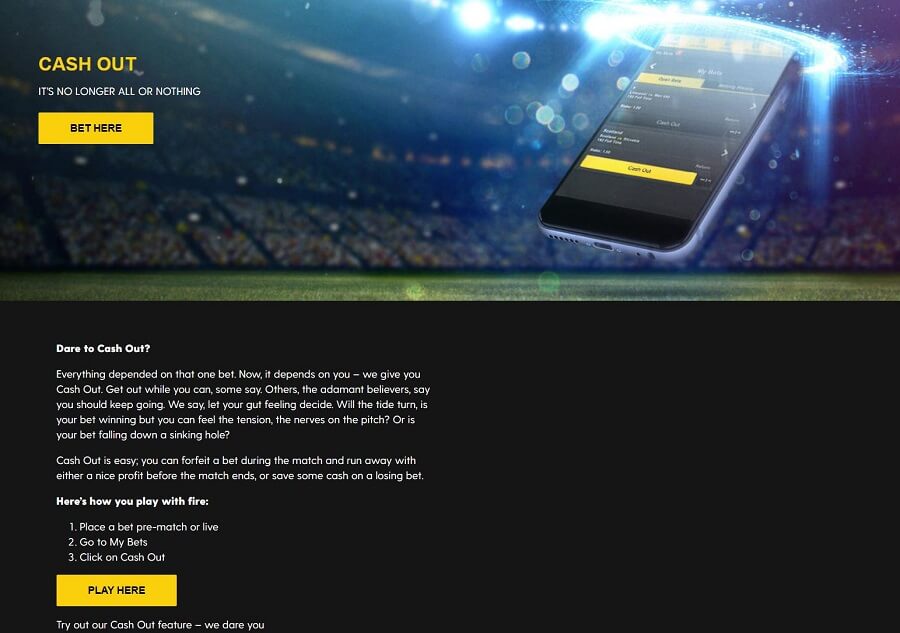 Cash Out is a very useful feature if you want to save some money on the bet you think is going to fail. We like that Bethard lets you use it on both live and pre-match bets in a very simple manner. Just visit the My Bets page, click on Cash Out, and you can choose which bets you want to include.
There are two types of Cash Outs. One is full, where you get all the money placed on the bet back. Another one is called Partial Cash Out. If you aren't sure that the bet is going to fail, you can get back a particular amount of money. For instance, if you placed £20, you can get £15 back and the other £5 will stay on the bet, just in case you win.
Just know that not every bet is eligible for this feature. Some bets can be Cashed Out, while certain can't. We appreciate the inclusion of this feature, but once again, this is NOT a promotion. If you came on this Bethard review expecting tons of promotions, you'll be very disappointed, as the bookmaker is miles behind the other bookies in the UK.
Deposit/Withdrawal Methods and Limits

Bethard didn't have such a great start in our review. But, every new test is a new chance for it to redeem. What payment methods can you use for online baking within Bethard? If you scroll down to the bottom of the website, you'll see that the bookmaker explicitly displays available banking options. That's something we always like.
What we don't like, however, is that there aren't many options listed – Neteller, Skrill, VISA, MasterCard, Paysafecard, and MuchBetter. Credit/debit cards are here but we can't forgive the lack of PayPal, which is our favorite method. In terms of limits, Bethard isn't very modest. The minimum deposit here is £10, while the minimum withdrawal is £20. Usually, it's £10 for both scenarios.
When scrolling through terms and conditions, we found this. A very interesting read: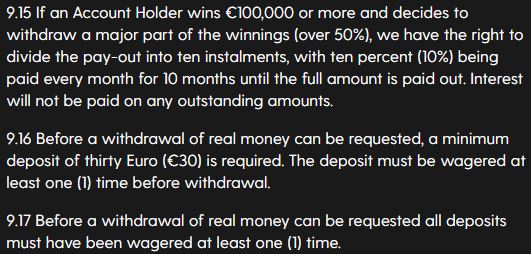 Let's first make something clear. Bethard doesn't impose any withdrawal limits. However, if you win £100,000 or more, and you want to withdraw at least 50% of it, they can split the payment into ten parts, which is paid in a period of 10 months. Moreover, if you want to withdraw real money, you need to deposit £30 and wager that deposit one time before withdrawal.
As an icing on the cake, all deposits must be wagered one time before withdrawing cash. We don't quite understand the reason behind these conditions but we don't like them, that's for sure.
Bethard doesn't impose limits on deposits, as well. You can limit your deposits to whatever you want, and you'll be able to deposit that amount of money without any problems. Deposits here are instant, while withdrawals can take from 24 hours to a few business days, depending on the payment method.
Bethard Betting Variety
So far, Bethard was an average bookmaker for players in the UK. But we know what hardcore bettors love the most – a plethora of sports to bet on. Whether you bet just on football or tennis, from time to time, you'll want to bet on something else. UK bettors love horse racing or Greyhounds, and these two categories are a MUST in every UK online bookmaker.
Bethard doesn't disappoint regarding betting variety. Here's what it offers: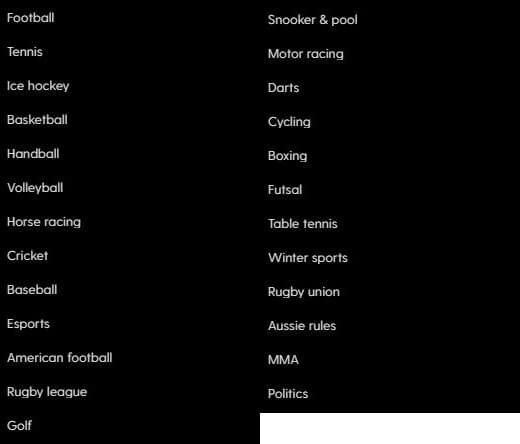 The most popular sport on this site is football, which is expected, given that the co-owner is Zlatan Ibrahimovic. If football is not your cup of tea, you can bet on tennis, horse racing, baseball, Esports, politics, futsal, cycling, and many more sports. While the sports coverage isn't impressive, it's more than enough to satisfy even the most demanding players with a total of 25 choices.
Apart from the categories on the list, Bethard offers Fantasy Sports and Virtual Sports. However, these are separate sections of the website, so we're not to talk about them much.
Betting Options
Betting options are very important for having the chance to earn more money through betting. Placing a bet on the fixed odds is simple, but will not always make the bet more likely to win. In fact, we found that many people lose their money by playing 1X2 betting. If Zlatan had a part in the football betting market, kudos to him – just look at what Bethard offers!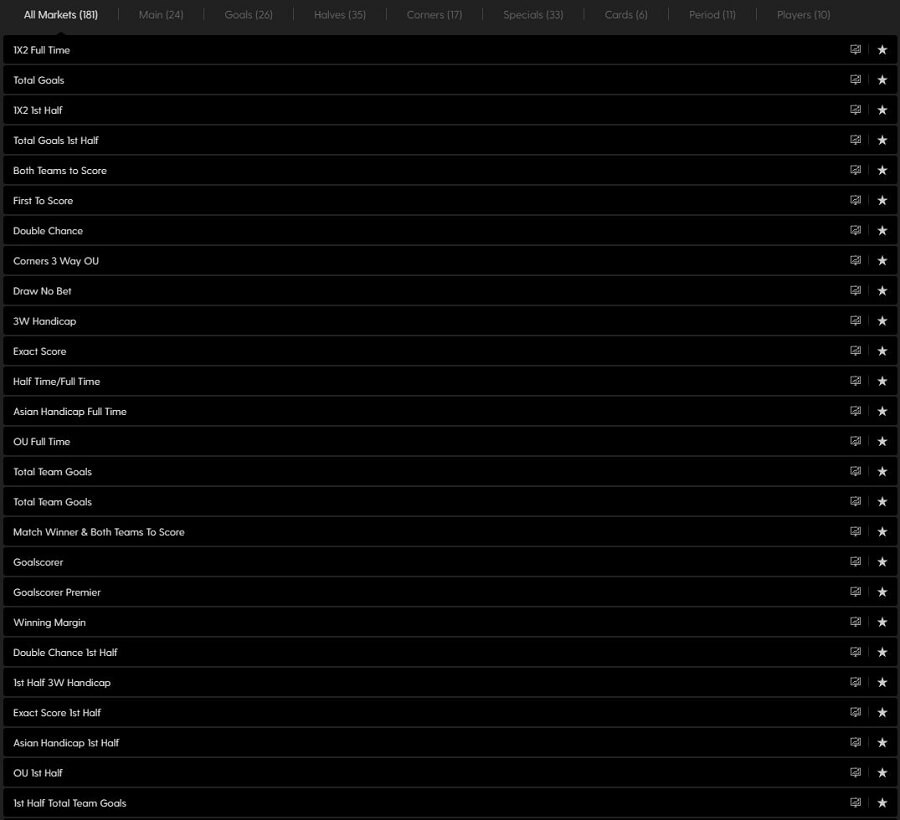 Bethard offers jaw-dropping 181 betting markets for football, which greatly outnumbers pretty much any UK online bookie. The first option is the aforementioned one – 1X2 full time. But, this will get you bored pretty quickly. Instead, you can bet on the exact score, draw no bet, winning margin, goalscorer, OU full time, 3W handicap, and dozens of other options.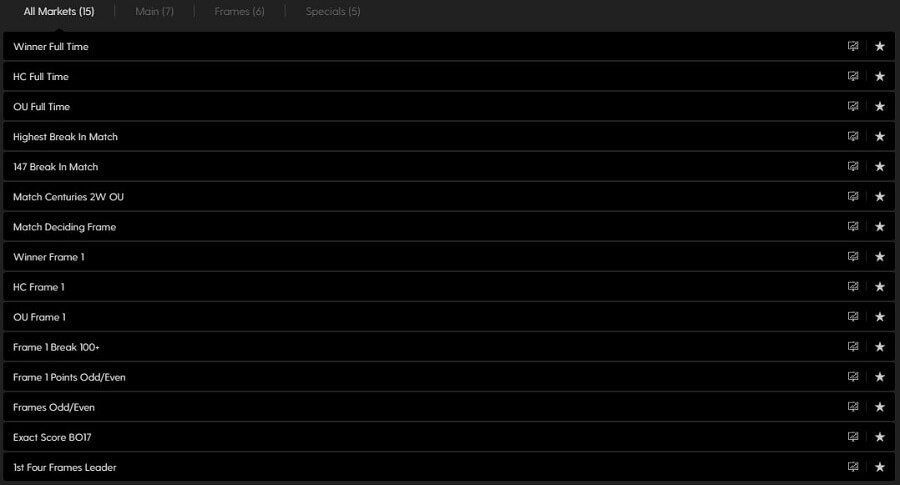 The next sport we want to check is snooker. Once again, Bethard impresses with the betting markets, offering 15 of them. Apart from the winner full time, you can bet on HC frame 1, HC full time, OU full time, match deciding frame, exact score, and many more options. The snooker season is going to be lit this year, especially with the return of the Rocket – Ronnie O'Sullivan!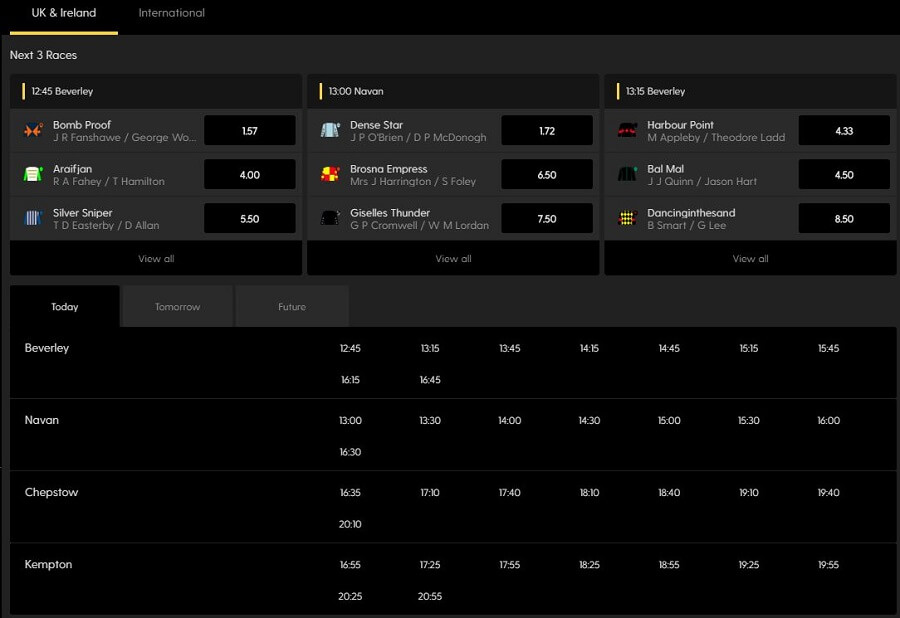 In the UK, horse racing is a pretty big deal, so we must mention it in our review of Bethard. Those who are fans of horse racing across the UK and Ireland will enjoy betting on this site. There are different events and different starting times, where you can choose the time and place a bet on the horse you think will win.
Taking a look outside the box is possible by betting on an international horse racing market. With multiple leagues and fixtures at your disposal, even horse racing will be interesting and exciting.
All in all, betting options and markets on Bethard are more than decent, making it suitable for both demanding and non-demanding players.
The Odds at Bethard– Are They Competitive Enough?
With the impressive number of betting markets, Bethard will need to nail one more criterion to impress us. Having a very strong competition, it's hard to maintain your position, due to bookmakers like Bet365 and 888Sport. These giants mow down every other bookmaker when it comes to the odds, so we aren't going to compare Bethard to them.
It would simply be unfair. We're going to compare it with Karamba, instead. Both of these are, more or less, in the same league, making the comparison fairer.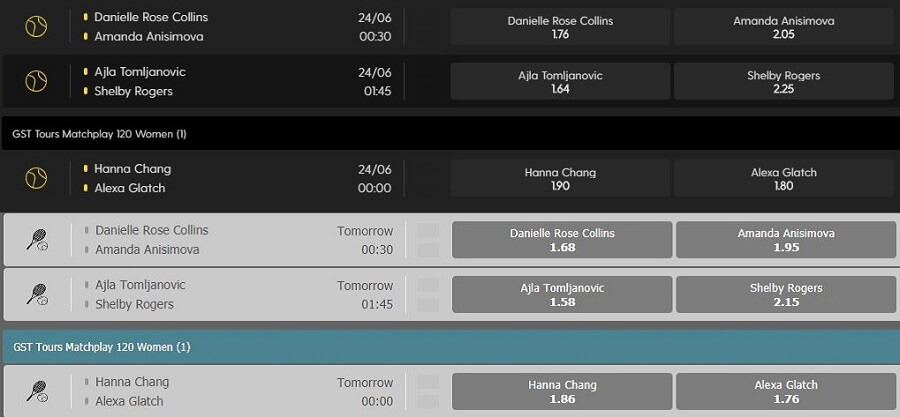 Do you follow women's tennis? If so, this is what's examined in the image above.
This is going to be a very short comparison because Bethard nails Karamba in every match on the list. For every outcome shown, Bethard has higher odds. Sometimes, much higher, and sometimes, marginally higher.
The thing is that Bethard has pretty competitive odds overall, although not on the level of the aforementioned bookmakers. Compared to Karamba, however, the difference is noticeable. For instance, if you bet on Amanda Anisimova to win, the odds are 2.05 on Betfred and 1.95 on Karamba. That's 0.1 difference, which isn't large but can make a difference when playing on higher stakes.
To digress, Bethard indeed has competitive odds, enough for the tier it belongs to.
Bethard Special Features
Special features are perhaps one of the best things about online bookmakers. While the premium bookies offer more than a few of them, Bethard doesn't follow the same route. We were surprised to see that there's no live streaming, for instance, or any unique feature that might separate this bookmaker from the others.
Sure, there's bet builder, but it's not mentioned anywhere. You have to click on the few bets and they'll automatically be combined in the bet slip on the right. Bet Builder can be done much better, which we saw on numerous other websites.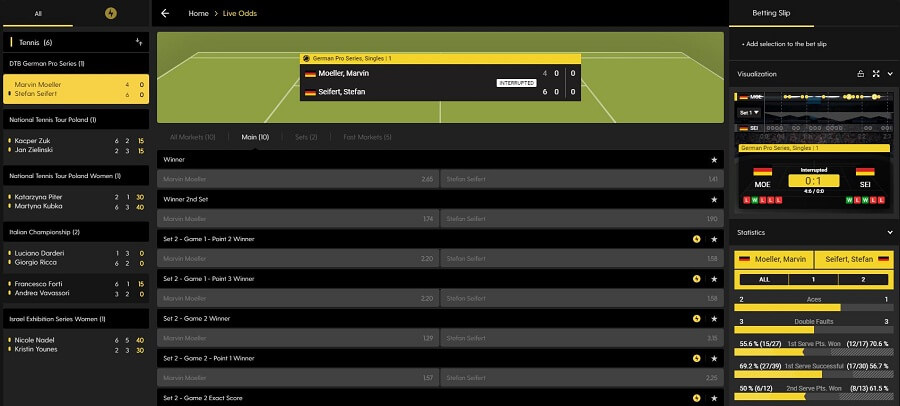 One special feature that Bethard has is in-play betting, or as some call it, live betting. Live betting is a great feature to break the monotony of pre-match betting. Here, you can place bets while the match lasts and enjoy dozens of betting markets. There aren't many markets available in this case, but you'll find more than you expect.
On the right, we have a small overview of the match, with the statistics containing every little aspect of the game. We saw a similar menu on Betregal and we liked it a lot due to the statistics clearly displayed. They will help you in your betting endeavors, letting you easier guess the potential outcome.
Despite the quality live betting feature, we are disappointed with the lack of other special functionalities.
Bethard Mobile Gaming Experience
If you prefer betting on a smaller screen, Bethard got you covered. This bookmaker offers apps for both iOS and Android, giving both sides of the spectrum a pleasant betting experience. Or does it? Well, it actually does.
The app follows, more or less, the same template from the website. Its dark-themed environment will save your eyes, while its responsiveness will let you place a bet quickly. The main menu is below, where you can see categories of sports, play casino, or see advanced options. When you choose the sport, you can then switch to the League's view or see the upcoming events.
Of course, all the betting markets are available, so you can place all kinds of advanced bets or use a Bet Builder. We like the addition of live betting as well, where you can slide in a bet during your time outside or at the business meeting (don't do that!).
Furthermore, you can use all the banking options within this tiny app, meaning that you have a full-fledged package ready for you to enjoy at any moment. So to conclude this section of our Bethard review, we were really impressed by the mobile experience offered!
How Fair and Secure is Bethard?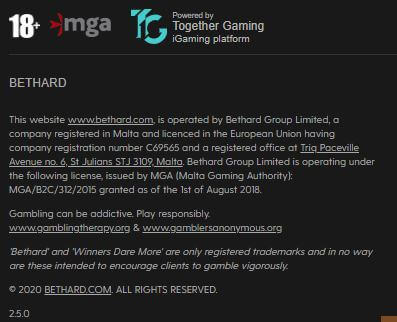 The thing about Bethard is that it had a pretty good headstart since its inception. In the review, we mentioned that Bethard exists from 2014, and since then, it managed to amass a pretty decent player base. Admittedly, its online casino is much better in terms of promotion and bonuses, but the sportsbook is decent for modest players.
Regardless of its quality from this standpoint, Bethard is a legit online bookmaker in the UK. The company is owned by Bethard Group Limited, a company registered in Malta. In the image above, you can see even the full address and all the necessary data.
Needless to say, licenses from the UKGC and MGA are here, making sure that the bookmaker adheres to the required laws and legislations. The Responsible Gambling section is also here, and supporting companies are Gambling Therapy and GamblersAnonymous.org.
They make sure that betting is a way of fun and not an addictive thing that will ruin your life. Lastly, for added security, Bethard uses 128-bit SSL encryption. It's very important for keeping your data safe and secure so that no one can slip through and steal it.
Loyalty Program
Bethard isn't the most generous bookmaker in the UK. We've seen that it practically doesn't have any promotions, aside from the welcome bonus. On their online casino, for instance, the situation is a bit different. The casino section is swarming with different promotions, where they even offer a separate welcome bonus for live casino.
The Sports department suffered here the most, which makes it clear that it's not the number one priority. No promotions and no loyalty program – such a shame! Oh, did we mention that even a casino doesn't have one? Well, that's quite a big flaw if you ask us.
In other words, Bethard won't be able to properly reward you for your loyalty, and given the lack of promotions, you'll "enjoy" plain and simple betting, with no new excitements. 888Sport is our favorite bookmaker that has a pretty good loyalty scheme, so you might want to register on it and check that out.
Bethard Customer Support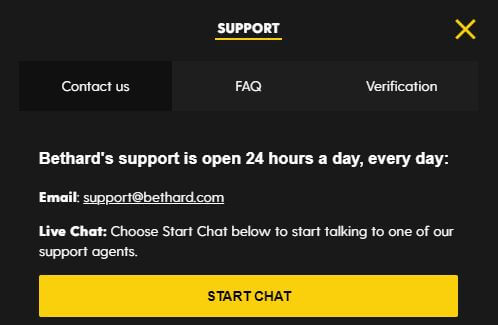 A quality online bookmaker should always be open to fixing the potential issues related to gambling and/or betting. Bethard's support team is, in terms of availability, perfect. It's here 24 hours a day, each day in the week, allowing you two contact methods – email and live chat.
If you want to go with the live chat, the expected response time is around 3 minutes. It can be more or less, depending on how busy support is. The support team is knowledgeable and helpful, which is more important than the response time. Through live chat, you can fix minor issues, while email support is for major ones.
Email support is decent if you're not in a hurry. On average, you'll wait for a response between 2 and 6 hours. Bethard should've included a phone number for contact, though. That would make things much easier.
What do Other Users Think About Bethard?
Bethard isn't the most popular option in the UK and reviews on Trustpilot paint the same image. Trustpilot is an excellent platform for reading reviews regarding different betting and gambling sites, so it's a source of other people's reviews that we're gonna use here.
Let's see the good review first, and later, we're going to show you a bad review, to see what people dislike about Bethard.

This user gave a pretty positive review, even comparing Bethard to Bet365. In his words, the app is brilliant and he won 100 pounds, which ended up in his bank in 10 minutes. In short, the user is completely satisfied with this bookmaker.

Another review about Bethard from Trustpilot, but now, it's not very good. This user claims that the company will easily take your money but won't pay you out if you win. From what we see, this user probably deposited money and forgot to verify the account, hence the bookmaker won't pay him.
The interesting thing is that the majority of these bad reviews are similar to this one. Either the users didn't verify the account properly or customer support wasn't responsive. In our experience, customer support was decent, so we can't agree with the second statement.
As for account verification, we didn't have any problems while doing this review. Out of 62 reviews on Trustpilot, Bethard has a 1.6-star score, which stands for Bad.
Conclusion – Should You Bet on Bethard?
Bethard reminds us of some people. Do you know people that are just okay but they don't have anything that will separate them from the rest? Well, that's what Bethard is.
If you ask us if it's good, we'll tell you that it is. Is it excellent and unique? No, it's far from that. The truth be told, it's on the brink of being average, mainly due to its high wagering requirements, lack of promotions, and only one special feature. On the brighter side, the bookmaker offers a decent betting market, solid support, and competitive odds.
Recommending Bethard would be pointless since 888Sport is a much better alternative in every regard. That being said, register on 888Sport and get your £30 bonus with NO wagering requirements.
How to Register on Bethard?
The registration process on Bethard is a pretty tiresome one, we'll admit. How can you F up something that should be so simple, we have no idea. Let's see how to register on this website.

To initiate the registration, click on the green Create Account button in the top-right corner.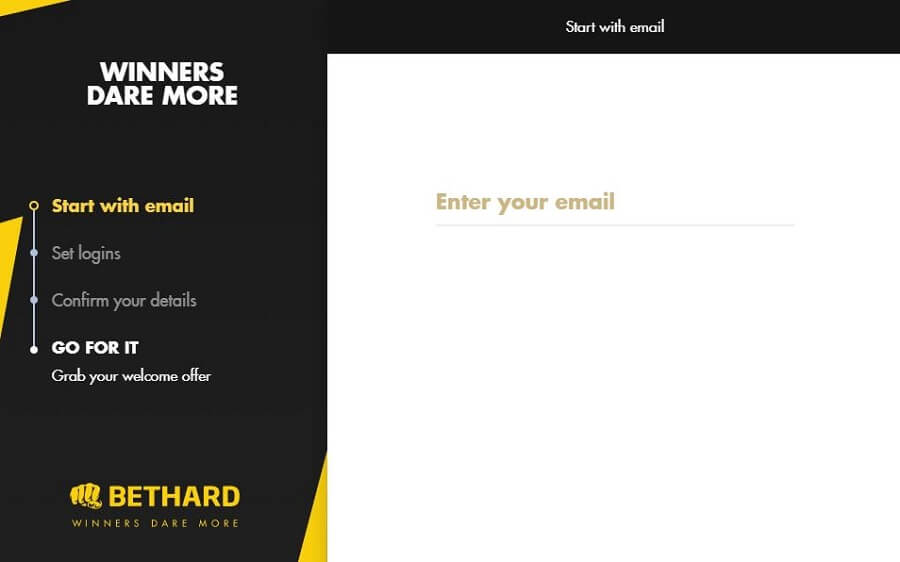 The first step is to enter just your email. Once you do so, press Enter.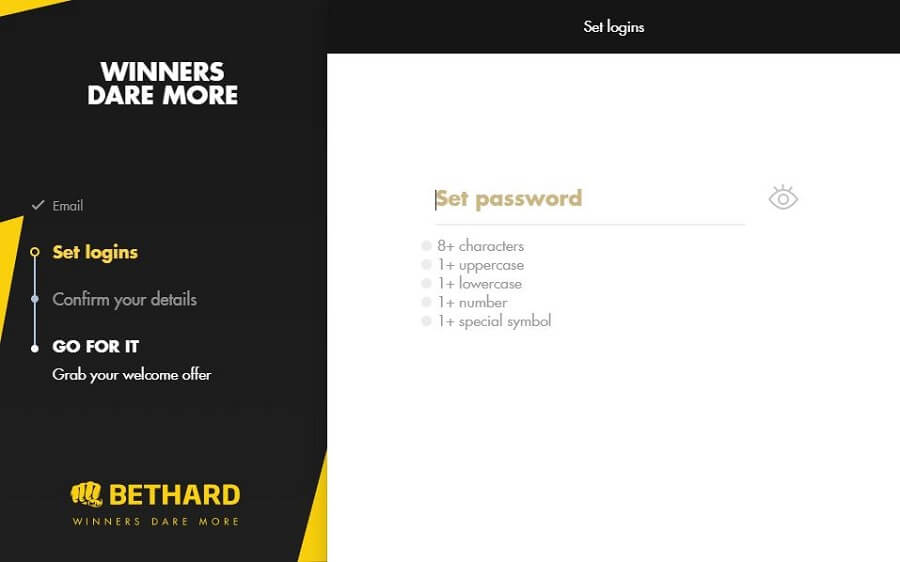 Now, you need to come up with a unique password, and once again, as soon as you do it, press Enter.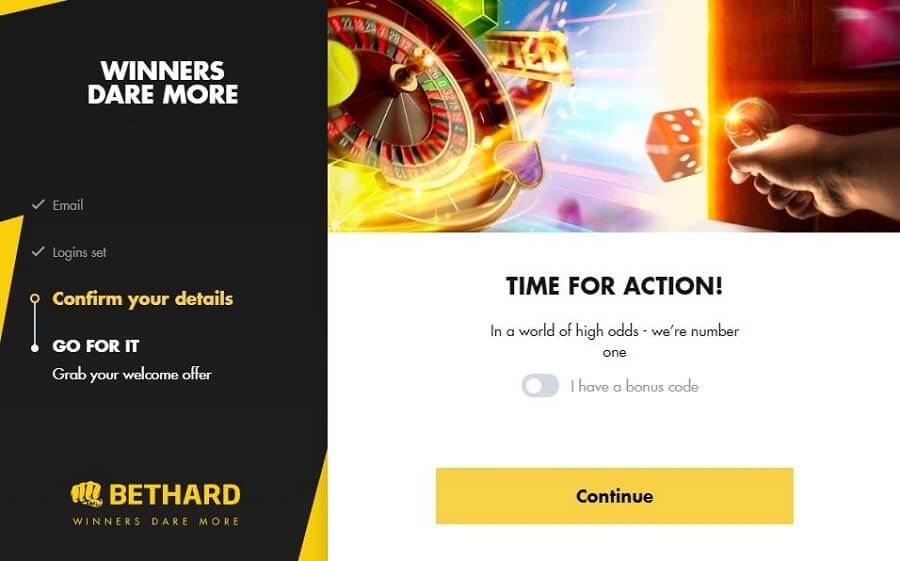 Just when we thought it's almost over, Bethard decided to take our time further by requesting us to enter every bit of information separately. To be clear, they want you to enter your name, address, city, birthday, and so forth separately, dividing it into different steps – one bit of info, one step. We'll skip some of it and fast forward to the last registration screen.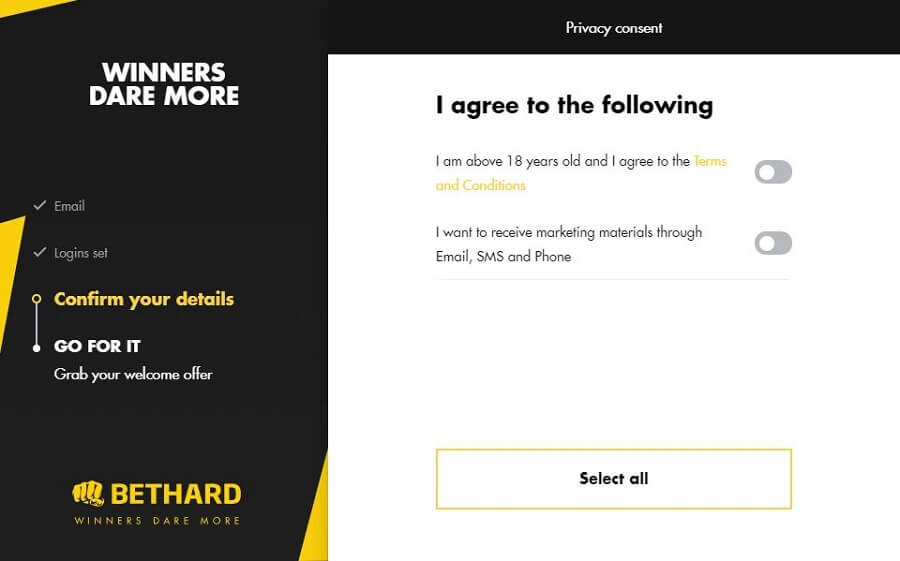 When you pass through all the hoops, just confirm that you're over 18 and press Enter. After that, you're free to deposit cash and claim your welcome offer.
Verification Process – What Do You need?
Withdrawing your winnings isn't possible if your account isn't verified. Let's see what steps are required for verification on Bethard.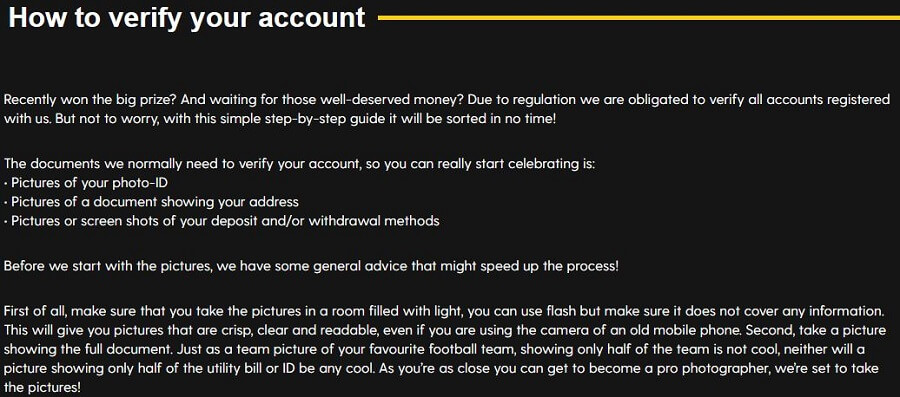 Thankfully, verification isn't as cumbersome as the registration. To verify your account, you'll have to provide three types of documents. One with your photo, one with your address, and one that verifies your payment method.
These documents include:
National ID
Passport
Driving License
Bank Statement
Utility Bill
A Photo of Credit/Debit Card
Screenshot of an E-Wallet Account
Contact the support team using some of the methods above, provide the necessary documents, and they'll verify your account quickly. Also, make sure that you're over 18 years old. Otherwise, Bethard won't be able to verify your ID as betting underage is a criminal offense.
FAQ
Here are some of the questions related to Bethard that we didn't answer in the review:
💰 Does Bethard support PayPal?
No, Bethard doesn't support PayPal. You'll have to use Neteller or Skrill as an alternative E-Wallet.
⏳ How long do Bethard withdrawals take?
Withdrawals at Bethard take around 24 hours to a few business days. Usually, all the withdrawals are settled within 48 hours/2 days.
⚠️ Do I need to verify my account every time I withdraw?
No. You need to verify your account only the first time you withdraw. From time to time, the bookmaker might do an ID check on you, but if you passed it the first time, you'll pass it every other time as well.