BetRegal is a brand that quickly started to circulate in the betting market in the UK. Despite being founded in 2017, BetRegal managed to win the hearts of many, thanks to its countless betting markets, ease of use, and pleasant betting experience. Today is a new day and it's time for a new bookmaker review. Let's see how good this bookmaker is and how well it stacks against the competition. Our BetRegal review is below, so don't go anywhere just yet!
BetRegal Welcome Bonus – Is It Generous?

BetRegal is a relatively new player in the game, making it an interesting candidate for a review. Usually, new bookmakers and online casinos tend to give better bonuses, to prove themselves in the eyes of competition and players. We've seen it on 32Red, for instance, and a few more gambling/betting sites in the UK.
In the image above, we don't see a very generous welcome bonus – at first. It says that you need to bet £10 and you'll get £10 in free bets. That's nothing unique and we've seen it numerous times. Let's check the welcome bonus conditions and see if there are some strings attached.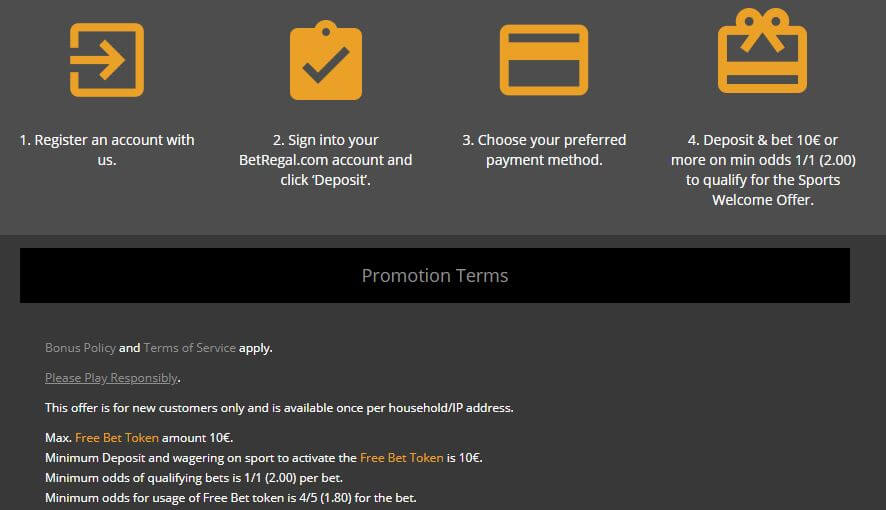 The first thing to do, logically, is register on the BetRegal website. You then need to deposit at least £10 but NOT using Neteller, Skrill, or PayPal. Other payment methods are eligible. We suggest VISA or MasterCard for this scenario. After you deposit the cash, just place a qualifying bet on the odds of at least 1/1 (2.00) and you're eligible for a welcome offer.
As soon as the bet is settled, you get your £10 as a bonus. Beware that this bonus is non-withdrawable, so you can use it only to place bets on BetRegal. Furthermore, not every player on this bookmaker is eligible for this offer. Sure, UK players are, but also the players from the following countries:
Ireland
New Zealand
Norway
Finland
Germany
Austria
We're impressed at how good BetRegal's support is in terms of countries eligible for a welcome bonus. UK bookmakers usually don't allow many countries – it's the UK and in some cases Ireland. Since we haven't touched on the wagering requirements, let's do that now.
BetRegal doesn't impose any wagering requirements. You only have to place a qualifying bet and you're instantly eligible for this promotion – capiche? Good.
BetRegal Promotions – Are There Some?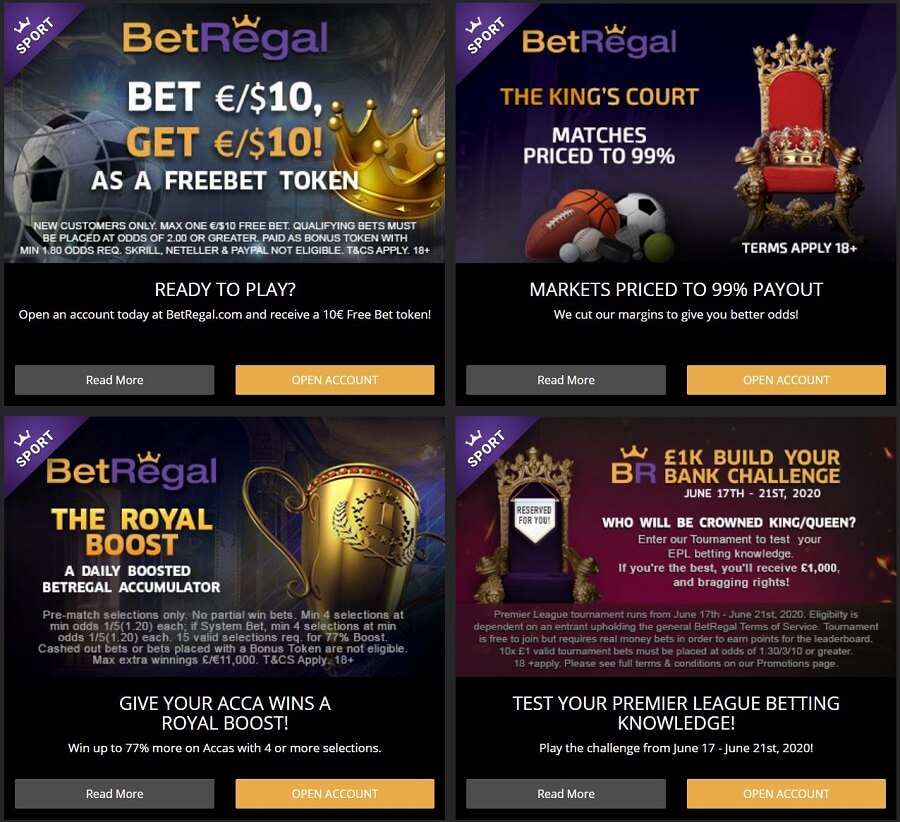 New players will get their share of the welcome bonus, which isn't as generous as we'd like, but it's easily achievable. That's something, at least. Well, BetRegal has another side, the brighter one, and it's the fact that it offers some promotions for frequent players.
As soon as your welcome bonus is spent on BetRegal, you'll want some more rewards for your day-to-day betting. BetRegal knows its business, offering a total of 4 promotions, of which one is the welcome bonus. That being said, there are 3 promotions in total.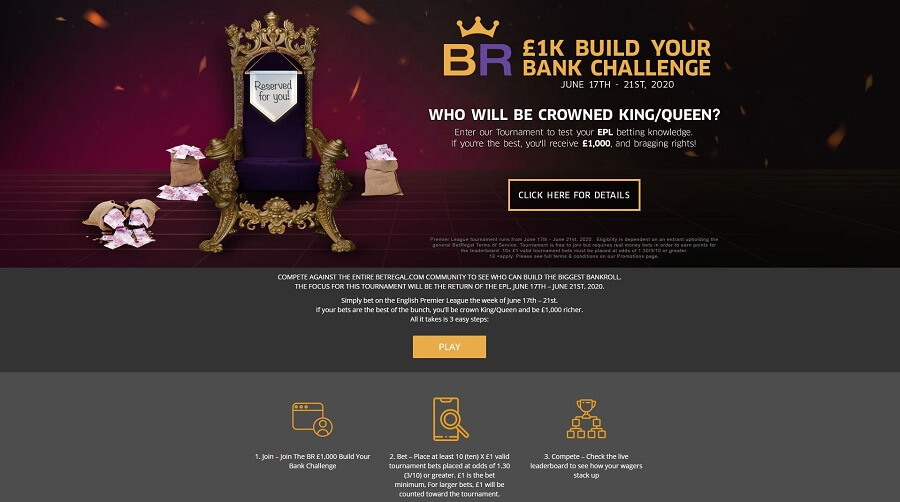 The promotion we showed in the image above is called "BR Build Your Bank Challenge". Here, you'll need to show exceptional knowledge about the English Premier League, which will give you the chance to win £1,000 in bonus cash! That's quite a lot, but the stakes are also pretty high. Should you manage to win the money, you'll be able to buy a Toyota Corolla from the 1980s or whatever you want.
All jokes aside, this is a really good offer for those who like EPL (English Premier League) and if you're from the UK, you will love it as well. You first need to opt-in for the promotion and then place some qualifying bets on BetRegal. At least 10 x £1 valid tournament bets are needed, with the odds of at least 1.30 (3/10) or greater. The minimum bet is £1.
Even for larger bets, only £1 will be counted toward the tournament. When you do so, you can check the leaderboard and see how your wagers stack up. If you're in the first place, the aforementioned 1,000 pounds are yours to take.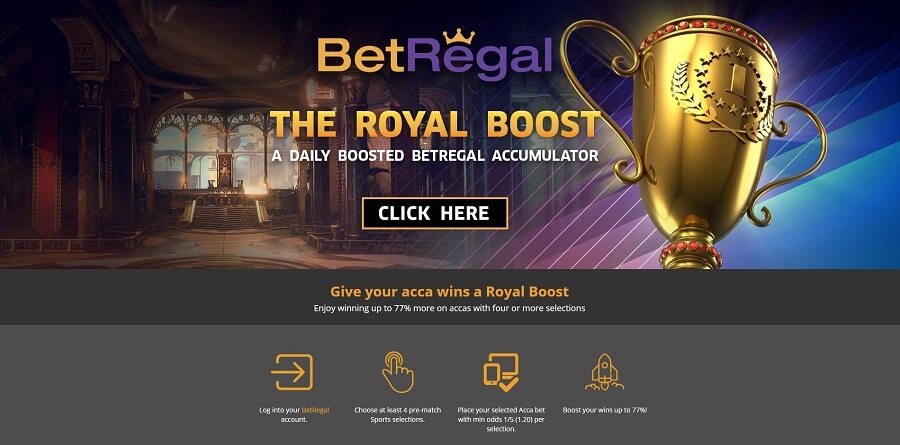 Are you up for royal treatment? BetRegal's Royal Boost is here to give you just that. This is a pretty standard promotion nowadays, where you need to play Acca bets and boost your winnings. BetRegal requires at least 4 pre-match sports selections, with the odds of at least 1.20 (1/5) per selection. Depending on the number of selections, you can boost your winnings up to 77%.
For example, 4 folds will give you a 4% boost, while 15 of them will give you a 77% boost. Other promotions are available on the website, but we aren't going to talk about them in this BetRegal review.
If you're interested in this online bookie, we suggest you take a look (and also finish reading our review of BetRegal) to see if it's up to your liking.
Deposit/Withdrawal Methods and Limits
Ambitious players will have tons of fun on this website. There are numerous reasons for that, and one of them is the overwhelming choice of payment methods. Scrolling down the bottom of the page, we can see that BetRegal already listed a few payment methods.

At first, it seems minuscule. They offer just MasterCard, Maestro, Skrill, Neteller, and ecoPayz – pfft. When we saw that BetRegal offers another menu called Payment Methods, that's when we were intrigued. Clicking on this menu will lead you to a new page of the bookmaker site that looks like this: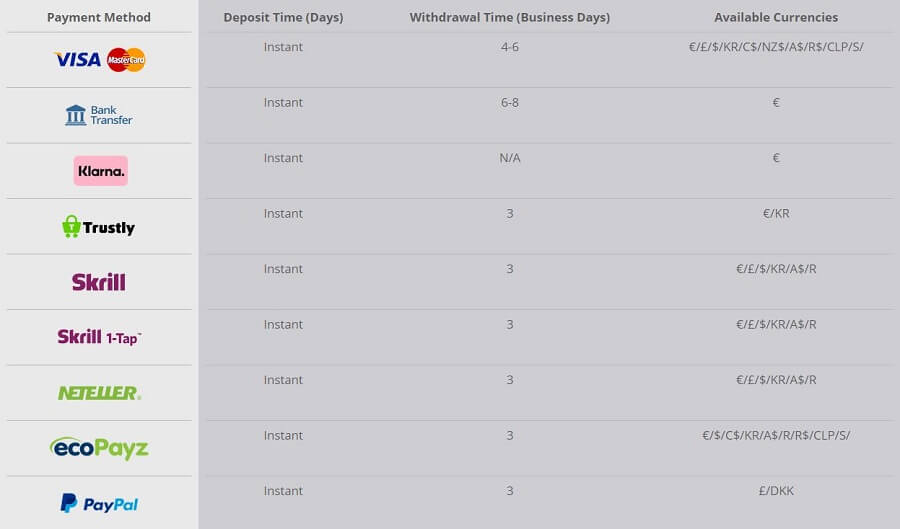 And this is not the whole page – just so you know. We lined up some of the most popular methods, to show you deposit and withdrawal times, that aren't great, by the way. First, let's mention limits in this part of our review – every payment method yields a minimum deposit/withdrawal of £10.
BetRegal doesn't point out the upper limits, although you can limit your deposits when you visit your account. The upper deposit limit is £90,000, and the same applies to withdrawal.
Now, for the times, the slowest payment methods on the list are credit/debit cards and Bank Transfer. Interestingly, Bank Transfer supports only Euros as a currency, while credit/debit cards support even Pounds and American Dollars. Deposit times for all methods are instant, whereas, for credit/debit cards, it's 4-6 business days and for Bank Transfer, it's 6-8.
The fastest payment methods are E-Wallets, such as PayPal, Neteller, and Skrill. All of them are available for the UK players and will take up to 3 business days for a withdrawal. Overall, we're all but impressed about BetRegal. Three days might not be a lot, but it's not a negligible period.
Many UK online bookies offer faster withdrawal times, especially when using PayPal, where it can be 24 hours.
BetRegal Betting Variety
Placing bets on the same sport over and over again is boring, you'll agree. When someone says he/she's bored of betting, we immediately know what's the problem. If you're betting only on football, it'll quickly get tiresome and a chore. But, when the online bookie gives you a plethora of sports, that's when the show begins.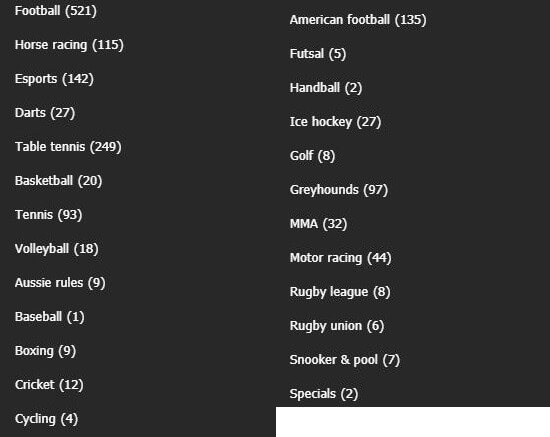 When the show begins, the show must go on, like that song from Queen. Did you count the sports on the list above? If not, we'll do that – there are 25 sports in total. It's definitely not the highest number. We'd say it's average but more than serviceable. All the popular sports in the United Kingdom are there – football, Esports, tennis, cricket, MMA, rugby, and many more.
You'll notice that Politics aren't on the list, which is quite strange, as almost every bookie has this category. If we click on Specials, we can bet on certain events in the UK. Some of them are "Britain's Got Talent 2021 Winner", "Who Will Be Next James Bond", and so forth.
It's easy to see which sport is the most popular here – football. Apart from that, there are tons of betting markets for table tennis, American football, horse racing, Esports, and Greyhounds.
Betting Options
Now that you know that BetRegal offers a multitude of sports events, can you bet on them properly? Proper betting, for us, is when you get tons of betting markets so that you can place advanced bets and build your custom betting style. You can surely bet properly on football, and for other sports, that's questionable. Here are the football betting markets: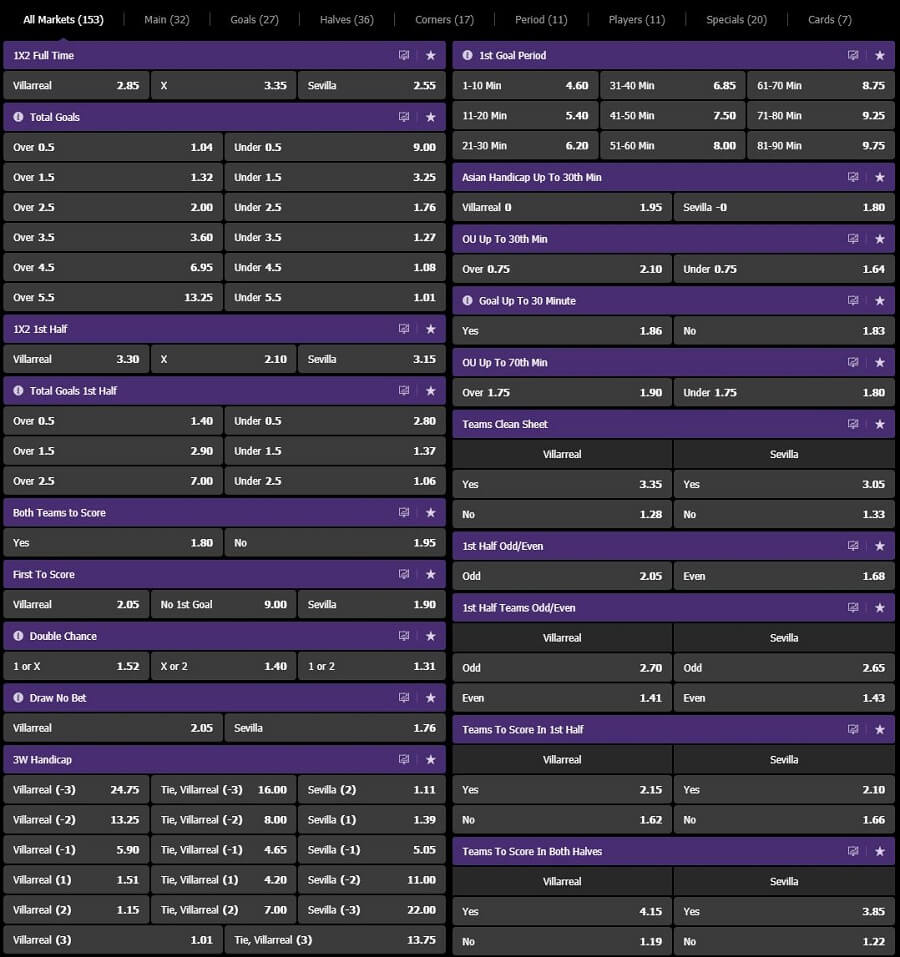 BetRegal offers 153 betting markets for football, which is one of the largest numbers we've seen. Just imagine having more than 150 betting options – sounds crazy! If you're a simple bettor, you can bet on the fixed odds but that becomes boring after a while. Our advice is to explore the betting options you have here – 1X2 1st half, 3W handicap, goal up to 30 minutes, teams to score in 1st half, and many more options are waiting for you.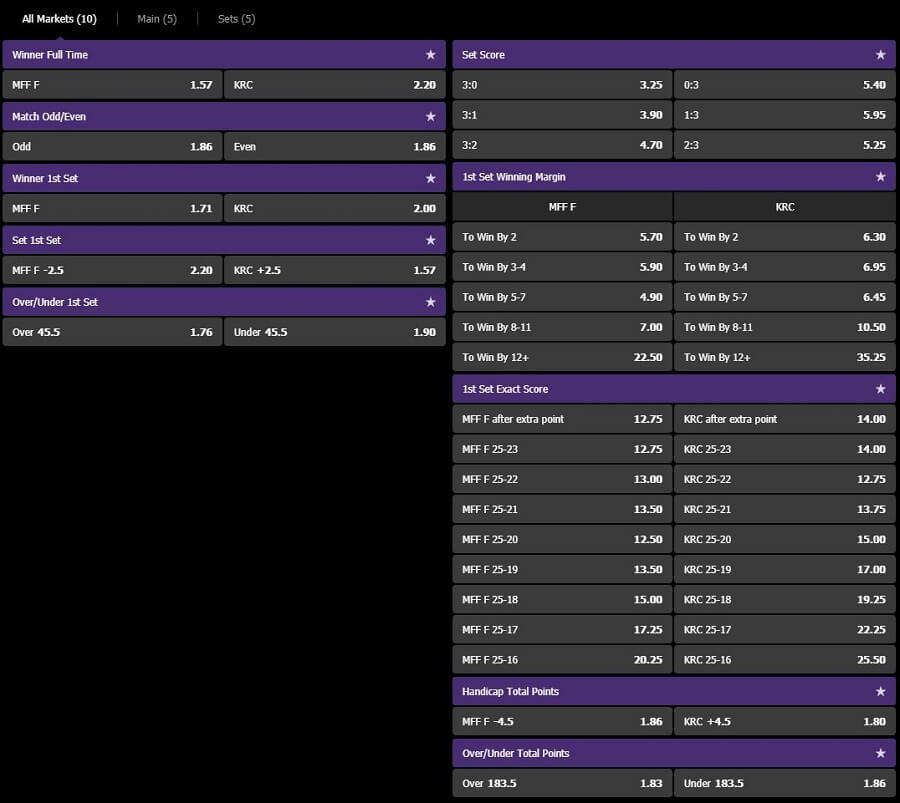 You didn't forget about volleyball, did you? This online bookie pays proper homage to this sport, offering 10 betting markets. It might not sound like a lot, but when you consider that other bookies give you one or two markets, BetRegal is impressive. You can bet on the winner full time, winner of the first/second set, set score, handicap total points, et cetera.

One sport where BetRegal failed to impress us is MMA/UFC. Bookmakers like 888Sport, Unibet, and Betfred all give at least a few betting markets. When betting on these bookies, you can bet on the winner of the round, the method of the win, number of rounds, and so on. Here, you have only two options – Moneyline full time, and O/U rounds full time.
If you like betting on MMA/UFC, you can pretty much forget about it on BetRegal.
All in all, betting options on this site are abundant but don't expect the same trend to repeat for every sport. Some sports are really lackluster in this regard, while football is fantastic.
The Odds at BetRegal – Are They Competitive Enough?
When talking about UK online bookmakers, the odds are very important. That's why they have a special section in our review. Right now, the best odds on the UK betting market can be found on 888Sport. Bet365 is approximately the same, although not on the same level.
From the perspective of the UK players, BetRegal isn't the most popular choice. Honestly, neither is 888Sport. It's probably Betway. But, that doesn't mean that these bookies are bad. Let's see in this section of our review, if this bookie is competitive in terms of odds when compared to Unibet.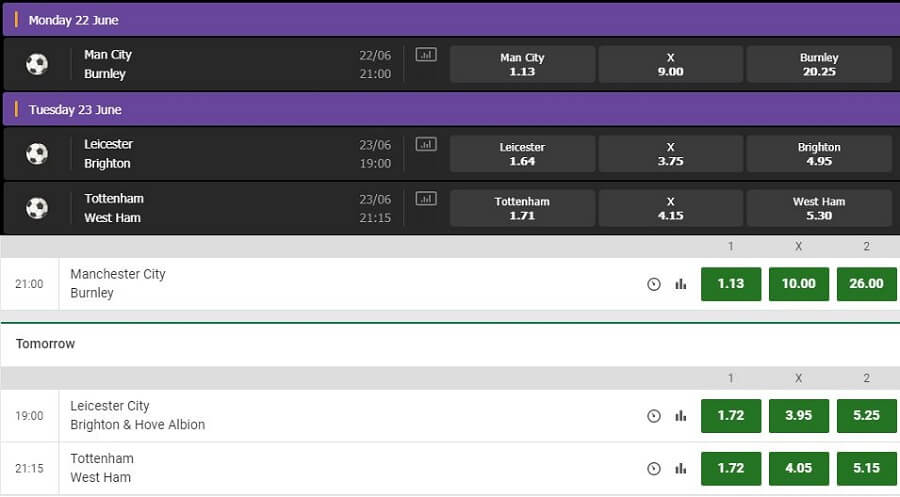 Since we mentioned the English Premier League, we decided to take a few matches from there and compare them side by side. Manchester City is probably going to blast Burnley, hence the odds for it are very low. For Burnley, though, Unibet gives much higher odds than BetRegal – 26.00 vs 20.25.
Leicester is also more likely to win against Brighton. While the odds at BetRegal are more than decent, Unibet pulls ahead, offering noticeably higher odds on every outcome.
Finally, the only match where BetRegal manages to return the punch is the one where Tottenham plays against West Ham. Here, BetRegal has overall higher odds on X and West Ham, while Unibet has higher odds for Tottenham –  by 0.01.
So, does this bookmaker have competitive odds? Unfortunately, not really. Unibet is in our top-ten list of the best UK bookies for a reason. It's a highly-competitive bookmaker that outplays this one in the odds game.
BetRegal Special Features
We saw before in this review that BetRegal isn't anything special that you'll brag about. But does it offer any special features? Let's find out now.
In-Play Betting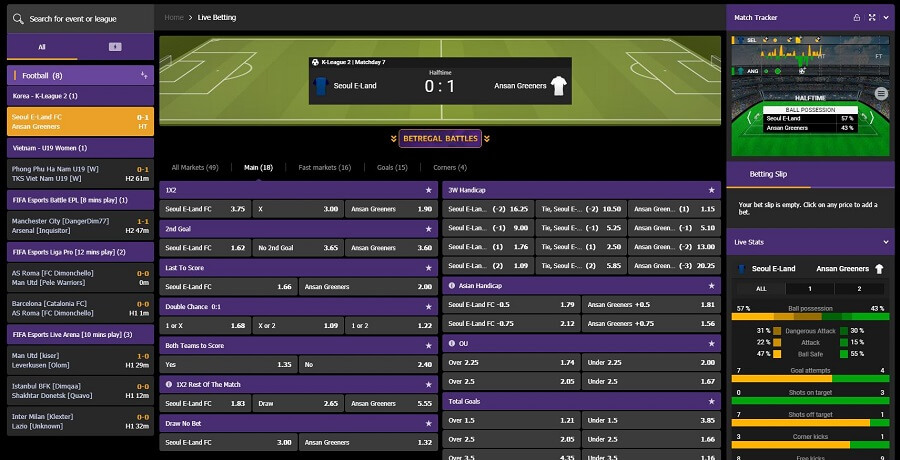 One of our favorite things about online bookies is that you can bet on the match while it lasts. It's called in-play betting or live betting – however you like it. Nowadays, pretty much every bookmaker offers this feature, but very few of them can do so as BetRegal does. In the image above, we can see the full live betting menu.
In the middle, we have betting markets, and on the right, statistics and your bet slip are located. We like how in-depth the statistics are. You can see how many goal attempts, shots on target, or red cards are on the match, for instance. Moreover, you can see a sort of match overlay, which is similar to live streaming.
Sadly, live streaming isn't available, which is a HUGE downside for us. 888Sport offers it, hence it's a much better option.
BR-BOT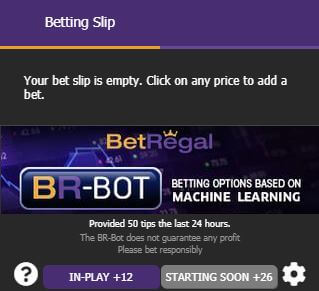 What the heck is BR-BOT? Glad you asked. It's similar to Karambot, a feature we saw in Karamba. And now, if you're asking what Karamba and Karambot are, you should read our Karamba review to find that out.
BR-BOT is a betting tool based on machine learning, which will give you some betting advice based on the statistics. You can either take these bits of advice and place a bet or follow your own scheme. BR-BOT doesn't guarantee any profit, so don't trust it completely.
Still, it was good to find this kind of feature while doing this review of BetRegal.
BetRegal Blog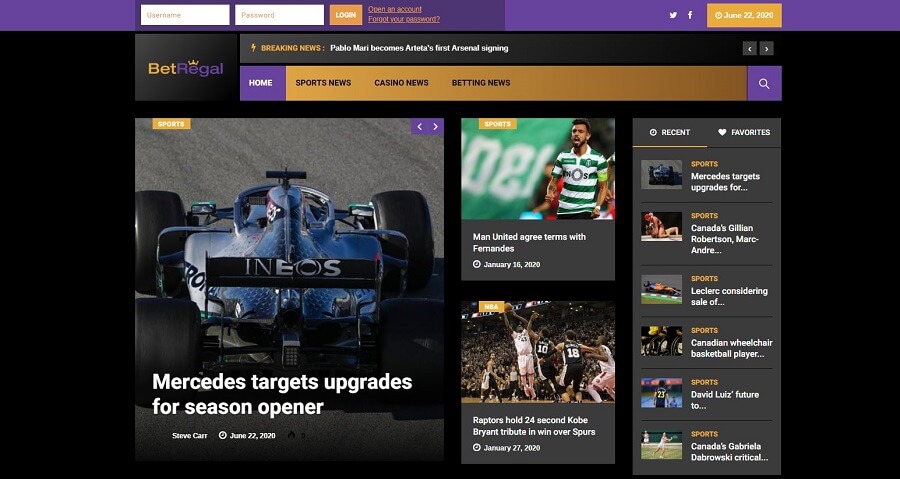 BetRegal blog is here if you want to take a break from betting. It's a basic blog consisting of news related to sports, casino, and betting news in general. There are a few posts a day and if you log in, you can save some of them as favorites. There's a search bar, as well, making it easy to search for the particular news.
BetRegal Mobile Gaming Experience
Betting from a smartphone isn't a thing of the future anymore. People live fast nowadays and our lives are getting busier each day. Because of that, we don't have hours to spend in front of a PC, betting, or enjoying gambling. BetRegal's mobile support is, so to say, disappointing.
Why?
Simply put, because it doesn't have any betting apps! The only way to enjoy this website is to visit… well, the website itself. The good news is that it's well optimized for smaller screens, so it's not laggy, buggy, or stutter, even on low-end devices. We also like that the site looks similar to the PC version.
You can place bets with a single tap and they'll slide into your bet slip. From there, it's easy to confirm the bets and proceed. The side menu is here as well, letting you visit your profile, check promotions, or switch to the Casino part of the platform.
The mobile version is intuitive, works great, and is going to satisfy your betting needs. Despite all of that, we still can't help but wonder why the app wasn't developed. Maybe they wait to become more popular or it's in the development – who knows?!
How Fair and Secure is BetRegal?

When we mention that a particular bookmaker is new on the market, lots of doubt start appearing. Users are not very keen on trying out new options, and to some extent, they're right. There are tons of scammy bookies in the UK.
Thankfully we found out during this in-depth review that BetRegal is far from being scammy. In fact, it's a well-established company under The Regal Group umbrella, regulated by the laws of Malta. Given that it's a Maltese company, it's licensed by MGA, and thanks to its UKGC license, the operator works in the United Kingdom.
Furthermore, BetRegal has an Irish license as well, which we don't see often. Not to mention different responsible gambling companies such as MuchBetter and Spire Global. They keep betting safe and secure for you, allowing you to even self-exclude if certain problems arise.
For added security, BetRegal uses 128-bit SSL encryption. It protects your data, making it safe to make payments and receive money. With the full address and contact information, the company behind BetRegal has nothing to hide, so it's pretty clear that it's fair, safe, and secure.
Loyalty Program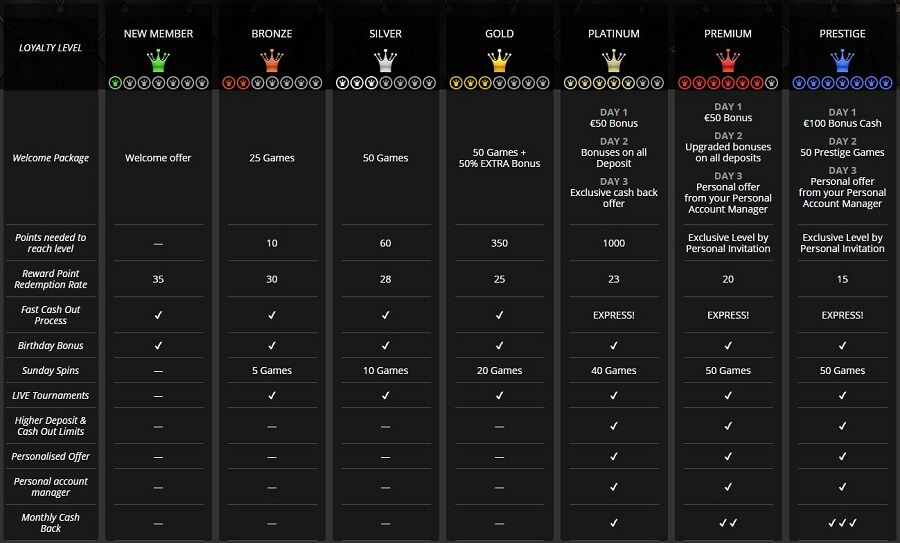 Finally – a UK online bookie with a loyalty program!
Hold up a bit. This is a loyalty program for BetRegal Online Casino, and not for the Sports department. One thing that we hate about this site is that it constantly displays the Exclusive Club menu. Whether you're on Casino, Scratchcards, or Sport, it just sits there. Why, if it's not for Sports?
We can see that the bookmaker mentions games and spins. These two terms aren't used in the betting world. They're more for online casinos. If you're going to enjoy its casino, though, this loyalty scheme is pretty good. Sports bettors will have to enjoy frequent promotions, with no loyalty program.
BetRegal Customer Support
When you want to contact BetRegal, you can do so by visiting the Contact Us page in the bottom portion of the website.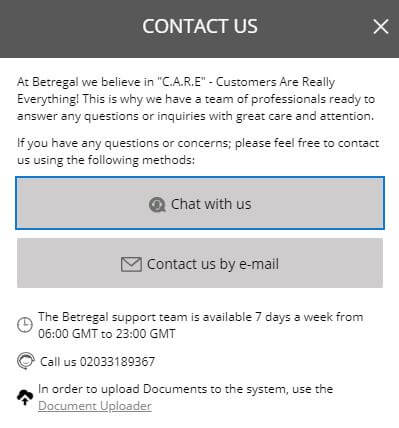 There are three methods for contacting the company. You can do so by initiating a live chat conversation, contacting by email, and calling using the number in the image. The trick is that the support team isn't available 24/7. It's here 7 days a week, but only from 6 GMT to 23 GMT. In case you need help after midnight, you'll have to wait.
Email support is decent here. You usually get a response in less than 3 hours, albeit, this time can extend to 24 hours. If your issue is urgent, you can make a call, but know that it's not toll-free. On the brighter side, phone support is outstanding and will fix your issues right away.
What do Other Users Think About BetRegal?
A review is a subjective opinion, meaning that it's not always 100% true. For that reason, we look at other people's reviews online, to see what they think about a certain bookmaker. Our source is Trustpilot, where thousands of people write reviews each day.
First, we're going to examine one good and then, one bad review of BetRegal. Here's the good one:
This review comes from a player from the United Kingdom. He says that the verification is easy, as the company asked only for his driving license and a bank card. Interestingly, he also mentions that the odds are a bit "short" sometimes, but nevertheless, he had a pleasant betting experience.

What about the bad review? This one is more like a rant than proper feedback. The Trustpilot user claims that BetRegal ignores its duty of care to people who have issues with gambling. In other words, he probably seeks the Responsible Gambling section. Either way, he's not satisfied because they didn't take care of him properly.
Many bad reviews circle around BetRegal on Trustpilot, and not all of them are rage-induced. Some are concise and with real complaints, as well. Overall, it's not very well received online, although we had an 'okay' experience with this sportsbook.
Conclusion – Should You Bet on BetRegal?
With everything we said so far about BetRegal, it's time to end the review with a proper conclusion.
BetRegal is by no means a bad online bookmaker. It's pretty good, with some issues that set it apart from the much better competition. Its welcome bonus isn't the most generous, but it's easy to get. Solid promotions are there, and so are tons of betting markets for football players.
We didn't like the fact that it doesn't have the most competitive odds and that it doesn't have any app for mobile phones. It also lacks some features like live streaming, which you can find on many UK bookies out there.
If you register on BetRegal and start betting, you won't be wrong. However, a much better alternative is 888Sport. It offers better odds, more promotions, and a better welcome bonus, so it's our recommended bookmaker.
How to Register on BetRegal?
Registering on BetRegal is very simple and you have to follow just two simple steps after you initiate the process. In the upper-right corner, click on the Join button.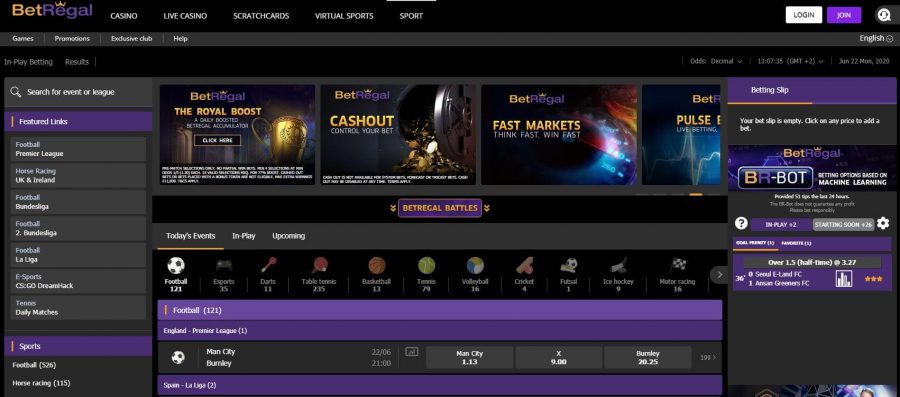 Now, the first registration step will appear.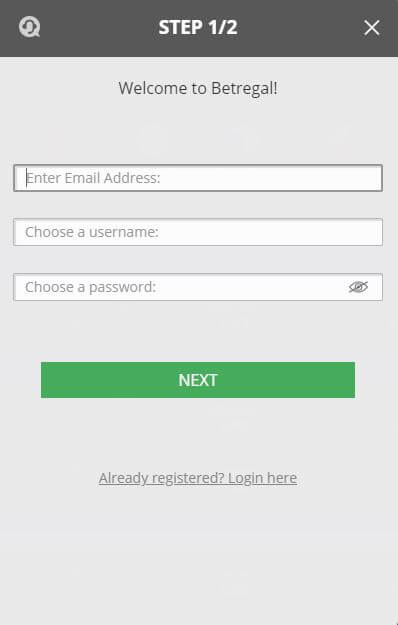 This is a very simple part. Just enter your email, unique username, and password. Once you do so, click Next.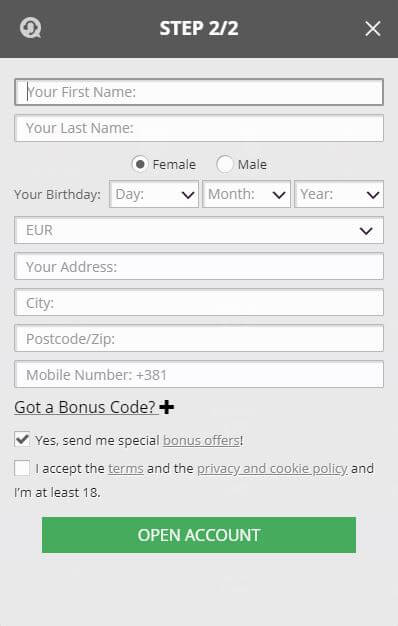 Now, enter your full name and choose your gender. You'll also have to enter your birthday, so make sure that you're over 18. Otherwise, BetRegal won't allow you to place bets. Choose the currency that you want to use and enter your address, postcode, city, and mobile number. Tick the box to accept the terms and conditions, and if you don't want bonus offers, untick the first one.
Click Open Account and you're ready to roll.
Verification Process – What Do You need?
BetRegal doesn't clearly state what verification documents you need. We visited its terms and conditions, where they only mention that if you don't verify your account, you'll be banned, and so forth. Since we bet on BetRegal, our account is verified, so we know how to do it.
You need to send certain documents to the customer support team using one of the contact methods from above. These documents will include:
National ID
Passport
Driving License
Utility Bill
Bank Statement
The first three documents will verify your ID, while the last two are for verifying your address. Make sure that the last two documents are not older than 3 months. Otherwise, their validity will be void.
If everything's okay, BetRegal will fairly quickly verify your identity, allowing you to deposit and withdraw funds easily.
FAQ
Let's answer some of the questions we didn't mention earlier in this review of BetRegal:
📌 Is BetRegal legit?
Yes, it's legit. It has a license from the UKGC and MGA, which proves its legitimacy as both an online casino and a bookmaker.
🌍 Where is BetRegal based?
BetRegal is based in Malta.
🔎 Who owns BetRegal?
The company that owns BetRegal is called ASG Technologies LTD. It's a company based in the British Virgin Islands.
💰 How to withdraw on BetRegal?
To withdraw your money on BetRegal, visit your profile, go to the Withdrawal menu, and enter the amount of money you want to withdraw. Choose the payment method and click Withdraw. The money should arrive in 3 to 8 days, depending on the payment method.