Betsafe is a brand well-known in Europe and the United Kingdom. With thousands of casino and sportsbook players, this bookmaker made quite a strong name for itself on the betting landscape. But, the real question is if it's worth your time if you're a player from the UK. Well, today, we're going to analyze the bookie thoroughly and see if you should start betting on it. Our full Betsafe review is below, so grab something to drink, and let's go for a ride!
Betsafe Welcome Bonus – Is It Generous?

For the newcomers to this bookmaker, a welcome bonus will be the most important factor. Both online bookies and casinos in theUK tend to have pretty generous welcome bonuses that enticen new players to start playing and gambling.
That's why we start off our review with the welcome offer of Betsafe. As we can see, you get a pretty generous welcome bonus here, which is the same on Betsafe Casino. On bookmakers, things work out a bit different, so you get a different bonus.
Upon registering your account, the bookmaker will give you a 100% bonus, up to £25, and a £10 safe bet on top of that. Let's check the conditions of the bonus and see if it's easy to wager.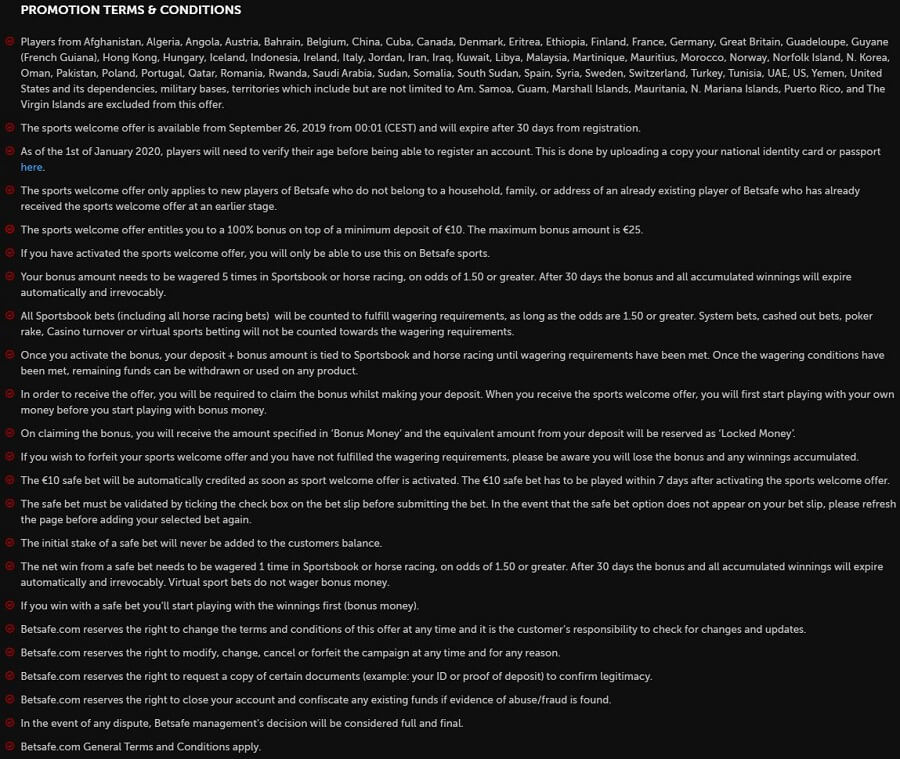 We can see that the bookmaker is available in many countries worldwide, and not just the United Kingdom. However, the welcome bonus is NOT available for these countries but only in the UK. Furthermore, every user will need to verify his or her account before being able to claim this offer.
Now, the minimum deposit for this bonus is £10, in which case you'll get £10 as a bonus. Should you deposit £25, you'll get a maximum bonus of £25. Since this isn't a qualifying bet bonus, there are wagering requirements of 5 times in either sportsbook or horse racing.
You'll need to wager your bonus on the odds of 1.50 or greater within 30 days. If you fail to wager the bonus, you won't be able to withdraw your winnings associated with it.
What about this safe bet? Well, you can read it as 'free bet' instead of a safe bet. This bonus doesn't have wagering requirements and can be claimed once the offer is activated. On the other side, you have only 7 days to play with it on Betsafe sportsbook. Once that expires, the bonus is deleted from your account.
All in all, the welcome bonus is pretty good, despite the wagering requirements. Even if you fail to meet them, you can still hold on to your £10 in safe bets i.e. free bets.
Betsafe Promotions – Are There Some?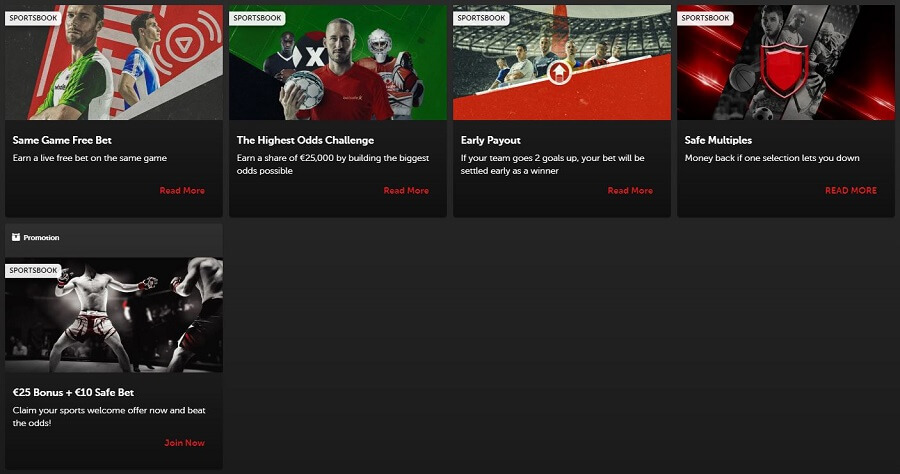 In our review of Betsafe Casino, we saw that it's jam-packed with many different promotions. That's one of the best things about this brand, in general. This time, their online UK bookie repeats the same tradition, offering 5 promotions for frequent and new players.
One of the promotions is the aforementioned welcome bonus, while the other are aimed toward free bets and odd booster. We won't talk about all of them, as always. Instead, we'll mention two promotions that we liked the most.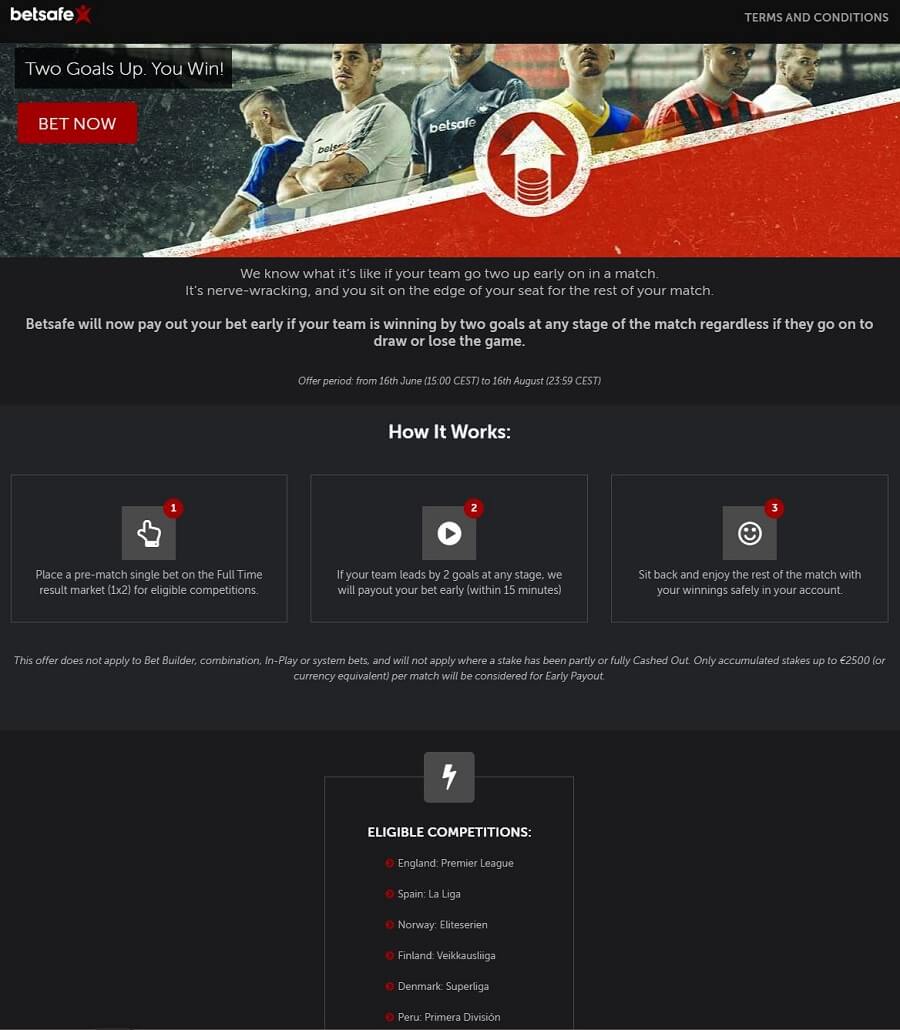 The first promotion is called "Two Goals Up. You Win!" Without a doubt, this is one of the best promotions we've seen on any UK online bookie. Basically, Betsafe lets you claim your winnings before the match wins, regardless of the outcome.
For example, if you played on Barcelona to win, and the club leads by 2 goals at any stage, Betsafe will pay you the bet early, within 15 minutes. This promotion doesn't apply to all the leagues, but popular leagues like Premier League, La Liga, Superliga, and Primera Division are all here.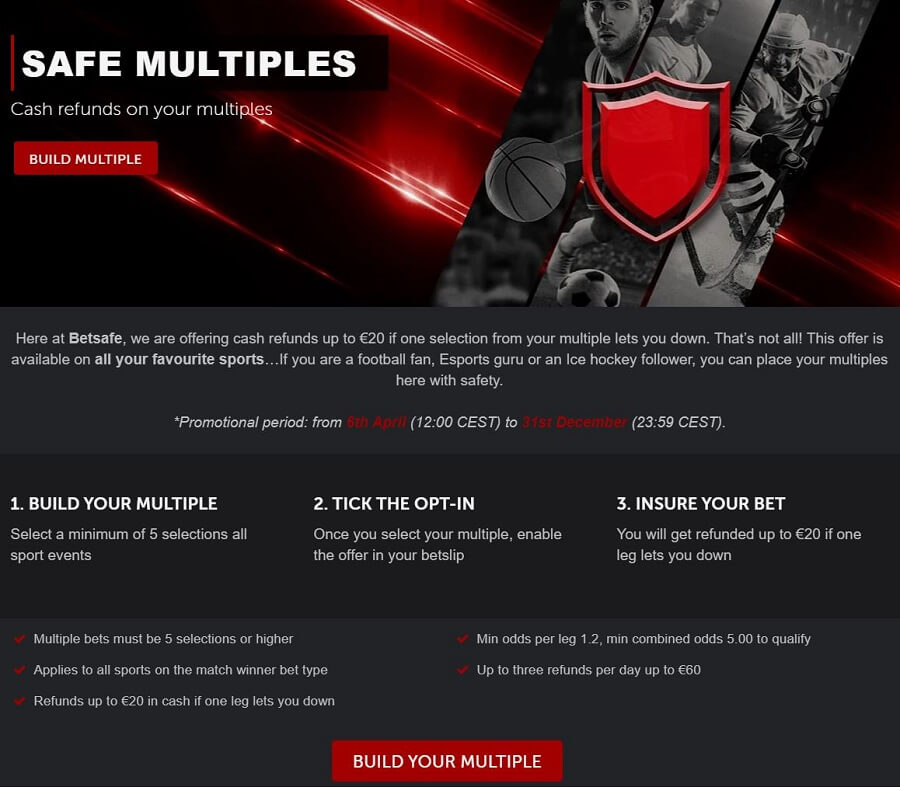 Did you like the first one? Good. Then, you'll like "Safe Multiples" as well. This promotion lets you get a refund of up to £20 if one selection on your bet slip loses. To opt-in for the promotion, place 5 or more selections on your bet slip, enable the offer, and if one selection loses, £20 might be yours.
The required odds aren't even very high – just 1.2 for each selection and there are up to 3 maximum refunds per day. Oh, and just one more thing – the promotion is available for ALL sports, whether it's football, basketball, or horse racing.
We're glad that Betsafe does an amazing job in this regard. The promotions you get here are simply phenomenal, letting you earn additional free bets through playing and wagering.
Deposit/Withdrawal Methods and Limits

Betsafe is a brand well-known not only in the UK but also in Europe. This makes it easy to raise your expectations to the skies, especially when it comes to payment methods. This UK bookmaker won't give you twenty of thirty payment methods like some do – no, no!
It'll give you a few of them that are the most important. You get to use methods like VISA, Neteller, Skrill, Bank Transfer, PayPal, and a few more. Arguably, these are the most used methods in online bookmakers and casinos in this country.
Even if you don't use an E-wallet, you'll surely use your VISA/MasterCard, which is enough for both deposits and withdrawals.
Speaking of deposits, the minimum deposit is £10, while PayPal requires you to deposit at least £20. Moreover, deposits on Betsafe are instant and there are no fees, except for credit/debit cards that might take up to 2.5%. That's why we recommend PayPal, Skrill, or Neteller.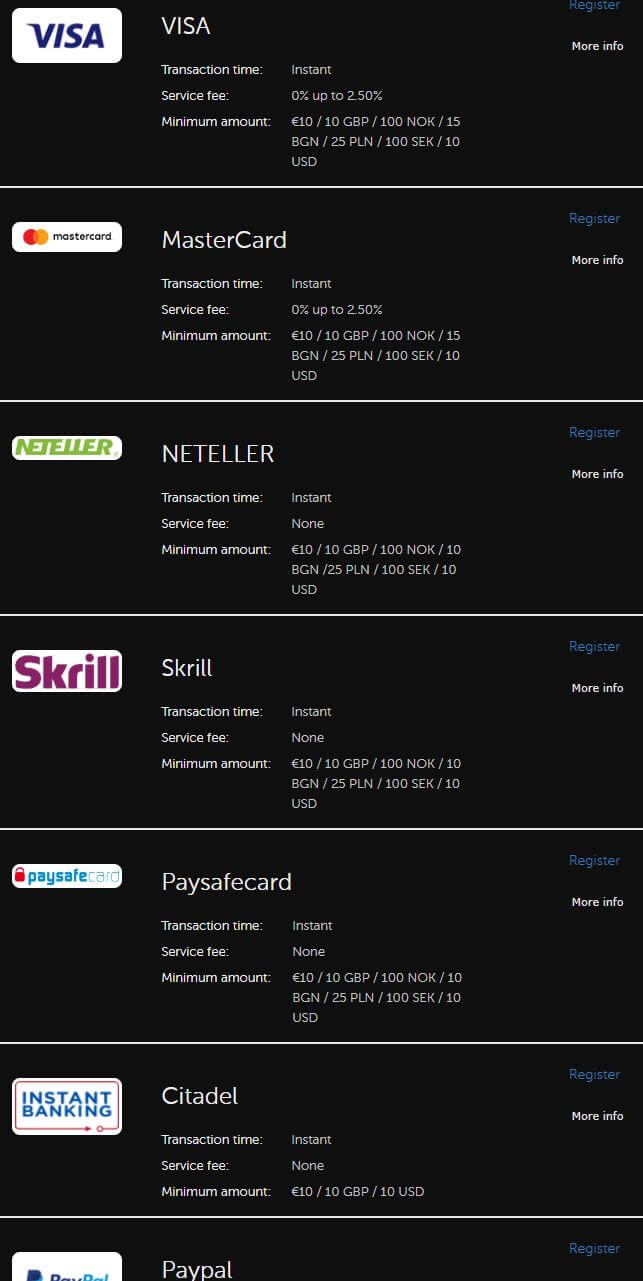 As for withdrawals, rules are a bit different. Regardless of your payment method, you can withdraw a minimum of £20, except for PayPal, once again, that lets you go as low as £10. Surprisingly, withdrawals on this bookie are instant (24 hours) if you use anything else than VISA or Bank Transfer.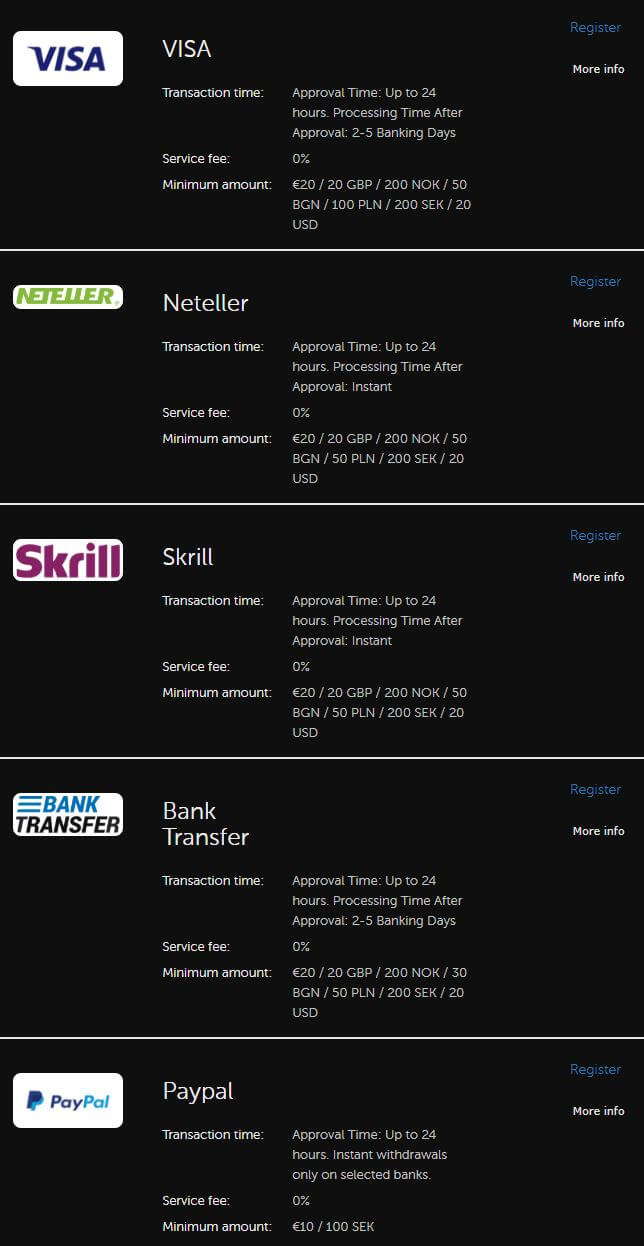 These two methods take around 2 to 5 banking days to fully process your withdrawal. The upper limits are non-existent when it comes to withdrawals, while you can limit your deposit to whatever value you want.
Betsafe Betting Variety
Most of the time, experienced bettors will find which sport they like, and bet on it. But, some ambitious betting lovers aren't keen on behaving like that. They want as many sports and as many options for betting and earning money.
Betsafe offers a total of 30 sports and non-sports that you can easily access on the left-hand side of the screen. The image below is edited so that all the sports can fit properly. Otherwise, the image would be as long as your bill in the supermarket on Saturday morning.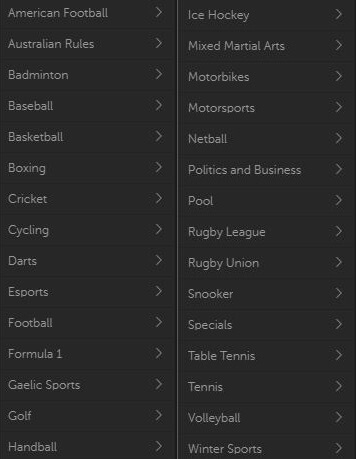 The bookmaker shows its offerings pretty well, from A to Z, making it very easy to find the sport you're after. Apart from classics like football, tennis, and basketball, Betsafe gives you the option to bet on Esports, darts, boxing, pool, politics & business, netball, and many more.
You probably won't get bored any time soon on Betsafe, which is what betting should be all about.
Betting Options
Given the sheer number of sports that you can bet on, it's interesting to see if betting markets are as abundant. Starting off with football, Betsafe does an amazing job of bringing pretty much every betting market on the table.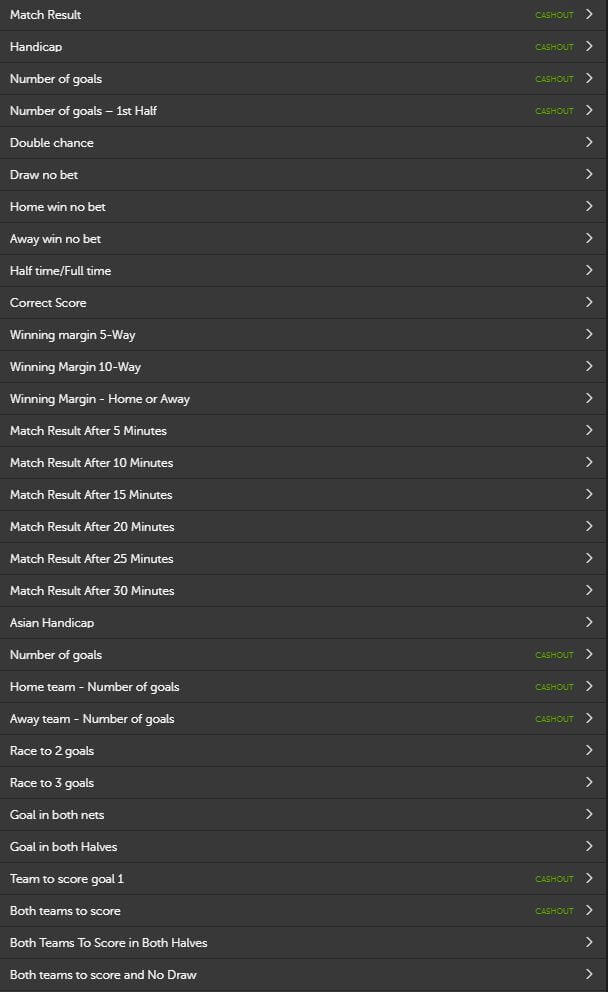 For some options, you even get a cashback option, which lets you retract your bet before the match finishes. You can get a full or a partial cashout from Betsafe, depending on what you want. A full cashout lets you get back all of the money, while the other one lets you leave some money on the bet, in case it wins.
Also, the image above isn't the whole galore of betting markets. Betsafe offers even more than this, which is really impressive if you want our opinion. And the cashout feature is available for the right bets, such as match result, handicap, number of goals, and so forth.

What we didn't like here was the MMA/UFC betting market. Sure, you get all the matches and competitions but you can't bet on anything except for the match-winner. No winning methods, or rounds, for example, making this betting market a bit boring.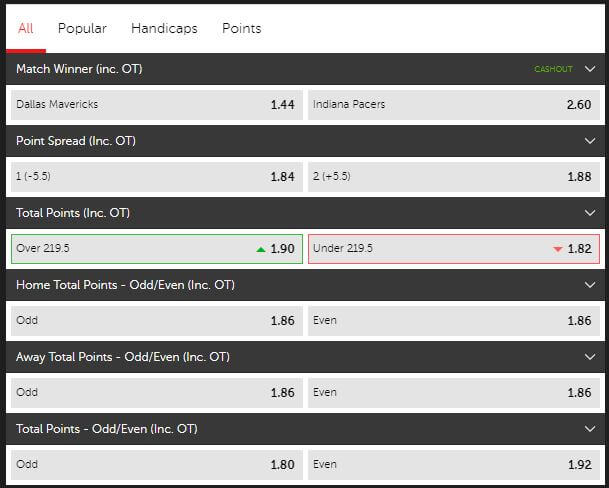 Basketball, on the other hand, is great. you get markets like match winner, point spread, home total points, away total points, etc, etc. We like that the bookmaker even covers NBA, so you can bet on the highest level of this beloved sport.

Lastly, we have snooker, which offers a few betting markets that pretty much encapsulate the whole match of this sport. You can bet on the match winner, handicap snooker, correct score, and total frames.
The Odds at Betsafe – Are They Competitive Enough?
When reading through online reviews of UK bookmakers, we often see users complaining about weak or low odds. Of course, that doesn't apply to 888Sport or Betfair. But, the odds are very important because they directly influence how much money you can win.
The higher the odds, the more money you can potentially win, and the riskier the bet is.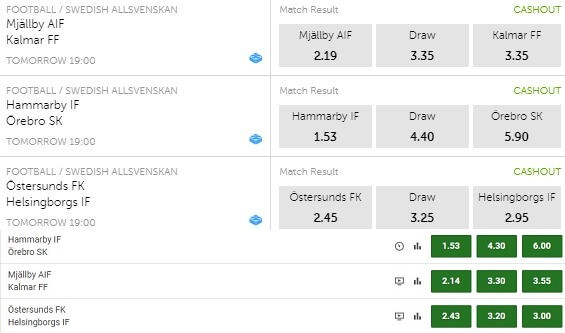 We compared Betsafe with Unibet, another great online UK bookie that offers an outstanding Esports betting experience. This time, though, we compared some football matches to see how these two stack up.
In some matches, Betsafe is way ahead of Unibet, which happens the opposite side, as well. Without complicating things, we can say that the bookmaker is on par with Unibet, a member of our top-ten list of UK bookmakers.
To be honest, these are some impressive results for Betsafe for this part of our review, although they're not better than what 888Sport offers.
Betsafe Special Features
To enhance the basic betting experience, UK online bookmakers often introduce special features. These features are a must since they greatly influence the qualify of the experience you'll get. Let's see what features you get on Betsafe bookmaker.
Bet Builder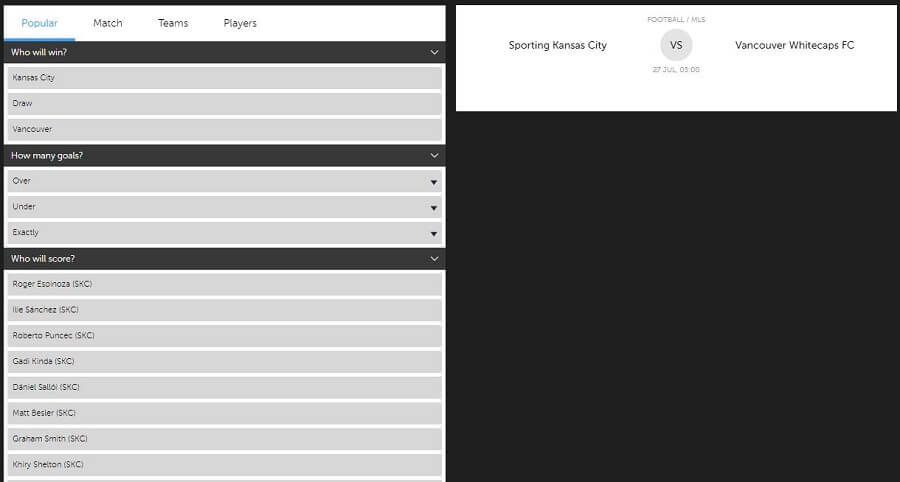 Bet Builder is a very popular feature that makes betting so much fun and varied. People often combine bets when playing in land-based bookies. For example, they write something like 1&3+, which means that the home team is going to win with 3+ goals, regardless of who scores them.
On Betsafe site, bet builder functions basically the same. It lets you combine two or three bets into one, which results in some great odds that might be higher but easier to win. To make things better, it's very easy to use. Just enable it and start merging bets for higher earnings.
In-Play Betting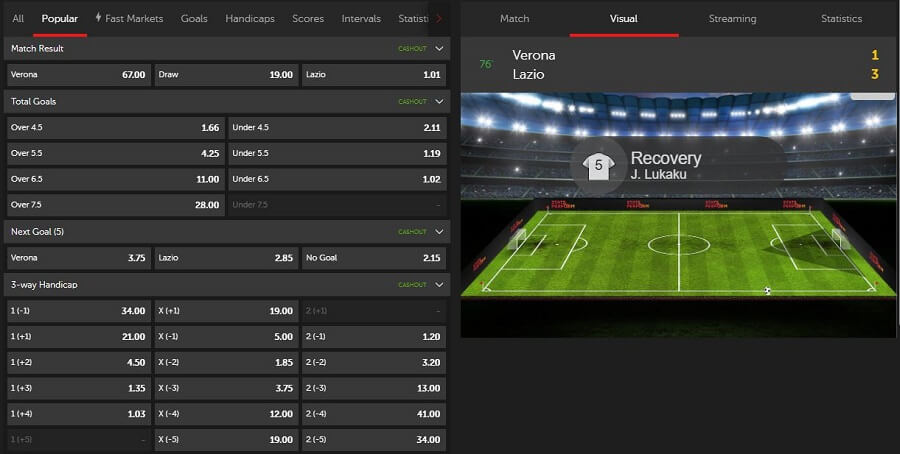 In-play or live betting is why many gamblers utilize online bookmakers. Simply put, this form of betting lets you bet on the match or a game while it still lasts. You try to predict the next thing that's going to happen, all while following the in-match statistics.
While there's no live streaming, Betsafe provides you with a small overview that lets you see what happens in the match. You can see when the ball is out, when someone get a red card, free kicks, penalties, and so forth.
The same applies to basketball or baseball matches, for example. Next to that are all the betting markets that you can use alongside bet builder, for maximum betting efficiency.
Betsafe Blog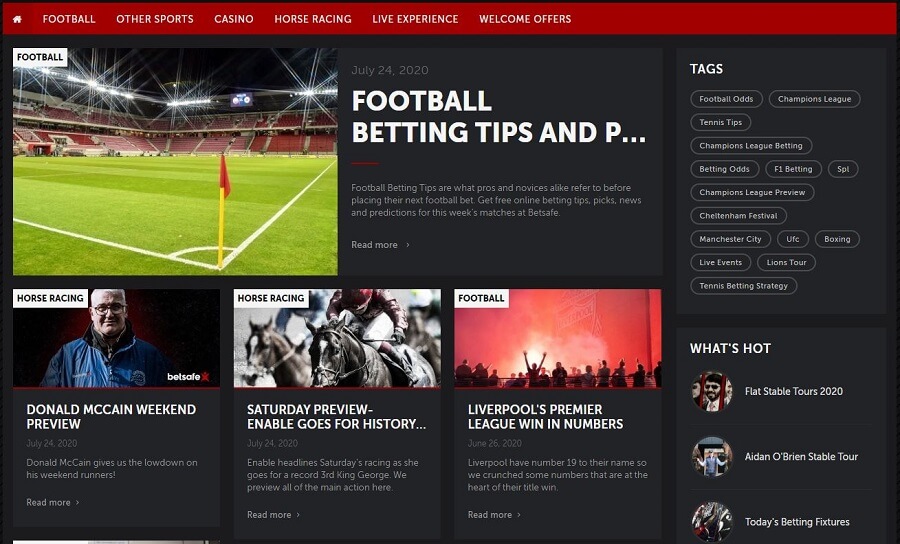 Lastly, if you want to take a small break from betting, you can always do some reading. Betsafe's blog might not be as good as the Betfair's one, but you get plenty of content to engage in.
Apart from some sports news, there are betting tips that will help you place bets smartly. We can see that the site is more focused on football, but that is the most popular sport in the UK, so we can't blame them.
How Fair and Secure is Betsafe?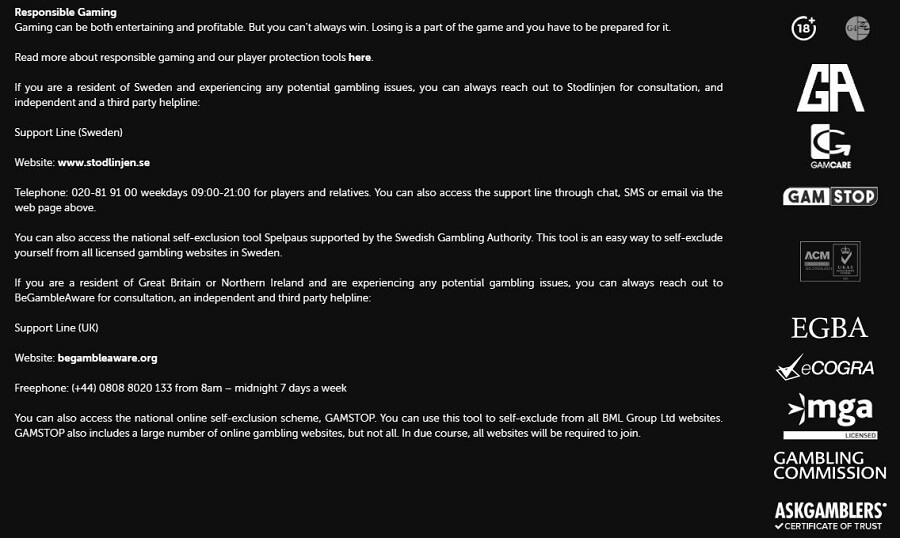 Betsafe is very transparent when it comes to its whereabouts and betting in general, which is a really great news regarding this in-depth review. You can see that it warns you that gambling can be addictive, promoting responsible gambling and betting properly.
Now, what about fairness and security? You can rest assured that the bookmaker is more than fair, with carefully filtered matches and bets. That is easily proven if you take a look at the licenses it has.
It's based in Malta, so it has a license from MGA, but also UKGC and Spelinspektionen. The UKGC is United Kingdom Gambling Commission, while Spelinspektionen is Swedish gambling regulatory.
Why Swedish? Because the company is owned by Betsson AB, a gigantic betting brand in Europe. To accompany its great pedigree, the company introduced a multitude of responsible gambling companies, such as GamStop and GamCare.
They will help you if you encounter any problems related to gambling or betting. Finally, the website uses rock-solid encryption for keeping your personal and payment info intact. No one will be able to even come close to it, let alone steal the money from your account.
We can confidently say that Betsafe is secure, fair, and safe.
Loyalty Program
A loyalty program is always a welcome addition that aims to reward the most frequent players. Online casinos are much keener on introducing it, although not every UK casino comes with a VIP scheme.
Betsafe is no exception – it doesn't have any kind of loyalty program, while its Casino department has. In the casino review, we weren't satisfied with the VIP program because it was invitation-based.
Here, though, we can forgive the lack of it… to some extent. The lack of a VIP program is countered by multiple promotions available pretty much every day. And if you want a loyalty program for additional rewards, we recommend registering on 888Sport. It offers both a loyalty program AND a plethora of promotions to reward your betting and wagering.
Betsafe Customer Support

Customer support at Betsafe won't disappoint you. Our experience with it was pretty positive during our Betsafe review, which may not necessarily apply to you. However, when using live chat, we got responses in less than a minute, and that's pretty fast, even for this contact method.
Apart from live chat, the bookmaker lets you use other methods, such as email or request a callback. We like the second option a bit more. It's more direct and lets you talk to the Betsafe support agent directly, over the phone.
Just leave your number and wait for the support team to contact you. If you have minor issues and you aren't in a hurry, email support is always the way to go. Albeit, the waiting times might go up to 2 hours – sometimes less, sometimes more.
What do Other Users Think About Betsafe?
Before we conclude our 2021 review of Betsafe, we need to check online for other users' reviews. Remember – a review is just an opinion. An opinion that you and us might not share.
Our source of feedbacks is TrustPilot, a website where millions of users review online casinos and bookies in the UK. Here, the bookmaker has a really poor score of just under 2 stars.
One positive review we managed to find about Betsafe sportsbook is pretty reasonable and logical:

This user praises the website's customer support and ease of account verification. He mentions that he received many withdrawals, with no issues. Also, he states a few betting sites as his favorites, some of which are Betfair and bet365.
Betsafe definitely can't compare with these two, but he made good choices.

Another review we found about Betsafe is bad, but it's more recent – from 2021. This user is really dissatisfied with communication with the customer support team. In his words, customer support didn't mention that he need any paperwork, which prevented him from withdrawing his funds.
Lastly, he mentioned that it took days to verify his documents.
We can see how different can online bookmaker reviews be. The main thing is that Betsafe doesn't have quite a good reputation on Trustpilot. For comparison, Betway is one of the rare bookmakers to have more than 4 stars on this website.
Conclusion – Should You Bet on Betsafe?
To wrap things up, it's time to bring our final thoughts to the table.
During our Betsafe review, we had a good time betting on the site, with no big issues. The welcome bonus is great, it's easy to wager, and you can easily get it if you're from the UK. Overall, there's nothing that this bookie does extremely bad but it lacks some of the features that make it inferior to the competition.
Namely, the loyalty program, live streaming, and some of the betting markets. Registering your account on this bookmaker won't do you any harm. But, a much better option is 888Sport.
It fills all the holes that Betsafe has, and gives a much better betting experience overall.
How to Register on Betsafe?
Whether you're looking to register on the casino or the sportsbook, Betsafe makes it easy for you. To initiate the registration process, click on the green registration button in the top-right corner.
Doing that will take you to the registration screen, and there's only one, which makes things simpler.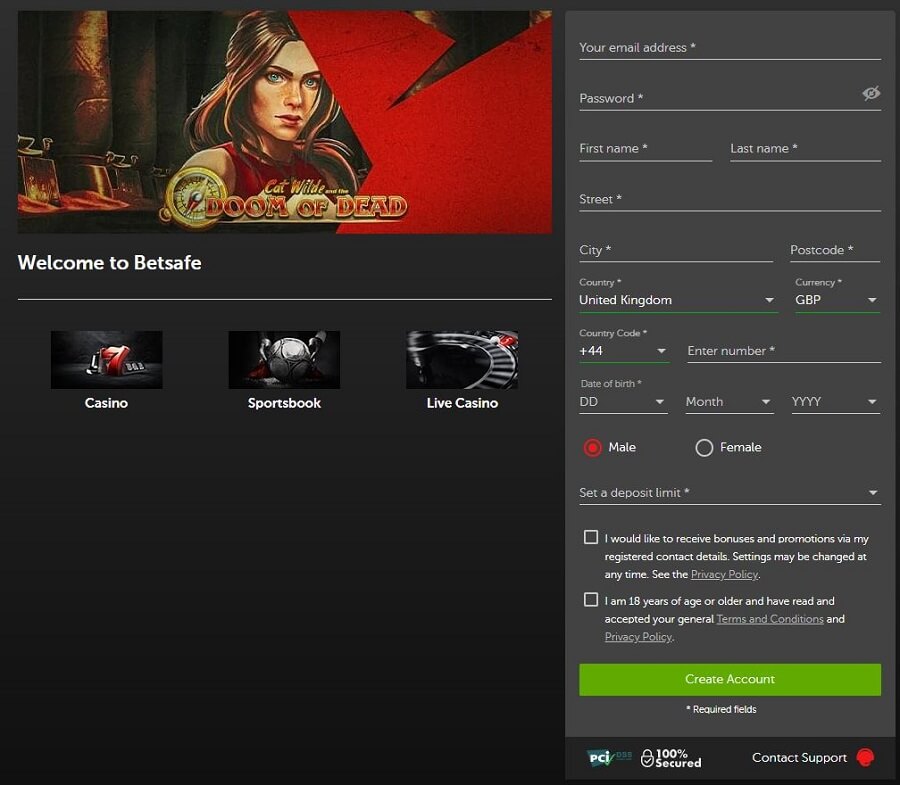 The first bit of information is your full name, email address, and password. After that, you'll need to enter your address, city, and the country. Make sure that information is 100% correct because you'll need to verify it later on.
You can also choose the currency you want to use. If you're from the UK, we recommend GBP, but you can use dollars or euros if you want. To finalize, enter your mobile phone number, date of birth, and choose your gender.
For the end, you can set a deposit limit if you think you need it. Or perhaps, click on the "create account" button after ticking the required boxes and proceed to deposit and verification.
Verification Process – What Do You need?
Verifying your account at Betsafe is very simple and will take you no more than a few minutes. The bookmaker has a whole verification policy, shown in the image below.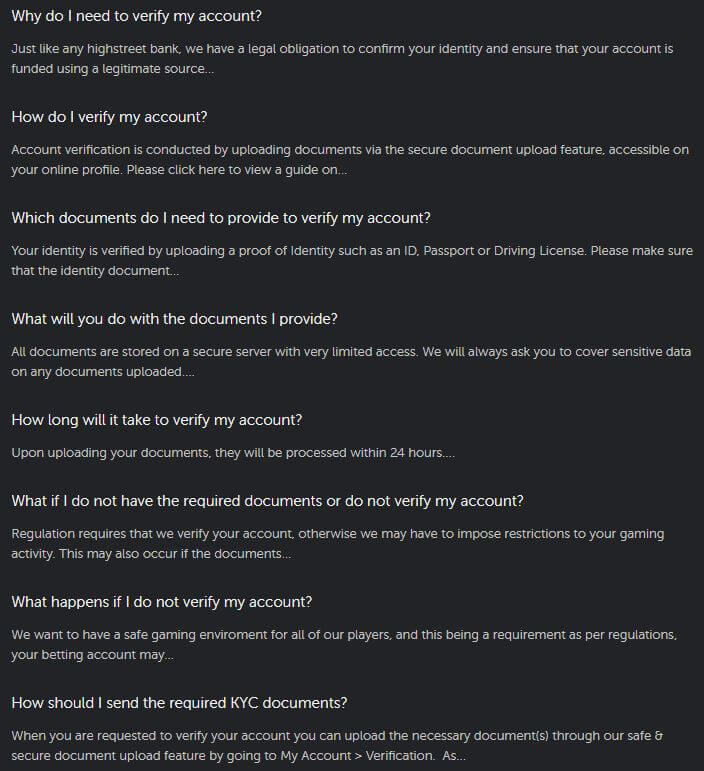 There are two types of verification that you need to go through – age and address verification. To verify your age, take a photo of your national ID, passport, or driving license. Make sure that your birth date, name, and picture are all visible.
To verify the address, you can photograph a utility bill or a bank statement not older than 3 months. Needless to say, make sure that the info on the photos is CLEARLY visible.
Once you do so, you can contact the support team to upload the photos. If you did everything correctly and you didn't lie about your info, verification will be realized pretty quickly.
FAQ
Let's end our review with a short FAQ section to answer some of the frequently asked questions relating Betsafe.
🌎 Can I claim the welcome offer on Betsafe outside the UK?
No. The welcome bonus is exclusive for players from the United Kingdom. Availability of other promotions might also vary depending on your location.
📌 Who owns Betsafe?
Betsafe is a company based in Malta and owned by Betsson AB. Betsson AB is a Swedish gambling company that owns a few more bookmakers/casinos, with a generally positive reputation in Europe and the UK.
💰 How to withdraw money on Betsafe?
To withdraw money on Betsafe, click on your account in the upper-right corner. Visit the Withdraw menu, choose the payment method you want to use, and type in the amount of money you want to withdraw. The money will be in your account either in 24 hours or 2 to 5 days, depending on the payment method you've used.
❓Does Betsafe support PayPal?
Yes, Betsafe supports PayPal even in the UK. Our suggestion is to use this method, Neteller, or Skrill. All three of them offer instant deposits and the shortest withdrawal times.