BetVictor is one of the oldest companies in the business. It's founded in 1946 by William Chandler, with headquarters in Gibraltar. With more than £1 billion of turnover a year and thousands of employees worldwide, BetVictor promises a top-notch betting experience for both demanding and non-demanding betting lovers. Is it as good as it sounds? Well, we're going to talk more about that in our comprehensive review of BetVictor. Get a drink, relax, and let's see if the bookmaker is worth a shot!
BetVictor Welcome Bonus – Is It Generous?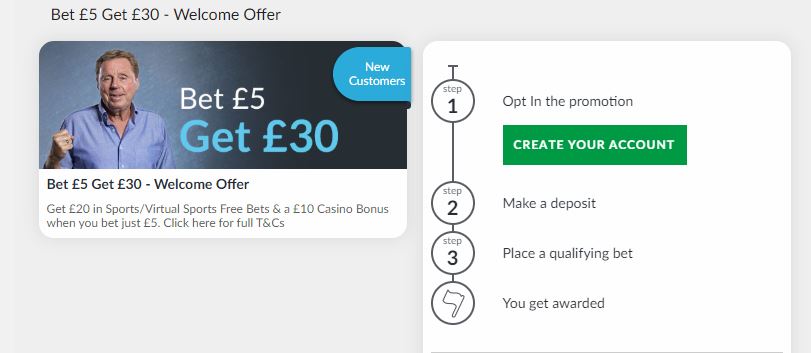 Kicking off our review, let's talk about the welcome bonus offered by BetVictor. Welcome bonuses are very popular among the UK online bookmakers and they're a great way of enticing the new players to bet on your website. BetVictor isn't the most generous bookie out there, but the welcome bonus is quite easy to claim. New players have the chance of winning up to £30 in bonus cash if they bet just £5.
Let us explain.
Betting on sports or virtual sports will bring you a welcome bonus of up to £30. £20 for a sportsbook and £10 for BetVictor online casino. Here are the welcome bonus conditions: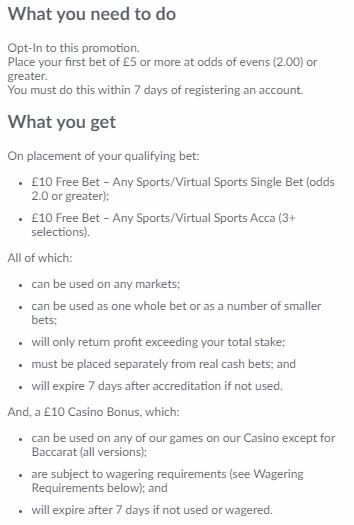 First of all, you need to opt-in to the promotion, place your bet of £5 on the odds of at least 2.00 (1/1), and lastly, get your welcome bonus. The good thing is that the bonus applies to all of the markets, so you don't have to limit yourself only to a few sports or markets. Instead, you can bet on horse racing, boxing, MMA, and so forth, as long as the odds are above 2.00.
We haven't mentioned one thing now – wagering requirements.
Are there wagering requirements imposed? Fortunately, no!  That's some great news that will make it easy to get a welcome bonus and gain profit from it. If you ask us, this is always a better case – not so generous bonus that can be wagered, as opposed to a generous bonus that you can't wager. At least, you get to keep something from your bonus-related winnings.
BetVictor Promotions – Are There Some?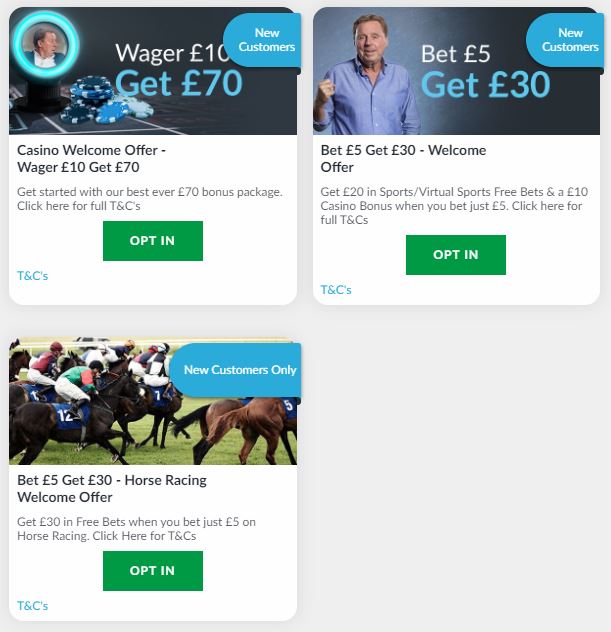 At BetVictor, you get to enjoy lots of betting options and generally a pleasant betting experience. More about that later. For now, let's discuss promotions that aren't exactly the bookmaker's magnum opus. We saw William Hill who offers quite a lot of promotions and 888Sport follows the same route. Unfortunately, that's not the case with BetVictor.
We understand that different promotions apply to different countries sometimes, but we're from the UK – come on! When we saw only 3 promotions, we thought someone was joking with us. One of these promotions is a casino welcome offer, the other one is a welcome bonus, and we're left with only one more.
Even this horse racing promotion is a welcome offer, meaning that you can claim it only when you're a new user on BetVictor. Guess what – you can't claim it more than ONCE. This leaves us with NO promotions at all!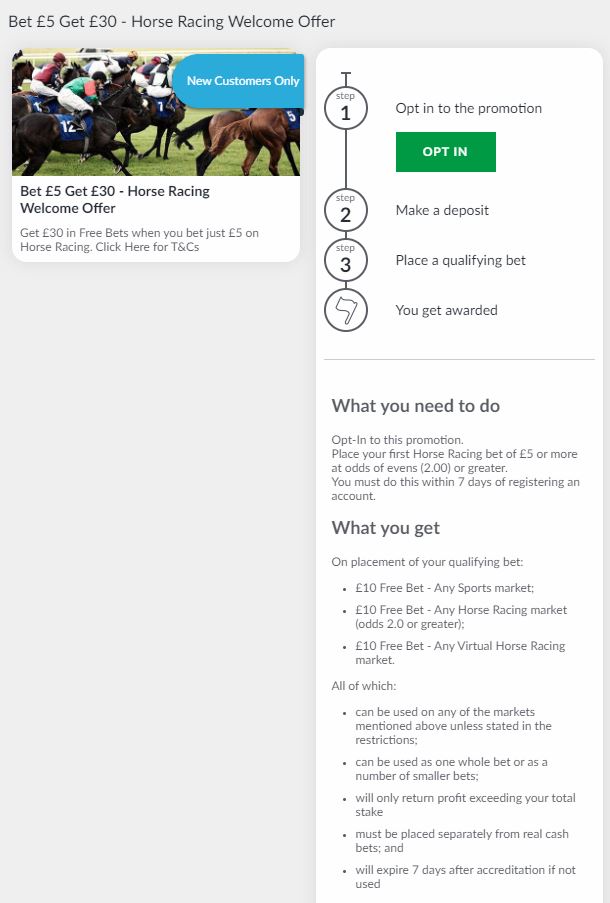 Nevertheless, if you're keen on getting it, we aren't going to stand in your way. In fact, we're going to tell you how to get it, as you need to milk out both of these promotions. Since this is a welcome offer, you need to bet £5 once again and get up to £30 in free bets. The odds need to be 2.00 (1/1) or higher and you must opt-in within 7 days of registering your account.
You can basically enjoy two welcome offers on BetVictor, which is… well, cool. However, keep in mind that there are no other promotions that will reward you as you keep betting. At the time of writing the review, this is how the situation was.
In the future, we hope that BetVictor improves upon these critiques and becomes slightly more generous toward its players.
Deposit/Withdrawal Methods and Limits
Is BetVictor generous when it comes to payment methods? Well, sort of. For the players in the United Kingdom, having as many payment methods as possible is very important. With thousands and even millions of players enjoying betting every day, different payment methods are often used. Here's what you can expect to have on BetVictor.

Before we move on with this section, we want to mention that payment methods depend on your region. Not every user gets the same methods, as not every user is from the same country. We're located in the UK, and as you can see, we can't use Neteller and Skrill, for example, even though the bookmaker supports it.
That's really a shame, considering that these two are the best in terms of withdrawal times. Upon registering, the bookmaker offered us these options for deposit: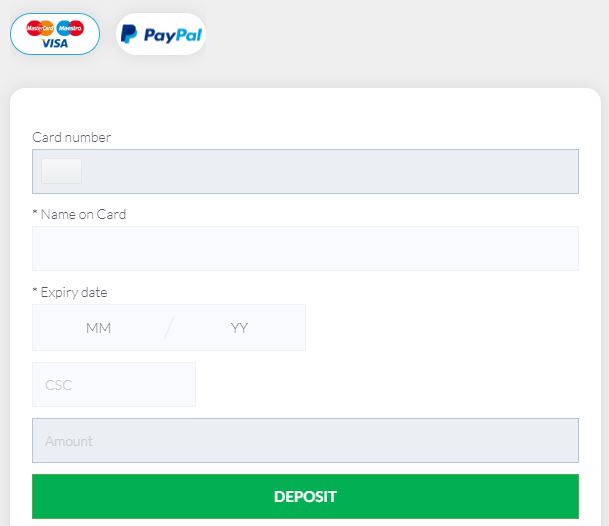 Players from the UK can use these two methods – credit/debit cards and PayPal. For us, that's completely okay because we use them for betting whenever it's possible. Needless to say, we had no problems depositing cash on BetVictor. Speaking of deposits, what are the limits?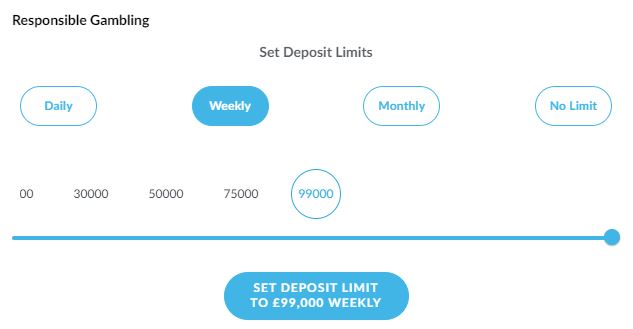 Through Responsible Gambling, you can set your deposit limits. As you can see, you can deposit a maximum of £99,000, while the minimum deposit is £5, regardless of your selected payment method. Should you want to withdraw money, it's best to use the same method you've used for deposits.
The reason being is because you'll have to verify both payment methods later, notify the support team about it, and so forth. The minimum withdrawal is £5, while the maximum depends on the payment method. For us, it was £50,000. With that in mind, BetVictor is decent even for high-stakes players.
BetVictor Betting Variety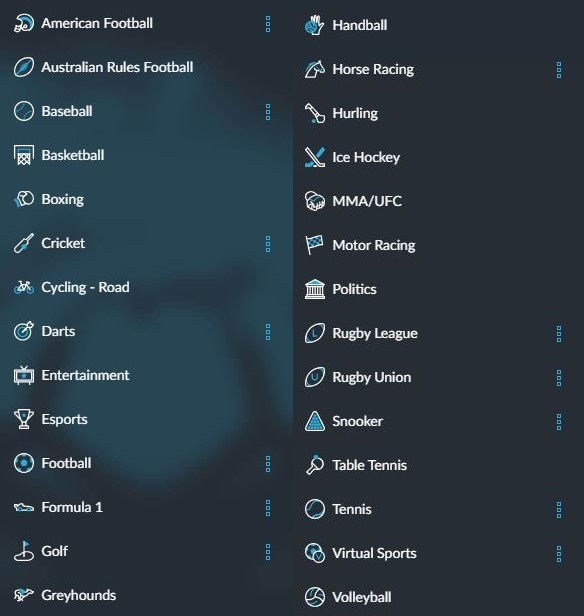 When it comes to betting markets and sports, BetVictor isn't going to disappoint you. Even the most demanding betting lovers will know what type of company we're talking about. And as such, this betting company doesn't joke around, giving you many sports to bet on.
Did you count them yet?
We bet you did – 28 sports and non-sports events are on the list. Quite impressive, isn't it?
The most popular choices here are football and horse racing, but the bookmaker offers more than that. Darts are here, Esports, Formula 1, Greyhounds, Baseball, Motor Racing, MMA, tennis, and so on, and so forth.
Those interested in politics can also enjoy betting on it. The US Presidential Election is approaching, so feel free to bet on the candidate you think will win!
Or perhaps, you want to bet on snooker and fast-paced table tennis? Sure, be our guest! Just visit BetVictor website and create an account.
Betting Options
Betting at BetVictor isn't just guessing who will win. Oh, no! It's more like guessing every single part of the match or a game. The times where you could play only fixed odds are long behind us and we're looking at a new generation of UK online betting sites.
When we think about it better… what do we talk about? Here's a screenshot of football betting options and see them for yourself!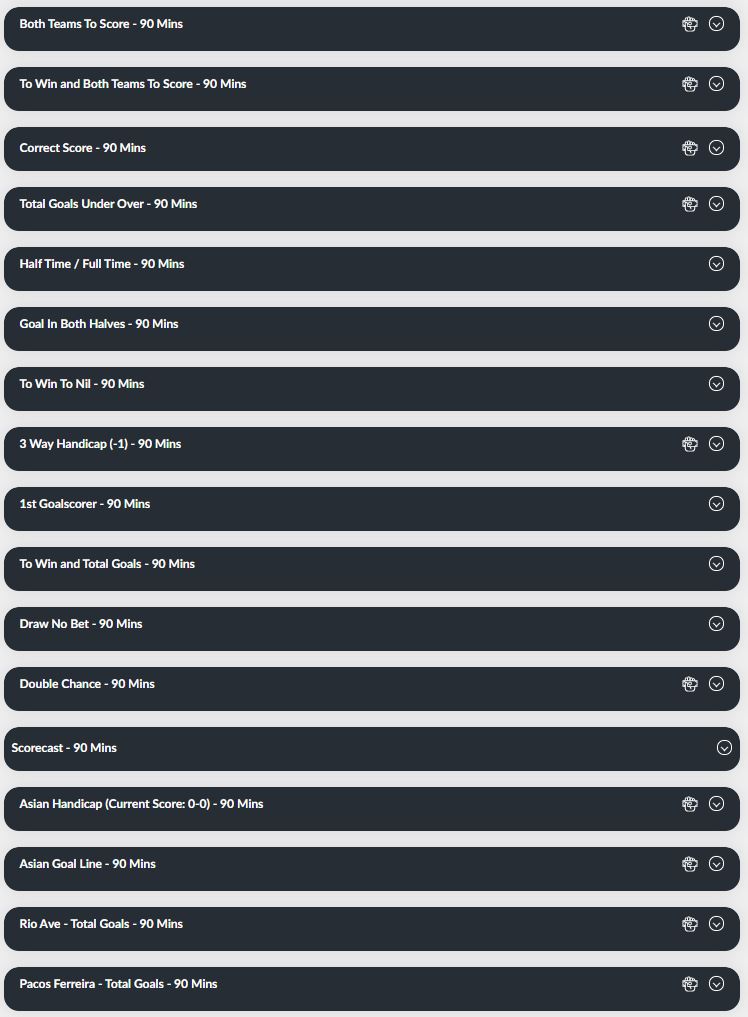 A multitude of markets is there – correct score, both teams to score, draw no bet, Asian goal line, 1st goalscorer, and so forth. Not to mention that you also get a majority of these options even when betting live!
Oops, we accidentally revealed a special feature. More about them in one of the next part of our BetVictor review and test.
So, if you're a football lover, will you enjoy the betting landscape here? Without a shadow of a doubt!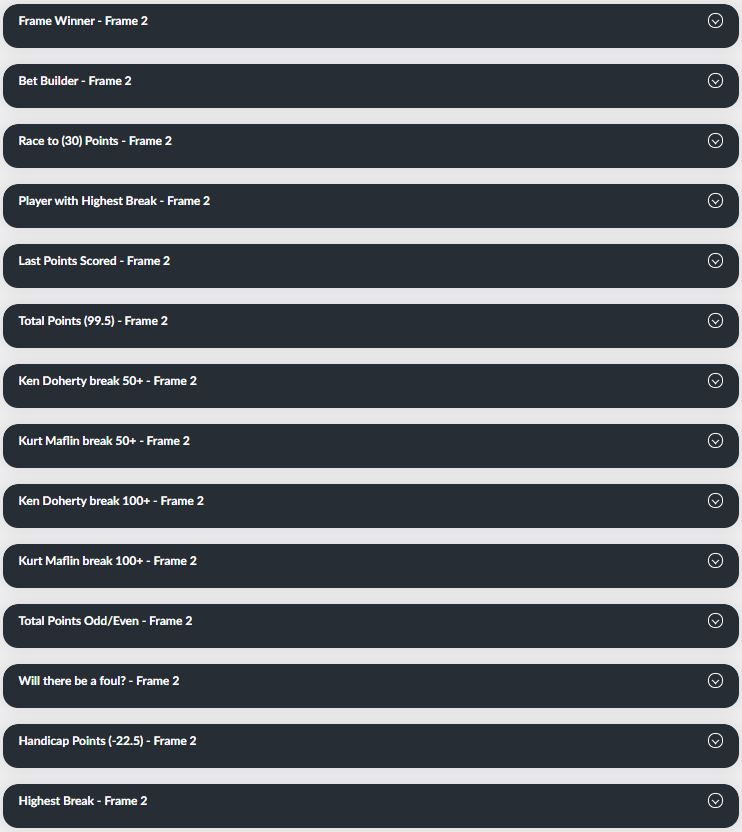 Did someone mention snooker a while back? Here you go! These are almost all the betting markets for snooker and there are lots of them. We can see that BetVictor allows betting per frame. For instance, frame winner, total points in the frame, breaks, odd/even, highest break, handicap points, and so on. While we're here, we can also mention table tennis as well: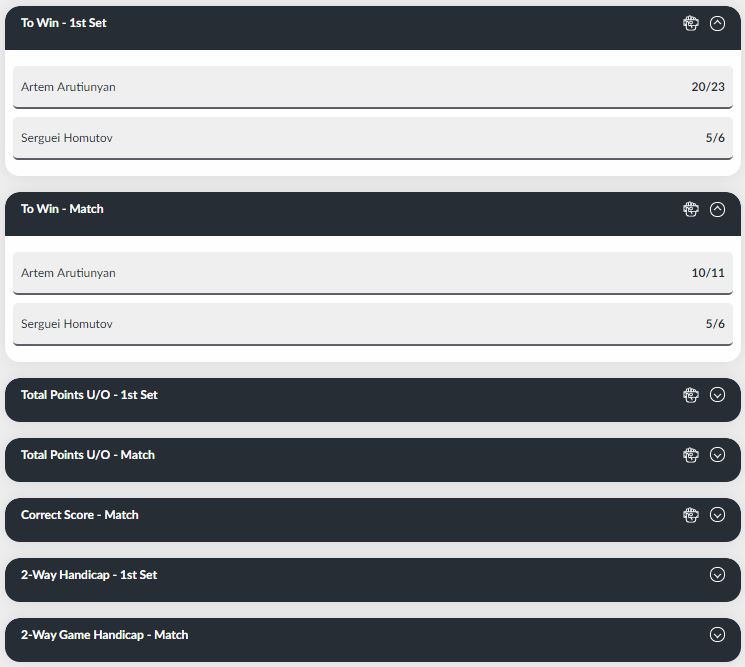 For this sport, the betting options are pretty vast. Many UK online bookies neglect sports like these, whereas, BetVictor doesn't, and we respect that. If you're a fan of this high-speed sport, this is some good news for you.
We can go on like this until tomorrow, but you get the point. BetVictor isn't going to leave you high and dry. You'll have plenty of betting options and markets, which will probably keep you around for long, despite the lack of some promotions.
The Odds at BetVictor – Are They Competitive Enough?
It's that time of the review when we talk about the odds offered by BetVictor. This is a very important factor for every bookmaker in general, as it determines how much money you can win. Simply put, higher odds give you more money and smaller odds give you less money. BetVictor has really fierce competition, so it must do really well to maintain its status.
We put it up with Ladbrokes, another popular UK online bookie, to see what we can expect: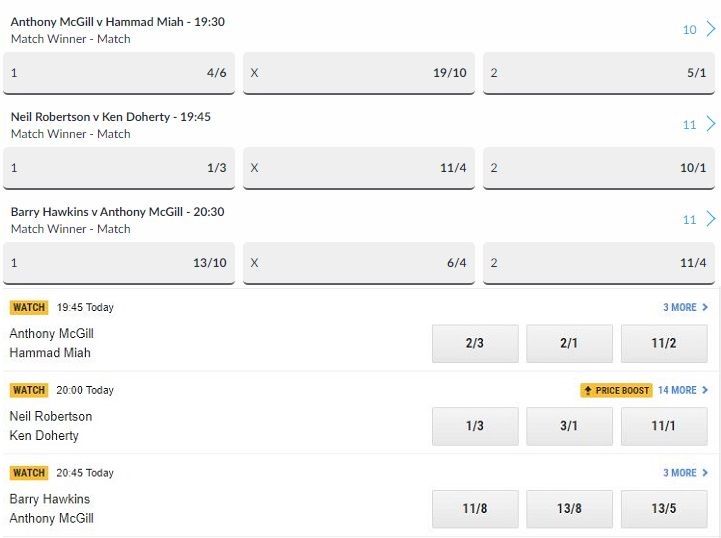 If we analyze the first match, BetVictor isn't advantageous. The odds for X and 2 are slightly bigger in Ladbrokes, which isn't good news for the bookmaker. The second match, once again, show us the same situation, where Ladbrokes beats BetVictor significantly if we bet on Ken Doherty to win. Finally, the third match is almost equal, with BetVictor having better odds on Anthony McGill to win.
We can conclude that the bookmaker isn't the most competitive in this regard. Sure, the odds aren't the lowest out there but don't expect it to be on the level of 888Sport and Bet365. After all, these two are the best bookmakers you can register on.
BetVictor Special Features
And now, let's review the special features. BetVictor managed to impress us with the number of special functionalities you get on the website, so let's talk about them right away, without wasting time.
Bet Builder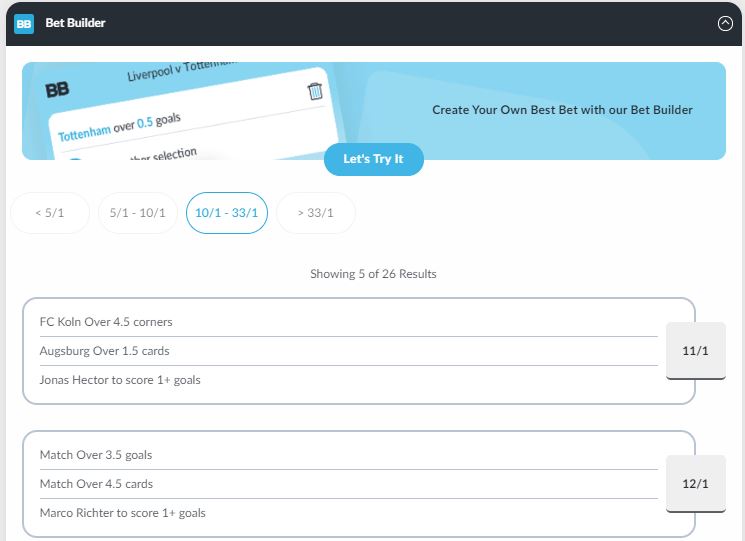 Bet Builder is a very useful feature that many UK online bookies have. While betting on a particular match, you can place a bet that you've chosen from the betting options. However, Bet Builder lets you combine two of the bets from the betting market. For example, you can bet on a team to win, but also to score a particular number of goals.
This is a great feature for trying out new stuff and potentially winning more money, due to increased odds on some bets. The good thing is that you can use it as soon as you register, so no need for fulfilling any conditions.
Live Streaming

Live streaming, on the other hand, requires a simple thing to do – fund your  BetVictor account. There are two options that you can use to make this feature accessible. Either have a positive account balance or place a bet in the last 24 hours. Nonetheless, if you unlock it, know that you can stream horse racing, football, and other popular UK sports.
The quality of the streams is great, with BetVictor emitting HD video and sounds. If you bet on BetVictor often, you'll have no problem enjoying it. Just have more than zero pounds in your account and you're good to go.
Bet Calculator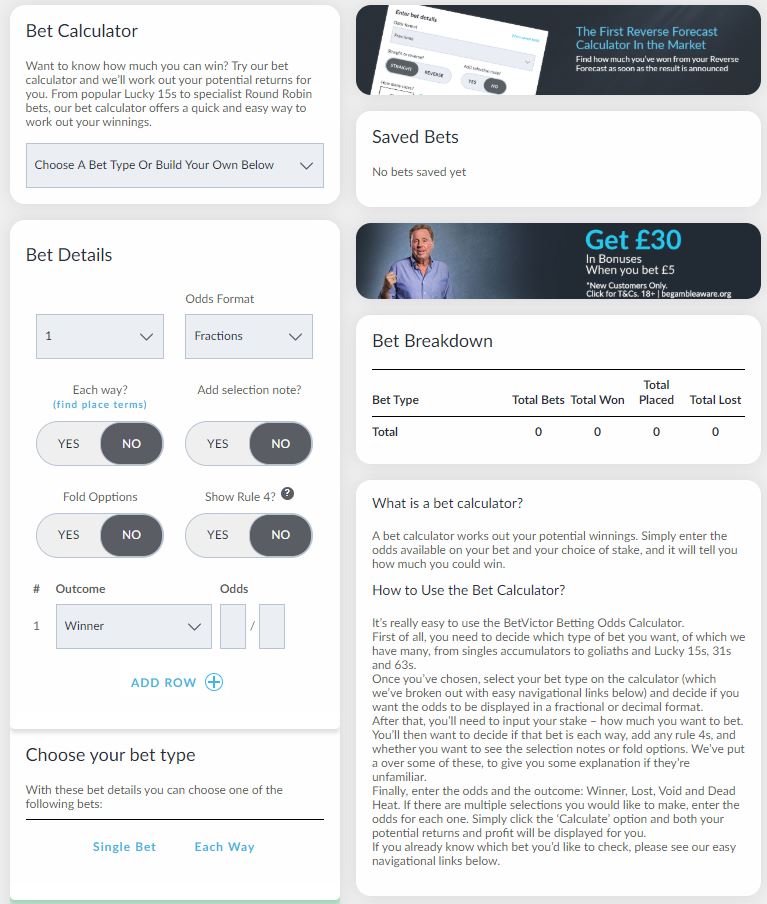 This Bet Calculator looks quite confusing for the new users and it's quite understandable. However, we can't dispute its usefulness in the long run. By using this feature, you can calculate your potential winnings. All you have to do is enter the odds and the stake. Based on this info, BetVictor calculates your potential winnings, letting you know how lucrative is your bet.
You can then choose different stakes, odds format, outcome, and many other options that aren't displayed in the image.
In-Play Betting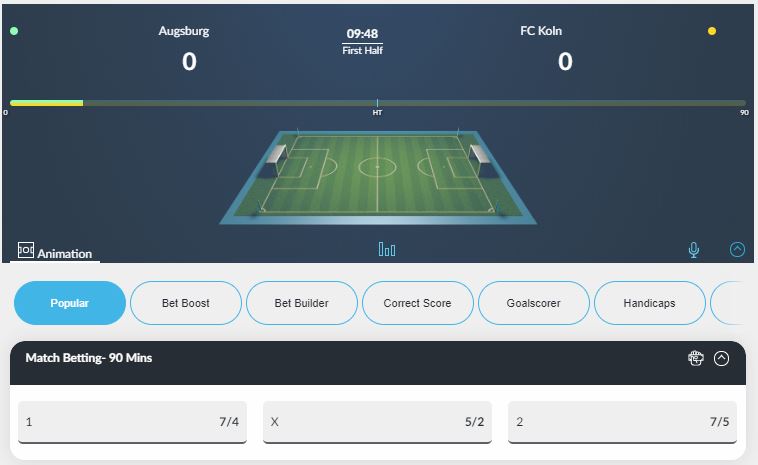 Finally, we have to mention live betting or in-play betting, as many call it. It's exactly what it sounds like. An option that allows you to place bets while a particular match lasts. We like the addition of this match simulation, so to say. Here, you see when a foul is made, when the player gets a red card, and of course, when someone scores a goal.
With a menu this thorough, enjoying live betting is almost guaranteed. As we said, the Bet Builder is also here, as well as the Bet Booster, which will boost the odds of the particular betting options.
BetVictor Mobile Gaming Experience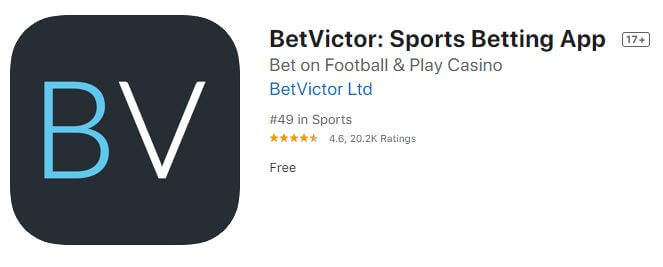 The mobile experience on BetVictor is quite similar to the experience you get on the computer. With the app undergoing several facelifts, it now looks stunning, and its ratings on iOS say the same – 4.6 stars and 20.2K ratings! It's clear that we're talking about a nearly flawless betting app that will give you a mobile betting experience of your life.
So, how's the app?
In one word, fantastic. If you look up, there are different sports you can bet on and they're set horizontally, which is different than what we saw on the website. Placing bets is also very simple. You click on the match you want and choose the betting options available by scrolling down. Once you select your bets, a separate menu where you can see your bet slip is available.
From there, just place a stake and hope for the best. The app is white-blue, similar to the computer version of their website, so you'll have no problems recognizing it and later using it. Not to mention that all the special features are here, including live streaming, in-play betting, bet builder, and so forth.
How Fair and Secure is BetVictor?

In the betting world, there's not a single person that doesn't know about BetVictor. How can a company of this magnitude ever be questioned for its security and fairness? The companies at the bottom of the image are cooperating with this one, creating a much better and safer gambling experience.
We can see that GamStop and BeGambleAware are here. These two are necessary for Responsible Gambling and can help you if gambling becomes an addiction for you. Moreover, BetVictor works with IBIA and IBAS, as well as the Gambling Commission from the United Kingdom and Gibraltar.
To translate, the company has two licenses – from the UKGC and from Gibraltar Gambling Commissioner. Both license numbers are displayed on the site, accompanied by the Revenue Commissioners license from Ireland.
Last but not least, the bookmaker uses 128-bit SSL encryption for keeping your data safe. This is an industry-standard that many UK online bookies adhere too. Needless to say, worrying about your personal info is going to be the last thing on your mind.
Loyalty Program
One thing where BetVictor won't impress you is the loyalty program. The bookmaker doesn't offer any loyalty program, which in conjunction with the lack of promotions, won't be as rewarding as you might expect it to be. If that's a problem for you, you can always register on 888Sport and enjoy the loyalty scheme that this bookmaker gives.
Another alternative is to register on Betfair, a bookmaker that has dozens of interesting promotions.
BetVictor Customer Support
What happens if you encounter some problems and issues during betting on BetVictor? Logically, you need to contact customer support. During this review, we saw that BetVictor's customer support team is easily accessible and you can find its contact methods on the home page.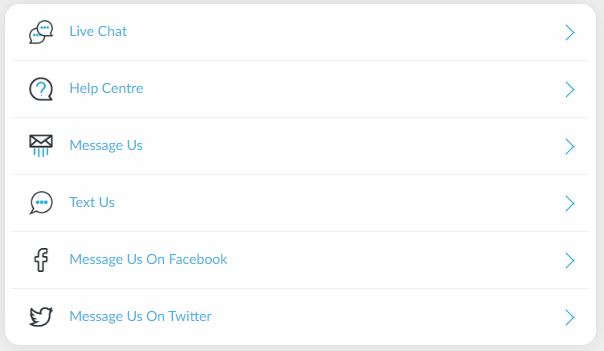 The bookmaker offers plenty of methods for contact. First, you have a live chat feature, where you can get a response from the support team right away. Moreover, customer support is available 24/7, so you can ask them questions whenever you deem fit. The next option is the Help Centre, which is sort of a FAQ section. This isn't a contact method but more of a DIY method for fixing the issues.
We like the addition of email support and SMS support, as well! You can text the company using your smartphone, which makes things so much easier if you're traveling and don't have access to the internet. Lastly, BetVictor lets you send a message on Twitter or Facebook if you want.
Our experience showed that support is pretty good. When using live chat, we get a response in about 2 minutes, and with email support, the time extends to 3 hours on average.
All in all, we're more than satisfied.
What do Other Users Think About BetVictor?
A review is just a subjective opinion about a certain product or a thing, hence it's important to see what other people think. Beware that people online often write bad reviews because they can't win anything and these reviews are not credible. We'll show you one good and one bad review of BetVictor, just so we prove our point. Let's start with a good one:

This review is just one in a hundred. Multiple users on Trustpilot praised BetVictor's customer support, and especially some of its members, such as Hellen. The Trustpilot user is extremely satisfied with the support he got, as his problems were resolved in an easy fashion. Now, here's a "bad" review of the bookmaker:

Is this a review, even? To us, it sounds like complaining about you not winning a single penny. Well, dear user, you'll have to do better than crying to win anything! Oh, and stop writing reviews because you lost money – be objective 😉
Conclusion – Should You Bet on It?
With everything being said, it's time to wrap up our review of BetVictor with a proper conclusion. BetVictor does a lot of things right and ticks almost all the boxes. It has an intuitive interface, lots of sports to bet on, a multitude of betting markets, and excellent customer support.
We can also praise its welcome bonus since it's very easy to get and wager. There are still some things we didn't like. They include a lack of promotions and not very competitive odds.
In conclusion, BetVictor is worth registering and betting on if you're not a very demanding player.
If you are, a much better option is 888Sport. It's simply better in every regard.
How to Register on BetVictor?
Registering on BetVictor is as easy as it gets. After clicking on the registration button on the home page, you'll be greeted by the initial registration screen: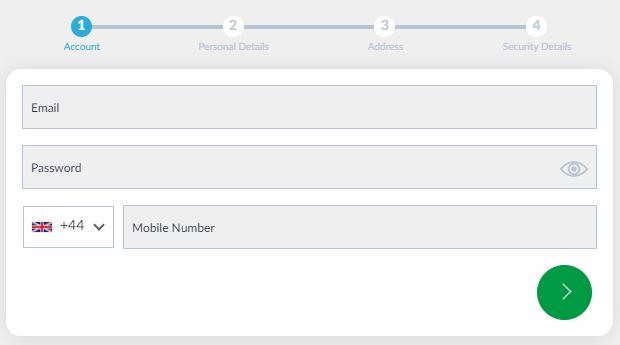 There are 4 little steps in this process, which left us wondering why the bookmaker didn't place it in a single window, which would make it a bit simpler. Nonetheless, the first step includes entering your email, password, and mobile number.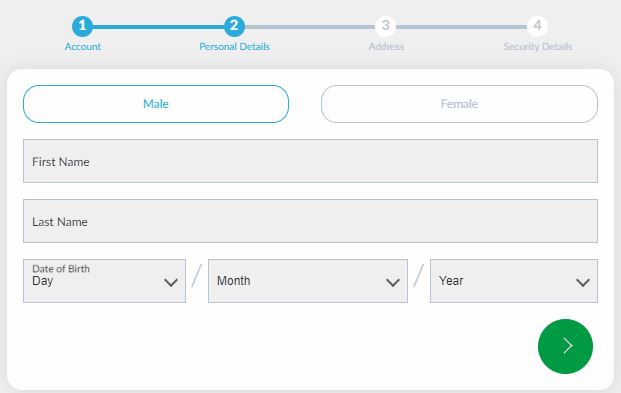 Now, enter your personal information – full name and date of birth. Click on the green button with an arrow to proceed: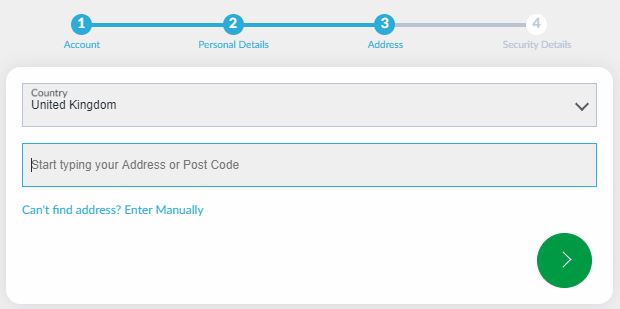 Choose your country here and enter your postcode. BetVictor will automatically detect your address and if it finds it, confirm that it's your address. You'll need to verify it later on, so don't enter fake info! Move on to the last step.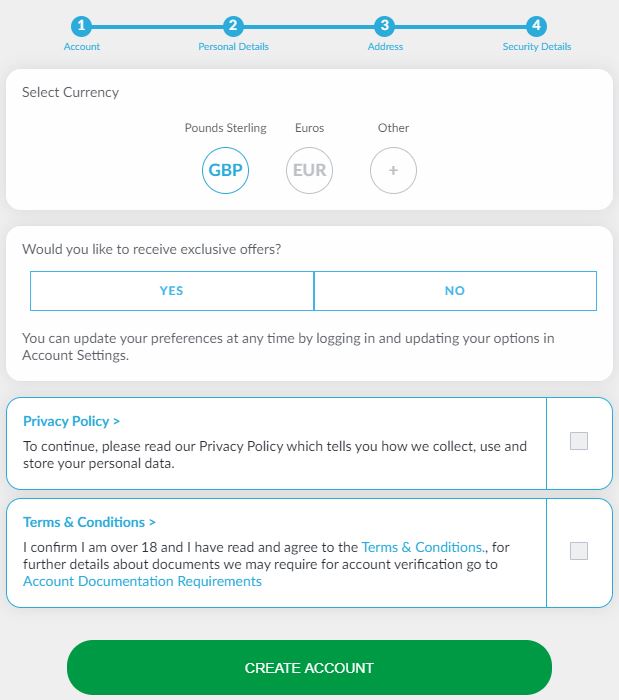 The last step is pretty simple. Choose the currency you want to use, select if you want to receive offers, and accept the privacy policy and terms & conditions. Click on Create Account and the process is complete.
Verification Process – What Do You need?
In the Verification tab, BetVictor gives you a table of documents that are needed for verifying your identity. Let's take a look at it: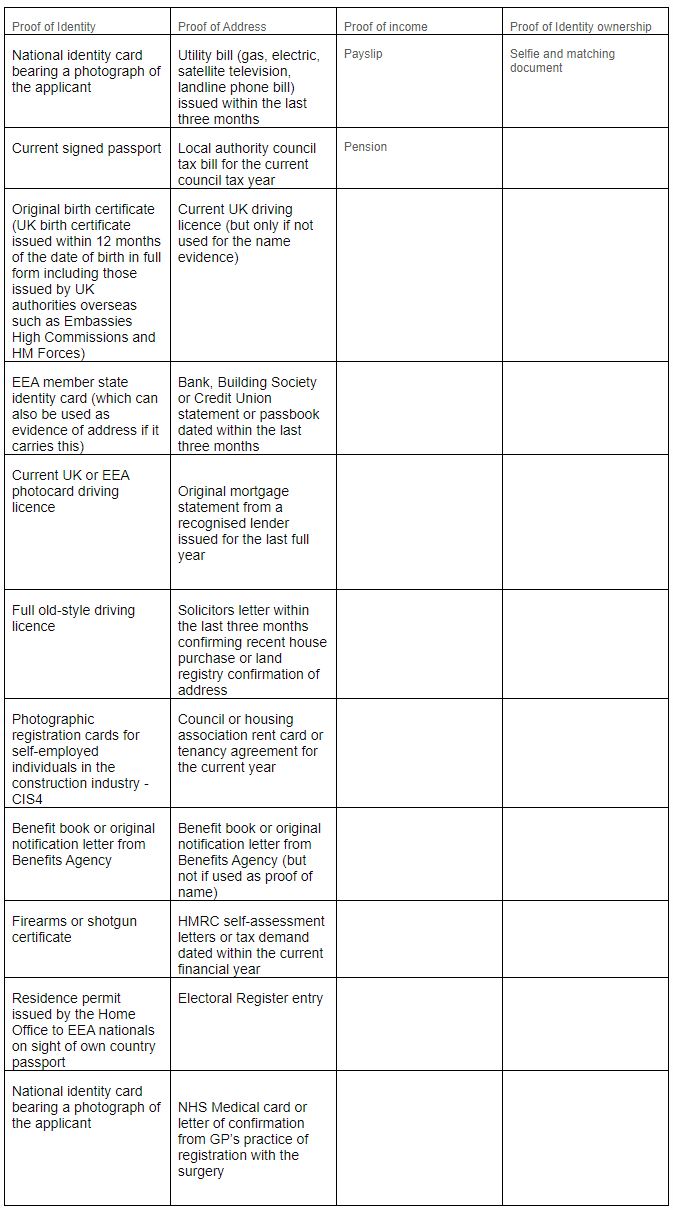 The documents shown above are not all required. BetVictor will request a particular document if it's required in that particular case. Usually, what you'll always need are the following documents:
National ID
Passport
Driving License
Bank Statement
Utility Bill
The first three documents are for verifying your identity, while the last two are for verifying your address. To do so, just take a clear photo of each document on both sides, send it to the customer support team via live chat, and you're good to enjoy betting on this site.
FAQ
For the end of this review article, let's answer some of the frequently asked questions related to BetVictor:
⚽️ How to use BetVictor bonus funds?
When you place a bet, it will go to your bet slip. Under the bets you've chosen, on the bet slip, there's an option to use bonus funds instead of your deposited funds. That is if you've received them. If not, you can't use bonus funds. To get your bonus on BetVictor right now, just click here!
💸 Does BetVictor offers cash out?
Yes, you can cash out at BetVictor, but only on the eligible matches. Take a close look to see which bets and matches offer this option.
💰 Does BetVictor accept PayPal?
BetVictor accepts PayPal as a payment method, in the UK, but also in other countries.