One of the most important factors in every UK online bookie is the welcome bonus. Every bookie offers one, yet not many of them are able to properly kickstart your betting journey. The United Kingdom is a great place to bet, especially since the bookmakers are pretty generous in this regard. Today, we'll talk about the best sport betting sites bonuses in the UK and determine which one is the best for you.
Best Online Bookmaker Bonuses in the UK
Getting a welcome bonus on betting sites is quite simple. Usually, you just need to register, deposit some cash, place a qualifying bet, and it can be yours. However, the problem is that many newbies don't know where they can get the best bonus.
For that reason, we've come up with a top 10 bookies with the best welcome bonus offers in 2021:
1. Betfair

People in the UK are well-aware of Betfair's existence. It's possibly the best online bookie around, up there with 888Sport. Betfair isn't one of those football-oriented bookmakers. Instead, it makes sure that all players get bonuses that are catered toward other sports, such as horse racing, which is extremely popular in the UK.
One thing you'll immediately like about Betfair is its welcome bonus, which is undoubtedly the highest one on the market. New users will get up to £100 in free bets if they deposit a total of £50. The conditions for this welcome bonus are very simple. You must be located in the UK or Ireland and you must deposit at least £50 if you want a full bonus.
Let us explain. Depositing £10 and placing a qualifying bet at the odds of 1.5 (1/2) will give you a bonus of £20. However, if you place 5 bets with a £10 stake, you get 5 x £20 in bonus, which is £100. Basically, you can get a welcome bonus FIVE times, which is simply impressive!
The best thing about this bonus is that you don't need to wager it. Everything you get is for you to play, and if you manage to win, you can freely withdraw your bonus-related winnings. Getting this bonus is possible if you enter the code ZBBC01, though.
But, if you use the button below, we'll automatically apply it, so you don't have to do anything. Just sign up, deposit cash, place a qualifying bet, and £100 will be yours!
Get Your £100 Welcome Bonus on Betfair >
2. 888Sport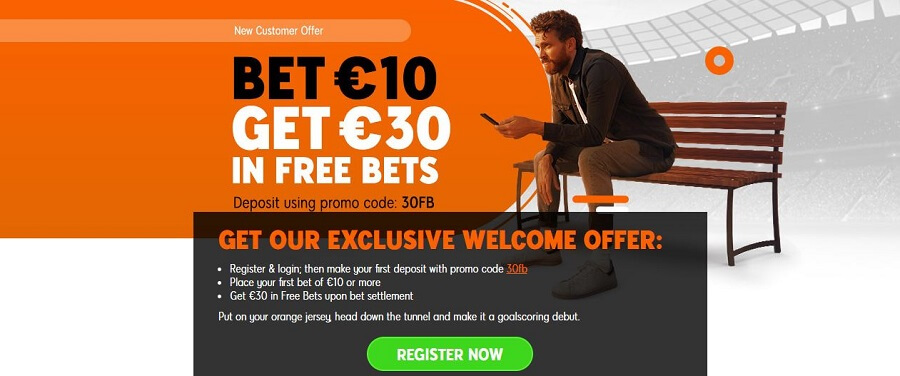 888Sport is our favorite bookie in the UK. This bookmaker belongs to one of the greatest betting brands called 888. 888 has a lot to offer, from competitive casino and bingo site to poker and sportsbook compartment. Obviously, we're talking about the bookmaker that carved its name deeply into the UK betting landscape.
The welcome bonus on this website isn't necessarily the highest one. However, the size of the bonus often isn't the most important. It's the wagering requirements that matter… or the lack of those. 888Sport will give you a bonus of up to £30 in free bets for the deposit of £10. This is, by the way, the minimum deposit.
Of course, you need to be from the United Kingdom to be eligible for it. The qualifying bet is very modest and is with the odds of 1.5 (1/2), so there's a chance that you can win the bet and get the bonus, as well. Let's say you place a stake of £10 on the odds of 1.5. In that case, you win £15 and the £30 bonus, resulting in £45 in your account balance.
Much like Betfair, 888Sport doesn't impose wagering requirements, so everything you win is yours to play with. Apart from this welcome bonus, 888Sport really upped its game, offering tons of promotions and a loyalty program, which not many UK online bookies offer.
Enjoy a £30 Bonus on 888Sport >
3. MansionBet
Even if you're a demanding player, MansionBet will cater to your needs like no one before. This website is definitely our favorite when it comes to UI. The dark theme coupled with red and gray letters will save your eyes during the long betting period. And on top of that, the promotions and welcome bonus will make you want it more.
The welcome bonus you're going to get here is modest – in terms of quantity. Users who deposit £10 and place a qualifying bet will get £20 in free bets – quite solid. MansionBet requires the initial deposit to be £10 or above, which you'll stake at the odds of 2.0 (1/1) or greater when we talk about the single bet.
For multiple bets, each bet needs to be at the odds of 1.2 (1/5) or above. Now, when the first bet is settled, you'll get £5 in free bets. The second qualifying bet will give you £15 more, resulting in £20 to play with. Beware that the £10 deposit is MANDATORY, but you can place £5 on the first bet and keep another £5 for another.
This way, you'll easily get the £20 you wanted. Needless to say, no wagering requirements are applied and there aren't many conditions attached. That's some reasons why it's one of the best bonus. Still, it is important to note that you need to be from the UK and deposit money with a credit/debit card.
Get a £20 Welcome Bonus on MansionBet >
4. William Hill

When talking about old-school brands, William Hill is up there at the top. It started out as a small local bookmaker, only for it to rise through the ranks and become a significant name in the betting world. This bookie is known for dozens of promotions that users can easily get on a daily basis.
While we don't like its interface and find it cluttering, we still enjoy betting on the site from time to time. It's one of the best. Newbies on this site will enjoy as well, given the £30 welcome bonus they'll get. To be precise, you get £15 x 2 in free bets if you enter the promo code P30 while depositing.
As we said, leave that to us if you want the bonus – we'll automatically apply it.
Now, how do you get this really good bonus? After entering the code, deposit at least £10 on the qualifying bet at the odds of 1.5 (1/2) or greater, and £30 are yours. William Hill didn't place any wagering requirements, meaning that the free cash is yours to take. If that wasn't the case, William Hill wouldn't be in our top 10 of the best welcome bonuses.
Just make sure that you deposit using a credit/debit card and watch out for the 30-day expiry period. If you don't use it within 30 days, your free bets will be void, leaving you only with no money in the account.
Grab £20 in Free Bets on William Hill >
5. bet365

bet365 is easily the largest and one the best bookmaker in the world. The UK bettors can be thankful for having the chance to play on it, as it offers a broad betting market and very competitive odds. Being a world-renowned bookie, it must keep its players on their toes, and that's done via countless promotions and a welcome bonus.
This welcome bonus isn't very generous but it's not hard to get and wager, which, in the end, is all that matters. New users have to deposit just £5 to be able to think about the welcome bonus – that's pretty modest, you'll agree. Once you deposit £5, place a qualifying bet and get £25 as free bets. What are the conditions?
Well, they're pretty simple. The qualifying bet is at the odds of 1.20 (1/5) or greater, so the chances are that you're probably going to win. And if you win, you get the winning money AND the welcome bonus, with no wagering requirements. Here, you don't need to be located in the UK exclusively, as bet365 is a worldwide bookmaker.
You only need to deposit money using credit/debit cards and the welcome bonus will be yours. bet365 isn't the simplest when it comes to the interface but when it comes to bonuses and promotions, it's spot-on!
Deposit £5 - Get £25 on bet365 >
6. 10Bet
We at GamblingKing value when the bookmaker offers a beautiful and intuitive betting interface, as 10Bet does. This bookie screams user-friendliness, making even the first-time bettors get into it within five or ten minutes. Another thing that 10Bet does well is the welcome bonus.
Be aware that this is a slightly different offering than what we saw with the first five bookmakers. You don't need to place any bets here to get a welcome bonus, and the bonus is significantly higher than some of the competition.
On your first deposit, you'll get up to £50 in free bets. That's not higher than Betfair, which is why it's not at the first spotof the best sportsbook welcome bonuses in the UK. Nevertheless, a qualifying deposit is to be made and it's £15, in which case you'll get a 100% bonus. This means that the deposit of £15 will give you a bonus of £15, giving you £30.
But, if you deposit £50, you'll get the maximum bonus of £50, giving you £100 in the account. The trick here is that there are wagering requirements of 6 times, and you need to wager BOTH free bets and your deposit to withdraw bonus-related winnings.
Enjoy £50 in Free Bets on 10bet >
7. Unibet

Unibet is yet another bookmaker that functions differently than what most are used to. For the start, let's just say that it's a rest haven for betting lovers due to competitive odds, beautiful interface, and lots of sports to bet on. We remember it mostly due to its Esports betting compartment, which is easily the best on the market.
Upon registering, a pretty decent bonus waits for you – £40 in free bets, like a money-back offer. You see, Unibet is ready to back you up if your initial bet loses. The best thing is that the minimum stake is just £1, with the qualifying bet at the odds of 1.40 (2/50). If the bet is won, you get that money but the bonus isn't available.
On the other side, if your bet is lost, you get your stake back. Normally, if the stake is £10, you'll get £10 back, and if it's £40, you get £40 back. The thing that we didn't like is that it comes with wagering requirements of 3 times, but these are milder than what 10Bet requires.
You just need to wager your bonus here to withdraw your winnings. If the bonus is £20, wagering it 3 times would be £60.
Get a Money-Back £40 Bonus on Unibet >
8. Betway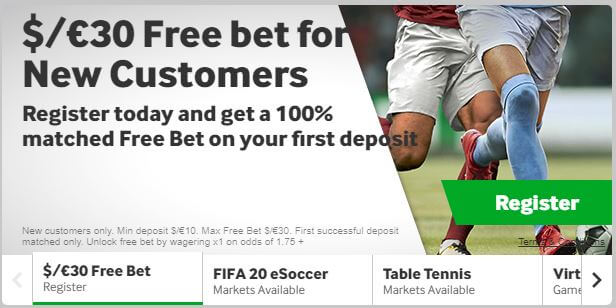 The Betway bookmaker is a true UK betting site that will make you feel like you're home. It's among the best sites of this type, offering a good welcome bonus, and a few other promotions that some users will like. Usually, we place Betway much higher but its welcome bonus is unremarkable, although it's "good" technically.
This bookmaker follows the £30 trend, as we like to call it. So, you get £30 in free bets if you deposit £10 and place a qualifying bet on the odds of 1.75 or more. However, there's a catch. Once you get your £30, you need to wager it one time on the exact same odds.
If you get £30, for instance, you need to wager another £30, and you can withdraw your bonus-related winnings. Betway does something well, and that's providing other payment options if you want to get the bonus. Apart from credit/debit cards, you can also use PayPal with no problems.
That's something you rarely see in the UK betting market!
Visit Betway and Get a £30 Bonus >
9. BetVictor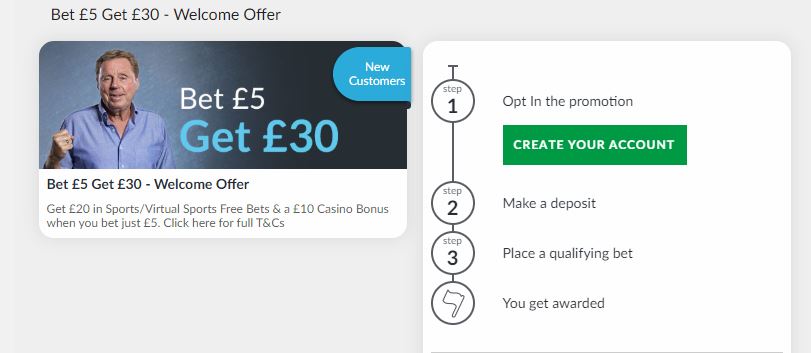 BetVictor started carving its name into the betting world long ago, where some of us weren't even born. This bookmaker is very old, and while it's not a very popular option, it's popular enough to make us recommend it in some cases.
We like BetVictor mainly because it offers a wide specter of betting markets, lots of sports to bet on, and an intuitive interface that you'll like at first glance. Instead of £10, the bookmaker requires a minimum deposit of £5 to get a welcome bonus of £20 in free bets.
What you need to do is place a qualifying bet at the odds of 2.00 (1/1) or more, and once the bet is settled, 2 x £10 is yours. Bear in mind that you can use the bonus only on set events, though.
As an icing on the cake, BetVictor gives you additional £10 as a casino bonus. If you're interested, you can hop right into it and start your gambling journey. Oh, and one more thing – there aren't wagering requirements!
Easily Get a £20 Bonus on BetVictor >
10. Betfred

Last but not least, we need to mention Betfred, which is a slightly underrated bookie if you ask us. This bookmaker offers a pretty good betting experience and gives a solid welcome bonus that you won't get on many competitors.
To get it, register with a FOOTBALL40 bonus code and deposit at least £10. You don't really need a code since we'll apply it for you, by the way. Once again, deposit £10, place a qualifying bet on the odds of 2.00 (1/1) or greater, and get £30 in free bets.
The qualifying bet must be placed strictly on football matches and if it's a losing bet, Betfred will give you £10 as a bonus, over the existing £30 bonus. If not, you'll just win the money and get a £30 bonus, which is still a good deal.
Wagering requirements are non-existent, so hop on the bandwagon and enjoy betting to the fullest.
Visit Betfair for a Football Bonus of £30 >
Types of Bonuses You Can Get on the UK Online Bookmakers
As we saw in our top-ten list for 2021, not all bonuses are the same. Before registering on the bookmaker of your choice, you need to take these three bonuses into account:
Qualifying Bet Bonuses
The most frequent type of bonus is a qualifying bet bonus. As its name implies, you need to place a qualifying bet on the required odds to get it. Usually, the minimum deposit is £10, which is often the minimum required stake.
Once the bet is settled, regardless of the outcome, the bookmaker will credit your free bets. This is our favorite type of bonus for two reasons. The first reason is that you can get the bonus even if your bet wins, in which case you'll have a much higher starting capital.
The second reason is that there usually aren't wagering requirements. In that case, you can freely withdraw all your bonus-related winnings, without having to fulfill any conditions.
Deposit Bonuses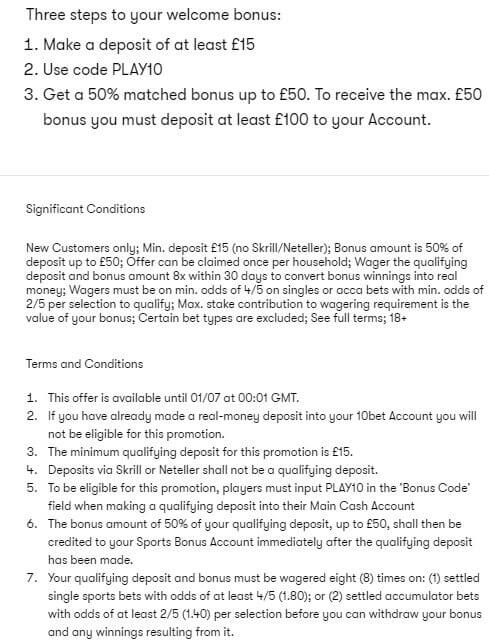 Deposit bonuses are more frequent in online casinos, rather than online bookies in the UK. Still, we see that some of them offer it, presumably 10Bet, which is a prime example of how this type of bonus works.
This type of reward is much higher than the qualifying bet bonus. Instead of £20 or £30, you'll get £50 and above just for depositing a particular amount of cash. Usually, it's a 100% bonus, so if you deposit £50, you get £50 more.
Unlike the previous bonus, this one comes with certain wagering requirements that aren't as high as the casinos' requirements. It's five or six times and it applies either to just bonus or both bonus and deposited funds. When you fulfill the requirements, you can withdraw bonus-related money.
Money-Back Bonuses
Lastly, there's the money-back bonus, which is the second most frequent type you can get. As its name implies, it's like a money-back guarantee on the bet that lost. Bookmakers like Bwin and Unibet will give you such a bonus.
Unibet ramps things up, giving you a bonus up to £40, while Bwin gives just £10. On Unibet, you have some leeway, as every bet under £40, including £40, can get money back. Bwin gives just £10, so even if your stake is £20, you'll get just £10 back if the bet loses.
Wagering requirements usually don't exist here, although Unibet imposes them.
Regular Bonuses
Regular bonuses aren't welcome bonuses. Instead, they're free bets for the players that already spent a certain period on the betting website. You can get these free bets through promotions or as a reward if you're a VIP player.
Offers like these can often be claimed more than one time, giving you a steady flow of free bets on a daily, weekly, or monthly basis.
What to Look for in a Sportsbook Welcome Bonus?
Not every sportsbook bonus is for everyone, which is why taking a look at the bonus conditions is very important. We have a few important things that you should look for before claiming your welcome offer:
The Number of Free Bets
The first thing that many people look for is the number of free bets. Let's admit it – we're all attracted to high numbers, but underneath these numbers, wagering requirements lurk from the shadows.
One bookmaker that doesn't do that is Betfair, which gives a £100 bonus with no wagering requirements. Obviously, if the bonus isn't high enough, you probably won't get it, so this is a legit thing to look for.
Eligible Sports
A welcome bonus sometimes doesn't apply to any sports. In some cases, the qualifying bet needs to be placed on football or any other sport, and if you get the bonus, it's only for another sport.
We can see that trend on Betfred, which gives you a football bonus so that you can't use it on other sports. Take a close look at the terms and conditions of the bookmaker you're betting on to find more about that.
Wagering Requirements
Since we touched on the wagering requirement, we need to talk about that. For us, this is THE most important factor in a welcome bonus. You can get millions of free bets but if you can't wager them, what's the point?
On the other side, a modest bonus is usually the one that you can wager easily, or NOT wager if there aren't wagering requirements. Be on the lookout for those, to avoid misunderstanding with the betting operator.
Qualifying Bet
The qualifying bet might not be very important to you, but it actually is important. The reason being is because you can get more money if that bet wins. The higher the odds, the lesser the chances of you winning that bet.
For example, if a qualifying bet is with the odds of 1.20, you'll probably win it. But, if it's 2.00, chances are significantly lower. Sure, bookies will give you the bonus when the bet settles, regardless of the outcome.
But what if that bet wins? You'll get both that money and free bets. Otherwise, you get just free bets. In other words, a qualifying bet will be more likely to win if the odds are lower.
Period of Validity
Every bonus has its period of validity, which shouldn't be too short. Luckily, many bookies in the UK, including the ones on our list, have a period of validity of at least 30 days. This means that you have 30 days to play or wager your bonus, after which it's removed from your account.
Eligible Payment Methods
You have to keep an eye out for this one. Bookmakers place this condition very sneaky, making it hard to read unless you take a good look.
In MANY cases, the eligible payment method for a bonus is a credit/debit card. That's the payment method that will always work. If you don't want to go that route, you can see if other methods are supported. Betway, supports PayPal, for example, while the other providers from our list don't.
FAQ
To wrap things up, we'll answer some of the most commonly asked questions related to sportsbook bonuses:
❌ Can I get a no deposit bonus on the sportsbook of my choice?
This type of bonus is seen in online UK casinos but not on the bookmakers. To get a welcome bonus, you'll need to deposit a certain sum of money, which can go as low as £5. Make sure that you use a credit/debit card while doing so, as this payment method is always eligible for a bonus.
🎰 Can my sportsbook bonus be used on a casino?
Well, it depends. Some bookies offer a bonus that applies to both the sportsbook and casino. For instance, you can get a £30 bonus for sports betting and a £10 casino bonus. Needless to say, this casino bonus applies only to the online casino within the same brand. BetVictor gives that bonus but you can only use it on BetVictor online casino.
💰 How to get a welcome bonus on the UK casinos?
If you wish to get a welcome bonus easily, you need to follow these simple steps:
Register a new account on the sports betting site.
Verify the account by following the instructions from the support team.
Deposit the required sum of money.
Place a qualifying bet.
Get a welcome bonus.
As we said, sometimes, you don't need to place a bet. Some bookies will give you a welcome bonus only for your deposit but with some wagering requirements.
🔎 Where can I find bonus codes online?
You can find them on our website. In fact, we don't use bonus codes. We offer you to sign up for the bookie through our site, where we automatically apply the bonus code and you get the bonus hassle-free.
🏆 What is the best welcome bonus betting site in the UK?
The best welcome bonus you can get right now is a £100 welcome bonus on Betfair. This bonus is easy to get if you follow the steps above and there are no wagering requirements.