Bwin is one of the oldest bookmakers on the market. Founded in 1997, it started out as a company of just around a dozen employees. However, with the rise of the internet, the company quickly expanded its field of work into online gambling and betting. Being here for so long, Bwin, in theory, should have enough experience to "fight" with its competition successfully. Is it any good for UK players? Let's determine that in our review below.
Bwin Welcome Bonus – Is It Generous?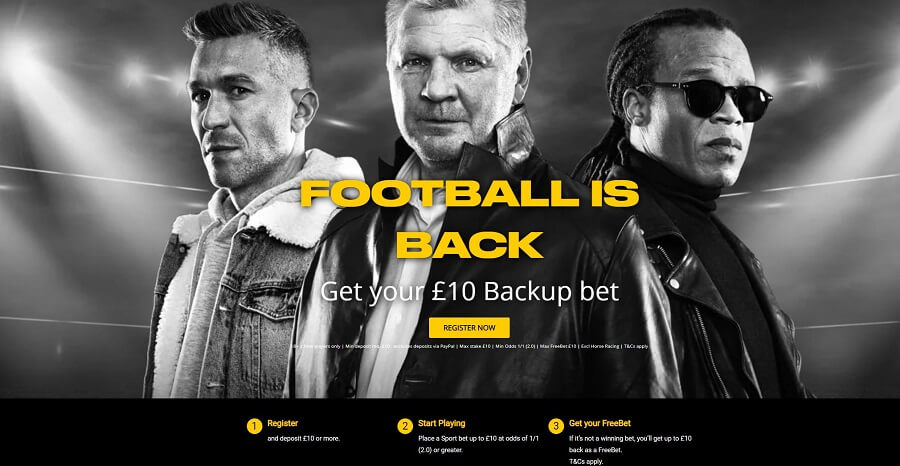 Being a big name in the game, Bwin has a lot to prove for the new players. If you're one of them, you've probably heard about this bookmaker through football matches, especially when watching Real Madrid. It's true that this is a football-oriented bookmaker, but that doesn't prevent it from shining at other departments, as well.
What about the welcome bonus offered by Bwin? Is it as good as it seems to be? Well, the answer would be both yes and no. Let us explain.
To get a bonus, you need to register, deposit £10 or more, and place a sports bet, up to £10, on the odds of at least 1/1 (2.0) or more. If your bet isn't a winning one, you get up to £10 as a free bet. It sounds quite simple and it is, but we aren't fans of such bonuses.
We like better the bonus that you get on 888Sport, for instance. There, you get £30 when the qualifying bet is settled, regardless of its outcome.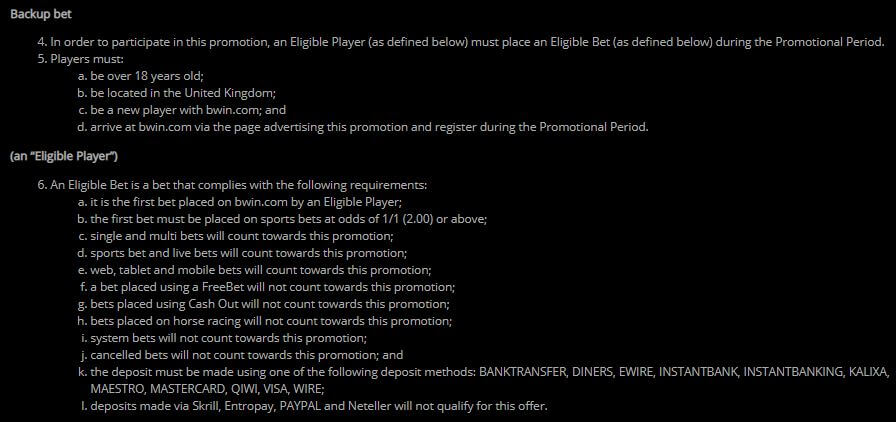 Now, let's examine and review the welcome bonus conditions of Bwin. First of all, you need to be from the United Kingdom and located in the UK if you want to get a bonus. Next, you need place a qualifying bet with a stake of £10. If your stake is lower, you won't be eligible for a bonus. Another important thing is the deposit method you've used.
For instance, deposits made via PayPal, Neteller, Entropay, and Skrill aren't eligible for the welcome offer. On the other side, you can use VISA, MasterCard, Maestro, Ewire, Bank Transfer, and Wire Transfer. It's good that VISA is on this list since this is the most used payment method, right after PayPal.
As for wagering requirements, logically, there aren't any, and that's okay. After all, if your welcome bonus isn't very generous, you can't expect the players to wager it in any way. The takeaway is that Bwin doesn't offer a generous welcome bonus, but on the other hand, you can easily get it. All you have to do is place a qualifying bet, and if it loses, £10 is yours.
If it wins, however, you'll get at least £20, given that the minimum stake is £10 and the minimum odds are 1/1 (2.0).
Bwin Promotions – Are There Some?

We saw that this online UK bookie offers a welcome bonus that should encourage new players to continue betting on the site. But, as someone who is betting on a daily basis, we can't help but ask if Bwin is capable of keeping the old players around. Frequent promotions are an excellent way of doing so and the lack of promotions can be a serious problem.
Thankfully, Bwin has a few of them, and while they're nothing to brag about, they can give you some good cash, plus standard cash you're going to win by betting without promotions. Let's review a few of them that we liked.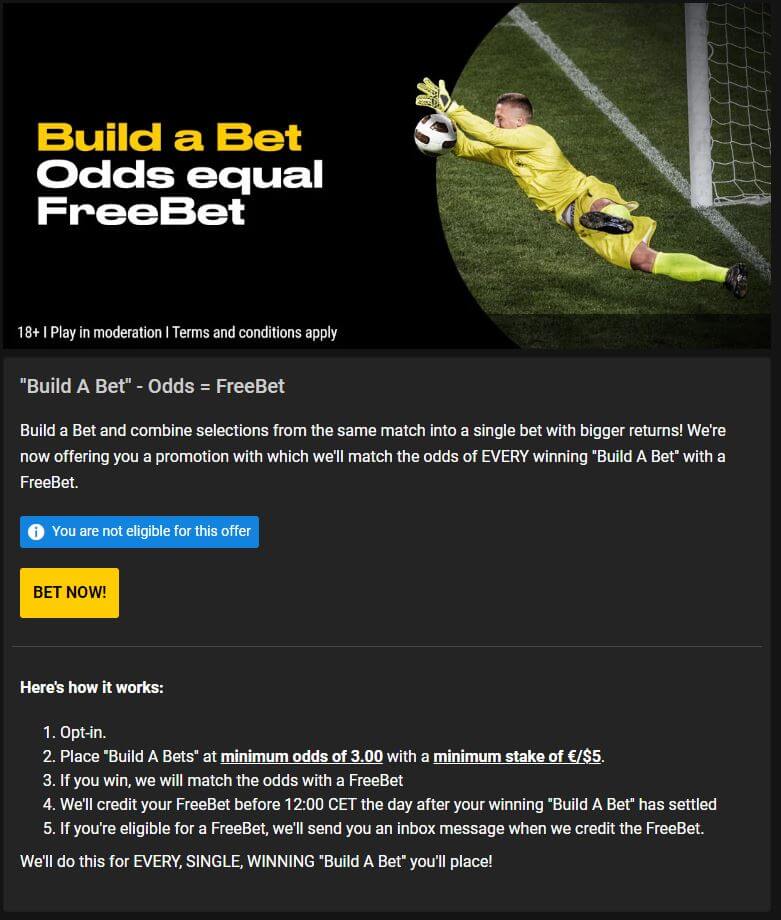 The bookmaker utilizes its Bet Builder feature for this promotion. We'll talk more about it later, but for now, let's focus on this lucrative deal. To be eligible for a promotion, just opt-in, build a custom bet with the odds of at least 3.00, and the stake of at least £5, and if you win, you'll get a free bet. Bwin does this for EVERY win you score using Bet Builder.
If you manage to win each day, you'll get tons of free bets.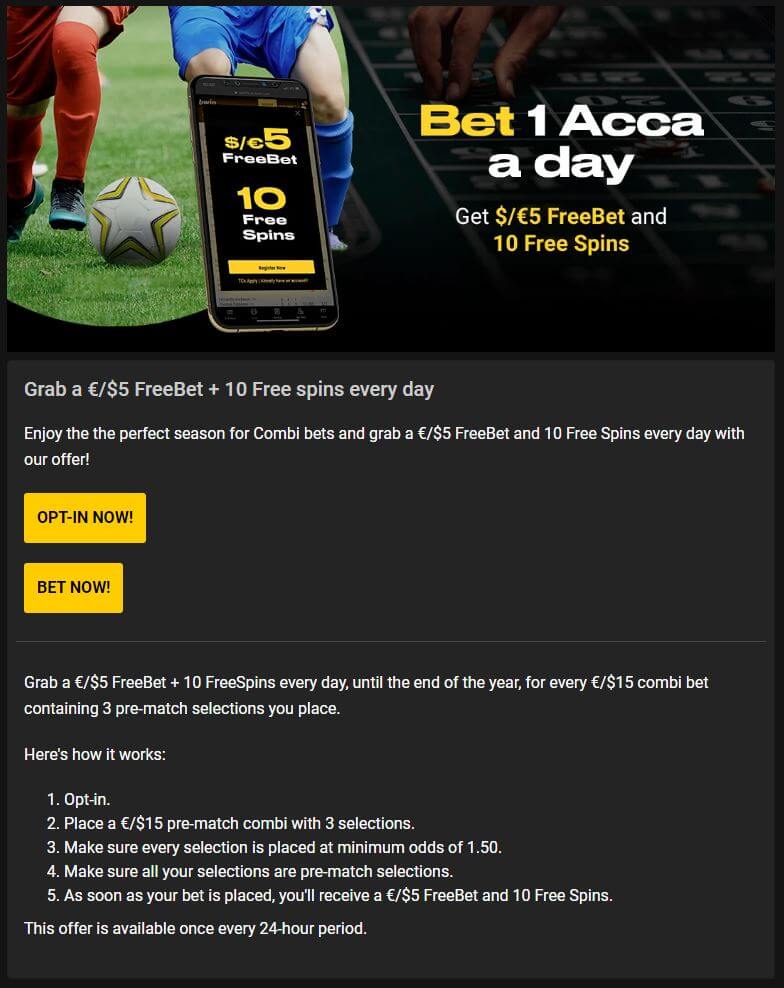 Those who place Acca bets will also have something to look forward to. Bwin rewards you for taking a slightly higher risk by giving you £5 in free bets and 10 free spins for an online casino each day. Acca bets, sometimes called Combi bets, are a perfect way of making more money, at the cost of higher risk.
However, if you manage to win, Bwin will once again give you this reward. To enjoy this promotion, you need to opt-in first. Then, place a bet with a stake of £15 with 3 selections, where each selection is with the odds of at least 1.50. Furthermore, all selections need to be pre-match, and as soon as they're placed, you get £5 in free bets and 10 free spins.
As we said, you won't enjoy dozens of promotions on Bwin sportsbook, but those that are active at the time of writing this review, are more than satisfactory. Quantity isn't always a big deal. Bwin proves to us that with slightly fewer promotions, you can achieve pretty much the same effect.
Deposit/Withdrawal Methods and Limits
Serious betting lovers are all about winning that sweet money. Sure, you're betting because it's fun, but UK players are much more ambitious than that. They want to win and they want to win BIG. Since we're talking about a high-caliber online UK bookie, that won't be a problem for Bwin.
As soon as you register on this site, it lets you deposit some cash in order to kickstart your betting journey. We were offered these few options: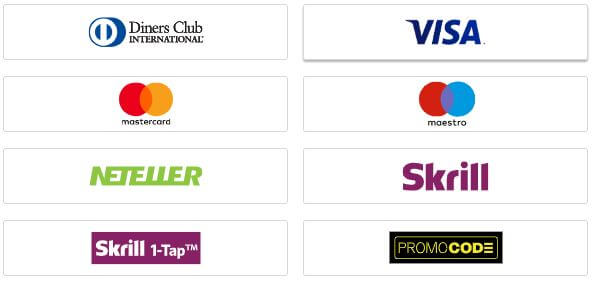 We can see that popular options are there – Neteller, Skrill, VISA, Maestro, and so forth. Bwin isn't only available in the UK, hence the availability of certain payment methods depends on your geographical location. For us, in the UK, these are, more or less, all the available methods. As a whole, Bwin offers much more. Here's just a glimpse of what you can expect.
There's PayPal, Giropay, WebMoney, Skrill, Trustly, Moneta, IDEBIT, and tons of other payment methods. Needless to say, we can't complain about anything here. Not many UK bookies give this many payment methods, meaning that Bwin did its homework perfectly – congrats!
In terms of payment limits, this one follows the template of that famous song from Paul Engemann – Push It To The Limit. And since the song is in the Scarface movie, the limits are pretty damn high. You can limit your deposits to whatever you want. We tried going more than £99,000 and it worked. You can basically go for more than £1,000,000.
The lower limits are, of course, modest. Every user can enjoy both deposit and withdrawal limits of £10, while the upper limits are quite high. This means that everything you win is yours to take, without any fees and other shady stuff.
Also, you should know that deposits are instant, regardless of the payment methods. On the flip side, withdrawals will take some time, which depends on the payment service. For example, VISA cards are slower and take up to a few working days, while PayPal and Neteller can take up to 24 hours.
Bwin Betting Variety
In the United Kingdom, there are a few popular sports – football, horse racing, tennis, and basketball. Bwin isn't available strictly in the United Kingdom, so it's clear that it caters to a much bigger audience than its competition, such as Betfair and Betfred. The betting variety on this website will impress you and when you see how many sports it has, you'll find it hard to disagree with us.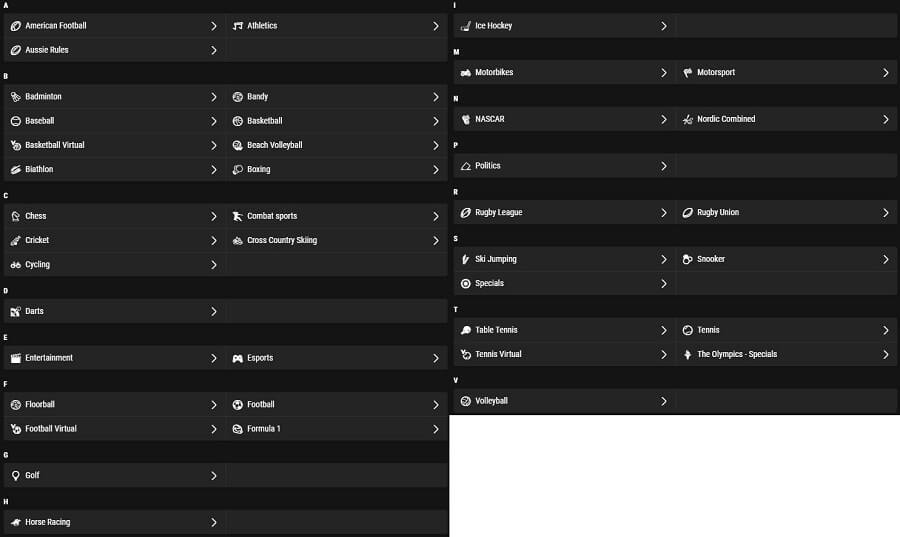 If you see around 40 sports here, you're absolutely right. Bwin nails its competition to the wall with its betting variety – as we promised! Now, you'll say that not all of the events are sports events and that's true. Apart from sports, you also get to bet on Entertainment and Politics. These are quite interesting categories, especially the first one.
Here, you can bet on the Best Motion Picture award, for example, or in Politics, you can partake in the US presidential elections. Other sports include rugby, combat sports, Esports, darts, biathlon, chess, cricket, and many more.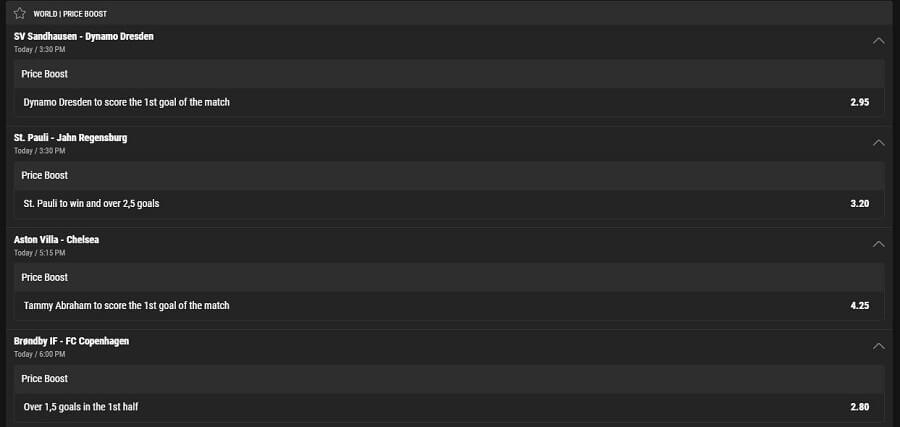 Another option for you is to bet on the Price Boost matches. Logically, these are the matches with higher odds, but the problem is that Bwin doesn't state what are the "old" odds. For example, if the boosted odds are 5.0, they should state that the non-boosted odds are 4.5 or whatever they were.
Betting Options
Betting markets on Bwin are abundant, so you don't have to worry about being out of options at some point. This depends on the sports you're betting on, but generally speaking, the popular sports have the most options. Let's take a look at the football betting options for that matter.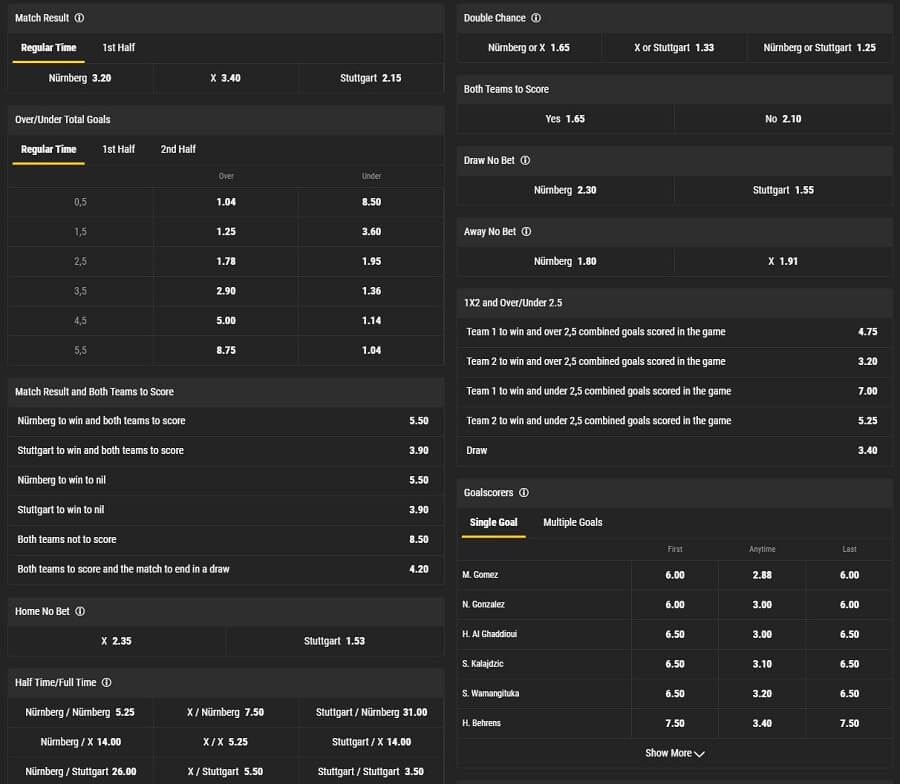 In the image above, you can see only some of the available markets. You can play on the fixed odds like 1, X, or 2, but also over/under total goals, both teams to score, goalscorers, home no bet, half time/full time, and so forth. We like that you can bet on the goalscorer, in particular. The odds are pretty good and while these bets are risky, they yield good money if they win.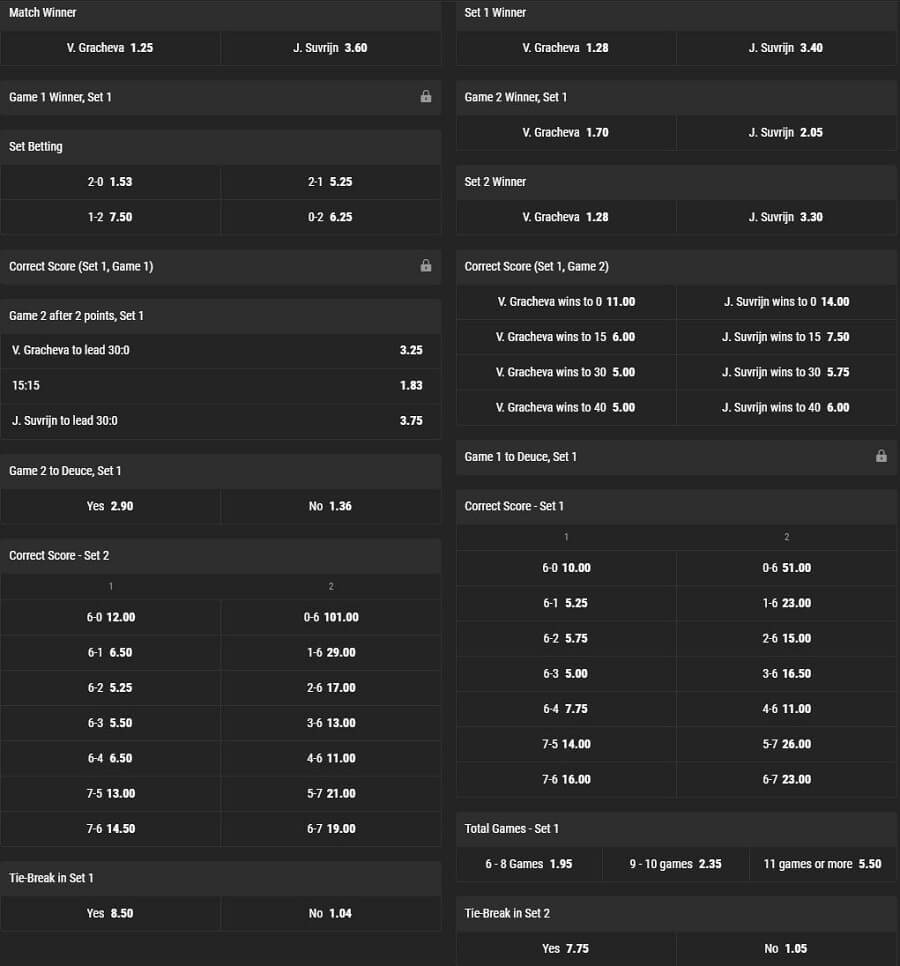 If you're a die-hard tennis fan, you're in the right place. During our in-depth review, we found out that Bwin offers more than a couple of betting markets where you can bet pretty much on every aspect of the match. The matchwinner is a pretty standard option. However, options like set betting, correct score in certain sets, set winner, and others, are going to spice things up a bit.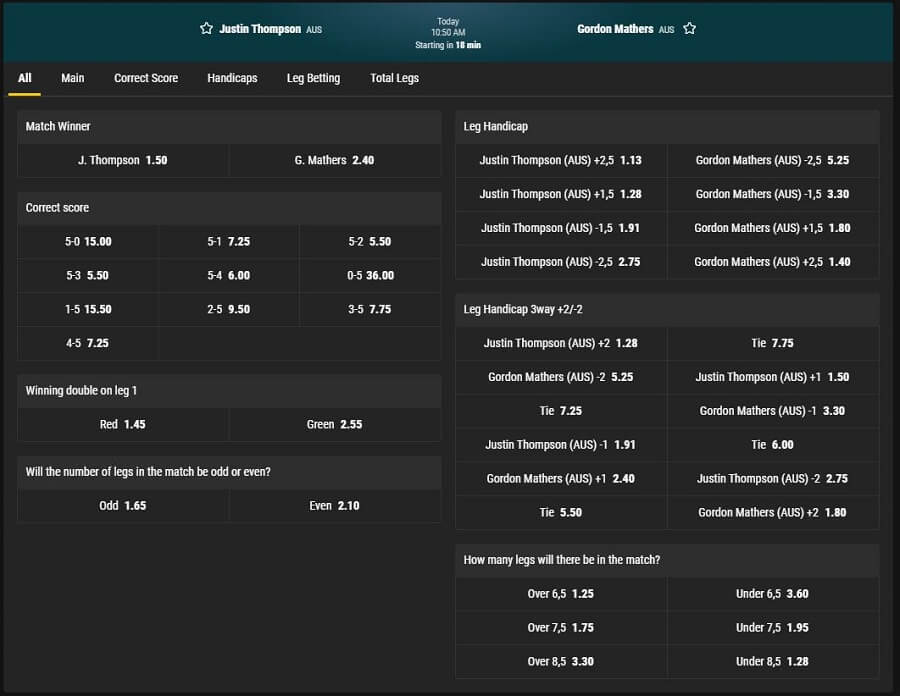 Darts get a pretty decent homage here, too. This isn't the most popular sport out there but has decent odds and is relatively easy to bet on. You can try to guess the correct score, or perhaps leg handicap, the number of legs in the match, and many different bets. We can go on and on like this but it's clear that Bwin doesn't stray away from the competition.
The betting variety is impressive and so is the number of betting markets available.
The Odds at Bwin – Are They Competitive Enough?
Just a few moments ago, you've had the chance to see multiple odds in the images. Some of them might look competitive and some of them not so much. The question that arises here is if the odds are competitive when compared with the other bookmakers on the market. We decided to compare it with 10Bet and see how well it stacks up: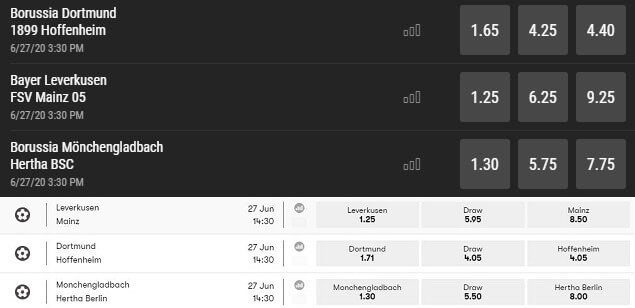 Let's start with the first match. Bwin takes the lead here, offering much higher odds for 1899 Hoffenheim to win. On 10Bet, the odds are 4.05, while Bwin offers 4.40, which is significantly higher.
Once again, in the second match, Bwin manages to out-play 10Bet by quite a margin. Just take a look at the second match, the odds for FSV Mainz 05 to win are 9.25 on Bwin and just 8.50 on 10Bet.
Lastly, in the third match, 10Bet puts up a bit of a fight, but not much. Bwin still has higher odds on average, making it a better choice in this regard.
Bwin Special Features
Offering some competitive odds and lots of betting markets, it would be a shame if it didn't offer a fair share of special features. Thankfully, it does, but only the "basic" special features, and not features like Karambot, for instance, which we saw in Karamba.
In-Play Betting

Playing live on Bwin will be pure joy, given how great the interface looks. The betting markets are more or less the same, but you also get this interactive statistics screen on the right. You can expand it and see more statistics about a certain match. In the image, we can see how many yellow and red cards are there, penalties, substitutions, and so forth.
On the left, we can see which minute it is and the current match result. Bwin did in-play betting really well and it functions as it should.
Live Streaming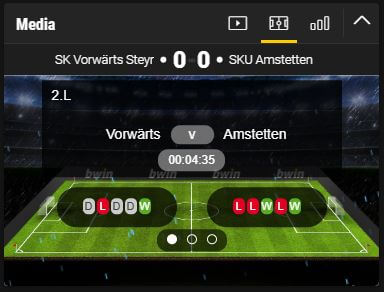 Live streaming is both hit and miss on this website. You have three options for following a particular match. You can go with the view as we've shown in the image above, you can go for statistics, and finally, for a live stream. The problem is that not many matches and sports are supported.
We found the live stream icon next to a couple of them, and when we clicked on it, we always got the same message – there are no live streams for the match, blah, blah. Why put the live stream icon, then?
If the stream isn't available, don't put an icon – capiche?
Bet Builder

The Bet Builder on Bwin is pretty awesome and looks like a separate app. You can choose the betting markets you want, combine two, three of four bets, and make your own, unique combination. Plus, if we take into account that winning bets using Bet Builder are a part of the aforementioned promotion, you can earn some serious dime.
Bwin Mobile Betting Experience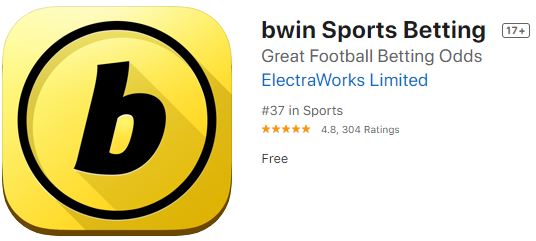 Betting on the fly is a thing of today and the future. Due to the busy lives we live, we don't have the time to spend hours and hours in front of our computers. Because of that, we use our smartphones more often than computers, even when betting. Bwin offers a fantastic betting app for iOS, that has more than 300 ratings and 4.8 stars on the Apple Store.
The reason this app is so good is that it resembles the websites closely, although it has some white color in it, unlike the website. The upper portion with the sports is black, while the betting markets below are white. In the upper-left corner, you can open the side menu where you can access all the advanced settings and options.
Some of them are banking options, contact options, and your account. All the special features are here, as well. You can enjoy live betting, bet builder, or live streaming. But, the main downside is that live streaming follows the same trend as on the PC – it's not very good.
Overall, the app is pretty decent, so there's nothing major to complain about.
How Fair and Secure is Bwin?

Operating for more than 20 years, Bwin is a company that needs no special check and investigation. Experienced betting lovers know about it pretty well and it's a recognizable name in the betting world. The company is based in Gibraltar and is regulated by Gibraltar Gambling Commissioner. Basically, it has a license from Gibraltar but also from the UKGC, as it's allowed to operate in the UK.
The company behind Bwin is GVC Holdings, and if that sounds familiar, let us give you more info. GVC Holdings is the parent company of Ladbrokes and Sportingbet, as well as a couple of casino brands in this country.
We see that it even got a Casino of the Year award in 2018 and that it cooperates with responsible gambling companies, such as GamStop IBIA. The site uses 128-bit SSL encryption for keeping your data intact, making it safe and secure.
In short, there's nothing to worry about when betting on Bwin. It's a trustworthy, reliable, and functional UK betting site.
Loyalty Program
Bwin online casino players get to enjoy a pretty decent loyalty scheme and that's a great thing about this casino. On the flip side, sports players don't get any kind of loyalty scheme. The good thing is that frequent promotions will award frequent players, so we don't think that a loyalty scheme is necessary here.
If the lack of this program bothers you, we suggest registering on 888Sport instead. This is our #1 choice and it offers a solid loyalty program for those who bet often.
Bwin Customer Support

Customer support at Bwin is pretty standard. We've seen it in Ladbrokes and several other betting sites under the GVC Holdings umbrella. It's easy to recognize betting sites from this company, as this isn't our first review.
At the time of writing this review of Bwin, though, the coronavirus outbreak was at large, so the bookmaker couldn't provide phone support, as it usually does. Instead, you get live chat, available 24/7, email, messages on Twitter, and getting help via the FAQ section.
When using live chat, the support team is pretty responsive. You'll get a response in less than two minutes, where support will fix minor issues. Email support takes a bit longer to get to, but the support team is equally helpful.
If you use Twitter a lot, you can go for a direct message. However, bear in mind that it's mainly for informational purposes and not for fixing issues.
What do Other Users Think About Bwin?
In this section, we're going to see what other users online think about Bwin. Our source of reviews is Trustpilot, where thousands of users leave feedbacks regarding many UK-based bookies. We're going to show you one good and one bad review about Bwin, to see if the bad reviews are rage-induced or the real ones.

This good review of Bwin is reasonable, as we can see. The user praises the abundance of betting options, promotions, free bets, and quick withdrawal times. It's everything we mentioned in our analysis, except for live streaming, which wasn't to our liking. Now, take a look at this:

The Trustpilot user lost a lot of money on this website and obviously, took help from the Responsible Gambling agent. Still, he says that "these guys fooled him" in some way but that's not the case. He is responsible for losing money, making this review more like a rant than actual feedback.
Interestingly, Bwin has only 1.3 stars on Trustpilot, which isn't a great score. We encourage you to read other reviews and see if you should bet on it.
Conclusion – Should You Bet on Bwin?
Bwin is a bookmaker that has a lot to offer and for some people, it's a bit underrated. In the UK, it's greatly overshadowed by the likes of Betfair, 888Sport, and Bet365 (you can read our complete review of bet365 here), but worldwide, it's a popular option for European players.
We liked a lot about this bookmaker. It has competitive odds, intuitive interface, solid promotions, and a plethora of betting markets. On the other side, its live-streaming isn't always functioning well and the welcome bonus isn't very generous.
To digress, we do recommend betting on Bwin. But know that this isn't the best bookmaker in the UK. A much better alternative would be 888Sport, which is, in our opinion, the best option for UK players.
How to Register on Bwin?
Registering on Bwin is an easy thing to do. Let's quickly go over that process.

Click on the yellow Register button in the top-right corner of the screen.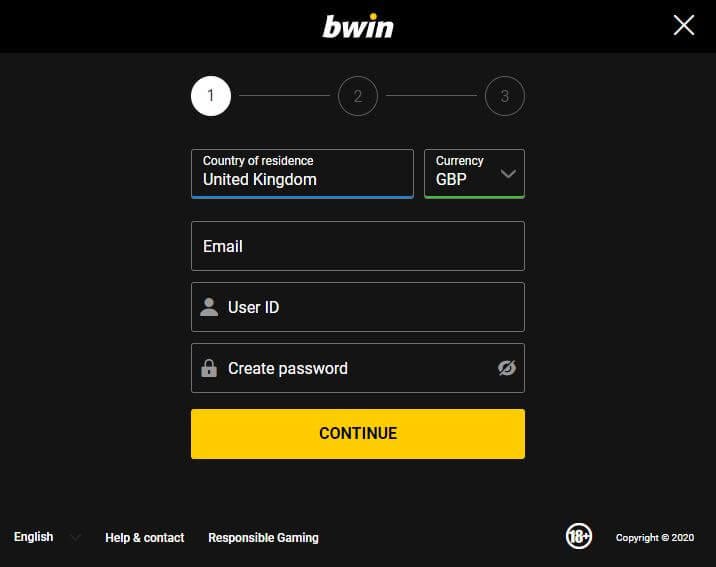 The first step of the registration process is pretty simple. Choose your country of residence, the currency that you're going to use, enter your email, username, and password. Click Continue to proceed to the next step.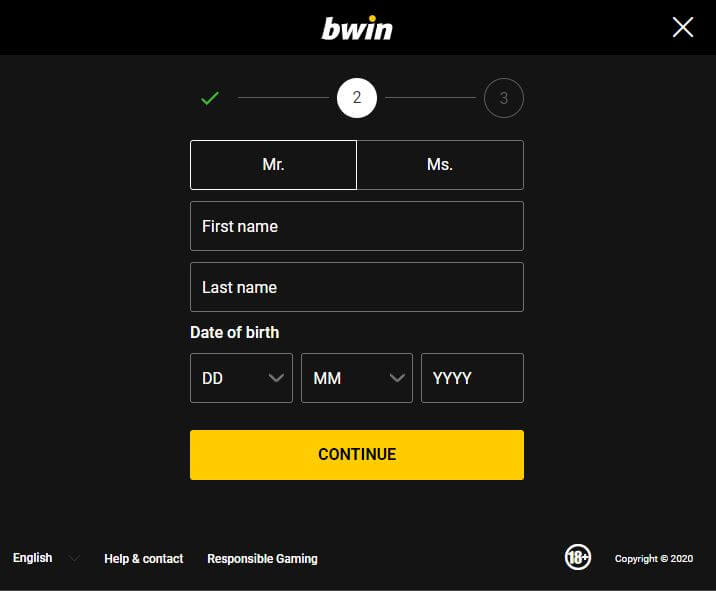 After doing so, the next step will take you a few seconds to fill out. Here, you need to choose your gender, enter your full name, and date of birth. To proceed to the last step, just click Continue.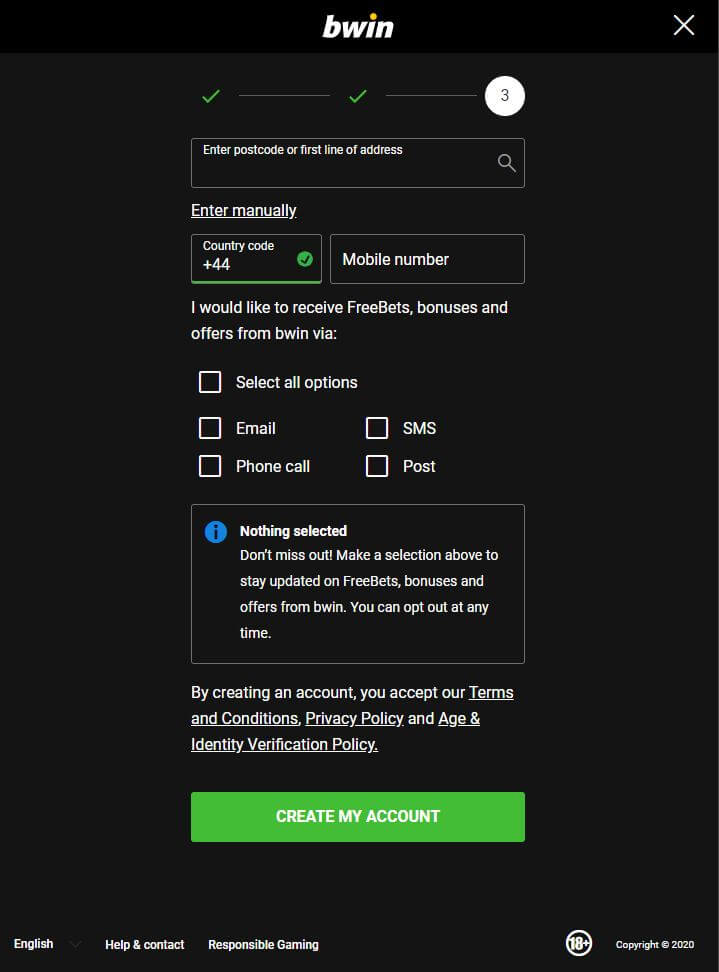 To enter your address, just type your postcode and Bwin will automatically find it. After that, enter your mobile phone, choose if you want to receive offers from the bookmaker, and click on the green button below.
As you can see, it's trivial and will take no more than 2 minutes to complete.
Verification Process – What Do You need?
If you want to be able to deposit and withdraw funds from your account, you need to verify a few things about yourself. Let's see how to do it.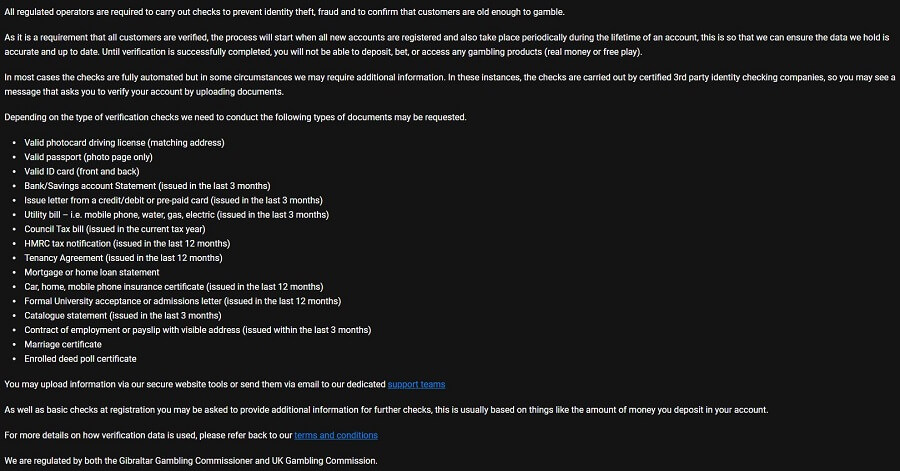 To verify your account on Bwin, certain documents are needed. You're going to take a photo of the required document and send that photo to the Bwin customer support team. What documents are needed, depends on the type of verification you need to complete. Usually, there are two types – ID and address verification.
In the first case, you'll need to provide a copy of your national ID, passport, or driving license. In the second case, you need to prove your address. Here, you need a utility bill or a bank statement, not older than 3 months.
Once you properly photograph the documents, send them, and the process will be complete.
If there are some problems on the way, Bwin's team will ask you for more proof. The documents you may be required to send are in the image above.
FAQ
To wrap up our analysis and review, let's answer some of the frequently asked questions related to Bwin:
📌 Is Bwin legit?
Yes, Bwin is indeed a legit company. It's on the betting market for more than 20 years, constantly giving its players decent odds and fair betting. Although not the most popular option in the UK, it's definitely well-known worldwide.
💳 Does Bwin support PayPal?
Bwin supports PayPal, depending on the region. We suggest you contact the support team and ask if it's supported in your country.
⏳ How long do Bwin withdrawals take?
Withdrawals take anywhere from 24 hours to a few business days. E-Wallets will give you around 24 hours before your withdrawal is completed, while credit/debit cards will take up to 3 days.