Cricket is one of the most popular sports in India. However, as of recently, bettors from the UK started to pay more attention to it, resulting in a massive expansion in popularity. Whether you like streaming cricket online or watching it live, you've also considered betting on it… probably! That's why we're going to give you top betting sites in the UK, where you can safely bet on Cricket in 2021.
Best UK Online Bookies That Offer Cricket Betting (2021)
As always, we will start off our article with a list of the best cricket betting sites. We'll give you our top five choices that we deem great for betting on this, but also any other sport. If you don't want to read the rest of the article, that's okay.
At least, you'll get what you came for. Now strap yourselves lads, and let's check our 5 best picks!
1. Bet365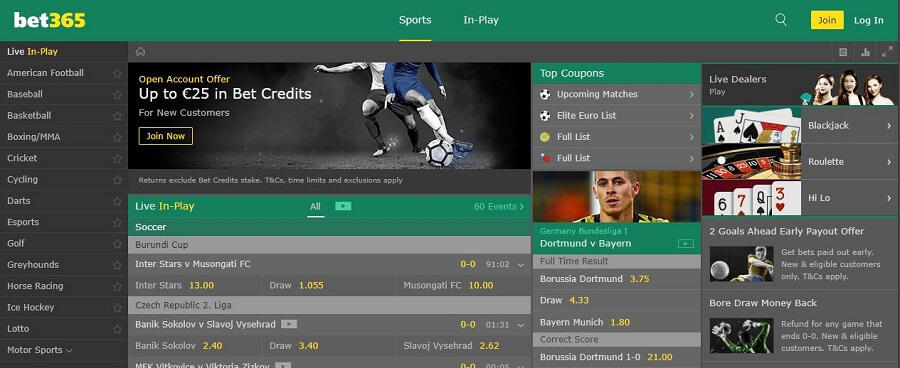 If we talk about online bookies that are popular worldwide, we can't go without mentioning bet365. This bookmaker covers a plethora of betting markets, leagues, and fixtures, making even the most demanding betting lovers feel blessed because of its existence.
Needless to say, bet365 offers very good cricket odds, but also different worldwide championships. You can bet on competitions like Caribbean Premier League, ICC World Cup 2013, The Ashes, and many other championships.
Moreover, the betting markets are pretty abundant. Some UK bookmakers will let you bet on fixed-odds – 1, X, or 2. However, bet365 takes things further, giving you the possibility to introduce bets like draw no bet, to win the toss, 1st over total runs, top team bowler, match handicap, race to 10 runs, and dozens more.
Cricket lovers will also enjoy a multitude of promotions available on the site, cricket live betting, as well as a generous welcome bonus that's easy to wager. If you register your account on bet365 and deposit at least £5, you'll get a welcome bonus of £25 in free bets when you complete the qualifying bet.
You can even place a bet on the cricket match. Just make sure that the odds are at least 1.20 (1/5) or greater. If you win, you get both your money AND a welcome bonus. Without a doubt, bet365 is THE best online cricket betting site in the UK for 2021.
Enjoy Betting on Cricket with bet365 >
2. Betway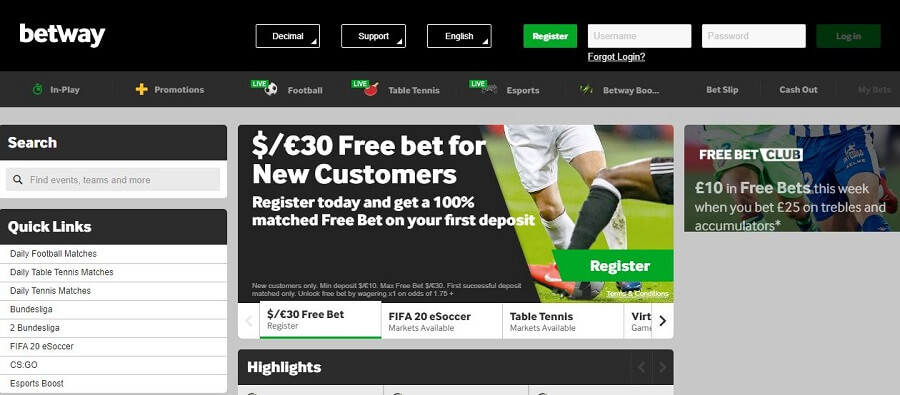 Betway is a bookmaker that might not be to everyone's taste. And to be honest, we don't find its interface the prettiest out there. But, we need to give credits where credits are due, and that's the betting variety.
Betway offers a plethora of sports and non-sports events to bet on, accompanied by a vast selection of betting markets. What about cricket – you may ask. Well, the good news is that this sport's bettors will enjoy it thoroughly, both in pre-match and in-play betting.
We like that Betway offers live betting on this sport, which will make it more enjoyable and immersive. Although the site offers live streaming for some sports, you don't get that for cricket, and that's okay. This sport is still in its expanding state in the UK, but in a few years, we can expect cricket live streaming on all the best sites.
Nevertheless, the bookie offers even MORE markets than bet365. We won't mention them all, but some of them are 1st overruns, 2nd overruns, 3rd overruns, the first ball of the match, method of 1st dismissal, the top bowler in the match, top batsman in the match, to score 100+ runs, and many, many more.
The odds for cricket are pretty competitive, as well. They're a bit lower when compared to bet365, but that's still a good thing, considering that bet365 leads the pack ferociously.
Lastly, users who register on Betway can get a 100% welcome bonus, up to £30, with one-time wagering requirements. It should be easy to wager, especially when betting on your favorite cricket leagues.
3. Unibet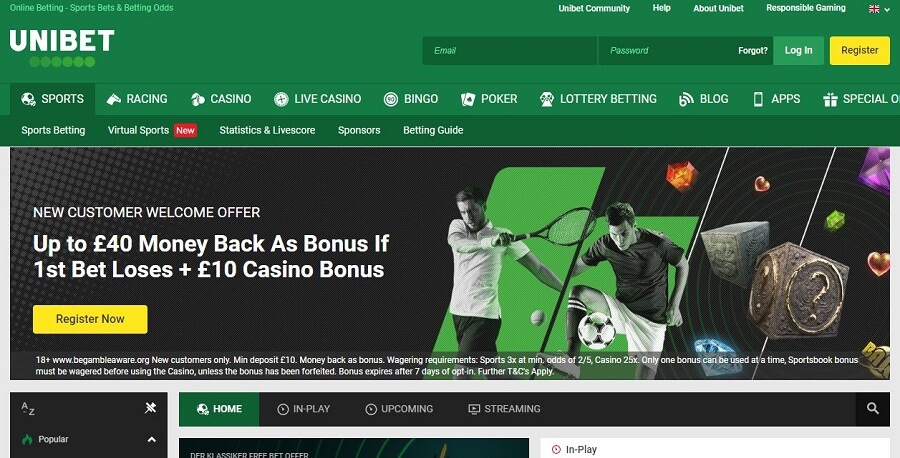 Unibet is a bookmaker that we value a lot, especially when it comes to Esports betting, where the bookie does its best. But, do we need to mention that it's great for cricket, too? That's why it's on our list of the best options available in the United Kingdom – duh!
The bookmaker can pride itself on having a very good betting variety that many players will admire. Furthermore, with its UKGC license, Unibet is ready to give you maximum fairness and security, to make your cricket betting sessions enjoyable.
Should you register on it, you have a plethora of payment methods for depositing cash, including PayPal, Skrill, and credit/debit cards. Why are we mentioning this? Because you should register on Unibet if you want to bet on cricket!
Unibet offers all the popular competitions like T20 Big Bash League, International Test Cricket, ICC World Cup 2023, and so on. Instead of giving you one or two betting markets for this sport, the bookie brings its A-Game with 11 markets that effectively cover the whole sports.
You get to bet on totals, double chance, draw no bet, top run-scorer, the man of the match, dismissals, top wicket-taker, etc, etc. Live streaming is here, but unfortunately, you can't stream cricket.  However, live streaming is available if you log in – no need to deposit or wager anything.
The bookmaker offers a £40 money-back bonus with 3-times wagering requirements, and a £10 casino bonus. This should give you some leverage for starting your online betting journey.
Enjoy Cricket Betting Markets on Unibet >
4. 888Sport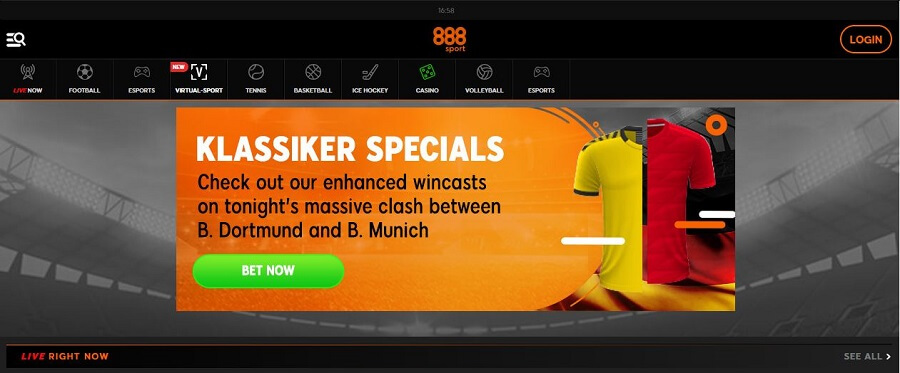 As some of you know, 888Sport is our favorite betting site in the UK. The reason being is because it offers very good odds across the board, a generous welcome bonus, and even a loyalty program, which not many bookies offer.
For the start, you get a £30 free bet welcome bonus here, after placing a qualifying bet. This bonus comes with no wagering requirements, so everything you win with it goes straight to your wallet. Sounds dope, huh?
Well, that's not all. 888Sport lets you bet on pretty much every sport, including World Cup Cricket betting. Speaking of cricket, the bookmaker won't offer the most betting markets. In fact, for the most matches, it gives you the possibility to bet only on the outcome.
But, before you dismiss it, let us warn you about the high odds. Despite being at this spot, its odds are, more or less, the same as on bet365. And as we said, a small number of betting markets won't apply to every match.
On some matches, you can still enjoy betting on totals, top run-scorer, top wicket scorer, dismissals, 1st ball/1st over, fifty/century, and many other markets. We like that you can bet on outrights, as well. For instance, Caribbean Premier League winner or T20 Big Bash League winner.
Overall, 888Sport is a great betting site not only for cricket but in general. If you ever get tired of betting on this sport, it's good to know that the bookie will treat you well when betting on other sports.
Get High Odds on Cricket with 888Sport >
5. MansionBet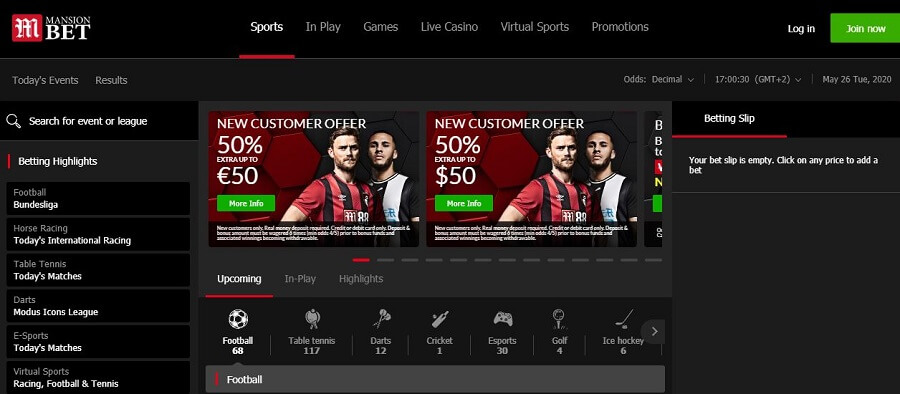 MansionBet is a well-known bookmaker in the UK, offering a great betting experience with tons of quality promotions. The bookmaker won't offer any promotions for cricket, which, after all, is a pretty common thing for online UK bookies.
Where the bookmaker shines, though, is the sheer amount of betting markets and a beautiful betting interface. Cricket is far from being the most popular on this site, but alas, you get all the most popular competitions.
At the time of writing this article, we found 8 cricket leagues, some of which are World Cup 2023, Indian Premier League, and Bob Willis Trophy. Now, the trick is that MansionBet doesn't always provide all of its cricket betting markets.
Much like 888Sport, it will let you bet on the outcome, and on rare occasions, you can extend that to wicket methods, 1st over total runs, to win the toss, over/under fall of the 1st wicket, and a few more.
The odds are, for the most part, pretty competitive, at least when we talk about crickets. For other sports, the odds are a bit better, which is a silver lining if you want to add some betting variety. Unfortunately, live streaming is not available for any sports, which is one of the main downsides of this site.
On the brighter side, there's a £20 welcome bonus when you bet £10 on a qualifying bet, with no wagering requirements.
Visit MansionBet and Bet on Cricket >
6. Betfair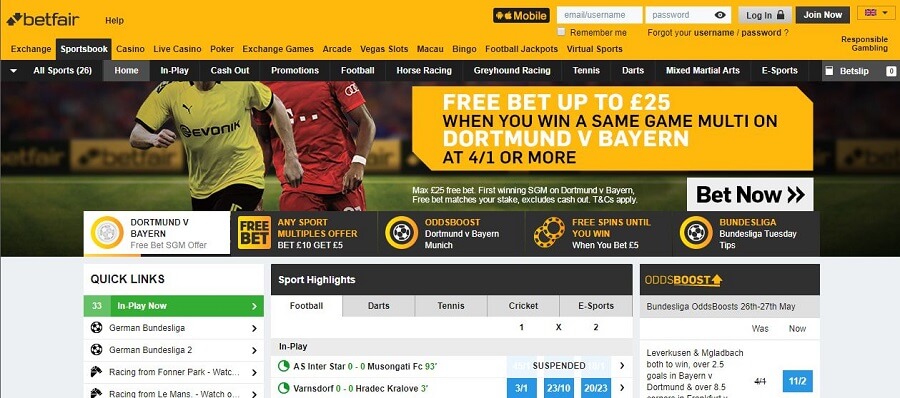 As a bonus entry, we decided to go with Betfair. Betfair is easily among the strongest betting brands in the UK, offering a sportsbook, casino, poker, and bingo sites, for full enjoyment.
There are some casinos that we have a few doubts about, but Betfair isn't one of them. Being an official betting partner of Real Madrid, it's hell-bent on making your football betting experience a breeze. And cricket? What about it?
Don't worry – Betfair takes proper care of it, even introducing live streaming on rare occasions. The choice of competitions will probably spoil you, as Betfair effectively covers every major and minor championship around the world and the UK.
In terms of odds, this bookmaker is one of the best out there. Whether you bet on live cricket or pre-match, Betfair will ensure that you get a maximum bang for the money.
Not to mention more than 20 betting markets that you can enjoy, ranging from first overruns, the man of the match, 50 scored, top match batsman, batsman C runs, top runscorer, and many more.
Lastly, the bookmaker offers a £100 welcome bonus with NO wagering requirements. Actually, it lets you place five qualifying bets where you can get up to £20 for each bet. This will allow you to claim a total of £100 that you can use on any sport.
Place Bets on Cricket on Betfair >
Features We Look for on the Best Online Cricket Betting Sites
Our ranking of the best cricket betting sites isn't random. During our evaluation, we used several criteria to make our list as objective as possible. Here's what we took into consideration when coming up with the list:
Cricket Betting Markets & Competitions
Of course, when we rank the bookmakers by sports they offer, we isolate a certain sport and take a closer look at its betting markets and competitions. In general, if you're going to bet on cricket, it's good to have as many competitions.
The reason being is because it's not a very popular sport on some bookies, hence they give you two or three options. Furthermore, if there's a lack of popularity, betting markets might suffer.
That's why we often see one betting market where you can bet on an outcome – 1, X, or 2. Our choice of online cricket bookmakers is pretty simple. We want you to experience this type of betting in the best possible light, with many options to place and combine bets.
Our top pick is bet365 due to how many cricket championships and markets it has. Plus, with the highest odds for this sport, it's clear why it's the best choice. If you're a cricket fanatic, we do recommend bet365. However, if you're a newbie, MansionBet will probably suffice.
Odds
Online bookmakers with low odds are often discarded by bettors. When we take a look at Trustpilot reviews, we can see many people complaining about this trend, as well. All of the UK online bookies we mentioned above are known for competitive odds and that's one less thing to worry about.
Now, the odds may greatly vary from sport to sport. Betfair gives a bit better odds for football, for example, while 888Sport has the highest odds for horse racing. The trick here is to pay attention to the odds for cricket, where bet365, once again, takes the first spot.
We analyze dozens of bookies each day, so we can tell you which bookmaker has the highest odds for the sport you're interested in.
Welcome Bonuses & Promotions
Starting off your betting journey online is merely impossible without a welcome bonus. Sure, you can always deposit your funds and play, but given that these are mainly no-wager bonuses, you want to claim them.
On our list, pretty much every bookie gives such a bonus, except for Betway and Unibet. Still, both of them offer easy-to-wager offers that you'll complete in a day or two. A generous bonus isn't always the one with the most free bets.
It's a bonus that you can easily wager, as well. We also took into account promotions that you get apart from a bonus. 888Sport, for instance, even has a loyalty program, while MansionBet offers more than 10 promotions each day.
Payment Methods
We didn't talk a lot about payment methods above, but you can rest assured that all of the bookies listed in our ranking offer enough of them. Typical payment methods you can expect are PayPal, Skrill, Neteller, VISA, MasterCard, Paysafecard, Trustly, and many more.
Keep in mind that some bookmakers will exclude PayPal, though. Some – not all of them – depending on your location. Apart from the payment methods, it's important that payouts are pretty fast.
All the bookmakers from the list support instant deposits. However, withdrawal times can take from 24 hours to 3 days, which is pretty fast.
Licensing
Another thing we haven't touched on is licensing. Our team is comprised of people with an excessive gambling experience that will NEVER promote illegal or fraudulent bookmakers or casinos.
That's why every option on our list MUST have at least one license – from the UKGC. This license allows the gambling or betting operator to operate in the UK and gives you a sense of security and safety.
Not every operator can get this license, which is why having it is a huge success. Given that the bookmakers above are based in either Malta or Gibraltar, they often have one more license from these countries.
With two licenses in total, every bookmaker from the list of the best sportsbook for cricket is safe, secure, and verified.
How to Bet on Cricket?
The newcomers to this sport are not well-acquainted with online cricket betting, which is completely understandable. But, they need to know that betting on this sport is very easy. Here's how to bet on cricket in a few simple steps:
Register on one of the bookmakers from our list, preferably bet365.
Choose Cricket from the sports list on the left.
You have the option to place a pre-match or in-play bet. Choose what you want from these two.
Choose the market you want and place a respective bet by clicking on it.
Your bet is now on the bet slip to the right. There, enter the stake you want to place and check your bet once again.
If this is the bet you wanted to place, click on the Bet button to confirm it.
Cricket Betting Tips – Do They Help?
If you're in the betting world for some time, you've probably heard about betting tips. Betting tips usually come from experienced people or betting experts that are willing to help you win more when placing bets.
To gain this type of knowledge, you need to be in the betting world for quite some time – five, or even ten years actively. The good thing about cricket betting tips is that they actually work, but only if they come from a qualified persona or a website.
Many online bookmakers will also offer a blog section, where they give some betting tips that you can take advantage of. Moreover, there are tons of gambling forums and sites in the UK, where you can find more info about this sport.
We can't give you cricket betting tips here because they apply from match to match and team to team. There's no general rule on what bets to place and we're not a sport betting tips company.
FAQ
Let's wrap up our comprehensive guide with answers to some of the frequently asked questions:
⚠️ Is betting on cricket safe?
The safety of betting on cricket depends on the bookmaker itself. If you choose to deal with low-level bookmakers that are not licensed and verified, betting on ANY sport will not be safe.
Cricket isn't generally a sport where you'll see a lot of fixed matches and shady business. That's why many UK online bookies have many leagues and betting markets for it. Should something like this happens, a verified bookie like bet365 or MansionBet will react and remove a particular match or a league.
💰 Can I get free bets for cricket?
Online bookmakers offer free bets that can be used for any sports, more or less. Getting free bets exclusively for cricket is rare in the UK betting market, and that's not necessarily a bad thing.
It's better to have free bets that you can use how you want, instead of getting them for a particular sport. Rest assured, you'll always get free bets as a welcome bonus. They can come with wagering requirements or without them, and that's what matters the most.
🏏 What are the most popular cricket competitions?
If you think that cricket is popular only in India and the UK, you're very wrong. Cricket is starting to gain traction worldwide and is popular in countries like Bangladesh, Pakistan, India, and other Asian countries.
Here's our small list of the most popular cricket competitions:
T20 World Cup
Big Bash League (BBL)
Indian Premier League (IPL)
T20 Blast
ODI World Cup
The Ashes
Caribbean Premier League (CPL)
Bangladesh Premier League (BPL)
Mzansi Super League (MSL)
📱 Can I bet on cricket using a mobile phone?
Yes, you can. Nowadays, every online bookmaker supports betting using your iOS and/or Android devices. This means that you can bet on and iPad and tablets, as well. Some bookmakers have dedicated apps for mobile phones and others use a mobile-optimized website.
In any case, cricket mobile betting is a pretty common thing and can be done on any iOS/Android device.