Karamba probably isn't the most popular betting website out there. However, it has enormous charisma thanks to its parrot named Karamba, from which the site got its name. Furthermore, there are lots of interesting features and relatively competitive odds on the market. This instantaneously makes it an interesting option for an in-depth analysis. Should you register and start betting on this website? Well, we intend to find that out in our review of Karamba, so stay tuned and keep reading!
Karamba Welcome Bonus – Is It Generous?

Welcome bonuses are a great tool to make new players more excited to play on an online bookmaker's site. Every online bookie in the UK uses them, and in many cases, they're generous enough to kickstart your betting journey. Karamba is no exception, offer one welcome bonus for every new customer. Let's see what's the welcome bonus about.

To get it, you must register your account on Karamba sports, deposit £10 or more, and place a qualifying bet with the aforementioned stake. The qualifying bet here comes at the odds of at least 2.00 (1/1), which is a bit higher than we've used to see. Usually, online bookies let you place a qualifying bet at the odds of 1.5 (1/2), but in this case, Karamba gets a pass for the reason we're going to mention below.
When the bet is settled, you get a welcome bonus of £10 in the form of free bets – simple as that! Let's check other welcome bonus conditions now.

These conditions are, more or less, known. The minimum free bet amount is £10, and so forth. If you read below, you'll find out that not every country can claim it, though. Of course, users from the UK can, but so can users from Ireland, Finland, Norway, Canada, and Germany. We're glad that Karamba gives some attention to other countries (like Betway), and not strictly to the United Kingdom.
And now, the reason why Karamba got away with the high-odd qualifying bet – there are NO wagering requirements. You get a welcome bonus and you're free to play with it hassle-free and without limits. What a start for this in-depth review of Karamba sportsbook!
Karamba Promotions – Are There Some?

If you're tired of betting without particular rewards, you might as well change the online bookie you're using. A quality bookie will always award your betting with some promotions that you can easily participate in. Karamba seemingly offers quite a lot of them, but once you examine them closely, you realize that situation is a bit different.
For example, the majority of promotions are the special features we're going to talk about. One promotion is a welcome bonus, one is Karambot (more about that later in our review), and one is regarding Cashouts. We also see a promotion called Virtual Sports. But, when you click on it, it just transfers you to the Virtual Sports tab.
The silver lining is that there's one true promotion that we liked a lot. Here's what it's called:
Karamboost – such a silly name, but works well due to its uniqueness. This is Karamba's Acca-related promotion that will let you boost up your winnings up to 77%. How to participate? Well, just place four or more selections on your bet slip with the minimum odds of at least 1/5 (1.2), and depending on the number of selections, you can boost your win by a certain percent.
Beware that these need to be pre-match bets, so don't go in-play.
With 4 folds, for example, you get a 4% boost, and if you stack up 15 folds and win, you get a 77% boost in winnings. For us, this promotion is easy to take advantage of. The aforementioned odds aren't exactly the highest, meaning that you're more likely to win. Even a 4% boost is decent, especially if your stake is a bit higher.

Karamba puts Cashouts in the Promotions category, so let's talk about it now. If you're an experienced betting lover, you know what this is, hence you can skip this paragraph altogether. But, if you're new, you'll be happy to know that with a Cashout, you can take your money back before the selection is settled.
Let's use in-play betting as an example. You place a bet on the team you think is going to win. Now, if that team starts losing, you can literally withdraw your money and avoid losing the bet. There's a full and a partial Cashout. With the partial one, a part of your money can remain on the bet, just in case things turn around.
Deposit/Withdrawal Methods and Limits

Now, let's review the payment methods you're going to get at Karamba. Scrolling down the home page, we can see these five methods – MasterCard, Maestro, Skrill, Neteller, and EcoPayz. Five methods aren't much – you'll agree. However, these are only some of the methods that the bookmaker accepts. We visited its FAQ section to see what we can find about and we stumbled upon this response.
We can see that Karamba supports more than 20 different payment methods. If you're going to use credit/debit cards, you can use VISA, MasterCard, Maestro, or EntroPay. Similarly, E-Wallets are here, and some of the available methods are Neteller, Skrill, PayPal, Trustly, and so forth.
Just for your info, not every payment method is available for the UK players. For instance, PayPal is available for Denmark ant Italy, while HiPay is for Belgium. On the brighter side, UK players can use Skrill and Neteller.
We said earlier in this review that we're going to talk about deposit and withdrawal limits, so here you go. The table below doesn't display all the payment methods that the bookmaker offers, but it's enough to mention the most important ones. The minimum deposit you can make at Karamba is £10 and the minimum withdrawal is exactly the same.
The upper limits depend on you. Using responsible gambling features, you can limit your deposit to £99,000, and the same applies for withdrawals. Deposits are instant in almost any case, while withdrawals can take up to 8 business days, depending on the payment method you're using.

The best method here is either Skrill/Paypal or Trustly. These methods take up to 3 business days to process the withdrawal and there won't be any fees. Karamba doesn't impose any fees when withdrawing money, but your bank may do, so it's best to use E-Wallets.
Karamba Betting Variety
Karamba wasn't a betting site initially. It started in 2005, and at the time, it quickly became one of the best online casinos in the United Kingdom. Sometime after, it decided to expand its business to the sports betting, but at this time, many online bookies were already established.
In this regard, Karamba isn't the best option, offering a smaller number of sports and events to bet on. Here's a screenshot from the website. We edited it, so you can see the sports easier: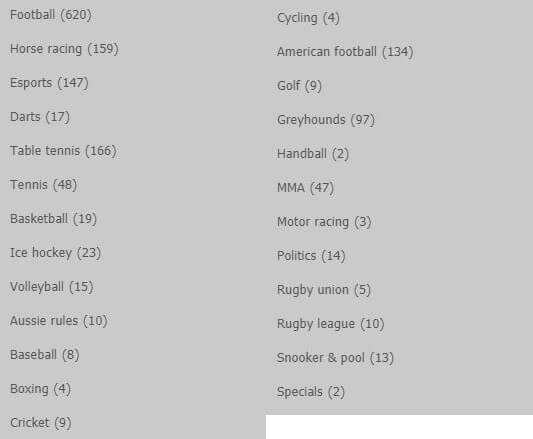 As you can see, 25 sports are available, of which football, horse racing, and Esports are the most dominant ones. Furthermore, the bookmaker didn't list them from A to Z, making it harder to find the sport you're going to bet on. In terms of sports variety, we can't complain too much. Karamba definitely did a decent job, although it's not on the level of bet365 or 888Sport.
We like the inclusion of Politics, Snooker, Darts, Cricket, and Boxing. MMA is also here, but more interesting options like Lotto or Public Affairs would be welcome, as well. Unfortunately, they're not here.
Betting Options
Betting on Karamba is pure enjoyment for a betting enthusiast. Heck, even the newcomers will be encouraged to try something different from time to time. Fixed bets are boring after a while, and you want to test your luck with other types of bets. Football is one of the best sports to bet on. It offers a multitude of betting options that even the most demanding players will enjoy.
Karamba read our thoughts, giving us exactly what we wanted.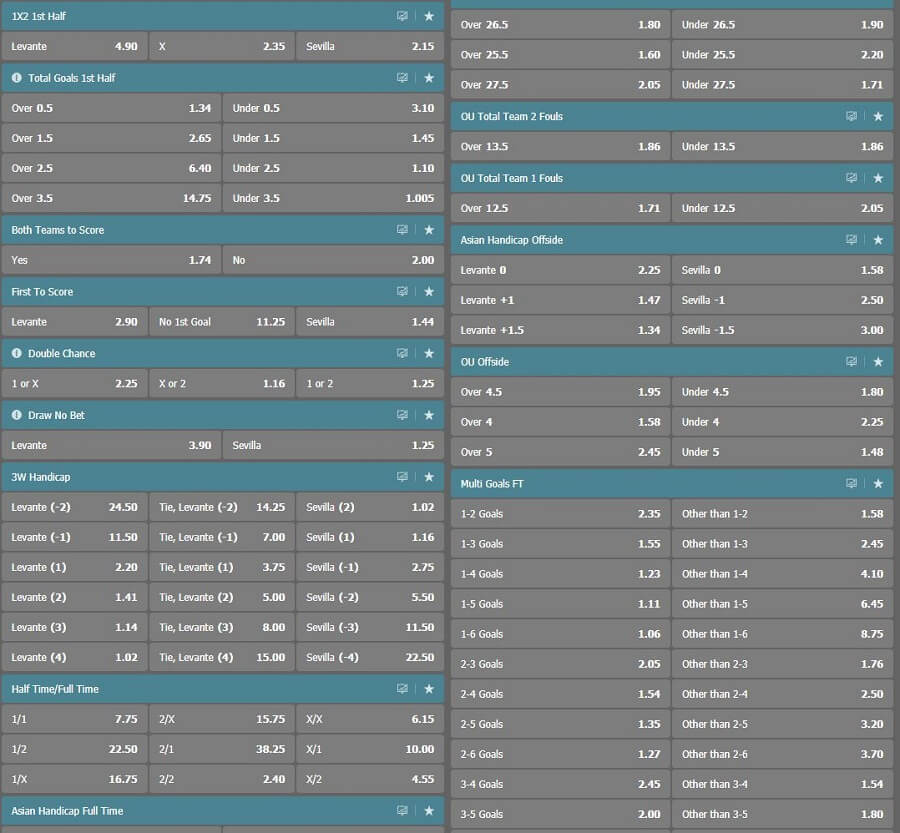 There are 59 football betting markets available on this website – it's crazy! If you multiply it with the number of bets available for every market, you get hundreds of them available for you. Apart from fixed bets, you can bet on both teams to score, total goals in the first/second half, 3W handicap, multi goals FT, Asian handicap full time, and so forth.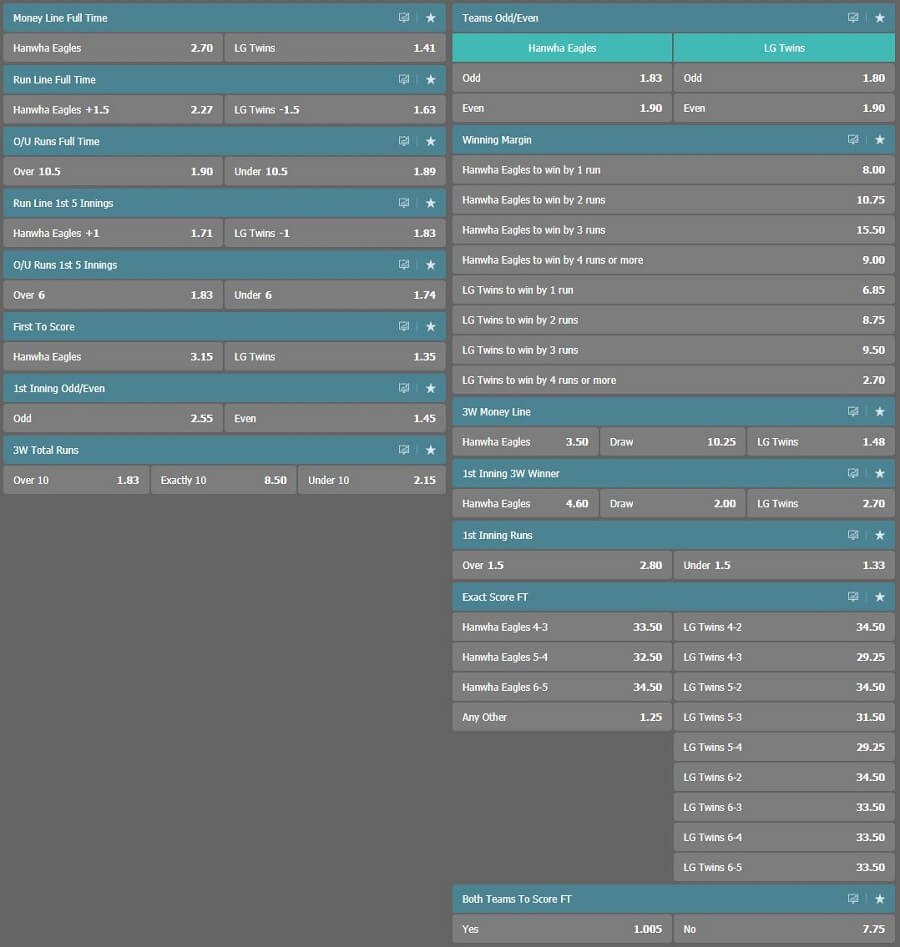 Players who love baseball will also be pleasantly surprised. Karamba nails it when it comes to betting variety for this sport. You can place a bet on the money line full time, run line full time, first to score, 3W total runs, 1st Inning runs, and many more. Finally, we can mention darts – another massively popular sport around here.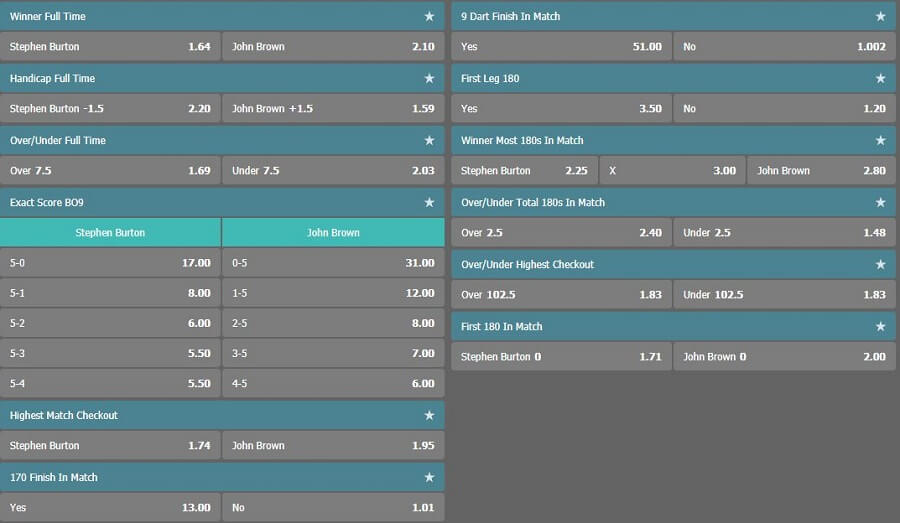 Darts is, at first glance, a simple sport. But if you try to bet on it, you'll see that things aren't so simple. Playing on the winner full time, over/under full time, 170 finish in the match, first leg 180, and many other options, is fun and will let you earn some good money.
All in all, Karamba can definitely take pride in its betting variety and options. Experienced betters will appreciate it for letting them enjoy a full-fledged betting experience from the comfort of their homes.
The Odds at Karamba – Are They Competitive Enough?
The odds are probably the most important factor in any online UK bookie. You can have all the sports and options you want, but if your odds aren't competitive, the competition will devour you. In some of our reviews, we compared Karamba with some of the best bookies around. And as we've seen, it's very competitive.
Today, we decided to switch things around and compare it to Bwin bookmaker, another relatively popular online bookie.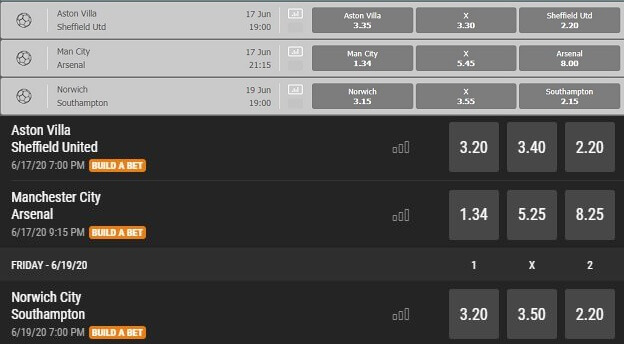 We used Premier League for this comparison, as it happens to have very good odds most of the time. In the first match, Karamba beats Bwin, offering slightly higher odds for Aston Villa to win. Bwin offers higher odds for X, though. In the second match, the situation is practically the same but applies to different bets. Finally, in the third match, Karamba takes a slight beating from Bwin.
Bwin isn't our favorite bookmaker, yet it manages to give Karamba a run for its money. We can't say that Karamba is always better, as the other bookmaker wins in some scenarios. It's on par with Bwin, which, as we said, isn't in our top-ten list. This means that the odds are competitive, but for another, mid-range market.
The best odds are on 888Sport, so that's our recommendation instead of Karamba.
Karamba Special Features
We've seen during our review that this UK online bookie doesn't have a lot of special features, but it has one unique feature that you won't find on many bookmakers. Let's review the features offered by Karamba and see if they add some value.
Karambot

A unique special feature must come with a unique name – Karambot. They might as well named it Karambit, after the well-known combat knife. Nevertheless, Karambot is an amazing bet recommendation engine that does exactly what you're thinking about. It analyzes information and provides bet suggestions based on statistics.
Needless to say, it's not a tool that will give you 100% safe bets. Instead, it's just here to recommend what to bet on and which options are the best at the moment. We also need to mention that it's available only for football, which might be a disappointment for those who love horse racing or greyhounds more.
In-Play Betting
In-play betting, when done right, can be an extremely pleasant betting experience. Thankfully, Karamba did its due diligence and made this section awesome. on the left, we can see the result, and underneath, there are betting markets and options that you can use. On the right, we can see the match layout and what happens on the field.
For instance, if it's an out, we can see where the player stands and throws the ball from. It's like a live stream, but a simplified version. For in-play betting, this feature is a must.
Oh, and since we mentioned live streaming, Karamba doesn't offer it. A Bet Builder also isn't here, sadly. The bookmaker definitely lacks some of the more recognizable features, which isn't something to brag about.
Karamba Mobile Gaming Experience

If you're planning on betting on the fly, you're probably thinking about downloading dedicated Karamba sports betting app. This bookmaker has a dedicated app for its online casino, and for betting, there's just a Live Sports Betting app.
This app, at first, seems like it's only for live betting. We downloaded it and booted it up, and thankfully, it supports pre-match betting, so it's a full-fledged Karamba app. The good thing is that it looks exactly like the website and you'll get accustomed to it quickly.
On the left side, you can open the side menu, where you can access deposit and withdrawal methods, and if needed, verify your account. At the top of the screen, there are sports and sports markets. Once you choose the one you want, tap on the match below, and place a bet, which will immediately go to your bet slip.
Special features we mentioned a moment ago are also here. Live betting is excellent, while Karambot does its job greatly. Not all is great, however. We, as well as other Apple Store users, encountered numerous bugs and glitches in the app.
The app will often freeze or crash with no particular reason, even on the newest iOS and iPhone. Karamba will need to fix the app ASAP if it wants to go over this 3.3-star rating.
How Fair and Secure is Karamba?
Karamba spent more than a decade on the market, even winning an award for the top casino operator at some point. That's great news for the bookmaker, as its legitimacy expands to other brands under this umbrella. Karamba is based in the British Virgin Islands and cooperates with Aspire Global International LTD, a Maltese company that is responsible for the games.
The company clearly displays the company's number and despite being from the BVI, Maltese gambling laws are the ones governing the bookmaker. That being said, it has a license from MGA and UKGC, which are one of the most valued gambling licenses in the world.
On top of that, Karamba utilizes Responsible Gambling, thanks to companies like Spire Global and MuchBetter. Lastly, for security, the bookmaker uses 128-bit SSL encryption, which is stated on the website. This will ensure that all of the payments are safe and that all the sensitive data remains intact.
Loyalty Program
Those who plan to play games on Karamba online casino will be in for a treat. The company offers a pretty good loyalty program with lots of rewards and bonuses. Unfortunately, things aren't the same as on the online bookmaker.
Just when we thought that the loyalty program applies to the Sports section as well, Karamba gave us a cold shower. The lack of the loyalty program wouldn't be such a con if it weren't for the lack of promotions.
There aren't promotions for horse racing, for example, or for any other popular sport in the UK. If that bothers you, and it should, you can register on 888Sport and enjoy both decent promotions and a loyalty program.
Karamba Customer Support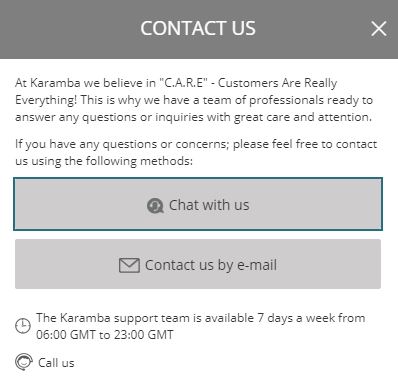 If some betting issues arise, you might want to contact Karamba to fix your issues. The support team at this bookmaker is a decent one, but it's not available 24/7. Actually, it's available 17 hours a day, from 6 to 23 GMT, 7 days a week. We can't complain too much, as support is responsive and very helpful.
You can contact the bookmaker using either live chat, email, or call it. At the time of writing this Karamba review, the last option wasn't available, but when it's here, it's relatively easy to get to the support team members and get the required help.
What do Other Users Think About Karamba?
In this section, we're going to take a look at other people's reviews and see what they think about the bookmaker. Our selected source is Trustpilot, and all the reviews are from there. We'll use two reviews in total – one positive and one negative.
Let's start with the positive one:

This user's review about Karamba screams positivity. He enjoys using the website and claims to have hours of fun on it, stating that it's straight-forward and easy to use. Not many reviews are like that since Karamba has a 1.4-star rating on UK Trustpilot. Here's a bad review for that matter.

The majority of bad reviews are similar to this one. Karamba allegedly doesn't give you your winnings and doesn't accept Cashouts, as this user says. Usually, bad reviews are pointed towards the bookmaker not paying your winnings or stealing your money. We didn't have such problems, so we can't comment on it.
But, not all of the users are losing money on this site, so it's impossible that all the bad reviews are rage-induced. After all, more than 250 reviews about Karamba are negative.
Conclusion – Should You Bet on Karamba?
With everything we said about Karamba, it's time to put a conclusion on this review.
Karamba is a very good online UK bookmaker. While its odds aren't on the top level, it still manages to hold its ground against some of the better bookies out there. We like it for its character and uniqueness, which is what will attract the new players to this site. Moreover, the bookmaker is simple to use, offers a decent welcome bonus, and has tons of betting options.
Still, we think it's overshadowed by a much stronger competition that fills all the blanks that Karamba has. For example, live streaming and bet builder. We recommend betting on Karamba, but a better option is 888Sport, for the reasons we mentioned above.
How to Register on Karamba?
Wondering how to register on Karamba?
For the start, visit the website and click on the Join button in the upper-right corner.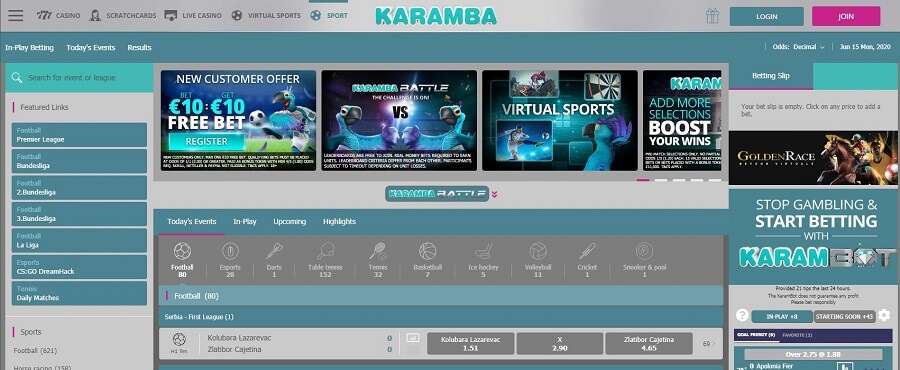 When you do so, the first registration screen will appear:
There are two steps to register your account. The first one is easy – you just enter your email address, username, and password. After that, click Next.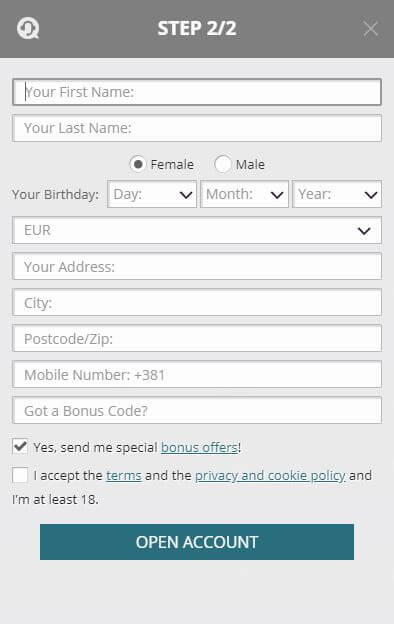 This is where you enter the majority of personal information. Your full name, gender, birthday, address, and so forth. Interestingly, the bookmaker automatically detects the country you're located in, so you can't enter fake information and get away with it.
When you fill out the required info, just click on Open Account and you're done.
Verification Process – What Do You need?
To be able to withdraw and deposit funds on Karamba, you'll need to verify your identity. This is easily done if the information you entered upon registration is genuine. Here's what documents Karamba needs from you.
There are four documents in total. Two of them are for your identity and they include a national ID, passport, or driving license. With them, you can verify your full name and date of birth.
However, you'll also need to verify your address. To do so, just upload a copy of your bank statement or a utility bill, not older than 6 months. You can do that by contacting the support team and sending them photos of your documents.
If everything's okay, they'll verify your account pretty quickly.
FAQ
To end this review on a good note, we will answer some of the most frequently asked questions related to Karamba.
📌 Is Karamba legit?
Yes, Karamba is indeed legit. It's a fully-licensed online bookie in the United Kingdom, with a long history of success as an online casino.
🔎 Does Karamba have a UK license?
Of course. Karamba has a license from the United Kingdom Gambling Commission (UKGC), allowing it to operate in this country.
⏳ How long does it take to withdraw from Karamba?
Withdrawals on Karamba aren't the fastest. They can range from 3 to 8 business days, depending on the method. We recommend using Skrill, PayPal, or Trustly, as these methods are the fastest.