Sky Bet is a well-known name among the experienced UK bettors. The website aims to create a different, yet quality betting experience that encapsulates sports betting, bingo, casino, and other gambling brands. As much as it sounds extraordinary, we're here to analyze it carefully for you and give you our honest opinion about it. Find out if Sky Bet is worth your time in our 2021 review below.
Sky Bet Welcome Bonus – Is It Generous?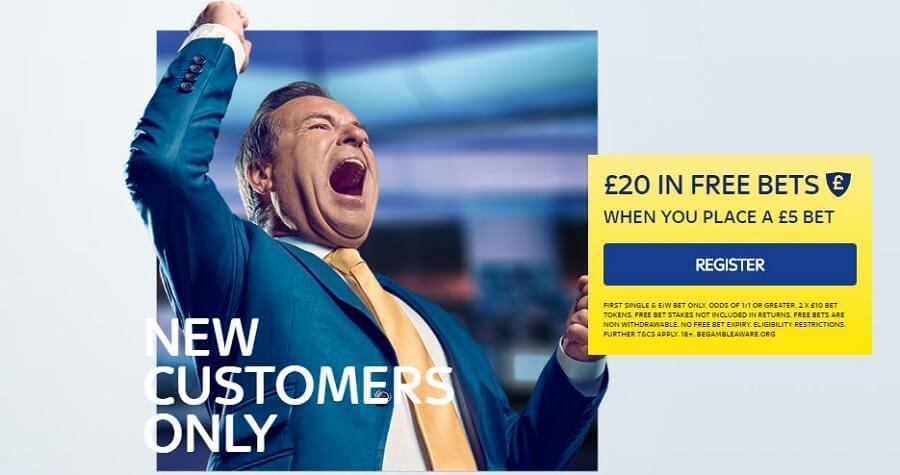 Sky Bet is a pretty experienced bookmaker with more than a decade on the market. Therefore, it knows all the tricks to keep you enticed to bet and gamble on its website. Right of the batt, the bookie offers a welcome bonus for those who register.
And, as we can see, the conditions aren't very complicated… at first. Sky Bet gives you a welcome bonus of £20 when you place a qualifying bet of £5. Of course, those tiny letters below are important, so let's check the full T&C page of this UK online bookie.
As we said, you need to deposit at least £5 if you want to be able to place a qualifying bet. Once you do so, your bet needs to be at the odds of 1/1 or above, which translates to 2.00 when you convert it to decimal odds.
Furthermore, Sky Bet will not count any accumulators, so you need to place a single bet. Once the bet is settled, regardless of the outcome, you get 2 x £10 in free bets. The free bets are non-withdrawable but you can safely withdraw all the winnings related to them.
In other words, there are no wagering requirements. Oh, and just one thing – don't deposit money with Skrill or Neteller because these are not eligible payment methods for a welcome bonus.
To conclude this part of our review, you should know that Sky Bet is not the best regarding this aspect. You will find more infos about the best sport betting bonuses in our complete ranking.
Sky Bet Promotions – Are There Some?

Opening the Promotions tab while doing this Sky Bet review leads us to… well, not exactly the promotions we wanted. It's quite odd that Sky Bet displays everything except promotions here. For example, betting guides, popular videos, and only a few promotions here and there.
This website's interface is so confusing at times, that even experienced bettors will have a hard time getting used to it. For instance, Sky Bet places Help & Support as a "today's offer".
Really? Is that what you call a promotion? Goodness…
Nevertheless, among all the "promotions" in this section, we found two of them that we think are worth mentioning. Spoiler alert: these are pretty much the only promotions!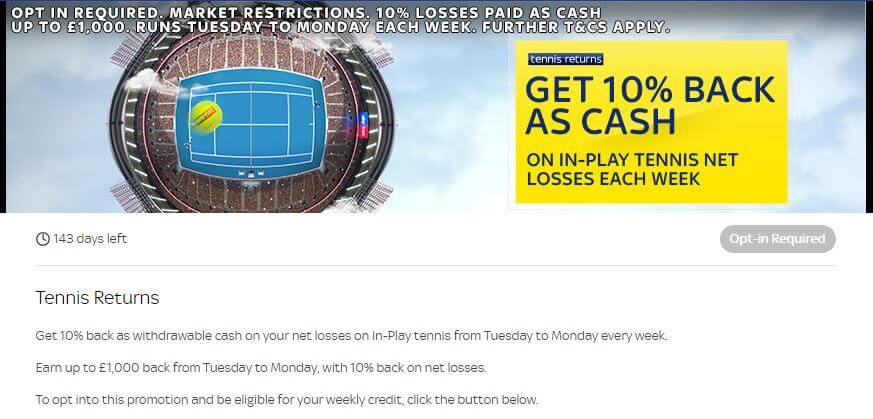 If you love betting on tennis, this UK bookie will reward your effort properly. Basically, you can get a 10% cashback on your losses on in-play tennis betting, from Tuesday to Monday each week.
Depending on your stake, you can get up to £1,000 as a cashback. Given that the cashback is 10%, your maximum eligible stake would be £10,000.
At first, we thought that this Sky Bet Club is a loyalty club. However, the website says that you need to opt-in, which doesn't make it seem like any kind of loyalty or VIP scheme. How does this Sky Bet Club work?
It's quite simple. You place your bets and progress towards the £5 free bet. This half-circle shows you the progress, where you need to fill out the £25 stake. You place a bet of £25, make sure that the odds are 1/1 or higher, and you get a £5 free bet.
The good thing is that you can bet in increments. For instance, you can bet £5 today, £10 tomorrow, and £10 the other day, which equals to £25. For every £25 you bet, Sky Bet gives you £5 in free bets – to put it simply.
Apart from these promotions, you probably won't find anything exciting here. If we couple in a modest welcome bonus, Sky Bet definitely isn't going to reinvent the wheel. Betfair, on the other hand, is a much better choice, offering a total of £100 bonus, with no wagering requirements, AND more than 10 promotions each day. 888Sport or even bet365 are also better choices regarding promotions!
Deposit/Withdrawal Methods and Limits
Another thing where Sky Bet fails to impress us in this review, is the number of payment methods. You get only the basic ones – VISA, MasterCard, Maestro, PayPal, Skrill, and Neteller. Usually, these are the methods that most people use.
But, as they say, the more – the merrier. Methods like Trustly, Apple Pay, and Paysafecard would definitely be welcome here, just to add a bit more variety and functionality. We also didn't like that the bookmaker buried its information about payments deep into the FAQ section.
Here's what it says for credit/debit cards, for instance. The minimum withdrawal is £10, while the maximum withdrawal depends on the card. For Maestro cards, it's currently £5,000, while VISA and MasterCard have bigger limits – once again, depending on the card.
While deposits are instant, withdrawals take from 2 to 5 banking days. If it's a holiday and your bank doesn't work, you can't withdraw your funds during these days.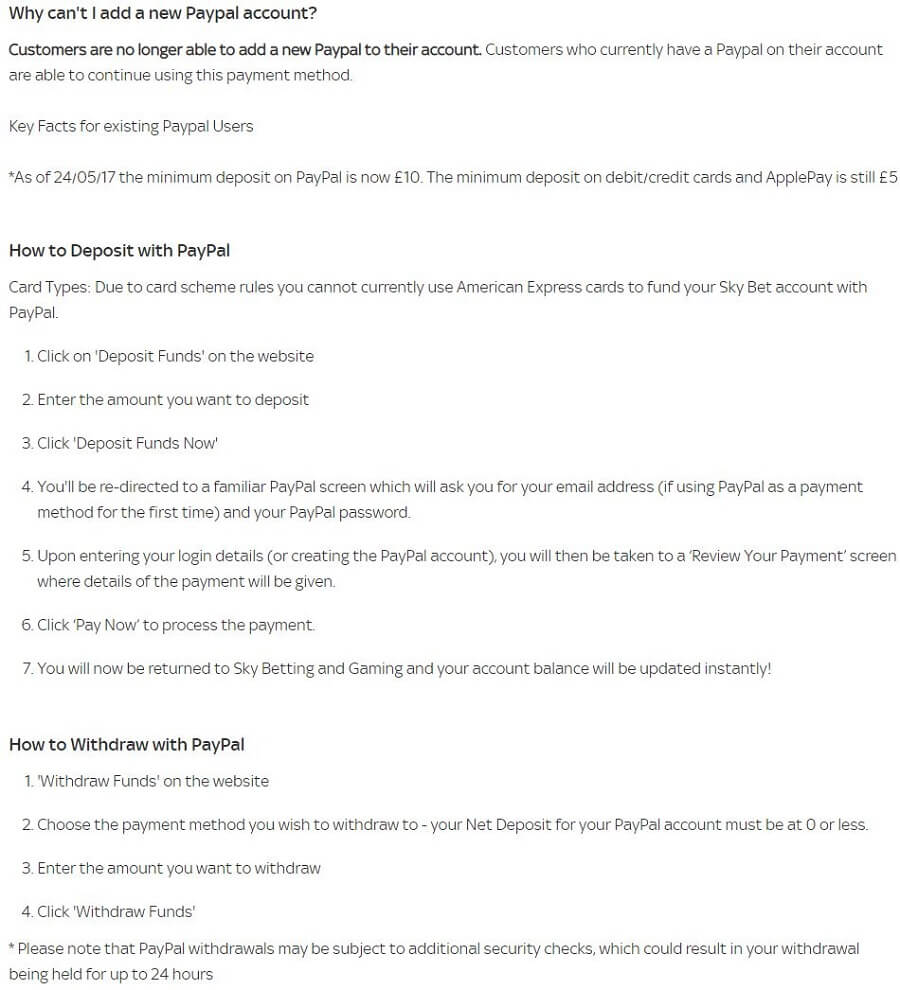 PayPal users get no information about their payment method. Sky Bet explains how to withdraw and deposit money to this method, but apart from that, you get nothing else. Luckily, we managed to find out while doing this Sky Bet in-depth review that the minimum deposit is £10, but withdrawal info was nowhere to be found.
Also, PayPal withdrawals are done within 24 hours, which is very fast. Deposits are instant and there are no fees. Sky Bet could've done a MUCH better job at providing necessary info regarding payment methods and limits.
Sky Bet Betting Variety
Since the beginning of the review, Sky Bet failed to impress us at many things. But, if you're willing to turn a blind eye to all the downsides, you might be interested in the magnitude of the betting variety on this UK bookmaker. Let's take a look at all the sports that you can bet on.
On the left-hand side, you can see a huge vertical menu that lets you choose which sport you want to go with. This menu is so big, that we had to cut it in half and put the halves next to each other.
If you didn't count them already, there are 36 sports here, and that's a pretty impressive number. You get virtual variants of football, horse racing, and speedway, plus other sports in the real-life variants.
Betting Options
Given that Sky Bet offers a rather impressive betting variety, it's time to check on its betting markets and see how thorough it is. First off, we'll start with football since this is the most popular sport to bet on this website.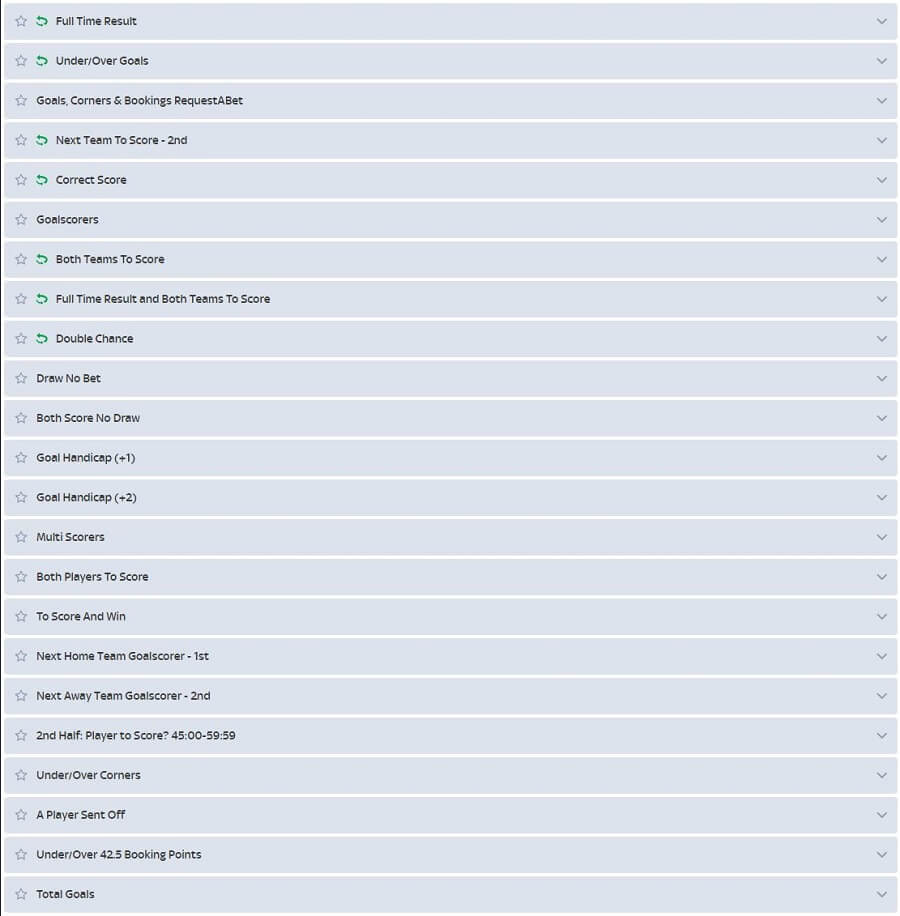 When you open the football match you want to bet on, the bookmaker will give you a plethora of headroom to work with. Apart from the full-time result, you can enjoy at least 20 more betting markets. Of course, the image you see below doesn't show all the markets that are offered on Sky Bet.
But, we're glad that markets like draw no bet, double chance, correct score, total goals, and under/over corners are here. They really allow you to exploit every aspect of a football match and bet on it.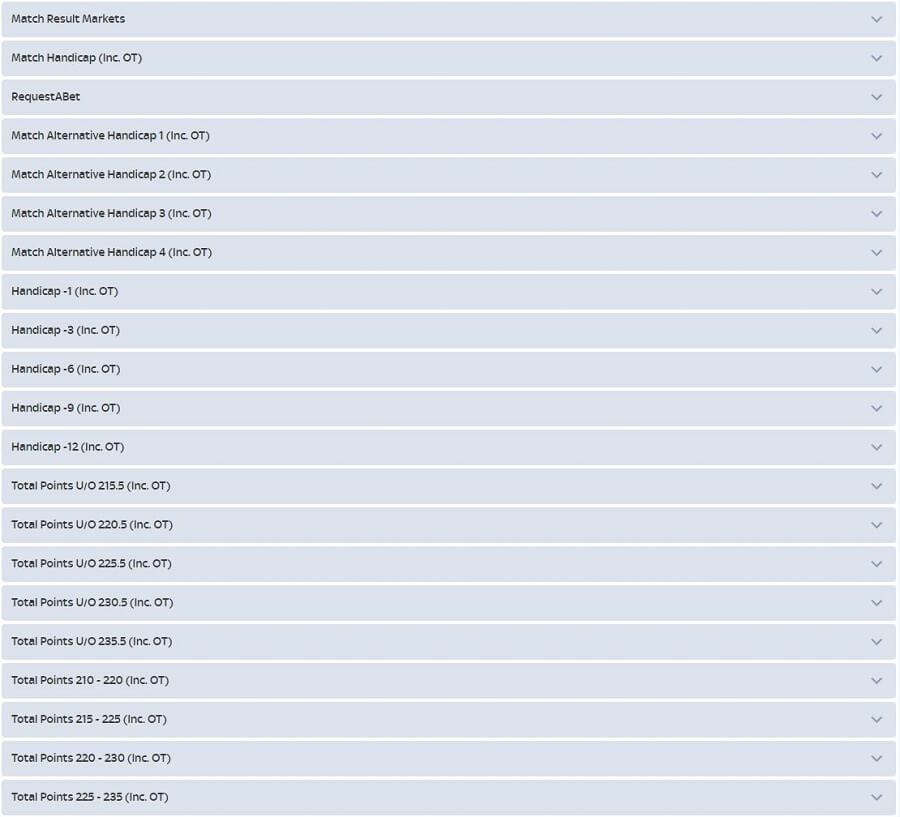 After a long pause, the NBA makes its return and the betting markets for this sport are awesome. Once again, you can bet on the winner of the match, but if you want to go the advanced route, Sky Bet lets you do so.
There are markets like match alternative handicap, total points, fouls, points, etc, etc.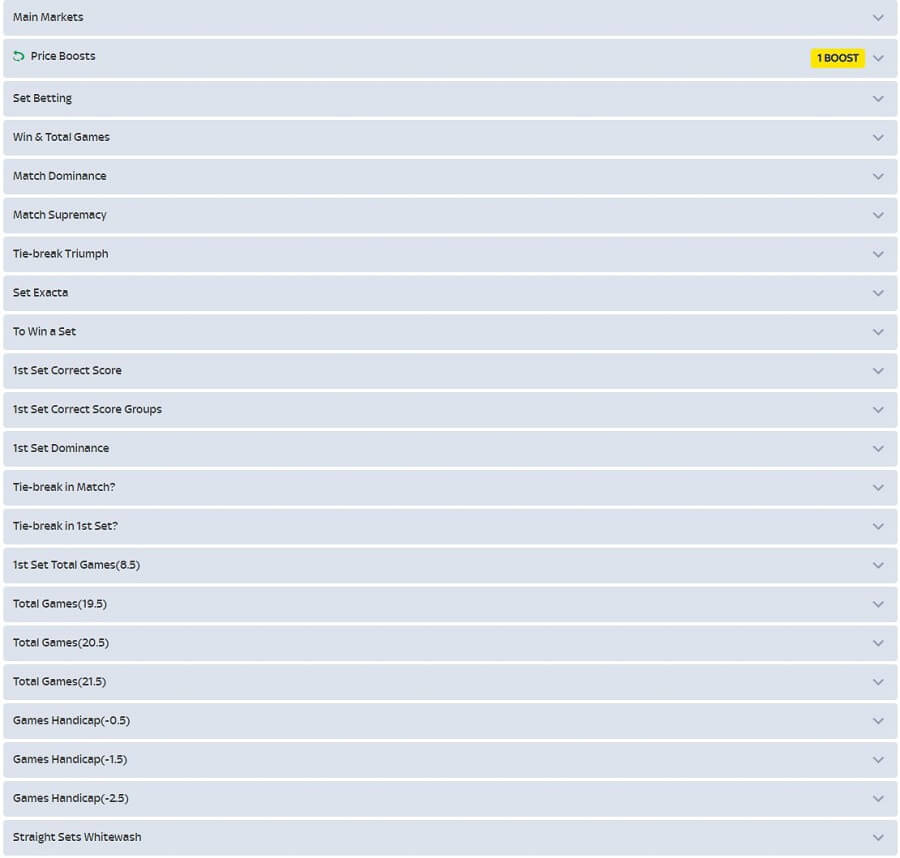 Tennis is often a neglected sport on many online bookies in the UK. Sky Bet, fortunately, takes care of tennis lovers by introducing a vast betting market with lots of options. We like that there are price boost bets, as well, plus markets like total games, match supremacy, games handicap, set exacta, and many more.
In short, Sky Bet will impress you with what it has to offer in terms of betting markets.
The Odds at Sky Bet – Are They Competitive Enough?
Odds are one of the most important things for every online bookmaker. The higher the odds, the more money you can potentially win on your bet. Right now, 888Sport has the best odds around, so it's unfair to compare Sky Bet to this bookmaker.
For that reason, we compared it with Unibet, another great bookie, but not the most superior on the market.
Surprisingly, Sky Bet holds its ground against Unibet. In some instances, it's better or equal, while in some matches, Unibet takes a slight lead. Overall, its odds are enough for our top-ten list if we ranked our bookmakers only by this criterion.
Sky Bet Special Features
Online bookmakers in the UK usually come packed with some special features that enhance your basic betting experience. Sky Bet, despite being a less-intuitive bookmaker, also has some of them. Let's take a closer look.
In-Play Betting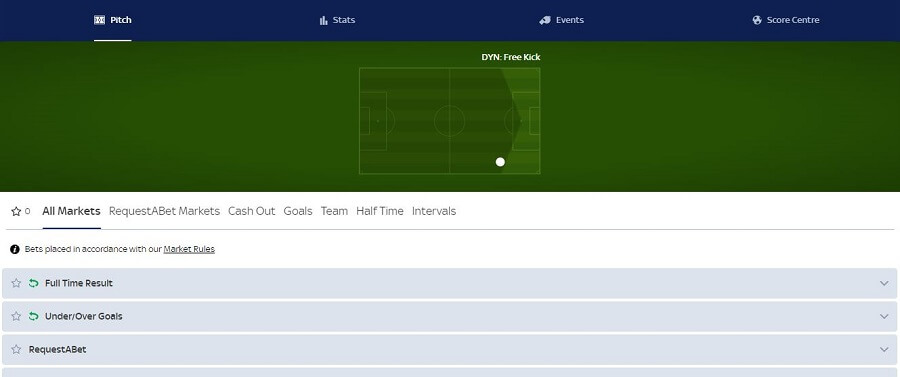 If you want to enjoy live betting on this website, it's entirely possible. In fact, Sky Bet site encourages live betting, as it's a great way to earn more money and have more fun. The betting interface is, as you can see, decent.
You can choose different markets, including the ones eligible for a cashout, and look up the stats or Pitch. Unfortunately, there's no live streaming to accompany a great live betting experience, but that's expected from a bookie of this magnitude.
Bet Builder
Bet Builder is a feature that allows you to "chain" two or more bets together into a single bet. It's quite simple and you don't have to opt-in or do anything special. Just choose a few bets that can go one with another and they'll end up on a bet slip.
From there, place a stake, and hope for the best.
Price Boosts
Price boosts are an excellent addition to the overall betting experience on the site. Some bets support it, which will allow you to earn more money through boosts. If the odds on a particular bet were 1/5, for example, a price boost might bump it to 2/5, letting you get more money for the same bet.
Sky Bet Mobile Gaming Experience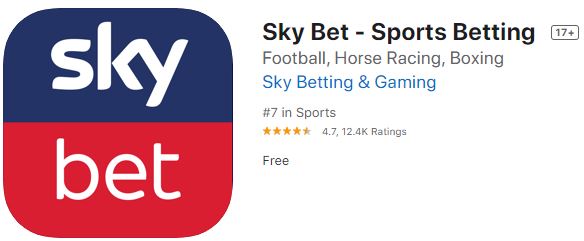 Sky Bet is, by default a mobile website. Visiting the website from your PC, you'll see the address "m.Sky Bet.com", implying that it's a mobile website. With so much alignment toward mobile platforms, Sky Bet developed apps for both iOS and Android systems.
The Android app can be downloaded from the site, while the iOS app is on the Apple Store. Both apps are very popular, especially the one for iPhones/iPads, with 4.7 stars and 12.4K ratings.
To be frank, the app is so much better and more intuitive than the PC website, yet you get every feature. There's in-play betting, bet builder, price boosts, and even the ability to deposit and withdraw money.
Moreover, Sky Bet lets you enjoy live streaming for horse racing, but only if you place a qualifying bet. Android users can log in with a fingerprint sensor, whereas, iOS users can use their Face ID to unlock it quickly.
The app is pretty good, to be honest. It left a good impression on us after a complete review and test, unlike the Sky Bet website, which isn't our cup of tea. When you boot it on a tablet, it looks even better, especially if it's a huge 10-inch tablet!
How Fair and Secure is Sky Bet?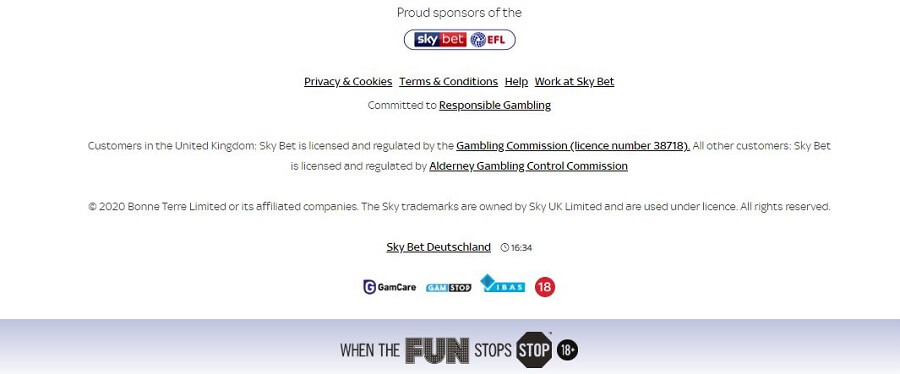 The entity behind this betting operator is The Stars Group, a Canadian gambling company with headquarters in Toronto. Sky Bet, alongside its counterparts Sky Poker, Bingo, Lotto, Casino, and Vegas, is a very popular brand not only in the UK but wider.
Users in the UK can rest assured that the bookmaker has a license from the UKGC, which is always a good thing. On the other hand, if you're not from the UK, the bookmaker will operate according to the Alderney Gambling Control Commission.
Recently, Flutter Entertainment acquired The Stars Group, which proved to be a good thing. Flutter Entertainment also owns Betfair and Paddy Power – two significant UK betting operators.
In terms of legal stuff, Sky Bet is definitely secure and fair. From a technical standpoint, nothing's different. There's 128-bit SSL encryption and responsible gambling companies like GamCare and When the Fun Stops.
Loyalty Program
Loyalty programs, VIP schemes, or VIP clubs – whatever you want to call it – are pretty common for online UK casinos. Sure, bookmakers won't always include it, but if it happens, we mention it here.
In this case, that could be this Sky Bet Club, just judging by its name. But, as we saw earlier in the review, this isn't exactly a loyalty program but more like a promotion.
Sky Bet doesn't have any sort of VIP scheme or program, making it inferior to 888Sport, which offers a pretty good loyalty program.
Sky Bet Customer Support

If you encounter any issues with betting and/or website, you can rely on the customer support team to fix them. Or can you?
Well, let's see what we have here. You can contact the company via phone, which was offline at the time of writing this Sky Bet review, due to the COVID-19 outbreak. We like that Sky Bet included its Twitter and Messenger accounts as well, but also live chat, for more direct questions.
So, if you use Facebook (and who doesn't?!), you can easily contact it by visiting its official page. For those who have gambling issues, the bookmaker leaves an option to contact responsible gambling companies. But, if you gamble responsibly, you'll have no issues.
Contacting the bookie via the aforementioned methods is very quick. When using Twitter and Messenger, you'll get a response in less than half an hour. Live chat, on the other hand, is much faster, and the support team will get back to you in less than a minute.
The support team is decent enough but not the best we've seen. But that's nothing to worry about given that they're helpful and informative even for more "annoying" questions.
What do Other Users Think About Sky Bet?
In this section of the review, we explore other people's thoughts about a particular bookmaker, to see how well it fares in general. We use Trustpilot as our main source of reviews, as this is the most credible website of this type.

This review about Sky Bet seems positive when you start reading it. However, we can see that the user had to wait for 7 days to withdraw his money. On top of that, when he tried to withdraw his money later, Sky Bet told him that there were no card details.
We can see that he's quite suspicious of the bookmaker and will delete his account soon after this feedback.

Another feedback on Trustpilot we found is very short but very negative. This user claims that the bookmaker won't pay him the money he won, advising people not to bet on it.
Interestingly, we found many reviews of this type, where Sky Bet didn't pay the winnings or ban users from promotions, allegedly, without any reason. Overall, it's not a well-appreciated bookmaker, especially compared to its competition.
Conclusion – Should You Bet on Sky Bet?
Now that we went over everything you need to know, it's time to put an end to our review about Sky Bet with a proper conclusion.
Sky Bet is, generally speaking, a popular betting brand in the UK and Canada. But, its popularity doesn't make it a quality bookmaker. To be brutally honest, we didn't like Sky Bet that much.
Its interface is very unintuitive, the welcome bonus isn't very generous, and there are not enough promotions to keep you grinding. On the brighter side, the sheer betting experience is great, thanks to a lot of betting markets and sports, as well as competitive odds.
To save your time, we recommend 888Sport instead, a bookmaker that will never disappoint you. It has better odds, intuitive interface, lots of promotions, and a great VIP scheme that you can easily participate in.
How to Register on Sky Bet?
The registration process at Sky Bet is a pretty excruciating one, and in just a second, you'll see why. When you open the website, click on the Join button in the top-right corner of the screen.

After that, the registration process will start, but you'll see it on the right side of the home page.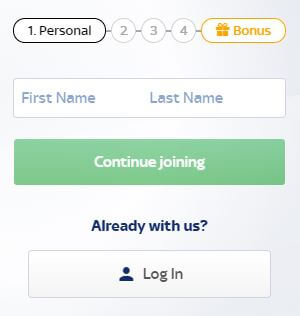 It looks like there are 4 steps in total, but that's not true. Sky Bet divides every bit of needed information into single steps, making registration a chore, and not a smooth ride. First off, enter your full name and click Continue joining.
Next up, you'll need to enter your birthday. Make sure it's a genuine one because you need to verify every bit of information later. And if you're under 18, don't try to bet because it's a criminal offense. Once you complete the step, click Next.
In this step, you need to enter your address. You can do so manually or by entering a postcode. With the second method, the site will automatically offer you the addresses that go by the entered postcode, so you can click on yours and proceed.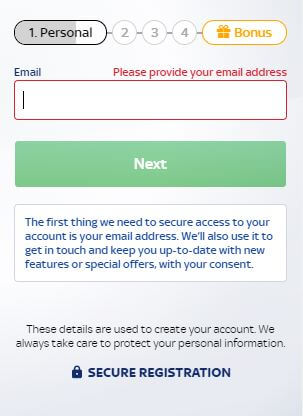 It's pretty obvious that Sky Bet prefers baby steps, so here's one – enter your email, and in the next step, enter your mobile phone.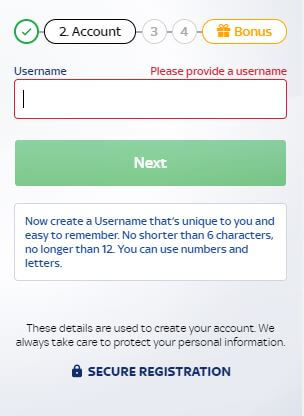 The last step is to enter a unique username after which you'll need to enter a PIN, which will serve as a password. Sky Bet doesn't have passwords. It has a pin instead and we think it's decent enough, given that it's a six-digit one.
With this step, the registration is complete and you can proceed to the website. FINALLY!
Verification Process – What Do You need?
When it comes to verification, Sky Bet is… vague, so to say. Visiting the Terms & Conditions page doesn't provide any valuable information except for a few of them. Let's take a look and analyze it: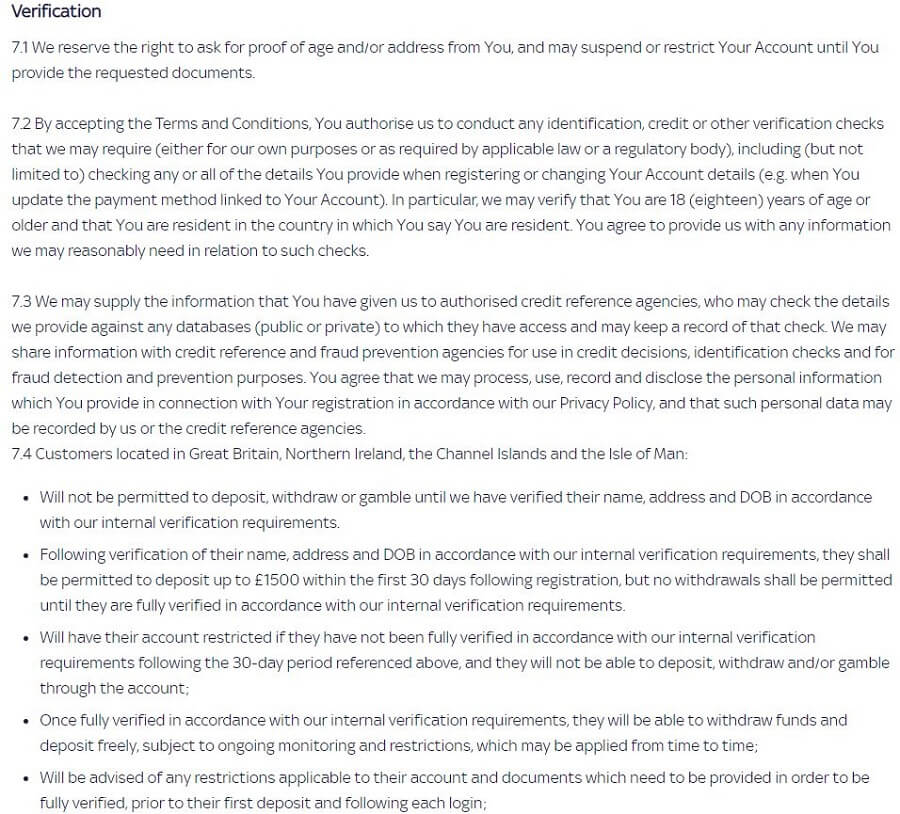 Basically, the bookmaker says that it has the right to request verification documents. If you fail to provide them, your account will be suspended. In some cases, until you provide the documents, you won't be able to withdraw your funds, depending on how long your account stays unverified.
The easiest way to verify your account is to take a photo of your national ID, passport, or driving license, and upload it to the site in the Verification menu. Doing this will verify your identity and age.
However, Sky Bet requires you to verify your address. To verify it, take a photo of a utility bill or bank statement, not older than 3 months. Make sure that documents are clear and visible from every side.
If every info is genuine and your uploaded photos are good, Sky Bet will verify your account successfully.
FAQ
Those interested to know more about Sky Bet should bear with us through our short FAQ section.
⏳ How long does it take to withdraw from Sky Bet?
Sky Bet claims to have withdrawal times from 2 to 5 days. PayPal, Neteller, and Skrill offer a bit faster withdrawal times of around 24 hours. Credit/debit cards can take up to 5, and sometimes 7 days, depending on your bank.
💰 Does Sky Bet do cashout?
Yes, you can get a cashout at Sky Bet. However, not all betting markets are eligible for it. You need to see which markets offer this option and place a bet if you want a cashout.
⚠️ Is Sky Bet safe?
Sky Bet is indeed safe. It has a UKGC and Alderney license, which makes it a fully licensed online bookmaker. The fact that its father company is Flutter Entertainment says it all. This company has Betfair under its ownership, as well, and Betfair is one of the best betting operators in the UK.
❓ Does Sky Bet use PayPal?
Yes, you can use PayPal on this bookmaker. We recommend doing so because you'll get faster withdrawal times with no fees.
✅ Does Sky Bet do best odds guaranteed?
Of course. Similarly to cashout, best odds guaranteed don't apply to every sport and league. Sky Bet limits this possibility to greyhounds and horse racing, only in certain countries and after a certain time.