Tonybet might not be the most popular brand, but the man behind this bookmaker is – the notorious Tony G. Tony G was a professional poker player, and now a businessman that acquired former Omnibet and turned it into this brand. Unfortunately, the bookmaker follows the same trend as its casino counterpart in terms of quality. And that quality is quite low. Stay with us to see why we didn't like it in our in-depth review of Tonybet Sports.
Tonybet Welcome Bonus – Is It Generous?

Right of the bat, Tonybet will offer you the chance to claim a seemingly generous welcome offer of £50. When compared to the competition, that is quite a good welcome bonus, especially since the majority of them offer £30.
However, our philosophy is that we care more about the wagering requirements, rather than how much the bonus is worth. Now that we touched on wagering requirements, let's see if Tonybet imposes some, as well as other important conditions about the bonus.
Unlike Tonybet Casino, the Sportsbook doesn't offer a no deposit welcome bonus. Instead, you must sign in, place a deposit using a code TONY50, and claim your bonus that can go up to £50. We can see that it's a 100% bonus with a minimum deposit of £20.
So, if you deposit £20, you get £20 as a bonus. Alternatively, you can deposit as much as £50, get another £50, and play with £100. Unfortunately, wagering requirements are here and they're not so forgiving – 10 times.
To be able to get a bonus, you must wager your deposit 10 times on the odds of at least 1.65 within 30 days. Then, this activated bonus must be wagered one time with the odds of 1.65 so you can withdraw your bonus-related winnings.
Tonybet really complicates stuff where it doesn't need to. Instead of giving the bonus right away and imposing wagering requirements, you first need to wager deposit just to get a bonus and then wager your bonus funds one time.
All in all, the welcome bonus is generous but only on paper. With complex conditions and requirements, you'll have a hard time even getting it, let alone successfully wager it.
Tonybet Promotions – Are There Some?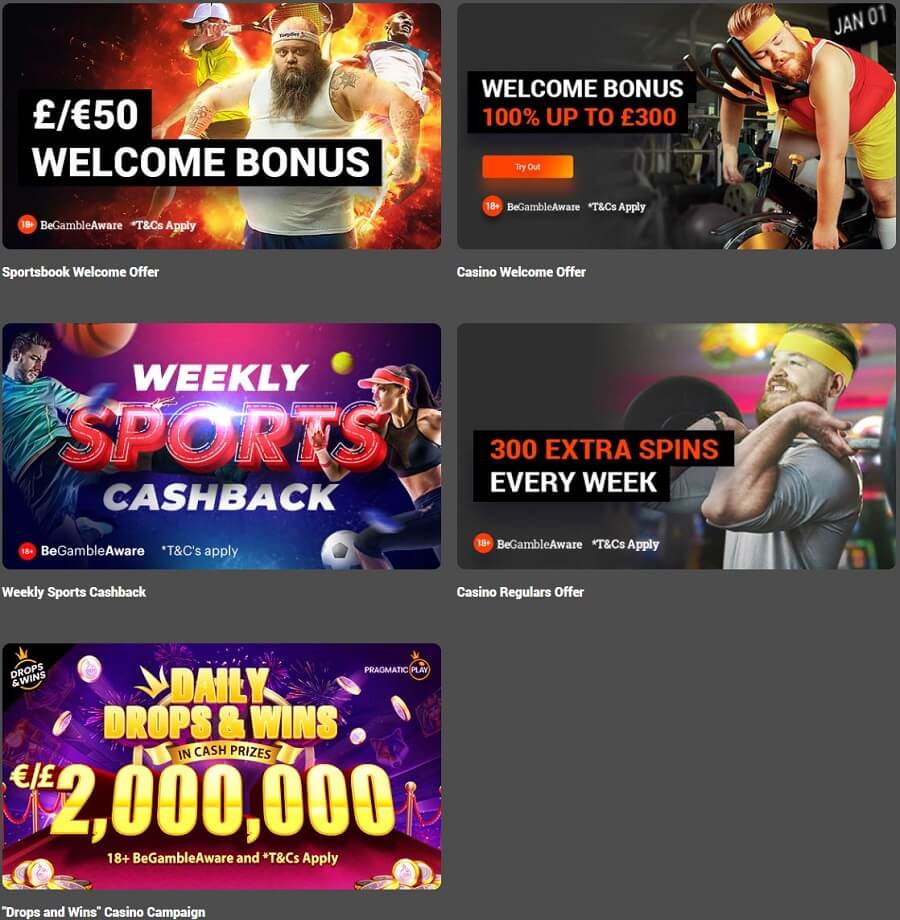 If you visit the promotions tab, you'll see that the bookmaker offers 5 promotions. That's great, huh? Well, not exactly. Taking a closer look, we can see that not all of the promotions are for the sportsbook.
You get 3 promotions for the casino and only TWO promotions for the Sports department. One of them is a welcome bonus, leaving us with just a single promotion. Generosity obviously isn't what Tonybet wants or intends to adhere to, and if you're planning on registering on it, you've got to come to terms with it.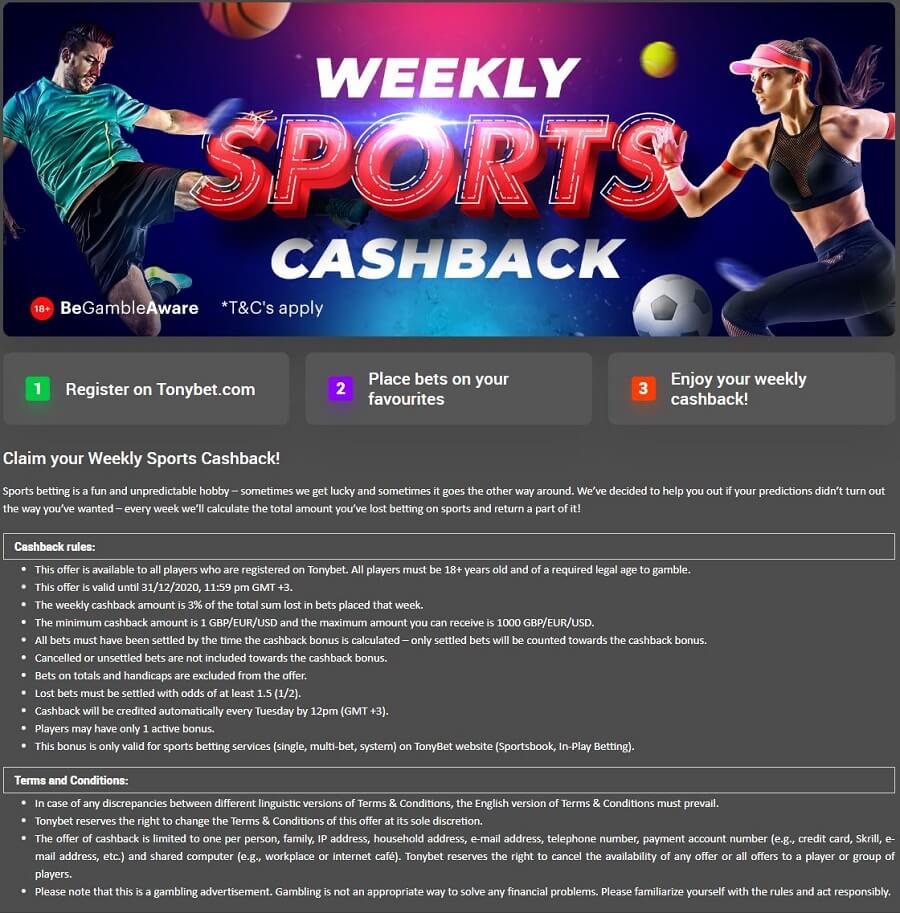 In our review, we usually mention two or three promotions we like. But, given that there's just one promotion on TonyBet, we'll talk more about it and see if it's worth opting in. At first, the conditions are simple – you register, place bets, and get a weekly cashback.
But, as always, let's take a more in-depth look. First of all, the cashback is 3% of the total sum of money that you lost during the week. The minimum you can get is £1, while the maximum cashback is £1,000.
Furthermore, you can't bet on handicaps if you plan on getting your money back. Instead, you'll have to stick with single, multi-bet, or system bets. Lastly, the odds you bet on must be at least 1.5 (1/2), and if all the conditions are fulfilled, you shall get a cashback every Tuesday by 12 pm.
A very simple promotion, but it's not something we'd go crazy about. They could've easily added some Acca boosters, horse racing promotions, or something related to football. After all, these are the most popular sports in the UK.
If you want better promotions that yield more rewards, our suggestion is to register on 888Sport.
Deposit/Withdrawal Methods and Limits
After all that we said about Tonybet in our 2021 review, are you still here? If so, let's talk about deposit/withdrawal methods and limits. Tonybet has a dedicated page where you can see the payment methods supported in your country.
Needless to say, if you're from the UK, you'll see the same methods. However, we can't guarantee which methods are available in other countries.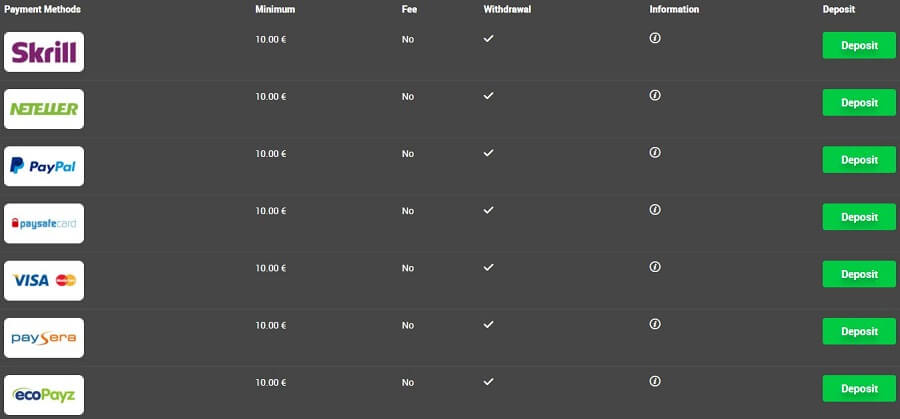 We must admit that we're pleasantly surprised by the number of payment services that are supported for UK players. There are credit/debit cards, PayPal, Neteller, Skrill, Paysafecard, EcoPayz, and PaySera.
The good thing is that all of the methods are treated equally in terms of deposit, so you don't have to worry about which one you're going to use. That applies only to deposits – let us repeat.
The minimum deposit is £10 for every method, while the maximum deposit can be controlled by the user. Every deposit is instant and there are no deposit fees, which is great. Beware that the minimum deposit is NOT eligible for a welcome bonus, so be sure to deposit £20 if you want that offer.
As for withdrawals, the minimum you can go for is £10, while the bookmaker doesn't clearly state what's the upper limit. Withdrawal times are, more or less, standard. Credit/debit cards users will have to wait for 3 to 5 days and E-wallet users will get the money in 24-48 hours.
Oh, and just one thing. The bookie uses a Closed Loop Policy when it comes to payments. This means that your deposit and withdrawal methods must be the same. If you deposited using PayPal, you also must use it to withdraw your money.
Tonybet Betting Variety
In our previous UK online bookie reviews, we were generally satisfied with the sports variety we got. Usually, it's a number that goes from 23 to 30, depending on the bookmaker. The best bookie in this regard is Betfair, although 888Sport and bet365 are great as well.
Let's see if Tonybet is up to the task and if you can enjoy a varied betting experience.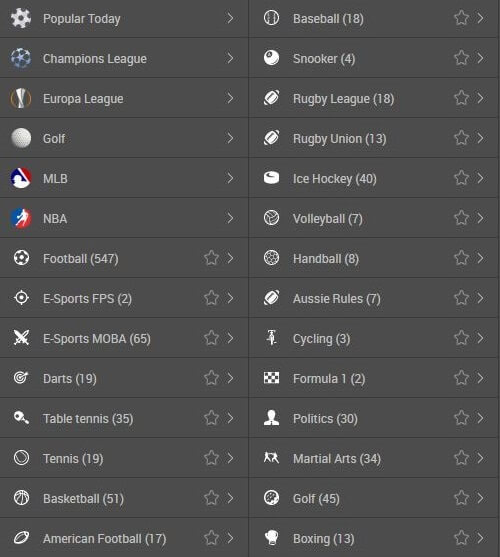 Tonybet offers 28 options on the left side of the screen. However, not all of them are sports. Popular Today is a category with popular matches, while Champions and Europa League are just football competitions. If we take out these three categories, we have 25 sports in total.
Football is here, of course, but so is NBA, darts, table tennis, volleyball, politics, golf, and boxing. Generally speaking, Tonybet Sports has a decent betting variety with lots of sports events to bet on.
Albeit, not every sport includes all the leagues and competitions, but at least, they're here, available for betting.
One thing you'll notice is that one of the most popular sports in the UK isn't on the list. Can you guess which one is that? Of course – horse racing! It's quite strange that a UK online bookie doesn't have that sport nowadays, but thankfully, Tonybet included it recently.
Yeah, recently. A bookmaker that exists for more than 10 years included this sport just recently…
Betting Options
For this TonyBet review, let's talk more about betting markets now, starting with football.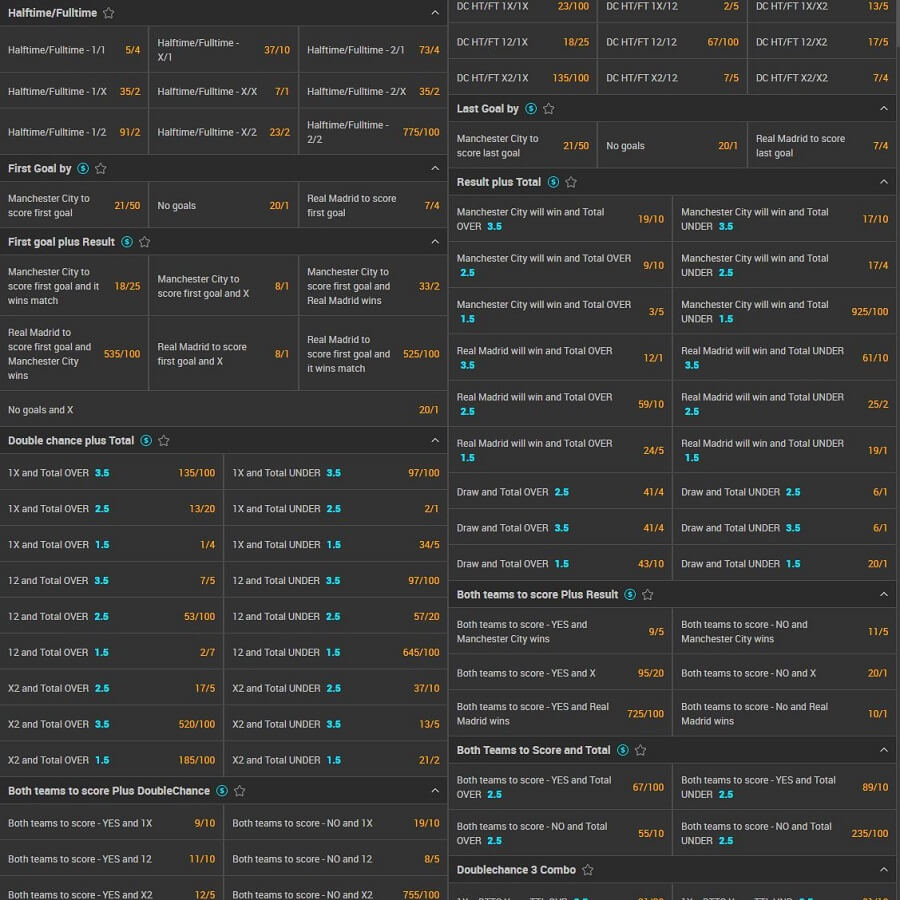 Football lovers will be pleasantly surprised to see a HUGE betting market for this sport. There's literally every type of bet for this sport, ranting from the first and last goal to double chance, handicap, both teams to score, both teams to score plus result, and many more.
It's great that Tonybet managed to nail it at least once – thank God!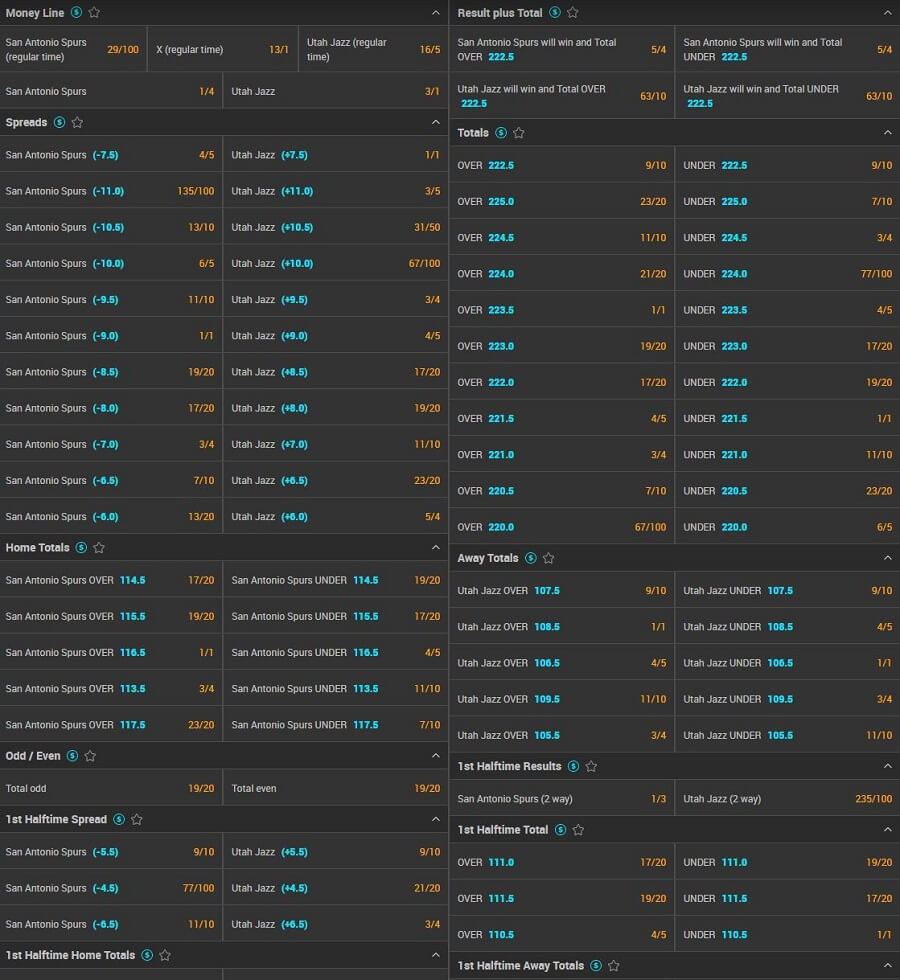 NBA started recently, with a long pause due to the COVID-19 outbreak. It's great to see a breath of fresh air on the market, where Tonybet took full advantage, giving us great betting markets.
You can bet on home totals, away totals, spreads, 1st halftime away totals, 1st halftime spread, and many other options. Therefore, you probably won't complain about the quality of NBA betting.

Tennis is where TonyBet bookmaker lowers its guard and disappoints us. We tried several matches and saw that you can bet only on the player who is going to win, and not games, points, and sets. If you're going to bet on tennis, go with another bookmaker.
The Odds at Tonybet – Are They Competitive Enough?
The odds are usually the factor that either makes it or breaks it. Why? Because they determine how much money you can potentially win if your bet is a winning one. We compared a few matches from the Champions League on Tonybet and Betfred, to see how well it stacks up against our member of the top-10 list of UK bookies.

We won't go too much into calculations, but you can see that Betfred is slightly superior or equal to Tonybet, in almost every match on the list. The odds are usually higher by 0.1 or above, which isn't a big difference, to be honest.
But, for high-stakes players, even a difference this small can mean losing or winning a substantial amount of money.
Tonybet Special Features
Special features are a mandatory addition that enhances your basic betting experience. Let's see in this part of our review what Tonybet has to offer in this regard.
In-Play Betting

If you want to step your game up, you can go for live betting, which is done pretty well here. Tonybet gives you a good amount of betting markets, depending on the match and sports, but also in-depth statistics of what's happening during the match.
At the top, you can see the result, yellow/red cards, fouls, and so forth. On the right, though, there's a small match overlay, where you can see exactly what's happening at the moment.
It's like live streaming, but a simplified version. Overall, we like how live betting is realized on TonyBet – quite simple, yet gives you all the necessary information.
Live Streaming (Horse Racing)

Unfortunately, live streaming isn't available on TonyBet site unless you're a horse racing fan. You can stream only horse racing here, but only if you're a registered user and you have some money in your account.
The footage quality is decent, although not full HD.
Bet Builder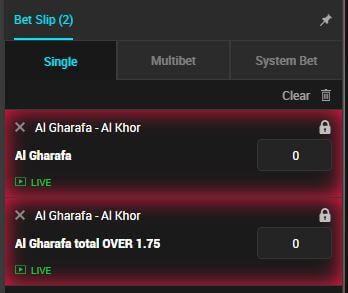 Lastly, there's a bet builder. This feature lets you combine several bets into one, resulting in unique odds and the possibility to win more money. For instance, you can bet on one team to win, but also to score 2 goals and get 2 yellow cards.
When these 3 bets combine into one, you get the odds that multiply with each other, giving you the odds that are slightly higher.
Tonybet Mobile Gaming Experience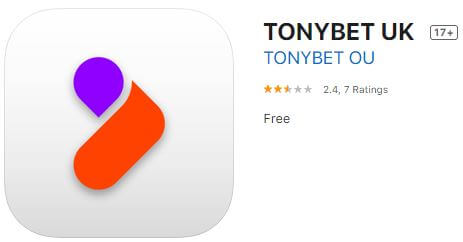 Tonybet extends its area of operation to the smartphone world, where it's not very popular as we've noticed while doing this review. Actually, to be honest, Tonybet UK is one of the worst-rated betting apps on the Apple Store.
The bookmaker has an app for both iOS and Android, albeit, you can get the Android app only via the website. We tested both apps and we found that the iOS app is optimized a bit better, despite not being great.
Now, if we take a look at the reviews on the Apple Store, we can see that users usually don't complain about the app. They complain about the fact that the bookmaker doesn't pay out any winnings, which we're going to talk about later.
The app itself looks okay and has both the casino and the sportsbook part in it. It works okay and is simple to use, although we had a few crashes here and there. On the brighter side, the app is very similar to the website, so you'll quickly navigate through it.
Moreover, you can enjoy live betting, horse racing live streaming, and all the features available. If you want a superb mobile betting experience, MansionBet is a far better choice.
How Fair and Secure is Tonybet?

Almost every bookmaker we talk about on our site is verified and safe to use. On paper, Tonybet seems exactly the same. We found out while doing this review that it's a bookmaker owned by the Betsson group, a company that also owns Betsafe and a few other betting/gambling operators.
The company is based in Estonia, which is quite different when compared to other UK bookies that are usually based in Gibraltar or Malta. What's strange is that there's no gambling license from Estonia here, despite the company being located there.
Usually, when the gambling operator is based somewhere, it has a license from that country, as well. Thankfully, though, the UKGC license is here, meaning that UK users can enjoy it.
Also, Tonybet claims to be the "fastest-growing online site" which couldn't be further from the truth. But if we leave that claim aside, and talk more about its security, we can see that companies like GambleAware and GamStop are here.
They will help you if you get addicted to betting, keeping your money and financial status in place. On paper, Tonybet is indeed safe and secure, especially due to its 128-bit encryption that keeps your personal info and payments secure.
Loyalty Program
Much like its casino counterpart, Tonybet Sports doesn't have a loyalty program or anything that would make you become a VIP member. You can play for a year and you'll be treated the same way as more experienced players, which is, for us, plain stupid.
To make matters worse in this part of our review, promotions on this website are almost non-existent, as we had the chance to see. With a welcome bonus and only one mediocre promotion, you won't be properly rewarded for your effort.
If that bothers you, and it should, we recommend 888Sport, a rare bookmaker with a loyalty scheme that you can easily get into.
Tonybet Customer Support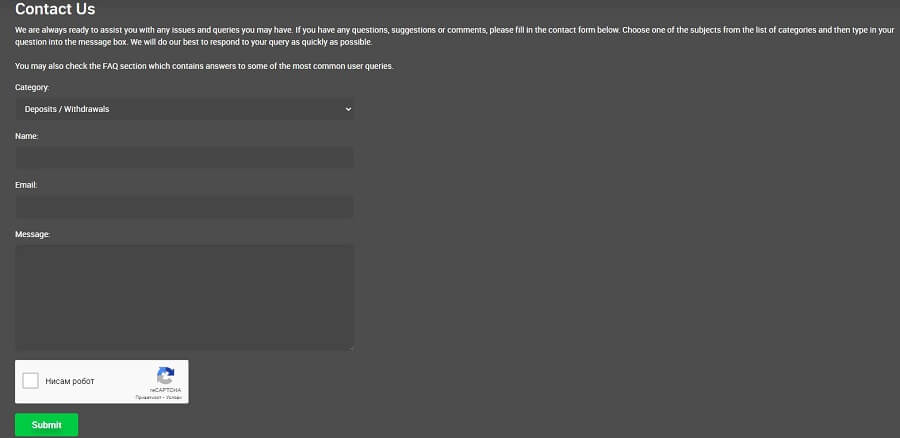 Contacting Tonybet is very easy to do and that's always a good thing. When you're betting and exploring the site, you'll have a small live chat widget in the bottom-right corner. When you open it, however, you'll quickly realize that it's not a real live chat.
Instead, it's a chat window where you need to provide your email, type in the message you want, and get a response in your email inbox. How exactly is this the live chat? It's not – simple as that.
A totally useless way of contacting the bookmaker is filling out this support ticket. You need to enter the same info and it functions the same as the "live chat" feature. We think that this live chat widget is probably a shortcut to this type of support – correct us if we're wrong.
The support team isn't very responsive but it's knowledgeable and will respond even during the weekend.
What do Other Users Think About Tonybet?
When we talked about the bookmaker's safety and security, we said that everything stated on the website is questionable. The reason why we said that is because of pretty bad reviews about TonyBet on Trustpilot. Take a look at the 3 reviews from below and you'll see that they're almost identical.

This review about TonyBet is just one month old and is pretty interesting. The user claims to have won some money but the bookmaker didn't pay him out. When he tried to contact it, he got no response, so he's going to report them to the authorities.
As we can see, Tonybet owes him £140, which isn't a small sum of money for a vast majority of people.

Once again, a review very similar to the previous one. The user claims that the site allows you to deposit money, but not to withdraw it, despite providing the necessary documentation. Allegedly, this user also reported Tonybet to authorities.

The third review is the same, as well. This user says that Tonybet won't let him verify his account with the excuse that pictures are of poor quality. He also says that he used the same pictures successfully to verify his accounts on other betting sites. Needless to say, they refused his withdrawal.
Tonybet definitely isn't the most trustworthy UK online bookmaker out there. When compared to Betway with 4.4 stars on Trustpilot, it's quite inferior, making it one of the worst bookies in this country.
Conclusion – Should You Bet on Tonybet?
No, you should not bet on Tonybet.
There are many reasons for that as you may have seen in this TonyBet review and one of them is the lack of trustworthiness. With many bad reviews that actually point out the bad stuff, Tonybet isn't a bookmaker you want to entangle yourself with.
Even if it wasn't for that, the welcome bonus is quite hard to get and wager, there are almost no promotions, odds are average, and the mobile app isn't the best around.
Instead of Tonybet, we recommend 888Sport, a bookmaker that irons out every problem this bookie has and on top of that, offers a high level of overall quality.
How to Register on Tonybet?
With our review settled, it's quite obvious that you shouldn't play on TonyBet bookmaker. However, if you're still keen on trying it out, have it your way. To register, click on the green Registration button in the top-right corner of the screen.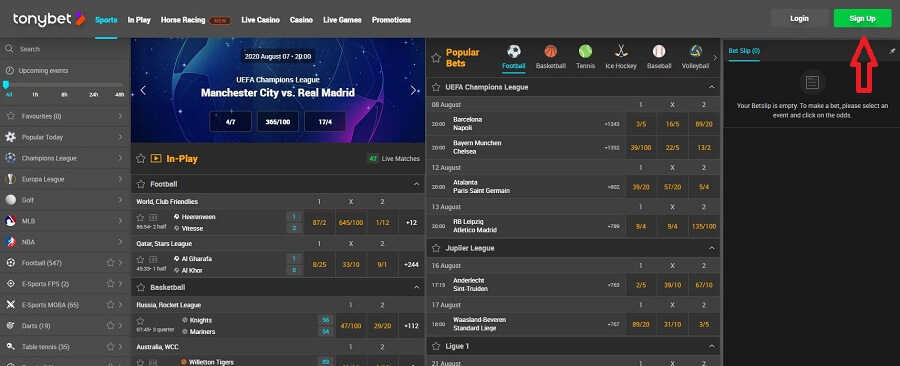 Once you do so, the first registration screen will pop up.
As you can see, the first step is pretty simple. You need to enter your title, full name, date of birth, and email address. Beware that almost every bit of information needs to be verified later, so don't try to fake your way in because it won't work. Enter the required info and click Next.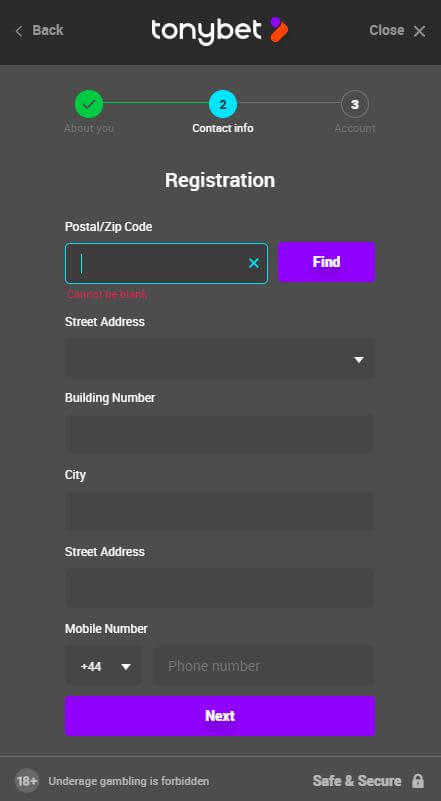 To proceed with the registration, another crucial batch of information is needed. You need to enter your address, city, and a mobile number to complete this step. There are two ways you can do so – by letting the website find your address through your zip code or manually entering your address.
As for mobile number, it's also here for verification purposes, to make sure that it's you who opened the account. After completing everything, click Next to move to the final step.
With your username and password, the registration is complete. Logically, choose a unique username and a strong password to protect your account properly.
Verification Process – What Do You need?
After opening the account, Tonybet won't let you roam the site as many other bookmakers do. Instead, you're immediately forced to verify your account. That shouldn't be a problem if everything you've entered when registering is genuine.
Here's what the bookmaker has to say about verification:

In the privacy policy, Tonybet mentions verifying your ID and age using a passport, national ID, or a driving license. That's completely true, however, you need more than that. Tonybet requires you to verify your address and the payment method you're using.
Verifying address can be done with either a utility bill or a bank statement, but make sure that the documents aren't older than 3 months. And for payment methods, it depends on what payment method you're using.
It can be a screenshot of your PayPal, VISA, or Neteller account. Take pictures of each document, upload them when prompted, and the bookie will hopefully verify your account. We say hopefully because of all the Trustpilot reviews that point out this problem.
FAQ
Let's wrap everything we've said about TonyBet in this review with answers to a few commonly asked questions.
Is Tonybet safe?
Tonybet, according to online reviews from users, isn't a very safe bookmaker. Users complain about the fact that it refuses to allow withdrawals for some reason, which makes them quit betting on this website. On paper, though, Tonybet uses 128-bit encryption and has a license from the UKGC, which makes it safe.
Who owns Tonybet?
Tonybet is part of the Betsson group, which is a Swedish company. Betsson group has a good reputation in Europe, but also in the UK, with its few gambling brands.
How do you know when Tonybet has authorized your withdrawal?
Simply put, you can know when that happens when the money arrives at your bank or E-wallet account. Alternatively, you can visit your profile, go to withdrawals and see if there are any pending payouts.
If it says that the payment is processed, it means that it's authorized and you'll get your money in a certain period.
How long do withdrawals take on Tonybet?
Withdrawals on Tonybet can take at least 24 to 48 hours if you're using E-wallets such as Neteller, Skrill, or PayPal. Credit/debit cards are much slower, but the rule of thumb is that you'll wait for 3 to 5 days for the payment to be processed.