Being on the betting landscape since 1997, Unibet amassed quite a lot of players. Apart from the United Kingdom, this bookmaker is available in more than 100 countries worldwide, making it easily accessible to people outside the UK. With 1,400+ employees and more than £750,000,000 of turnover a year, Unibet is a serious name in the game. Today, we're going to give you our in-depth review of Unibet and see if it's as good as it sounds. Pay close attention to what we have to say about it!
Unibet Welcome Bonus – Is It Generous?

Starting off our review, let's talk about the welcome bonus that you get upon registering and depositing your cash on Unibet.
A welcome bonus is an excellent way to give players some motivation to continue betting on your website. Whereas in online casinos they come in the form of bonus cash, here, you receive a welcome bonus in the form of free bets.
Unibet takes quite a different approach to this when compared to other online bookies in the United Kingdom. As you can see in the image above, Unibet gives you money back as a bonus, up to £40, if your first bet is lost. Interestingly, they also include a £10 casino bonus, to kickstart your online casino journey, in case you're interested in it.
Now, let's take a look at the conditions of this welcome bonus.
The first question is – am I eligible for the Unibet welcome offer? Yes, you are. But only if you're a new customer, you're 18+ years old, and you're located in the UK. Despite being available almost worldwide, Unibet gives this welcome bonus only to the UK players.
So, if you fulfill all of the conditions, how do you get it?
Simply place a bet of at least £1, with the odds of 1.40 (2/5) or greater. If the bet wins, your bonus is completed and you receive your winnings and stake. However, if it loses, you receive your stake, up to £40. The trick is that there are some wagering requirements.
If you got a maximum bonus of £40, you need to wager it 3 times e.g. get £120 to complete the bonus conditions. Needless to say, only the odds of 1.40 or above will count.
To be honest, we're not very pleased with Unibet's welcome offer. Sure, it sounds great, but wagering requirements spoil the fun. And your bet needs to lose to get a bonus. Otherwise, your bet wins and you get some money from it as if you would normally get.
Unibet Promotions – Are There Some?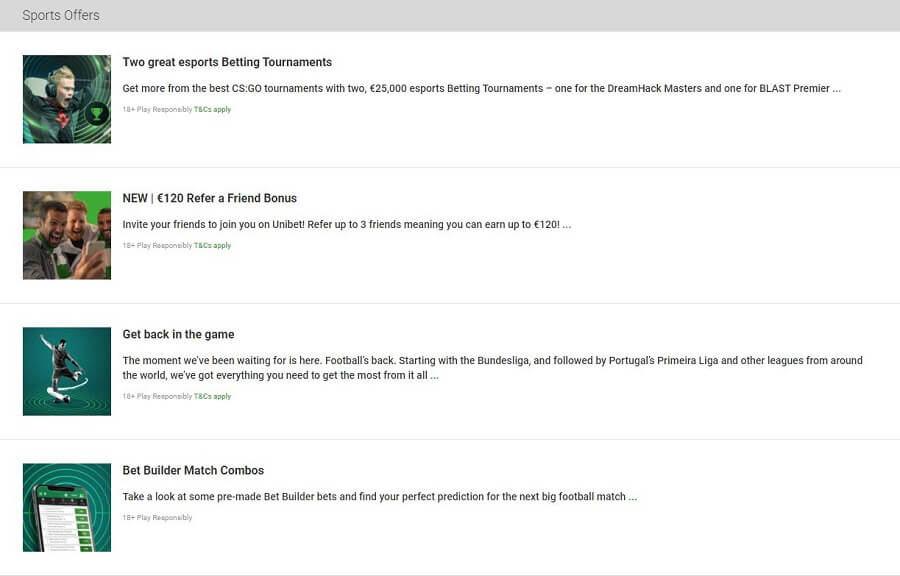 Given that the bookmaker has a welcome bonus that isn't so easy to wager, it must make up for it in the Promotions department. From the screenshot above, we can see that it offers a total of four promotions. But, if we examine them closely, only two of them are real promotions. The last two offers aren't exactly anything special.
The Bet Builder is here and that's awesome, but the third promotion is just them announcing that football is back after a long hiatus due to COVID 19. What about the first two promotions, then? Well, let's take a look at the one we like more: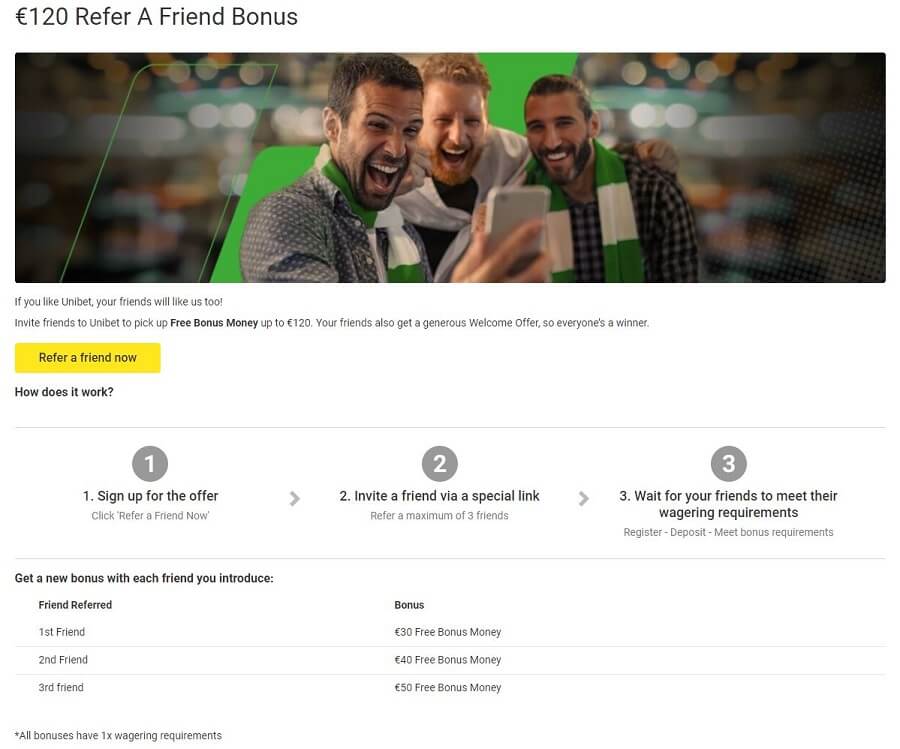 Usually, bookmakers don't give huge bonuses for referring your friends. Unibet is an exception, though. You can refer up to 3 friends, and for each of them, you get a substantial amount of money. For the first friend, for example, you get £30, for the second one £40, and for the third one £50, resulting in £120 of total bonus. Sounds good?
It certainly is.
The main condition is to refer a friend using the link that you got from Unibet, and after that, your friends need to meet bonus requirements. As soon as they do that, the cash will be in your account.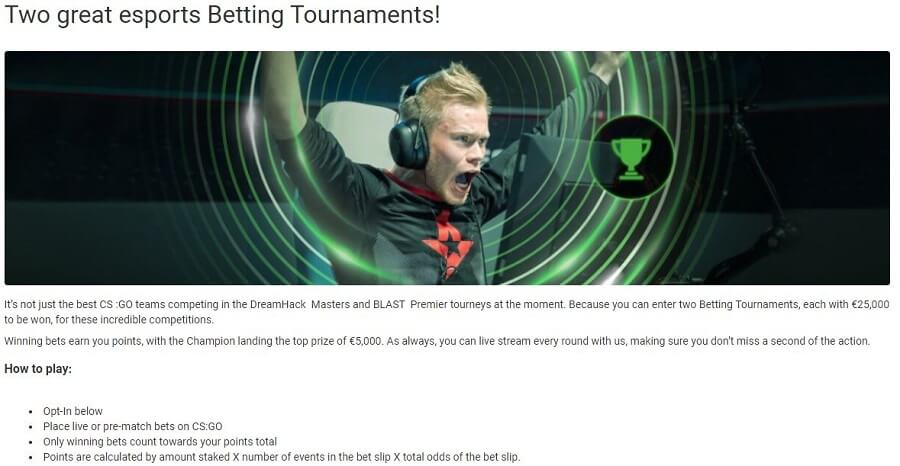 Do you like betting on Esports? If so, here's a promotion for you. Betting on this category of sports will win you points that will contribute to the amount of money you win as a reward. The maximum reward you can get is £5,000. What you need to do is opt-in, place bets on CS:GO, and win. Only the winning bets give you points, which are calculated as shown in the screenshot above.
Even if you win the lowest reward, it's £50, which is still a decent amount of money.
Deposit/Withdrawal Methods and Limits
Should you decide to start betting on Unibet, you must deposit your money. Many online UK bookies require you to verify your account before the first withdrawal. Unibet, on the other hand, requires verification just so you can deposit funds. This means that without verifying your account, you can't fund your account or start betting.
Let's see what payment methods Unibet supports:
We can see that the bookmaker did its homework. With more than 10 methods at your disposal, you'll easily find the one that suits your needs. The important thing is that credit/debit cards are on the list, and if you want to use E-Wallets, you can enjoy PayPal and Skrill, for instance.
Other payment methods like Paysafecard and Bank Transfer are here, and they perfectly complement already a rich choice.
Let's review the payment limits offered by Unibet and see if they're suitable for both low and high-stakes players. In our Welcome Bonus section, we mentioned that you need at least £1 to be eligible for it. The minimum deposit on Unibet is much higher than that – £5. This is excellent for those who won't bet with high stakes and want to save a bit of cash.
Deposits are instant and all of the methods above can be used for that purpose. Of course, there are no deposit fees, so what you win is yours to take. The maximum deposit is £10,000, which is decent for high-stakes players.
The minimum withdrawal is also £5 and the upper limit isn't stated anywhere on the site. This probably means that it's £99,000 or so.
Withdrawing money isn't instant. It can take up to 5 days, depending on the payment method. VISA cards have slower withdrawal times of 3 to 5 days, while Skrill and PayPal reduce this time to 24 hours.
Unibet Betting Variety
Unibet packs a solid punch when it comes to betting variety. Here, you can enjoy a multitude of sports and non-sports events, and use lots of betting options. This is, for us, the highlight of this online bookmaker. Here's what sports are on the line: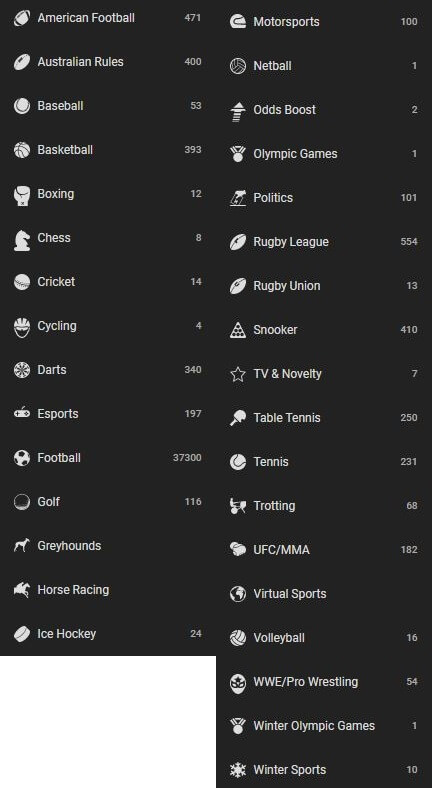 We can see that Unibet isn't joking around, offering its users a superb betting experience. In terms of sports variety, you can expect a lot, even though the most betting options are offered for football and horse racing. These are the two most popular sports in the UK, and if you're its residents, you're perfectly fine with that.
Apart from these sports, Unibet offers darts, cycling, ice hockey, snooker, rugby, trotting, volleyball, winter sports, and so forth. Moreover, some non-sports event make their appearance. Some of them are TV & Novelty and politics. We can also see the category called Odds Boost.

At the time of writing the review, Unibet offered two boosted matches. The odds were higher by 2 and they were 6.00. This is quite a significant boost, given that you can increase your earnings by £200, with a stake of £100, for instance.
Betting Options
It's one thing when a bookmaker offers a lot of sports to bet on and another thing when you actually have many betting markets. Being in the game for more than 20 years, Unibet perfected its betting options and brought them to the highest possible level.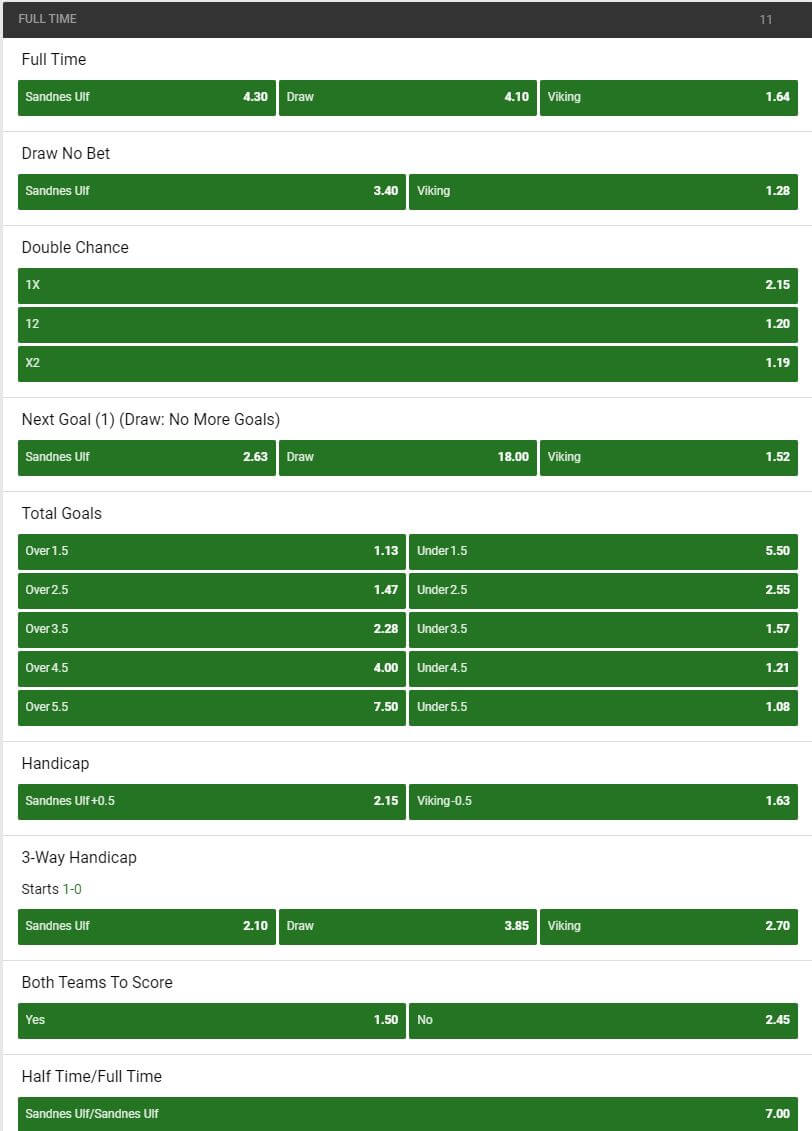 If you're a football fan, you're in for a treat. The bookmaker offers every betting market that exists, giving you complete control over your betting. The categories are instantaneously unrolled, but you can hide them by clicking on them. We opened them all for review purposes, just to show you that many options are available.
Fixed odds are here as well, but we found that these are more interesting options. You'll enjoy betting on the next goal, double chance, both teams to score, 3-way handicap, total goals, draw no bet, full time, etc, etc. The UK is a place of highly-competitive football but also competitive football betting, and Unibet proved it in an easy matter.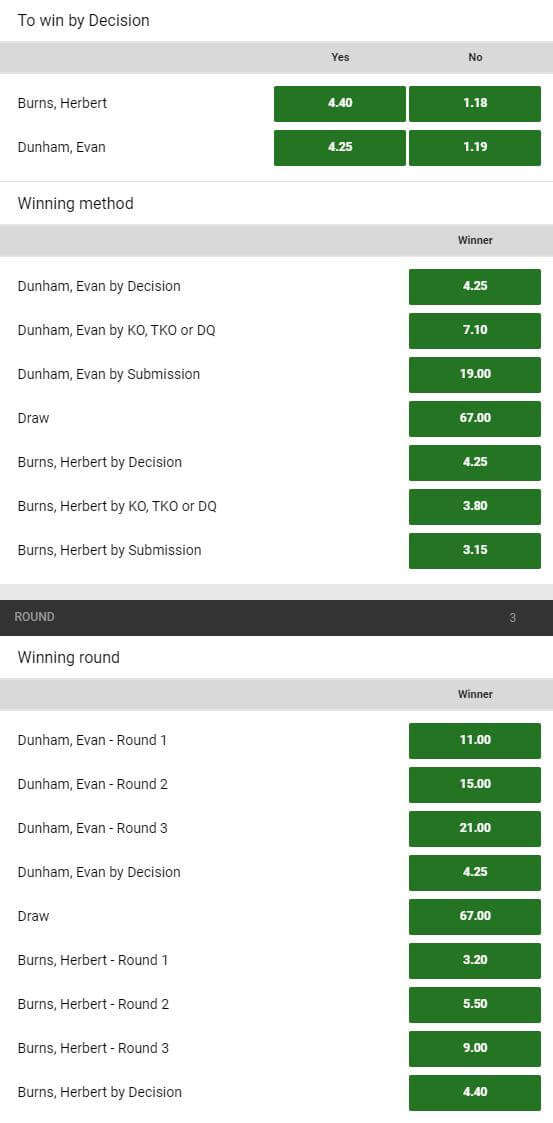 MMA/UFC fans, are you there? Unibet has something special for you and what you see above is just a fraction of it.  You can bet on either of the fighters, but also on the methods of winning. For example, you can bet on the player who you think is going to get knocked out, submitted, and so forth.
We like that you can even bet on the individual rounds. One player can take the first round, the other can take the second, and so on.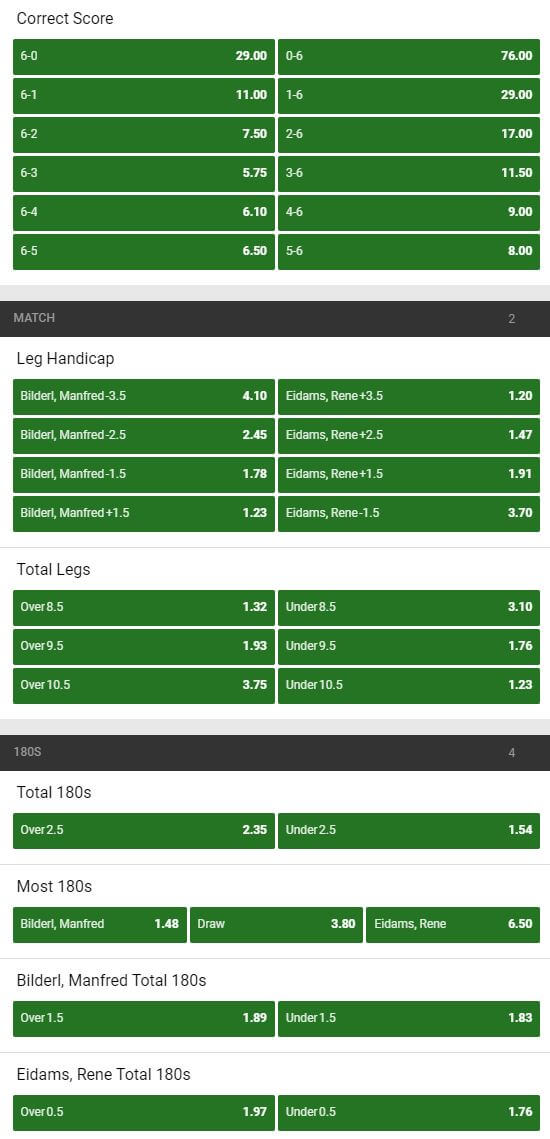 Lastly for this part of our review, we want to show you how good Unibet is if you love betting on darts. This isn't the most popular sport around, but in the United Kingdom, lots of players enjoy betting on it. And rightfully so, given that plenty of options are available on the betting market.
You'll get the best odds if you play on the correct score, but other options such as 180s, total legs, and leg handicap are also in the game. They might yield the highest odds, that's for sure. However, you can still earn some good money by playing these advanced bets.
We can go on like this till tomorrow but you get the point – Unibet's betting options are exceptional and suit even the most demanding players.
The Odds at Unibet – Are They Competitive Enough?

It's the time of the review where we take a look at the odds of Unibet and compare it with another bookmaker in the UK. If the bottom part of the image looks familiar to you, that's because it's a screenshot from 888Sport, our number one online bookmaker. Yes, we compared Unibet with this one and the results are quite interesting.
We went with Belarus Premier League and compared two upcoming matches at the time. The situation is very interesting, as all of the odds are EXACTLY the same. No joke – take a look above. Unibet is an inferior bookmaker to 888Sport, yet it manages to stand its ground in terms of the odds.
Needless to say, we were pleasantly surprised at how good the odds are on Unibet. Plus, if we take into account the aforementioned boosted odds, Unibet opens up possibilities for earning an additional dime.
Unibet Special Features
The main advantage of online bookies is that they can cram in as many features as they want. People will often discard online bookies, thinking that land-based ones are better. Well, these times are over, as online bookmakers are catching up pretty fast. Oh, and they offer some special features, as well! Here's what Unibet has to offer:
Live Streaming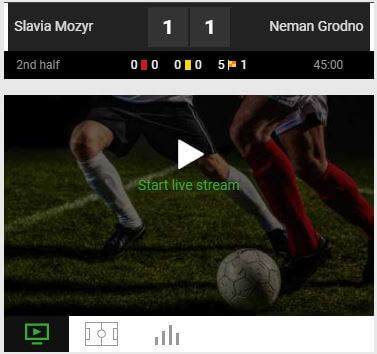 Live streaming is one of the bonus features you get to enjoy at Unibet. It's considered a bonus feature since not every bookmaker offers it. Those who do, however, will require you to place a bet on a certain match or impose other conditions. At Unibet, all you have to do is deposit at least £1 and you unlock this feature.
It'd be good to be able to enjoy it simply by registering, as we saw on our review of William Hill, but hey, this is more than fine in our opinion!
In-Play Betting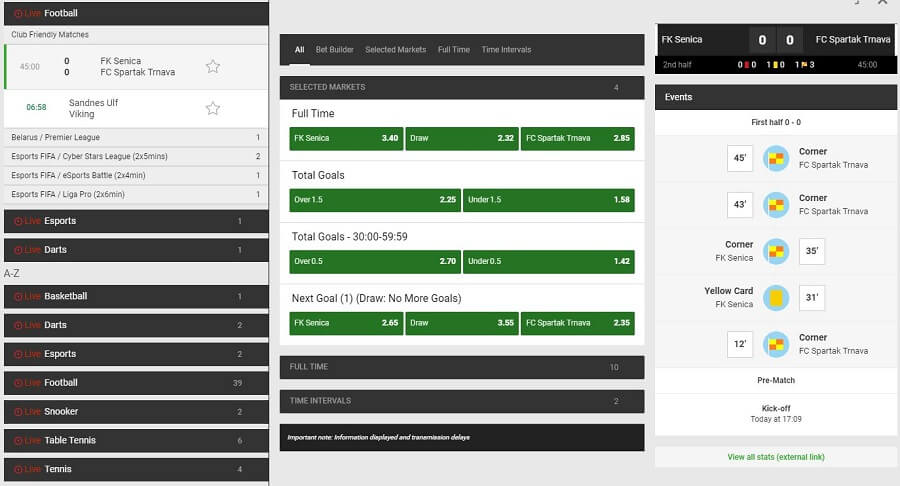 In-play betting is great for those who like being in the heart of the action. You're not betting before the match starts but as the match lasts, which is why it's often called live betting. Unibet offers a solid in-play betting experience, with all the betting options up-front and the necessary statistics on the right part of the screen.
You just need to place a bet you want and it'll appear on the bet slip. After that, place a stake, and let it run its course. If you're seeing a feature called Bet Builder in the image above, your eyes serve you well – congrats!
Bet Builder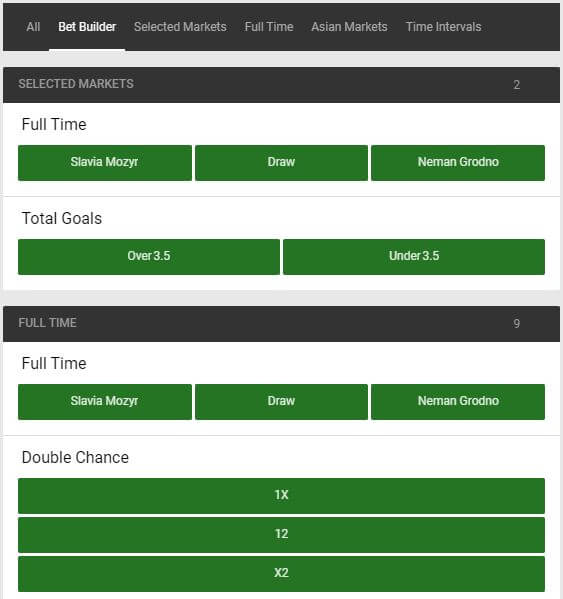 Bet builder allows you to combine two bets and create your own betting combination. This is crucial if you want to increase your chances of winning and getting more money, as these combined bets usually come with higher odds. The good thing is that you can use the bet builder in-play, as well.
Unibet Mobile Gaming Experience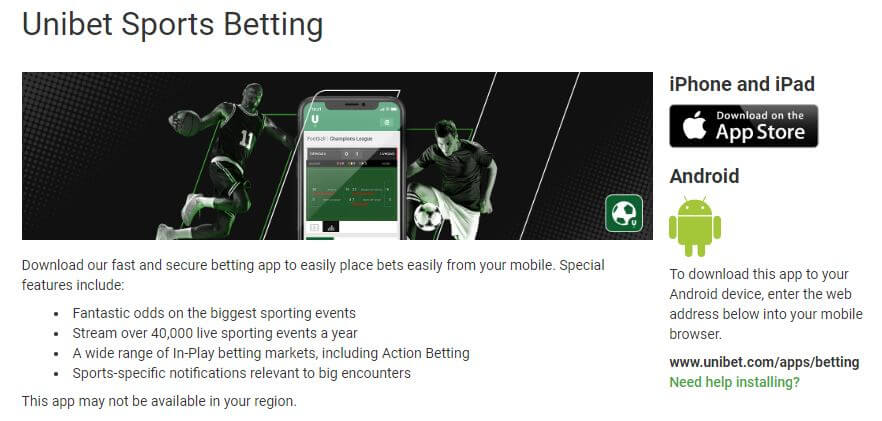 Unibet's mobile app is nothing to write poems about. But we can't say it's bad or unusable. In fact, it's quite good in terms of what you can do with it and the way it works. First of all, it's available for both iOS and Android. Second, it's lightweight, so it won't take a lot of space on your internal memory. We're off to a good start, aren't we?
Well, to make things better, Unibet developed this app so that it is as easy to use as it can get. To cram in all the sports markets, it has a search bar, as well as a side menu that you can open by tapping on the three horizontal dots. In this menu, you can also find banking options that will allow you to deposit and withdraw money if you win.
Placing bets can be done with a single tap and special features like live streaming and in-play betting are all here. That being said, the mobile experience is exceptional and is only slightly inferior to the computer experience, due to the fact that you're playing on the small screen.
How Fair and Secure is Unibet?

There are lots of things about Unibet that prove its security and fairness. We'll start with the fact that it's an official partner of the Champions League and World Grand Prix, as you can see in the image above. If you look right, you'll also see a plethora of companies that surround Unibet. These are mostly Responsible Gambling companies, such as EGBA, RGA, IBIA, and so forth.
We like that eCOGRA has a part here, although it's mostly there for Unibet Casino. Still, it's a company that takes care of fairness, making sure that Virtual Games are fair and that casino games don't have fixed RTPs.
In the last paragraph, we can also see that Unibet is based in Malta and operated by Trannel International Ltd. Moreover, the bookmaker has a license from UKGC and MGA, further proving that we're talking about a verified and secure bookmaker.
For protecting your information, Unibet uses SSL (128-bit) encryption, ensuring that it doesn't fall into the wrong hands.
Loyalty Program
Unlike 888Sport, Unibet doesn't have any kind of loyalty program, which is a bit disappointing. Those who play casino games on this site can enjoy it, but those focused on betting won't be able to take advantage of such a program. 888Sport has a decent loyalty scheme, hence it's our recommendation if that's what you want.
We saw before in our review that Unibet isn't the most generous bookmaker in terms of promotions, so don't expect as frequent rewards as on the aforementioned bookmaker or Bet365, for that matter.
Unibet Customer Support
If you encounter some issues during your betting adventures, it's always good to have reliable customer support. Here's how you can contact Unibet in case that happens: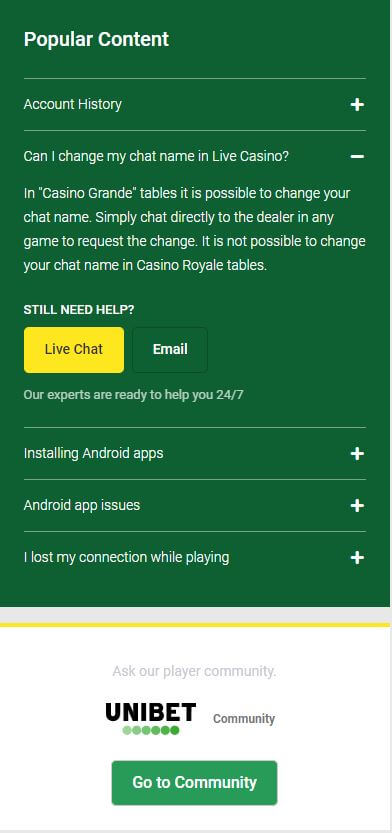 You first have to visit the Help Center, tap on the random question and this screen will pop up. If the answer to the question isn't helpful, the bookmaker will offer you its contact options, where they'll review the problem and fix it for you. Unibet's customer support team is available 24/7, which is always great.
Contacting them from here is easy. Use the live chat if you want an instant answer or email support if you don't mind waiting for a few hours. Alternatively, you can visit the Community section, which is essentially the bookmaker's forum. Here, you can get in contact with other members and discuss certain issues.
The support team at Unibet is decent. During this review and test of the sportsbook, we saw that it is helpful and will answer in about 2 minutes when using live chat or up to 24 hours when using email. In short, we didn't have any problems with it.
What do Other Users Think About Unibet?
In this section, we'll take a look at some of the reviews for Unibet from Trustpilot. The goal is to see how good the bookmaker is in other users' eyes. Beware that lots of users write bad reviews simply because they lost money and didn't win anything. Let's start off with positive feedback:

This review is, as you can see, quite positive. The user praises fast payouts, quick answers, and live chat support. He/she ends a review by mentioning that he/she never had an issue with Unibet.
We have one negative review of Unibet, as well, and as you'll see, it makes no sense:

The Trustpilot user says that Unibet is the worst gaming company ever, simply because he didn't manage to win anything. He even goes to say that the company is a scam for the aforementioned reason. That's NOT how you write a review. Instead of raging and crying, you should bring arguments and logic.
Conclusion – Should You Bet on It?
Let's wrap up our review of Unibet with a proper conclusion. Unibet is definitely a bookmaker that has a lot to offer and is justifiably one of the most popular options in the UK. With highly competitive odds, intuitive interface, and large sports markets, this is a great choice for ambitious and non-ambitious players, even outside this country.
In terms of downsides, we must mention the wagering requirements and the lack of promotions and a loyalty program. But, with high odds and odds boosters, you should be able to get along just fine. All in all, Unibet is worth a shot.
Smash the button below and get your £40 welcome bonus!
How to Register on Unibet?
Since we got the review out of the way, we 'll shortly go through the registration process of Unibet and see how to complete it. First of all, enter the website and use the registration button, as shown in the image below:

The first step will now be initiated: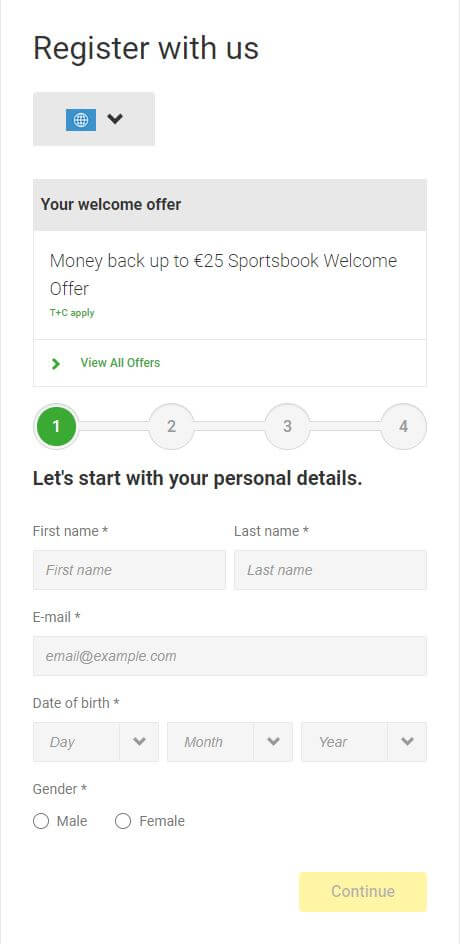 Here, you need to enter some personal details, such as your full name, email, date of birth, and gender. Click Continue once you do so: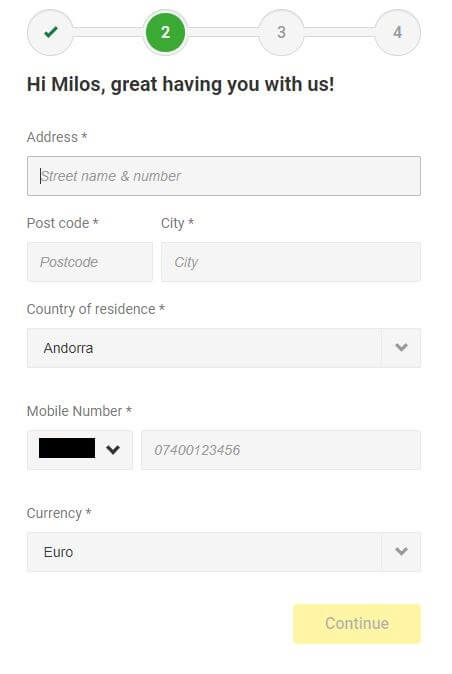 Now, the crucial information – your address, postcode, city, country, and mobile number. Apart from the mobile number, the other information will need to be verified and displayed exactly the same as in your documents. Choose the currency you want to use and click Continue.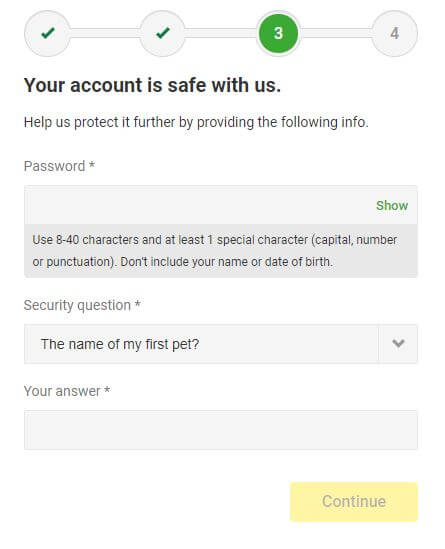 The third step is quite easy. Just enter a password, choose a security question and answer, and click Continue.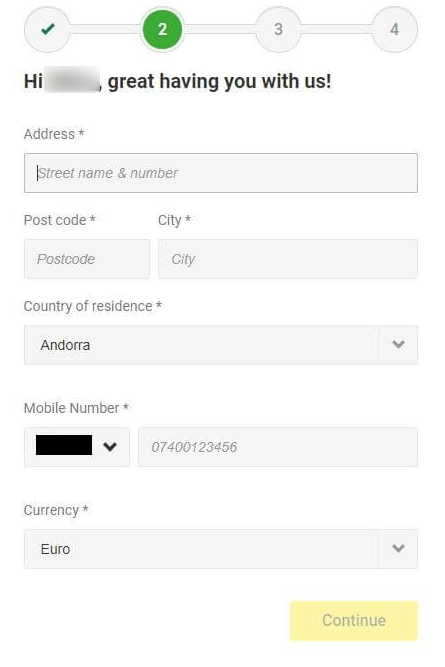 Before completing the registration process, just accept the bonus terms and conditions, privacy policy, and that you're over 18 years old. Remember – you'll have to verify your age later on! Click Join and you'll become an official member of Unibet.
Verification Process – What Do You need?
The verification process on Unibet is quite simple. Go to your profile, click on Account Details, and choose Verify Account. This menu will appear: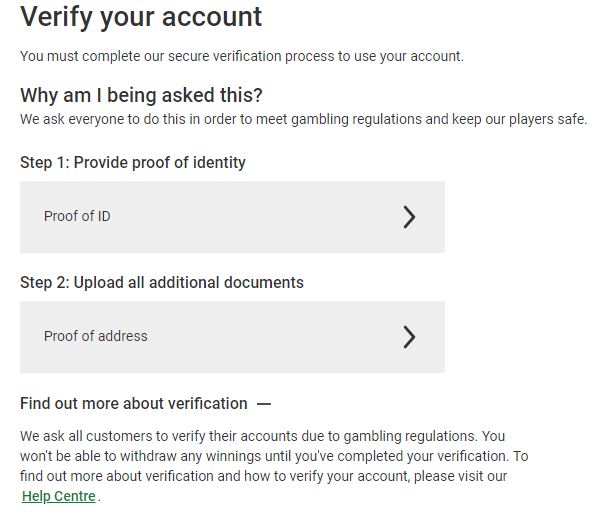 Two verifications are here – proof of identity and proof of address. For the first step, three documents are valid:
National ID
Passport
Driving license
One of these documents uploaded should be enough for you to verify your identity. As for verifying your address, one of these two documents is needed:
Utility bill
Bank statement
The documents we mentioned should NOT be older than 6 months, as it will void their validity. Take a photo of the document you want and make sure that the necessary info is visible. Once the support team reviews the documents and everything's okay, you'll be able to deposit funds and withdraw your winnings.
FAQ
For the end, let's complement our Unibet review with an FAQ section:
📌 Is Unibet safe?
Yes, it is absolutely safe and verified UK online bookmaker. It has a license from UKGC, hence it's approved by the United Kingdom to operate in the country.
⏳ How long do Unibet withdrawals take?
Withdrawals at Unibet last up to 5 days. If you're using E-Wallets, you can reduce that time to about 3 days, and with credit/debit cards, it extends up to 5 working days.
💰 Does Unibet offer cash out?
Yes, Unibet does offer a cash out. This way, you can withdraw LIVE the money placed on a bet at any time.