32Red is an already well-known name in the world of UK online casinos. Offering hefty welcome bonuses and outstanding gaming experience, this casino represents a delight for many players from the United Kingdom. Moreover, it doesn't offer just online casino but also poker, rummy, bingo, and even sports betting, making it versatile for true gambling lovers. Today, we're going to talk in-depth about this casino and see if it's worth playing on. This is our 32Red 2021 review, so sit down comfortably, and let's see if it lives up to its name.
How to Register on 32Red Casino?
Let's start our review of 32Red with the basics – registration. To even start thinking about playing some games, you'll need to become a member of this casino, and thankfully, that's very simple. Here's how to initiate the process:

In the upper-right corner, you'll see a 'Sign Up' button. Click on it and you'll be greeted by the initial registration screen: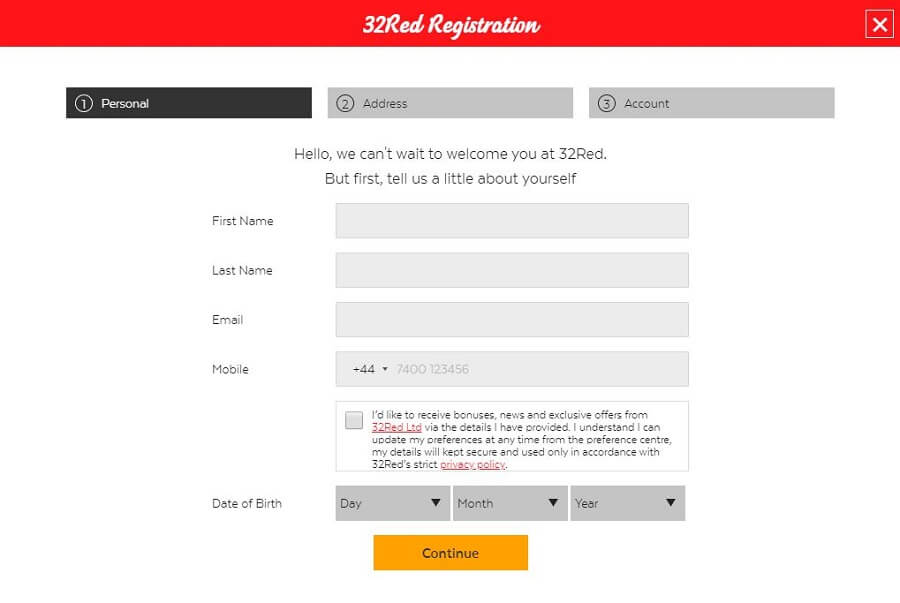 As you can see, the registration is done in only 3 simple steps. The first one requires you to enter some basic info about yourself. Your name, last name, email, mobile number, and date of birth. Also, you can tick this box to receive news, offers, and so forth, although we don't recommend it. It's just going to spam your email address and for us, it serves no purpose.
Let's move on to the next step: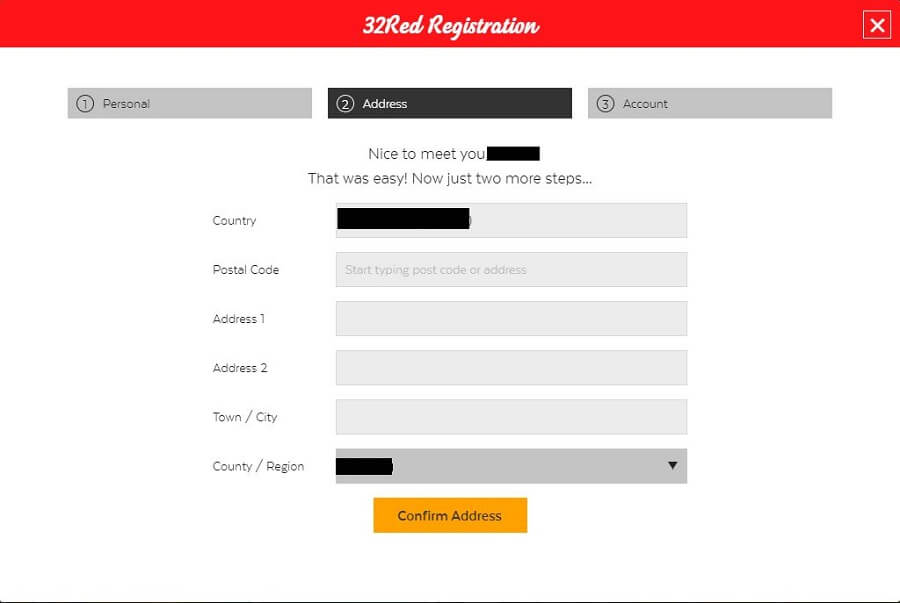 Here, you need to fill out your geographical location. This casino is registered in Gibraltar and apart from the UK, it supports at least 30 more countries worldwide. Even some countries that aren't normally supported are here, which is great for people who love gambling but can't register on other casinos.
Select your country from the drop-down menu, type in your postal code, address, city, and region, and confirm your address.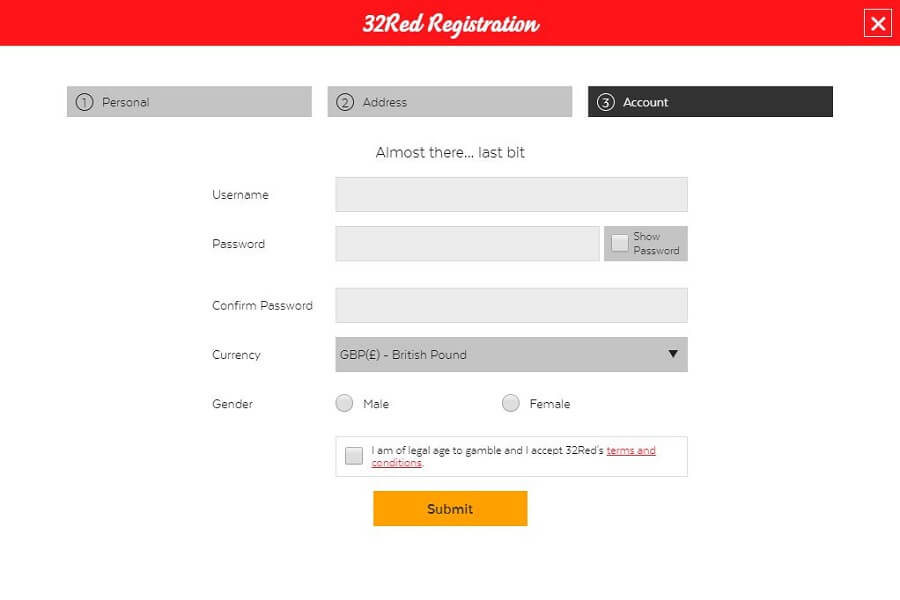 Now that the main stuff is out of the way, all you need to do is to create your unique username and password. After that, choose the currency you want to use. If you're from the UK, go for British Pound and if you're not, 32Red casino offers a few more currencies to choose from, including American Dollar and Euro.
Finally, submit the information you've entered and after that, you should see this screen:
This is some kind of automatic verification process and you'll need to wait for a couple of seconds until it's complete. After that, 32Red Casino doesn't send you any confirmation email – at least, not for us. So, when you finish registering, all you have to do is to deposit your cash, verify your account, and play games. We'll talk more about that in just a second.
Verification Process – What Do You need?
At first, 32Red Casino isn't very rigorous when it comes to verification. Sure, you can browse the site upon registration, see some games, access live casinos, and so forth.
However, when you want to deposit and withdraw your cash, that's where the problem will arise as we've also experienced during our review of 888 Casino. The casino will ask for verification upon your first deposit and withdrawal and you can't avoid this process.
But, what you can do is verify your account even before you start playing games, which is dead simple! Here's what the casino wants from you: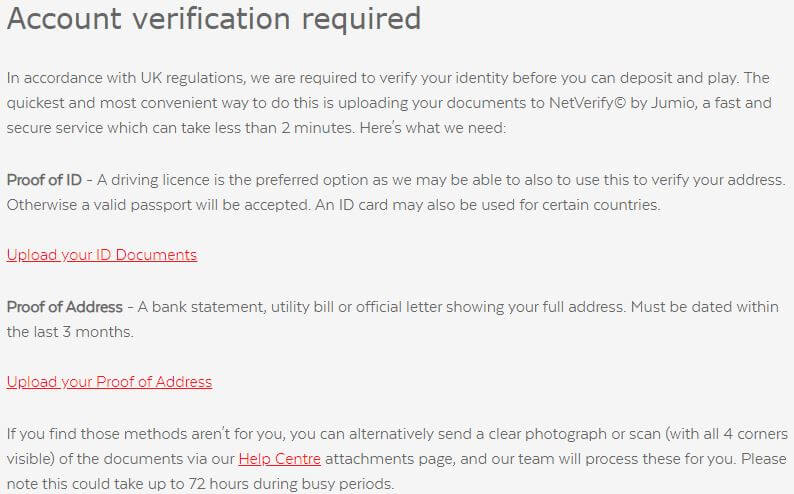 In the image above, you see what we just said. The UK regulations require you to verify your account and the casino offers a very simple method called NetVerify. Here, you need to upload the required documents and as they say, the process will last less than two minutes. So, what do you need to prove?
ID and address – that's all. For proof of your ID, 32Red Casino prefers a driving license, as they can use it to verify your address. However, if you don't have a driving license, you can always use a passport or your ID card. Keep in mind that your ID card might not be valid, depending on the country you live in, because not all ID cards contain your address.
Now, in case you couldn't prove your address, there are other methods that 32Red Casino accepts. You can use a bank statement, utility bill, or any official letter that shows your address. The thing is that these documents must not be older than 3 months.
Last but not least, the casino doesn't force you to use this NetVerify method. You can send them a photograph or scan of your documents directly but in that case, the process will last up to 72 hours.
32Red Casino Welcome Bonuses – Are They Generous?
Now, let's review the bonus or bonuses and see what 32Red Casino has to offer. Welcome bonuses are here to make your stay more enticing. Every casino wants you to stay and play games for as long as you can, and certain bonuses and promotions are here to motivate you.
How does this casino motivate its new players? Well, pretty good, we would say. You get a welcome bonus only on your first deposit and it's a 150% bonus, up to £150. So, if you deposit £10, which is the minimal deposit (eligible for a bonus), you'll get a bonus of £15, resulting in £25 to play with. Even the casino explains it well, so take a look:

What you also see here are the wagering requirements that are… well, pretty high, we must admit. you need to wager your bonus 50 times to be able to withdraw it, and the funds you won playing with that bonus. Despite having only to wager your bonus, these requirements are pretty damn high. And you can also see it above.
If your bonus is £15, you need to multiply it by 50, so you need to win £750 to withdraw the winnings. While it doesn't sound excruciating, just think about higher bonuses, for example, £150. Now, multiply it by 50, and you get £7,500, which isn't a small sum of money.
To fulfill the wagering requirements, you need to know which games can contribute, and luckily, 32Red Casino also gives you that information: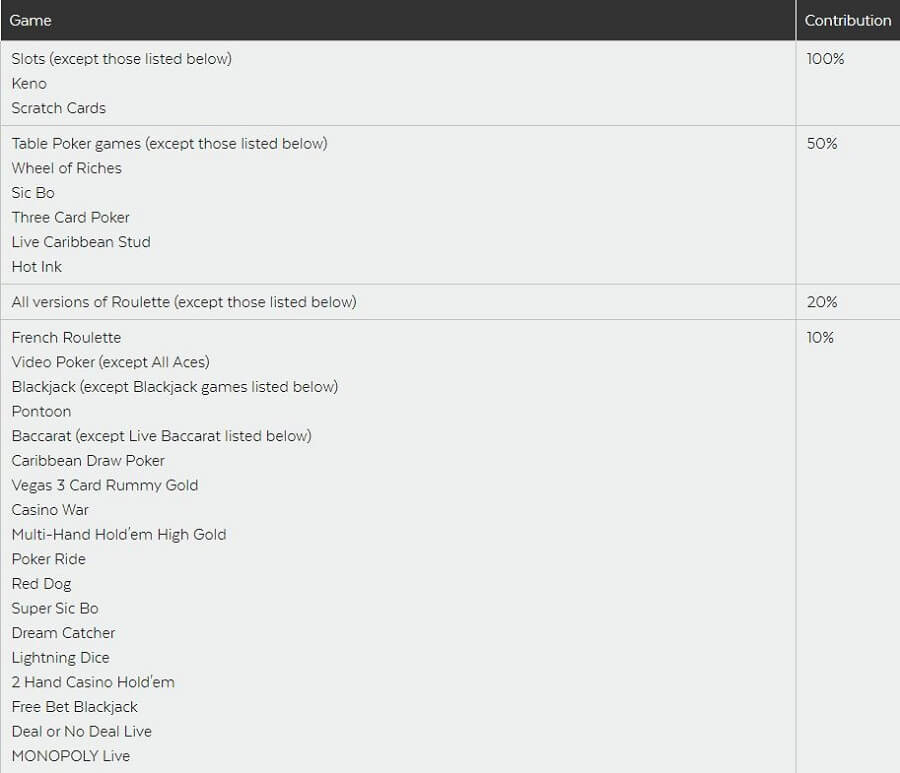 As expected, slots play a major role in fulfilling these requirements. Slots give you a 100% contribution, except Keno and Scratch Cards, whereas, table poker games give you a 50% contribution. You can also play some versions of roulette but they'll give you only 10% contribution, while all other games give you either 5% or 0% contribution.
In short, play slots, and with a bit of luck, you may wager your bonus successfully.
32Red Casino Promotions – Are There Some?
Oh yeah, we found during our review that there are tons of promotions available on 32Red Casino! So much so, that we can't describe them all without turning this review into a 32Red Casino Promotions review. The image below shows just a fraction of available promotions: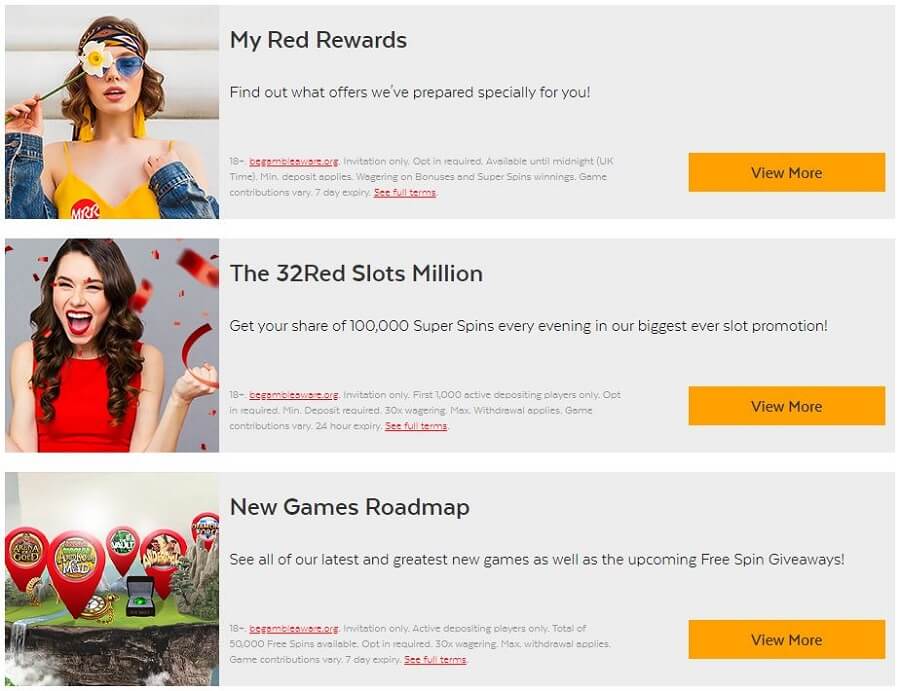 We like how 32Red Casino displays all of its promotions graphically. You get these beautiful girls and generally graphical interface that looks quite attractive. Now, all the promotions are hidden behind this "View More" button, so you'll need to check every promotion individually.
For example, Genesis Casino shows its promotions all on the same screen, with the description of each promotion. Here, that's not the case, but we don't mind. The thing is that almost all of these promotions are invitation-only, except for a few of them.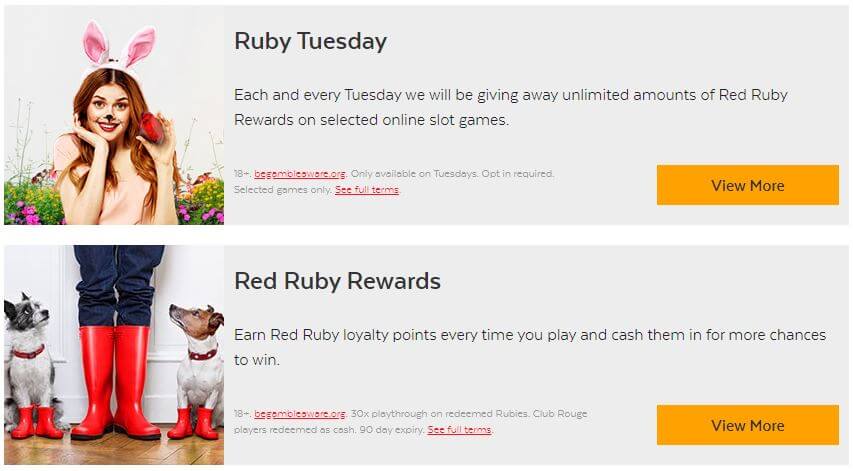 The first one is called Ruby Tuesday and here, you can get Ruby Points on selected slot games. The second one is about loyalty points e.g. Ruby Points and it's basically a loyalty program. Here, you can see how to earn them, use them, and so forth. We'll talk about the loyalty program near the end of our review of 32Red Casino.
Deposit/Withdrawal Methods and Limits
Since we got that out of the way, it's time to talk about money, sweet money! If you want to begin playing and earning real cash, you'll need to make your first deposit of £10, which is also the minimum deposit, regardless of the payment method you're using.
And speaking of payment methods, here's what 32Red Casino offers:

There's literally everything included, even Neteller, Skrill, Paysafecard, PayPal, EntroPay, and VISA and Master Cards. That's already pretty good. As for the deposit/withdrawal lower limits, they're both £10, and when it comes to the upper limits, you can withdraw or deposit how much you want.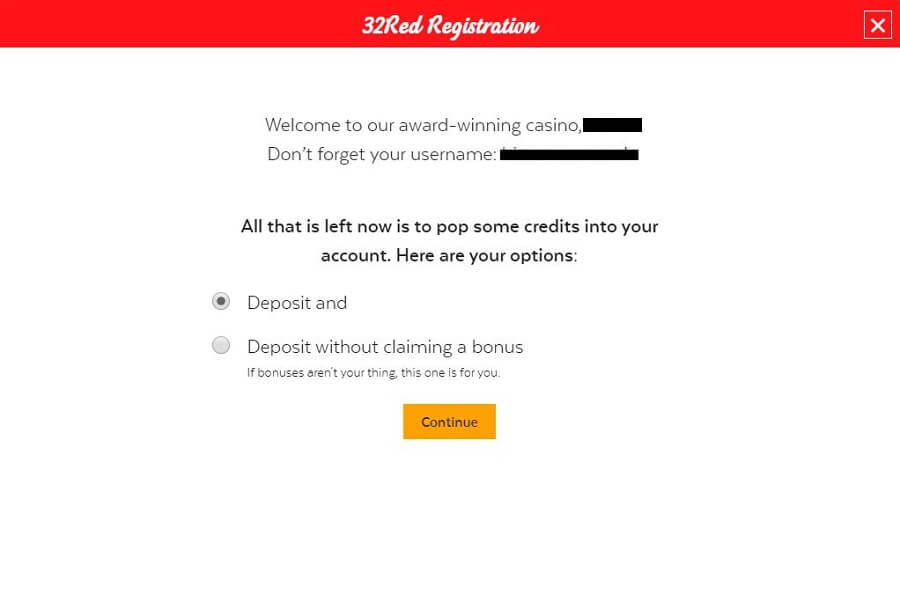 You can even deposit your money right away when you register, but then, you'll also need to verify your account at the same moment. Now, we saw during this review and test that 32Red Casino offers a multitude of payment methods. They have a special page dedicated to them but every method is, once again, hidden behind this "View More" button.
For that reason, we'll display a couple of most used methods and see what conditions apply to them:
These are Maestro, MasterCard, and VISA methods. All of them are practically the same, and no withdrawal/deposit fees apply.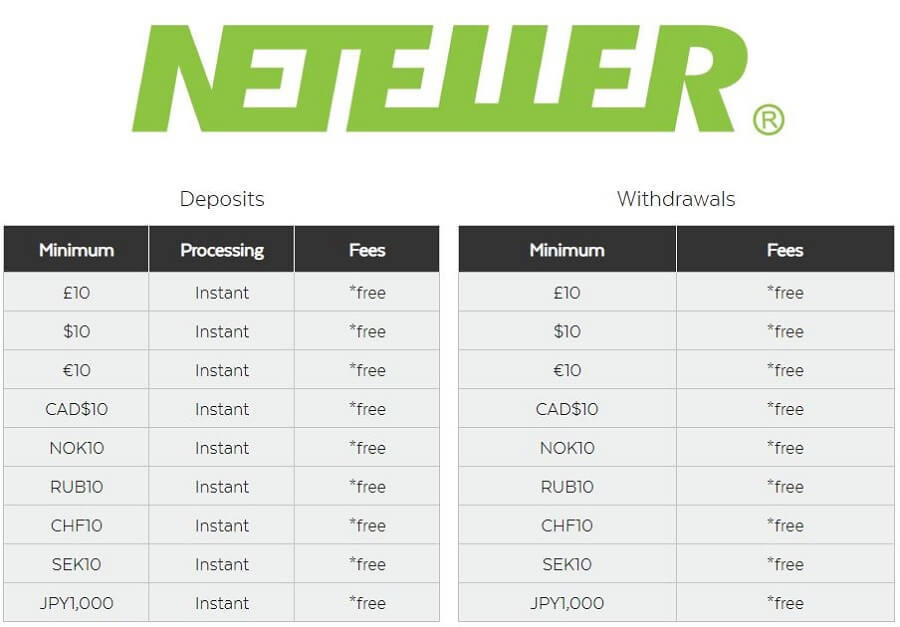 This is Neteller, where at first glance, everything is the same. However, 32Red Casino didn't state how much it takes for a withdrawal to be realized. We tested it and got our money instantly. On the other hand, when using the aforementioned methods, we needed to wait for about 5 working days.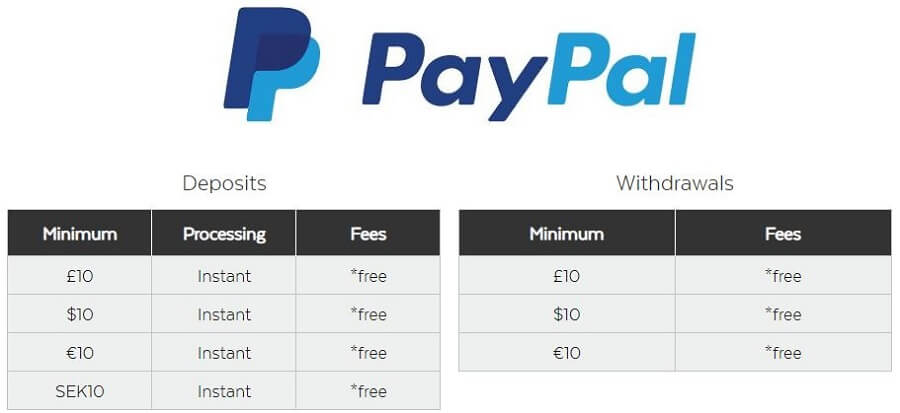 PayPal conditions are the same, but there are quite a few currencies missing. Here, you can use 4 currencies for depositing and only 3 basic currencies when withdrawing your cash.
32Red Casino Game Variety & Software
Enjoying an online casino fully without a huge game variety is, for us, impossible. People get tired of certain games and they want to try something new and experiment. On 32Red Casino, there's a lot of space for experimenting, as it offers more than 500 games in total. It's not as impressive as Genesis Casino's 1,000+ games but it's more than enough.
Here, you can find all of the popular games, including variations of slots, blackjack, roulette, video poker, scratch cards, and many other games. We also like how the website of 32Red looks, displaying all the games clearly, allowing you to access them in a single click.
Although the website might seem cluttered a bit, you'll get used to it quickly and LOVE it, just like we did during this in-depth review. Of course, the majority of these games are comprised of online slots but if you like other games, a solid amount of them is available for you. Software-wise, it's also important to mention that there aren't any apps to download, so you can play only using your browser.
That's not necessarily bad. In fact, it's pretty good in this case, as 32Red Casino offers an outstanding in-browser experience on all platforms. Since many of you came here for the games, let's talk more about different variations of them.
Slots

Let's start with the basics for this part of our review – slots! As we said, the majority of the games you're going to find here are slots, and in this case, they're also the most important. Remember that these games give you a 100% wagering contribution, so you'll need to play them a lot when registering on this casino.
Nevertheless, 32Red Casino offers 480+ slots, including popular titles such as Starburst, Eye of Horus, Thunderstruck 2, Dazzle Me, Immortal Romance, and Avalon. The slots look pretty good and they play smoothly, just as we like. You also get an RTP of 97.5% here, which is just enough.
Roulette

If you came here wanting to spin some tables and earn big money, you're in for a treat. 32Red Casino offers 20+ variants of roulette, letting you even play live or enjoy games such as American Roulette, French Roulette, European Roulette, Premier Roulette, Sapphire Roulette, and many more.
These games also give you some of the largest RTPs in the casino, around 98.6%.
Blackjack
32Red Casino is clearly more oriented towards blackjack than roulette, offering more than 70 variants of blackjack. This is an old-school table-based game, so we're sure that lots of players will enjoy playing it. Furthermore, you get to play all the popular titles, such as European Blackjack Gold, Vegas Simple Deck Blackjack, Atlantic City Blackjack, Vegas Strip Blackjack, and many more.
What you'll also like here is the RTP for these games. An RTP for blackjack games is 99.91%, which is super impressive! Users who prefer playing blackjack are going to be delighted with the among of money they can win!
Table & Other Games

Before we wrap up this section of our review, let's see what table and other games 32Red Casino offers. You get more than 15 table games here, and they mainly include Baccarat, Poker Ride, Sic Bo, Three Card Poker, and Red Dog. Video poker is also here and you can play games such as Tens or Better, All American Poker, Deuces Wild, and Aces & Faces.
We also mentioned scratch cards and some arcade games but they're not very abundant and don't give you any wagering contributions. For table games, an impressive RTP of 99.4% is in place, while the video poker yields an RTP of 99.92%. The lowest RTP of 95.04% is reserved for scratch cards.
Game Providers
When it comes to game providers, 32Red Casino doesn't work with tons of them. Most online casino games are managed by Microgaming, while the live casino games are hosted by Evolution Gaming. iSoftBet is also here and it manages a smaller portion of games.
Although not many providers play a role here, we like the inclusion of Microgaming and Evolution Gaming, as these are some of the top players in the business.
32Red Casino Mobile Gaming Experience
Now that we touched on Microgaming, we must mention that this company also redesigned mobile games, making them perfect for smaller mobile screens. We must admit that they look pretty good for mobile games, and in total, you can enjoy 100+ games on your phone. That's not very generous but at least, the gaming experience is excellent.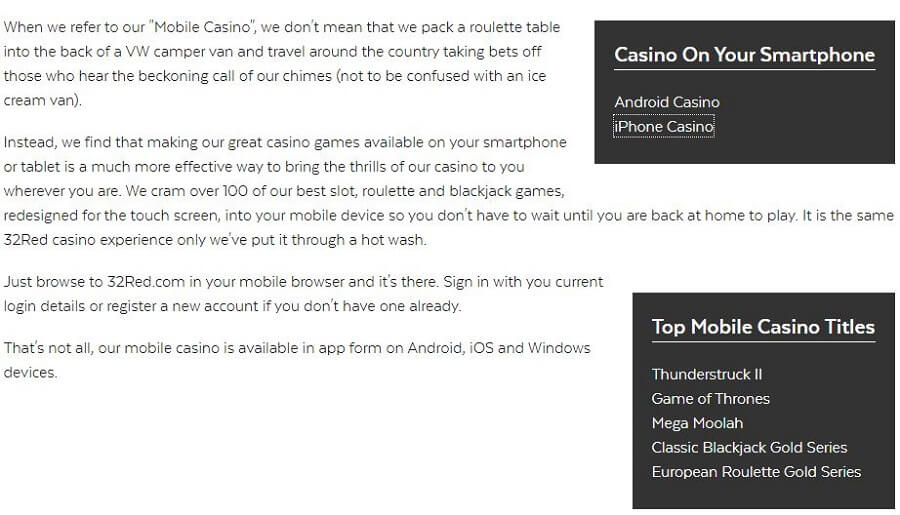 32Red Casino also has a dedicated page for mobile casino and here, you can see that there aren't any mobile apps to download. When playing on a mobile phone, we do prefer apps, but since the experience is good even though the browser (whether you are using Chrome, Firefox, Safari…), we aren't going to complain.
On a smartphone, you can easily choose the game you want to play, as they're carefully laid out and adapted to smaller screens. We like how the casino immediately switches to a mobile version as soon as you access it on a mobile device, which is super neat.
You can also take advantage of all features from your phone, even online banking, and contacting customer support. And if you're worried about the game variety, know that your slots, blackjack, and roulette games are all here, as you can see in the image above. The live casino is also playable from the phone and it looks quite decent!
32 Red Live Casino – How Good is It?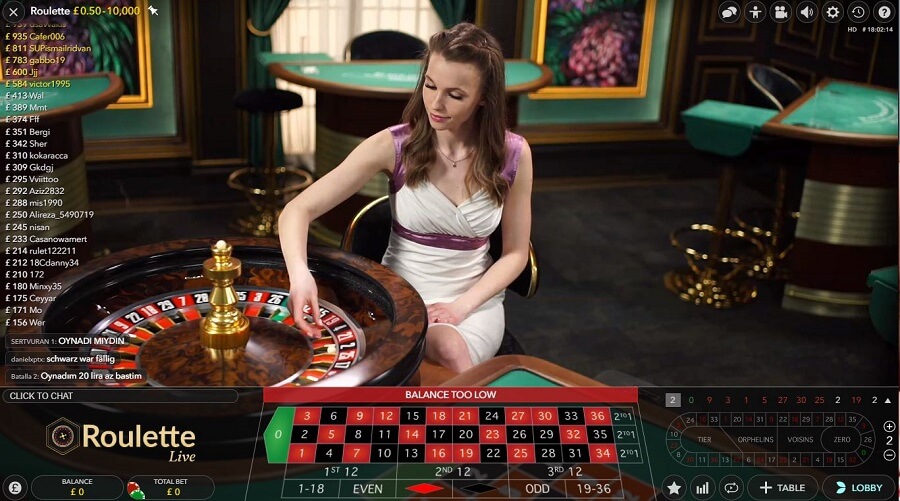 Those who want to get to the next level will probably get their hands on the live casino games. 32Red Live Casino is here to make things more immersive and more real, as you're playing against a real dealer. Here, we can see this beautiful lady spinning the roulette table, so you don't play against a computer or random generator.
We must admit that the live casino experience is top-notch on 32Red, and how it wouldn't be when Evolution Gaming is taking care of that. The interface is going to be familiar for every player that even once experienced this type of game. Your gambling options are below, while above, you can see some other options, change the camera, mute the sound, and so forth.
You can even use the live chat feature and chat with other players or the dealer himself/herself, which promises a lot of fun moments. In terms of game variety, 32Red Live Casino doesn't disappoint. Aside from Live Roulette that we played, you also get live blackjack, live Hold'em, live Sic Bo, and many more.
All in all, we're satisfied with the gaming experience we got here. And since you can play it on your phone, it's even more versatile. Just don't expect the same level of immersion as on the big computer screen.
How Fair and Secure is 32Red Casino?
32Red Casino is a well-known casino in the UK and as such, its security and fairness are on the top level. The casino has two licenses, one from the Government of Gibraltar and one from the Gambling Commission in the UK, also called UKGC. These are very valued licenses and when the casino has either one of them, it means that it's safe and fair.
You can also see that in this image. Responsible Gambling is also here and companies like GamStop and eCOGRA make things fairer. We especially like that eCOGRA has a part here since this is one of the best companies for game fairness. This company checks every game individually, to avoid fixed RTPs and any "impurities" that they may find.
The casino also uses 128-bit SSL encryption, which will make your data safe and secure. This also applies to money transfers, making sure that the money gets into the right hands. All in all, 32Red Casino is a safe and verified UK casino, so you'll never have any issues of that sort.
Loyalty Program
Now, let's review the 32Red casino's loyalty program. We mentioned it earlier but now, it's time to see if it's it's worth participating in.
Once you deposit your cash and start playing games, you're immediately a part of the VIP program. Playing games earns you Red Ruby points that contribute to the loyalty program. As you collect Ruby Points, you climb up the ranks and you get better and better rewards. Every 1,000 Red Rubies counts as 10 casino chips.
In the table, you can see that there are 5 tiers of loyalty – bronze, silver, gold, platinum, and club rouge. While the last is invitation-only, the other 4 ranks can be achieved simply through playing. To stay in platinum, you need to get 5,000 Red Rubies.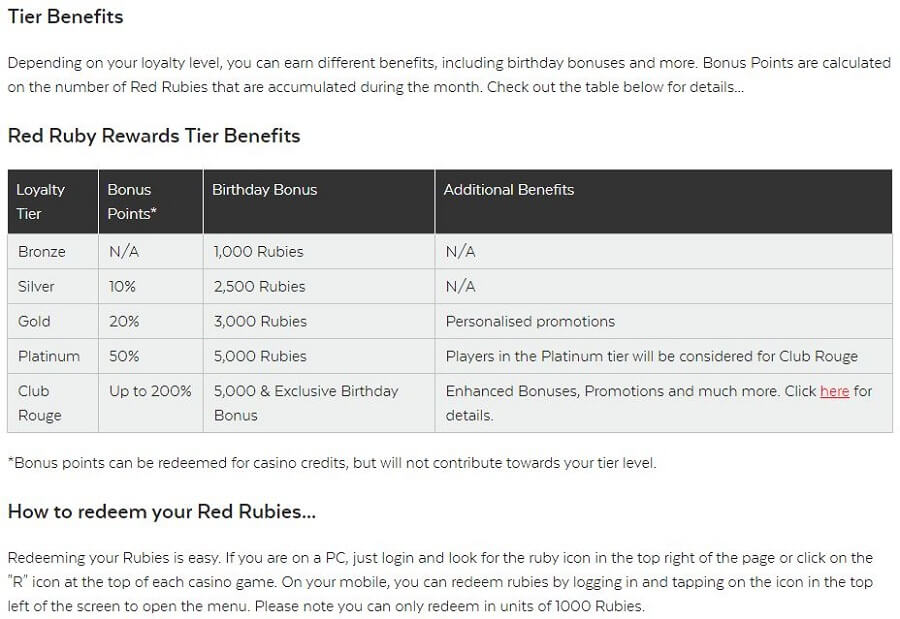 You can see here what benefits you can get depending on your loyalty level. Obviously, Club Rouge members will get bonus points, up to 200%, birthday bonuses, and some additional benefits. 32Red Casino's loyalty program is basic and doesn't have any tricks. It's straightforward and lets you participate in it even as an ordinary player. Thumbs up for that.
32Red Customer Support
Quality customer support is a staple of every verified casino in the United Kingdom. We're glad that 32Red Casino isn't an exception, as it offers state-of-the-art support for its players:

As you can see, 24/7 support is here and they respond through live chat. Furthermore, they have a Help Centre, which is basically the FAQ section where you can find the answers to most commonly asked questions. Interestingly, they also offer you to contact them through Skype by using the Skype name Skype_32red.
Their support email is support@32Red.com and in case you want to do it old-school, you can write a letter to the address displayed in the image. We'd say that support is pretty good here. While not the fastest, you get tons of methods for contacting them, which is never a bad thing.
Conclusion – Should You Play on It?
Wrapping up our review, it's time to see if 32Red Casino is worth your time.
Overall, this is one of the best casinos in the UK that we tested and used. Apart from its high wagering requirements of 50 times, it exceeded in every other department. Game variety, mobile gaming experience, customer support, loyalty program, and live casino are only some of the things we liked about it.
The casino has that happy vibe, if we can say it like that, and breathes positive energy into you. Its site looks vivacious and everything is brought to life thanks to colorful images and tons of content. You'll definitely feel special while playing here and that feeling is irreplaceable for many casino players in the UK.
We think that the answer to the aforementioned question is pretty obvious – you should play on 32Red Casino! Sign up today and get your 100% welcome bonus up to £150!
FAQ
Let's answer some of the most commonly asked questions before ending this 32Red Casino review:
Can I self-exclude myself for a certain period on 32Red Casino?
Yes, you can do it if you start having gambling problems. You can read more info about that on the casino's Responsive Gaming section. Here, you can see how to take a break from gambling for a few days, months, and even years if needed.
How to withdraw my money from 32Red Casino fast?
The fastest way to withdraw your money here is by using e-wallets such as PayPal, Neteller, or Skrill. These methods also don't impose any fees, so you get everything you win,
Is 32Red Casino based in the UK?
No, it's based in Gibraltar but also has a UKGC license, so it operates safely in the United Kingdom.