Gamblers in the United Kingdom are well aware of what Betfair is. One of the largest bookmakers in the UK also has a pretty good online casino under its ownership. While not the most popular online casino, we still felt the need to honor this giant with an in-depth review and see if it's worth signing up. This is our comprehensive analysis of Betfair Casino, so if you're looking for your new gambling destination, stay with us to see if it's any good.
How to Register on Betfair Casino?
As always, before you start playing on any online casino, it's important and obligatory that you register first. By completing the registration process, you become a member of Betfair Casino, therefore, you can play games and win real cash.
How to register, then?
Well, for the start, make sure that you're in the United Kingdom or any supported country. Otherwise, you can't do that. Below is the screenshot of the home page and the button you need to use for registration: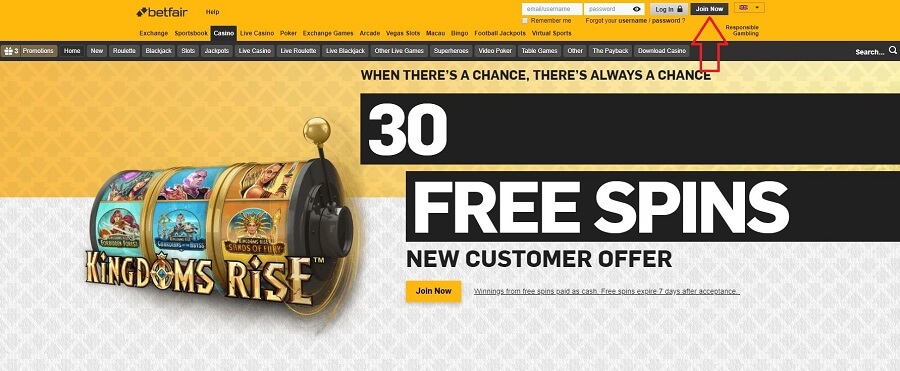 Click on Join Now and the registration form will open. We liked the registration process immediately and in a second, you'll see why: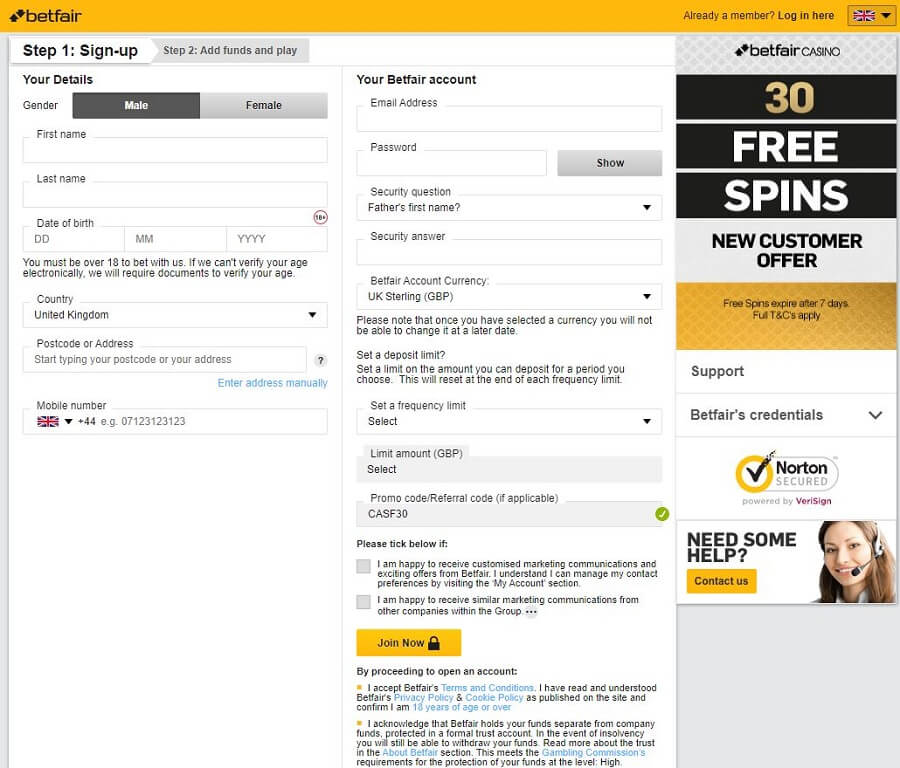 This is everything you need to fill out to register. One simple screen and no annoying 5-step registration like we saw on many reviews for online casinos in the UK. Betfair is simple from the get-go, avoiding wasting your time.
For the start, choose your gender, type in your full name, and date of birth. Next, choose the country you're playing from. For us, it is the United Kingdom. Now, you'll need to enter your address, city where that address is from, and the postcode.
Mobile number is mandatory, so type it in, should the casino need to contact you for some reason. On the right side, the information you're going to enter is related to your Betfair account. This information includes email address, password, security question and answer, but also your account currency.
You can set a deposit limit both in amount and frequency, but we chose not to do so. If you're a person that's easily addicted to gambling, we suggest setting up a limit or not play at all. Finally, click Join Now, and immediately, you'll be back at the home screen with your account all set up.
As you can see, saying that it's very simple is an understatement. Just beware that Betfair Casino won't allow you to play any games unless you verify your account. We tried it during this review of Betfair Casino and we got the "your account is suspended" message.
Verification Process – What Do You need?
Did someone mention verification? Sure. If you're a serious player and you want to stay here for a bit longer, you'll want to verify your account as soon as possible. We don't like that Betfair Casino doesn't state how to do it clearly.
On the home page, there's nothing related to that and neither is in your profile. Instead, you'll have to scroll all the way down, click Help, and confirm that you need help with verifying your account. In the FAQ section, you'll find how to do it: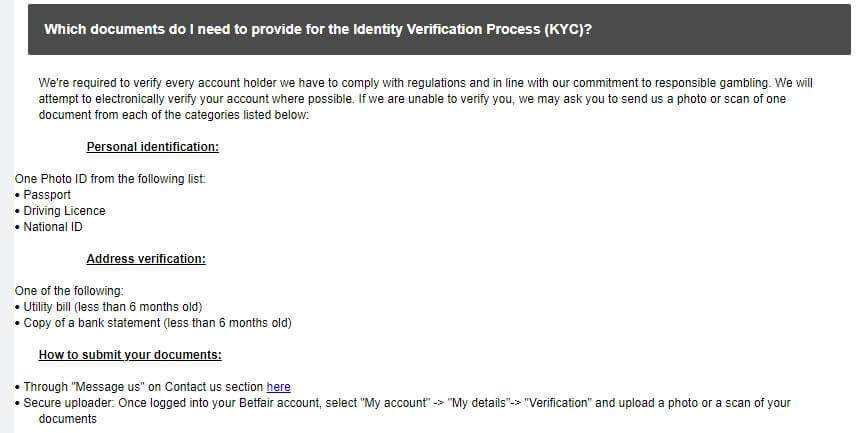 This is a well-known KYC procedure, also known as Know Your Customer. Verification is split into two phases – personal identification and address verification. Personal verification is quite simple, you need to provide one of the three identification documents:
Passport
National ID
Driving License
However, these documents don't show your address. To verify your address, you'll need a valid document such as a utility bill not older than 6 months or a copy of a bank statement that's also not older than 6 months.
In this article, we took a screenshot so you can see where to click to do so. Basically, you just need to contact them through your Betfair Casino account and follow the instructions – very simple. Once again, be sure to verify it right away, to avoid the account deletion.
The verification process doesn't last very long and in 24 hours, you'll be able to play your favorite games and enjoy everything that this UK online casino has to offer. This was the case for us while doing this review of Betfair Casino.
Betfair Casino Welcome Bonuses – Are They Generous?
Now, onto the more interesting parts of this Betfaire Casino review. We know that verification and registration are sometimes way too boring and we just want to play games. But, before we do that, we ought to go through different processes, such as obtaining a welcome bonus.
Right from the start, we can see that Betfair Casino isn't very generous with its welcome offerings.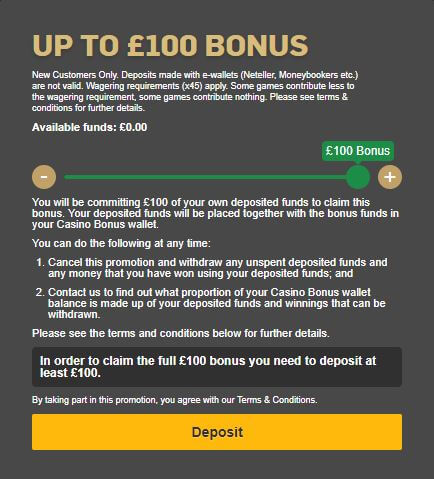 Your initial deposit gets a welcome bonus of 100%, up to £100.  Since this is a 100% bonus, to get your £100, you'll need to deposit £100. The minimal amount of money eligible for this welcome bonus is £10, and in that case, you'll get an additional £10, resulting in £20 to play with.
That's definitely not the most generous welcome bonus we saw, especially after playing on Casimba that offers 3 welcome bonuses. What about wagering requirements? Well, we have one good thing and one bad thing to mention about it.

To claim your bonus-related winnings, you'll have to wager "ONLY" the bonus awarded 45 times. To explain it better, if you get a bonus of £100, you'll need to wager 45 * £100 = £4,500. The good thing here is that you don't need to wager your deposited funds and the bad is that the requirements are pretty high.

Here's the list of games that will contribute towards meeting the requirements. If you're aiming for a 100% contribution, slots are your best bet, accompanied by scratched games and fixed-odds games. Interestingly, Betfair Casino gives a lot of variety here.
Whereas in other casinos, slots are the only games contributing to wagering requirements, here, you can also get 50% by playing blackjack, roulette, card games, and Sic Bo. A 5% contribution is saved for craps and video poker, while live casino games and other games displayed give you a 0% contribution.
Betfair Casino Promotions – Are There Some?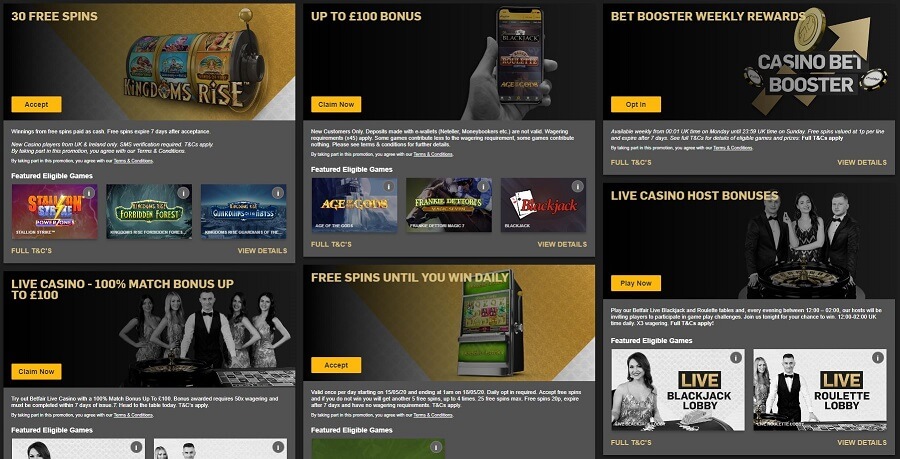 One thing where Betfair Casino exceeds in our review is promotion. Actually, the promotions, as there are 7 of them. Aside from the welcome bonus, we talked about earlier, you have a chance to win 30 free spins, get bet boosters, and so forth.
We like the addition of a live casino promotion, where you get the same welcome bonus as you'd get on an online casino. Furthermore, there are live casino host bonuses, a five-card trick, and an interesting "Free Spins Until You Win Daily" promotion.
Here, you accept the promotion and if you don't win, you get 5 free spins, up to 4 times. You can earn 25 free spins max and they expire after 7 days, which is an excellent offer. If you came here expecting highly-lucrative promotions, disappointment ain't gonna be what you'll get.
Deposit/Withdrawal Methods and Limits
Betfair is one of the top names in the UK gambling world, and as such, it's equipped with different means of payments. While some UK online casinos lack PayPal, for example, Betfair Casino doesn't, making it easy to deposit and withdraw money in a matter of seconds.
Above are all the E-Wallets you can use for depositing and withdrawing cash. Needless to say, VISA and Master Card are also here, and you can use them easily if you want, for both withdrawing and depositing cash.
As always, our suggestion is to use E-Wallets, as they take much less time to withdraw your cash. The minimum deposit on Betfair Casino is £10, regardless of the method you're using. Deposits are instant and no fees are applied.
The maximum deposit is basically limitless. You can deposit up to £99.999 and enjoy gambling on high stakes. What about withdrawals? Well, things are slightly different. The minimum withdrawal is also £10, with the upper limit being non-existent. Withdrawing large sums of money won't be a problem here.
The fastest withdrawal methods are PayPal, Neteller, and Skrill, taking up to 24 hours to process the money. However, methods like VISA and Master Card are much slower, taking up to 5 days for the same process.
Betfair Casino Game Variety & Software
If you visit Betfair's bookmaker website, you'll be impressed by the variety of sports and non-sports games that it offers. Betfair Casino isn't as overwhelming, but still far from being a bad UK online casino. Should you decide to play using a web browser, you'll be greeted by an intuitive interface with a bit of clutter here and there.
At the top, some sort of promotions always take place and when you scroll down, you can see the games you want to play. Speaking of games, approximately 340 of them are there. Of course, a majority of these games are slots, but blackjack and roulette games are more than abundant.
In fact, we're quite impressed with what Betfair Casino brought to the table. There are even some unique games like Superheroes, for example. As you can see, you even have the option to download Betfair Casino on your computer.
The app looks a bit better and cleaner, making it easy to choose the game you want to play. The same can be said for smartphones, as Betfair Casino supports both iOS and Android. Quite convenient, isn't it?
Slots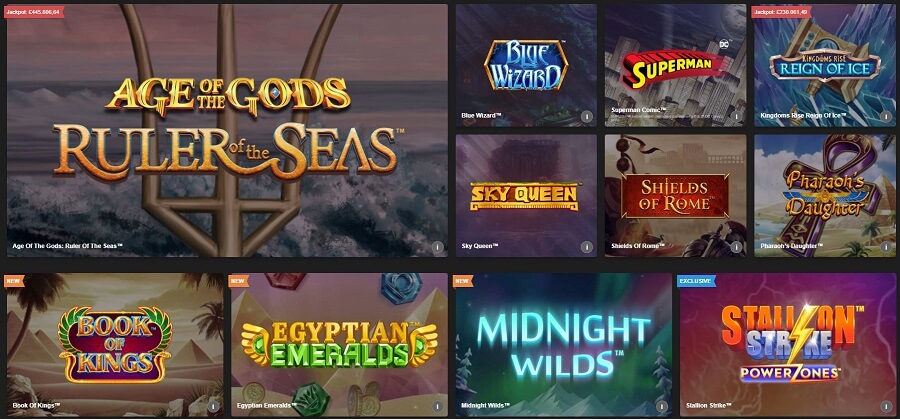 Betfair did an excellent job of including the most popular slots titles here. With around 200 slots games, you'll rarely bore yourself to death. The interesting thing is that the casino has slightly over 60% of its games dedicated to slots.
Many casinos fill out their game galore with slots, not leaving enough room for blackjack and roulette. In terms of game variety, you can expect Jackpot Giant, Fei Cui Gong Zhu, Beach Life, Buffalo Blitz, Midnight Wilds, and many more.
The RTPs for slots go from 92 to 97 percent, which is expected for this type of game.
Roulette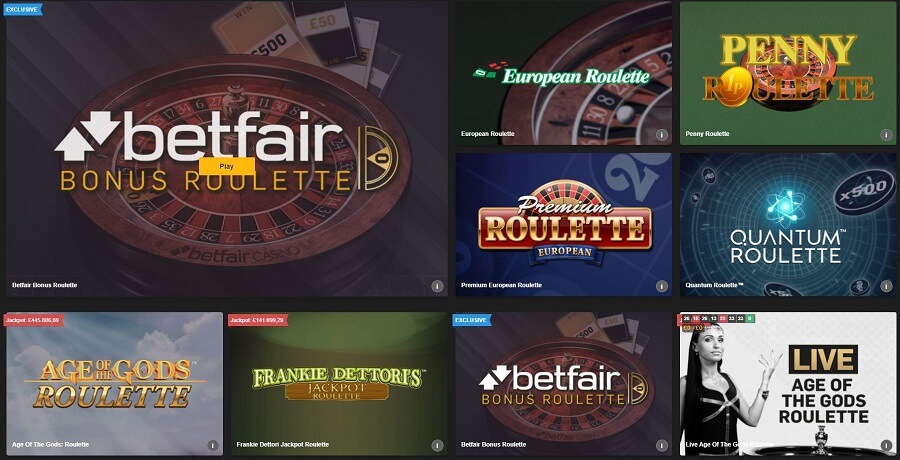 If you love spinning the roulette table and enjoying the thrill that it gives, you're in for a treat. We found out during our review that Betfair Casino includes slightly more than 40 roulette games! That's very impressive, considering that many UK online casinos include only around 20 of them.
Betfair Casino includes even its own Betfair Bonus Roulette, as well as Mini Roulette, 3D Roulette Premium, New AR Roulette, Age of the Gods Roulette, and many popular titles. RTPs for roulette games are slightly higher in the bottom limit, starting from 94 percent and ending at around 97 percent.
Blackjack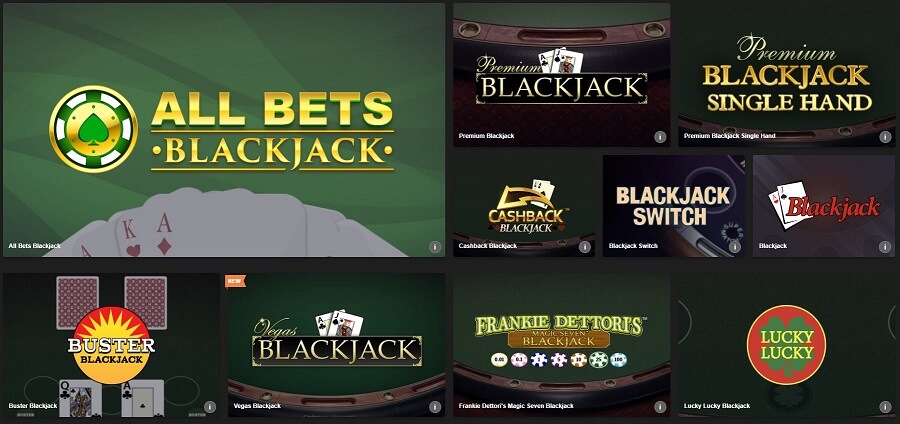 The true card lover's favorite game is almost always blackjack or any of its variants. Blackjack is truly an old-school game that millions of gamblers enjoy and thankfully, Betfair Casino offers 40 of them. Once again, this number is quite impressive.
We must mention that this is the first time during a review, we saw a clean 100% RTP on blackjack games. Here, RTPs for blackjack go from 95.5 to 100 percent, so everything you win is yours, with no cuts from the casino itself.
As for the game variety, all the most popular titles are here – Perfect Blackjack, Progressive Blackjack, Zero Blackjack, Premium Blackjack Single Hand, All Bets Blackjack, and many more.
Other Games

Other games at Betfair Casino include video poker, table games, and Superheroes. Video poker games are also quite abundant – around 20 of them are made available. They include Aces and Faces, Tens or Better, Megajacks, Casino Hold'em, Jacks or Better, etc.
Table games (around 50 of them) are well-known at this point – Craps, Sic Bo, Baccarat, Red Dog, and other interesting titles. Superheroes games are based on the superheroes like Batman, Superman, Justice League, Wonder Woman, and so forth.
Here, the majority of games are jackpots where you can win up to half a million GBP, and the best thing is that they're a lot of fun to play.
Game Providers
To wrap up this game-related section, let's review the game providers made available on Betfair Casino. This UK casino, for us, has one flaw from the get-go. It doesn't cooperate with Evolution Gaming, which is our favorite live casino game host. That's not a big deal for someone who isn't interested in playing live casino.
On the brighter side, some of the best game providers are here, such as NetEnt, Microgaming, IGT, Playtech, and Leander. While Playtech provides most of the online casino games, NetEnt hosts live casino games, and other providers participate mainly in slots, blackjack, and roulette games.
Betfair Casino Mobile Gaming Experience
We rarely get to review a casino that supports both mobile platforms – iOS and Android. Sure, every casino has its web browser version that you can access on your phone, but we always prefer having an app for that purpose.
Even better, the apps from Betfair Casino have a solid rating on both Google and Apple Stores, which is some good news. We downloaded it, tested it, and our review is pretty positive. The app might seem a bit cluttered at first, but once you take a second look, it's quite easy to use.
In the upper part, you can choose the type of game you want to play, and below, you can choose the exact game to run. More or less, all the functions are available, including the ability to play live casino and use online banking.
The ability to play live casino games is very important. However, if you have a weak internet connection, don't even try. It'll lag a lot and the video of the dealer is going to become a stuttery mess. On the other hand, online casino games look phenomenal and are brought to life with HD graphics provided by Playtech.
Betfair Live Casino – How Good is It?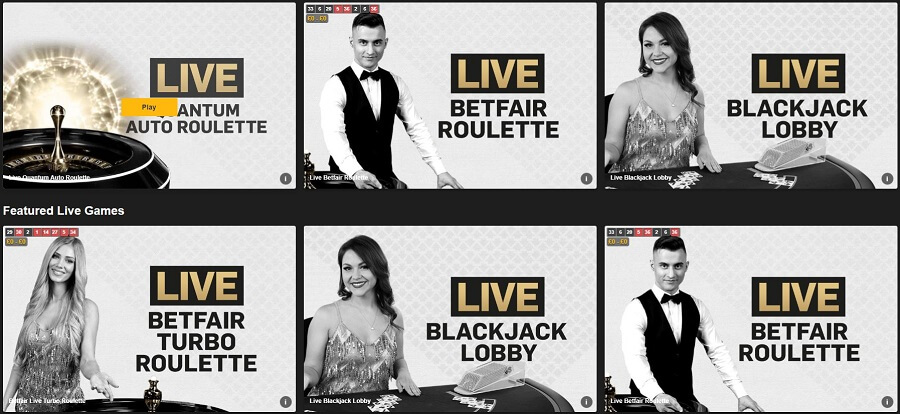 There's definitely something magical about live casinos. We don't mean to disrespect the providers that work hard on classic online casino games, but we're talking about a whole another level here. Even we, who love gambling, enter live casino games just to observe, and not always play them.
The live dealer hosting a game and bantering around with the people in live chat – precious! Oh, and the money you can get, that's even more precious. Betfair Live Casino section provides lots of different games to enjoy.
Live Blackjack Lobby, Live Betfair Roulette, and Live Quantum Auto Roulette are just some of the games you can expect here. They work quite well and they're easy to navigate and play. One problem we have with it is that they're not hosted by Evolution Gaming.
NetEnt does a great job, but we always find Evolution Gaming's interface a tad better, as it gives you slightly more options. For example, switching camera angles. Once you play around a little, you'll surely get used to it.
But, if you're a newbie, you'll almost always prefer the offerings from Evolution Gaming. As for the live casino quality, we can't say anything bad about this section of Betfair Casino platform. The game variety is solid and you'll definitely enjoy playing them once you get used to the interface.
How Fair and Secure is Betfair Casino?
Betfair is such a large player in the game that its security and fair play are not to be doubted. Still, our review of Betfair Casino won't be in-depth without this section.

These logos at the bottom of the home page tell you a broader story. We can see that Betfair Casino has a license from MGA and UKGC – to translate, Malta, and the United Kingdom. The company is stationed in Malta, but since Malta is under the UK jurisdiction, that's not a problem.
We can also see that Norton plays a part in the casino's security and with its 128-bit SSL Verisign encryption, Betfair Casino is always safe and secure. For RTP analysis, Gaming Associates (GA) is here, making sure that no game has a fixed RTP.
Betfair Casino even shows you its full address and license numbers from both UKGC and MGA. This means that the casino is not only safe and secure but is also an epitome of fairness and fair play.
Loyalty Program
Sometimes, being a loyal customer or online casino player pays a lot. Betfair Casino, aside from its 7 promotions, also offers a VIP program that everyone can participate in – that's right, everyone! We dislike the invitation-based VIP programs, but here, that's not the case.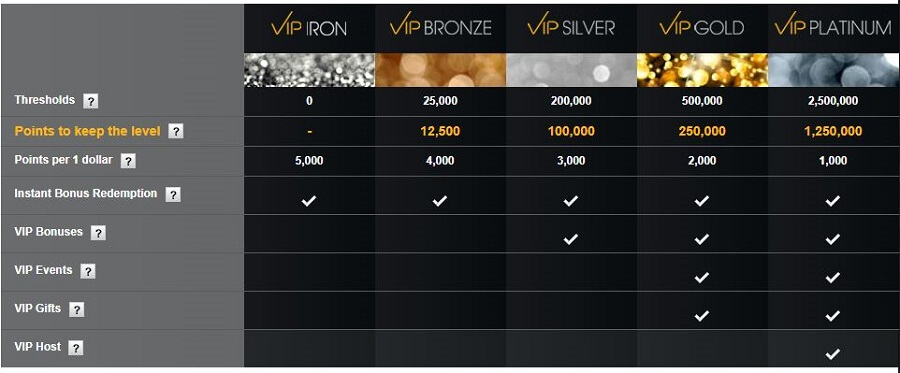 You can see that Betfair Casino has exact requirements that you need to take care of to be a VIP member. Five VIP stages are here – Iron, Bronze, Silver, Gold, and Platinum. Each class requires you to collect a certain amount of Tier Points.

You can see how to get these Tier Points. Basically, slots give you 5 of them per £1 wagered. So, if you wager £100, you'll get 500 Tier points. If you're at the Iron VIP Level, 5,000 Tier Points equal to £1 in bonus cash.
However, if you manage to get to the Platinum VIP level, you get much better rewards. Here, you just need 1,000 Tier Points for one £1 of bonus cash, and you even gain access to VIP bonuses, events, and so forth.
To maintain these levels, you need to have a certain amount of points. The yellow numbers in the table show us how many points you need. For Bronze, it's 12,500 of them, while the Platinum program requires 1,250,000 points minimum.
In short, if you manage to keep 1,250,000 points and more, you'll be a Platinum VIP member.
Betfair Casino Customer Support
Betfair Casino doesn't disappoint with its customer support, either.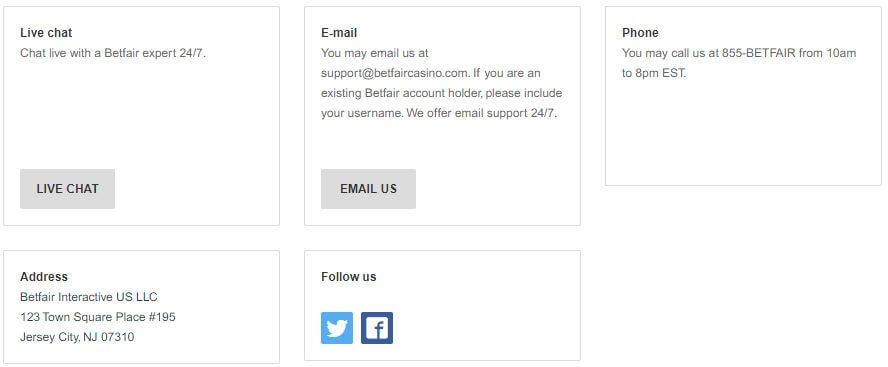 We can see that there are plenty of methods for contact. You can use the live chat functionality, email, phone, or send a letter directly to their address if you want. The live chat feature is the best option, as the customer support team is available 24/7.
Email support is also here 24/7, but you won't get very fast responses. Instead, you'll have to wait for a few hours. The phone support isn't available 24/7, but still, it's nice of Betfair Casino to include it, as you can talk about potential issues more precisely.
Conclusion – Should You Play on It?
Wrapping up our review of Betfair Casino, we have to give it a proper conclusion. If you've read the review thoroughly, you saw that Betfair Casino faired pretty well in our test. Despite its high wagering requirements and not so generous welcome bonuses, this casino will satisfy even the most demanding UK gamblers.
Without wasting a second more, we say that Betfair Casino is worth a shot and you should play on it.
We just must mention that it isn't a part of our top-ten list. UK online casinos on our list are a bit better and if you want, you can read our full ranking here.
FAQ
We still haven't answered some of the questions about Betfaire Casino in the review above. Let's do it now:
Can I take a break from gambling at Betfair Casino?
Of course, you can. Visit the Responsible Gaming section of the website to find out more. Generally speaking, Betfair Casino lets you take a break from 24 hours to 30 days. As for the self-exclusion, we're looking at a period of at least 6 months to 5 years.
How do I deposit money on my Betfair Casino account?
Simply visit your profile and choose to deposit money using any of the payment methods we mentioned.
Is Betfair Casino safe?
Yes, it is. It has a license from the UKGC, as well as from MGA, and is a well-known online casino in the United Kingdom.