Betsafe is commonly known as a bookmaker available in Europe and the UK. However, a few years back, the brand came up with Betsafe Casino that aims to do some damage to the high-end market. Admittedly, this is quite an ambitious casino that does a lot of things right. With a plethora of games and lucrative promotions, is it the choice we'd gladly recommend to our readers? Let's find out in our in-depth review about Betsafe Casino.
How to Register on Betsafe Casino?
Right of the batt, Betsafe Casino keeps things nice and clean, which can be immediately seen in the registration process. Some casinos will make you jump through the hoops like a hamster until you register your account.
However, Betsafe chooses not to, giving us only one registration step. To initiate the registration process, click on the "Create Account" button in the top-right corner.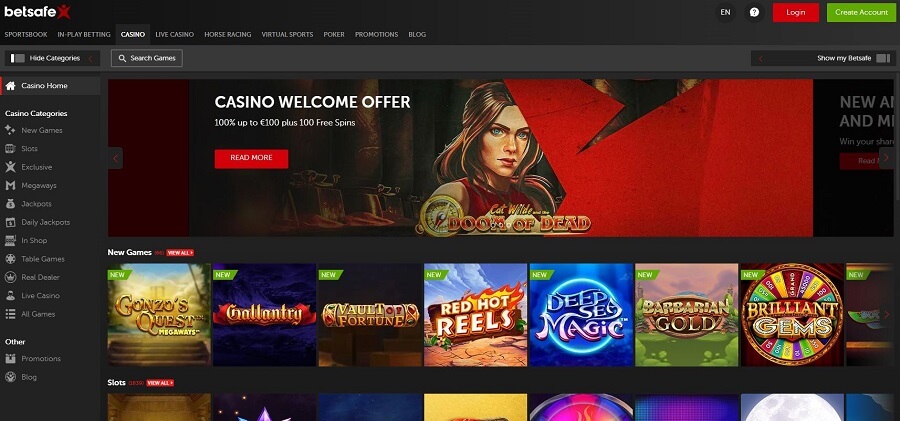 Once you do so, the registration screen will appear: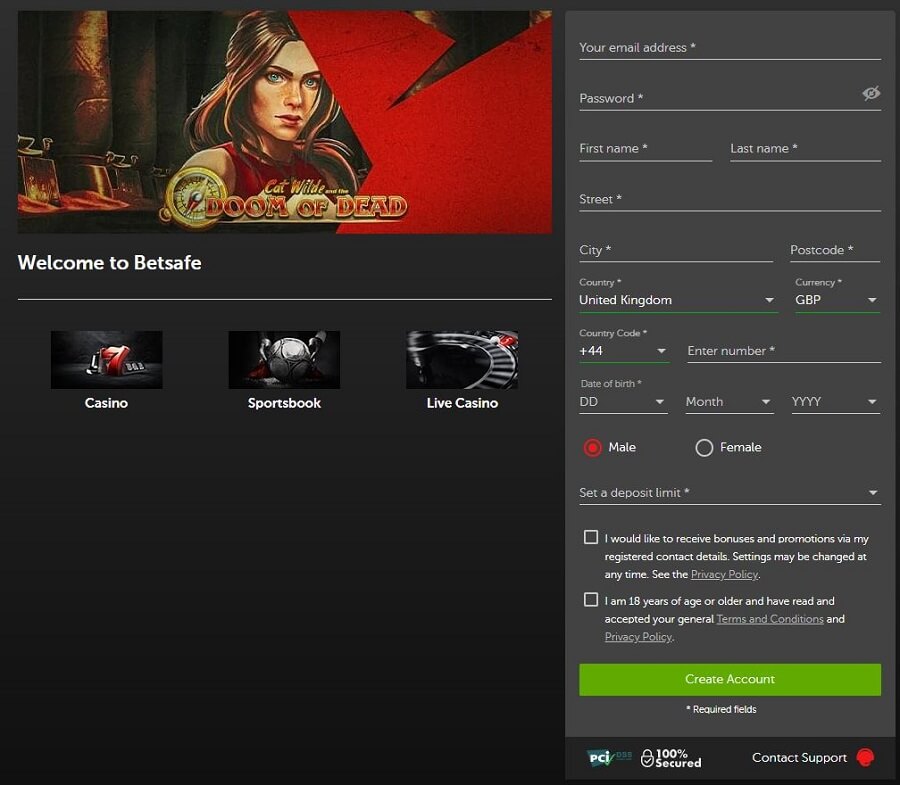 Betsafe offers, apart from the casino, live casino, and a sportsbook. But, our review today is about Betsafe Casino, so let's see how to register on it. The first thing that's required is an email address, followed by a password. Then, the casino wants your full name, as well as your address, city, postcode, and a country.
Despite being a British casino, it's not available only in that country. We were pleasantly surprised to see Eastern European countries, as well! After all, this is a European brand that's widespread throughout entire Europe.
Nevertheless, this information is crucial for registering an account, as it needs to be 100% genuine. Don't forget to choose your currency and enter a mobile number for verifying your account later on. Lastly, enter your date of birth and choose your gender.
If you're from the UK, you'll get to tick this box for promotions and bonuses. Do so if you want, but we don't recommend it unless you love hearing your phone ringing constantly. Also, don't forget to set a deposit limit and tick the box that confirms that you're over 18 years old.
After doing everything, click Create Account and that's all. The casino will register your account and transfer you to the cashier where you can deposit cash, verify the account, and so forth.
Verification Process – What Do You Need?
Speaking of verification, Betsafe Casino, once again, keeps things as simple as possible. Wich is always a great news regarding our review! Verification is a mandatory thing on UK online casinos that every user must go through. Given that the money is spinning fast, every casino must know where its money goes and to whom.
Betsafe Casino is very transparent when it comes to verifying your account. On top of that, they have a whole FAQ section dedicated to it, so let's analyze it now.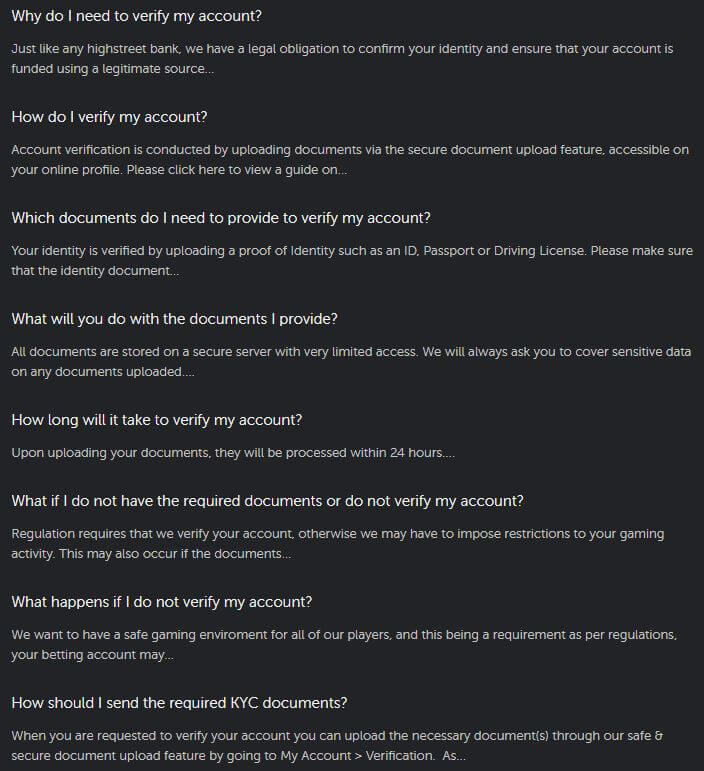 Verification at Betsafe Casino is done by taking photos of the required documents, uploading them on the website, and waiting for the support team to get back to you. The question is – which documents do I need?
More or less, every casino will require the same documents, with some addition here and there. To verify your age, you need either a national ID, passport, or driving license. Take a quality photo of the document and make sure that your birth date, image, and everything else is visible.
Betsafe Casino requires another verification – the address. To verify your address, take a photo of a utility bill or a bank statement not older than 3 months. Make sure that the address is visible, as well as the stamp of the corresponding regulatory body.
If everything's genuine and done properly, you'll have no problems with this process. Of course, if you don't verify your account, the casino will restrict your gaming activities or even ban your account altogether.
Betsafe Casino Welcome Bonus – Is It Generous?

Now that we got the boring stuff out of the way in this review and test, let's talk about the real deal on Betsafe Casino – welcome bonus. Welcome bonuses are very important on UK online casinos, as they give you a proper boost to start off your gambling journey.
We like it when the welcome bonus is generous but we also like it when you can wager it easily. At first, the casino's welcome bonus sounds and looks really good. You get a 100% bonus, up to £100, plus 100 free spins. However, that means nothing until we take a look at its conditions.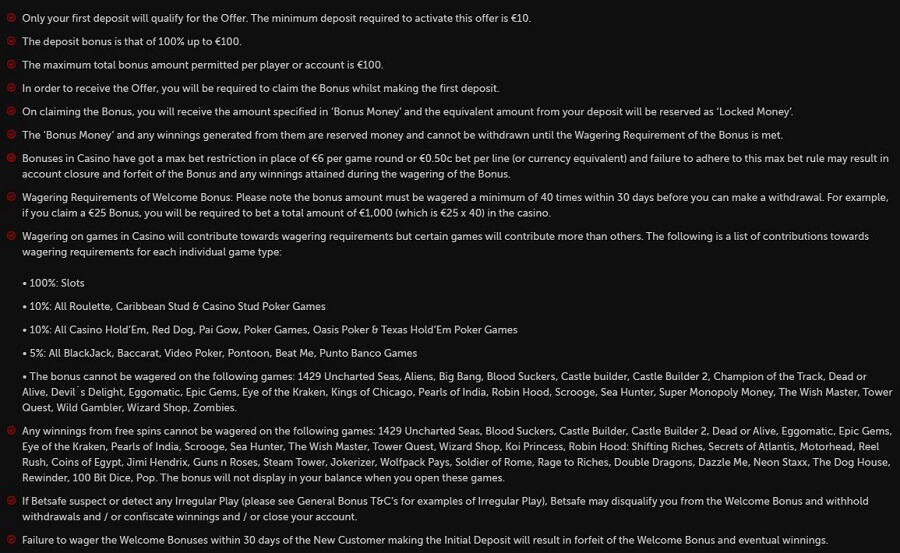 The minimum deposit eligible for a welcome bonus is £10, as we can see. Given that it's a 100% bonus, if you deposit £10, you'll get only £10 as a bonus. Conversely, the maximum bonus is £100 and you can get it if you deposit £100.
We can see the other conditions in the image that you can read, but we're mostly interested in wagering requirements and wagering contributions. Betsafe Casino's bonus needs to be wagered 40 times in 30 days before you can withdraw your bonus-related winnings.
Luckily, the wagering requirements apply only to the bonus, so if you get £20, for example, you'll need to wager £25 * 40 = £1,000. Slots are the only games with 100% wagering contributions, while roulette, poker, and blackjack games give 10%, 10%, and 5% respectively.
Apart from a cash bonus, Betsafe Casino gives you 100 free spins for "Cat Wilde and the Doom of the Dead", which requires a minimum deposit of £30. With free spins worth £0.10 each, you must wager them 35 times within 3 days to withdraw your bonus-related winnings.

We like the addition of free spins, but we don't like that you must deposit at least £30. This means that, if you want this bonus, a £10 deposit will not suffice. You'll need to deposit £30+ to get both bonuses. Not to mention wagering requirements that are really high, albeit, they only apply to the bonus and not your deposited funds.
Betsafe Casino Promotions – Are There Some?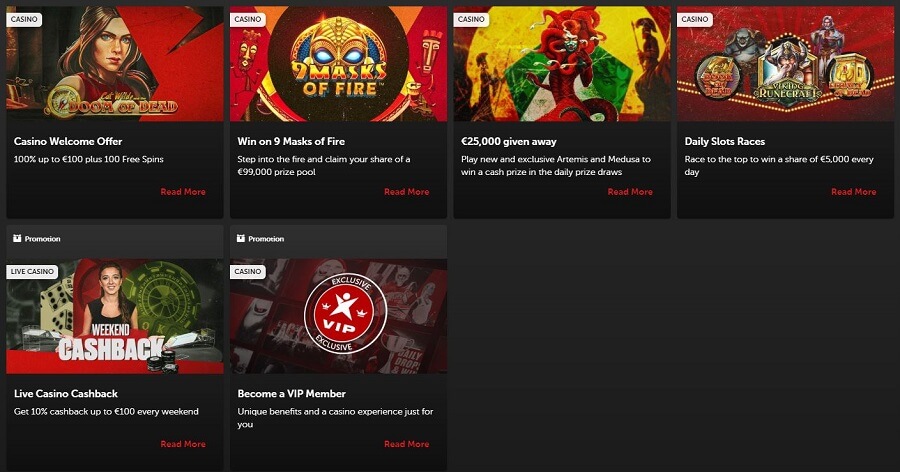 Promotions are a great way to keep your existing players around. UK online casinos are pretty generous (for the most part) in this department, so it's not strange to see Betsafe Casino repeating the same thing. At the time of writing the review, there were 6 quality promotions available on Betsafe Casino.
Beware that this might change, depending on when you've read our in-depth review. Talking about all of them would take a whole lot of time. What we're going to do instead is mention two promotions that we like the most.
The first promotion is called Artemis and Medusa. This promotion lets you win some big cash from the huge £25,000 prize pool. As its name implies, the promotion is related to Artemis and Medusa, a popular slots game, where you need to wager at least £20, which will give you one entry to the prize draw.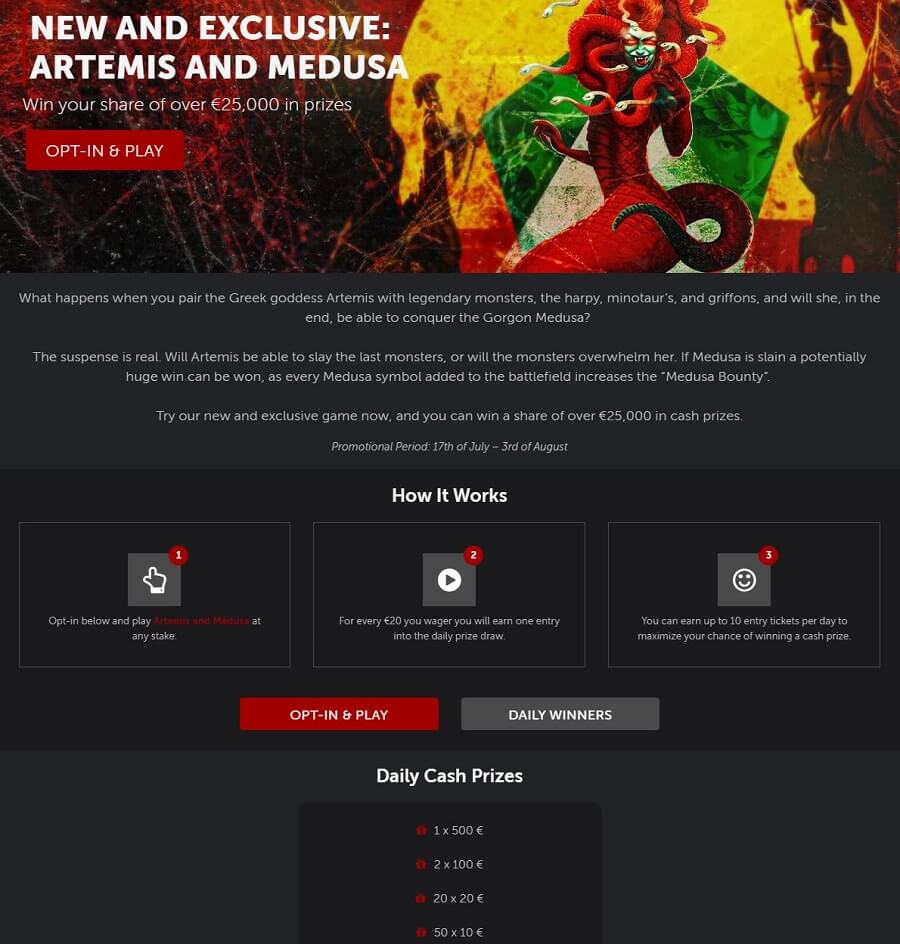 You can win a maximum of 10 entries a day, which will maximize your chances of winning money. The casino gives one reward of £500, two of £100, twenty of £20, and fifty of £10. This means that 72 players can win at least something in free cash, with NO wagering requirements!
What about 9 Masks of Fire? This game became quite popular in recent months, with multiple casinos promoting it, including STS Casino and a few more. This is, of course, a slots game, that lets you win some sweet cash from the £99,000 cash pool.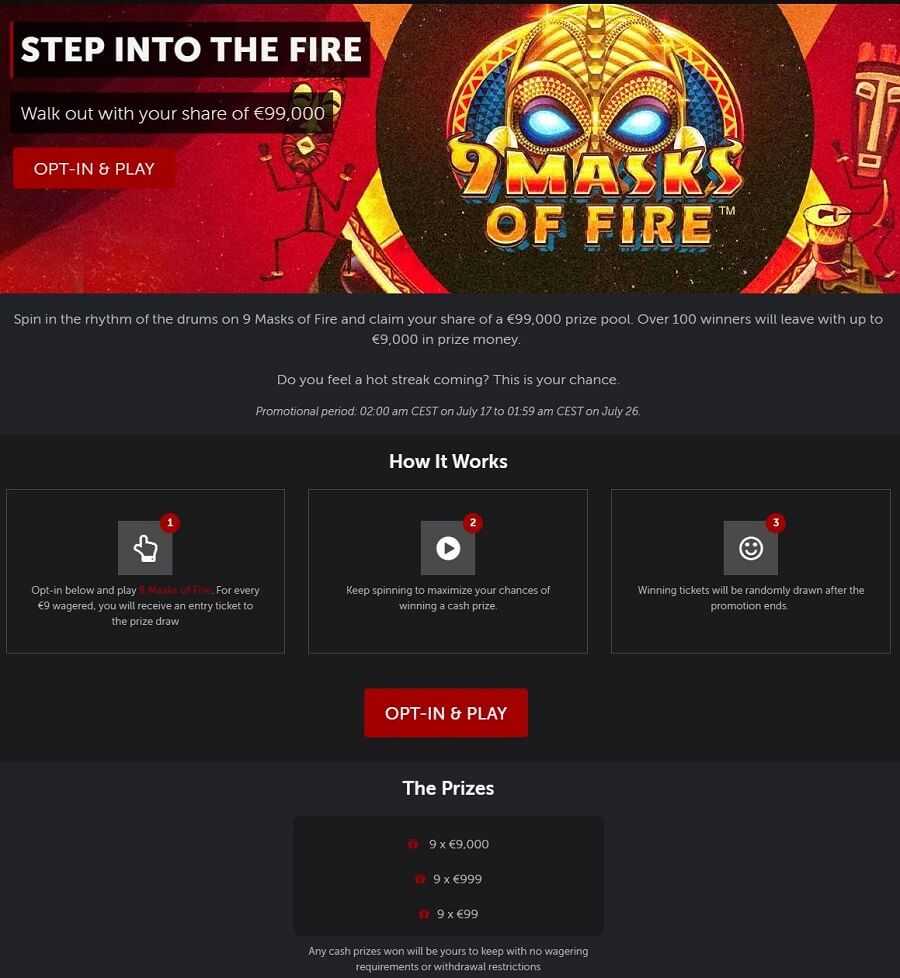 The rules are pretty much the same, as you only need to spin to gain entry into the prize draw. Here, though, the rewards are much bigger, giving you the possibility to win up to £9,000 with no wagering requirements.
All in all, Betsafe Casino did a really good job of introducing enticing and rewarding promotions, so we can't complain and won't complain.
Deposit/Withdrawal Methods and Limits

If you've registered your account and you're looking to deposit some money, you need to take a look at the payment methods offered. Betsafe Casino doesn't try anything special. Instead, it adheres to the old-but-gold rules of online banking.
There's PayPal, VISA, Neteller, Skrill, MasterCard, and other popular payment methods. What we like here is that the casino makes it clear which payment methods it offers and gives extra information about each of them.
For the start, we'll just say that the minimum deposit is £10, while the maximum deposit can be controlled by you. It can even be limitless if you want!
Let's start this section of our review by talking about the deposit methods. All deposits on Betsafe Casino are instant, with no fees – for the most part. Users who use VISA or MasterCard can expect a fee of up to 2.5%, but that's the bank's cut – not the casino's.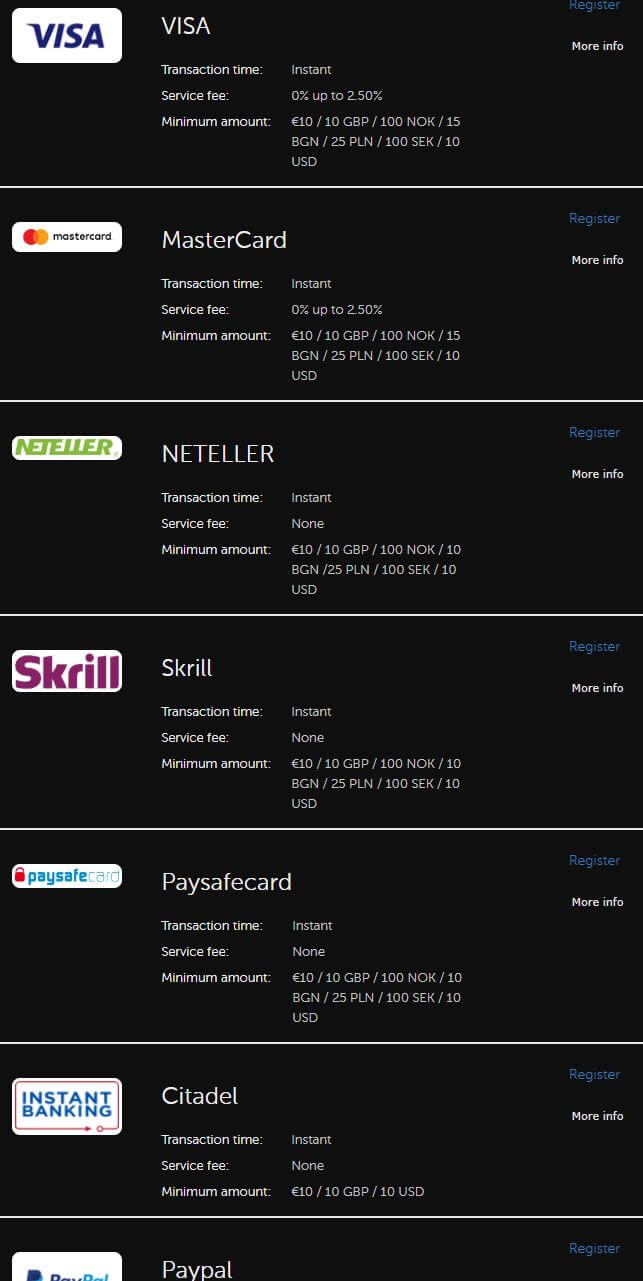 Every deposit method follows the same rule – the minimum deposit of £10, except for PayPal, which requires £20.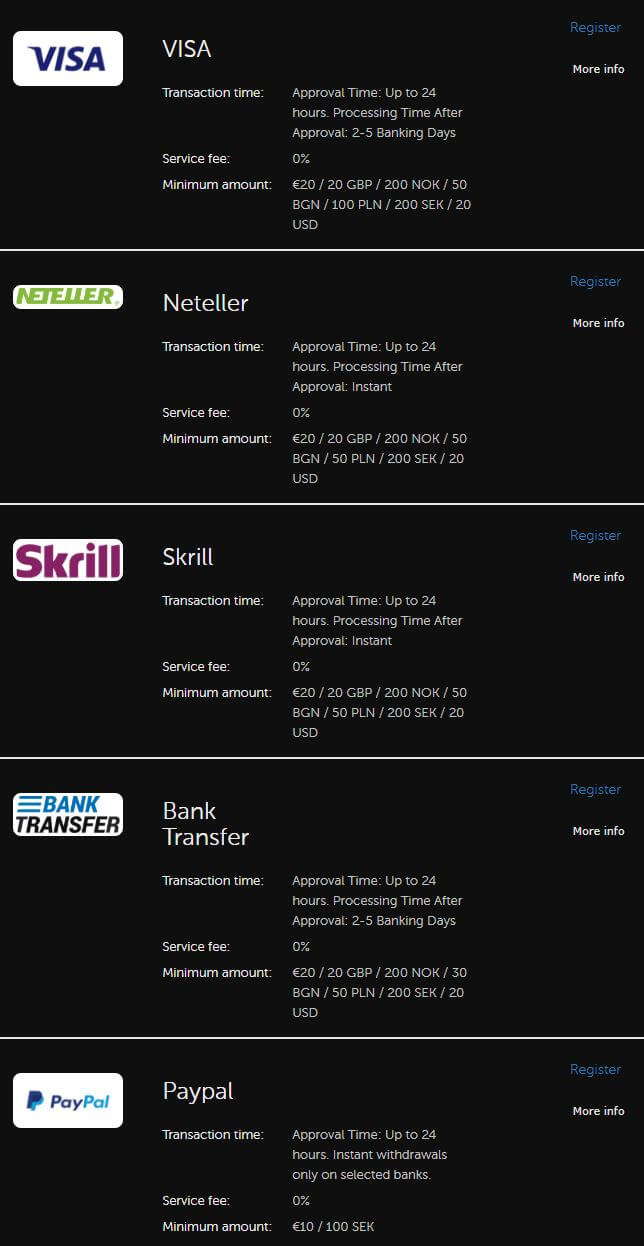 The image above shows withdrawal methods. All minimum withdrawals are £20, with PayPal giving you the possibility to go as low as £10. The slower withdrawal methods here are VISA and Bank Transfer. Both of them take from 2 to 5 banking days, with no fees.
For withdrawing, we recommend PayPal, Skrill, or Neteller, that'll let you withdraw your money in 24 hours. Of course, with no fees 😉
Betsafe Casino Game Variety & Software
Betsafe Casino offers an intuitive interface, with games, categories, and promotions perfectly laid up. Even the newcomers will find their way around the site, thanks to the simplicity it offers.
Honestly, we like the site's dark theme, unlike Playzee, which has a colorful interface with a white background. In our Playzee review, you'll see that we liked that interface as well, but after a while, your eyes start to hurt. On Betsafe Casino, that's not going to happen.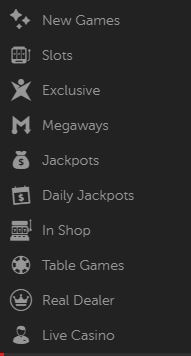 The casino doesn't offer any apps for the PC, but on the brighter side, there are apps for iOS and Android. More about them later.
In terms of games, the casino is great quantity-wise. There are around 1,200 games here, ranging from slots, table games, roulette, blackjack, and megaways. While gaming variety isn't perfect, you'll definitely be able to enjoy some popular titles, depending on the game you want to play.
Slots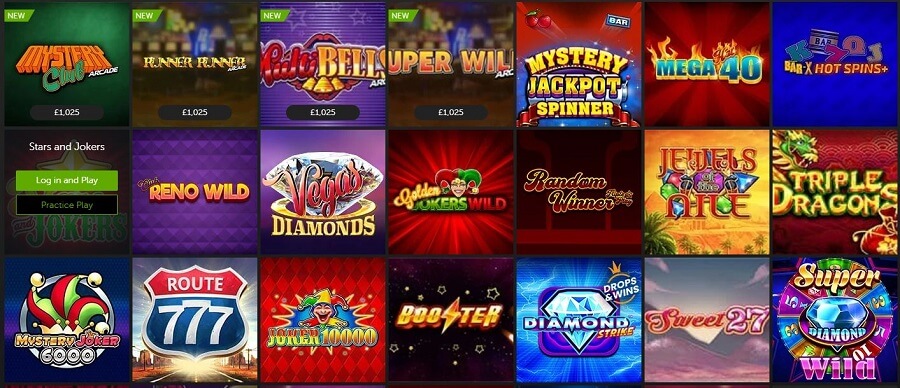 At every online casino site, slots are the most abundant games. Admittedly, this is one of the least popular types of games, with not so many players. However, slots are very important for meeting the wagering requirements on different online casinos.
Betsafe Casino offers roughly around 1,000 slots, with all the bells and whistles i.e. popular games. You can expect titles like Guns N' Roses, Wild Neon, Gonzo's Quest, Starburst, Red Hot Reels, Big Bad Wolf, and many more. The RTP (Return to Player) for this type of game often isn't the highest.
Here, it ranges from 89% to 99%, counting both traditional and video slots. The upper limit of 99% is pretty impressive, given that this RTP is usually reserved for blackjack games. But, with the lowest number being so low, expect to lose up to 11% of your winnings at some games (you win £100, you get £89).
Table Games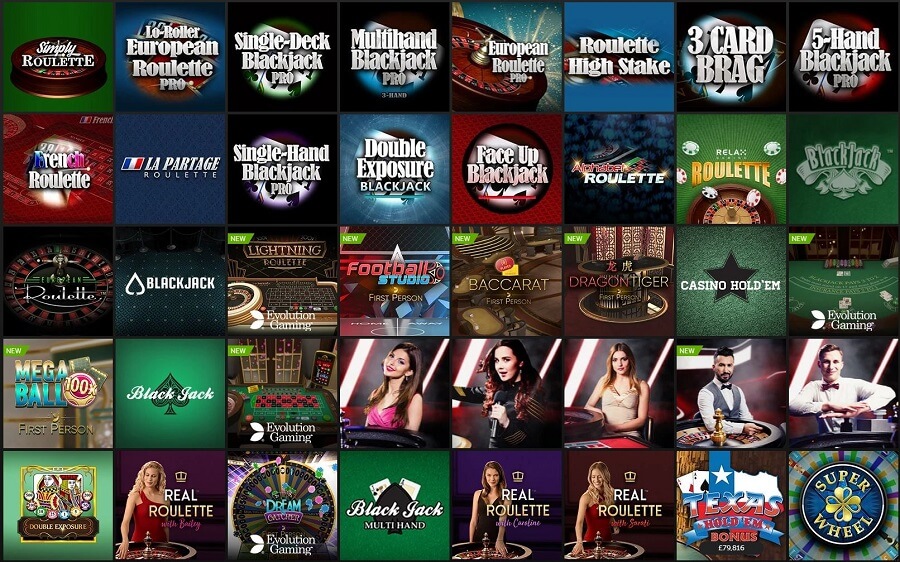 There are a lot of table games at this online casino. We counted around 100 of them, including variants of blackjack, roulette, poker, and other games. We don't like that the casino didn't make special categories for blackjack and roulette, but since 100 is still not a very big number, you can still find your way around.
Let's start with roulette games. We managed to dig out 12 of them, including French Roulette Low/High Stakes, American Roulette, European Roulette Pro, and High Limit Roulette. As for blackjack, around 30 titles are on the list.
Some of the titles are Single-Deck Blackjack Pro, Blackjack Multihand, 5-Hand Blackjack Pro, Face Up Blackjack, and many more. Apart from these games, there's a multitude of baccarat and poker variants.
You can expect to play games like Red Dog, Caribbean Stud, Jacks or Better, Deuces Wild, Aces & Faces, etc. RTPs for table games on Betsafe Casino vary from 94% to 99.9%. The highest RTP is for blackjack, obviously (99.9%), while other games go up to 98.3% on average.
Jackpots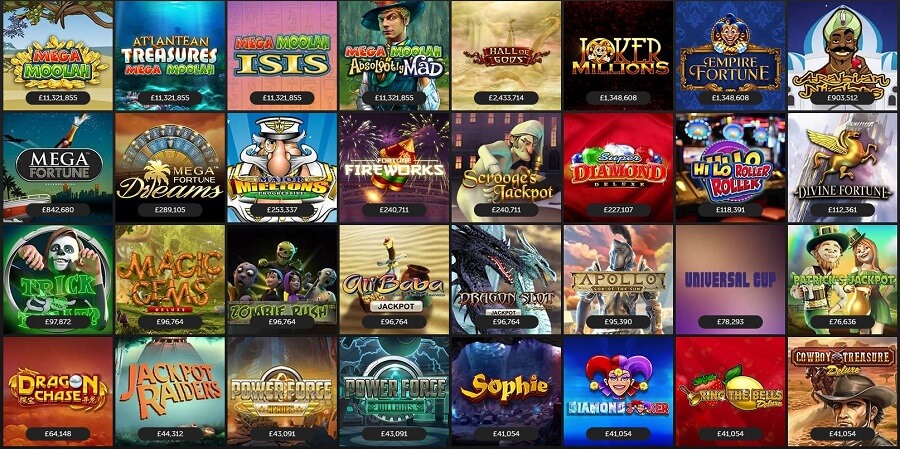 Given the sheer number of slots, Betsafe Casino did an excellent job of providing literally dozens of jackpots. Just look at the image above and you'll see what we're talking about. The jackpot prize on Betsafe Casino was around £11,300,000 at the time of writing the review, which is a shockingly high price.
Moreover, you'll enjoy playing these games due to the titles that are included – Mega Moolah Isis, Joker Millions, Mega Moolah, Dragon Chase, and so forth.
Game Providers
Betsafe Casino works with a few of game providers that make the casino games come to life. Sure, there aren't dozen of them but names like Microgaming, IGT, NetEnt, and Evolution Gaming will surely ring the bell.
NetEnt provides a lot of online casino games, while Evolution Gaming is focused more on live casino games. Other providers you can expect here are Ongame, NYX, Play'N Go, and Yggdrasil. Not a whole lot but with these names in the game, who needs anything more?!
Betsafe Casino Mobile Gaming Experience
If you're a fan of mobile gambling, you might want to check out Betsafe Casino's mobile apps. Interestingly, the site offers its Android app directly on the website, while the iOS app is available on the Apple Store.
Therefore, we can't see how well or poorly rated the app is on the Google Play Store. Since we use an iPhone, we can download the app and see how it works. As you can see in the image above, the app is really bad, judging by 21 ratings. It has a 1.7-star rating, with not a lot of positive reviews.
In recent times, though, Betsafe Casino's app started to become pretty good, giving us a decent gambling experience while doing this review. Sure, it's not on the level of Mansion Casino, but it's serviceable.
We like that the app looks exactly like the website, with a decent mobile adaptation. Up top, you can see the promotions, and underneath that, the games of the selected category are listed. Games can easily be accessed from the home screen, letting you jump right into the action.
For additional settings, you can open the side menu in the top-left corner. Here, you can tweak the app settings, use online banking options, or change some stuff about your profile. Live casino is also available, but if you don't have a stable connection, you can expect some lags and stutters.
Overall, we're pleased with the app's functionality that even allows you to enjoy the Betsafe sportsbook, all within the SAME app.
Betsafe Live Casino – How Good is It?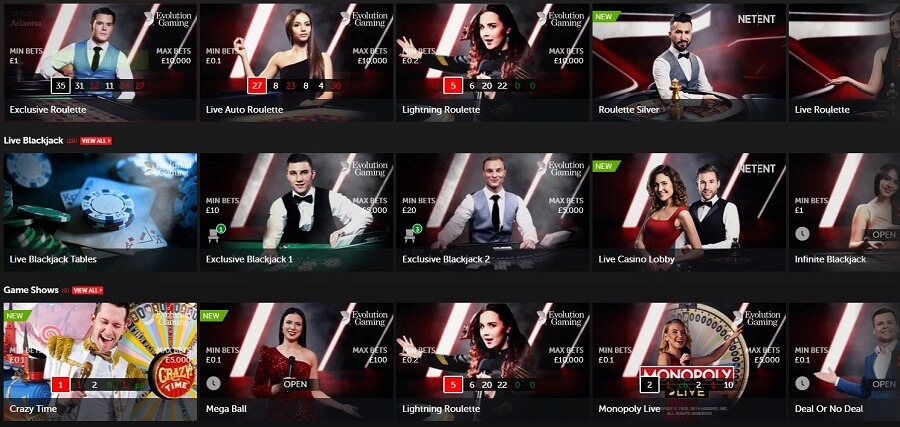 UK online casinos usually work with two main live casino providers – NetEnt and Evolution Gaming. With these two companies in place, it's guaranteed that your gambling experience will be the greatest possible.
First off, we need to mention the game variety, which is pretty impressive. You get some proprietary games, but also titles like Monopoly Live, Mega Ball, Exclusive Roulette, Lightning Roulette, and Infinite Blackjack.
Both providers do a great job of making gambling as fun as possible, all while keeping things clean and simple. The gambling interface resides at the bottom, where you can place bets, increase the stake, and use the live chat.
Live chat lets you discuss with a dealer or other players, crack some high-school jokes, or whatever you want. Furthermore, the casino lets you change camera angles for certain games, or mute the sound if you want to enjoy some silence.
Live casino is so much fun if done right. With everything we experienced at Betsafe Live Casino while doing this complete review, we can confidently say that it's worth a shot.
How Fair and Secure is Betsafe Casino?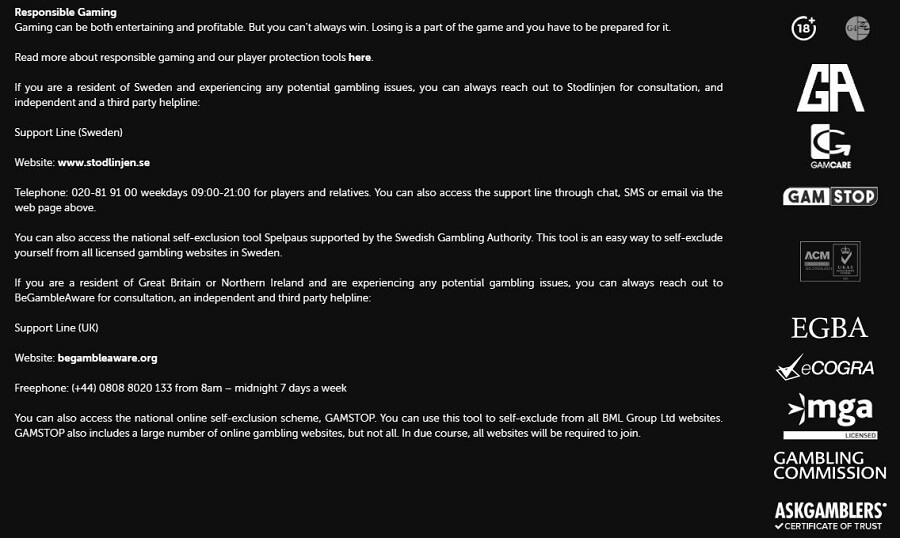 Betsafe Casino tries its best to stay user-friendly and make the gamblers feel like home. This casino's company name is BML Group Limited, a company based in Malta, with a very good reputation in the gambling world.
Although it's based in Malta, the casino's parent company is actually Betsson AB from Sweden. That's why it has not only a license from the UKGC but also from MGA and Sweden.
In the image above, we can see multiple responsible gambling companies, as well as this AskGamblers certificate of trust, which proves that the casino is trustworthy and fair. As for responsible gambling, companies like GamStop, GamCare, and GA participate in making gambling fun, and not addictive.
eCOGRA does its job when it comes to RTP analysis, while IT security is provided by VeriSign SSL. Unlike other UK online casinos, Betsafe uses TLS 1.2 RSA Key for security, which will ensure that your payments and personal information are safe.
This company, BML, even won a few EGR awards, which makes it clear that Betsafe Casino is safe, secure, and fair.
Loyalty Program

To accompany its great promotions, Betsafe Casino even includes a VIP program that you can participate in. This VIP program offers everything that a passionate gambler will appreciate. From a dedicated VIP team to faster withdrawals, personalized offers, and better rewards – everything will be yours to take!
There must be a catch, right? Exactly.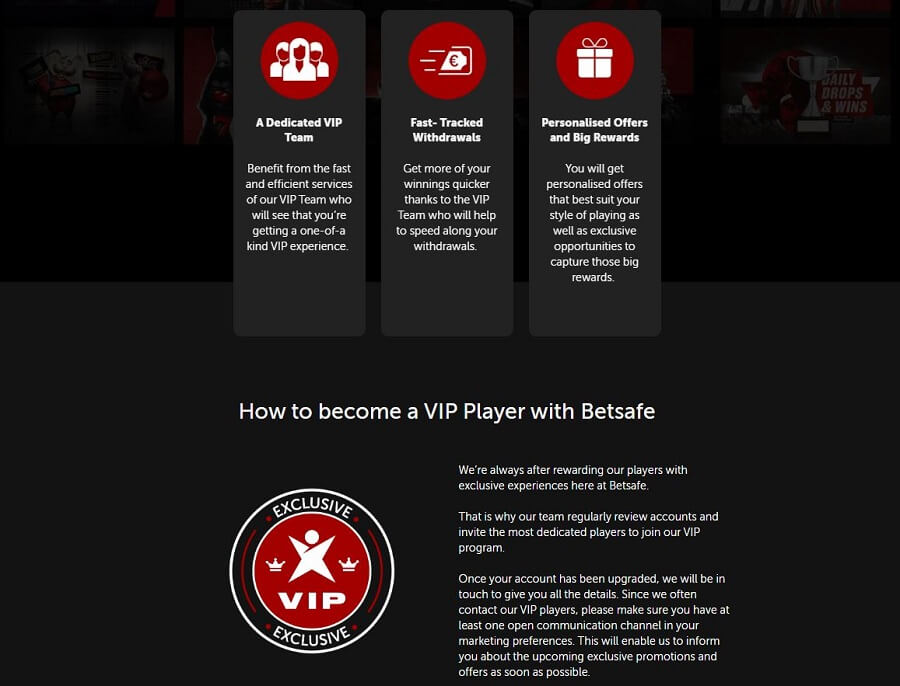 The VIP program is invitation-based and there's no guideline on how to play to make the casino invite you. So, you just have to wander around, play, wager, and invest big money, and hope for the best.
We prefer loyalty programs where you collect comp or loyalty points and make your way to the top. Here, that's not the case, which will make it a lot harder to figure out how to build your loyalty level to the VIP magnitude.
Betsafe Casino Customer Support

Customer support at Betsafe Casino is decent and can fix the potential problems pretty quickly. There are three methods for contacting the support team – by live chat, by email, and a callback.
If you chose to use live chat, typical response time would be 30 seconds, which is pretty fast. For this review, we tested it on a Sunday and found out that it's, more or less, true. Email support is a bit slower, and theoretically, you get a response in 30 to 60 minutes.
However, our experience showed that it's a bit longer, which isn't something to worry about, as we've seen much slower times. Lastly, a callback might be an option if you can't explain your problem while writing.
In that case, a member of the support team will contact you in around one hour. The Betsafe support team is knowledgeable and helpful, but most importantly, it's really available 24/7.
Conclusion – Should You Play on It?
With everything said in the review, it's time to answer the crucial question – is Betsafe Casino worth your time?
If you register on this online casino, you won't go wrong. It has a decent choice of games, outstanding live casino experience, and lots of promotions that are easy to win. What we didn't like is that the welcome bonus takes a lot of work to wager and the loyalty program is only invitation-based, making it inaccessible for most players.
Our suggestion, however, is Mansion Casino, which is the best UK online casino. It's much better in terms of bonuses, promotions, and even regarding VIP program which you can easily participate in.
FAQ
Let's end our review with a short FAQ section regarding Betsafe Online Casino.
⚠️ Is Betsafe Casino legit?
Yes, Betsafe Casino is indeed legit. It's a fully licensed company with three licenses – MGA, UKGC, and a license from Sweden. You can expect a completely fair gambling experience with no cut corners or fixed RTPs.
⏳ How long do withdrawals on Betsafe Casino take?
Withdrawals on this casino take from 2 to 5 days if you're using credit/debit cards or Bank Transfer. However, those who use PayPal, Skrill, or Neteller, can expect the withdrawals to be processed in 24 hours.
📌 Who owns Betsafe Casino?
Betsafe Casino is owned by Betsson AB, which is a Swedish company. Simply put, this is one of the largest European casinos available in the United Kingdom. Needless to say, Betsson AB is a respected company that leads its business for quite some time.