BetVictor is already a well-known betting brand that serves thousands of people in the United Kingdom. But, apart from betting, this brand offers an extensive online casino and even gives you a welcome bonus for it when you claim the one at the sportsbook. Laying a proper foundation for you to start gambling, the question is: Is BetVictor's online casino any good? Well, if you stay with us, we'll determine that in our in-depth review of BetVictor casino.
How to Register on BetVictor Casino?
Registering on BetVictor casino is very simple, as the same registration process applies to both casino and a sportsbook. If you're not acquainted with that, feel free to read our review of BetVictor bookmaker. For now, though, let's go through that process again, to make sure that you got everything clearly.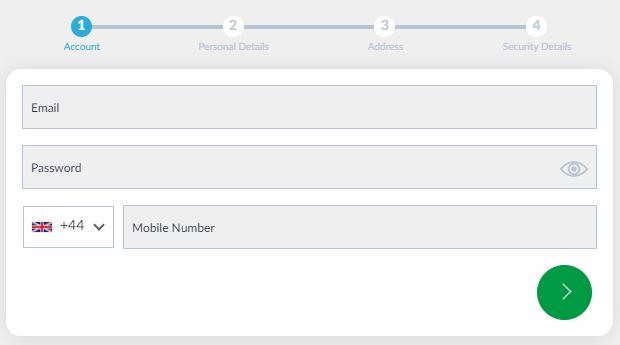 First off, in the upper portion of the home screen, there's a registration button. Once you click on it, a 4-step registration process will initiate. The first step is, obviously, the easiest one. It requires your email, password, and a mobile number.
The mobile number doesn't necessarily have to be from the UK, which is interesting, given that the bookmaker is mainly available in this country. Type in your mobile number and click on the green button with the arrow pointing to the right.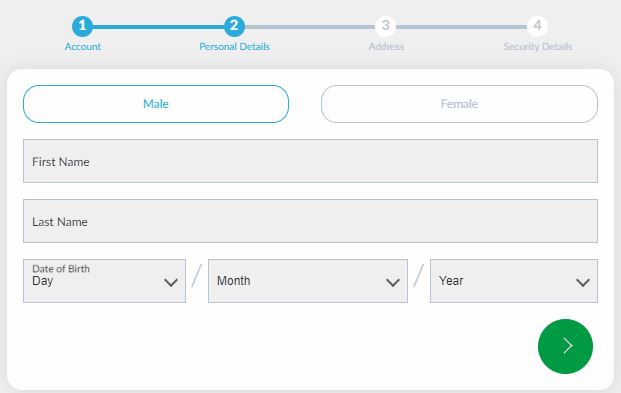 The second step is mandatory and requires you to enter completely genuine information about your full name, date of birth, and gender. Everything must be the same as in your ID or passport because some of these documents are later used for verification. Once again, click on the green button to proceed.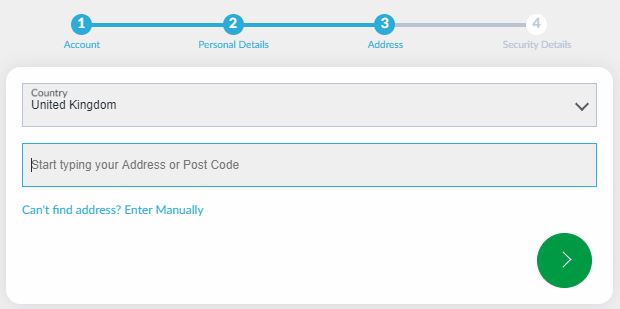 Another crucial information is your address. Select the country, which is the UK in our case and start typing your address. In 99.99% of cases, the site will find your address, so you just need to click on it and proceed.
But, if you did everything right and the address still doesn't appear, you can enter it manually – your choice.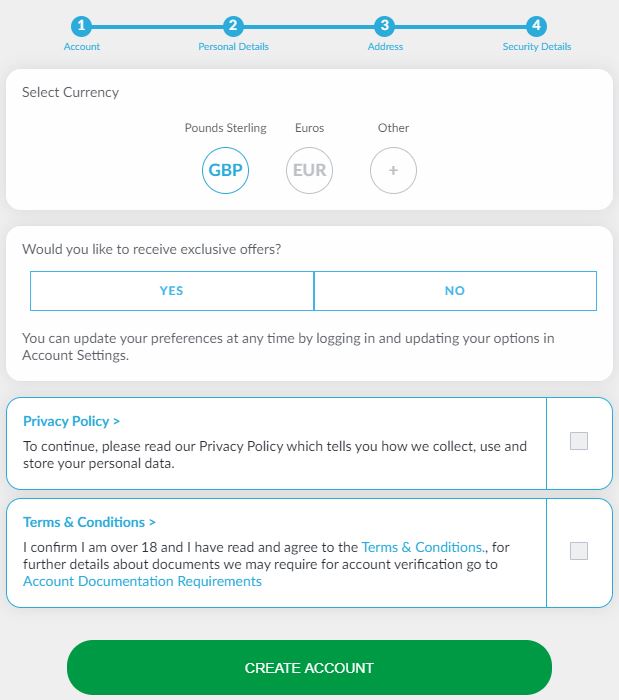 Now that you've completed all the steps, the only thing that remains is the final touch. If you're from the UK, as we are, we recommend choosing Pounds Sterling as your currency. Alternatively, you can go for Euros, Dollars, and many other currencies.
As for exclusive offers, we always click on NO because we don't want tons of spam emails and SMS. Of course, you can do what you want.
Lastly, tick the boxes that you consent with the privacy policy and T&C, and choose Create Account. The registration process isn't the shortest but it's easy enough to make your account in less than 3 minutes.
Verification Process – What Do You need?
The verification process is, more or less, the same in every online casino in the UK. However, some casinos include additional steps, such as verifying your payment methods, and so forth. There are tons of documents that a casino might want from you but as a rule of thumb, a few of them are enough.
Here's what BetVictor Casino has to say about that: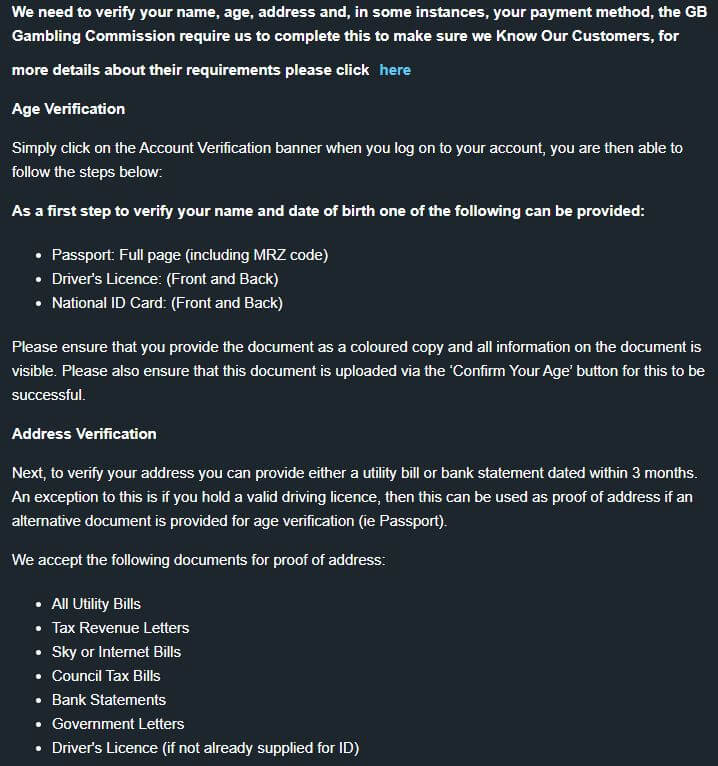 There are two types of verification here – age and address verification. Let's review them and see how to successfully complete them.
Age verification is quite simple and requires either a passport, driver's license, or national ID card. These documents need to be photographed well so that every bit of information can be seen. BetVictor Casino states that you need to upload the documents via the "Confirm Your Age" button.
With your age verified, it's time to verify your address, and if you pay your bills on time, this shouldn't be a problem. Utility bills are those that contain your address, but so are tax revenue letters, council tax bills, bank statements, and so forth.
Make sure that the document you sent isn't older than 3 months, though.
As soon as you send the required documentation, BetVictor Casino will almost instantaneously verify your account, letting you enjoy gambling pretty much immediately. It was the case for us while doing this 2021 review of BetVictor casino.
BetVictor Casino Welcome Bonus – Is It Generous?

BetVictor, as a gambling/betting brand, is known for generous welcome bonuses that new customers can easily get. For example, in its sportsbook, you get a £20 bonus for betting and a £10 bonus for the online casino.
But what if you register and you immediately want to play casino games, without claiming the sportsbook bonus? In that case, you have a much larger welcome offer. As we can see, BetVictor Casino gives you a £70 bonus that is split into several categories. To explain it better, let's check the bonus conditions: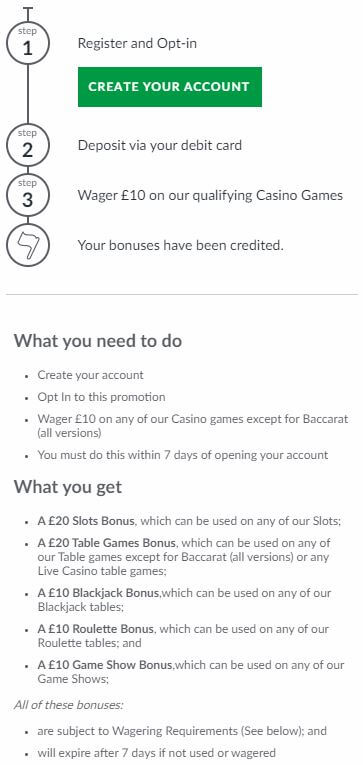 First, you'll need to deposit your money via debit card and wager £10 on the qualifying casino games. After that, you get the following bonus:
A £20 slots bonus
A £20 table games bonus
A £10 blackjack bonus
A £10 roulette bonus
A £10 game show bonus
If you do the math, it's exactly £70. BetVictor complicated this a bit more than it should, but every welcome bonus from the list above has its wagering requirements.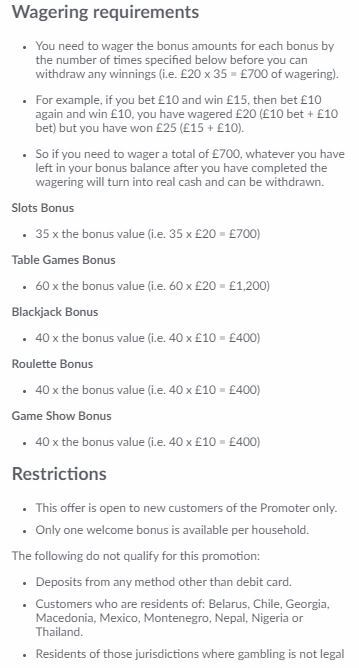 The lowest wagering requirements are 35 times and they apply for the slots bonus. If you get your £20 bonus, you'll need to wager a total of £700 to withdraw your bonus-related funds (35 * £20 = £700).
However, if you decide to wager your game show, roulette, or blackjack bonuses, the wagering requirements of 40 times will apply. So, if you get £10, you'll have to wager £400 to withdraw your funds.
Lastly, for the table games bonus, the wagering requirements are 60 times, and since the bonus is £20, you'll need to wager £1,200, which is quite a lot.
Honestly, we don't find this bonus convenient or easy to wager. In the end, you'll probably lose everything and be left without a bonus. Not to mention that the bonus itself isn't generous. Mansion Casino gives you a £500 bonus with similar wagering requirements, and you'll agree that £500 is MUCH more than £70.
BetVictor Casino Promotions – Are There Some?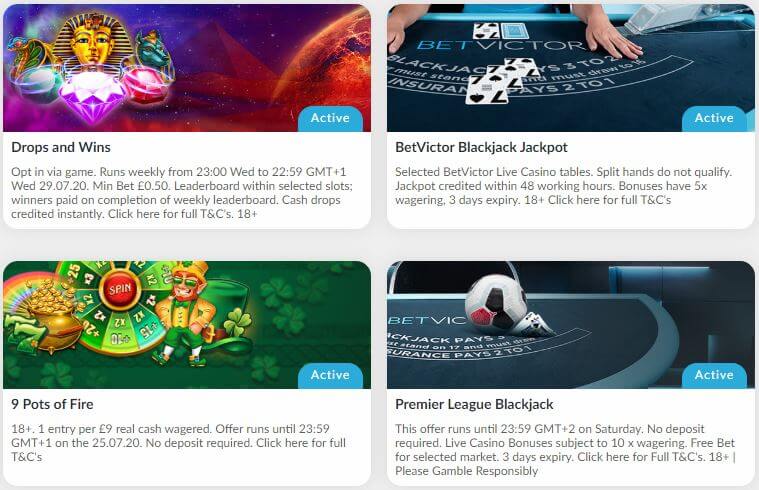 BetVictor is primarily a sports-betting brand, which can be easily seen in its promotions. On the left, we have two casino promotions and on the right, the casino promotions are mixed with sports. You can see the Premier League Blackjack, for example, which is the casino's proprietary game.
Let's check out two promotions that we liked while doing this review. The first one is called Drops and Wins. Drops and Wins is a particular type of game at BetVictor Casino, which plays similarly to slots.
You need to launch any of the games from that category shown in the image above, and you have the chance to win some decent rewards.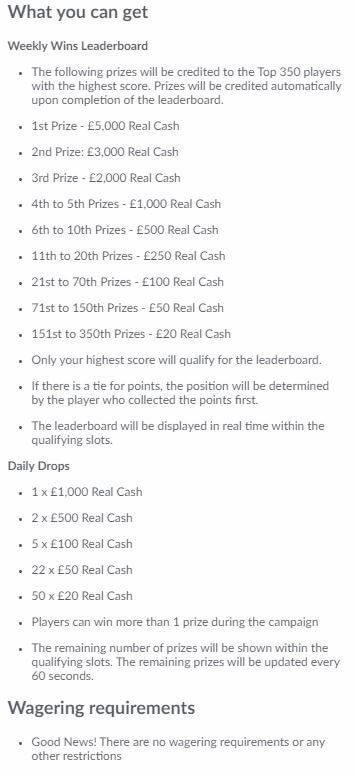 Depending on your place on the leaderboard, you can win up to £5,000 in real cash, and even if you're 350th, you'll win £20, which is more than enough for the place on the list. Furthermore, there are daily drops as well, where certain players can earn as high as £1,000 in real cash.
The good news is that there are no wagering requirements.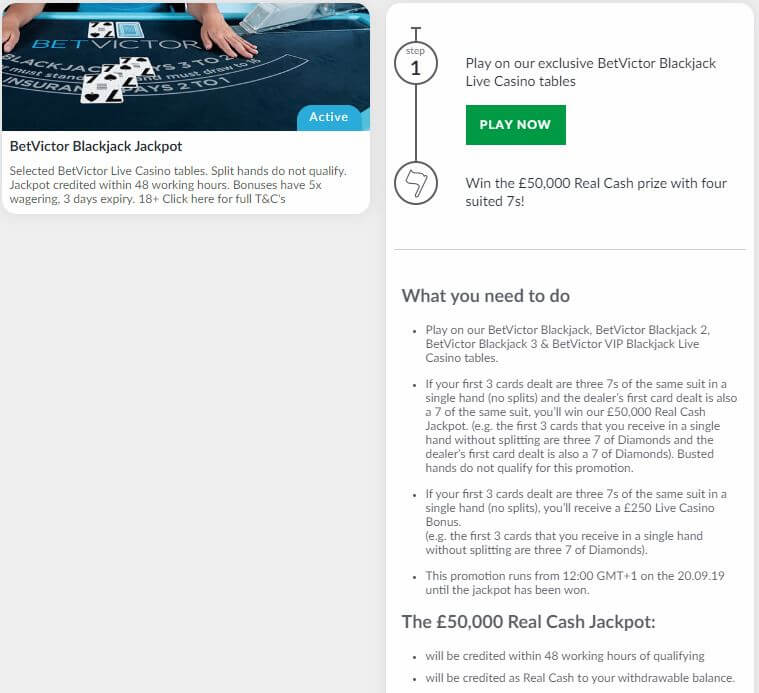 We like that BetVictor Casino offers a pretty decent promotion for live blackjack.  If you manage to hit a blackjack jackpot on the BetVictor Live Casino table, you can win a £50,000 Real Cash Prize.
How do you hit a jackpot?
If your first 3 cards are same-suit 7s in a single hand, and the dealer's first card is also 7 in the exact same suit, you have the chance to win this reward. Admittedly, hitting this jackpot is bloody hard, but the reward you can get is pretty hefty.
Deposit/Withdrawal Methods and Limits
When it comes to payment methods, BetVictor, once again, complicates things. You can't find anything about the payment methods it offers unless you start digging more into the Help Centre. And when you do that, each payment method is a separate page.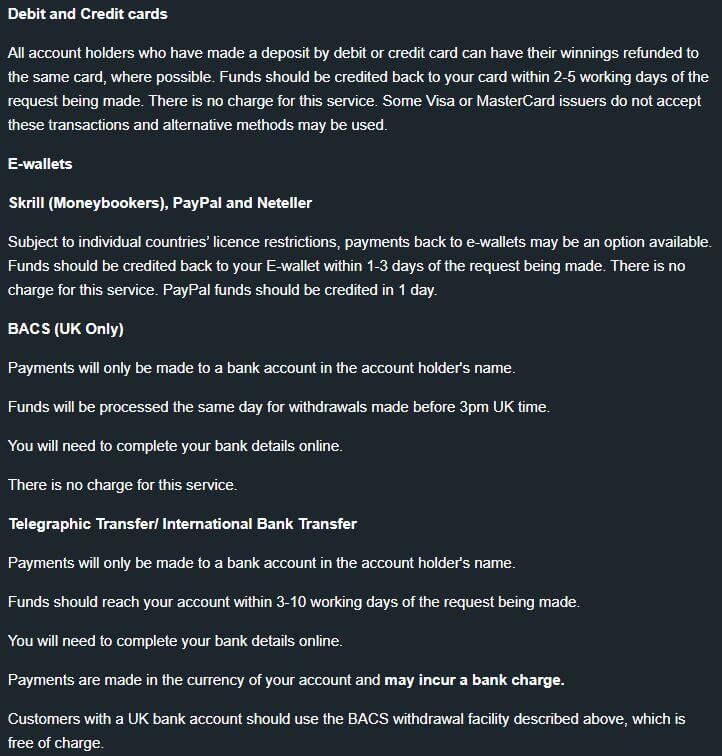 We found this little article, which shows us the time needed for the payment to reach your account, depending on the payment method you're using. Credit/debit cards take from 2 to 5 days, while E-wallets take up to 3 days, except for PayPal, which takes only 1 day to withdraw.
Bank Transfer is here, but also telegraphic/international bank transfer. You now have a glimpse of what BetVictor offers for payment methods – credit/debit cards, PayPal, Skrill, Neteller, Bank Transfer, and so forth.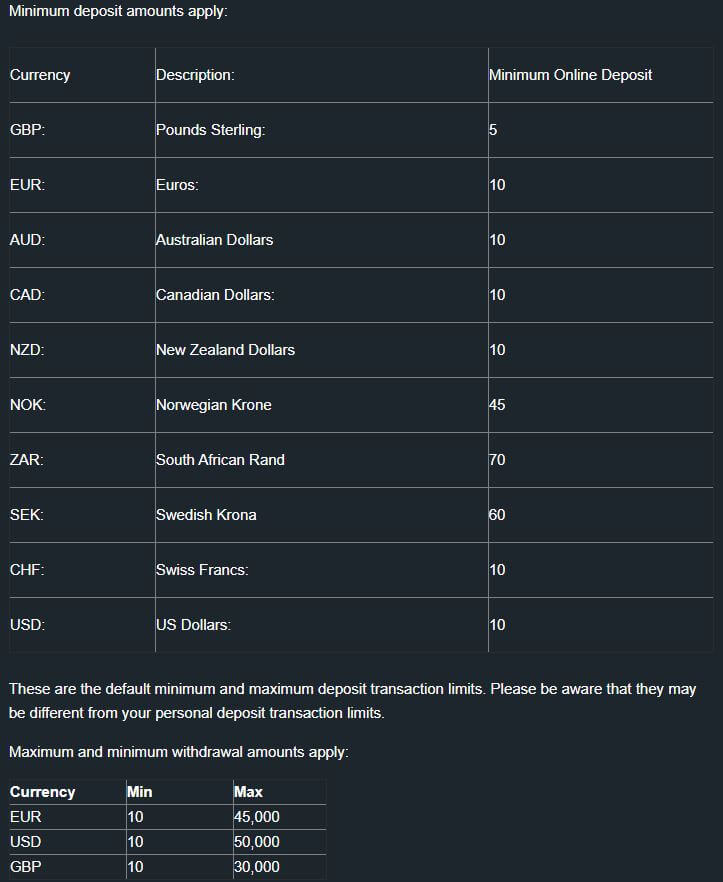 If you're using a credit or debit card, here are the payment limits you can expect. UK players who use GBP as a currency will have a minimum deposit of £5, with minimum/maximum withdrawals of £10/£30,000. The upper deposit limit depends on your personal limit set upon registration.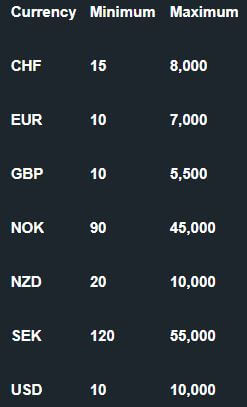 PayPal is the fastest method here, where BetVictor mentions only deposit limits. The minimum deposit with PayPal is £10 and the maximum is £5,500.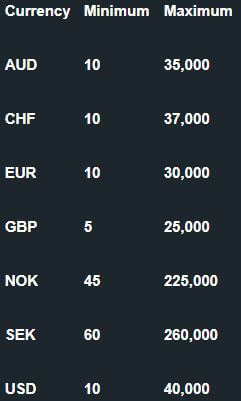 And if you want to use Skrill, you can expect a minimum deposit of £5, while the maximum deposit is £25,000. Once again, there's no info about withdrawals. Every payment method has its own limits and these are all separate pages in the Help Centre.
It's pointless to show them all because the review of BetVictor casino will take a completely different turn. But, if you're interested in this online UK casino, you can always contact the support team and ask questions.
BetVictor Casino Game Variety & Software
At first, BetVictor's game variety looks stunning. Who else can offer more than 2,000 games?! Heck, even Genesis Casino, one of our favorites, fails to do so.
But, as we always like to say – it's not about the quantity but quality. You can have thousands of games but if they're 95% slots that aren't very popular, people aren't going to enjoy playing on your online casino.
Unfortunately, that's the case here. The casino offers mainly slots, with only a few blackjack and roulette titles, making almost all of the 2,000 games obsolete. In terms of software, however, we can say that the bookmaker did a solid job.
The site is intuitive enough, once you start nit-picking around the Help Centre of the FAQ section. Furthermore, the casino offers mobile apps for both Android and iOS users, making it easy to jump into your favorite game and start playing on-the-go.
You'll easily find the game you want, thanks to the search bar, where you can type the name of the game and find it in a few seconds. The games look good on both PC and smartphones, and even if you have a low-end machine, they'll work flawlessly.
Slots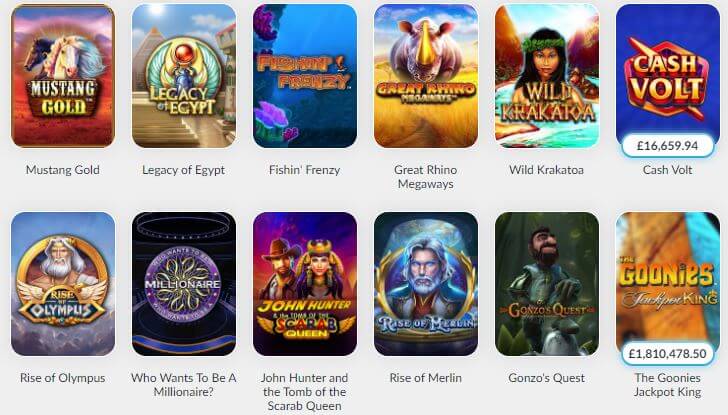 If you're interested in the total number of slots games, you'll need to go to the website and count them all – if you have the time. We counted more than 1,000 of them but we believe that this number is close to 2,000.
For slots lovers, this is a rest haven, as the casino includes titles like Gonzo's Quest, Rise of Olympus, Wild Krakatoa, 7s to Burn, Dazzle Me, Warlords, and many more. RTPs (Return to Player) are pretty good, as well, and they range from around 95% to 98% for both slots and video slots.
In this category, there are multiple jackpots with insanely high prize pools, such as this The Goonies Jackpot King game, that packed a whopping £1,810,478,50 reward for the player who wins.
Roulette

As much as you'll love playing slots, you'll hate playing roulette on this website. The games you see in the image above are ALL the roulette titles you'll get, so there are 5 of them. Not that these games are bad. European Roulette by Microgaming is a well-done game, and so is proprietary BetVictor Roulette.
But, after a while, you'll want to switch things up a bit, and with only 5 titles, your excitement will quickly run out. Nevertheless, the RTP for roulette ranges from 94% to 98%, which is typical for this game.
Blackjack

Blackjack lovers can enjoy 9 blackjack titles, which is a bit better than what we saw on the roulette side of our review about BetVictor casino. Still, we think that this number is poor, even when compared to Mansion Casino that offers more than 20 types or Genesis Casino that bumps it up to 30 or 40.
Some of the games here are Classic Blackjack, BetVictor Blackjack, Blackjack 5 Hand, European Blackjack – Microgaming, and a few more. As always, RTPs for blackjack are the largest and go from 98% to 99.8%.
Instant Win & Others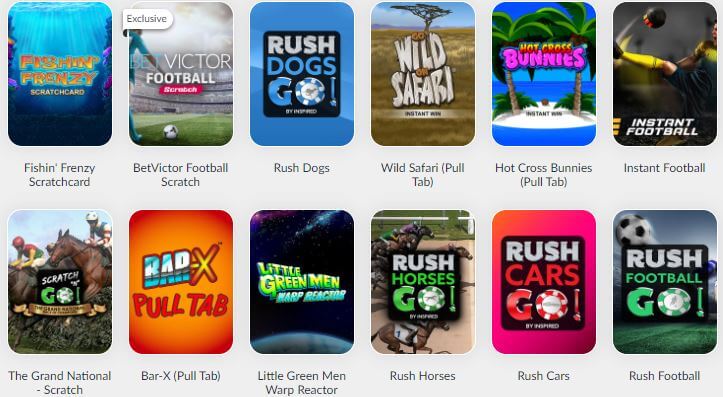 Other interesting titles at BetVictor Casino include instant win games, megaways, and drops & wins. Basically, these are all luck-based games that play similarly to classic slots, with some minor differences.
These titles are pretty abundant on the site and are interlaced with a bit of sport, such as football, car racing, horse racing, and so forth. Now that we mentioned it, the casino offers gambling on virtual sports if you want the best of both worlds.
The scratch games you see above have a very low RTP of just 85% to 95%, so we don't recommend playing them.
Game Providers
The game variety at BetVictor Casino isn't impressive, as we saw in the previous part of the review. What's impressive is the number of game providers that worked on the games. We've already mentioned Microgaming, which is among the best, but there are at least 20 more gaming companies.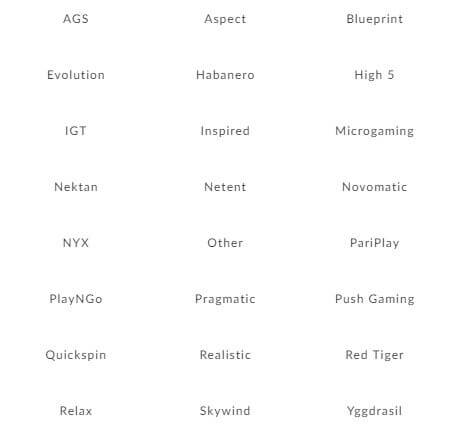 Some of the providers are Evolution Gaming, NetEnt, Pragmatic, Quickspin, Red Tiger, IGT, High 5, and many more. We like the fact that Evolution Gaming and NetEnt host pretty much all the live casino games, while other companies are responsible for online slots, blackjack, roulette, and other types of games.
BetVictor Casino Mobile Gaming Experience

The casino offers its app for iOS and Android systems, where the Android app isn't on the same level as the iOS version. Sure, the app encapsulates both sports betting and casino but we found it a bit buggy and unresponsive at times, even though our Android phone isn't on the potato level.
On the other hand, we had a blast with the iOS app, as it's dedicated especially for the casino. You can find thousands of games here, ranging from slots, blackjack, roulette, scratchcards, and even live casino games.
It's important that not all titles are available on a mobile phone, but games like Gonzo's Quest, Classic Blackjack, and BetVictor Roulette are perfectly playable. And to make things better, the app looks exactly like the website! In the upper portion, you get to choose three categories – Casino, Live Casino, and Offers.
Depending on your choice, the games will be listed below, where you can then choose different types of games from the side-scrolling menu. The side menu is also here and can be opened in the upper-left corner of the screen.
You can find your profile options here, as well as banking methods, which will allow you to withdraw or deposit funds on the fly. The search bar makes its return, making searching for games a lot easier.
Without a doubt, this is one of the best gambling apps and iOS users tend to think the same, due to its 4.5-star rating.
BetVictor Live Casino – How Good is It?
What the casino didn't manage to do in traditional online games, it makes up for in the live games department. Here, you can find a plethora of different games, ranging from enticing game shows to roulette, baccarat, blackjack, and poker variations.
Some of the titles you can play are Crazy Time, Speed Roulette, Lightning Baccarat, and Blackjack Platinum VIP. Do some of them sound familiar? Well, because these are some of the top live casino titles out there!
The gambling experience is very good here. Both NetEnt and Evolution Gaming did a great job of providing HD-quality footage, with an intuitive interface that merges perfectly with the real-time video. You'll feel like you're really in front of a dealer and playing against him/her.
We like the addition of live chat, where you can communicate with other players or the dealers. In the upper portion of the screen, you can find options to mute the sound or switch camera angles for a more immersive experience.
Live casino veterans will know what we're talking about, and if you're a newbie, we recommend trying it on BetVictor. If you don't want to invest a lot, table limits for some games are pretty low, going even down to just £1 for games like Power Blackjack, Immersive Roulette, and Speed Baccarat.
How Fair and Secure is BetVictor Casino?

BetVictor Limited is a verified company from Gibraltar known for its highly-popular bookmaker. This is an independent company that operates its gambling business in the UK and a few other countries around the world.
Needless to say, the company is trustworthy, offering every bit of information for you to see. They give the complete address in Gibraltar but also numbers of licenses from the UKGC, the Revenue Commissioners (Ireland), and the Gibraltar Gambling Commissioner.
Responsible Gambling companies are abundant, some of them being BeGambleAware, GamStop, and IBIA. They'll help the players who encounter problems with gambling addiction.
For RTP analysis, eCOGRA does its job, while the anti-money laundering protection is provided by Thawte. The site uses 128-bit SSL encryption for keeping your information and payments secure.
All in all, we're talking about a safe, secure, and fair casino in the UK.
Loyalty Program
BetVictor Casino repeats the trend of its sportsbook brethren. The sportsbook didn't have any type of loyalty program, which is the same on this side of the fence. The silver lining is that there are always a few promotions in play, so you can claim some of the rewards from there.
They sort of make up for the lack of a VIP program, but not to a full extent. After all, VIP members enjoy much more than cash rewards. There are exclusive rewards, birthday rewards, and sometimes prizes like cars and meetings.
We recommend playing on Mansion Casino in this case. It has a very good loyalty program and more promotions than BetVictor Casino.
BetVictor Casino Customer Support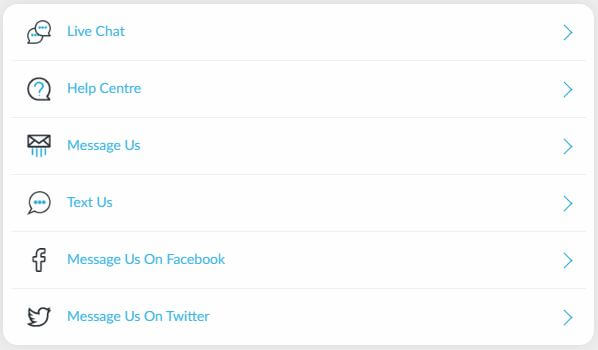 The mandatory part of every UK online casino is customer support, hence we always devote a special section in the review. This time, we don't have much to say about it, apart from the fact that it's available 24/7.
At the time of writing the review, phone support wasn't available on BetVictor casino. But, there are many contact methods you can try. You can go for a live chat, which is the best one, or perhaps messages the casino on Twitter or Facebook.
If that's not enough, you can send them a direct message from your account and they'll respond in about half an hour. The support team here is extremely responsive and knowledgeable, making it easy to fix the potential problems.
Conclusion – Should You Play on It?
After everything said in the review, the only thing left to do is determine if BetVictor Casino is worth your time.
To be honest, it isn't – and here's why. For the start, it has a welcome bonus that's very hard to wager and it isn't very generous. Second, the game variety is poor. You have thousands of slots, while games like blackjack and roulette, which are the most popular, are put into the second plan, with only a few titles for each.
Lastly, there's no loyalty program, which is a serious flaw. And before you say that promotions fully make up for that, no, they DO NOT. Mansion Casino has everything that BetVictor lacks and it's a definition of how an online UK casino should operate.
Therefore, our recommended choice is Mansion Casino instead of this one.
FAQ
Let's wrap up the review by answering some frequently asked questions related to BetVictor casino:
⏳ How fast are the payouts at BetVictor Casino?
Payouts at this casino are pretty fast if you're using PayPal, which takes only one day to process the payment. However, payment methods like credit/debit cards can take from 2 to 5 days. Generally speaking, E-wallets like PayPal, Neteller, and Skrill are much faster and will not take more than 24 hours.
📱 Can I download a mobile app for BetVictor Casino?
Yes, you can, and we recommend doing so, although you can use the website as well. The apps on both iOS and Android are free, so you only need to visit your respective app store and download it.
⚠️ Is BetVictor legit?
Of course. BetVictor has three licenses – from Gibraltar, UKGC, and Ireland. This means that it's fully licensed to operate as a gambling operator in the UK, but also a few more countries around the world.