Buzz Bingo is, as its name implies, a bingo-oriented gambling website. However, the website prides itself on having a plethora of other games that might attract online casino lovers. Apart from some roulette and blackjack games, the site offers a decent live casino section, as well. Needless to say, Buzz Bingo is an interesting candidate for an in-depth review. We're going to review it from the online casino perspective and see if it has what it takes to be one of the best online UK casinos.
How to Register on Buzz Bingo?
Before we start with the review of this UK online casino, we need to talk about registration. This is a necessary step toward becoming a respected member of this gambling website. At first, Buzz Bingo seems like a simplistic website, which it surely is. However, we had some minor issues with the registration process. Bear with us to find out what we're talking about.

To initiate the registration process, click on the Join Now button in the bottom-right corner of the image.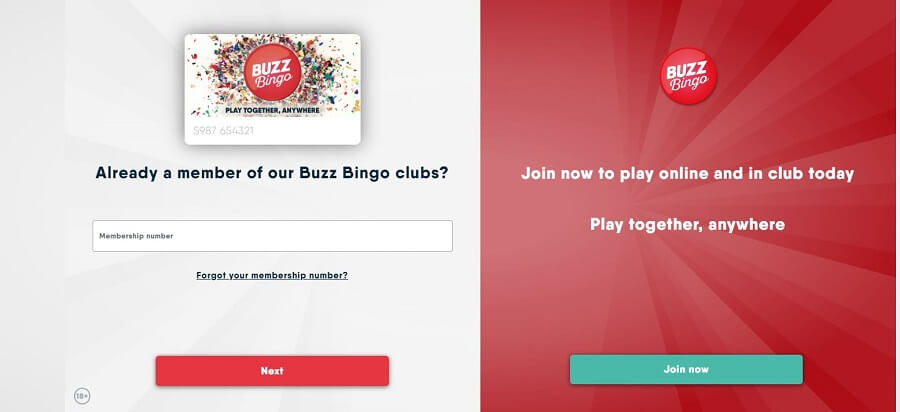 Now, this screen will appear, showing you that you can log in if you're a Buzz Bingo club member, or perhaps still register by choosing the right option. A totally unnecessary step, if you ask us, but no problem at all.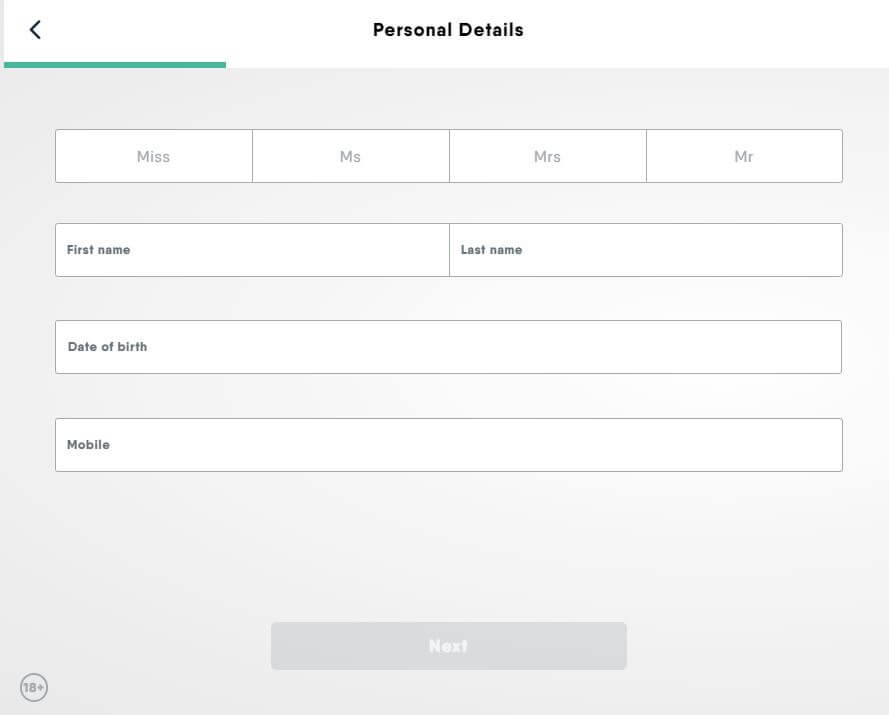 The first registration screen pops up after you click on the Join Now button. Here, you have to choose your gender, or better said – title. If you're a woman, you can choose Miss or Mrs, while men can choose Ms or Mr. For those who don't know, Mrs is for married women and Ms is for married men. After that, type in your full name, date of birth, and your mobile phone number.
Click Next to proceed to the next step.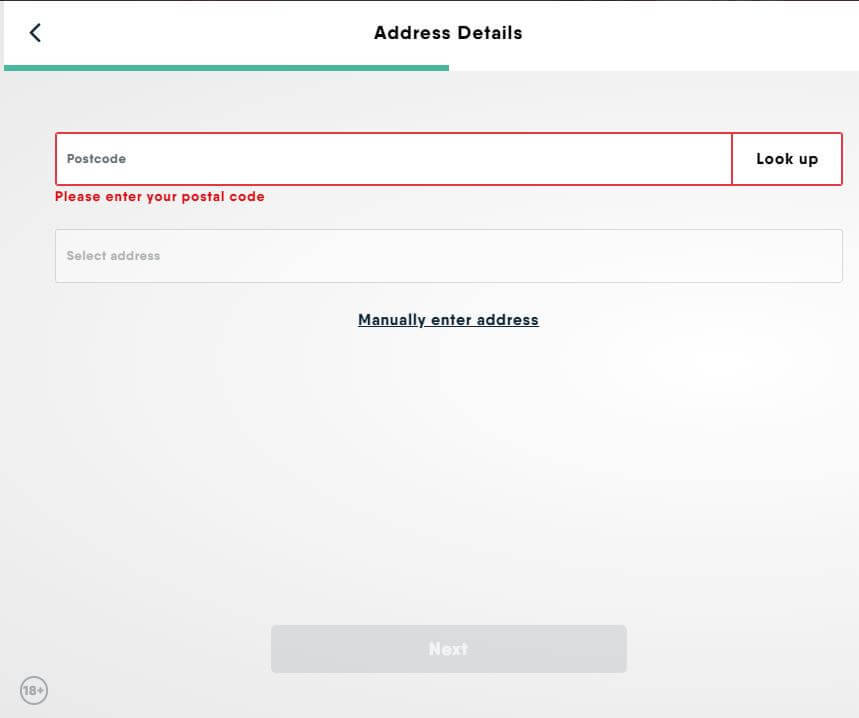 This is where our issue appeared. We're located in the United Kingdom and from what we've read, the UK players are welcome on the site. In fact, this is a UK gambling site. Well, Buzz Bingo doesn't seem to think so. We typed in our postal code and it wouldn't detect it for some reason. Because of that, we took a little detour and had to manually enter all of the data manually.
The data we had to enter is our street, city/town, house number, and so forth. Only then, Buzz Bingo accepted our account and we could proceed to another step.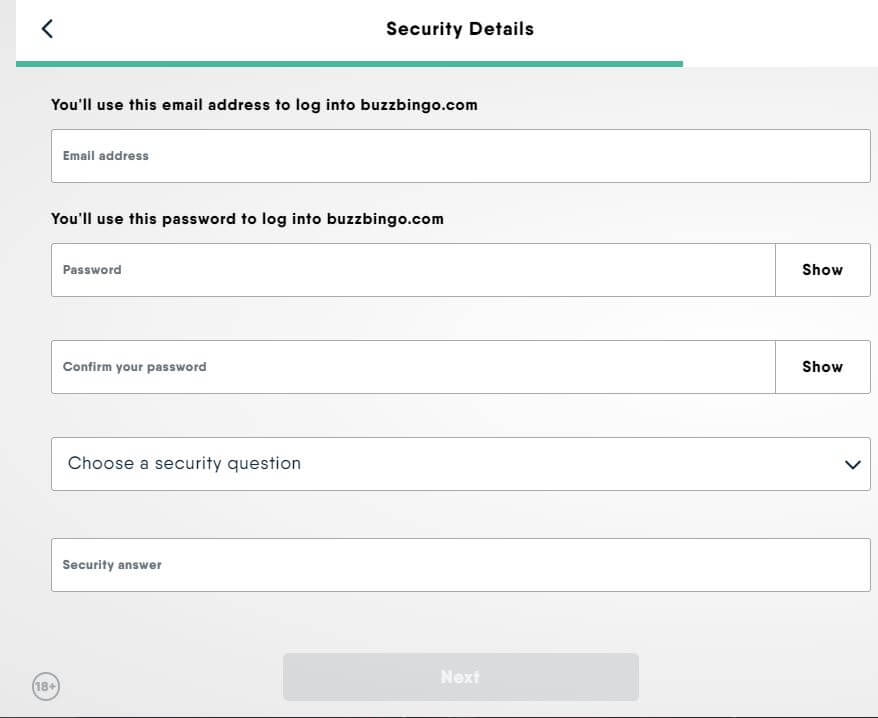 After a bit of a trouble just a moment ago, this step was quite easy. You need to enter your email, confirm your password, and choose a security question and answer. After doing so, you just click Next.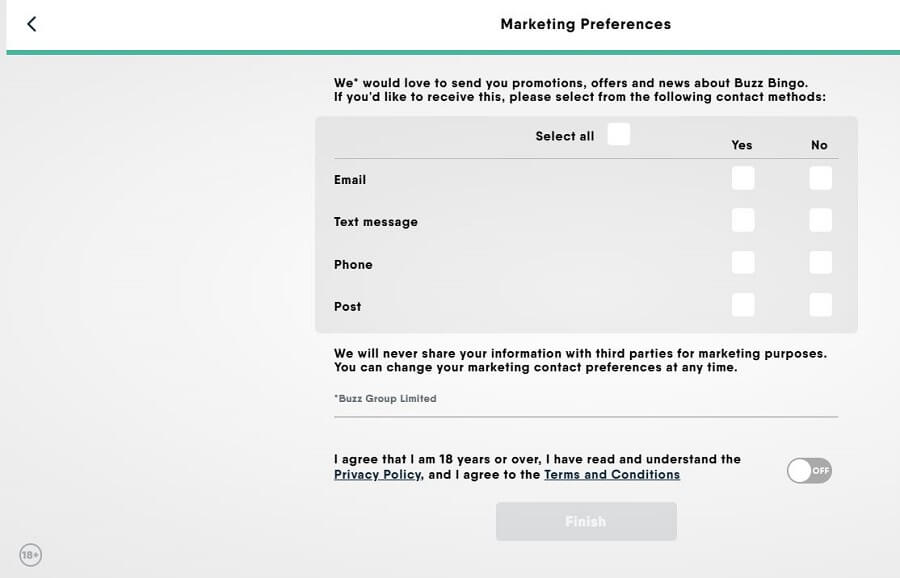 If you want to be notified of promotions, offers, and other types of rewards, choose one of the methods. Honestly, we don't like this option, as our emails get spammed. As you know, we have accounts on hundreds of online UK casinos, so it's hard to keep up with each of them. But, if you don't mind, more power to you.
To finalize the process, just confirm that you're over 18 years old and click Finish. Whether or not you've lied during the registration process is going to be displayed in the next step.
Verification Process – What Do You need?
Wait, did we say that these were all the steps for registration? Sure, we did. However, you still need to verify your account to be able to deposit and withdraw funds to your account. Sometimes, Buzz Bingo will automatically verify the account upon registration but that happens rarely, if ever.
Guess what – we weren't so lucky, so we had to photograph the required documents to get verified. Speaking of them, here's the whole verification process: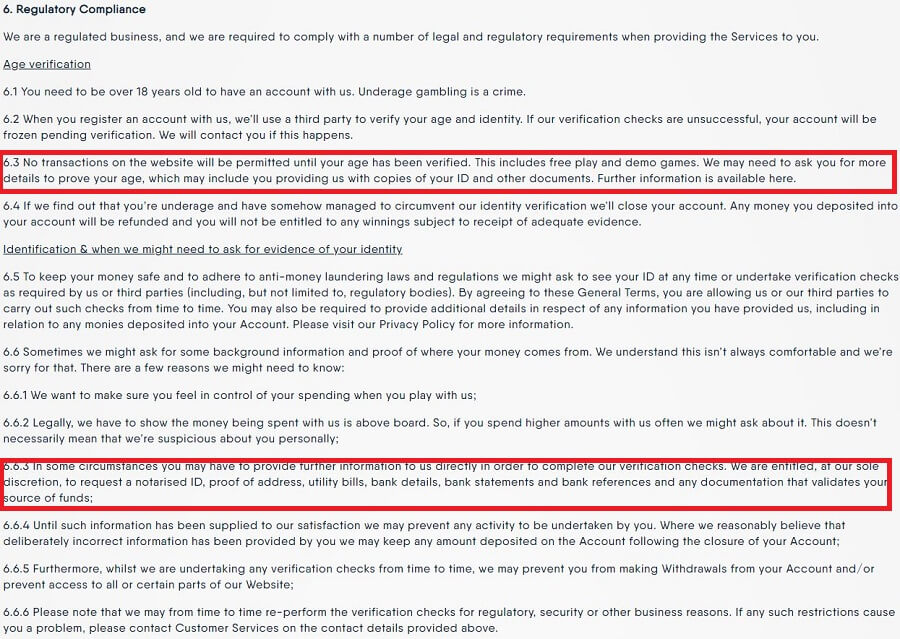 The verification policy is a bit longer, but if you're a serious player, we recommend reading it thoroughly. First of all, you should not be under 18 years old to play on Buzz Bingo. Gambling underage is a criminal offense, so you want to avoid getting into legal issues. Furthermore, the company uses third-party partners to verify your account, as we said.
If the verification isn't successful, you'll have to manually do that. The first thing to do is to prove your age. To do so, you'll need to upload a copy of your national ID, passport, or driving license. We don't like how they said "Further information is available here", yet this "here" word isn't linked on anything. Pay attention to legal stuff, please!
Anti-laundering verification check is also here and can occur randomly when you want to withdraw your money. The company even conducts background checks on its players, which is truly a great security measure but can be uncomfortable for some players. We won't go deeply into this process but Buzz Bingo requires standard documents for verification.
These include your notarised ID, proof of address, bank details, utility bills, and so forth. Basically, you need to verify three things:
Failing even a single test is going to result in your account being discarded and banned from Buzz Bingo.
Buzz Bingo Welcome Bonus – Is It Generous?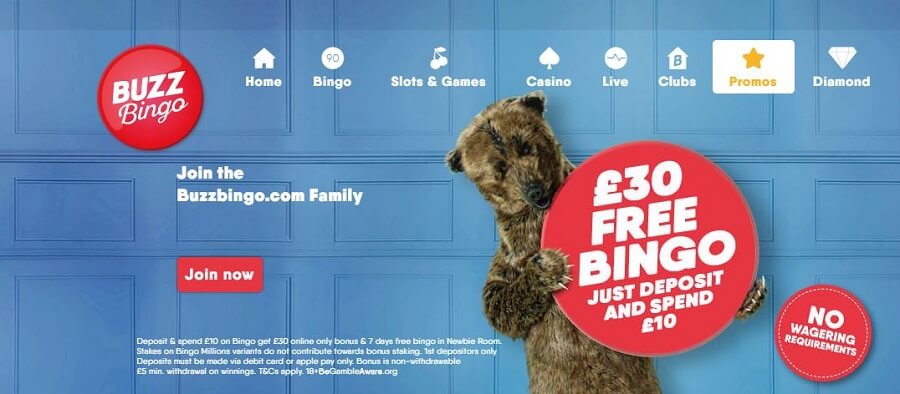 It's time to review the welcome bonus on Buzz Bingo and see if it's generous and welcoming enough. Buzz Bingo is, first and foremost, a bingo gambling site. This means that online casino players won't always get the best promotions and bonuses. The welcome bonus is no different. It's a £30 bonus with no wagering requirements. That sounds great, huh?
Well, let's take a look at the bonus conditions then.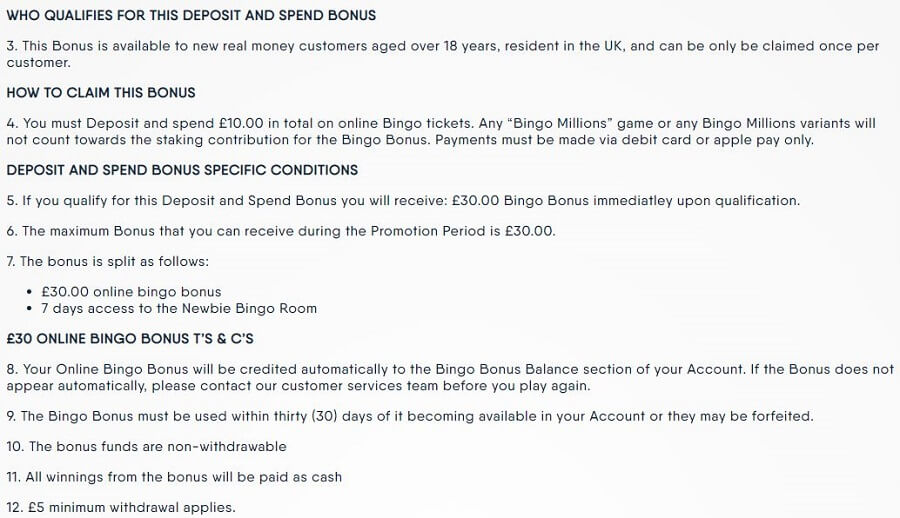 To be eligible for a bonus, you must reside within the United Kingdom and you can claim it just once. Now, how do you claim the bonus? Simply deposit and spend ate least £10 on online Bingo tickets and make sure that you've deposited your money via Apple Pay or Debit Card. Buzz Bingo, just know that it's Apple Pay and not "apple pay."
We may be nit-picking, but these grammar errors don't look as professional as we would like. Maybe it's just us, but that's how we view things. Back to the topic now, if you qualify for a welcome bonus, you'll get £30 Bingo Bonus, as well as 7 days access to Newbie Bingo Room.
The important thing to say is that bonus funds are non-withdrawable and you must use them within 30 days of them being available. Let's clarify this once again. We're reviewing the Buzz Bingo online casino, and not a Bingo section. From the online casino perspective, the welcome bonus is practically useless.
Why?
Because you need to play bingo games to get it, and not online casino games. Since bingo is sometimes a part of many online casinos, we'll say that the welcome bonus is generous enough, but we feel that it could be much more generous if it was for casino games, even though some wagering requirements would be imposed.
Buzz Bingo Promotions – Are There Some?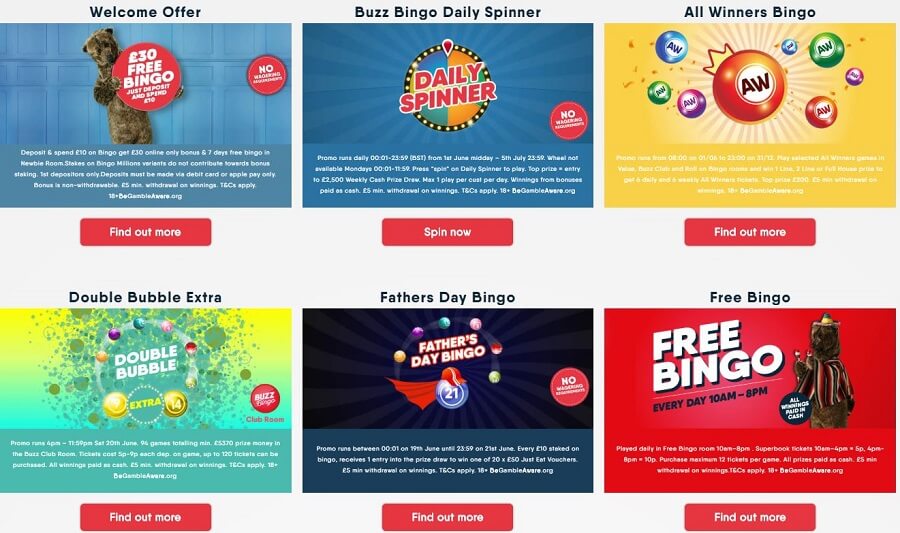 Promotions-wise, Buzz Bingo is a true champ… but only for bingo players. While during this review, we found out that this online casino offers more than a dozen promotions and they're pretty quality ones. You can earn a decent amount of cash or boost your winnings by opting-in and following simple guidelines and conditions.
After scrolling through numerous bingo-related promotions, we started wondering if online casino players will get the same treatment. Sadly, they aren't, but the silver lining is that there are a few promotions for them. Here's the one that we liked the most: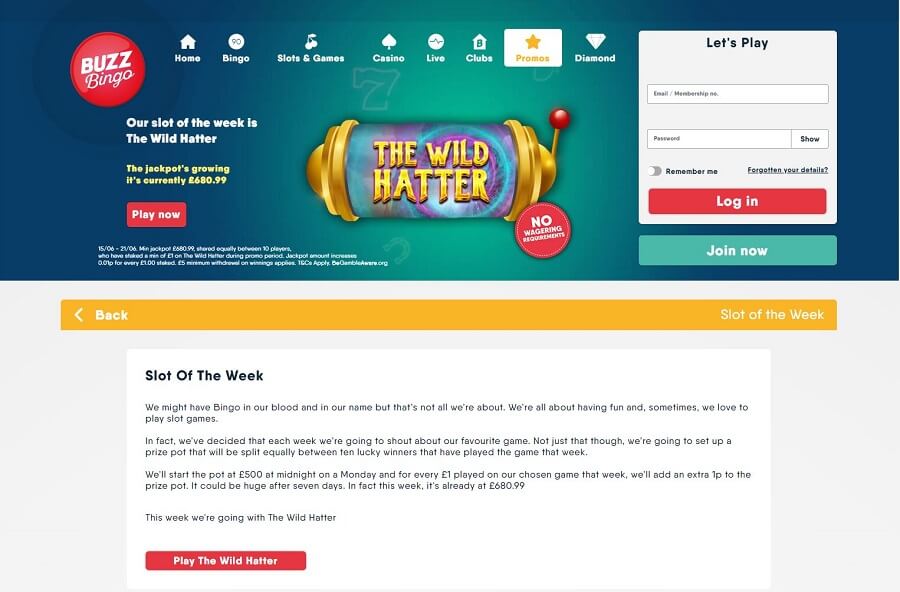 Every week, Buzz Bingo chooses its favorite slots game. At the time of writing the review, that game was The Wild Hatter. The favorite game of the week is known for some insane-high jackpot prices that the luckiest users will win. The prize pool starts at £500 and increases by 0.01p each time £1 is staked. For example, if 10 users stake £1, it increases by £0.1p and if 100 users stake £1, it increases by £1.
Of course, users don't always place a stake of £1. Some users can place £20, £30, or £100, and in that case, the price increases further. The tricky thing is that the reward is shared between 10 players. For instance, if it reaches £10,000, the ten users will win £1,000 each.
That's not a bad dime, given that you can possibly earn it every week.
Deposit/Withdrawal Methods and Limits

Buzz Bingo is a new, yet well-known brand in the United Kingdom. This online casino might not be on the Mansion Casino level, but hey, that doesn't mean it's lackluster when it comes to payment methods. In the image above, we can see that it offers quite a lot of payment methods, with the lack of some crucial ones – Neteller and Skrill.
Players from the UK often use these two, albeit, on some gambling sites, these are not allowed. On the brighter side, PayPal is here, and for us, it's the best method to use. You'll see why in just a second. Let's talk about limits first.

One thing we like is that the minimum deposit is £5 for all payment methods, even for PayPal and VISA cards. The same can be said for withdrawals:

We glanced over to the terms and conditions and we found the upper withdrawal limits, too. Let's take a look:

Interestingly, Buzz Bingo states that the minimum withdrawal amount is £10, whereas, in its FAQ, it's £5. The company explains it by saying that you can withdraw less than £10 as long as it's a full amount in your account balance. The maximum withdrawal is £50,000 in one calendar day, but it can also depend on your bank account, as it may impose some other limits.
The upper deposit limit isn't available on the site, but if the withdrawal limit is this high, the deposit limit could be even greater. Deposit times are instant, while withdrawal can take some time. When using credit/debit cards, it will be up to 3 days. PayPal users enjoy almost instant withdrawals that are completed in a few hours.
Buzz Bingo Game Variety & Software
Buzz Bingo's game variety is a strange one, we can say. The reason being is because its love for bingo translates to here, and that's not very good. Some casino games require a certain skill to win, while some of them are luck-based. Bingo is all about how lucky you are and so are slots games, that are more than abundant on this gambling website.

We can see numerous categories of games, but if we wrap them up, they're all basically slots, except for table & card games. The majority of these games are comprised of slots and jackpots, while a small part is reserved for roulette, blackjack, and other games. We counted less than 300 games on the site, but we might be wrong.
The number itself is okay but the game variety isn't. You'll see why in the next few sub-sections. As for software, the casino doesn't offer any apps for the PC or smartphones, which isn't something we gladly accept. They could've at least offered a bingo app, to make the bingo lovers satisfied.
Slots (Jackpots)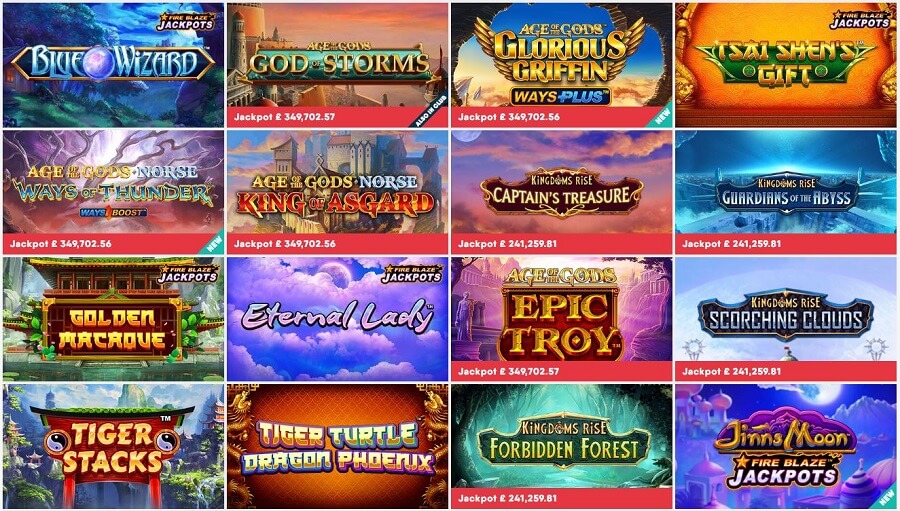 At buzz bingo, you have plenty of chances to win a jackpot, but only if you play slots. After all, jackpots are rarely other games than slots, so that's what we're dealing with. In our approximation, there are more than 200 slots/jackpots here. Some of the titles include Eternal Lady, Kingdoms Rise – Scorching Clouds, Age of the Gods, and other sub-titles.
For example, Buzz Bingo casino has three main titles – Age of the Gods, Kingdoms Rise, and Fire Blaze. These are all categories and each of them contains several games. Not all of them are jackpots, but most are. Of course, there are other popular titles we mentioned above.
RTPs for slots/jackpots are hovering around 96.5%, which is okay for this type of game.
Table and Card Games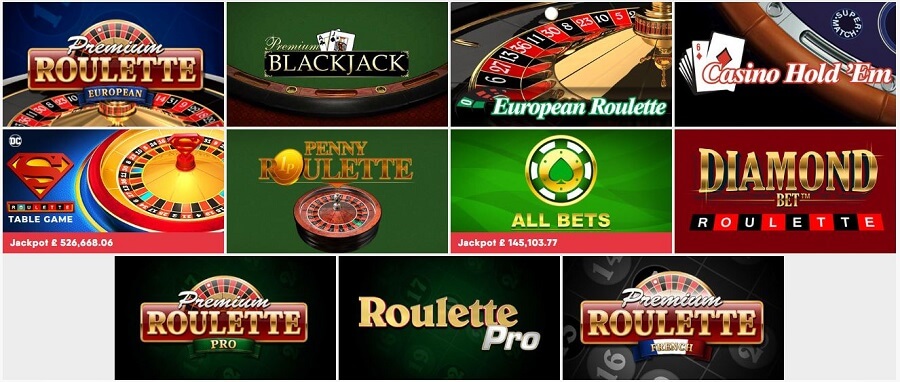 The image you see above represents all the games from this category. You have a few types of blackjack and roulette and one poker game. When it comes to roulette, you can play Premium European Roulette, Penny Roulette, Roulette Pro, Premium Roulette France, and a few more types. Blackjack games are quite scarce, with the casino offering just two of them – Premium Blackjack and All Bets Blackjack.
On the brighter side, All Bets Blackjack and Roulette Table Game are jackpots games where you can earn some serious money. Finally, we have Casino Hold'em poker, for those with a bit old-school gambling taste.
Instant Win Games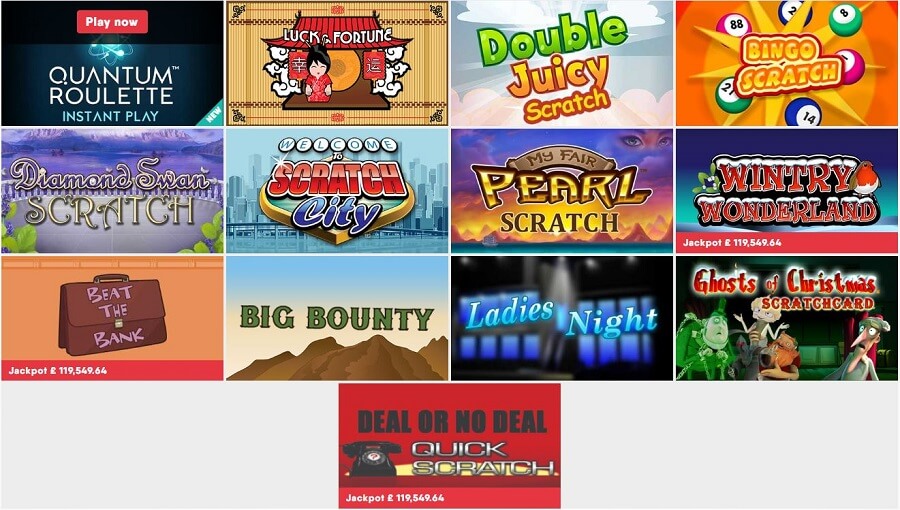 Lastly, we have Instant Win games that aren't very popular here. One of them is Quantum Roulette, though, which is an exception to the rule. Other games include Big Bounty, Ladies Night, and Double Juicy Scratch. These aren't our popular games, as some of them have a very low RTP of just 90% or even 88%.
Game Providers
Being a new name in the game, Buzz Bingo isn't going to impress you with the number of gaming providers it cooperates with. Casinos like Mansion Casino and 32Bet are known for this trend, but Buzz Bingo is far from being on that level.
For now, the casino boasts games from IGT, Quickspin, and Evolution Gaming. The last company hosts live games, while the other two host the entire non-live games.
Buzz Bingo Mobile Gaming Experience
Buzz Bingo offers quite disappointing mobile support. Sure, its website is fully functional on a smaller screen, but don't expect the level of smoothness as you would get on a computer. The website is, more or less, the same, and the game variety is solid. You can't play all games that the casino offers, but around 60% of them are there.
Although the website isn't the most optimized for smartphones, we still enjoyed playing different slots, roulette, and even bingo games. Moreover, you can still take advantage of different banking options from a phone. This means that you can deposit or withdraw money on the fly, in case you're away from your computer for some time.
The availability of live casino is surely a welcome one. However, you must have either a strong Wi-Fi connection or use 3G/4G data if you want smooth footage from the live dealer and the game itself. Generally speaking, Buzz Bingo offers a decent mobile experience, although far from the best.
We'd still much rather play on Grosvenor Casinos or Mansion Casino instead. These offer a much better gaming experience overall.
Buzz Bingo Live Casino – How Good is It?
If you decide to take your gambling to the next level, live casino games are waiting for you right at the corner. Apart from varieties of roulette and blackjack, Buzz Bingo offers a few unique games – Buzz Picks. To be exact, these aren't unique games but games that the casino has chosen for you.
Usually, they have higher rewards and bonuses, so you can earn a bit more money if you manage to win. Given that the majority of games are hosted by Evolution Gaming, complaining about anything would be a lie. We like Evolution Gaming's live games.
They're very intuitive and let you gamble smoothly, without any problems. In the bottom part of the screen, you'll find the gambling interface. In the upper part, though, there are settings. Here, you can switch camera angles, mute the sounds, and so forth.
You also get a live chat option, where you can chat with other players and the dealer himself/herself. Playing live is really the best thing to do if you're bored of ordinary games. It's quite a lot of fun and on Buzz Bingo, nothing's different.
How Fair and Secure is Buzz Bingo?
In the world of Bingo, this company is one of the strongest in the game. Do you see these awards under the responsible gambling companies? Well, these are all awards that this casino managed to win. It was the best Bingo site in 2019, and it even earned an award for Marketing and Innovation in 2019.
Logically, it's a dead giveaway that we're talking about a serious company. The good thing about it is that it's based in the United Kingdom, New Castle House. Why is it good? Because it's licensed by the UKGC, so it operates strictly by the UK gambling rules.
As for responsible gambling, companies like GamStop and BeGambleAware are here, making sure that players enjoy gambling for recreational purposes, and not because of addiction. Lastly, Buzz Bingo uses 128-bit SSL encryption for protecting your data.
You'll find no fixed RTPs here and nothing illegal, meaning that Buzz Bingo is safe, secure, and fair. It is always good to mention that in our review.
Loyalty Program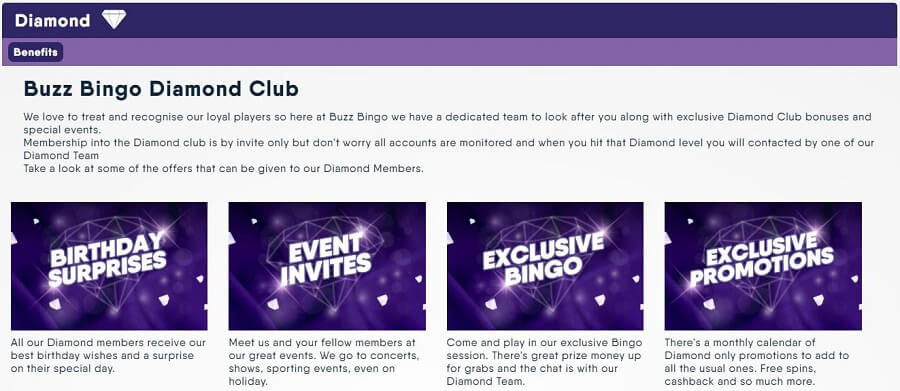 For us, loyalty should always be rewarded since it's very rare these days. Whether you're loyal to your girlfriend or an online casino, you should get a reward – period! Buzz Bingo does one thing right and one thing wrong in this regard. It offers a Diamond Club where you can enjoy some serious rewards.
As you can see, we're talking about birthday gifts, meet-ups, concerts, holidays, and so forth. That's really a good thing, but what's the bad one? Well, that's the fact that you can get to the Diamond Club only with an invitation from the casino itself.
You just need to play and when you hit the Diamond level, the support team will contact you, inviting you to a premium VIP lodge.
Buzz Bingo Customer Support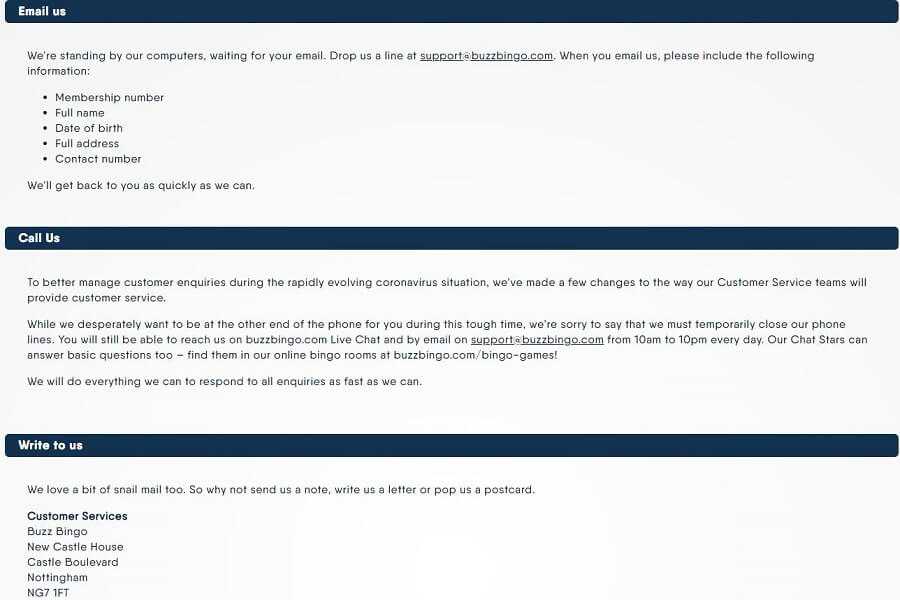 Should you decide to contact Buzz Bingo, know that you can use two – actually three methods. You can send an email to support@buzzbingo.com and include the information displayed above. Another option is to call the company directly, but at the time of writing this review, it wasn't available due to the coronavirus outbreak.
Lastly, you can write to them directly, which is the third method. If you're not in a hurry and you want to do it the old-school way, you can send a letter. We can see that the support team is available from 10 am to 10 pm, so it's 12 hours a day, and not 24.
On the flip side, support is helpful and will solve the potential issues you may encounter.
Conclusion – Should You Play on It?
Buzz Bingo, as mentioned in the review, is one of the best bingo sites out there. However, if we look at it as an online casino, it's far from being one of the best casinos on the market. Players in the UK have a plethora of options for gambling, and in our opinion, they shouldn't focus on this one.
The reason for this opinion is quite simple. It doesn't have a lot of promotions for casino games, the welcome bonus is for bingo, and the game variety is lackluster. Sure, you'll enjoy live casino games, but you'll also be able to do that on Mansion Casino, for instance.
That being said, we don't recommend Buzz Bingo, but Mansion Casino instead. It's the best online UK casino available and registering on it is very easy. Should you do so, you'll get a generous welcome bonus and lots of promotions.
FAQ
Let's now answer some of the questions related to Buzz Bingo that we haven't mentioned during our 2021 review.
🔐 Is Buzz Bingo legit?
Buzz Bingo is indeed legit. It's a UK-based gambling company with a UKGC license that won multiple awards for being the best bingo operator.
⏳ How long do Buzz Bingo withdrawals take?
Up to 3 working days. VISA and MasterCard users will wait for up to 3 days for a withdrawal, while PayPal users will wait for a few hours. PayPal is a much better option, therefore.
⛔️ Can I self-exclude from Buzz Bingo if I have problems with gambling?
Yes, you can. Just scroll down to the bottom of the site and click on GamStop. This company will give you a free online self-exclusion if gambling becomes an addition for you.