Despite its headquarters in the United Kingdom, Casimba Casino is still a choice of many players worldwide. This online casino is known for its vast selection of games, generous welcome bonuses, and generally pleasant gaming experience. As always, our mission is to test out each casino, review it, and see if you should play on it. Today, nothing's different. Our in-depth Casimba Casino review is below, so keep reading to see if you should play on it.
How to Register on Casimba Casino?
What you'll first see on the Casimba website is how user-friendly it is. A beautiful and colorful interface immediately greets you, making you eager to press the Registration button. Here's where you can find it:

Click on the 'Sign Up' button and the first registration screen will appear: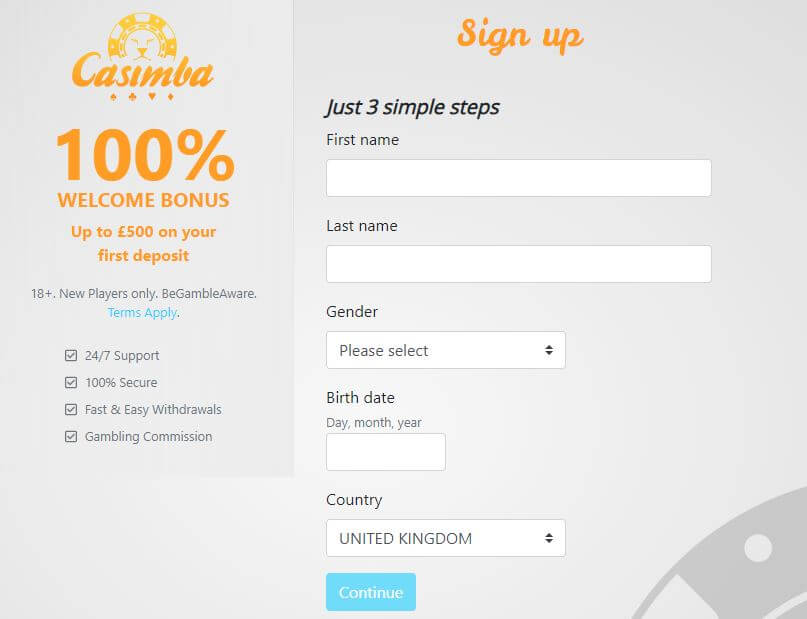 As it says – just 3 simple steps. The first step is always the easiest one. Here, you need to enter your full name, gender, birth date, and the country you're playing from. The casino is located in the UK, but nevertheless, it offers more than 30 other countries to choose from.
Choose the country you're from, make sure that you're over 18 years old, and proceed to th next step.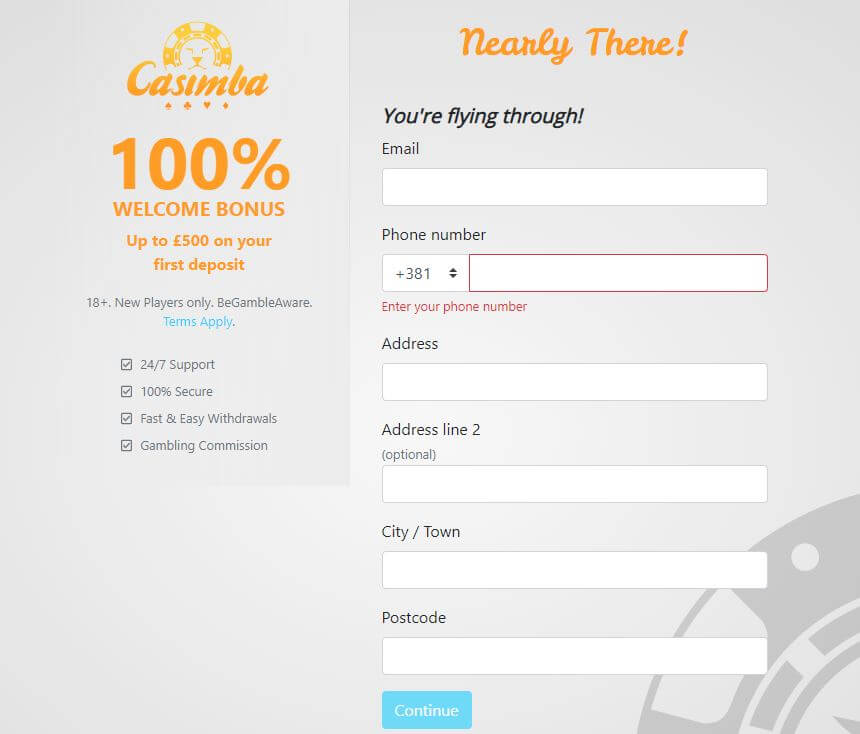 We're flying through the second step now. This time, you'll need to enter your email, phone number, address, city, and postcode. Interestingly, Casimba will let you proceed even if you've entered a city from a different country – don't ask us how we know it.
But, as you want to be genuine here, enter your real address. No one is gonna come to your home and choke you to death, don't worry. Click on Continue and move on to the last step: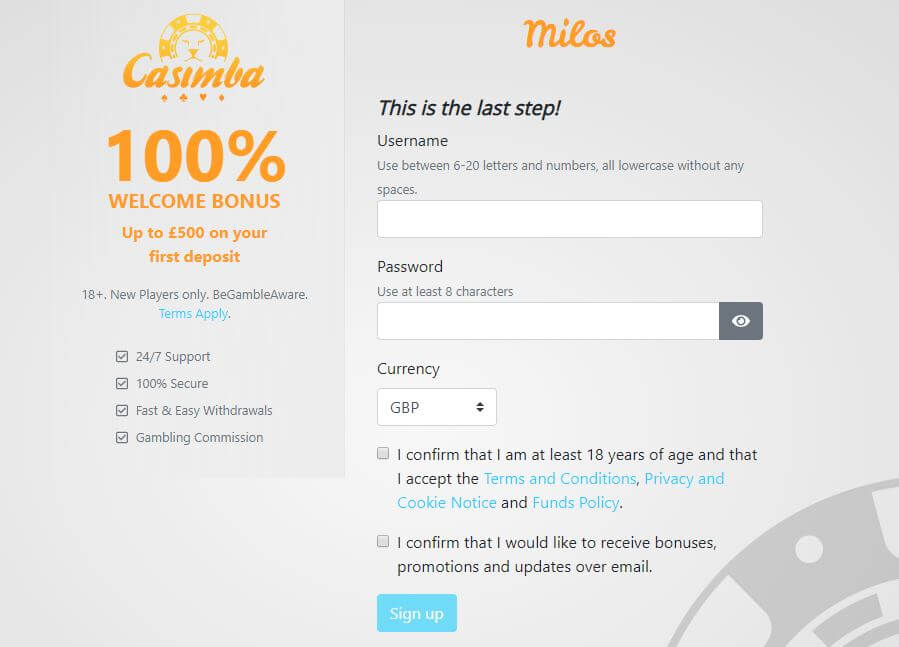 The last step is fairly easy unless you want to get all imaginative with your nickname. If you want, take your time, come up with a unique nickname of 6-20 characters, enter your password, and choose the currency.
Lastly, confirm that you're over 18 years old and click on 'Sign Up'. The registration process is, as you can see, very easy. However, the members of Casimba Casino will need to review your data for account verification.
One thing that sets apart Casimba from other online casinos is that this process is obligatory to even access the site as a registered member.
Verification Process – What Do You need?
The verification process here is unavoidable if you're a serious player. But, if you're really that serious, you shouldn't have any problems with it! Immediately after the registration, this screen will appear, prompting you to finish the process immediately: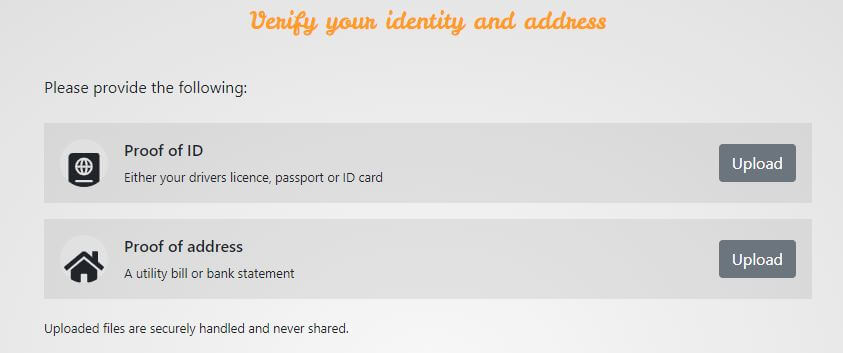 After doing it for the purpose of this Casimba Casino review, we can say that it is quite easy. You even get the instructions on how to photograph your documents so that it's clearly visible and ready for verification. We decided to delve deeper into the verification terms and see what Casimba has to say: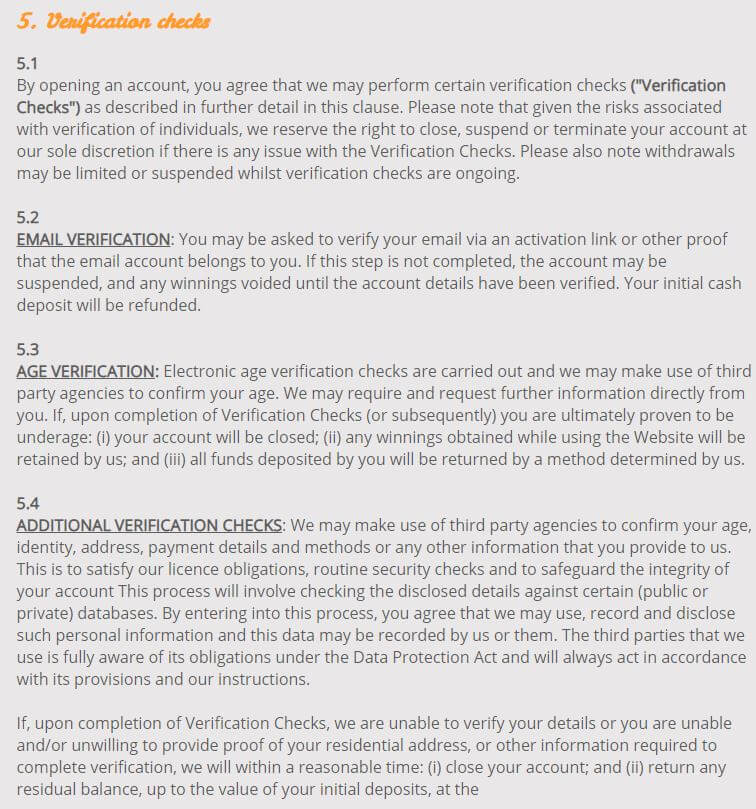 The first thing that this UK online casino mentions is email verification. We made an account on Casimba Casino but didn't receive any confirmation email during the whole process of this review. As you can see, they say that you "may" receive this email, but it doesn't have to be the case.
After all, that's less important. More important things are just below that paragraph, one of them being age verification. To confirm your age, Casimba uses third-party agencies and they request that information directly from you.
If you're underage, your account will be suspended, as persons under 18 are not allowed to play. Lastly, we have additional verification checks that are also realized with third parties. In short, your only task is to upload the required documents we displayed above and wait for them to verify your account.
Once again, if they can't verify your account, they'll close it, so you won't be able to access the Casimba casino anymore. In our experience, the verification process is pretty fast, and in 99.99% of the cases, you shouldn't have any problems with it.
Casimba Welcome Bonuses – Are They Generous?
This section is always called Welcome Bonuses, yet we rarely see that an online casino offers bonuses instead of one bonus. Casimba is an exception, offering not one, not two, but THREE welcome bonuses that apply to your first, second, and third deposit.
You see, you're not welcome just once here, but three times. Who else is going to give you a welcome bonus like this? Let's review the first one offered by Casimba. Your first deposit gets a 100% bonus, up to £500, plus 50 bonus spins on Starburst.
The second deposit gets a 25% bonus, up to £1,000, plus 50 bonus spins on Starburst, Twin Spin, and Gonzo's Quest. Finally, the third deposit gets a 50% bonus, up to £500, and 25 bonus spins on any NetEnt game.
Wait, that's not all!
You also get 500 Loyalty Points on all three deposits, so it's basically 1500 Loyalty Points from the get-go. Casimba Casino simply nailed this thing with welcome bonuses and it's safe to say that it's one of the best UK online casinos in that regard.

What about the wagering requirements? Here, you don't have to wager your bonus like crazy. Sure, 35 times wagering requirements aren't small, but at least, they apply only to the bonus, and not to the full amount of money you have.
In the image above, we can see the example of that. If you deposit £100, you get a £100 bonus, and you wager 35 * £100 = £3,500. Wagering can be done on multiple games, and not strictly on slots.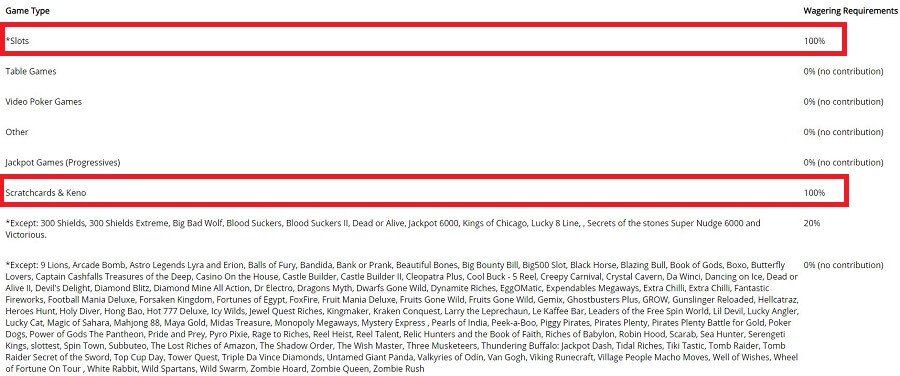 Slots, Scratchcards & Keno give you a 100% contribution, some slots give you a 20% contribution, while all other games give you 0%. Having generous welcome bonuses and reasonable wagering requirements is a huge step towards greatness and Casimba nailed it – bravissimo!
Casimba Promotions – Are There Some?
Do you like Safari? If you're not afraid of lions and if you'd love to visit African soil, Casimba might fulfill that wish. Does it seem like we've gone a bit off-topic? We haven't – the 5-Star Casimba Safari is probably one of the best promotions we've ever seen!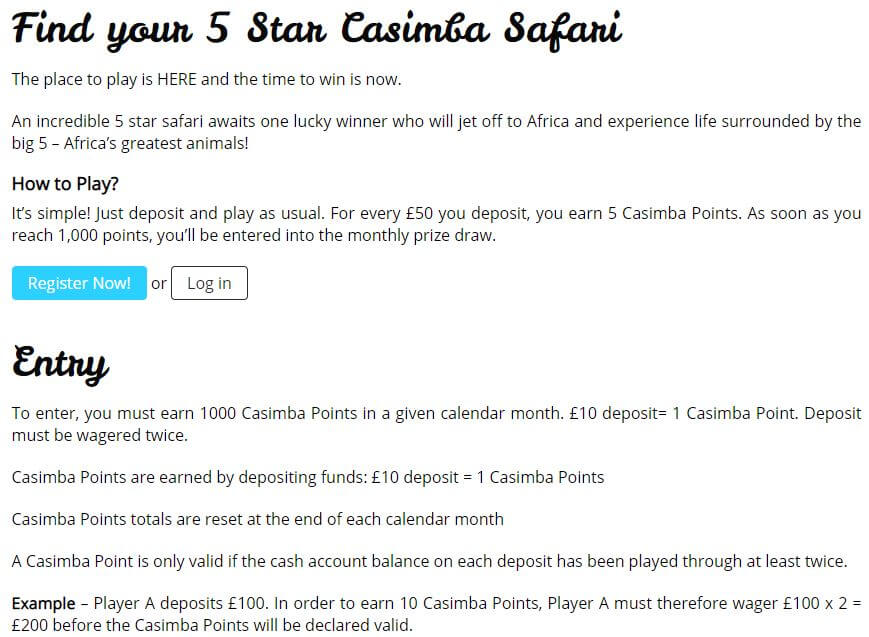 To enter this promotion, just deposit your cash and play as you'd play usually. Every £50 deposit gives you 5 Casimba Points. If you manage to win 1,000 Casimba Points, you'll enter a monthly prize draw.
Other promotions include welcome bonuses and a Loyalty Program. More about that later in our review of Casimba Casino. For now, it's important to say that Casimba has promotions and that you'll be rewarded greatly for your playing on this online casino.
Deposit/Withdrawal Methods and Limits
You've come to play online casino games in order to earn some cash, right? Sure, it's fun, but if you're losing money, your wallet ain't gonna be so grateful. Let's review the payment methods offered by Casimba but also the limits. For the start, we need to mention some of the payment methods that Casimba allows you to use:

Some of the most popular methods that Casimba offers are VISA, Master Card, and Paysafecard. However, that's not all. Casimba also lets you use Trustly, Neteller, and Skrill. You'll notice something – no PayPal, which is truly a shame. No Bitcoin either.
So, what are the limits here? A minimum deposit is £20 and this deposit is eligible for a welcome bonus, regardless of the payment method you're using. Deposit fees are non-existent and deposits are instant, which is always good.
As for the upper limit, you're allowed to set it all the way to £99.999. What about withdrawals, if you manage to win something? Practically the same – the minimum withdrawal is £20 and the maximum is as much as you win.
Withdrawal times aren't instant and on average, you'll have to wait for up to 3 days. Casimba definitely did a great job, still we can't help but think about why they haven't included PayPal. We use PayPal for our gambling purposes and we had to deposit money to our Skrill account for this review.
For us during this review and test, it was a bit of a hassle. But if this doesn't bother you, more power to you, buddy!
Casimba Game Variety & Software
Online casinos won't be so enticing without a vast choice of high-quality games. You can always visit your local casino and play instead, but why do that when you can lay in your bed and do the same. Casimba doesn't only have a beautiful interface. It also has something to spice it up.
Just look at the game variety on its website:

You can even filter the games by the provider you want or use a Search Bar to search for the game you want to play. For example, type in Gonzo's Quest and it'll appear right then and there. The total number of games is around 550, which is impressive. Still, it's a bit far from the best.
Needless to say, a majority of these games are slot games, but if you're a fan of blackjack, roulette, or table games, you won't be disappointed either. Software-wise, Casimba offers only a web browser version, with no apps for computers.
If you're keen on playing it on a mobile phone, you can download an Android app, though. More about that in a next section of our Casimba Casino review.
Slots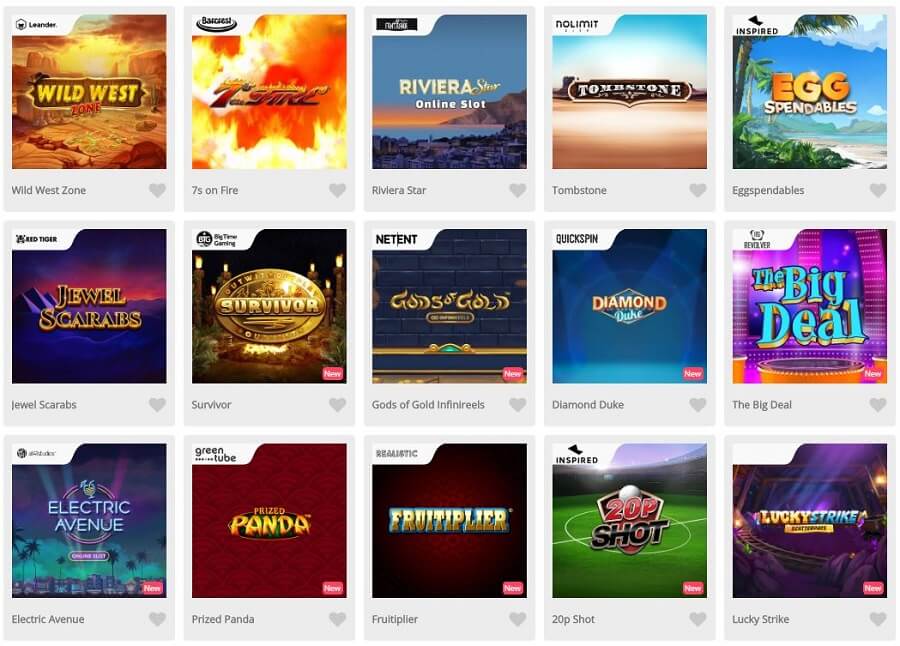 Slots are always the most abundant games on any UK online casino. They're easy to make and play, which is why many online casinos have hundreds of them. Casimba has around 450 slots games in total, making it a beautiful galore of high-quality titles.
Speaking of titles, you can expect the likes of Starburst, Fortinium, Book of the Dead, Electric Avenue, The Big Deal, and so forth. Since slots contribute to your wagering requirements the most, you'll probably be playing a lot of them in the beginning.
Just know that RTPs for slots range from 92% to 97.5%, which is typical for this type of game.
Roulette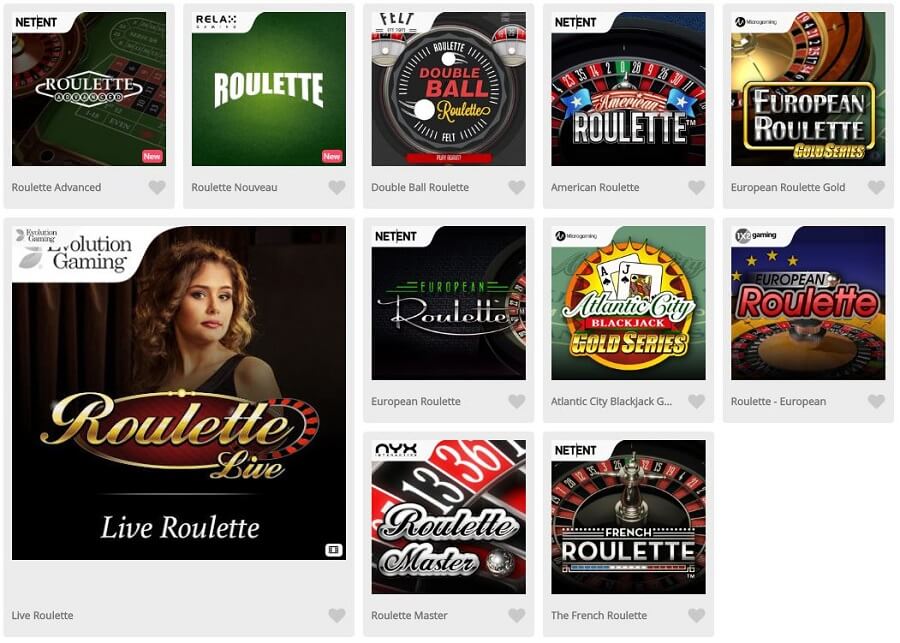 Roulette fans always want to enjoy dozens of games on online casinos. And justifiably so. There are multiple types of roulette games, of which Casimba has around 15, including some Live Roulette variants.
In terms of titles, pretty much all the popular games are here – Double Ball Roulette, French Roulette, Roulette Adv, American Roulette, Roulette Nouveau, European Roulette Gold, and many more. RTPs for these games range from 95 to 99 percent, which is exceptionally high in our opinion.
Blackjack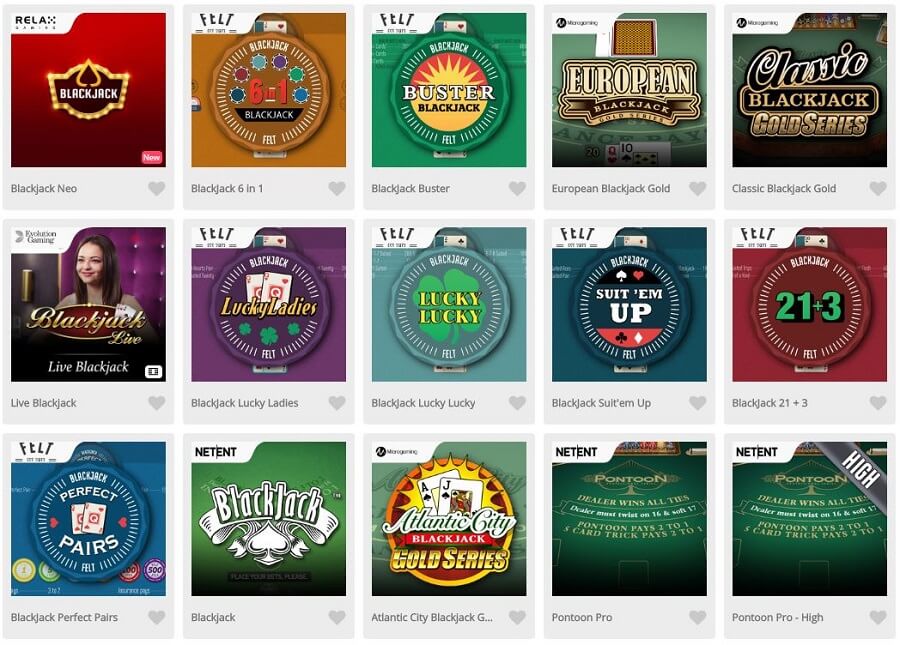 Blackjack is the most popular table game that many old-school gamblers love. Thankfully, Casimba isn't short on blackjack, offering around 30 different variants, including a few live variants. Table games are usually hosted by NetEnt and Microgaming here, so you can expect a fantastic gaming experience.
If you're interested in some of the titles you'll find here, you're in for a treat. Titles like Blackjack Buster, Blackjack 6 in 1, European Blackjack Gold, Blackjack Lucky Ladies, and Blackjack 21 + 3 are here.
Should you decide to test your luck here, know that RTPs for blackjack are pretty high – from 99.2 to 99.9 percent.
Table & Other Games
Apart from the games we already mentioned above in our review, Casimba offers more games. We aren't going to talk about them in-depth but just mention them briefly. Scratchcards and Keno are here, but so are baccarat and video poker.
Sadly, no arcade games are available on the Casino, but that's not a problem, as Casimba has around 80 table games and less than 15 video poker variants. The titles you can expect here are Let It Ride, Mississippi Stud Poker, Jacks or Better, Aces and Eights, All American Double Up, and different variants of Hold'em Poker.
RTP for video poker ranges from less than 90 to 99 percent, while table games yield an RTP of around 95 to 99 percent. Scratch cards give you the lowest RTP of around 95 percent maximum.
Game Providers Available
You know how some online casinos in the UK work with a few game providers only. That's okay if we're talking about the likes of Microgaming, NetEnt, or Evolution gaming. Casimba online casino works with these 3, but also tons of other providers.
We couldn't display all of them in a single screenshot, but this is just a glimpse of what you'll see on the website: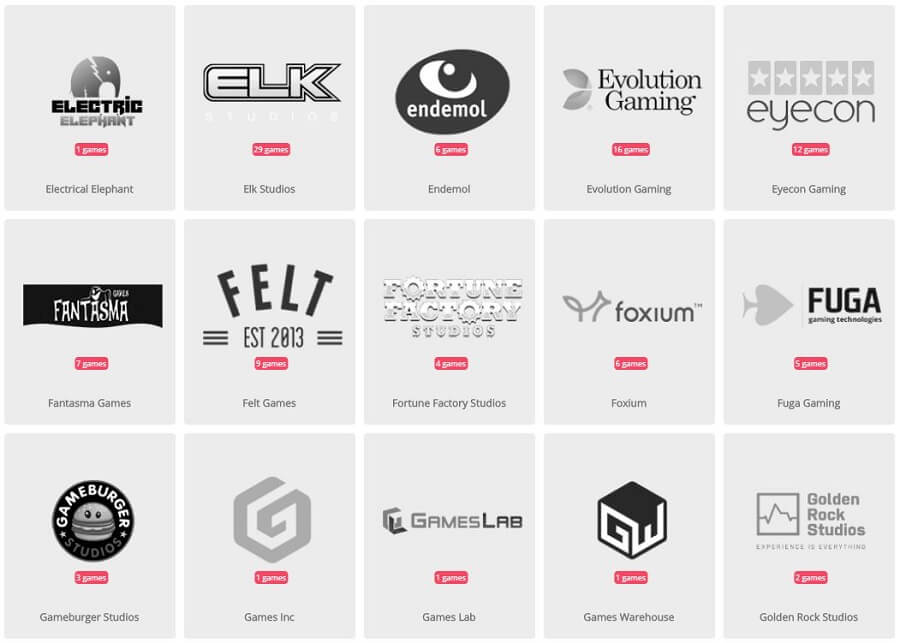 Evolution Gaming is here, Fuga Gaming, Games Lab, Foxium, and many more. Casimba even listed how many games does a particular provider has on the site. Many of them have 1-5 games, while Evolution Gaming has 16 of them and Eyecon Gaming 12 high-quality games.
In this regard, complaining about anything would be like complaining because the sky is blue. Outstanding!
Casimba Mobile Gaming Experience
It's surprising that even the most popular UK online casinos don't have apps for smartphones. Some of them support iOS, some of them Android, and some of them just force you to use a web browser of your choice.
Whatever your choice is, we always appreciate when there's a dedicated app for smartphone. The app looks quite good and is as functional as the website is. No limits are imposed here, except for the number of games, which is a bit smaller.
Nonetheless, you can still play popular slots, blackjack, roulette, and other table games using your phone. Also, it's important that there are no limits in terms of how much you can earn. Everything you can earn on your PC can also be earned through your mobile phone.
Thanks to Microgaming and NetEnt, HD graphics will quickly make every game come to life. With no quality losses, playing on a small screen won't be a problem, even for more demanding users. Demanding users will probably want to play some live casino games, too.
Well, the good news is that they can do it. In the following section, we'll review Casimba live casino section, so keep reading! As for the mobile experience, we can complain about one thing – nothing! 😉
Casimba Live Casino – How Good is It?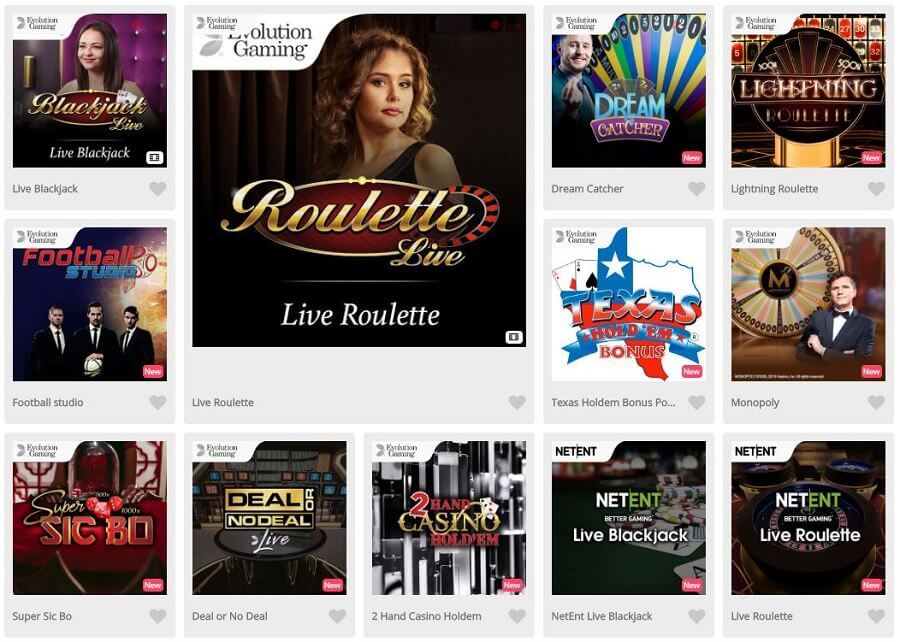 Do you feel like taking the next step? In that case, you might want to enjoy some live casino games on Casimba. Online casino games are already lots of fun, but live casino games are on a whole another level.
Here, you're playing against a real dealer, you get to banter back and forth, and hang out with other people playing at your table. Casimba's live dealer games are mostly hosted by Evolution Gaming and NetEnt.
While both companies do a stellar job, we prefer Evolution Gaming's intuitive interface and in-depth settings. You can change the camera angles, mute the sound, change the view, and so forth. The live casino is pretty in-depth and you can find tons of blackjack, roulette, and other games' variants.
As you can see, some of the titles are 2 Hand Casino Hold'em, Deal or No Deal, Live Roulette, Football Studio, and many more. We didn't like bet365's live casino because of its proprietary software, but whenever Evolution Gaming picks up the fight, the outcome is always good.
How Fair and Secure is Casimba?

When you scroll to the bottom of the home page, you always see something like this. On the left, the logos of Responsible Gaming reside, while in the middle of the page, we have everything related to the company.
This is the main giveaway that we're talking about a verified UK online casino. We can see that it has a license from the UKGC, as well as Malta Gaming. The licence number is also here, implying that everything is under control.
Casimba is located in the UK. However, its parent company, White Hat Gaming Ltd. is stationed in Malta. Both of these countries are gambling-friendly. Finally, Casimba uses 128-bit SSL encryption for keeping things safe and secure.
This means that your data and payment method are always kept under the wraps, and not publicly available for everyone.
Loyalty Program
We talked a bit about Casimba before the review and one thought came into our heads – what if Casimba doesn't have a loyalty program? In that case, our review would definitely take a turn for the worse!
Thankfully, a loyalty program is here. It's a classic loyalty program where you collect loyalty points and exchange them for different rewards.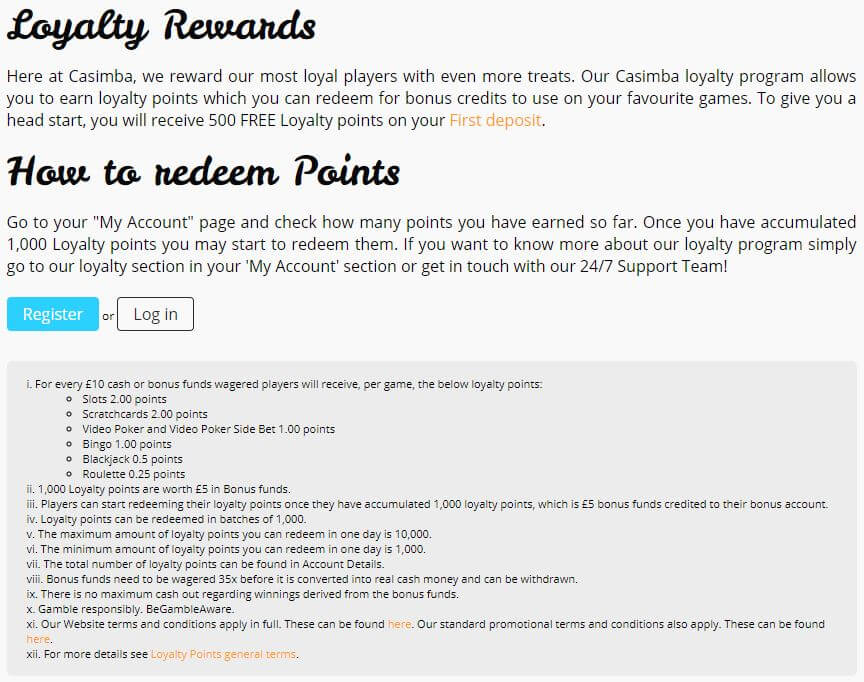 If you deposit £10 and wager them, you'll receive a certain amount of loyalty points per game. Slots give you 2 points per £10, scratchcards 2 points, while blackjack and roulette give you 0.25 points. Should you collect these points, you can exchange them for cash rewards.
In that case, 1,000 loyalty points are £5 in Bonus funds. The minimum amount you can redeem is 1,000. Collecting loyalty points also takes you closer to the VIP lounge, where you enjoy this experience, but on a much higher level.
Casimba Casino Customer Support
A pinnacle of reliable and trustworthy online casinos in the United Kingdom is always customer support. You can have all games and features you want, but if your support team isn't good, you can rest assured that your downfall is near.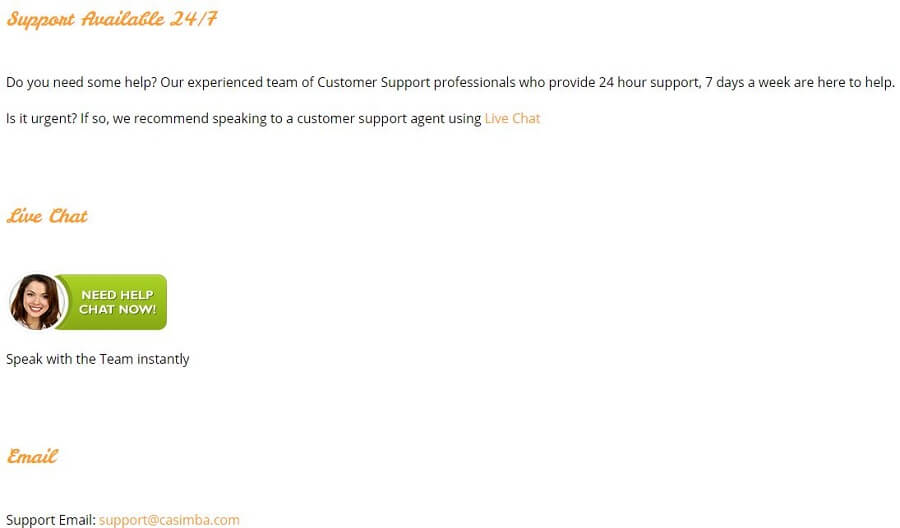 Casimba Casino impressed us, once again. Not only it is available 24/7, but you can also contact it through live chat. And the best of all is that this is true live chat, not a fake one, where you submit a ticket and hope for the best.
Here, you talk with real people and they respond pretty quickly – in about one minute. If you're not in a hurry, you can always use email support at support@casimba.com. The customer support team will take a few hours to respond to your email, which is more than okay, considering that it's available 24/7.
Conclusion – Should You Play on It?
Wrapping up our review, it's time to see if Casimba is worth a shot. The United Kingdom is full of quality online casinos and Casimba is surely one of them. Even the most demanding users will have a hard time finding something that's subpar here.
From welcome bonuses and game variety to excellent mobile experience, immersive live casino games, and outstanding support – everything is here. In our opinion, everything we said is more than enough for you to start playing and winning some cash.
If Casimba isn't exactly to your liking, a good alternative is Mansion Casino, our number one online casino for players in the UK. We did a whole Mansion Casino Review recently, so be sure to check that out!
FAQ
Now, it's time to answer some of the questions we didn't answer in the review of Casimba.
Can I self-exclude myself from Casimba Casino?
Yes, you can always self-exclude if you, for some reason, don't want to gamble anymore. Casimba offers you a time-out that can last from 24 hours to 6 weeks, or you can use the real self-exclusion that lasts from 6 months to 5 years.
Is the Casimba VIP program only invitation-based?
Unfortunately, yes. You can still collect loyalty points and be a loyal member. The Casimba's support team will probably contact you and give you a VIP invitation at some point. Our advice is to ask the support team to help you reach the VIP status easier and point you in the right direction.
Can I use a phone number to contact Casimba?
No, you can't. Casimba's support section is quite simple, offering you only email and live chat. But, as support is more than responsive, a phone number isn't really necessary here.