Dream Vegas is a very popular casino in the United Kingdom, offering a vast choice of games, generous welcome bonuses, and decent promotions. While the casino is based in Malta, it has licenses that allow it to operate almost worldwide. The casino aims to recreate the Vegas-like experience, giving you an online gambling experience of your life. Today, we've prepared an in-depth review of Dream Vegas, where we talk about everything you need to know before playing on it. We suggest buckling up, as this is going to be a long but interesting analysis.
How to Register on Dream Vegas Casino?
We always begin our review with the registration process, because it's a crucial process if you're planning to start playing games on a certain online casino. Dream Vegas Casino doesn't require you to go through many hoops and this process is quite simple. Let's first see how to start: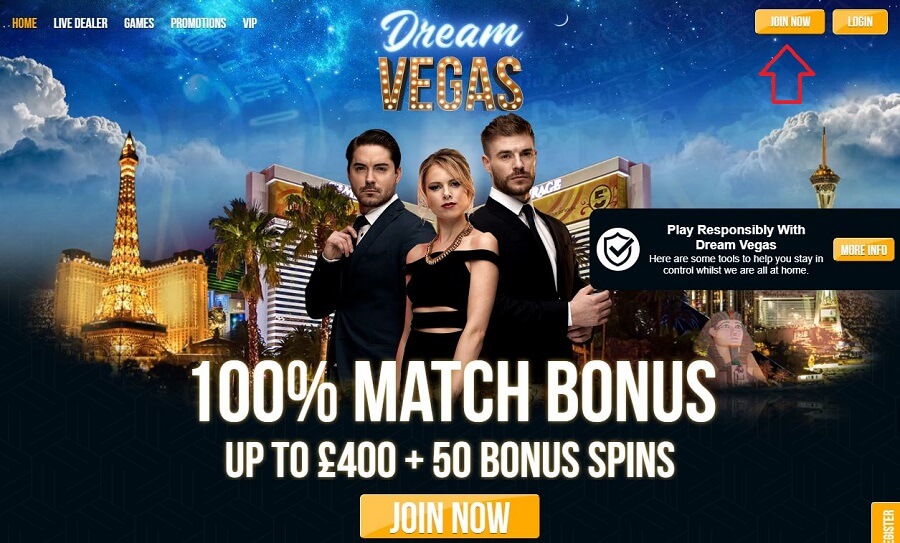 Click on the Join Now button in the upper-right corner and the registration process will immediately start: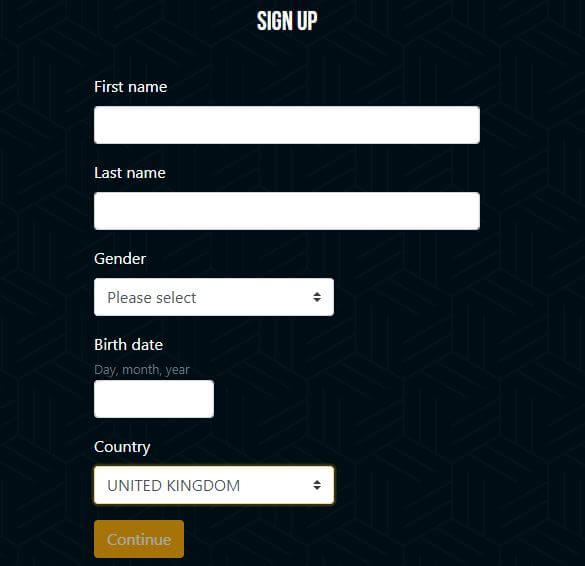 The first step, as always, is the simplest one. You need to enter your full name, choose your gender, birth date, and select the country you're playing from. Beware that Dream Vegas Casino isn't available in every country. However, you can play it almost worldwide, and not strictly in the UK. When you finish that, click on Continue and proceed to the next step.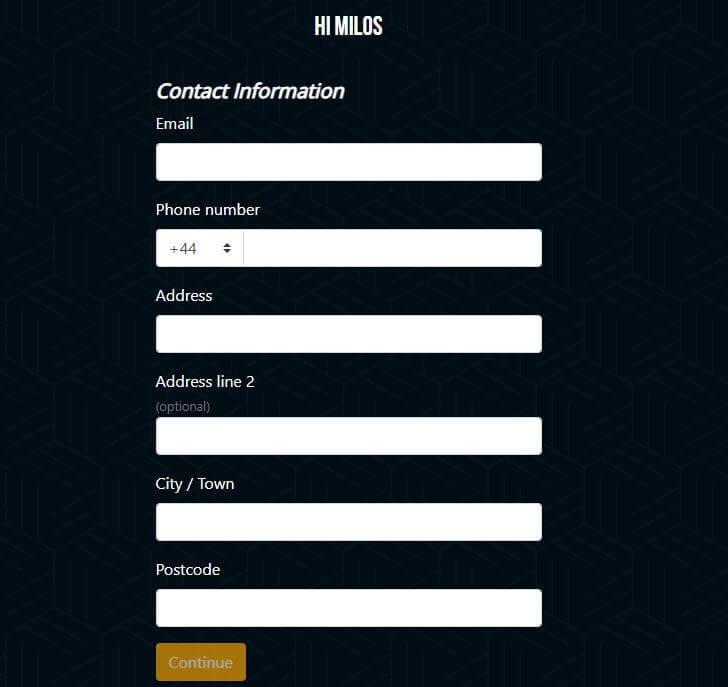 Here, you'll need to provide more info. Enter your email and phone number, and then, address, city, and postcode. It's crucial that this info is genuine, otherwise, you'll fail the verification test and your account will most likely be terminated. So, if you're not ready to hand over true information, stop the process.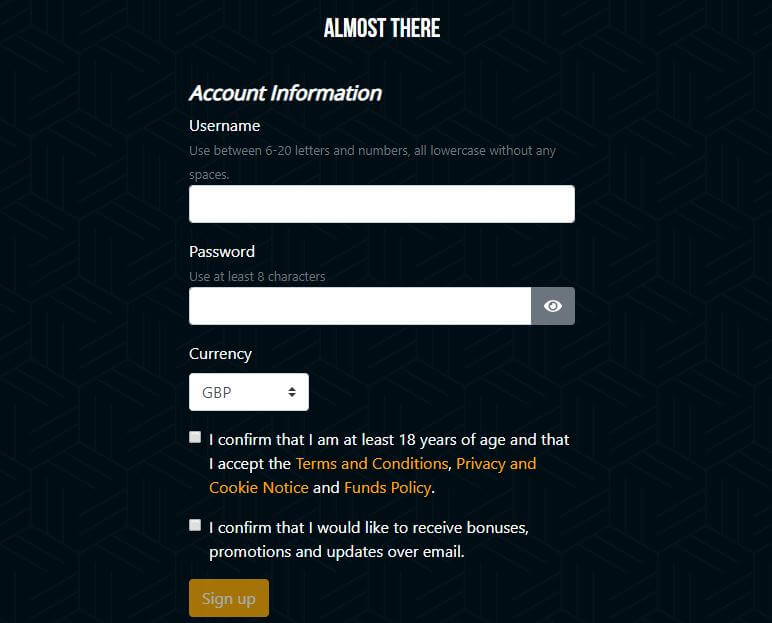 This is the easiest step. You have 6 to 20 letters for your unique username and password. Enter them carefully and choose the currency you're going to use. If you're from the United Kingdom, you'll probably go for GBP, but there are also Euros and American Dollars. Last but not least, confirm that you're over 18 years old and click on Sign Up.

You can immediately claim your welcome bonus if you want to, and if you don't, simply get back to the home page. Dream Vegas Casino won't send you a verification email, so as soon as you sign up, you're ready to explore the site. Of course, to be able to earn real cash, verifying your account is mandatory. More about that in the next section of our Dream Vegas review.
As for the registration process, it's quite simple and can be done in less than two minutes.
Verification Process – What Do You need?
Dream Vegas Casino is a strong name in the online gambling world, and as such, it requires account verification. Every player must be verified and reviewed, and for us, that's quite important.
For the start, if you don't have over 18 years, you should quit immediately, because they won't be able to verify your account. And if you're a responsible adult person, well, here's what you need for verification: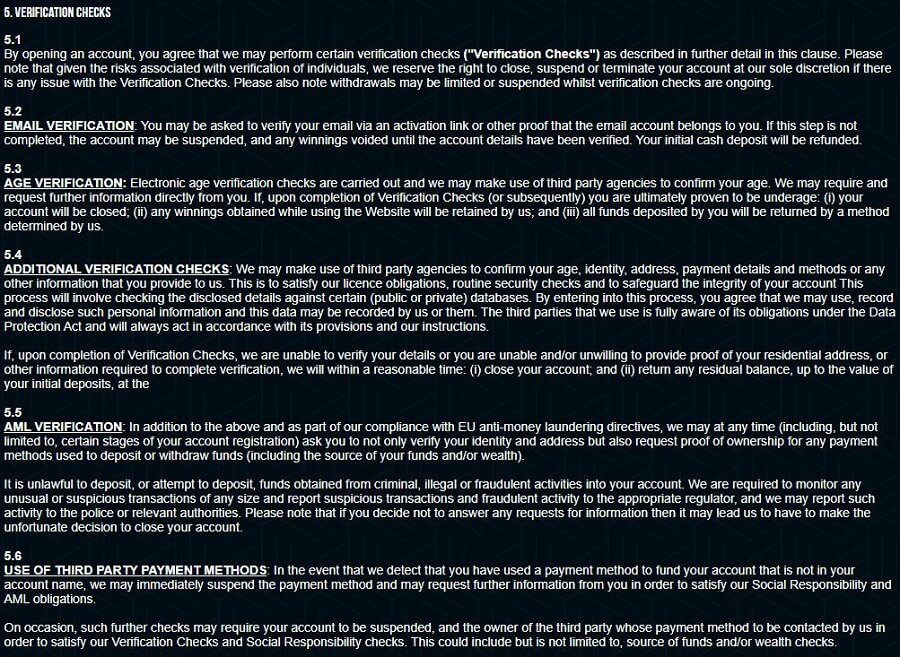 It's quite a lot of text, but we'll make it digestible for you. First of all, Dream Vegas Casino mentions email verification, which we haven't gone through. The casino didn't send us any emails, but for some users, that might be the case. Next up, we have the age verification, which is one of the most important things here.
Although they don't mention it, age verification is done with some of your documents, such as your driving license, ID, or passport. You'll send them these documents in a scanned form, they'll review them, and if eligible, they're going to verify your account.
Dream Vegas casino also has additional verification checks, where they review your identity, address, age, payment details, and so forth. Once again, they mention that they use third parties for this purpose, so you'll need to comply with them collecting a bit of your data. That's not alarming since Dream Vegas Casino is verified and licensed.
Finally, the casino will need to verify that you're the owner of your payment method. For example, VISA cards or PayPal. You'll have to prove that the particular PayPal is yours or that the VISA card is on your name. In case they detect that you're using another person's payment method, they'll terminate your account AND report this activity to the police.
As you can see, Dream Vegas Casino is quite rigorous, which is great. This means that their system works like a well-oiled machine, with no malfunction and exceptions to the rule.
Dream Vegas Casino Welcome Bonuses – Are They Generous?
To receive your welcome bonus, you must verify your account first. That's why we covered the latter process first. Now that you've done that, it's time to get your hands on some bonuses. And if you came here with sky-high expectations, this is your lucky day!
Dream Vegas Casino is one of the most generous casinos in the UK, offering not one, not two, but THREE welcome bonuses! Are you doubting us? Well, here's your proof, mister/miss: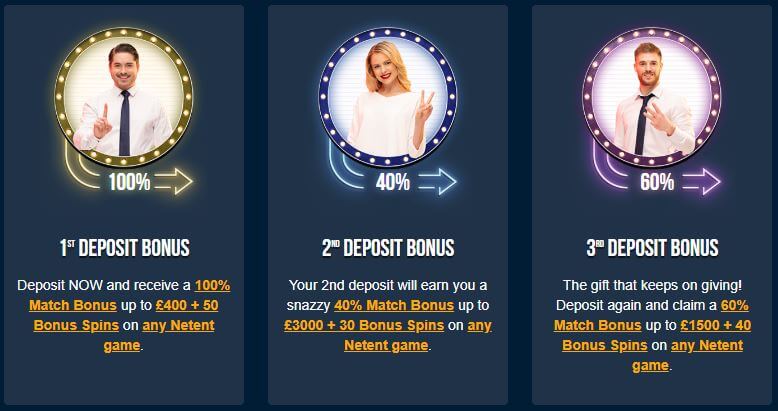 Your first deposit gets a 100% bonus, up to £400 plus 50 bonus spins on any NetEnt game. So, if you deposit £400, you get an additional £400, resulting in £800 to play with. The second deposit is also eligible for a bonus. Here, you get a 40% bonus, up to £3,000, plus 30 bonus spins on any NetEnt game.
The third bonus offered by Dream Vegas is also a generous one. Your third deposit receives a 60% bonus, up to £1,500, plus 40 bonus spins on any NetEnt game. Dream Vegas Casino obviously pushes NetEnt as its primary game provider, which isn't bad, as the company proved its quality long ago.
What about the wagering requirements? To be honest, they're very high. If you visit the casino's bonus policy, you'll see this: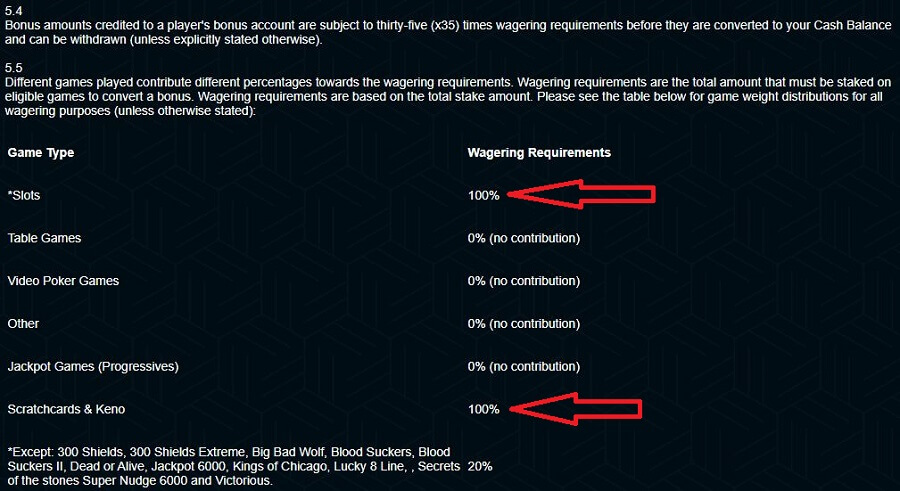 At the top, we see that your bonus amounts are subject to the 35 times wagering requirements. However, the requirements apply to BOTH your bonus AND deposited funds. For example, if you deposited £100 and you get an additional £100, you'll have to wager £200*35 = £7,500.
To fulfill these requirements, you'll have to play slots, scratch cards, and Keno. These games give you a 100% contribution, while all other games don't give you any contribution. In our opinion, the only thing that lets down this casino is what we just said – wagering requirements.
If they could apply only to the bonus amounts, that would be great, instead of having to wager the bonus and deposited funds.
Dream Vegas Casino Promotions – Are There Some?
Promotions are what keep the regular players playing. You can have all the welcome bonuses you want, but if your promotions aren't good, you'll have to say "farewell" to your player. This UK casino is, thankfully, as generous as it gets. We've taken a screenshot of one promotion offered by Dream Vegas, but rest assured, there are a few more of them: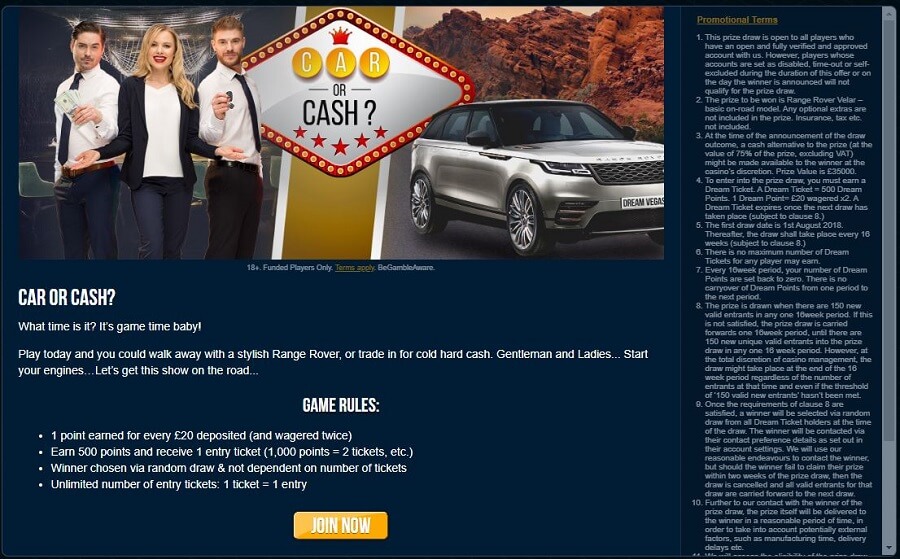 Some casinos give you fancy Mercedes-Benz cars, while some give you a roaring beast such as Range Rover. This English SUV costs thousands of dollars but if you play on Dream Vegas Casino, it can be yours! For every £20 you deposit and wager twice, you earn one point. If you earn 500 points, you get one entry ticket, whereas, 1,000 points equal 2 entry tickets.
This is all you need to participate in this promotion. Dream Vegas Casino picks the winner randomly and the good thing is that you can have as many entry cards as you want. If you manage to earn 100 of them, for example, good for you – chances of winning this Range Rover are then 100 times higher!
Being one of the best promotions on the site, we picked this one. As we said, there are a few more of them, so feel free to check them out on the Dream Vegas Casino's site.
Deposit/Withdrawal Methods and Limits
Being such a large online casino in the UK, you get to deposit and withdraw quite a lot of money. But, even a casino like this sometimes can impose limits, or better said, you can impose those limits. The Responsible Gaming section of the site has a pretty big influence, letting you manage your deposits carefully.
You can limit your deposits on a daily, weekly, and monthly basis, which is great if you're spending too much money on gambling. Furthermore, the lowest deposit is £10, while there's no upper deposit limit, so you can go up to £99,999 or whatever they deem "unlimited."
As for withdrawal, the lower limit is £20, and the upper limit is non-existent. So you can withdraw as much money as you want. Speaking of cashing out, we found out during our review that Dream Vegas casino offers several payment methods: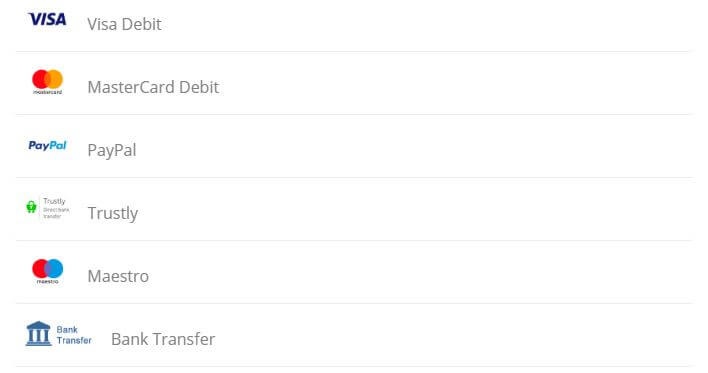 These options are available when you want to deposit money, and the trick is that you must use the same method for withdrawal, too. For example, if you use PayPal to deposit cash, you'll need to use it to withdraw the money you win when playing.
As always, the fastest options are e-wallets, so you'll be better off using PayPal or Trustly. Alternatively, you can go for VISA, Maestro or MasterCard, but here, you'll have to wait for a few days. Bank Transfer is also here and it's a good method for those who want to transfer their cash smoothly and quickly.
Dream Vegas Casino Game Variety & Software
Now that we got the basics out of the way, it's time to move to the more fun part of the site. We'll review several types of games in a minute, but for now, let's talk about them in general.
Dream Vegas proves why it's so great, giving you more than 1,100 games to choose from. That's quite a lot! Even the most demanding players will find themselves lost in the ever-lasting wave of different games.
In a good way, of course. Dream Vegas Casino carefully classifies its games by different categories, so you can easily cherry-pick the ones you like. Whether you like playing roulette, baccarat, blackjack, slots, or poker, everything's at your disposal.
Most of the games consist of slots, which is expected, but other games are, more or less, in abundance, too. The site interface is intuitive and has a black background, to help you save your eyes. Software-wise, Dream Vegas doesn't offer any apps, so you'll have to enjoy it using your browser, on both smartphones and computers.
Slots

Slots make the most of the game roster here, counting up to 1,000 games in total. Those who love slots will feel like they're in heaven, especially since these games look as good as the Range Rover we mentioned above. Games like Bonanza, Cashmuza, The Vault, Manhattan Goes Wild, and Capital Gains are here, so you won't have to worry about the quality.
Since slots give you a 100% contribution, you'll play them a lot at the beginning. Just know that they give you an RTP of up to 97.4%, which is typical for this game, as it's usually between 97% and 98%, depending on the casino.
Roulette

Let's review the choice of roulette games on Dream Vegas. The casino offers significantly less choice. Whereas we got over a thousand slots games, we have slightly below 20 roulette games here. That's not very good, but not very bad, either. It's just that some UK casinos offer slightly more.
Nevertheless, games like American Roulette, Double Ball Roulette, French Roulette, and Roulette Nouveau are here, and you can expect to earn some sweet cash from them. To be precise, the RTP for roulette games goes up to 99%, which is exceptionally high!
Blackjack

When it comes to blackjack games, Dream Vegas Casino is slightly more generous – around 30 games. And quite frankly, these are some of the best titles you can play. There's Blackjack 6 in 1, Classic Blackjack Gold, Blackjack Buster, Blackjack Classic, Blackjack Neo, and many more.
Blackjack games usually offer higher RTPs, so we aren't surprised to see an RTP that goes up to 99.7% here. This is the highest RTP you're going to get on this casino, accompanied by table games and scratch cards.
Table & Other Games

Table games at Dream Vegas Casino are quite abundant. We have around 80 games in total, accompanied by video poker, scratch cards, and Keno. Of course, Jackpots are here, but they belong to the Slots category. In terms of table games, the casino offers Baccarat, Let It Ride, DJ Wild Stud Poker, Jacks or Better, Aces and Eights, Mississippi Stud Poker, and so forth.
Interestingly, the casino doesn't offer arcade games, but that's not bad, given how abundant other games are. RTPs for table games go up to 99.7%, while video poker has an RTP of around 95%, and scratch cards of 95.1%.
Game Providers

Talking about particular game providers too much would be silly – just look at the image above! Dream Vegas definitely gets bonus points in our review for this, as it managed to amass both smaller and bigger providers, to create a perfect, smooth gameplay experience on its site.
Needless to say, providers like NetEnt, Evolution Gaming, and Microgaming are all here. Moreover, we have some smaller providers such as Big Time Gaming, Scientific Games, Blueprint, and PlaynGo. Their Live Dealer games are managed usually by Evolution Gaming and NetEnt, where we prefer the first one.
Dream Vegas Casino Mobile Gaming Experience
When visiting the Dream Vegas Casino for the first time, you'll stumble upon this Google Play banner at the bottom of the website: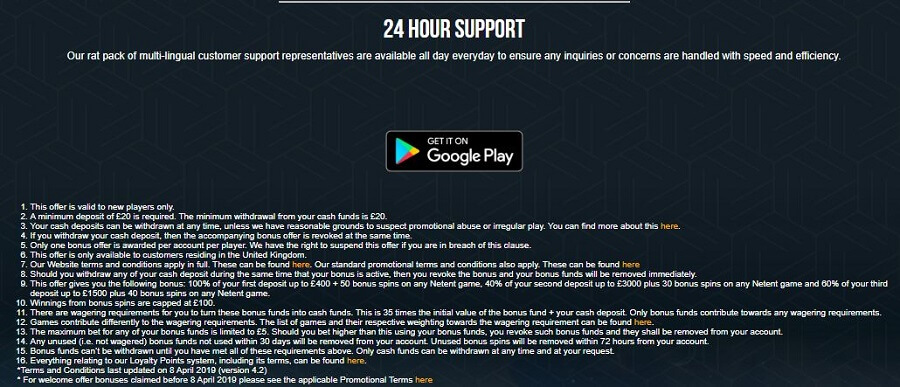 This implies that there's an app for Android, right? Well, not exactly. This UK casino doesn't have any apps for smartphones, which is a shame, as it would be a great addition to an already awesome browser experience you can get. Despite this, Dream Vegas Casino manages to give you everything you need even when using your mobile phone's web browser.
You can play more than 100 games, including popular blackjack, slots, and roulette titles, as well as different table games. The live casino is also here and it looks decent, although not as good as on the big computer screen. Banking options are also here, meaning that you can manipulate your cash on the go.
In short, Dream Vegas Casino mobile experience is a pretty positive one. We'd just like an app for Android or iOS, as it's much more practical, at least for us. Still, if you're using Google Chrome on Android or Safari on iOS, you'll have zero problems playing the games smoothly.
With HD graphics even on a phone, you'll still enjoy the immersion and beautiful visuals.
Dream Vegas Live Casino – How Good is It?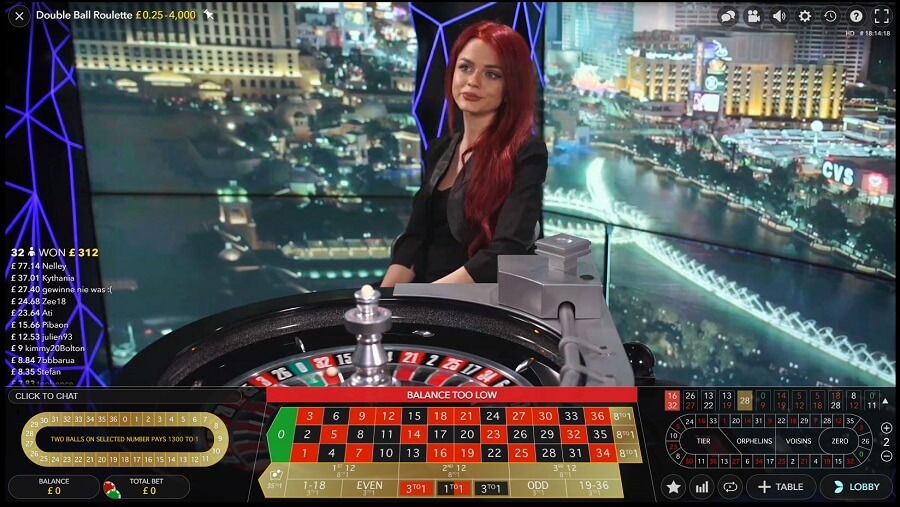 If classic online casino games are already very immersive for you, wait till you try Dream Vegas Live Casino. This part of the website is perhaps the most visited one, as it offers tons of different live dealer games to play. You can find this category right on the front page and when you click on it, you'll immediately see at least 20 different games.
Simply click on the game you want and you'll enter the game, even if you don't have any cash. In the image above, you can see the Double Ball Roulette Live gameplay, with this beautiful red-haired dealer. We must admit – Dream Vegas has some of the prettiest dealers in the game!
Apart from that, Evolution Gaming made sure that all games are easy to play and accessible to everyone. While NetEnt is a bit inferior in our opinion, EG shines when it comes to ease of use and graphics. Below is your gambling interface, while at the top, you can tweak some settings.
For example, you can switch camera angles, mute the dealer, enter the live chat, and so forth. In terms of game variety, you can expect titles such as Infinite Blackjack, Lightning Roulette, Deal Or No Deal, Super Sic Bo, Casino Hold'em, and many more.
In short, Dream Vegas Live Casino is top-notch, and given how many games it offers, you'll surely enjoy experimenting with different titles.
How Fair and Secure is Dream Vegas Casino?
Dream Vegas Casino's headquarters are in Malta. Despite that, this casino offers excellent gaming experience for players from the United Kingdom.
Apart from generous welcome bonuses, you can rest assured knowing that this casino has a license from the UKGC and, of course, Malta. This means that you're not going to jeopardize your personal info or won money in any way, shape, or form.

Furthermore, there are no fixed RTPs or any malevolent tactics for stealing money from the players. For that, eCOGRA is here. This company reviews every single game, in order to find potential flaws and fix them when needed. Dream Vegas Casino also utilizes 128-bit SSL encryption, making its site safe and secure.
We like that every bit of information is available about the company, which definitely adds a lot to its value. In the image above, you can see the number of licenses, its location, and so forth. That's a dead giveaway that we're talking about a verified and secure UK casino.
Loyalty Program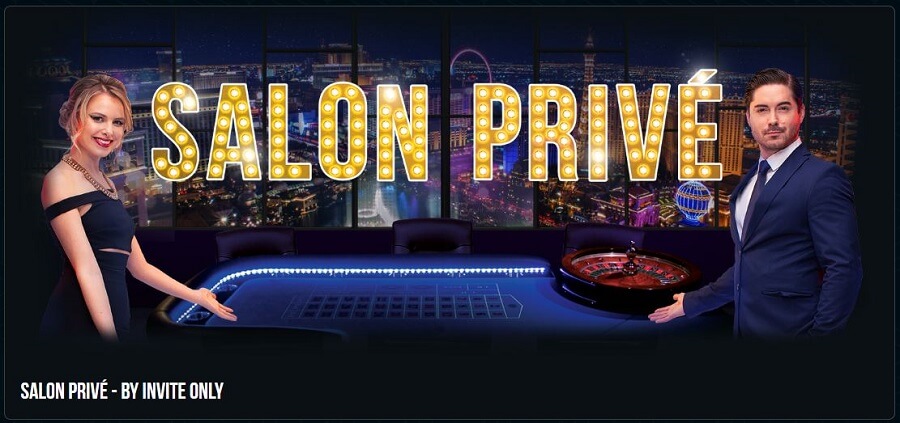 While Dream Vegas Casino exceeds in almost every regard, this is where we feel a bit disappointed during our review. The casino doesn't offer a loyalty program. That doesn't mean that it doesn't reward your loyalty in different ways. We mentioned this Range Rover promotion and a few more of them.
However, if you expect a loyalty program in a way that you collect points and progress through tiers, that doesn't exist here. Instead, the casino has a VIP club, but as you would expect, it works only on an invitation basis. If you're hell-bent on entering this VIP club, you can ask support to guide you on how to get an invitation.
Dream Vegas Customer Support
Speaking of support, Dream Vegas Casino doesn't offer anything extravagant. Here's what you get: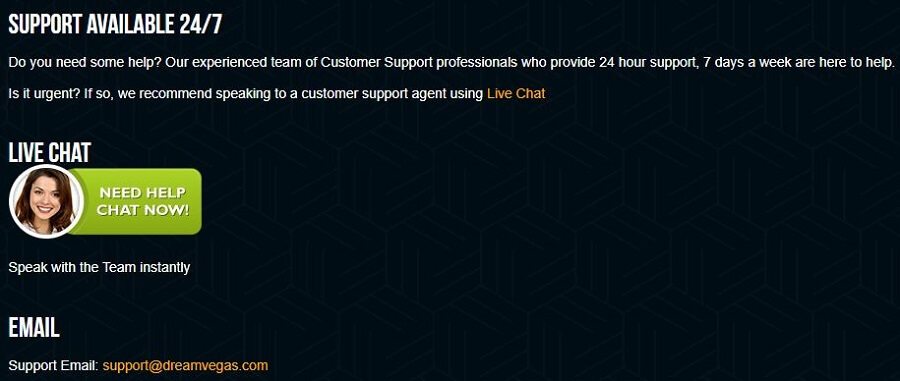 You get 24/7 customer support available through live chat and email. We can agree that a phone number is missing, but you don't need that here, as the casino perfectly takes advantage of what it has. For instance, when using live chat, the support members of Dream Vegas will respond to you in less than half a minute.
Furthermore, email support is also pretty fast. They respond in less than one hour, providing you all the necessary info about your issues. As we said, it's available not only 24/7 but also EVERY day of the week, which is crucial. This means that you can contact them even in the middle of the night and get your response within a few minutes.
Conclusion – Should You Play on It?
Let's conclude our review of Dream Vegas Casino based on what we said up until this point. It is definitely among the best choices for both beginners and ambitious players from the United Kingdom. It offers 3 welcome bonuses, an intuitive interface, more than 1,000 games, and decent promotions.
While we didn't like the lack of any kind of loyalty program and a bit higher wagering requirements, this casino is, generally speaking, on the top level. So, should you play games on Dream Vegas? Of course!
If you want to try it immediately, feel free to register on Dream Vegas and get your welcome bonus!
FAQ
We still haven't mentioned some things in our review of Dream Vegas, so let's mention them in our FAQ section.
Can I take a break from playing on Dream Vegas Casino?
Yes, you can. We encourage you to scroll down the front page and find the Responsible Gaming section.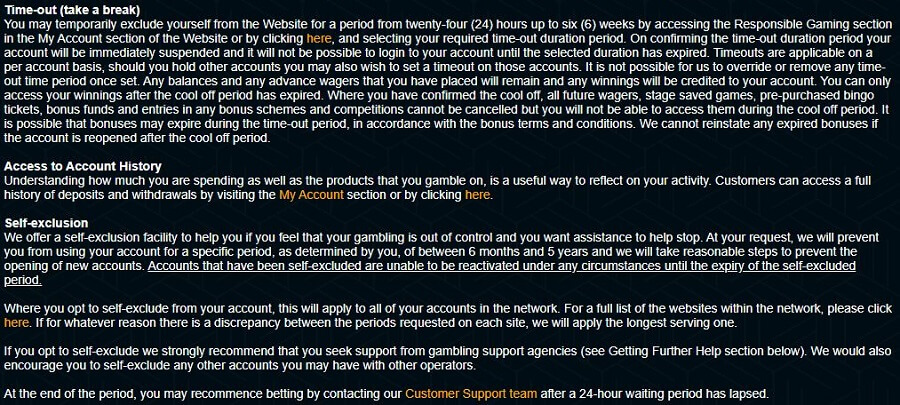 As you can see, you can take a break from 24 hours to 6 weeks, but if you want to use the self-exclusion option, you can increase that period to up to 5 years.
Is Dream Vegas available in other languages aside from English?
Yes, aside from English, you can enjoy this UK casino in Finnish, French, German, Norwegian, and Swedish.
What arcade games can I play on Dream Vegas?
Unfortunately, there aren't any arcade games on Dream Vegas Casino. But, if you want to, you can take advantage of more than 1,000 other games that the casino offers.