Genesis Casino represents one of the best casinos in the UK, offering a pleasant experience for both mobile and desktop users. The gambling site is known for its intuitive, colorful interface, and generally more games than its competition. Moreover, you can expect generous welcome bonuses, great live casino experience, and a few decent promotions. Now that we said everything upfront, should you play on it? Well, not yet. Read our full review of Genesis Casino because there are some pitfalls here, as no online casino in the United Kingdom is perfect.
How to Register on Genesis Casino?
Kicking off our Genesis Casino review, we have the registration process on the menu. Genesis Casino has a beautiful interface that lets you easily locate that sign-up button. The part of the home page looks like this:
If you see the red arrow pointing upwards, we did that to show you where to click to begin the registration process. While we're here, we must praise this kind of home screen. We like it when a casino uses some imagination, instead of having a simplistic, bare-bones website.
Nevertheless, clicking here will make the next screen pop up: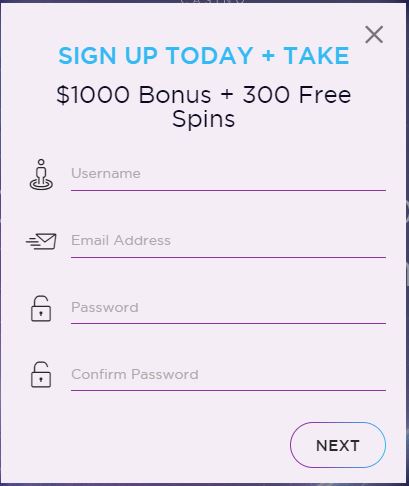 At the top, you'll see this generous bonus of £1,000 and 300 free spins but that's… well, let's say marketing trick. We'll talk about that later in our review of Genesis Casino but for now, enter your unique username, email address, and come up with a rock-solid password. Click Next and the next screen will appear: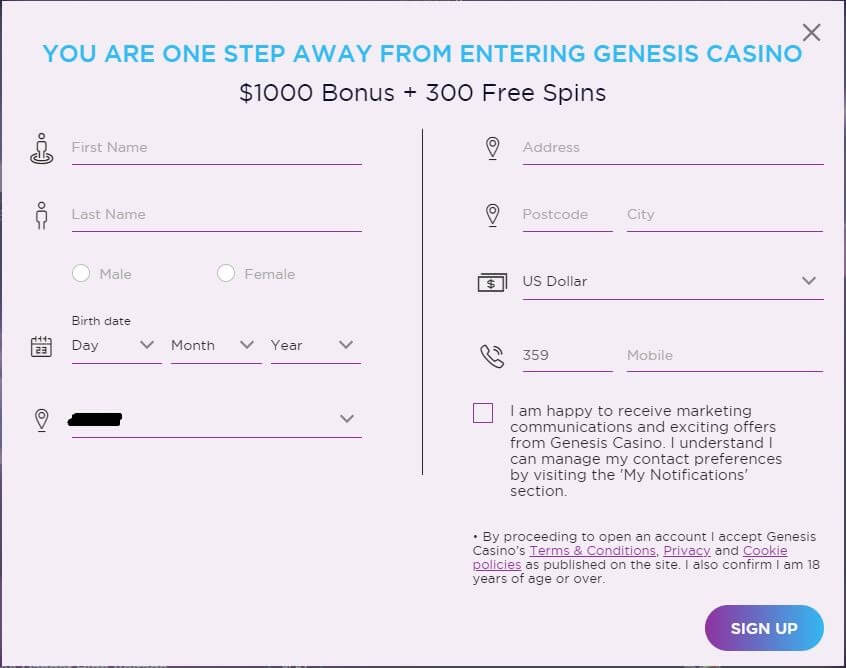 Now, it's time to enter your personal information, such as first name, last name, gender, birth date, and the country you're from. Speaking of countries, you don't have to ben necessarily from the United Kingdom. Genesis Casino is available worldwide, although not in every country. For that reason, if you're not from the UK, click on that drop-down menu and check if your country is on the list.
On the right side, you'll need to enter your address, postcode, city, and the currency you're going to be using. Of course, we're from the UK, so we used GBP but you can use the pre-defined one e.g. USD. Finally, enter your mobile phone and click on the 'Sign Up' button.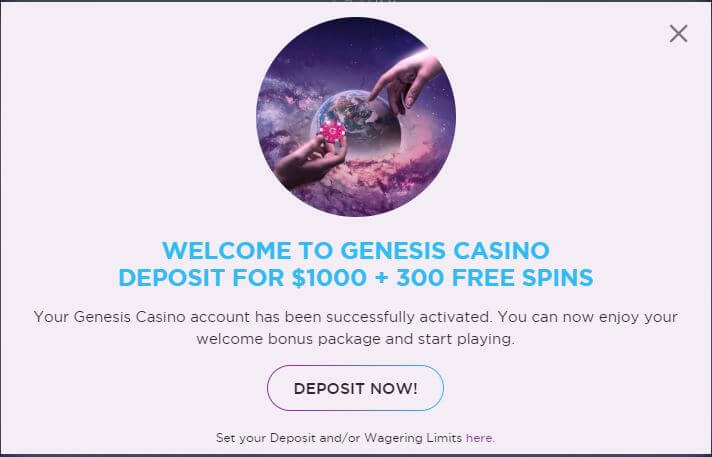 Congratulations – you've successfully made an account on Genesis Casino!
To be honest, we liked the registration process a lot. You can basically complete it in just two steps – username, password & some personal info, and voila! Also, you can start depositing cash right away or set your deposit/wagering limits, which is a part of the Responsible Gaming that we're going to talk about later.
Verification Process – What Do You need?
To be able to withdraw funds from Genesis Casino, verifying your account is mandatory.
Casinos in the UK work with enormous amounts of money, so everything has to be clear and legal. Genesis Casino is, thankfully, very simple when it comes to verification as we found out during our review process. We visited their Terms & Conditions page to find out everything about it:
Here's what Genesis Casino will want you to do to verify your account. Although the letters are quite small, the casino at least made sure to split these requirements into paragraphs, to make them clearer. First of all, you'll need to be of legal age, which can be 16 or 18, depending on your jurisdiction.
The details you entered when registering should be completely true, as they'll be checked later when you want to withdraw money. Also, Genesis Casino wants you to be the rightful owner of the money in your account, as well as to be in a jurisdiction where gambling is allowed. Also, the money you're using for gambling must not be derived from illegal activity. Otherwise, you'll probably get into serious legal issues.
We also like that the casino mentions money laundering, which they're against. Since the platform and site is under the Maltese jurisdiction, Maltese Authorities will take action if such a thing happens or they suspect that it's happening.
Finally, they mention that your identity will be verified upon registration, deposit or withdrawal.

This is quite an important one – you'll need to verify your account whenever you're withdrawing more than £2,300. So, if you're often winning big money, verifying your account will occur every single time you want to withdraw it. To do that, you'll need to provide standard documents to the casino's personnel.
By standard documents, we think about your ID, passport or driver's license. If that's not enough, and it isn't, they'll ask you to verify your payment methods, to see that you're the owner of the e-wallet or other method used for funding your account. It's basically the same as with the other UK casinos but here, Genesis Casino states every single thing they require, which we like.
Having your requests up-front is always a good thing.
Genesis Casino Welcome Bonuses – Are They Generous?
Welcome bonuses are here to make the new players want to play, and most importantly, STAY at the online casino. Let's review them and see if they're as generous as many people online say.
First of all, to be eligible for a welcome bonus, you'll need to do two things – verify your account and deposit at least £10. If you did that, these bonus conditions will apply to you:

On your first deposit, Genesis Casino gives you a 100% bonus, up to £100, and 300 free spins. These spins are for Starburst and you get 30 of them on a daily basis, and not in a single day, just to make it clear. As for the bonus, the maximum deposit is £100, so you can then get a bonus 0f £100, resulting in £200 to play with.
That's not all!
Genesis Casino offers 3 more bonuses, that's right – THREE. Your second deposit yields some more rewards, to be precise, a 50% bonus, up to £300. So, if you deposit £600, you get a £300 bonus, resulting in £900 to play with – now, we're talking!
The third and fourth deposits are virtually the same – a 25% bonus, up to £300. Here, you can deposit a maximum of £1,200 and get a £300 bonus, which is £1,500 to play with. Sounds pretty damn generous, doesn't it? Well, if only the wagering requirements were generous enough…

This isn't great news. You'll need to wager the first four welcome bonuses 40 times before you can withdraw your bonus AND the winnings you got from them. As for the wagering contributions, your best bet will be the slots:

We signified it here in the image above. Slots will give you a 100% contribution, while the "Classic Slots" games will give you a 75%. Table games give you only 10%, while blackjack games give you only 5%. Additionally, some games that aren't giving you any contribution are displayed in the paragraph right under the one we mentioned now.
All in all, Genesis Casino has pretty generous bonuses but its wagering requirements are tarnishing them a bit.
Genesis Casino Promotions – Are There Some?
For the regular players, Genesis Casino has some cool promotions to keep them around. Although some promotions are seasonal and will expire at a certain point, some promotions are here on a weekly or monthly basis. Here's what the casino offers: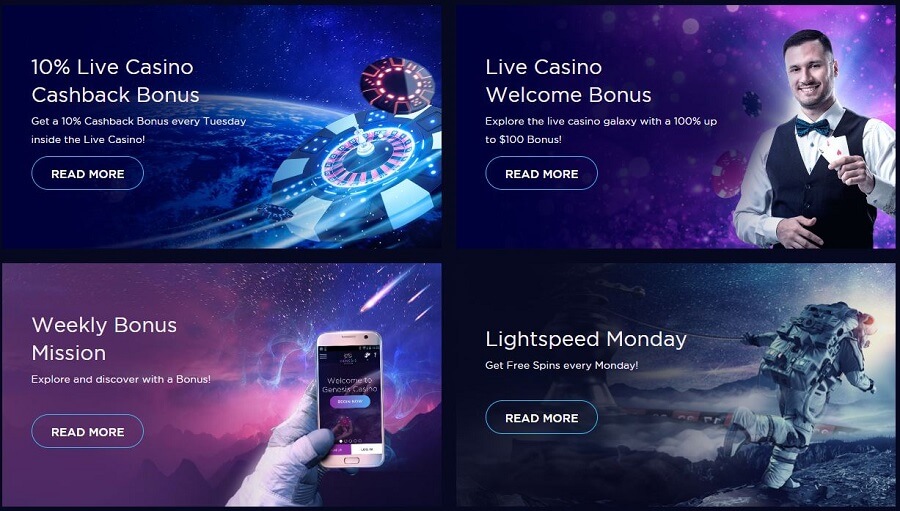 On the left, we have a 10% live casino cashback bonus every Tuesday, where you can get up to £200 cashback on your losses. Since there's no info on when the promotion expires, you can play live casino and get your cashback every Tuesday, until Genesis Casino decides to change it or remove it.
On the right side, we have a live casino welcome bonus. This bonus isn't as generous as the online casino bonus. But, you get a 100% bonus, up to £100, which is okay for a little headstart in this special department. Next, in the lower-left corner, we have a weekly bonus mission, where Genesis Casino gives you a special "mission" and rewards you with some cash for completing it.
The condition is that you need to deposit at least £50 from Monday to Tuesday and you get a 25% bonus, up to £100 on Friday. Finally, the Lightspeed Monday promotion is here. When you deposit and wager £10 or more from Thursday to Sunday, you get free spins in your inbox.
Promotions-wise, Genesis Casino is one of the best casinos in the United Kingdom we have reviewed. And the good thing is that every casino player can participate if they have their accounts verified and fulfill these promotions conditions.
Deposit/Withdrawal Methods and Limits
Unlike many casinos in the UK that usually don't have specific limits when it comes to deposit and withdrawal, Genesis Casino has some of them. So, let's review them and see if they'll hinder your gambling experience on Genesis if you're a highly-ambitious player.
As we mentioned earlier, the minimum deposit amount is £10 and this amount of money is eligible for a welcome bonus, which is great. However, in a single transaction, you can deposit up to £5,000, which isn't small, but high-stake players are probably spinning a lot more money than this.
What about withdrawal limits? Well, they're, more or less, the same. You can withdraw as low as £10. The maximum monthly limit is £22,000, while the maximum weekly limit is £5,500, where the progressive jackpot is an exception, as no limits apply here.
They also mention that the VIP players have higher withdrawing limits, which is quite logical. Here are the payment methods that Genesis Casino supports:

We don't know why they represented them this way and we don't like it. You should crank up your display brightness to see them better. Now, we won't go over every single method in this review, and neither did Genesis Casino when making the following list:

This list shows withdrawal times depending on the payment methods. We didn't mention deposit times because they're instant – always. But, as far as withdrawal times are concerned, your best bet is to use either an e-wallet or online bank transfer. Withdrawal times here are instant, whereas, bank transfers take up to 5 days, and credit/debit cards up to 3 working days.
Obviously, Genesis Casino doesn't support mobile payment and prepaid cards as withdrawal methods. Moreover, there aren't any fees on deposits and withdrawals, so everything you win is yours to take 😉
Genesis Casino Game Variety & Software
Players who like to experiment will probably like Genesis Casino. As a matter of fact, this is among the best UK casinos out there if we look at it from the game variety perspective. Impressively, this casino offers more than 1,000 games, which is one of the highest numbers we've ever seen in an online casino.
As expected, these games are comprised mostly of slots but other games don't lack any variety, either. Furthermore, the casino doesn't have any problems clearly displaying the games it offers, despite the aforementioned number. You'd expect a cluttered interface where you can't pick the game you want to play properly. Instead, you get an intuitive interface that gives you total control over what you play and how you play.
Furthermore, the games are split into several categories, making it easier to find the game type you want. As for software, Genesis Casino can only be enjoyed via your web browser, whether you're on a smartphone, tablet or a computer. But, that's not a downside, given how polished the experience is.
Slots

Let's start this part of our review with the slots since they make up about 74% of all the games offered by Genesis Casino. If you're a slot addict (which you shouldn't be), you'll be happy to know that there are 740+ slots games here, which is INSANE! And don't you dare say that these are leftovers and low-quality games.
You can expect games such as Mega Moolah, Book of the Dead, Starburst, Reel King, Pirates Plenty, Spinata Grande, Immortal Romance, Motorhead, and Jack Hammer 2. As you can see, these are all very popular titles. The good thing is that the slots give you an RTP of around 96.7%.
Roulette

Do you like spinning the wheel and hoping for the best? Because many old-school gamblers like the thrill that blackjack gives you and since it depends totally on your luck, you better be born under a lucky star! Genesis Casino offers a total of 35 different roulette games, which is definitely an impressive number.
You get to play Immersive Roulette, European Roulette, Advanced Roulette, American Roulette, Double Ball Roulette, Multi-Wheel Roulette, French Roulette, and so forth. This is all good, but one thing we don't like is an RTP of just 95% on these games. We're used to seeing it go above 97% but that's how the situation is.
Blackjack & Table Games

Genesis Casino doesn't offer a special category for blackjack. Instead, you'll need to click on the Table Games, and here, you'll find it, alongside other table-based games.
Let's review the blackjack first. You get 67 variants of blackjack, including Spanish 21, Classic Blackjack Gold, Vegas Strip Blackjack Gold, European Blackjack Redeal Gold, and so forth.
As for the table games, you get an impressive number of them – 147. Here, you can find High-Speed Poker, Red Dog, Baccarat, Texas Hold'em, and many more. The RTP for both blackjack and table games is 99.9%, which is quite impressive.
Other Games
When it comes to other games, Genesis Casino includes mainly jackpots that are basically slots, and you get some arcade, video poker, and scratchcards. Here, you can play games such as Joker Poker, Jacks or Better, Tens or Better, Casino Patience, Monkey Keno, Whack-A-Jackpot, and Crypt Crusade.
Game Providers
The moment we saw what game providers are available here, we couldn't shake off the smile off our faces. Just look at this screenshot: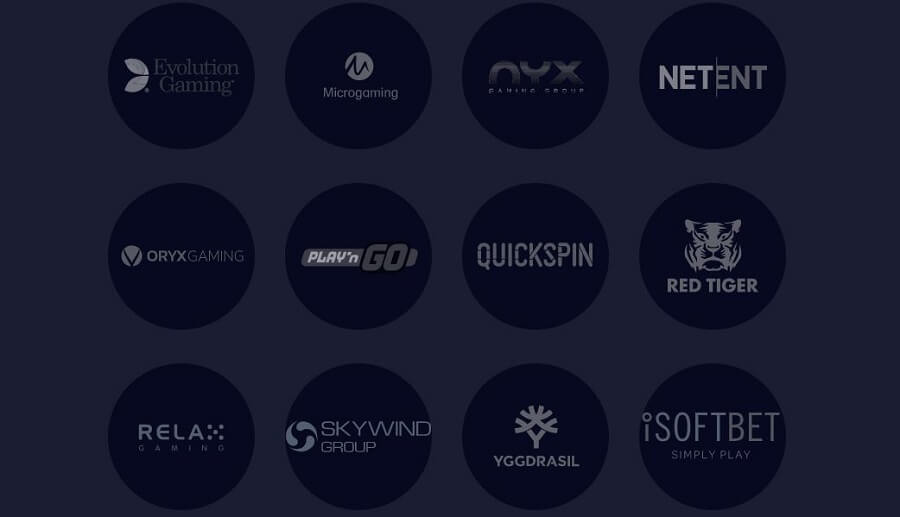 As you can see, all the best game providers in the UK are here, with the inclusion of some smaller providers such as Red Tiger and Yggdrasil. But, we also have Microgaming, Evolution Gaming, iSoftBet, and QuickSpin. Online casino games are maintained and hosted by Microgaming and NetEnt, while online casino games are mostly made by Evolution Gaming.
All of these providers do a great job of resenting their games, offering HD graphics, and smooth and fluid gaming experience.
Genesis Casino Mobile Gaming Experience
Speaking of gaming experience, how good is Genesis Casino on a mobile phone? We'd say it's great after a complete review.
While the computer game variety is much bigger, you get "only" 200+ games on the smartphone. We say "only" because it's minuscule when compared to the computer version. However, for a tiny 6-inch device, 200+ games are more than enough. For those worried about the game variety, rest assured that every popular title is here.
Games like Classic Blackjack, American Poker, Big Foot Scratch, Royal Roulette, and Roulette Touch make their return, and they look stunning on the small smartphone screen. Furthermore, Genesis Casino offers more than 130 slots, including progressive jackpots, for earning some sweet, sweet money.
The great thing is that you can also play live casino on your mobile phone. While it's a good option, we're rather using it as a means to an end, given that it's not as immersive as playing it on the computer. But, for those who travel a lot, this is a great option to have.
Also, Genesis Mobile Casino is mainly optimized for Safari, a web browser for the iOS platform. When playing on an Android smartphone, we also tested Google Chrome and it worked fine, too.
Genesis Live Casino – How Good is It?
If you want to switch things up a bit, you'll probably end up in the live casino section, which will give you an authentic casino experience. Genesis Casino, similarly to other UK casinos, offers a fantastic experience here. You can easily find it on the website, as the Live Casino section is clearly shown under the 'Games' drop-down menu.
When you get there, you'll see that the casino offers games like Auto Roulette, Dream Catcher, Free Bet Blackjack, French Roulette Gold, Monopoly Live, and Immersive Roulette, that we played, and showed in the image above. As you can see, the gaming experience is top-notch.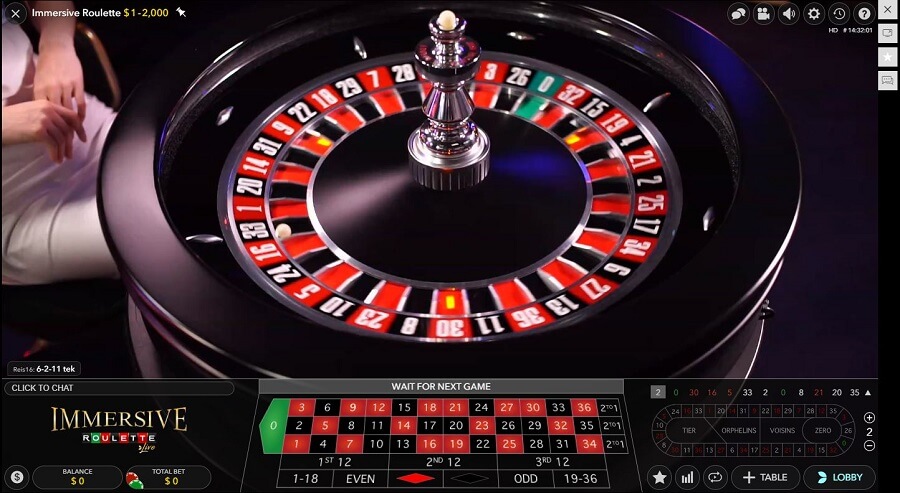 Not only is the video quality in HD resolution but it's also smooth and lets you place bets in real-time. In the bottom part of the screen, you play a game, place bets, and use the live chat feature. If we look up, you can see that there are different settings. For example, you can change the camera view from Immersive to 3D, so you can better see what's happening on the table. Of course, if you don't want to pay attention to this gorgeous female dealer.
You can also disable sound if you want to blast some of your music in the background. Genesis Casino went out of its way to make its live casino as immersive as possible, which is the whole point of these games.
Admittedly, the mobile version isn't as immersive as this one but hey, at least, you can play it!
How Fair and Secure is Genesis Casino?
Scrolling down at the bottom of the page, we see that Genesis Casino is jam-packed with certifications that make it clear that we're talking about a serious casino:

The most important one is the Gambling Commission license or the UKGC license, however you like it. Furthermore, the casino also has a license from the Malta Gaming Authority, and it's not strange, given that its physical location is in this country. Although it's under the Maltese jurisdiction, it still represents a great choice for the UK players.
Security-wise, Genesis Casino offers 128-bit SSL encryption, which represents a pinnacle of security. For RTP analysis, there's iTech Labs and for Responsible Gaming, numerous organizations partake here – Gamble Aware, Gambling Therapy, GamStop, and Gamblers Anonymous.
The casino has all the necessary data displayed on the site and nothing is hidden away from your eyes. This means that we're talking about verified and safe-to-use UK Casino. You can rest assured knowing that all the games are fair and square and that your money is in the right hands.
Loyalty Program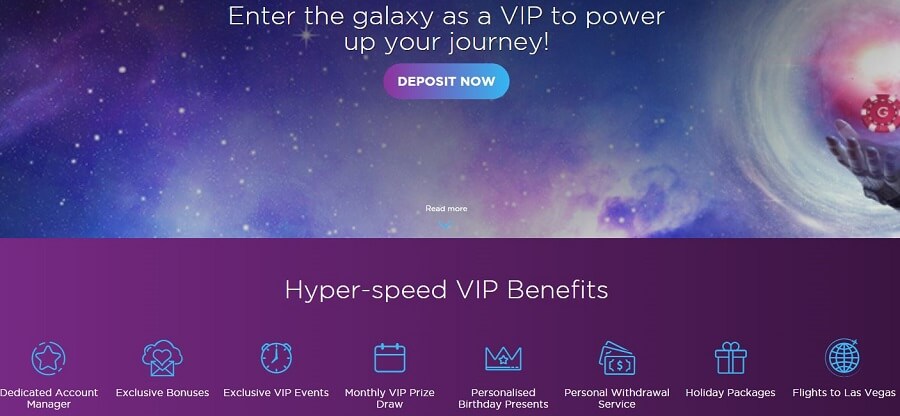 We found out during our review process that Genesis Casino doesn't have a loyalty program.
Instead, it has a VIP program that functions quite differently than the classic loyalty program. In the latter, you play games, earn loyalty points, and exchange them for different rewards and bonuses. Here, you just need to play games, spend and win a lot of money, and hope that you get invited to the VIP lodge.
If you manage to become a VIP member, you'll get a dedicated account manager, much higher bonuses, birthday presents, holiday packages, exclusive VIP events, and so forth. But, as we said, this works on an invitation-basis, which is a bit vague. You can always contact the customer support team and ask them to point you in the right direction.
Customer Support
Speaking of which, customer support is pretty good here and you have a multitude of methods to contact them.
At the top, there's the FAQ section and if you click on Contact Us, you'll get this screen. They even give you a phone number that you can use in Europe and should you have additional questions and complaints, you can use the two emails shown in the image above.
Last but not least, you can also use the Live Chat feature, which will instantly connect you to an agent of the customer support. They're fast to respond and really helpful, so you can ask them anything regarding gambling-related issues.
Conclusion – Should You Play on It?
Wrapping up our Genesis review, it's time to see if this UK casino is worth your time and money.
Genesis Casino offers numerous benefits for every player from the United Kingdom. It is user-friendly, offers some hefty bonuses, beautiful interface, and 1,000+ games at your disposal. We also liked how good the games look and play, as well as its mobile gaming experience. The live casino is exceptional and there's 24/7 customer support to fix the potential issues.
The only real downside is the wagering requirements of 40 times. But, given how generous the welcome bonuses are, we can go past it. And plus, you only need to wager only the first 4 bonuses, which makes things a bit easier.
To conclude our review, Genesis Casino is a really good casino in the United Kingdom and we DO recommend playing games on it. Sign up now, deposit your money, and get a 100% bonus, up to £100!
FAQ
Let's answer some of the most commonly asked questions that we didn't answer during our review of Genesis:
Can I self-exclude myself from Genesis Casino?
Every verified casino offers some form of self-exclusion, which is also the case with Genesis Casino. It offers you to either exclude yourself from 24 hours to 90 days or if you want a longer period, you can contact them here and they'll offer you a few-year exclusion.
Where can I download iOS/Android Genesis Casino apps?
Nowhere. Genesis Casino doesn't offer apps and is available exclusively through web browsers. Whether you want to play on computer, smartphone or tablet.
How long is the welcome bonus valid at Genesis Casino?
Your welcome bonus at Genesis Casino is valid for 14 days. You must meet the wagering requirements within that period and if you don't do so, all your bonus-related winnings, including bonus, will be removed from your account.