PartyCasino is an online UK casino established in 1997. Whereas many casinos start as land-based objects, this one is online-based from the get-go. In 2018, it even word the Operator of the Year, alongside many other rewards during its long-lasting existence. From the looks of it, we're talking about a serious online casino that promises some good fun and rewards. Let's see if it's as good as it sounds in our PartyCasino review for 2021.
How to Register on PartyCasino?
To become a member of any online casino in the UK, you first must go through the registration process. Fortunately, this process is always very easy, especially if you're a serious player and you don't deal with fake information. Providing genuine information upon your registration is crucial for verifying your account later on.
More about verification in just a minute. For now, let's see how to register on PartyCasino.
First of all, click the registration button in the top-right corner of the home page. We highlighted it for you: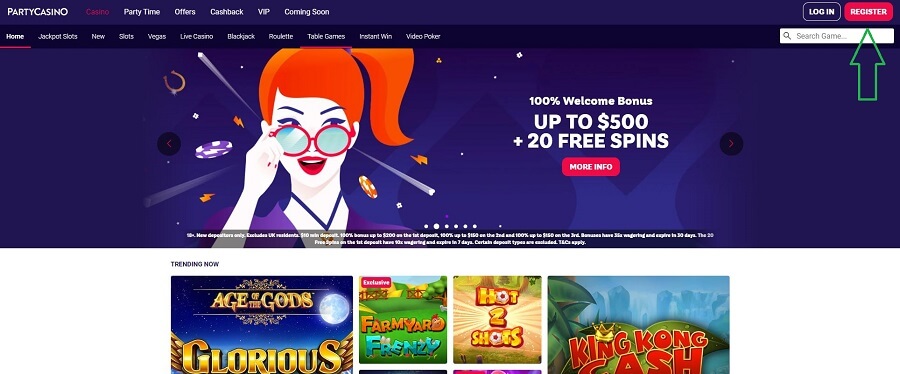 Once you do that, the first registration screen will appear: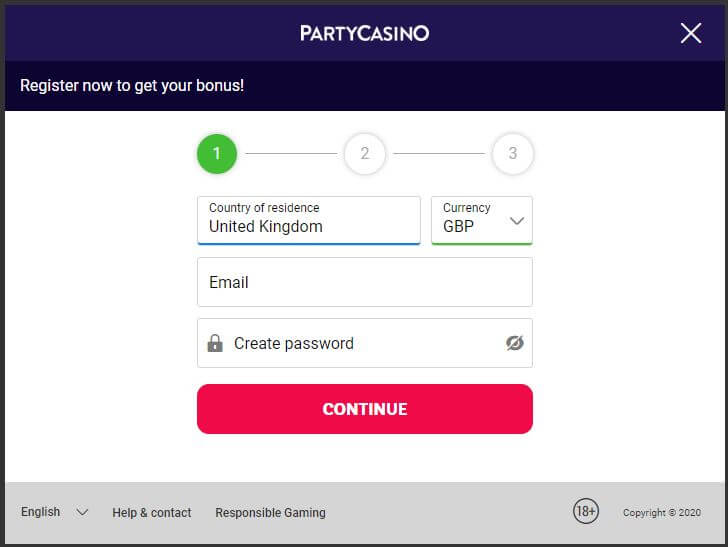 As we can see, there are 3 steps to register your account successfully. In the first one, you'll have to choose the country you reside in. We're located in the United Kingdom, but PartyCasino supports several other countries, and not strictly countries around the UK. Even European countries are on the list, for example.
Now, you have to choose the currency you're going to use while playing on PartyCasino. If you're from the UK, we suggest pounds, but if you're from somewhere else, dollars or euros will do the job. Enter your email now, create a password, and click Continue.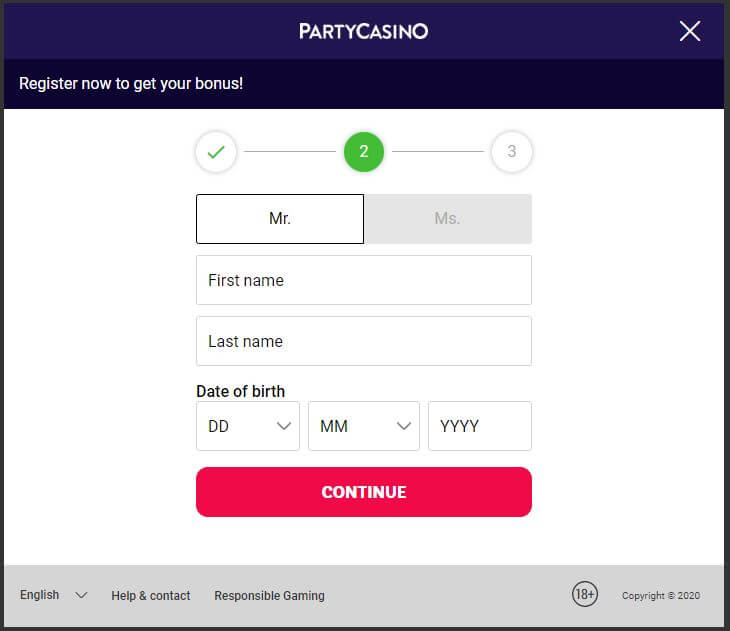 The second step is quite easy, but very important, as this is the information you'll have to verify. Choose your gender first, and now, enter your first and last name as it's written in your national ID or any eligible document. Finally, enter your date of birth, and if you're under 18, don't even try, because gambling underage is a criminal offense.
You're over 18, you say? In that case, move on to the last step: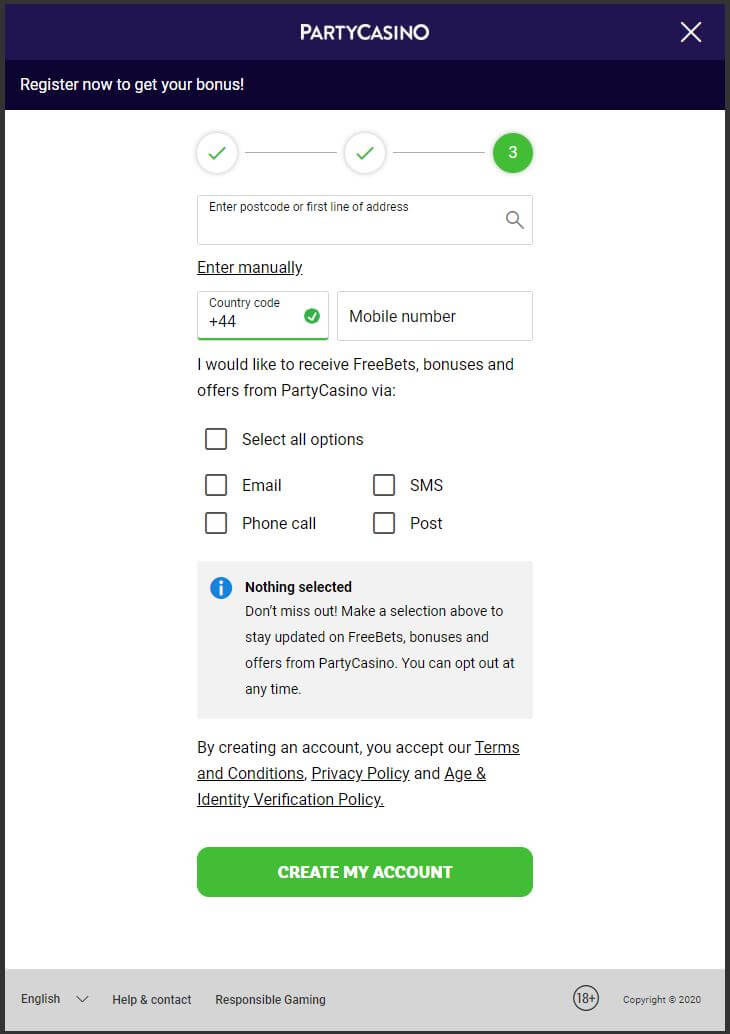 The first thing to do here is to type your address or a postcode. Start typing and PartyCasino will show you the address that you can choose. Find your address and enter your mobile number underneath. You can then choose whether you want to receive bonuses, free bets, or notifications in some way, and if you don't want them, don't select anything.
With everything in check, click on Create My Account and you're good to go. PartyCasino doesn't send a confirmation email, nor it wants you to verify your account right away.
But, before you start playing, that's a mandatory process. Let's discuss it in the next section of this PartyCasino review.
Verification Process – What Do You need?
Verifying your account on PartyCasino is a mandatory, yet easy step to complete. Online casinos in the UK spin a lot of money on a daily basis, and whenever money's into play, things must be legal and under control. PartyCasino can't afford to pay someone whose identity isn't verified, so you'll have to use a few documents to do so.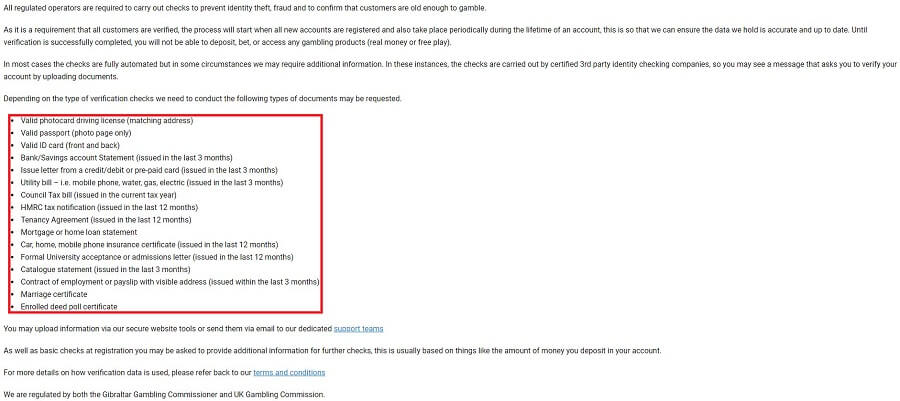 In the image above, we highlighted what documents may be required for your verification. It looks terrifying but it isn't. All of the documents would probably be required if the basic documents don't cut it.
However, if you follow all the steps and you photograph your documents properly, you'll have zero problems.  The documents for verifying your identity are the following:
Driving license
Passport
ID card
There are a few more, but PartyCasino will require of you some of these 3. And if everything's okay, you'll verify your identity. Now, it's time to verify your address as well. In that case, we suggest using one of these documents:
Utility bill
Bank statement
Council tax bill
Make sure that these are not older than 6 months, so that their validity isn't voided. Simply take photos of the documents the way support tells you to do, and you'll verify your account pretty much immediately.
PartyCasino Welcome Bonuses – Are They Generous?

When it comes to the welcome bonuses, we have a lot to talk about in this review of PartyCasino. We intentionally said welcome bonuses, because the casino offers 3 of them – that's right!
Let's not raise our hopes too high, as we still haven't mentioned wagering requirements and other conditions. For now, though, let's say that you get a 100% bonus, up to £500, plus 20 free spins for Melon Madness Deluxe.
The conditions are the following: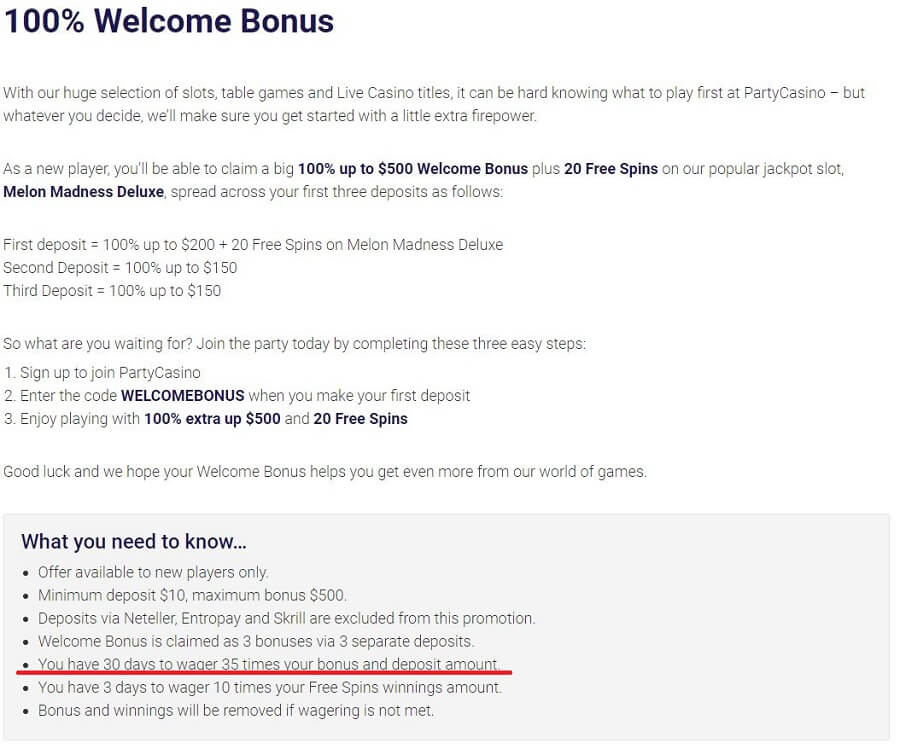 When you register, you need to enter the WELCOMEBONUS code when making your first deposit. Your first deposit isn't the only one eligible for a welcome bonus. Nevertheless, a first deposit will get a 100% welcome bonus, up to £200, plus 20 free spins on the aforementioned game.
The second time you deposit, you'll also get a 100% bonus, up to £150, and the third deposit is the same. £200 + £150 + £150 = £500 in total, plus 20 spins from the initial welcome bonus – simple math!
To get a welcome bonus, you'll also have to deposit your money to the Casino using PayPal or credit/debit cards, for example, and not Neteller, Entropay, and Skrill. Also, you'll have to adhere to certain wagering requirements to be able to withdraw your bonus-related winnings.
The wagering requirements are 35 times on the welcome bonus AND deposited cash, and 10 times on free spins. Admittedly, these conditions aren't the best. Wagering your bonus and free spins isn't going to be easy, and there are only slight chances that you'll succeed.

If you decide to do so, you'll have to focus mainly on slots games, as they give you a 100% contribution. Video poker, table, live games, and roulette give you 20%, while blackjack gives you 10%. All other games have a 0% contribution.
So, in our opinion, it's clearly not the best welcome bonuses available on UK casinos.
PartyCasino Promotions – Are There Some?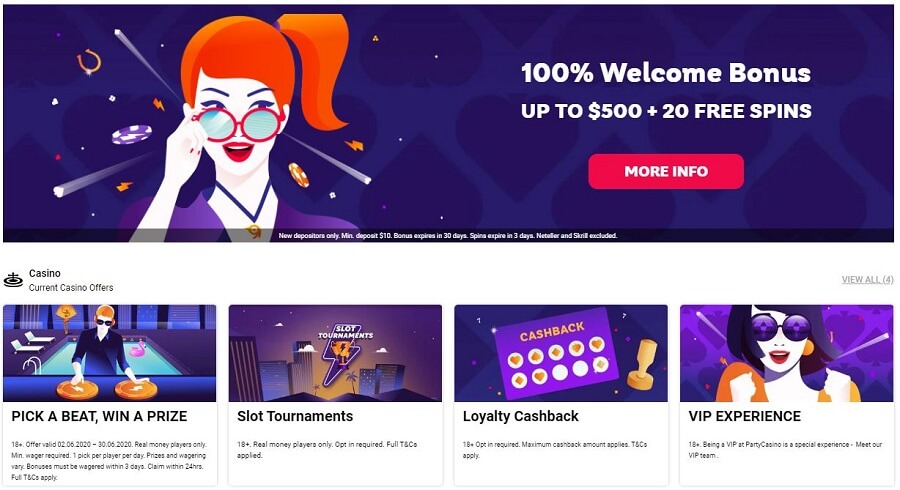 PartyCasino isn't the largest database of promotions in the UK gambling world. Sure, it has a few of them as we've seen during our in-depth review, but it's not on the level of Mansion Casino or Grosvenor Casinos. Two of these promotions are the VIP program, which we're going to talk about later, and a welcome bonus. Other promotions are worth looking at, especially this promotion called Loyalty Cashback.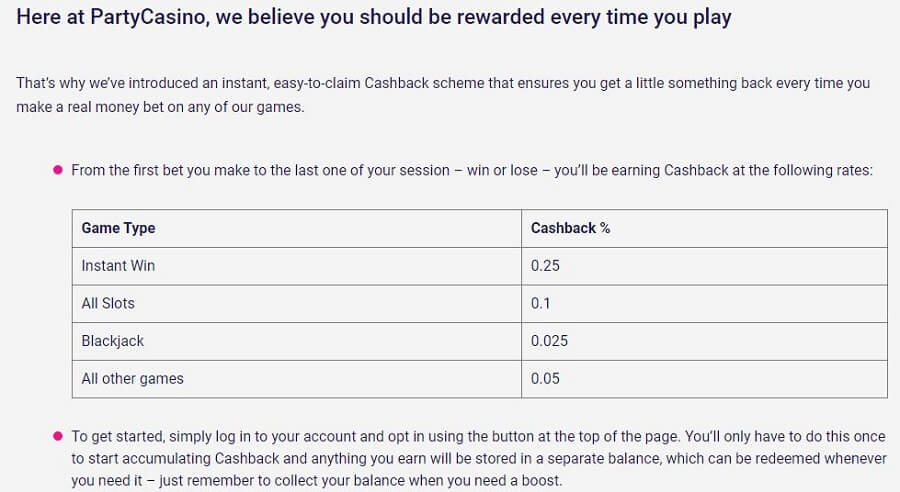 You'll need to opt-in for this promotion, and if you do so, you'll be able to get a cashback on some types of games. Instant Win games will give you a 0.25% cashback, while slots and blackjack will give you 0.1% and 0.025% respectively. Opt-in just once and you don't have to do anything else, except if you want to opt-out.
Since we're talking about PartyCasino in this review, you should know that it offers some interesting promotions to look at, some of them being "Pick a beat, win a prize." Or perhaps Slot Tournaments, which is bloody fun and lets you earn good cash if you manage to win.
All in all, PartyCasino won't disappoint you with its promotions. While they'll not give you a brand-new Mercedes or Range Rover, you can still earn some cash and maybe buy them one day – who knows?!
Deposit/Withdrawal Methods and Limits
Speaking of earning cash, you probably read our review because you're planning to do so. Online casinos are indeed a good place to earn some money if you're lucky enough. That's why we need to talk about this part of gambling, as everything boils down to how much money you earned during your gambling adventures.
Being one of the oldest names in the UK, PartyCasino knows how to cater to its customers. One of many ways to do so is by offering plenty of payment methods that users can get easily accustomed to. The screenshot you're going to see below doesn't show all the payment methods that PartyCasino offers. These are the most relevant, however.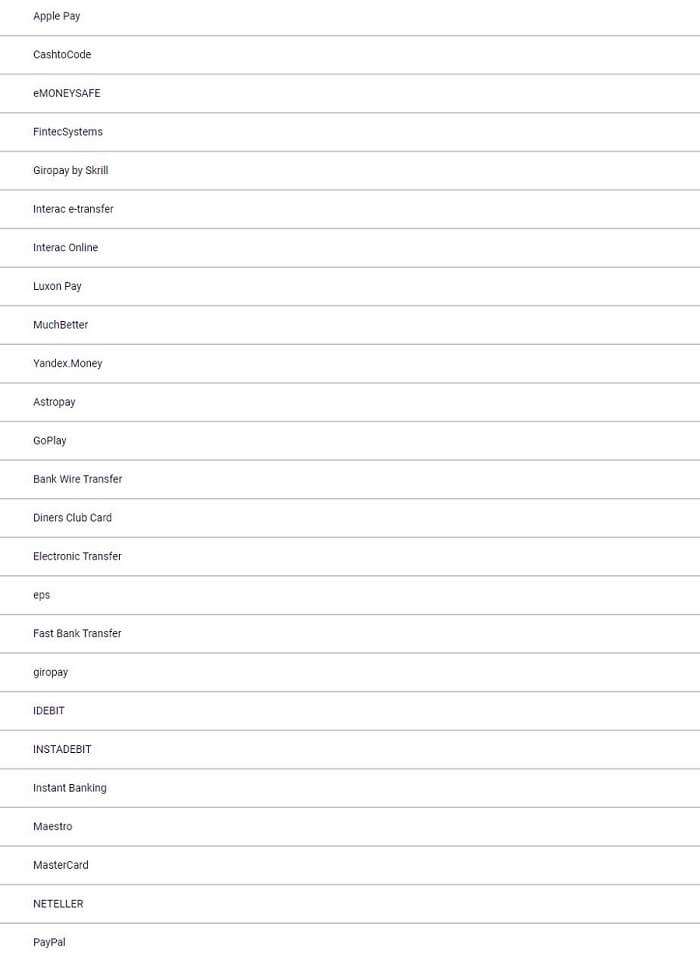 Everything from Apple Pay to PayPal, Neteller, MasterCard, Instant Banking, GoPlay, Yandex Money, and Maestro are here. Every payment method you can imagine is on the list, so there's no chance that you'll dislike the casino for giving fewer payment methods than the others. In fact, this beats almost all of our top picks – congrats, PartyCasino! That is definitely a good point for our review.
What about deposit and withdrawal limits? Well, this online casino is suitable for both beginners and high-stakes players, allowing for a very flexible deposit and withdrawal scale.
The minimum deposit and withdrawal are £10 and the upper limits for both are £99,000. Deposits are instant and have no fees, while withdrawals can take up to a couple of days, and are also without any fees.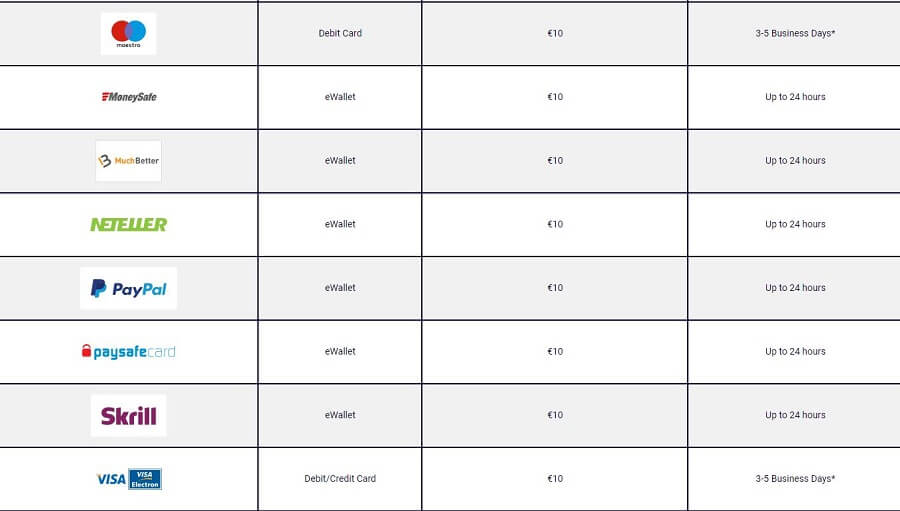 This table shows some of the withdrawal methods you can use on PartyCasino. With each method, the minimum withdrawal is £10, but the withdrawal times are different. If you're using credit/debit cards, you can expect it to be 3 to 5 days, whereas, with E-Wallets, the maximum you're going to wait is 24 hours.
For that reason, we suggest using PayPal, Neteller, or Skrill as your payment method of choice.
PartyCasino Game Variety & Software
Apart from winning money, people gamble on online casinos to feel the joy, excitement, and fun. Whoever made PartyCasino's design should get a raise, in our opinion. They managed to come up with a website that's both playful and colorful, yet simplistic, and easy to navigate. If you don't believe us, just visit the goddamn site and see it for yourself!
Since we touched on software, let's review it a bit more. For the computer, the casino doesn't offer any software. You access the casino through the website, where it's easy to navigate and choose the game you want. The good thing that there are apps for mobile phones, as well, and they're very intuitive, given that you're playing on a small screen.
More about that later in this 2021 review of PartyCasino.
In terms of game variety, PartyCasino is one of the largest casinos out there, boasting more than 900 games. Of course, the majority of these games are slots, but the casino went out of its way to include a ground-breaking number of roulettes and blackjack variants for true casino lovers.

With dozens of blackjack, roulette, and slots variants, enjoying gambling on this website is obligatory.
Slots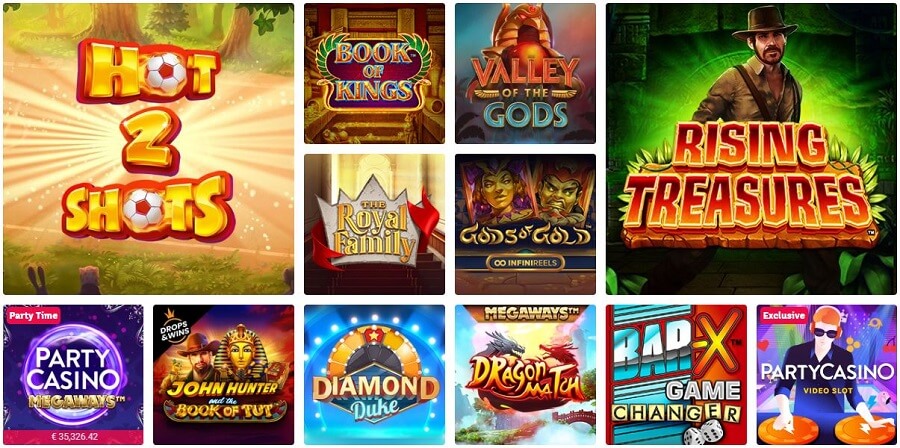 Let's start with the slots and review them first. Slots are the most abundant games in any online UK casino, and PartyCasino is no exception. It offers about 770 slots games in total, with some of the most popular titles at your disposal. Some of them include Tomb Raider, Rising Treasures, Hot 2 Shots, Hall of Gods, Secret Romance, and proprietary games, such as Party Casino Video Slot, and Party Casino Megaways.
The last one is a jackpot, but there are dozens of jackpots you can play. Should you manage to win one, you'll win more than £35,000 in pure cash! Surprisingly, the RTPs for slots and video slots are pretty high – from 95 to 98 percent on average.
Blackjack

If you love playing with cards, blackjack will be an enjoyment for you. After all, you probably know what blackjack is, so we won't waste any time explaining it.
PartyCasino offers jaw-dropping 62 variants of blackjack, which is one of the highest numbers we've seen while doing reviews of online casinos. Needless to say, all the popular titles are here.
You can expect Lucky Lucky Blackjack, Blackjack Charlie, All Bets Blackjack, Buster Blackjack, Blackjack Pro, and many other games in this segment. As always, RTPs for blackjack are pretty high, and here, they range from 99.3 to 99.7 percent.
Roulette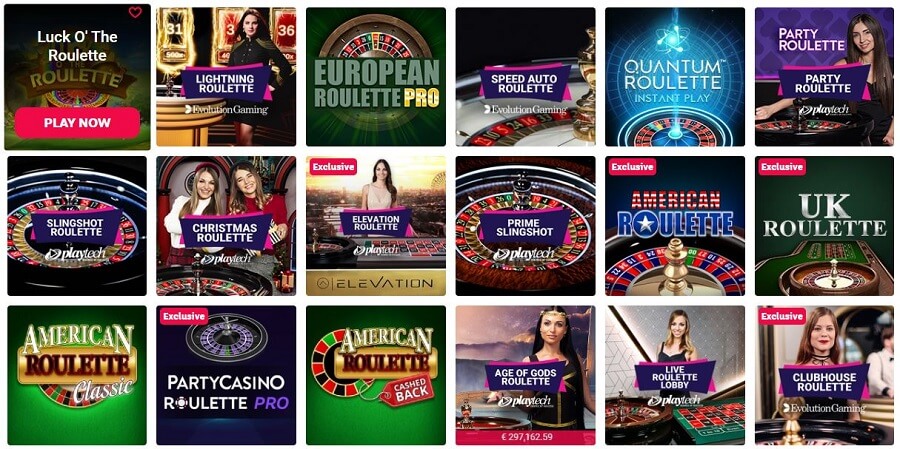 Roulette is a game that relies on your luck, which makes it so enticing and unforgettable. If you're born under a lucky star, this is your chance to win some money. PartyCasino boasts 40 roulette games and all the popular titles you can expect are here. From Double Ball Roulette and European Roulette Pro to 101 Roulette and PartyCasino Roulette Pro – all of them are waiting for you to play!
RTPs for roulette games are moderate here, ranging from 92 to 97 percent on average. That's what we usually see in slots, but here, the situation is a bit different.
Table and Other Games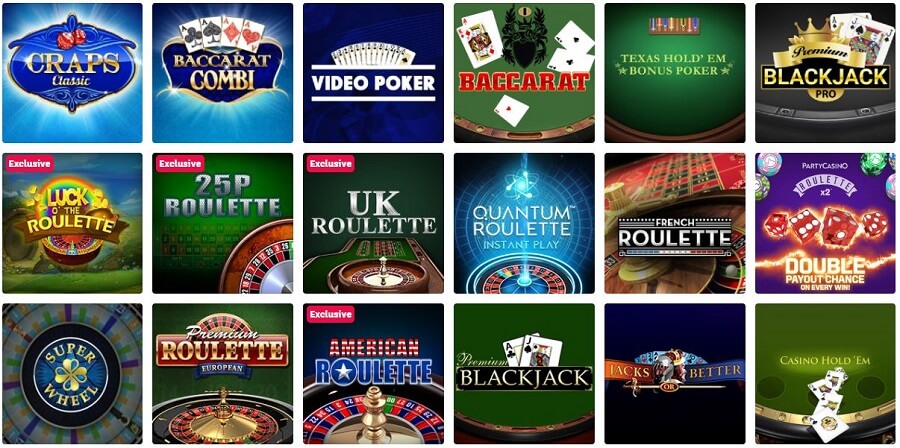 Table games aren't the most abundant on PartyCasino, but with 20 of them, you should be satisfied. Other games include video poker games, where you can find about 10 of them, and Instant Win games, where you can enjoy more than 50 titles. Instant Win games are usually Bingo, Slingo, or Monopoly-based titles.
As for table and video poker games, you get titles like Craps Classic, Baccarat, Texas Hold'em Poker, Jacks or Better, Joker Poker Deuces Wild, and so on. RTPs for table games range from 84 to 98 percent, and for video poker games, from 97 to 99.6 percent.
Game Providers
PartyCasino works with plenty of game providers to bring you HD graphics and buttery-smooth gameplay experience on every platform. With more than 30 game providers contributing to the ever-growing game library, PartyCasino is in a league of its own. Of course, we won't mention all 30 of them in this PartyCasino review, but some very important names are here.
Microgaming, IGT, 1×2 Gaming, Betsoft, and Yggdrasil usually host classic online casino games, such as slots, baccarat, roulette, and blackjack. Live casino games are, in 99.9% of the time, hosted by either NetEnt or Evolution Gaming.
PartyCasino Mobile Gaming Experience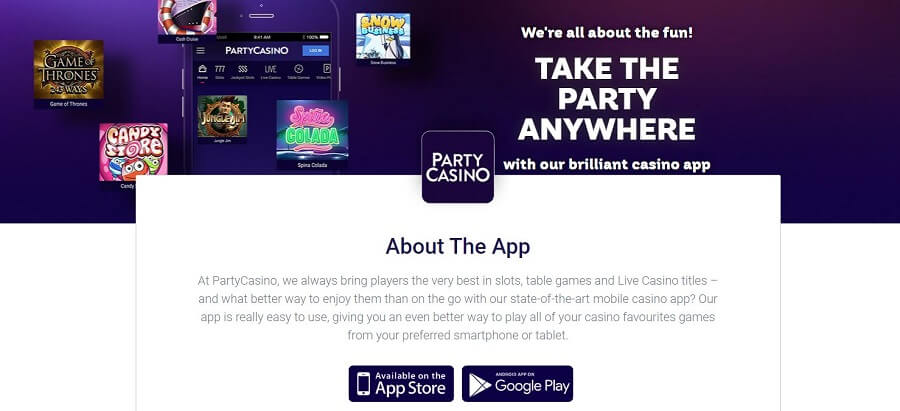 Mobile gambling is one of the most popular types of gambling around. People don't often find time to sit around at a local casino, so they grab their smartphones, lie down, and enjoy a collection of high-quality casino games. While not many online casinos offer mobile apps, PartyCasino decided to step up its game and give its users a treatment they deserve.
Both iOS and Android platforms are supported, making it easy for pretty much everyone to use the app. The app is the same on both phones and offers an exceptional gaming experience. The home screen is stuffed with all types of games and it's easy to access all the categories with a single tap on the one you want.
Furthermore, the casino introduced the side menu, which lets you access settings and other options. Here, you can check your inbox, use a Cashback feature, check your bonuses, and even deposit and withdraw money. We like the addition of live casino as well. It works great, especially if you have a fast internet connection.
All the games have HD graphics and despite that, they'll be smooth and responsive even on low-end devices. Before wrapping up this section of our review, we need to mention that not all 900 games are available in the mobile app of PartyCasino. In our approximation, this number is cut in half, with around 400 games at your disposal, of which the majority of them are slots.
PartyCasino Live Casino – How Good is It?

Live casino games are for those who want to elevate their gambling experience to a whole new level. Online casinos with a good selection of games and a decent gaming experience always get a high grade in our review. PartyCasino, as we mentioned, works with a few extraordinary game providers that host these live games – Evolution Gaming and NetEnt.
In the image above, you can also see the games from Playtech, another giant in the online gambling world. Our favorite game provider here is Evolution Gaming, as it makes the best interface, in our opinion. It's easy to navigate the games, place bets, or use live chat to communicate with the dealer and other players.
All of the game providers will allow you to switch camera angles, too. This ensures complete immersion and control over your gambling session. Game-wise, PartyCasino offers a multitude of them for you. Party Roulette, Slingshot Roulette, Deluxe Sic Bo, and Lightning Baccarat are some of the titles to expect here.
To digress, playing live casino games on PartyCasino is a joy, and we can confidently recommend it to players interested in this kind of gambling experience.
How Fair and Secure is PartyCasino?

With more than 20 years of existence, PartyCasino proved its loyalty and fairness to the player base. If you scroll down on the home page and see something like this (image above), chances are that it's a well-known online casino in the United Kingdom. The parent company of PartyCasino is GVC Holdings PLC, and if it sounds familiar, that's because it also owns Ladbrokes Coral and Sportingbet.
The company is based in the Isle of Man and is regulated by two authorities – Gibraltar Gambling Commissioner and the UK Gambling Commission (UKGC). Moreover, the fixed-odds license from ElectraWorks Limited is here, and for RTP analysis, eCOGRA plays a crucial role.
Responsible Gambling companies such as GamCare and GamblingTherapy cooperate with the company, ensuring that players don't suffer the consequences of excessive gambling. And for additional security, 128-bit SSL encryption is employed.
With all we just said, we can say that PartyCasino is fair, secure, and verified online UK casino.
Loyalty Program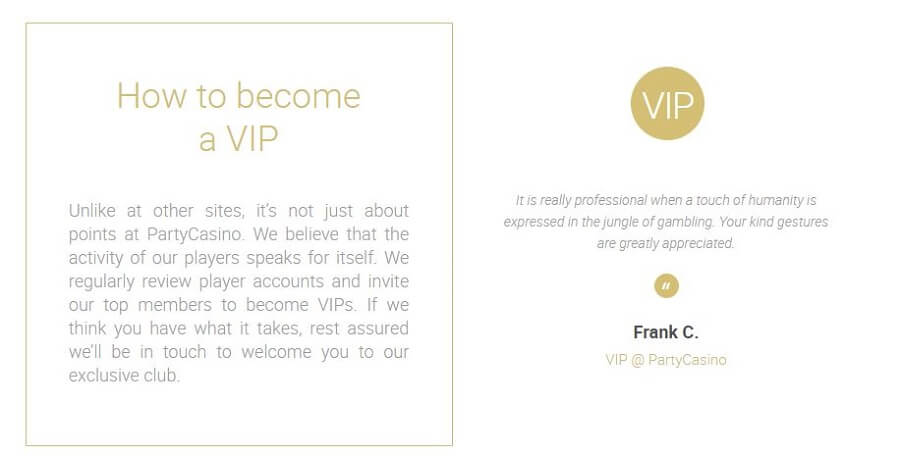 As an icing on the cake, the casino offers a VIP program, that's perhaps one of the best in the business… with a slight caveat, unfortunately. You see, VIP programs usually let in the most loyal players. These players collect a certain amount of loyalty or comp points and based on that number, they have a certain loyalty tier.
Well, that's not how things work here. PartyCasino's VIP program is invitation-based. This means that only the top players make it, with no clear indications of what you need to do to become one. We'd like the casino to be more direct and explains what contributes to your loyalty level.
Those who manage to crack the code and get to the VIP lounge will enjoy a true VIP treatment. You get a personal account manager, gifts and rewards, and VIP events, such as Oktoberfest, visits to Las Vegas, or Champions League matches.
PartyCasino Customer Support

Contacting PartyCasino is simple if you know your way around the Help Center. To do that, click on Contact Us in the bottom part of the home page and you'll open what seems like a FAQ section. Click on the random question and if it asks if you need more help, click Yes. Then, this window will open.
As you can see, you have 3 options for contact – live chat, email, and a direct message on Twitter. Due to the COVID 19 outbreak at the time of writing the review, phone support wasn't available on PartyCasino. However, in normal circumstances, the company offers it.
The support team is very helpful and if you use live chat, it's pretty fast to respond – in about 2 minutes. Email support is a bit slower, but on the brighter side, it works 24/7. Direct message on Twitter is also a decent option, as the casino's account is pretty active.
Conclusion – Should You Play on It?
It's time to give our review a proper conclusion on whether or not you should play on PartyCasino.
The truth be told, this is a decent online UK casino that is greatly overshadowed by its competition. If you've read our article about 10 best online casinos in the UK, you didn't notice PartyCasino. That's because it's far from being the best option, which doesn't mean it's not good.
We liked generous welcome bonuses, a wide array of high-quality casino games, great live casino experience, and intuitive apps for mobile phones. What we didn't like are the huge wagering requirements and inaccessible VIP program.
All in all, we recommend playing on PartyCasino if you don't care about its flaws. However, a much better choice would be the Mansion Casino. It offers lower wagering requirements and more promotions, making it the best option at the moment.
FAQ
Now, let's answer some of the commonly asked questions related to PartyCasino.
📌 Who owns PartyCasino?
GVC Holdings PLC is the company behind PartyCasino and several other gambling brands, such as Ladbrokes and Sportingbet.
💰 How long do withdrawals take on PartyCasino?
If you use credit/debit cards, withdrawals will take from 3 to 5 days. E-Wallets are much faster, offering withdrawal times of up to 24 hours.
🔐 Is PartyCasino safe?
Yes, PartyCasino is indeed safe. It's licensed by UKGC, has state-of-the-art encryption, and is free of fixed RTPs.