Play Ojo is a relatively new company in this business. Being founded in 2017, this casino has a unique approach to its welcome bonuses and winnings, making it a choice of many players in the United Kingdom. Despite all the praises online, we're here to test it out for you and see if it's worth your time. This is an in-depth review of Play Ojo Casino, so we recommend staying with us. We'll examine it and see its benefits and drawbacks. 
How to Register on Play Ojo Casino?
Before you start enjoying casino games on Play Ojo, the registration is needed. Usually, this is a very simple process that lasts no longer than a few minutes, so we need to see if it's the case here. This casino's home page is beautiful, colorful, and intuitive, so you'll see the registration button right away.

Click on Sign Up and the registration window will open on the same page: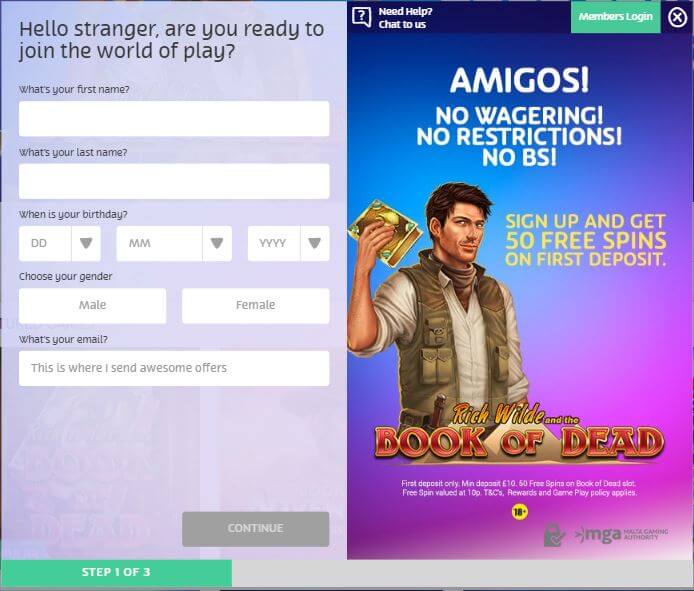 As you can see, this is the first step in the registration process. You'll need to enter your first and last name, your birthday, gender, and your email. We always say this but we'll say it again – don't lie here! Be completely honest so that you can easily verify your account later. More about that in a minute.
Let's see what the next step looks like: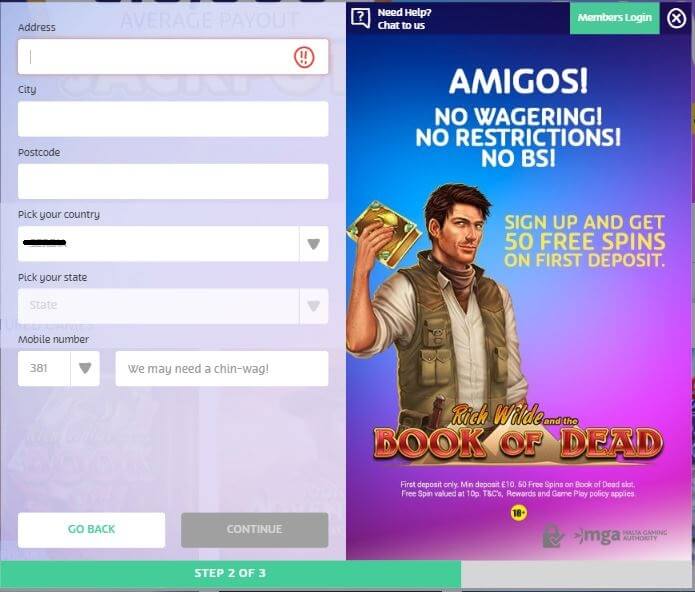 Now, it's time for some more personal info. Enter your address, city, postcode, country, and state, if it's available for you. Finally, you'll need to enter your mobile number for additional verification. When you enter the required data, click Continue and you'll arrive at the final step: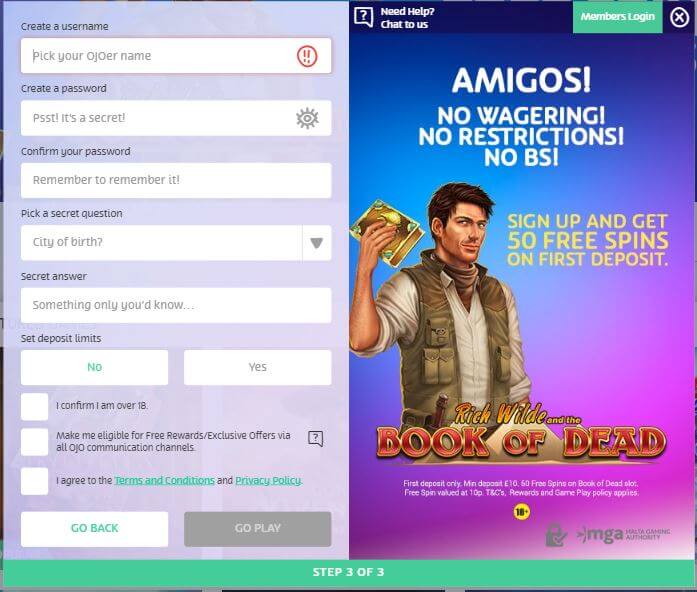 To be able to play, you'll need a proper username. This is where your imagination can shine – make a unique username for yourself! For securing your account, you'll need a password, so type it in, confirm it, and pick a secret question. This is needed in case you can't access your account due to a forgotten password or if the hacker tries to access it.
Right here, you can set your deposit limits but that's not necessary. If you plan to play with virtual money, for example, this won't interest you in the slightest.
Finally, tick the boxes below. Two necessary boxes are the first and the third one, while the second one is for Ojo's communication channels and exclusive offers eligibility.
Click on 'Go Play' and you're ready to start your journey. As you can see, the registration process is very simple and quite interesting to go through.
Verification Process – What Do You need?
The good thing about Play Ojo Casino is that you can play games without verification…. wait, what?
Yes, you can! But on the other hand, don't expect to win a single £ because they can't pay you any winnings if your identity isn't verified. To be able to play with the real cash, you'll need to go through this process which, by the way, is very simple, in case you've been honest with your registration data.
Let's check the casino's terms of service and see what we can dig out on the verification: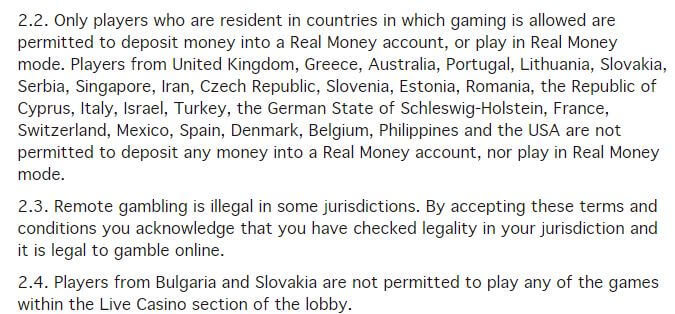 First of all, we want you to read these three short paragraphs. The countries displayed in the first paragraph are NOT allowed to deposit any money into the Real Money account or play in the Real Money mode for that matter.
Simply put, Play Ojo will be available almost worldwide (and in the UK of course!) but these countries will not be able to play with the real cash.
Furthermore, if you're from Slovakia or Bulgaria, you won't be able to access the Live Casino. Now that we got this out of the way, let's assume that you're really from the United Kingdom. In this case, you can play full-fledged games with real money. Here's how:

The first line is very important – you must be at least 18 years old or above. Some jurisdictions will lower this limit to 16 but in many cases, it's 18. For verifying your account, you need to provide one of the following:
Copy of passport
Copy of official ID card
Copy of driving license
Sometimes, if they can't verify your identity right away, you'll be prompted to give more than one document. It can be one, two or all three of them. You can use the live chat feature to contact Play Ojo casino and provide them these documents, so it won't be hard to do.

Take a look at the image above. This is what we said a minute ago in our review. You MUST give accurate information upon registration. As you can see, they're hell-bent on confirming that the person that's playing games is YOU. In that case, they can even send a physical verification letter to your address or call you directly using your phone number.
If they can't verify it, you'll be paid no winnings by Play Ojo – sounds fair!
Play Ojo Casino Welcome Bonuses – Are They Generous?
After your first deposit, you shall get a welcome bonus, so let's review what bonuses are waiting for you on Play Ojo. Many newcomers probably won't be thrilled to know that they won't get a cash-based bonus here. However, if we analyze it a bit better, you'll see that, in this case, it's actually very good.
The maximum welcome bonus you can get is measured in spins and you can get 50 of them. Be aware that this is the maximum welcome bonus, so you won't get it with the minimal deposit. Instead, for every £1 you deposit, you'll be awarded one spin.
To put it simply, you can get a minimum of 10 spins since the minimum deposit is £10 and up to 50 spins for £50 deposited. Now, the question is – what are the wagering requirements? Thankfully, no wagering requirements are here, which is great news!
This gives you more freedom to control and withdraw your winnings. You don't need to fulfill any conditions, so everything you get is yours to take. Just know that free spins are worth £0.10 and not £1 when you convert them into money!
As you can see, Play Ojo, despite giving you a less "valuable" bonus, still has one of the best welcome bonuses. At least, you'll surely win something since there aren't wagering requirements.
Deposit/Withdrawal Methods and Limits
To play games with real money on this casino, you'll need to deposit some money to your account. We like that Play Ojo Casino includes the basic payment platforms, and although the list isn't extensive, you still get a plethora of e-wallets and credit cards. Take a look at the screenshot from the website:

There's a VISA, Master Card, PayPal, Skrill, Neteller, and Paysafecard. For deposits, you can use all of the platforms above. The minimum deposits for every platform are £10. No deposit fees are here and deposits are instant, regardless of your payment method. In case you want to play at high stakes, you'll be happy to know that there aren't deposit limits, so you can transfer as much money as you want on Play Ojo.
Now, let's talk about withdrawals. The minimum withdrawal is £10 and there aren't any upper limits. We find this very good since you can win thousands of dollars and withdraw ALL to your e-wallet or credit card. In case you're in a hurry, we recommend using e-wallets for withdrawal since the withdrawal times are instant.
On the other hand, if you're using a VISA card or MasterCard, expect to wait for two to five working days.
Play Ojo Casino Game Variety & Software
Being a new player in the business, Play Ojo Casino took us off guard when we saw the game variety. There are TONS of games here, both in live casinos and online casinos. As always, you can expect a huge roster of different types of baccarat, poker, blackjack, roulette, and slots.
Furthermore, the casino works with multiple game providers to bring you an unforgettable experience when playing online. We'll talk more about them later. In terms of the number of games, you can expect more than 500 high-quality, HD games at your disposal.
All of these games are played using an intuitive interface that allows you to take full control of your experience. To play these games on your desktop, you'll need Adobe Flash Player for most games. It's free to install and the best of all is that you don't need a beefy computer to play casino games.
As we mentioned earlier, you can even play games for FREE on Play Ojo, without wasting a single penny! This will let you practice and get used to Play Ojo's beautiful and simplistic interface before battling it out with the real opponents. Let's go more into details regarding the different games you can play here.
Slots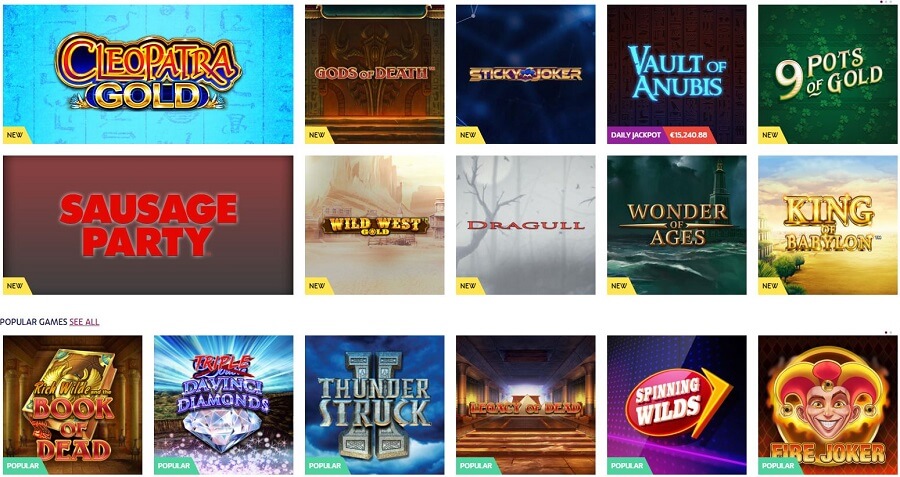 Slots are perhaps one of the most popular games in both land-based and online casinos. Needless to say, Play Ojo is well aware of that, hence it comes with a total of 696 games at your disposal. Do you guys know when to stop?! Jokes aside, when it comes to the game variety, the more is always the better.
During our review of Play Ojo, we found out that these games look phenomenal and you can expect all the popular titles, such as Starburst, Cleopatra, Mega Jackpots Star Lanterns, Mega Moolah, Thunderstruck 2, Gold Factory, and so forth. The casino really went out of its way to give us the best possible slots experience.
What you see in the image above is only the fraction of what Play Ojo offers. You can browse for hours and you'll still not be able to try every game in the catalog. Slots will give you an RTP of around 95 to 96 percent.
Roulette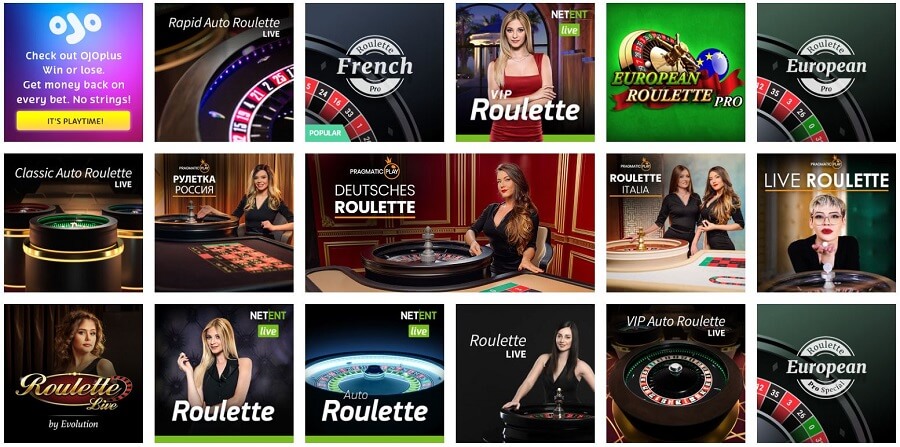 If you wish to test your luck by launching that ball and spinning the table, it's time for some roulette feast. Play Ojo has a total of 32 roulette games, including some of the well-known titles. These roulettes look quite realistic and you can rest assured that no game is rigged. More about that later.
For now, let's just praise the casino for including American Roulette Realistic, Auto Roulette, European Roulette Realistic, VIP Roulette, French Roulette, and so forth. Plus, you get more than 25 different live roulette variants, which is just impressive!
Should you decide to focus on roulette, know that you'll get around 97% RTP, so it's definitely worth a shot.
Blackjack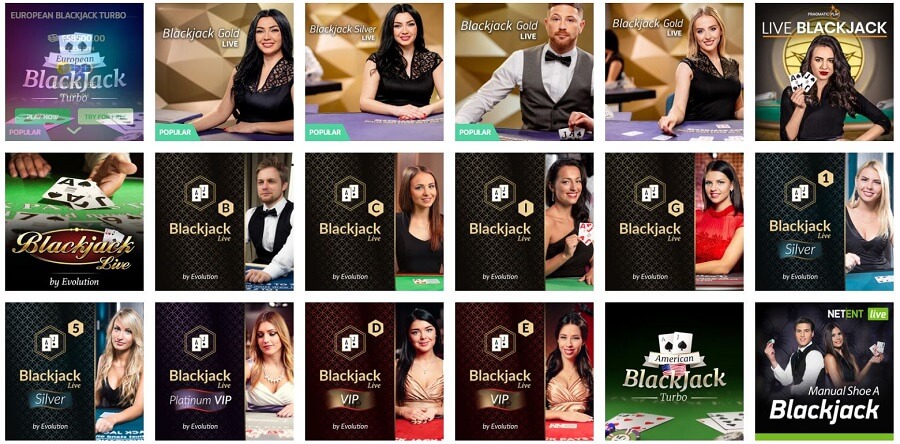 What about blackjack? We know you guys love some classic games and it can't get more classic than this! During our review, we found out that Play Ojo Casino offers an impressive roster of 50 different blackjack games.
These are the top-end games that you'll enjoy playing, and the best of all is that they'll give you an authentic land-based casino feel.
As for the game variety here, you can expect Realistic Blackjack, American Blackjack Turbo, BLackjack Silver, Manual Shoe A Blackjack, and so forth. If blackjack is your main thing, know that the RTPs for these games are around 99.5%, which is VERY lucrative.
Table Games
Real gamblers love table games and that's not gonna change anytime soon. For fans of table games, Play Ojo includes 100 of them, and needless to say, these are all popular titles. Let's start with the poker. This is a ball-busting game that will make you lose tons of money if you're not up for the task. Conversely, if you're up, you can win some big, nasty piles of cash!
You can choose from Texas Hold'em poker or some video pokers such as Aces & Faces, Double Down Poker, Jacks or Better, and so forth. There are more simplistic games such as Baccarat, Deuces Wild or Punto Banco, too. Table games, including video poker, will give you an RTP of above 99%.
Game Providers Available on Play Ojo
One thing we like about Play Ojo is that it works with different game providers, and that's a big plus in this review about Play Ojo casino. Sure, you can find games from NetEnt and Microgaming but there are also smaller companies looking to impress you, such as Yggdrasil or Merkur.

The choice here is really vast and you can expect lots of variety. For example, the casino's live games are usually hosted by Evolution Gaming, while some blackjack games are hosted by NetEnt. Microgaming, although it's here, it's not very prevalent, which is a bit different than what we've seen on Betway casino.
Furthermore, these game providers went out of their way to include games in different languages. We found the Russian Roulette for example (not literally), but also German, Italian, and Swedish casino games. All in all, Play Ojo did an amazing job of amassing these providers on its platform, resulting in an excellent gaming experience.
Play Ojo Casino Mobile Gaming Experience
Speaking of gaming experience, let's review how good the experience is on mobile platforms if you aim to use Play Ojo on your smartphone or tablet.
For the start, it's important to mention that you can play games on Play Ojo Casino without downloading any apps. A web browser like Chrome or your default browser should do the job, especially on Samsung and Apple phones.
Should you decide that you want a dedicated app, you can download it on both Android and iOS.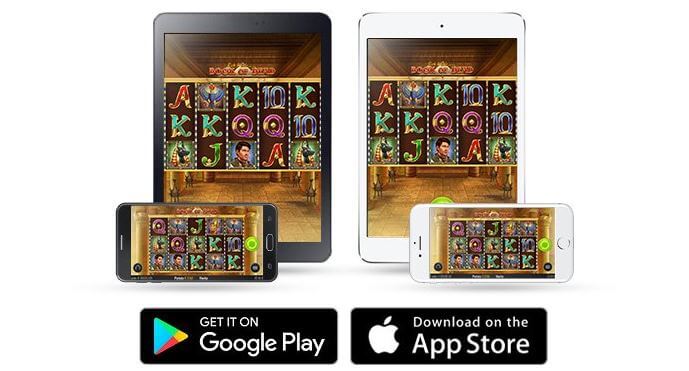 The Play Ojo games are very well optimized for mobile phones, they're in HD, and look pretty good. You'll find it easy to choose the game you want to play, and when you choose, the game will load up in a matter of seconds. In terms of game variety, you can get pretty much everything, as if you were playing on a big screen.
There are slots such as Games of Thrones or Starbust, and you can play some poker or spin the wheel for some progressive jackpots if you like. Even better, you can play live casino on your mobile phone, which is as awesome as it can get!
Of course, we recommend it only if you have a good internet connection. It's good to know that Play Ojo Casino shows some love to mobile platforms, giving you decent gaming experience. Be aware that gaming on a phone isn't going to be as intuitive as on the PC.
It's still a small screen and you can't fit everything on a single screen. But, various options are scattered throughout menus, so you can even use online banking directly from the app.
Play Ojo Live Casino – How Good is It?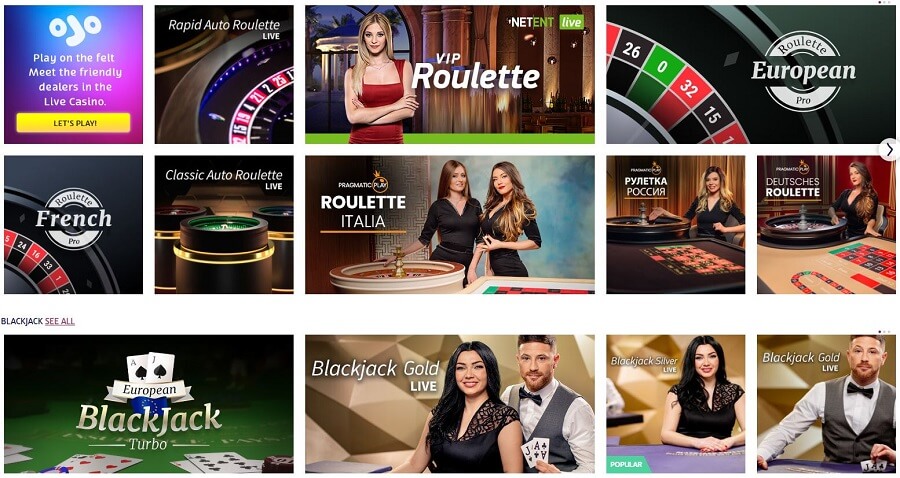 We touched a bit on the live casino, so let's mention that in our review of Play Ojo. The casino lets you play all the games we mentioned above live. The reason why many people love playing live is that it's an authentic casino experience, where you play against a croupier or dealer, instead of some random robot.
Not to say that classic online casino is bad but this is a much better experience. Some of the games you can expect here are Rapid Auto Roulette Live, French Roulette Pro, European Blackjack Turbo, Blackjack Gold, Live Blackjack, Dream Catcher, Blitz Blackjack, Lightning Baccarat, and so forth.
The live game variety is stunning, to be honest. The live dealers look like a million bucks – both male and female! Aside from holding your 'masculine frame' while playing, you can also have fun with them, as they're talkative and will banter back and forth with you using the live chat feature.
To make games fairer, Play Ojo offers multiple camera angles. This way, you can see that your dealer isn't going to do anything under the table, shuffle cards or spin the whee incorrectly, and so forth. For those wondering, there's no camera that shows a female dealer from behind. 0/10 – not recommended!
Just kidding.
All in all, Play Ojo has a very good live casino. You'll definitely like its game variety, ease of use, and the fun factor, which is very high here. We recommend playing live games only if you have at least a few months of experience under your belt. Remember that you're playing against a real dealer here and he/she will not hesitate to go hard on you!
How Fair and Secure is Play Ojo Casino?
Wherever you're working with money, security must be top-notch. Money is a pretty powerful tool nowadays and since you can win a lot here, it's important that it circulates to the right person safely. The first guarantee of that is the casino's UKGC license. Play Ojo is licensed to work in the United Kingdom and as such, only the laws implied by UKGC will apply.
The second guarantee is 128-bit SSL encryption. It keeps your data encrypted, especially when sending money through PayPal or other platforms. With it, your data stays where it should and your money arrives in your account, without the possibility of being intercepted.
Now, we like that the casino has an eCOGRA license. Basically, it's a company specialized in making online casino games fair. This company manually reviews every single game on the site so that there aren't rigged RTPs or other factors. In short, Play Ojo Casino is reliable and fair, which is among the top priorities, and is always good for our final review and evaluation!
Loyalty Program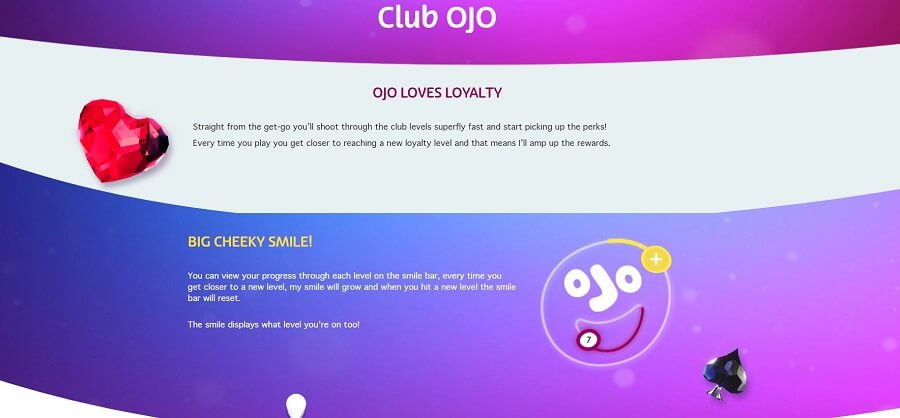 Staying loyal to Play Ojo casino is going to bring you some decent benefits. You know how it goes – the dog is loyal and gets a lot of meat, right?
This casino has a special loyalty program called Club OJO. You earn loyalty points when playing (you don't have to win) and these points raise your loyalty to a higher level. The higher the level, the more exciting awards and prices you get. It's like a video game. For every level you achieve, you get some sort of reward.
Nothing special here, though, as it works pretty much as your standard loyalty program. However, Play Ojo really knows how to reward your loyalty. If you manage to climb the ranks higher, you'll get an invitation to the OJO A-listers, which is essentially a VIP club.
Here, you'll enjoy the greatest rewards and be among the elite players of the casino. The bonuses here are top-notch and you'll also notice that customer support starts to become better. On that note…
Customer Support
… let's talk about customer support, which in our opinion, isn't exactly the strongest point of Play Ojo in this review. The good thing is that there's live chat support. This means that you can contact them as soon as the problem or problems arise. But, there are two problems we noticed during our in-depth review.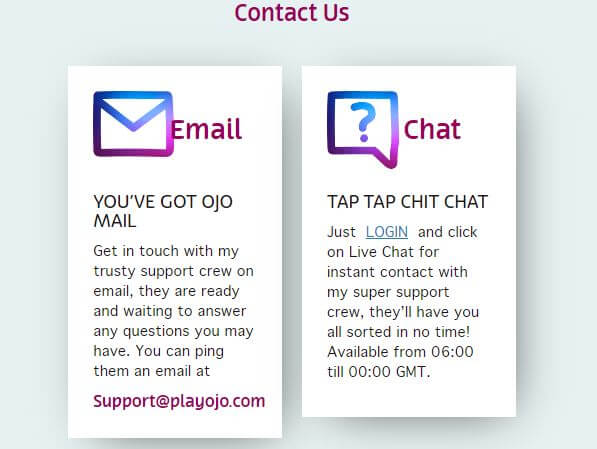 The first problem is that it isn't available 24/7. And on the other hand, you CAN play games 24/7 since this is an online casino. So, what if you have any problems during their absence? Well, you'd have to play hide & seek with them.
Secondly, the support team isn't the fastest one. Even when using live chat, the responses aren't very fast. Although, we must admit that they're very helpful. If live chat isn't your thing, you can use email to contact them, but here, you'll have to wait for at least a few hours.
Sadly, there isn't any phone number to call them but there's an extensive FAQ section for additional help.
Conclusion – Should You Play on It?
Play Ojo Casino is definitely worth checking out. Although its welcome bonus isn't the most generous, we liked the conditions attached to it or better said – the lack of conditions. Furthermore, the casino offers lots of games, intuitive interface, full support for mobile platforms, and quality live casino.
If we could find something to complain about, that would be customer support. But, before some of you go ballistic, customer support isn't bad by any means. It's just a bit slower and isn't available 24/7.
With everything being said, the casino's pros severely outweigh the cons, making it a very good choice for both beginners and enthusiastic players.
To digress, yes, you should play games on Play Ojo Casino. You'll have a blast with them, without a doubt!
FAQ
Let's answer some of the commonly asked questions before ending this Play Ojo review:
Can I suspend my account for a limited period?
Yes, the casino allows you to do that if gambling starts being more of a problem than enjoyment to you. Here's how that works in short:

You can read the full Responsible Gambling section here.
Can I find a Play Ojo promo code somewhere?
No, you can't. Play Ojo doesn't require any promo codes for welcome bonuses or promotions.
What if the legal age in my country is 16? Can I play on Play Ojo?
Yes, you can. You just need to verify your identity the way we described it above and you're good to go.
What email can I use to contact Play Ojo's support?
You can use support@playojo.com. We recommend using the live chat feature but if your issues aren't urgent, this email will do the job.