Being launched in 2018, Red Spins is a new player in the UK gambling world. Right from the get-go, Red Spins Casino shows us that it's not up to par with the best casinos in the UK, but if you're a non-demanding player, it will probably catch your attention. Today, we'll talk in-depth about Red Spins and see how good it is for the UK gambling lovers. Our comprehensive review is below, so keep reading to find out more about Red Spins Casino.
How to Register on Red Spins Casino?
We'll kick off our review of Red Spins Casino with the registration process. Every casino in the UK requires you to register to be able to play games and earn real money. Red Spins Casino is no exception to the rule. Upon entering the website, you'll be greeted by a vivacious and colorful home page.
The registration button is just above, in the top-right corner: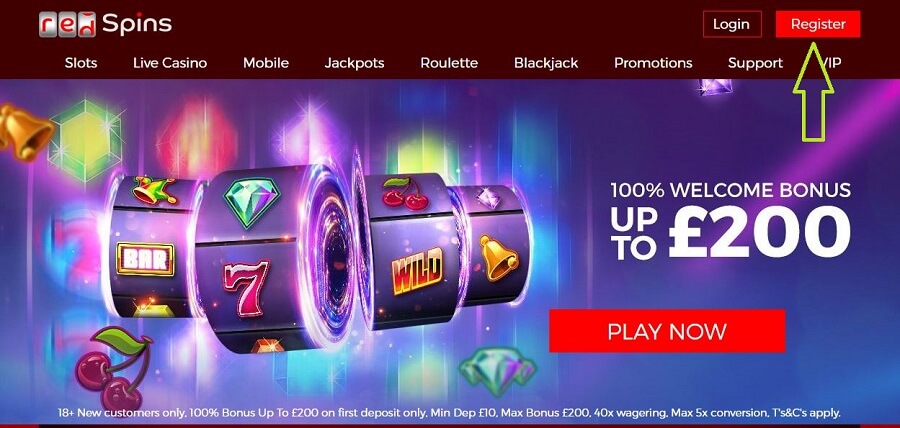 One thing we like about this registration process is that it can be done in a single step, so to say. Many UK online casinos make you go through hoops of registration, filling out page after page. Here, that's not the case.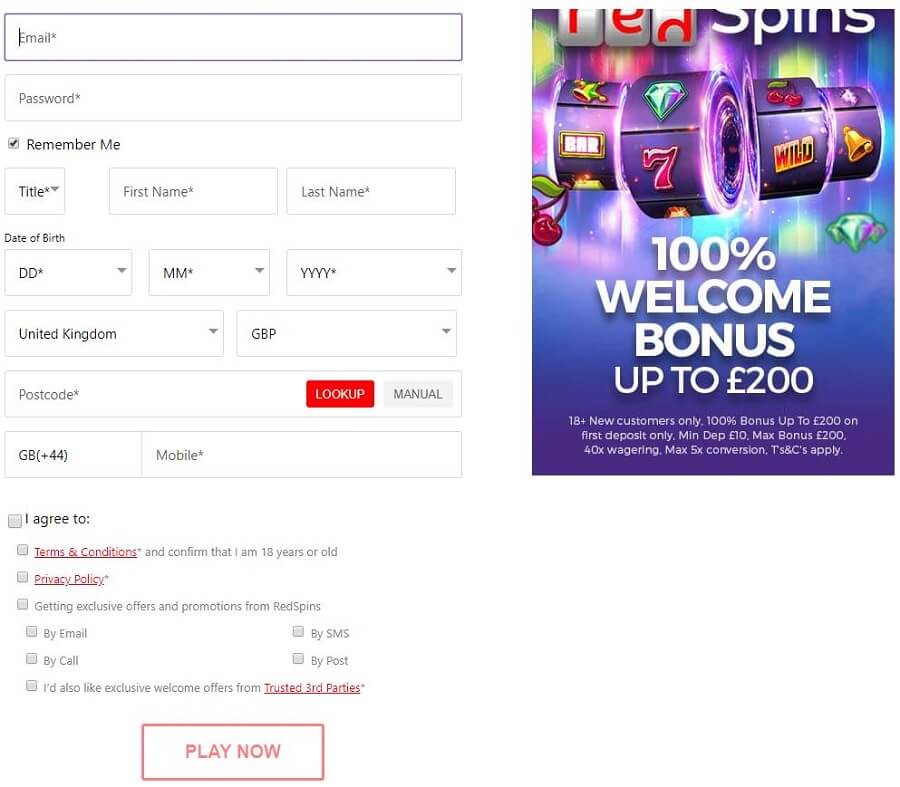 Interestingly, you aren't required to enter a unique username. Instead, Red Spins Casino needs your email, password, title, and full name. Next up, you'll need to enter your date of birth. If you're underage, you can lie your way through. However, when it's time to verify your account, you'll need to provide genuine info.
Finally, you need to choose the country you're playing from. We're from the United Kingdom, but if you aren't you can check if your country is available on the list. Red Spins Casino is available almost worldwide, but countries like Bulgaria and Serbia aren't on the list, for example.
To complement your country, simply enter your address and postcode, agree to terms and conditions, and click Play Now. Red Spins Casino will immediately thrust you into the world of gambling, as soon as you click this button.
As far as the registration process goes, we have nothing to complain about. You don't even get a confirmation email. All you need to do to start playing games is to verify your account. That's very easy and in the next section of this Red Spins Casino review, we'll see what you need to do that.
Verification Process – What Do You need?
Verification is where you either make it or break it. If your info during the registration process is genuine, you have nothing to worry about. You provide some documents as proof of your identity, and boom – you're done and ready to play on Red Spins Casino!
But, if you're underage or you've lied about your personal information, the outcome won't be so good. Let's see what Red Spins Casino has to say about verification:
Nektan, the company behind Red Spins, carries out the verification process. As you can see, they want you to provide valid documents to complete this process. Regarding your identity, this document can be:
Passport
Full Driving License
ID Card
With these documents, you verify your identity i.e. your full name and place of living. However, there's also address verification and as you know, the address isn't displayed on any of these documents. Instead, you'll have to provide some of these:
Bank Statement
Utility Bill
Be sure that both of these documents are not older than 6 months. Otherwise, Red Spins Casino won't accept them. What happens if they can't verify your account? Well, your account will simply be suspended until you come up with a reliable proof of your identity, address, and/or age.
If you ask us, that's fair. Serious gamblers looking to take their place on Red Spins Casino will surely pass this process easily. On the other hand, if you're underage, you'll not only be suspended, but also get into legal problems, as underage gambling in the UK is deemed an offense.
Red Spins Casino Welcome Bonus – Is It Generous?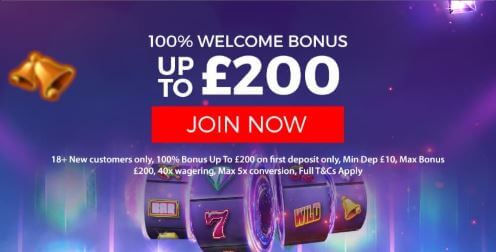 You've probably seen this image up top and you know what welcome bonuses we are talking about. To be concise, this is just one bonus and not multiple bonuses, as we saw on Casimba Online Casino. Nevertheless, it's a welcome bonus and Red Spins Casino is willing to welcome you only once, which is absolutely okay.
This UK online casino offers a 100% bonus, up to £200, on your first deposit. The minimum you can deposit to be eligible for it is £10 and in that case, you'll receive £10 as a bonus, resulting in £20 to play with.
That's nothing exceptional, especially when compared to our top-rated UK online casinos. To make matters worse, its wagering requirements won't exactly make you the happiest person:

40 times wagering requirements are too high for comfort. If they applied only to your welcome bonus, that would be somewhat okay. But, since they apply to both your bonus AND deposited funds, we can't help but complain.
The image above explains it properly. You deposit £100, get £100 as a bonus, resulting in £200 to play with. Now, you'll have to wager 40 * £200 = £8,000. Therefore, chances of you withdrawing your bonus-related winnings are slim to none.
Should you decide to venture into this endeavor, you'll need to know how to fulfill these requirements. Well, here you go:

As always, slots, scratch cards, and number games give you a 100% contribution. Premium Slots count as 75%, while Roulette and Blackjack are 10%. So, you can basically play all of the games that Red Spins Casino offers and still fulfill even a fraction of these sky-high requirements.
Red Spins Casino Promotions – Are There Some?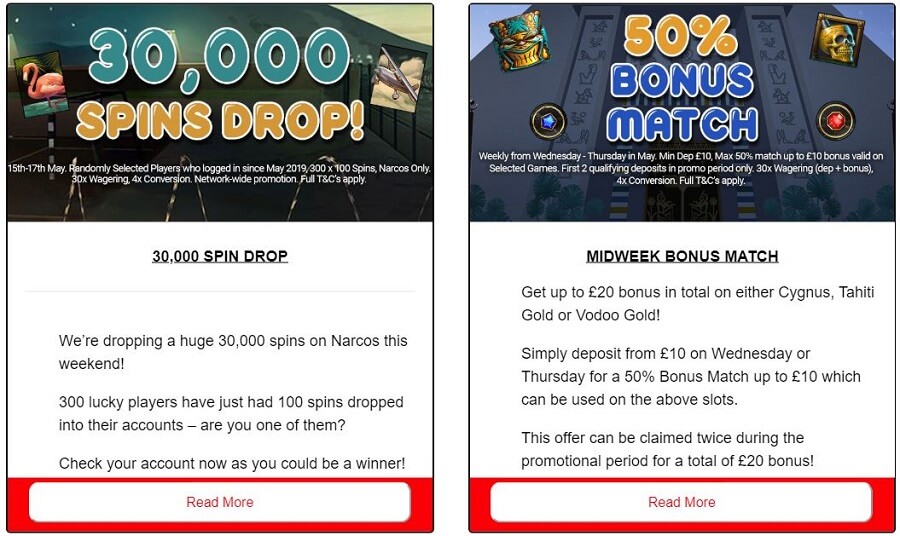 We saw during our review that there is one thing where Red Spins Casino will exceed: its vast choice of promotions. There are exactly 7 promotions here and all of them are, more or less, very valuable. Two promotions are already known – a welcome bonus and the VIP program.
The other five promotions give you interesting rewards that you can get by fulfilling certain conditions. This 30,000 Spin Drop promotion is very good, for example, and it applies only to Narcos. If you play this game, you'll enter a random draw, and if Red Spins draws your name, you get the chance to win 100 bonus spins.
Why not 30,000? Because they give out 300 rewards of 100 bonus spins, and if you do the math, it's exactly 30,000. Still, who doesn't want a hundred free spins? These are 100 new chances of winning some cash!
If we talk about all the promotions offered by Red Spins Casino, we'll turn the article into some sort of review of them. For that reason, we suggest visiting the Red Spins Casino website and inspecting the promotions by yourself.
Deposit/Withdrawal Methods and Limits
We haven't said much about game variety up to this point of our review, but if you think that Red Spins Casino is the right one for you, it's time to talk more about money. Depositing some cash to your account is mandatory if you want to play with real money and earn real money.
Red Spins Casino is quite generous when it comes to payment methods.

Apart from E-Wallets, Red Spins Casino offers credit/debit cards, which is great. Bitcoin isn't there, but nowadays, not many online casinos in the United Kingdom offer this option. Furthermore, the casino tells you right away what are the deposit and withdrawal limits if you visit Terms & Conditions.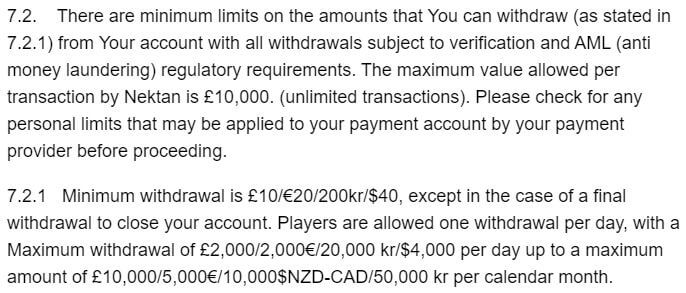 Regardless of the payment method, minimum withdrawal and deposits are the same. Nektan allows for up to £10,000 in a single transaction and mentions unlimited transactions. We don't quite understand what they're trying to say in this paragraph, but the next paragraph clears out things.
So, the minimum withdrawal and deposit are both £10. Now, they state that you're allowed one withdrawal per day, where the maximum withdrawal is £2,000. In one calendar month, the maximum you can withdraw is £10,000.
Basically, as soon as you withdraw £10,000, the rule from above doesn't apply and you can't withdraw more funds until the next month comes. Red Spins Casino clearly isn't made for high-stakes players, which is a turn-off for such players.
One thing we didn't like is this Nektan's fee that is active from July 2019. The casino doesn't state what is the maximum deposit allowed, but withdrawals under £30 are subject to an administration charge of £2.50.
To better explain, if you withdraw £20, you'll receive £17.5, regardless of the banking method. Not only is the casino made for low-stakes players, but it "punishes" them for withdrawing a small sum of money with an administration charge. If you want a better option to play online casino without getting charged, just have a look at Grosvenor.
Red Spins Casino Game Variety & Software
Red Spins Casino is proof that size sometimes doesn't matter. In total, this UK online casino has slightly above 550 games. At first glance, that seems quite okay. We actually deem this number impressive if the game variety is proper.
For example, Betfair Casino has, more or less, the same number of games, with lots of blackjack and roulette variants. Here, that's not the case. This casino has around 98% slots games, while all other games are all but abundant. We'll talk more about it in just a second, but it's already bad news.
Furthermore, we found out during this review that Red Spins Casino doesn't offer any software. The only way to play games is through its website, which isn't necessarily a bad thing. No software for mobile phones, either. The website doesn't look as cluttered as some online casinos.
It's rather simplistic and doesn't give you the feeling of playing at a premium casino. Whether that's a good or a bad thing, it's your judgment to make. But, once again, Red Spins Casino showed us that it's not for the most demanding players out there.
Slots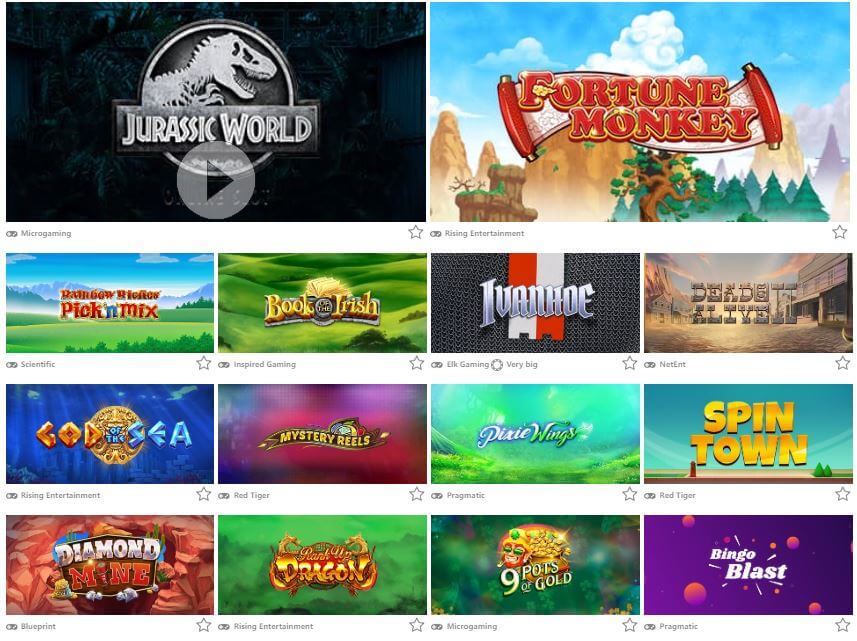 If you're a slots lover and you love trying your luck at different jackpots, you're in for a treat here. Red Spins Casino is jam-packed with slots games, offering 550 of them as we stated above in our review. That's quite a lot, right? Especially when you collaborate with some of the best game providers and you have great slots titles.
In terms of titles, you get to play Gonzo's Quest, Spin Town, Cleopatra, Dazzle Me, Ted, 7s to Burn, and many more. The choice of slots games is endless, which is actually good, given that these games give you a 100% wagering contribution.
An RTP (Return To Player) for slots goes up to 96%. For comparison, it's around 97% on average for most UK online casinos.
Roulette & Blackjack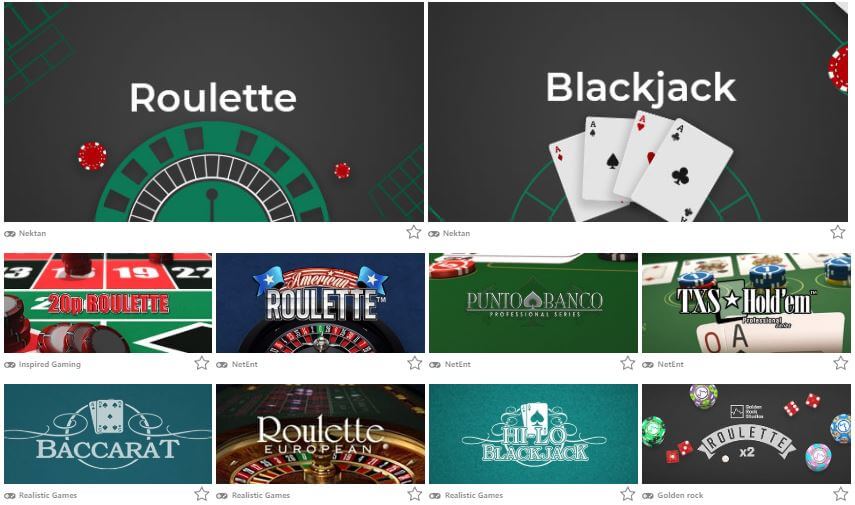 We always split roulette and blackjack into two different categories. This time, it would be pointless, as the number of these games combined doesn't exceed 10. That's right – 6 blackjack and roulette games in TOTAL.
Roulette lovers will be disappointed with the choice, as they only get to play American Roulette, European Roulette, and 20p Roulette. As for blackjack players, they can Hi-Lo Blackjack, Blackjack Classic, and Blackjack Professional Series.
Once again, slightly lower RTPs for roulette games are imposed, up to 97%, while blackjack, as always, has the highest RTP of 99.7%.
Other Games
When we talk about other games, Red Spins Casino isn't exactly the best choice. You get to play Baccarat, Texas Hold'em Poker, and Jacks or Better. RTPs for those are 98% on average, which isn't bad, considering how "many" games are offered.
We can comfortably say that Red Spins Casino is more like Red Spins Slots, rather than a full-fledged casino. You don't get enough other games' variety, making it quite boring to play after some time. Even experienced gamblers get bored of playing the same type of game over and over again.
Game Providers
If there's one confusing thing here, it's the fact that Red Spins Casino works with multiple game providers. They even managed to include Microgaming and NetEnt, yet the game variety is disappointing. Here, take a look:

Apart from the providers we mentioned, NextGen Gaming is here, as well as Foxium, Elk Gaming, Blueprint, and many quality game editors. In the future, we hope that this UK casino will better utilize its gaming partners. Otherwise, its future isn't very bright.
Red Spins Casino Mobile Gaming Experience

What's the mobile gaming experience like? Well, we could say it's solid. Red Spins Casino offers a plethora of games for you to play, and while this number doesn't exceed 200, that's still a wide array of games for a smartphone.
Some of the games you can play on your smartphone include Gonzo's Quest, Extra Juicy, Wolf Ridge, Shaman's Dream, and Mustang Gold. Starburst is also here and for some wild adventures, King Kong will give you some fun time.
Thanks to Microgaming, these games look quite good on a smaller screen. HD graphics are on point and you'll rarely notice the downgrade between the big and the small smartphone display. Since Red Spins Casino doesn't offer any smartphone apps, you'll have to rely on your web browser to boot it up.
We tested both Chrome and Safari, and as expected, it works slightly better on an iPhone. Nevertheless, a solid mid-ranger will provide you with decent gaming experience. If we exclude the modest number of games, Red Spins Casino is actually pretty good on a smartphone.
Red Spins Live Casino – How Good is It?
If you think you're ready to elevate your casino experience to a whole another level, indulging in live casino games is a smart choice. Our review simply isn't complete without mentioning live casino games, and as things stand, reviewing live casino games on Red Spins is impossible at the moment.
Why?
Because the live casino doesn't exist here! Whether or not you're shocked, that's the truth. And might we add – a bright red flag! On one side, they promise huge jackpot rewards and even a promotion where you can win over £250,000 in a month, and on the other, they don't have live casino games.
We understand that this is a new casino on the market, but so is Genesis Casino and a few more. Our review of Red Spins Casino was quite positive and it indeed had a quality choice of live dealer games. Now, we won't get into the financial side of things, but it's clear that Red Spins operates on a limited budget.
Hosting these games is quite expensive, as you need to pay for all the live dealers. At the time of writing this review, there is no mention of live casino games, therefore, it's a huge and fatal flaw for this company.
How Fair and Secure is Red Spins Casino?
Red Spins Casino is based in Gibraltar, a country under the UK jurisdiction. That's why it's mainly oriented towards UK-based players, which is always a good thing for them. Moreover, it's really licensed from both Gibraltar and the United Kingdom, proudly carrying its UKGC license.

For responsible gaming, companies like GamCare and BeGambleAware.org are here, and should you encounter any problem with gambling, you can contact them. Nektan is also a well-known company with no shady business practices and a good reputation.
For IT security, Sectigo takes care, while the RTP analysis is realized by NMi, a company that makes sure that no RTPs are fixed. Encryption-wise, we have a so-called GoDaddy Encryption in place, which is secure enough for keeping your data intact.
While not the best casino in the UK, we must give credit where credit is due. Red Spins is safe, secure, and fair, just as a respectable online casino should be.
Loyalty Program
In our opinion, loyal players and customers should always be awarded. Just imagine playing on an online casino for years and not getting anything out of it. Sounds infuriating, right? Well, another good thing about Red Spins is that it has a VIP program, but the other side of the medal is that it's invitation-based.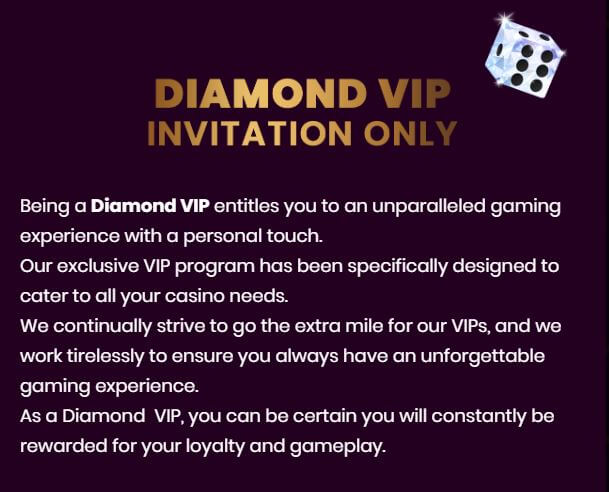 They even have a dedicated page for this Diamond VIP lounge and they mention what you can get if you're a member. In short, you get better bonuses, higher rewards, and overall, a better gambling experience. The thing is that they don't tell you how to get invited.
Sure, you'll play games, win, and lose, but no one mentions if that contributes to your VIP status. Furthermore, there aren't any Comp or Loyalty Points to collect. These points usually tell you where you are on the VIP scale.
Our suggestion is to contact the customer support team and ask them to point you in the right direction. A VIP program is always welcome, but it's not very useful when you don't know how to get there.
Red Spins Casino Customer Support
Speaking of customer support, it's time to review it and see if Red Spins client support is reliable and helpful. As we always love to say, a staple of a high-quality online casino is high-quality customer service.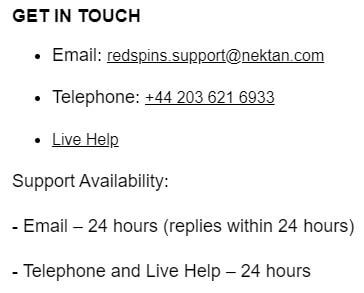 While not the best in the business, Red Spins Casino offers an impressive array of contact information. You can use their email address for any questions, a telephone, or live help, which is basically a live chat feature.
The telephone number is available only for the UK players, while the other methods are here for players worldwide. We like the fact that it's available 24/7. Even its telephone number is available 24 hours a day, so you can call in the middle of the night if some problems arise.
Our experience showed that the casino's support is pretty good, responsive, and helpful overall. If you decide to use a telephone number for contact, you'll not be disappointed, thanks to communicative and knowledgeable support team members.
Conclusion – Should You Play on Red Spins Casino?
To end this review of Red Spins Casino, we always want to put a proper conclusion. Red Spins Casino is one of the definitions of a mixed bag. It's a bag where you carry some good and not some good stuff. The good stuff here doesn't exactly outweigh the bad stuff.
We liked its customer support, choice of slots games, and simple registration process. But, the lack of live casino games, limited choice of games other than slots, and small withdraw limits pull this casino down quite strongly.
With that in mind, Red Spins Casino isn't worth playing on. Our suggestion would be Mansion Casino, the best online casino in the UK, instead.
FAQ
There are still some questions we haven't answered in our review of Red Spins Casino, so let's do that now.
💰 Do wagering requirements on Red Spins apply to my deposit, too?
Yes, unfortunately. You have to wager your deposit funds and bonus funds to withdraw bonus-related winnings.
🎰 Can I play arcade games on Red Spins?
No, you can't. You can play slots, blackjack, roulette, video poker, and baccarat though.
❌ Is there a possibility to self-exclude or take a break on Red Spins?
As always, Responsible Gaming is here to take care of you if gambling becomes more of a problem than enjoyment. You have two options – to take a time-out or self-exclude. In the first case, you can take a break from 24 hours to six weeks, while in the second case, that period extends up to 6 months.