Although not the most popular option in the UK, TonyBet has a pretty interesting background. It's founded in 2009 by Tony G, also known as Antanas Guoga, a popular businessman and poker player. Coming from the hands of a professional gambler, how good actually is this online casino? Well, we intend to find that out in our in-depth review of TonyBet Casino. Grab something to drink, sit back, and let's delve deeper into it.
How to Register on TonyBet Casino?
TonyBet Casino has a lot to prove given its background. However, before we move on with our review, we need to start from the basics, and that is the registration process. The website's interface is pretty simple, making it easy to register and find your way around.
To initiate the registration process, click on the Registration button in the top-right corner of the screen:

Once you do so, you'll initiate a three-step registration process. Here's what's required in the first step:
The first step is pretty simple, although it requires the information that needs to be 100% genuine. First, you'll have to choose your title, then enter your full name, date of birth, and email address.
Make sure that your full name here and in your ID are congruent. Otherwise, you won't be able to verify your account later on. Logically, your birth date must be correct. If you're underage, know that gambling is a criminal offense.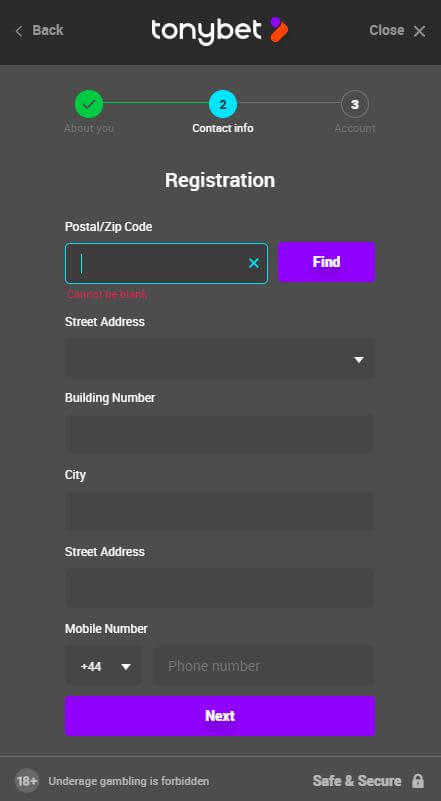 Another crucial step is entering your address. You can do so by entering a zip code and letting the website find you. However, for us, that didn't work well, so we had to enter every bit of information manually. If you're living in the house, a building number isn't necessary, by the way.
In that case, just enter your zip code, street address, city, and mobile number. Make sure that the mobile number is also genuine because the casino will send you a verification SMS.
The last step is the easiest one. If you're creative enough, you'll quickly come up with a unique username that isn't too long or too short. The same applies to your new password. Once you figure it out, tick the box to confirm that you're over 18 and click Continue.
With the registration complete, we need to move to the verification process in the next section of our TonyBet Casino review.
Verification Process – What Do You need?
Upon registering an account, TonyBet Casino wastes no time requesting account verification. Some UK online casinos will let you roam the site and play games for free. However, TonyBet Casino doesn't allow you to do that.
You must verify your account after registration and you have about a month to do so – at least that's what they say. Let's see how to easily verify your account if you're keen on starting your gambling journey here.

To find anything related to verification, we had to go to the privacy policy first. TonyBet Casino mentions three documents that you'll need – a passport, national ID, and a driving license.
However, when we made an account, it asked for more. Apart from these three, we had to upload a bank statement or utility bill to prove our address, as well as proof of ownership of our payment method.
In the privacy policy, nothing's mentioned about that. Moreover, for some reason, TonyBet Casino's verification is tied to the amount of money you win. As we can see, the moment you win £3,000 or more, another verification procedure is mandatory.
And not just £3,000 in one go, but cumulatively. They also mention that they have the right to verify your account at any point, even for lower withdrawals. That's definitely a good thing that has a positive impact on security and anti-money-laundering. All in all, if your info is genuine and you're over 18, you should have zero problems with this UK online casino.
TonyBet Casino Welcome Bonus – Is It Generous?

With the legal stuff out of the way, it's time to talk about something that many newcomers to this site will be interested in – welcome bonus. TonyBet Casino doesn't hesitate to introduce you to the good stuff right from the get-go.
If you see this dude sleeping on the bike, don't be like him – please! As much as sleeping on the bike is pointless, this dude brings some good news if you look at his left-hand side. You'll see a 100% welcome bonus, up to £300. Oh, and that's not all. Let's see what else the casino offers.

When you register on TonyBet Casino, you're greeted by a really generous welcome package. First, you get free spins no deposit bonus. To be precise, 10 free spins. Then, when you deposit at least £10, you're eligible for a 100% bonus AND 50 EXTRA free spins!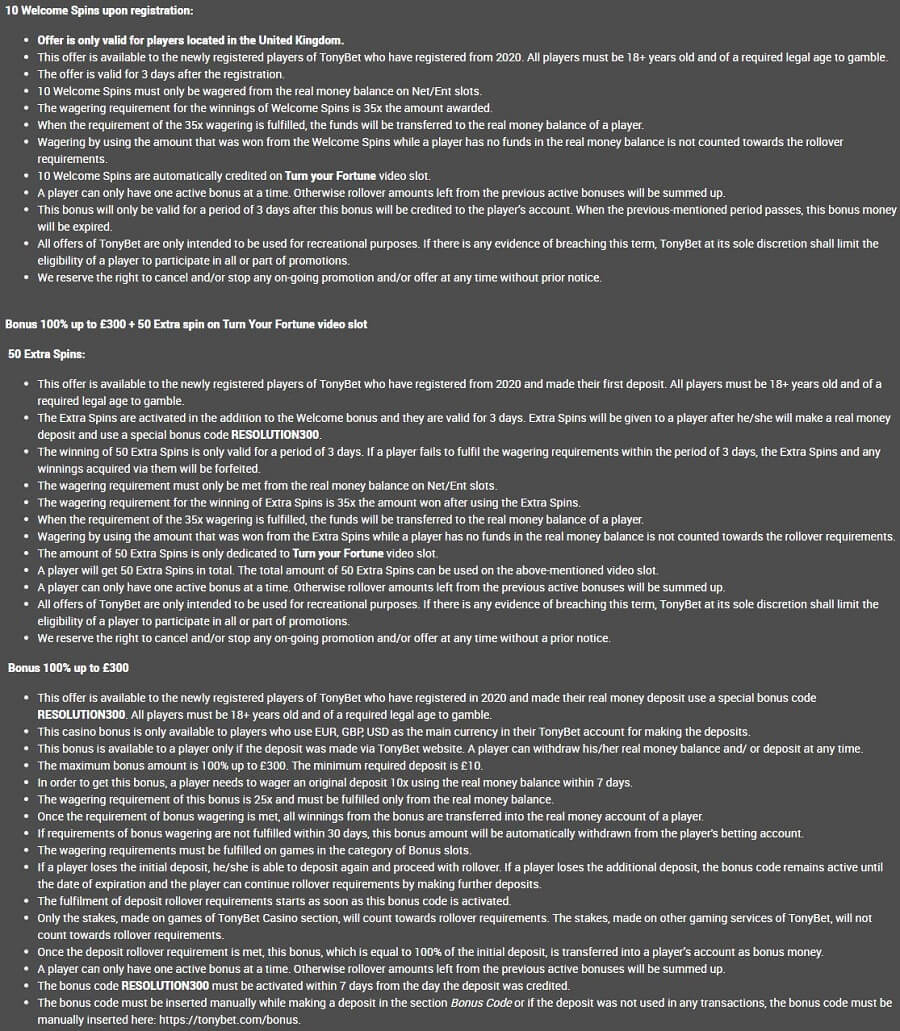 We know that you're already pumped up but let's take a close look at the welcome bonus conditions. The first no-deposit bonus is valid only 3 days and you get 10 free spins for the Turn Your Fortune game. That's not a bad deal, given that this game is fairly interesting and yields a good RTP.
This bonus also comes with 35 times wagering requirements before you can convert it to real balance.
Now, about the 50 extra spins bonus. You get 50 spins, once again, for Turn Your Fortune, with the same 35 times wagering requirements before converted into real cash. Wagering your bonus is possible only on NetEnt slots, which applies to this, and the premium bonus as well.
Lastly, we have a cash bonus, up to £300, for which the minimum required deposit is £10. Normally, if you deposit £300, you'll get £300 as a bonus. Interestingly, the wagering requirements for this one are just 25 times and you can complete them in the Bonus Slots category.
We like that you need to wager only the bonus, and not the deposit, which makes it a lot easier to complete. For instance, if you get a £10 bonus, you need to wager £250, which isn't that hard.
TonyBet Casino Promotions – Are There Some?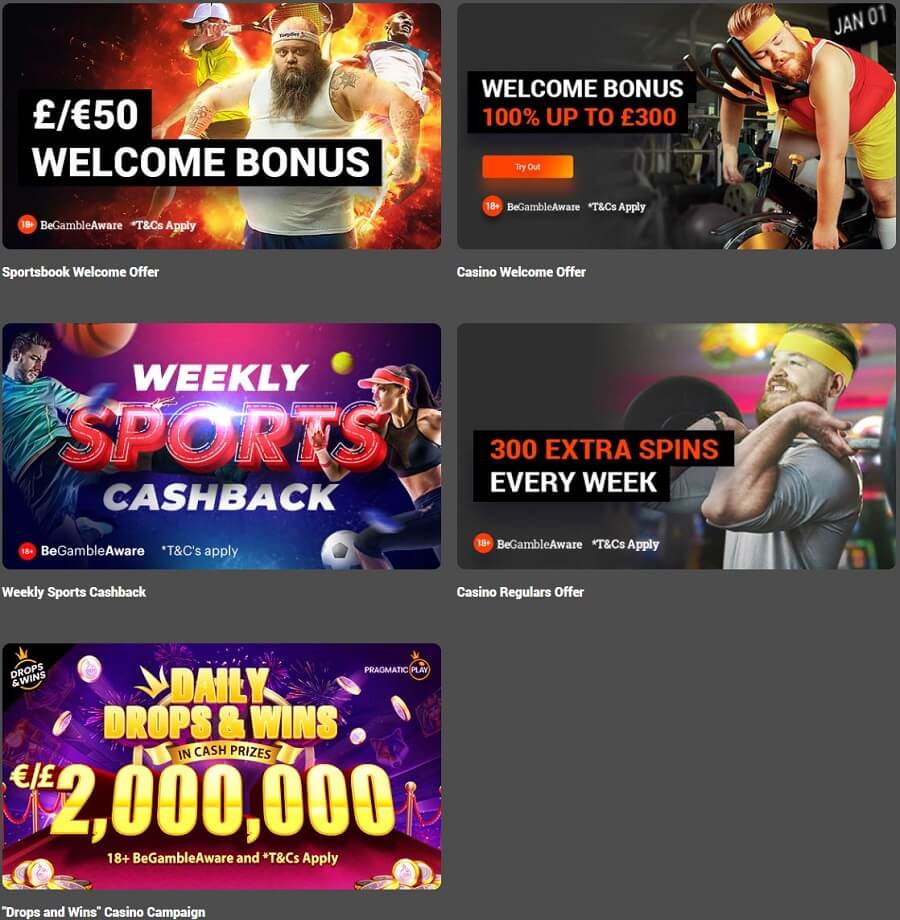 If there's one thing we don't appreciate it's the lack of promotions. TonyBet Casino started off really good with its generous welcome bonus, but promotions-wise, it sucks. There are 5 promotions in TOTAL – for both casino and its sportsbook. For the sportsbook, there are only 2 of them, while the casino gets 3, including a welcome bonus.
Maybe that's what we get in the UK, we don't know. The main thing is that you MUST reward your frequent players, and if you don't have a loyalty program, at least include a plethora of promotions, such as Mansion Casino or 888Casino.
Nonetheless, we'll review the two promotions offered by TonyBet Casino and see if they're worth a shot.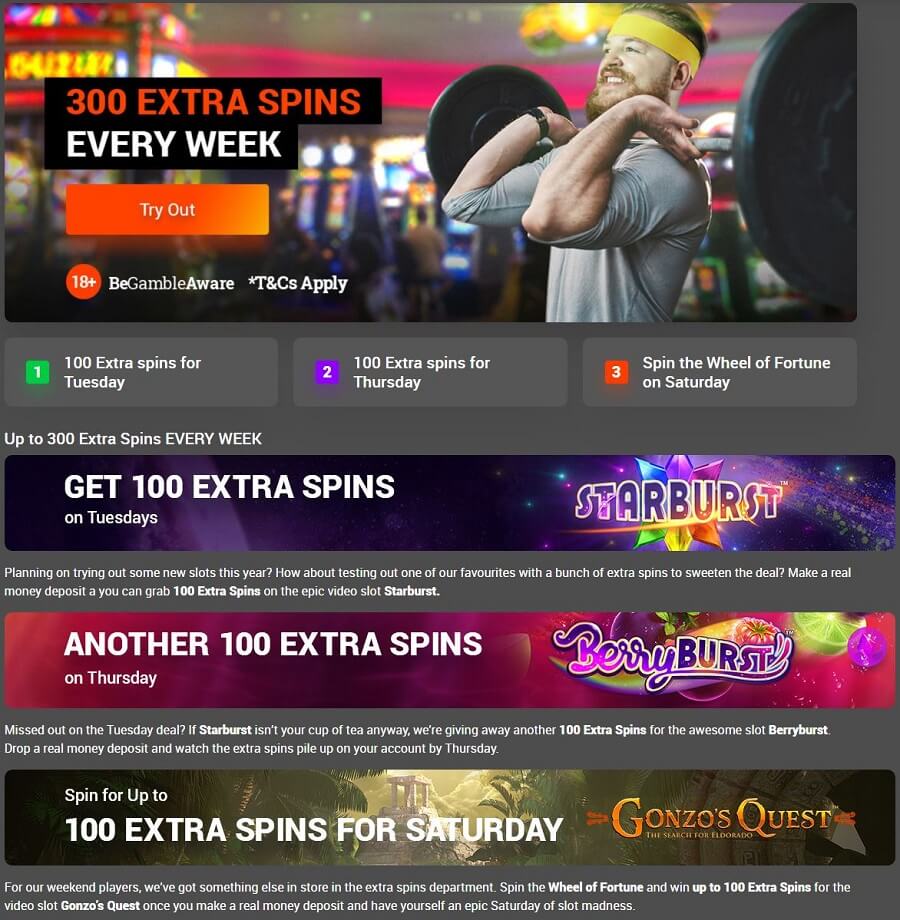 The first promotion is called 300 Extra Spins Every Week. There are 3 days on which you can grab this promotion – Tuesday, Thursday, and Saturday. Basically, you need to deposit some money on these days, and each day, you get the chance to win 100 free spins on Starburst, Berryburst, and Gonzo's Quest respectively.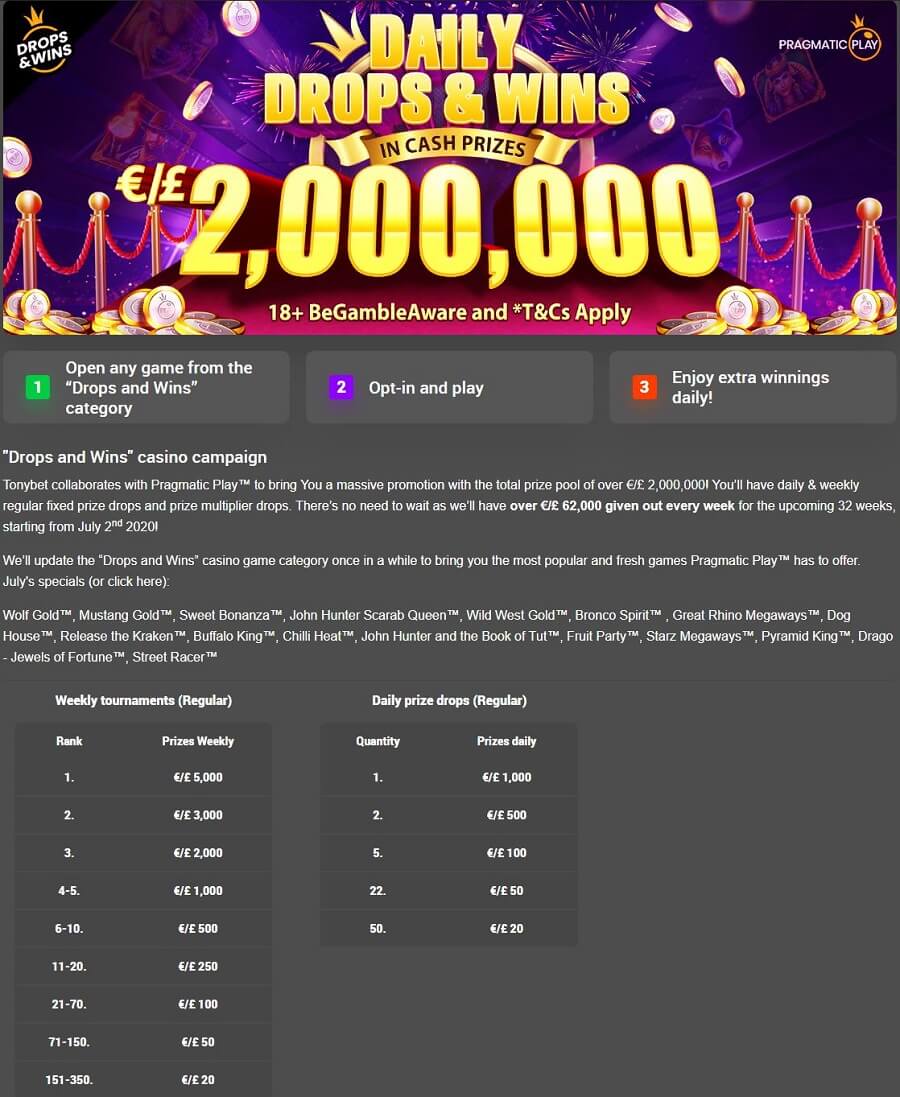 Daily Drops & Wins is another promotion on TonyBet Casino. This promotion rewards you when you play the "Drops and win" game category. You need to opt-in for the promotion and play games from this category that are shown in the image below.
Depending on how good you are and how much money you wager, you get some rewards in the form of cash. We can see that up to 350 players are eligible, where the first spot gets £5,000 and the last 200 spots get £20 in free cash.
TonyBet Casino doesn't state if this reward yields any wagering requirements, though. Since it's not mentioned, we can assume that they're non-existent until proven otherwise.
Deposit/Withdrawal Methods and Limits
If you successfully verified your account, you're looking to deposit some money to start gambling on TonyBet Casino. The payment methods you can use depend on your location, and for us, in the UK, the following payment methods were available: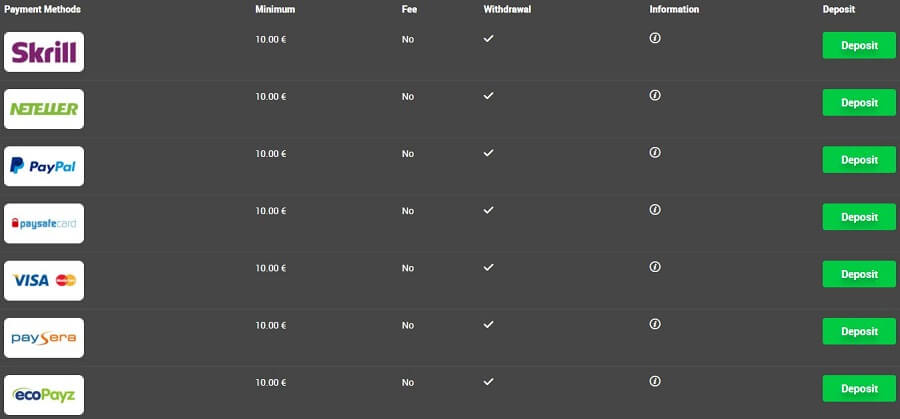 TonyBet Casino doesn't state if there are more supported services, so you'll have to check that out if you're living outside the United Kingdom. Still, what we got here is pretty good, as it encapsulates all the most popular E-wallets and credit/debit cards.
One thing you'll see is that there are no fees on deposits and withdrawals, which is something to be happy about. The minimum deposit is £10 for every method and deposits are instant.
The maximum deposit is user-controlled and can be set up right after you verify the account. Now, for withdrawals, the situation is almost the same. The minimum withdrawal is £10 and the maximum depends on the payment method you're using.
Usually, processing the withdrawals take around 24 hours when using Neteller, Skrill, and PayPal. If you use credit/debit cards, this time can extend to 3 days. Therefore, we recommend using E-wallets for both deposits and withdrawals.
Lastly, TonyBet casino uses a so-called Closed Loop Policy when it comes to payments. This means that your deposit and withdrawal methods must be the same. If you deposited using a VISA, you'll also need to use VISA to withdraw money.
TonyBet Casino Game Variety & Software
Let's now review the game variety offered by TonyBet Casino and the website in general. TonyBet Casino didn't have a very good start if we exclude the welcome bonus. The game variety, however, is its weakest characteristic. Some will say that 660+ games are more than enough, and we'll agree – but only if there's a VARIETY.
We don't call this section of our review "game variety" for no reason. Quality is always better than quantity and TonyBet Casino is a prime example of that.

These are all categories you get. Games are basically categorized by game providers and a few other categories that mostly belong to slots. You have VIP slots, bonus slots, and promo slots, while the rest are table games and the game provider categories.
A very, very poor game variety that will surely make you bored to death after a while. In terms of software, you can't download TonyBet Casino on computer. But, on the flip side, both the Android and iOS platforms are covered.
Slots
Since slots are the stars of the show, we need to talk about them first. Out of 667 games available, around 610 of them are slots – believe it or not. This casino could also be named TonySlots or something like that. That name would suit it much better!
With this number of games, TonyBet Casino covers all the most popular titles such as Starburst, Gonzo's Quest, Narcos, Conan, Divine Fortune, and Fruit Spin. Furthermore, the slots are divided into several categories with different "functions."
Promo Slots are here to accompany certain promotions that are available, VIP slots are for VIP players, while bonus slots are used for meeting the wagering requirements of the bonuses you get.
When you put so many slot games, we expect a bit higher RTP (Return to Player) than 97%, even though it's an industry standard. But, TonyBet Casino doesn't provide anything above that.
Table Games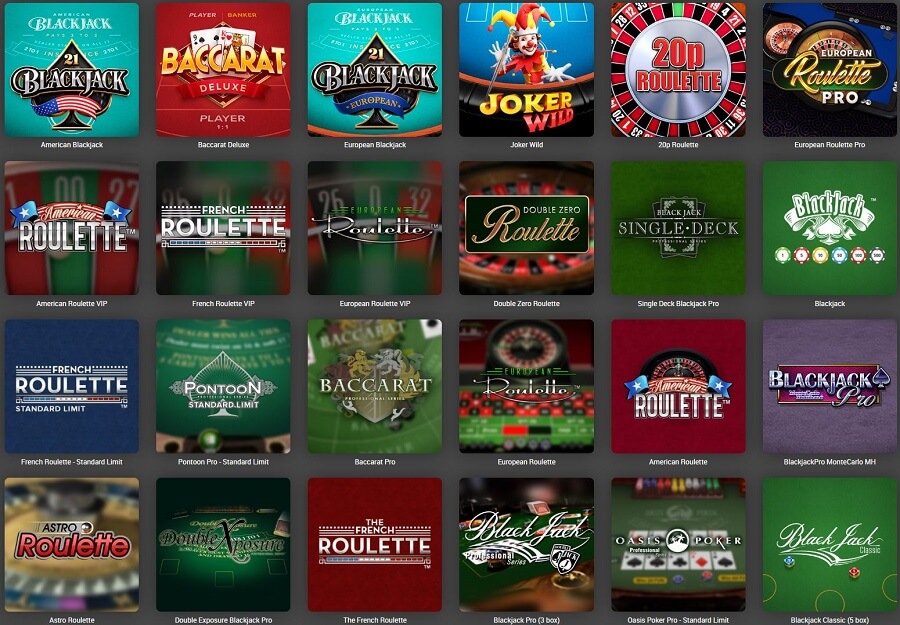 Table games are next on this part of our TonyBet 2021 review. The casino placed a number 12 right next to this category. But when you click on it, you clearly see that there are more than 12 games here. You get 38 table games with an "okay" game variety.
TonyBet Casino offers 13 roulette games, 12 blackjack games, and other titles like Pontoon Pro, Joker Wild, Baccarat Pro, Texas Hold'em, and Punto Banco Pro Low Limit. We like that there are titles like French Roulette, Single Deck Blackjack Pro, and Baccarat Deluxe, as well.
RTPs for table games will range significantly, from around 90% to 99.5% for blackjack. Poker games also have an RTP of above 97% but video poker games aren't here. Actually, there aren't even scratchcards, arcade games, and other interesting delicacies that other casinos have.
Drops & Wins

If you want to win some of the prizes we mentioned in our Promotions section of the TonyBet Casino review, these are the games you need to play. There are 14 Drops & Wins games, with popular titles like Buffalo King, Wolf Gold, and Great Rhino Megaways.
Needless to say, these games are similar to slots, especially megaways, that are slightly different than classic slots. But, the good thing about them is that you can compete on the leaderboard, and if you're successful, get up to £5,000 in free cash.
Game Providers
TonyBet Casino works with a decent number of game providers to make the games come to life. Obviously, no Microgaming here, which is a shame, given that it's one of the best providers. We're also disappointed with the absence of Playtech, another crucial game provider.
On the brighter side, companies like NetEnt, iSoftBet, Play'n GO, Quickspin, and NYX are doing their job greatly. Most games come from NetEnt and NYX, followed by Play'n GO, Quickspin, and iSoftBet.
If you wish to play live casino games, NetEnt will again be the star of the show, while some games are hosted by Evolution Gaming.
TonyBet Casino Mobile Gaming Experience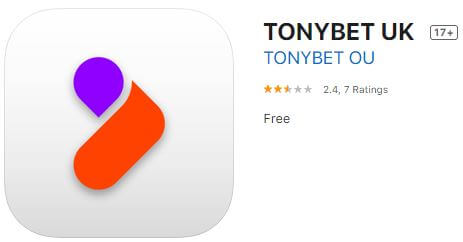 Due to our busy and fast lives, we often don't have the time to sit in front of our computers and laptops. That's why many people love gambling on mobile online casinos. TonyBet has an app for both iOS and Android counterparts, and the good thing is that it includes sports betting as well.
In other words, it's a full-fledged app with everything that the gambling operator offers. Unfortunately, the app isn't very popular on the Apple Store, with only 7 ratings and 2.4 stars.
One thing we found odd is that TonyBet claims to be the "fastest-growing" online casino in the UK. How?
If your app has only 7 ratings on the app store, don't bother lying. Moreover, the reviews are pretty bad, claiming that the casino doesn't pay out the winnings, as well as calling it a scam. Other reviews are pointed toward the app that constantly crashes and has bugs.
Our experience with the app was nothing to brag about. We do experience some crashes and stuttering, but nothing too alarming. The app is intuitive enough, though, so you'll easily find your way around.
The Mansion Casino app is still the best deal if you want to gamble on a mobile phone. With 4.4 stars on Apple Store, it won the hearts of thousands of players online.
TonyBet Live Casino – How Good is It?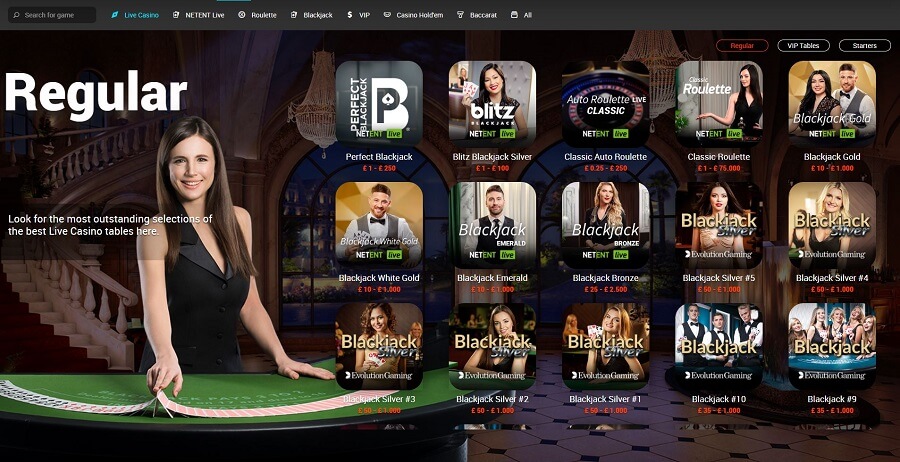 The live casino at TonyBet is great for one reason. Actually, for two reasons – NetEnt and Evolution Gaming. These two companies do a bloody good job of optimizing live games and making them as immersive as possible.
While NetEnt provides more minimalistic interfaces, Evolution Gaming focuses on making things more intuitive and old-school. Whatever your choice is, you won't go wrong. Live casino games here are abundant, with titles like VIP Auto Roulette, Blitz Blackjack, Baccarat, and Casino Hold'em.
The table limits are suitable even for low-stakes players. The lowest limit you can expect is £0.25 for Classic Auto Roulette, while some VIP games impose a minimum of £500. Game experience-wise, TonyBet Casino is flawless.
We like that the interface is integrated directly into the footage, making you feel like you're sitting in front of a dealer. You can use other functions like live chat, changing camera angles, and muting the sound, to fully customize your experience.
In short, live casino games are great here and you'll surely enjoy them more than online casino games.
How Fair and Secure is TonyBet Casino?

In the introduction, we mentioned that the casino is founded in 2009. However, long before that, the TonyBet brand was known as Omnibet. Omnibet exists since 2003, and in 2009, Tony G bought it and renamed it to TonyBet for pretty apparent reasons.
Unlike other UK online casinos, TonyBet Casino is based in Estonia, with the address clearly displayed on the website. The casino doesn't mention anything about the Estonian license, but it has a UKGC license, which is crucial for it to operate in the United Kingdom.
Furthermore, responsible gambling companies like GamStop and GambleAware are here, and they'll help the players with potential gambling problems. TonyBet is a part of the Betsson group and is a brother casino to Betsafe Casino that we also reviewed on our site.
The website uses 128-bit SSL encryption for keeping your personal info and payments safe. And for RTP analysis, eCOGRA does a good job of making sure that no games are rigged. With all we said, it's clear that TonyBet Casino is fair, safe, and secure.
Loyalty Program

At the time of writing this in-depth review about TonyBet, we tried to find the VIP program using Google search. The first result was exactly that – the VIP scheme at TonyBet Casino. As soon as we visited the site, we got this message.
The casino obviously had a loyalty/VIP program at some point, only to remove it later on. In 2021, TonyBet Casino doesn't offer any kind of VIP scheme, which goes "hand to hand" with a minuscule number of promotions.
Frequent users probably won't enjoy their stay at the site because their constant effort won't be as rewarding as on some other casinos like Mansion Casino or The Grand Ivy.
TonyBet Casino Customer Support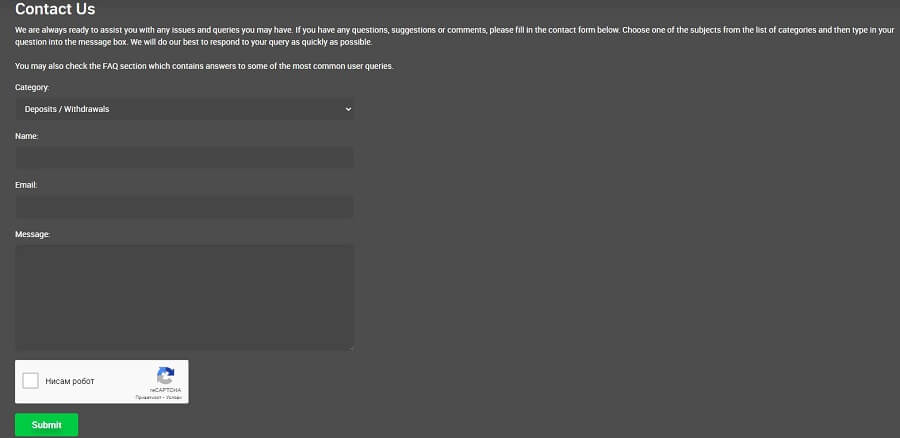 If the potential problems arise, or you just want to ask some questions, you can contact TonyBet Casino using two methods – live chat and email. We tested live chat first and it wasn't so "live", so to say. Before you even type the message, the casino states that it will send you an answer to your email.
We went ahead and asked a general question, only to receive a message around 20 minutes later. That's not how live chat functions, so it's basically not a live chat. It's more like a gimmick that tricks you into thinking that it's a live operator waiting for you.
Email support is… well, the same. The difference is that you have to fill out a special email form, choose the category of your question, and send it. You can then expect the answer in 24 hours, and on average, it's around 2 hours, give or take.
Conclusion – Should You Play on It?
We aren't here to blow sunshine up your butt, so we'll tell you our opinion right away.
You should not play on TonyBet Casino for several reasons. It has very few promotions, no loyalty program, and poor game variety. The support team is also not one of the best we've seen, and although it's knowledgeable, we found it slow to respond.
The only part of this website you'll enjoy is the live casino. However, we have much better UK live casinos that you'll enjoy as well, which also fill out all the loopholes of TonyBet Casino.
Our recommendation is Mansion Casino instead of this one. It has a much better welcome bonus, multiple promotions, extraordinary customer support, and a great mobile app. Register on it, claim your welcome bonus, and kickstart your gambling journey to greatness!
FAQ
Let's end our in-depth review with a quick FAQ section to cover the things we haven't talked about.
📌 Who owns TonyBet?
TonyBet is a part of the Betsson group, a company from Sweden with a few gambling operators under its ownership. One of them is the Betsafe Casino, a well-known European gambling brand.
🔒 Is TonyBet safe?
Yes, this online casino is indeed safe. It has a license from the United Kingdom Gambling Commission, which allows it to operate in the UK. Furthermore, it's a part of a well-respected gambling group.
📆 Do TonyBet staff work weekends?
Yes, they are working on weekends. This means that you can play games and contact customer support at any day during the week.
🎰 How to get TonyBet free spins?
TonyBet Casino offers free spins upon registration. You only need to register and 10 free spins will be yours. Normally, be sure to verify your account so you can use and wager them.
❓ Are there any TonyBet no deposit codes?
No. You get a no deposit bonus simply by registering on the site. For a welcome bonus, though, you need to enter the code RESOLUTION300 when depositing money. Only then, you'll be eligible for a welcome bonus.