If you live in the United Kingdom, there's no way you haven't heard of William Hill. This is the oldest bookmaker, being established all the way back to 1934. At the beginning of the 2000s, the bookmaker launched a renowned William Hill online casino and since then, it's among the best options in the United Kingdom. Despite not being in our top 10 picks, is this casino still worth your time? Well, we suggest you stick around to find out. This is an in-depth review of William Hill, so grab your favorite beverage and let's jump right into the topic.
How to Register on William Hill Casino?
To start playing games on William Hill Casino, you'll need to register. This is a necessary part of all casinos, to be able to verify your account and start earning money. But, before we talk about verification, let's see how to register. When you open the site, you'll see the button for registration in the top right corner: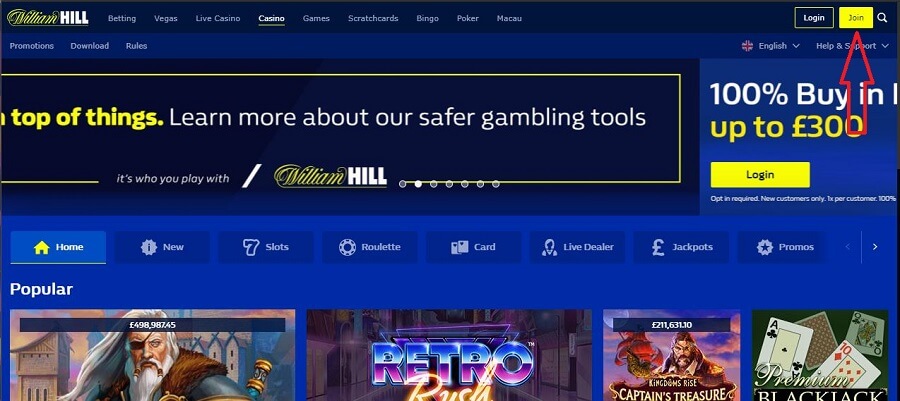 Click Join and the following screen will open: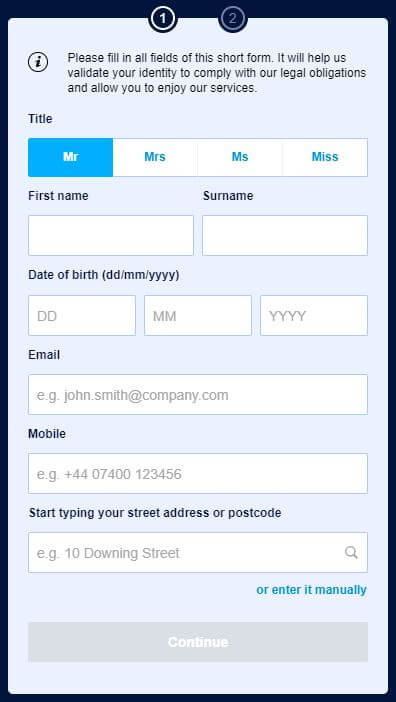 It's a simple sign-up screen where you need to enter some basic details. First, you'll need to enter your title, depending on your gender. Next, your name, date of birth, email, mobile phone, and your street or postcode. After you do this, you proceed to the second or better said, the last registration screen: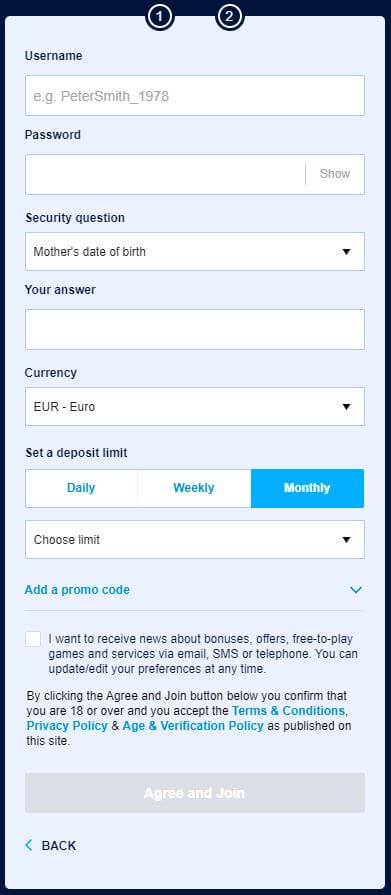 Now, it's time to make a unique username that will be displayed to other players and the dealer. Choose carefully and don't use names that contain cursing words, and so forth. For the password, we recommend choosing a very complicated one, so that no one can bust through your account.
The security question is here to prevent what we just said from happening. In case a suspicious login occurs, the person who logs in will have to answer the question to access the account. Finally, choose your currency and set your deposit limit to daily, weekly or monthly.
Finally, click on 'Agree and Join' and you'll be ready to play some games right from the get-go, even without real money!
Verification Process – What Do You need?
Let's proceed with our review of William Hill by talking a little bit more about the verification process. As you know, licensed casinos are very strict when it comes to age limits and account verification.
For the start, you MUST be over 18 years old to gamble, whether it's an online casino or a land-based casino or bookmaker. William Hill Casino does a great job of explaining everything on a single page, so let's analyze it.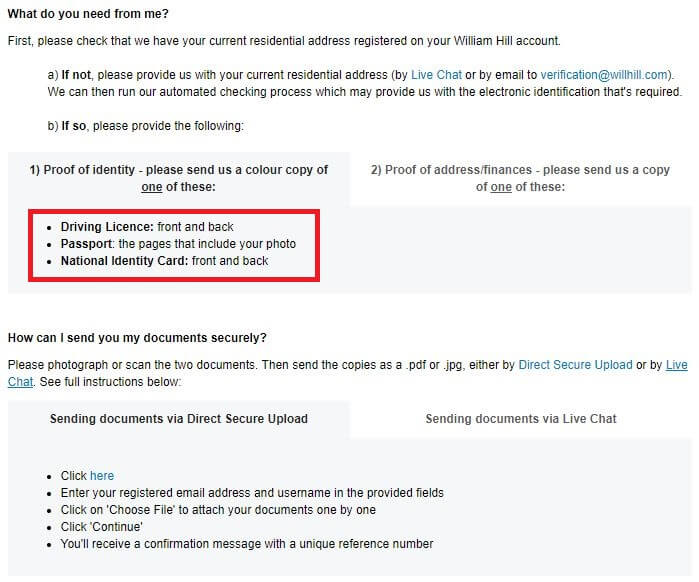 To start your verification, provide your residential address in two ways – via live chat or via a verification email to verification@willhill.com. Another way to verify your account is to provide the William Hill Casino with the necessary documentation. The documentation needs to be in color and the eligible documents are:
Driving license – front and back
Passport – the page with your photo
National identity card – front and back
These documents are here as proof of identity. However, you also need to prove your address and finances, to be able to withdraw or deposit your money. That's why we always say that you should be completely honest when entering your registration data. Here's what you need for that part:

The first one is your bank or Credit card statement which shouldn't be older than six months. Another way you can do it is by sending utility bill or Council Tax Bill, once again, not older than 6 months. These documents need to show your full name, address, and logo of the issuer.
After William Hill successfully verifies your account, you can freely deposit and withdraw your money. If they can't verify your account, you're most likely going to be banned after some time or you won't be able to win real money. Either way, you don't want that to happen.
William Hill Welcome Bonuses – Are They Generous?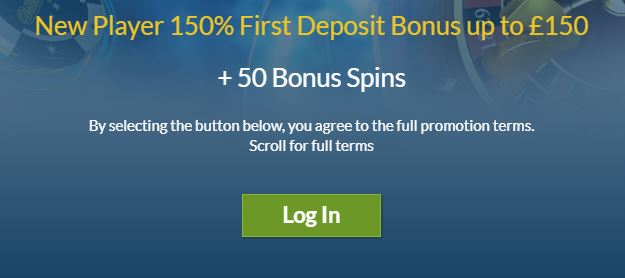 To make playing games online enticing, casinos are often implementing some hefty welcome bonuses. William Hill is no exception. Your first deposit here gets a 150% bonus, up t0 £150, and 50 free spins which seems okay. Sure, percentage-wise, it sounds very good. You make a deposit of £100 and you get a £150 bonus, which results in a total of £250. But, that's not a big sum of money.
The minimum deposit eligible for a bonus is £10, though. In that case, you'll get a bonus of £15, so you'll have a total of £25 to play with.
Now, when it comes to wagering requirements, we can't say we're very happy. The wagering requirements here are pretty high – 40 times, but they apply only to your bonus.
So, let's say you deposit £10 and you get a bonus of £15. To withdraw your funds from William Hill Casino, you need to wager the bonus 40 times, so it will be 15 x 40 = £600. Only when you win that money, you can withdraw your winnings. As you can see, it's all but generous.
Testing your luck can be done on games that contribute to wagering requirements. At this moment, to get a 100% contribution, you'll need to play slots and scratch cards. Lower contributions of 20% are for baccarat, blackjack, Stravaganza, multi-spin slots, and Craps and Sic Bo.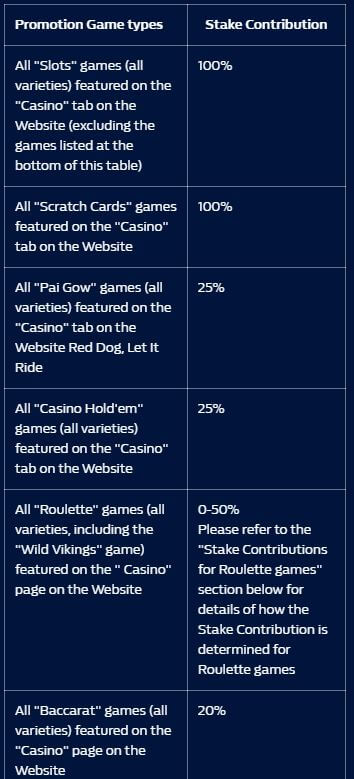 Games with 0% contribution are Hi-Lo games and even some roulette games, which isn't very good for roulette lovers.
Deposit/Withdrawal Methods and Limits
Before we talk more about games in our review of William Hill Casino, let's see what deposit and withdrawal methods you can use, and what are the limits.
The minimum deposit is £10 and this is also an eligible deposit for getting a welcome bonus we mentioned above. The maximum deposit is $99,000, depending on the payment method you're using.
Of course, you can deposit your cash without waiting, so as soon as you do that, you'll see the money on your account. No fees are applied, too. Now, what about withdrawal? Well, the minimum withdrawal is £5 and depending on the payment method you're using, the upper limit is £99,000.
Here are the most important payment methods that William Hill Casino offers: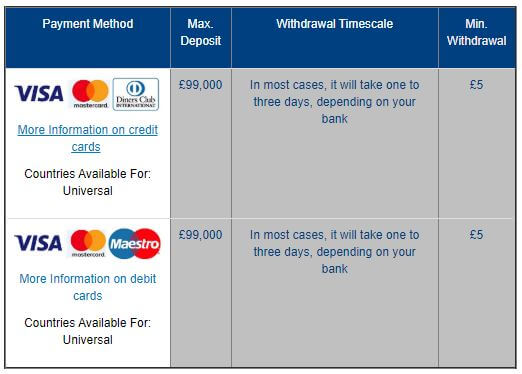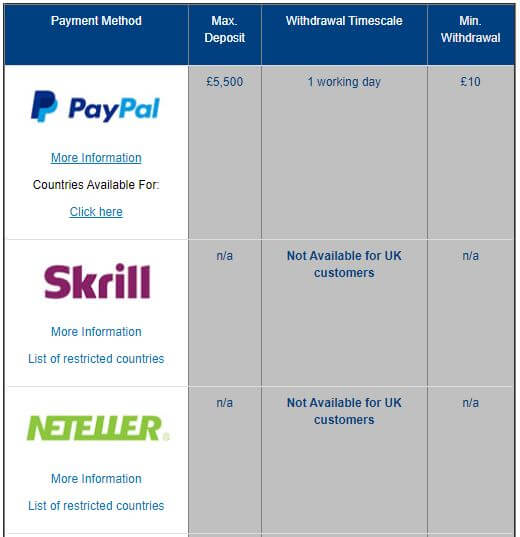 Since we're talking about the United Kingdom, it's important to mention that Neteller and Skrill aren't available in the UK. That's very strange since we haven't had any problems using these services on many other casinos. Nevertheless, we recommend using PayPal for both withdrawal and deposit, if you want your money to get quickly to you.
As you can see, if you're using PayPal, the withdrawal times are only 1 working day. Albeit, your deposits are limited only to £5,500. If waiting a bit longer isn't a problem, using your VISA card is your best bet. Here, you get to withdraw up to £99,000 but you'll have to wait up to 3 days for withdrawal.
Apart from that, there's the bank transfer that you can use and it ramps up both withdrawing and depositing cash to up to £100,000 but you'll need to wait for up to 5 days to get your money.
William Hill Game Variety & Software
William Hill comes with around 400 games in total, which isn't anything we've already seen. We don't consider William Hill a very big casino (unlike Grosvenor Casinos) but judging by the number of games, it can satisfy many players from the United Kingdom. Software-wise, we can't complain. You can download an app for Windows and play casino from there or simply use your web browser and enjoy games easily.
Furthermore, the games look pretty nice. The HD graphics are there and to play them, you just have to install Adobe Flash Player, which is done in less than a minute. You can enjoy different variations of slots, bingo, baccarat, poker, progressive slots, and so forth.
The great thing is that you can access a variety of games for free. Heck, we even managed to access the live casino without any money! Although we couldn't play it, we could at least watch how other people play and get to learn more about particular games.
We have nothing to complain about software and game variety. The interface is clean and intuitive, and getting used to it is very easy. The only thing to complain about is the website of William Hill Casino. It's cluttered and games are tightly put next to each other, making it a bit difficult to find what you're looking for.
Slots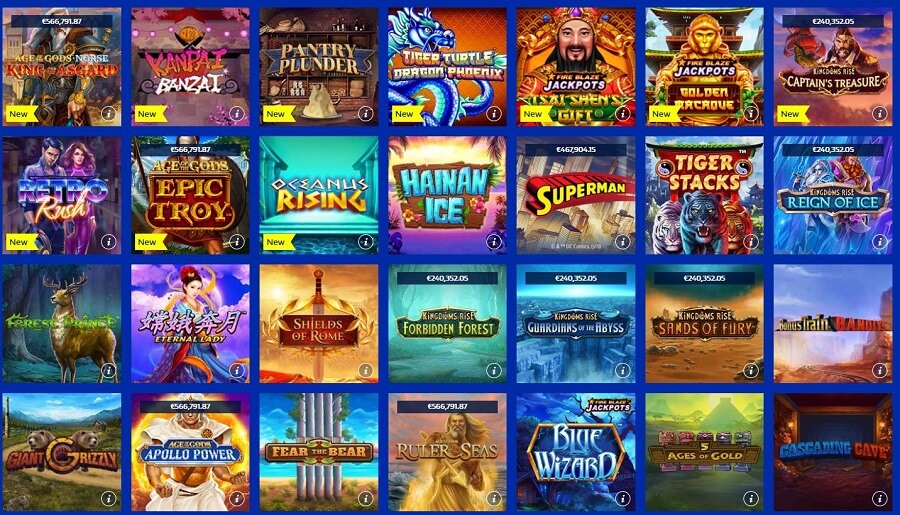 If you came here to play slots, you'll be pretty amazed at the choice you'll get. In the image above, you can see only some of the games but there are 234 games in total. Some of the most popular titles are here, such as Jackpot Giant, Gladiator, Aces of Gold, Age of the Gods, Kanpai Banzai, and so forth.
We enjoyed slots as they're very simple to play, and they're high-stake games, you can still win some decent cash. Speaking of that, RTPs for these games are more than 99%, so you'll get almost everything you win. Just for your info, if you win £100, you get £99 approximately.
Roulette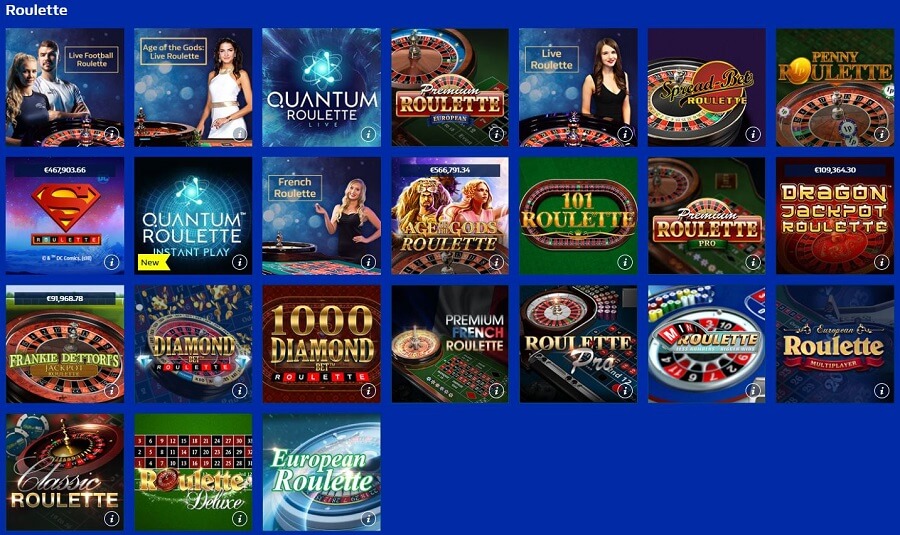 William Hill Casino doesn't disappoint with roulette, either. We found 43 roulette variations at our disposal during our review, and judging from the image above, these are the most popular games.
We like American Roulette the most but you can also expect Premium French Roulette, New AR Roulette, 3D Roulette, European Roulette, Quantum Roulette, and many more.
For those who like spinning the table, William Hill offers an RTP of around 98.6%, which is slightly lower than slots. Still, you'll get almost all the money you won, which is okay for us.
Blackjack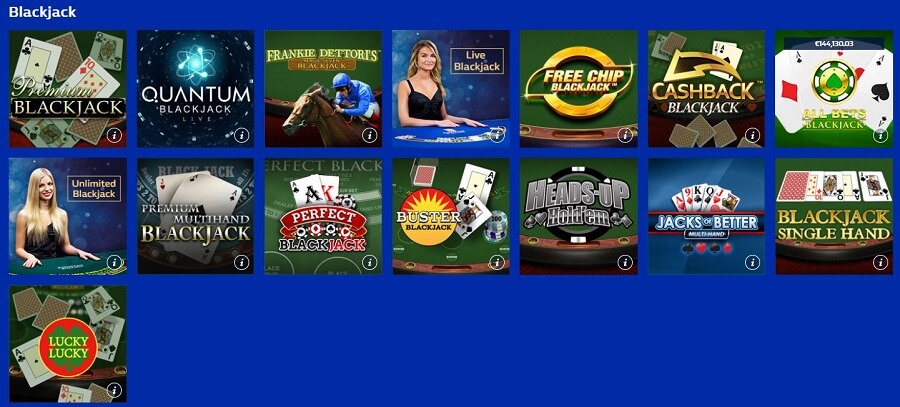 If you're for some card games, blackjack is perhaps one of the most thrilling games you can play. Old-school gamers love this game but if you're a beginner, you'll like it, too! The casino offers 72 different blackjack variants, of which Blackjack Pro is our favorite.
But, in case you like varying your gameplay, you can try Blackjack Switch, Perfect Blackjack, American Blackjack, Cashback Blackjack, Quantum Blackjack, and many more. This game is a bit more complex, so we recommend it to more experienced players.
Should you win some money, you'll get an RTP of almost 100%, to be precise, 99.9%. That's pretty generous! Such a shame that blackjack doesn't have a big contribution towards meeting the wagering requirements.
Table Games
Finally, if you're for some table games, you can enjoy Sic Bo, Progressive Baccarat, Red Dog, Stravaganza, Tequila Poker, Caribbean Stud Poker, and many more. In total, there are 21 table games to choose from, which isn't very generous but it's okay for a casino that isn't on our list of top 10 casinos in the UK.
Arcade Games
If you love playing arcade games, you can find 45 of them here. Hi-Lo games are here, Pop Bingo, Jackpot Darts, and Cash Blox. Beware that these games also have a high RTP of 97.5% but they do NOT contribute to the wagering requirements.
Game Providers
The majority of games listed on William Hill Casino are provided by Playtech and Evolution Gaming. While Evolution Gaming manages live games, as usual, Playtech stands behind almost all the other games. This company is known for its game diversity, excellent graphics, smooth animations, and sound quality.
We noticed that a couple of games are hosted by NetEnt, too, especially some live casino games. Other providers include Ash Gaming, Genesis, and 1×2 Gaming. We'd like to have Microgaming here because it's one of our favorite game providers but overall, we're satisfied with the level of quality they achieved.
William Hill Mobile Gaming Experience
Most of us live busy lives and we can't afford to sit in front of our monitors all day. For that reason, people often gamble using their smartphones, as it is much easier to enjoy games on the fly.
We mentioned that William Hill even offers an app for the computer, which is very good and perfectly mimics the in-browser experience. Now, what about mobile apps?
Well, William Hill Casino supports two platforms – iOS and Android.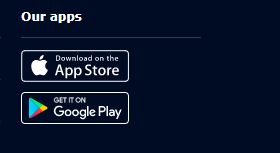 When playing on a computer, some games have a small mobile phone logo on them. These games can be played on a smartphone. However, we like that you can switch from a computer to a smartphone in a matter of seconds. Let's say you're playing on a computer and you need to leave your home. In that case, switch to the mobile phone and continue playing the game.
The app supports around 100 games in total on a smartphone, which isn' a very imposing number. Furthermore, the majority of these games are slots, which some users may not like. But, for a bit more variety, you can play progressive jackpot, Gold rally, Gladiator, and even some scratch cards, which work perfectly on a smartphone.
All in all, William Hill Casin offers a decent mobile gaming experience. Albeit, we'd like at least 200 games, given that the casino has 400 games in total.
William Hill Live Casino – How Good is It?
Let's review the live casino section of William Hill. Playing live is a whole another adventure, even for an experienced gambler. Sure, online casino games are tons of fun but when playing live, everything is different.
For example, you play against a real dealer who isn't going to make winning money easy. You hang out with other players, chat, discuss, and have a laugh, even with the dealer himself/herself.
To be perfectly honest, William Hill does an impressive job in this department. There are lots of variations here, from variations of baccarat and slots to poker, blackjack, and Hold'em. You can also play the majority of these games on a smartphone. Only a couple of them aren't available, such as Three Card Poker or Mini Baccarat.
We got a screenshot from one of live casino session we had while reviewing William Hill. Take a look: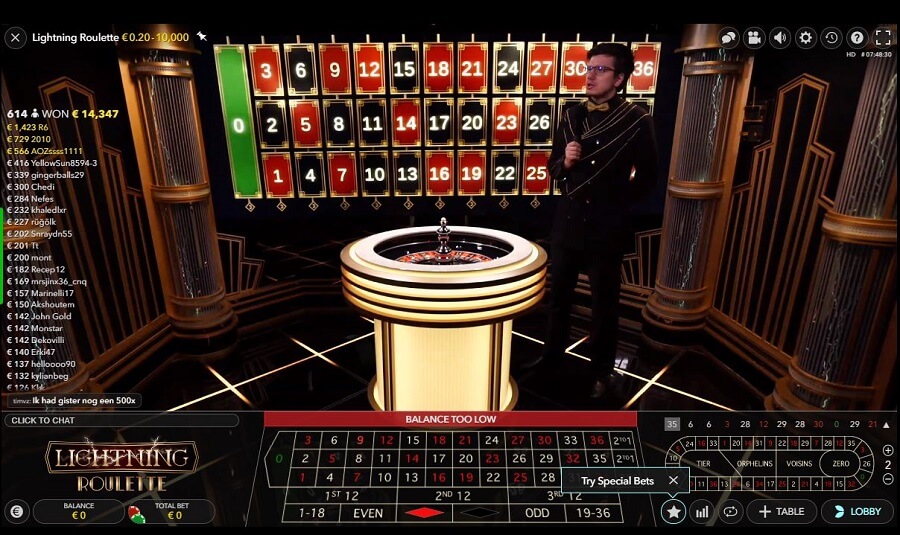 In the lower-left portion, there's the live chat and next to it is your gaming menu. Here, you can place bets, increase, decrease bets, and so forth- In the upper-right corner, you can see this tiny camera button. It allows you to switch angles and look at the table from a different perspective. This is all done to ensure maximum fairness and flexibility.
We had a feeling that we're sitting right in front of this handsome guy, which is what a live casino should provide you with. As we said, you can play the live casino games on your phone, however, don't expect this level of quality. After all, you'll be using a small smartphone screen, which isn't as intuitive as the big computer screen.
In short, our review of William Hill Live Casino is pretty positive. There are lots of games, quality HD graphics (even on a phone), and lots of fun in the live chat with other users and the dealer.
How Fair and Secure is William Hill Casino?
Being with us for almost a hundred years, the William Hill brand is one of the oldest in the business. They could not make what they made today without trust, loyalty, and security. But, for those that are curious, let's talk a bit more about that.
For keeping your data safe and secure, William Hill Casino has 128-bit SSL encryption. Whether you're from the UK or anywhere in the world, it will keep your information intact.
William Hill Casino also has a license from UKGC and Gibraltar, making it verified for fairness and maximum security. There's also money-laundering protection we mentioned earlier, which is basically an ID verification before the first withdrawal. While eCogra didn't verify William Hill for fairness, we have another respectable company here – Testing Systems Testing (TST).
They evaluate each game individually and test it for fairness. Although we'd like that eCogra took things into its hands, TST is still a company we trust. All in all, you can respect a high level of fairness and security when playing on this casino, which is very important to know.
Loyalty Program
Every good casino has some kind of a loyalty program in which all players participate actively while playing. While William Hill isn't the most generous, you can still earn loyalty points based on your gaming. If you manage to accumulate enough points, you can convert them to free credits and add them to your account.
The loyalty program also includes a Refer a Friend program, where you can refer a friend and get a compensation (£50) for that. Even better, there's a VIP club, which raises the stakes even more but also gives you much better rewards. There is some bad news, though – take a look: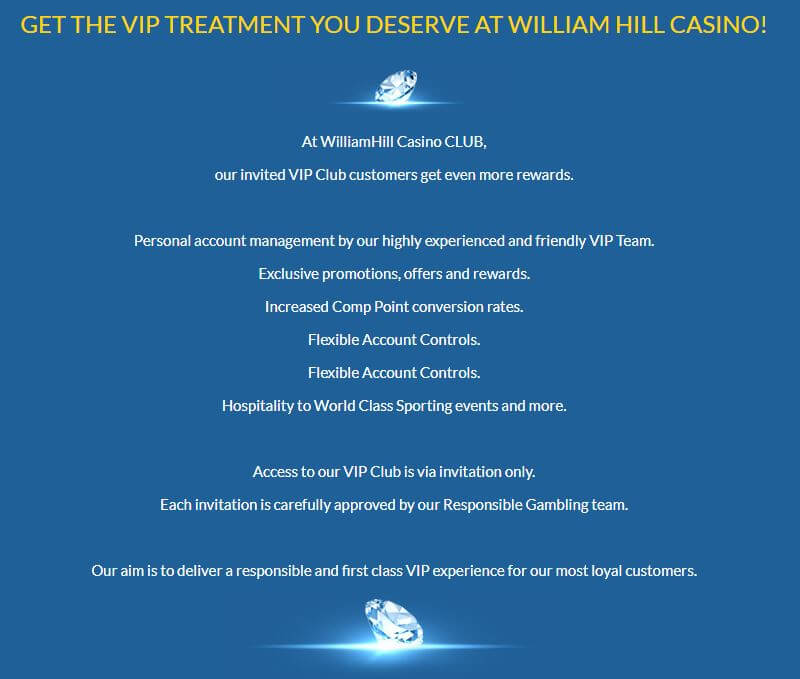 If you look at the bottom portion of the page, you'll see that William Hill lets you in only with an invitation, which is carefully approved by the Responsible Gambling.
Customer Support
We can confirm after an in-depth review that William Hill Casino has outstanding customer support available 24/7.
On the left, you can see the live chat option. When you click on the green button, a new chat window opens and you start chatting with a member of customer support. Beneath that, there's a ticketing system where you send a question to their email, and on the right, there's an option to call the casino.
They did a great job of covering all the methods here so that the users can quickly get help when needed. We found customer support pretty responsive and helpful, especially during phone sessions. Good customer support is a staple of verified and trustworthy casinos, and thankfully, William Hill doesn't disappoint.
Conclusion – Should You Play on It?
William Hill Casino is, without a doubt, one of the most popular casinos in the United Kingdom. Given its quality of services, it's a pretty good casino overall, but still, we need to mention a few things we didn't like during our review.
First of all, the welcome bonuses aren't very generous. With high wagering requirements, being able to withdraw your funds will be very hard. Furthermore, only a few games give you a 100% contribution, so you're limited to them during your wagering process.
Secondly, the site is a bit cluttered. Even games are something hard to tell apart, let alone legal aspects of the casino. For example, its bonus policy is nowhere to be found… at first. We had to dig deeper to be able to find what we described above.
While the second problem is minor, the first one isn't a negligible problem. Despite being a decent occasion overall, we would still recommend playing on another casino instead of this one. For example, Mansion Casino, which is the best casino in the United Kingdom, with some great welcome bonuses.
FAQ
To wrap up, let's answer some of the most commonly asked questions about William Hill Casino.
Can I suspend my account temporarily on William Hill Casino?
Yes, you can. This casino offers you a couple of options here. You can take a Short Time Out up to 30 days or up to 6 weeks, depending on the severity of your situation.
On the other hand, there's a complete self-exclusion which will prevent you from gambling and block access to your account. This period can last from 6 months to five years, once again, depending on your situation.
You can read more about that on the William Hill Responsible Gambling section.
Will the casino sue me if I'm under 18 years old and playing?
First of all, you should NEVER gamble if you're under 18. Now, will it sue you – no, it won't but you can rest assured that your account will be banned in the shortest period possible.
Does William Hill offer free bets?
Yes but not on its casino. Free bets are available for new customers for sports bets.
Does William Hill support Bitcoin?
No, this UK casino doesn't support Bitcoin unfortunately.  If this changes, we will notify you.