Wink Slots is one of those casinos that have a pretty self-explanatory name. If you came here in search of a high number of slots games, this is the right casino for you. It focuses primarily on slots, slightly neglecting other casino games, which some users may find infuriating. Nevertheless, many players from the United Kingdom still enjoy Wink Slots casino, and our duty is to review it and give you our honest two cents. This is our in-depth review of Wink Slots, so stay with us to see if you should play on it in 2021.
How to Register on Wink Slots?
Before being able to play games on Wink Slots Casino, the registration is required. We know how strict the UK casinos are in this regard, so be sure to follow the process thoroughly. First, you'll need to open the registration window.
To do that, click on the 'Join Now' button in the top-right corner. Now, the initial registration screen will open: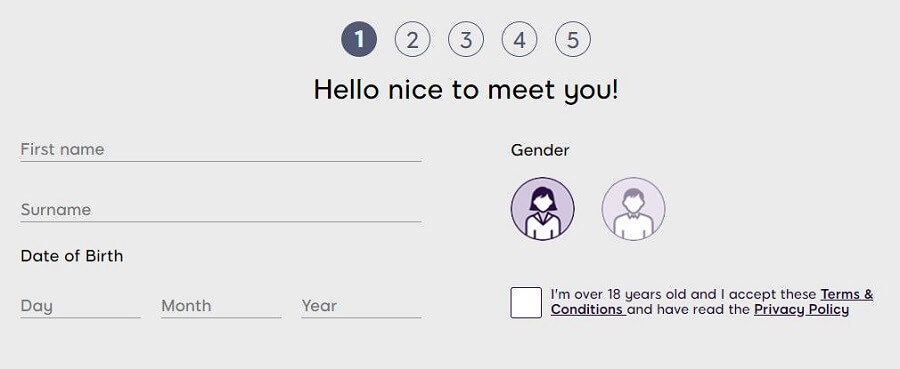 As you can see, there are a total of 5 registration screens here, which is… well, not that great. More premium casinos such as Mansion Casino let you register in a single step, rather than 5 or 6 steps, which is the case here.
Nevertheless, enter your name, date of birth, choose your gender, and confirm that you're over 18. Actually, you don't need to be over 18 to pass this step but later, it will be crucial.

It's time to choose your country. There are a lot of countries on the list but since we're from the United Kingdom, we'll choose the UK. The next info is formal – enter your house name/number, postcode, address, city, and choose the currency you want to be paid in. Let's move on to the next step:

To register your account, you'll need a valid email address, so enter the one you're using. After that, you'll need a valid mobile number from the UK that should be unique, in order to get a registration bonus. On the right, you can select to get info about promotions, offers, and special offers via email or phone. Tick that if you want and proceed to the next step.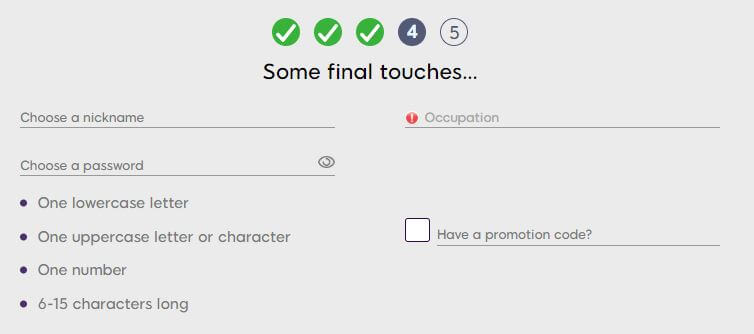 They said 'final touches' two times already, yet we're still on the registration screen. Here, you'll need to choose your unique nickname, password, and enter your occupation, for whatever reason. If you have a promo code, tick the box and enter it. And now, the true final step of the registration process from Wink Slots is here: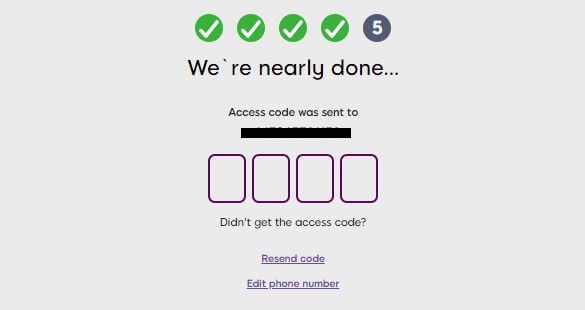 The verification code is sent to your number, so enter the four-digit code and you'll activate your account. If your number was fake…well, someone else just got invited to the casino instead of you – sorry, buddy! Overall, the registration process is pretty cumbersome. Although the steps are basically the same, we took a bit more time with it due to the 5 screens we had to go through.
Verification Process – What Do You need?
Now that your account is registered, the only thing left to do is to verify your account. Casinos in the UK are pretty harsh in this regard because you're going to play with the real money. And whenever the real money is spinning, things are much more serious. For the start, to play on Wink Slots Casino, you'll need to be over 18 years old – capiche?
Your jurisdiction might indicate that it's 16 but that depends on the country you live in. During our review of Wink Slots, we also had to look for the verification part in their terms and conditions because this menu is very cluttered and we had a hard time seeing anything. Just take a look:

Grey background and purple-like letter… who the hell came up with this?! We don't want you to strain your eyes, so we'll do the translation for you. So, to verify your account, you'll need valid documentation. The first one is your ID or better said, a copy of a photographic ID.
In this category, you can use your National ID card, passport or driver's license. You also need to make sure that everything is visible on the photo, including your picture, address, signature, country (UK or any other), and so forth.
Another valid document is your credit/debit card. You need to provide a front and back copy of the credit/debit card that you're going to use to fund your account. Also, make sure that everything is visible, except for the 3-digit security code and the middle eight numbers on the front of the card.
Finally, you'll need to provide proof of your address. The address can usually be found on a credit card statement or a utility bill. Beware that Wink Slots requires a recent document, no older than 6 months so that they can verify your account easily. Your name and address should also be visible here.
In case they can't verify your account with these documents, more options are here and they include some documents from Solicitor or Notary. But, if you did all the steps above and followed the instructions, chances are that they'll verify your account quickly. In our case, for this Wink Slots review, we had to wait a little bit less than 48 hours.
Before we wrap up this section, know that gambling under 18 is a criminal offense! For that reason, if you're under 18, DO NOT try to verify your account because they'll lock you out and you won't be able to withdraw your money or play any games.
Wink Slots Welcome Bonuses – Are They Generous?
Every casino has some sort of promotion and/or welcome bonus to lure the new players in. Wink Slots Casino is no exception and offers some unremarkable bonuses. Not only will it not impress you money-wise but its wagering requirements are pretty high, too. Take a look at the screenshot below: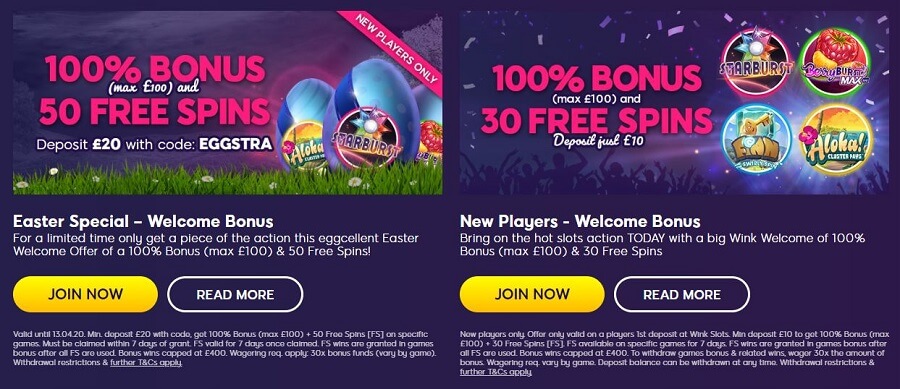 On the right, we can see a seasonal promotion. It's a welcome bonus that you get if you sign up during Easter 2021, at the time of writing this review about Wink Slots. You get a 100% bonus, up to £100 and 50 free spins. We aren't going to talk about it since it's prone to change and WILL change since it lasts only a couple of days.
But, for every new player, regardless of the date and time he joins, Wink Slots offer a standard welcome bonus. You get a 100% bonus, up to £100 and 30 free spins. Basically, if you deposit £100, you get a bonus of £100, resulting in £200 to play with.
The good thing is that you need to wager only the bonus but the bad thing is that the wagering requirements are 30 times. So, if you get a bonus of £100, you'll need to earn £3,000 to withdraw it. Now, what games contribute to the wagering requirements? Here they are:
The only bonus contribution you're going to get here is a 100% one – from video slots & slots, scratch cards, Race, Arcade, and Keno games. Roulette, blackjack, Hi-Lo and video poker don't contribute to the wagering requirements. If you're an old-school casino lover, you ain't going to like it – just as we don't like it either.
It's definitely a bad point that we are going to remember while giving our final review about Wink Slots.
Wink Slots Promotions – Are There Some?
Yes, there are some of them. We mentioned seasonal promotions for this UK casino but there are a few more that Wink Slots Casino offers: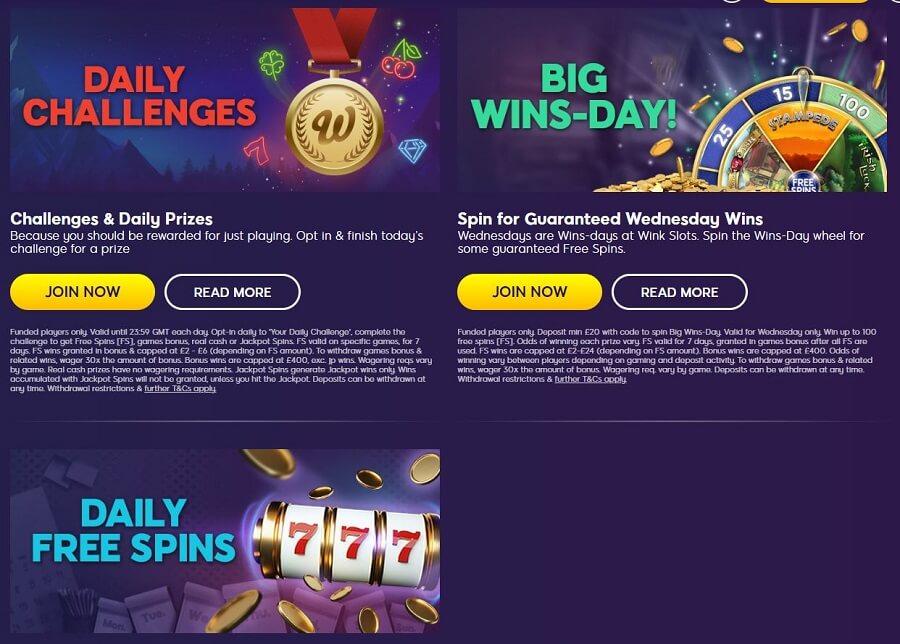 The first challenge above is very simple. You need to play, finish the particular challenge for that day, and get daily rewards. On the right, we can see a Wednesday promotion, where you can earn free spins for spinning the wheel on this particular day. And finally, you have some daily free spins where you earn one free spin a day for Fluffy Favourites game.
We'd say that Wink Slots Casino is pretty generous when it comes to promotions and giving you free spins. Although these promotions aren't money-based, you at least get free spins that you can use to win more money.
Deposit/Withdrawal Methods and Limits
Let's talk about money now because it's all about fun and money here. The minimum deposit on Wink Slots Casino is £10 and this amount of money is eligible for a welcome bonus that we mentioned before in this review. As for the upper limits, you can set whatever limit you want, on a daily, weekly or monthly basis.
What about withdrawals, then? Well, we're looking at a minimum of £10, with no upper limits. Basically, you can withdraw your winnings without any problems, even when winning a jackpot, which can be thousands and thousands of pounds.
Now, let's go over the payment methods, which Wink Slots represented beautifully in its terms and conditions:

As you can see, you can use your credit/debit card, MasterCard (the UK only), Wire Transfer, and PayPal. All of these methods will take no fees upon deposit and withdrawal, and while the deposit time will be instant, withdrawals will take some time. If you want the fastest withdrawals, we suggest using your MasterCard if you're from the UK or PayPal, which will take a day more to withdraw.
Apart from these methods, Wink Slots Casino offers Paysafecard and Apple Pay, where the latter is available only for the UK players. We like the fact that the casino values its players from the United Kingdom, giving them the best advantages over the players worldwide.
Wink Slots Game Variety & Software
Wink Slots casino comes with a multitude of different games. We took our time to explore these games and count them down, and guess what number we got – almost 500 games! That's a pretty imposing number when at first glance. However, if you think about the casino's name, you can guess which games are the most abundant here. That's right- the slots!
We are not going to lie – we like the slots. But on the other side, we'd like a bit more variety here. For instance, many old-school casino players love playing poker, baccarat, and blackjack, and Wink Slots doesn't offer a whole lot of them. Games like Dream Catcher and Gorilla Go Wild are here, and these are among the most fun games.
In terms of software, we have nothing to complain about. You can play the games directly from your browser and to be honest, they have a pretty beautiful website. It's easy to use and choosing the game you want can be done in a single click. We also like that you can but you don't need to download the app. Although, the Wink Slots apps are available for smartphones.
More about that later in our review.
Slots
Right from the get-go, you can see that Wink Slots went out of its way to provide us with lots of popular slots games. At the moment of writing this review, we counted a total of 483 games available on Wink Slots casino. Needless to say, all the popular titles are here, such as Starburst, Bonanza, Cleopatra, Irish Luck, and Dazzle Me.
When playing slots, the experience is great. The games are in HD graphics and thanks to the intuitive interface, the gameplay is smooth and enjoyable. Furthermore, slots have an RTP of 97%, so if you win, let's say £100, you get £97, which is fair, although we'd like it to be a percent or two more, given that this is the main category here.
Table Games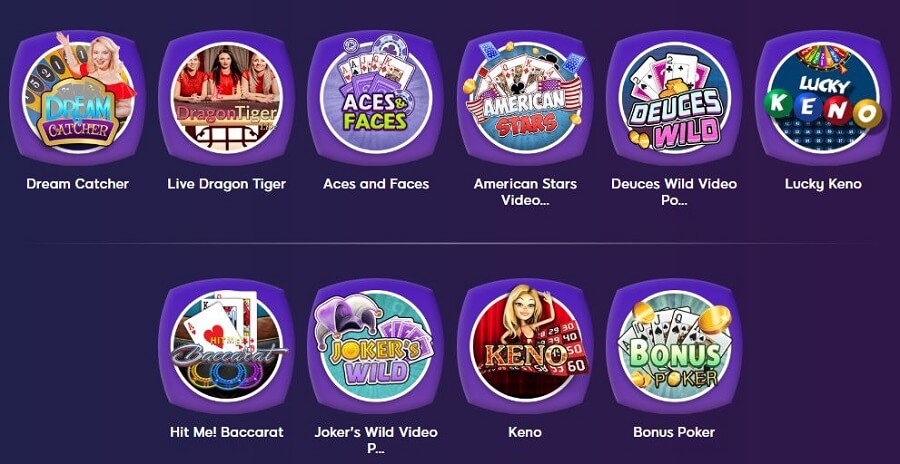 Now, we usually go over roulette and blackjack right after slots but Wink Slots decided to make our life harder by not providing categories dedicated to these games. To be precise, you have three categories to choose from – Slots (and Jackpots), Table Games, and Live Casino, which we'll talk about later.
When talking about table games, the casino offers plenty of them. In the image above, you can see 10 games, and generally speaking, these are very popular titles. It has Dream Catcher, Hit Me! Baccarat, Keno, Bonus Poker, Lucky Keno, Aces and Faces, and many other games.
These games offer the highest RTP (alongside blackjack) of 99.46%, which is impressively high. This means that, if you win £1000, you'll get £999.46.
Blackjack & Roulette
If you came in this Wink Slots review expecting to enjoy roulette or blackjack, you'll be better off with Mansion Casino, which has a much bigger array of games. Here, you get 8 different roulette variants and only one blackjack game – Super Stakes Blackjack. In terms of roulette, you get Super Stakes Roulette, European Roulette, European Pro Roulette, American Roulette, French Roulette, Roulette, and a few more.
Blackjack and roulette will give you an RTP of 99.56% and 97.3% respectively, so you'll get the majority of the money you win.
Game Providers
With everything we said up until this moment of our review and test, it's clear that Wink Slots isn't exactly the best casino in the United Kingdom. However, it successfully amassed some of the best game providers, which we expected, given how good the games look.
Their live dealer games are managed by Evolution Gaming, while the other games are managed usually by NetEnt and NextGen Gaming. We like that Evolution Gaming also has a crucial part in classic online casino games, especially because the provider is known for high-production value and beautiful graphics.
Wink Slots Mobile Gaming Experience
Whoever designed the Wink Slots mobile app should get a raise. Seriously, though. The mobile apps of this casino are outstanding, in both iOS and Android incantations. And you can even download the apps directly from the home screen if you scroll below.

The functionality of the mobile app is the same as if you were playing on the PC. Out of nearly 500 games that Wink Slots offers, you can play slightly more than 200, which is a decent roster for this platform. We found that the app is very intuitive and in some cases, more intuitive than the web-browser version on the computer.
For example, it lists the games slightly better, so you can find which one you want easier. What we also noticed is that you can play live games from your smartphone, too! If your internal memory is low, don't worry – these apps will not take much space in your internal memory.
Wink Slots Live Casino – How Good is It?

Playing live casino on Wink Slots is going to be a pleasant experience. With the backbone of these games being Evolution Gaming, HD graphics, clean interface, and non-stuttering experience is guaranteed. In the image above, you can see a few live games that they offer but in total, there are around 20 games to choose from.
Some of the most popular titles are Dream Catcher, Live Dragon Tiger, Live Blackjack, The Dragon of the Tiger, and many more. Playing live dealer games is possible on every platform and the feeling is practically the same. Upon entering the live game, you'll see a dealer or croupier spinning the wheel or dealing cards, depending on the game you choose.
In the lower portion of the screen, there's a live chat where you can communicate with other players and the dealer. And finally, in the upper portion of the screen, you can find different settings, such as rotating camera angles. We like this feature a lot, as it lets you take a look at the game from a different perspective, to make sure that everything is fair and square.
Overall, we've seen and reviewed better live casinos, which doesn't mean that Wink Slots is bad. We would just like it to have a better game variety – that's all.
How Fair and Secure is Wink Slots?
Wink Slots Casino isn't our go-to choice, fortunately, not because of safety and security. Being a UK-licensed casino, Wink Slots is a reliable company with around 4 years of experience, as it's founded in 2016. For keeping your payments safe and your personal info intact, it uses state of the art 128-bit encryption.

Its headquarters is in Gibraltar, so not only does it have a license from that country but also from the UKGC, which adds another layer of reliability. For making things as fair as possible, eCOGRA checks each game individually so that there aren't fixed RTPs or any other cheating methods.
Interestingly, the parent company of Wink Slots is 888 Holdings Limited, a company behind the popular 888 Casino. This is a good thing, as 888 Casino has an incredible reputation among UK players. All in all, Wink Slots is definitely fair and secure, so you can rest assured that your data and money are in the right hands.
Loyalty Program
There's one thing that we strongly dislike in Wink Slots and that's the absence of any kind of loyalty program. Whether you're playing on this casino since its inception or you just started playing, your loyalty isn't rewarded in any way, shape or form.
The closest you can get to a loyalty program is the aforementioned Daily Free Spins promotion, which gives you free spins for playing on Fluffy Favourites. But, even if you get these spins each day, they don't contribute to anything. No VIP program or anything similar.
That's such a shame! In our opinion, a casino should always have a loyalty program that will incentivize its player base to keep playing. Without a loyalty program in place, you have no motivation to keep grinding and reaching higher levels.
Customer Support
Customer support of Wink Slots is pretty good. The casino gives you every means of contact, should you encounter some issues that need solving.

If you visit the 'Contact Us' page, you'll see this screen. Their support team works from 10 AM to 2 AM, 7 days a week. The support email is help@winkslots.com or you can give them a call at 0800 018 3307 for FREE if you're from the UK. Users outside the UK will need to dial the number shown in the image but in that case, the call won't be free.
Once again, Wink Slots takes care of UK gamers, which is much appreciated. Oh, we forgot the live chat feature! Here's how it looks:
Fill out this form and click Submit. After a few minutes(in the case of our review of Wink Slots client support service), a member of the support team will get back to you. We found that support is quite helpful, fast to respond, and will solve your problems in a few minutes, depending on the magnitude of the problem.
Conclusion – Should You Play on It?
Do you sometimes hear the term 'mixed bag'? Well, Wink Slots is an epitome of that term. It comes with some benefits but also some pitfalls that wouldn't satisfy even the newbie gamers, let alone the most experienced ones. Let's sum up what we said in the review.
The good things are customer support, slots games, mobile gaming experience, and security and fairness. However, Wink Slots Casino lacks game variety, has high wagering requirements (30 times), modest welcome bonuses, and lacks the loyalty program.
To sum it up, once again, we don't recommend playing games on Wink Slots. There are much better online casinos in the United Kingdom and our recommended choice is Mansion Casino or Grosvenor Casinos. These two will give you a much better experience, a loyalty program, better welcome bonuses, and game variety.
FAQ
Let's answer some of the most commonly asked questions about Wink Slots before closing this 2021 review.
Is Wink Slots Casino connected to Wink Bingo?
Yes, Wink Bingo is a much older site than the casino one. The casino site is established in 2016, while Wink Bingo was founded in 2008.
Can I download Wink Slots for the PC?
No, you cant, but you can download the apps for iOS and Android. If you wish to play on the PC, you'll have to use your web browser. Whether it is Chrome, Firefox or Edge.
Will the support team of Wink Slots be available 24/7 for me?
Unfortunately, it won't. As stated previously, they'll be available from 10 AM to 2 AM, every day a week.