Bet365 is one of the largest bookmakers in the world. Being on the market for 20 years, this company is known for competitive odds, a huge variety of sports, and outstanding betting experience. Moreover, it has almost 50 million registered users and more than 4,000 employees around the world. It's clear that we're talking about a serious online bookmaker, so let's make this review of bet365 the same – serious and comprehensive. UK players, read our review before registering on Bet365!
Bet365 Welcome Bonus – Is It Generous?

As is the case with the online casinos in the UK, online UK bookmakers also have some enticing welcome bonuses that will kickstart your betting journey. While Bet365 doesn't have the most generous welcome bonus, it's always a good thing to have one.
To get it, you'll need to open your account, deposit at least £5, and get a welcome bonus of up to £25. Of course, you need to place a qualifying bet on the odds of 1/5 (1.20) or higher. The maximum you can get is £25, so even if you place a bet with a stake of £100, you'll get £25.

In the image above, we can see the conditions for the welcome bonus. The good thing is that you don't have to place a winning bet to get it. You just need to bet £5, and regardless of the outcome, you get your bonus free bets.
Also, beware that you can place a qualifying bet even In-Play e.g. while the match still lasts. We like the fact that Bet365 gives you lots of flexibility when it comes to this qualifying bet. This makes it easier to at least win something AND get a welcome bonus on top of it.
Get the bet365 Welcome Bonus Now >
Those who use E-Wallets should know that they can't get a bonus if they don't verify their account first. Under E-Wallets, we think about Neteller, Skrill, AstroPay, etc, etc.
On the brighter side, the welcome bonus doesn't come with any wagering requirements, which is often the case in the best UK online bookies.
Bet365 Promotions – Are There Some?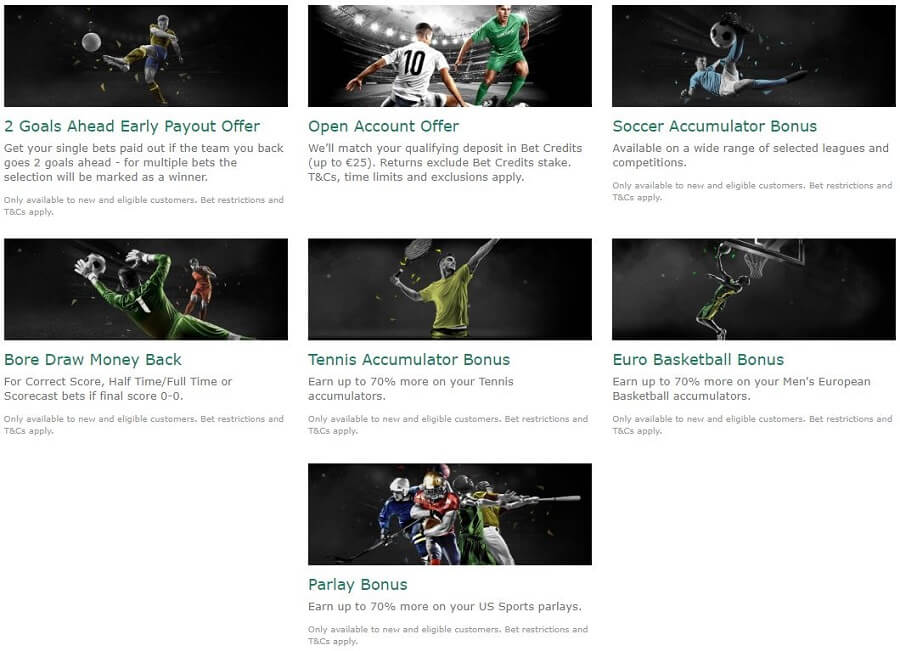 One thing where Bet365 blows every online bookmaker out of the way is the promotions. You have literally dozens of them as we've noticed during our review of bet365! If we were to talk about them all, we could pretty much abandon this review and focus on the promotions instead.
Apart from the welcome bonus promotion, you have bonuses regarding different sports. As we can see, the Tennis Accumulator Bonus is here, as well as Soccer Accumulator Bonus, and Euro Basketball Bonus.

For instance, here's how the Soccer Accumulator Bonus works. We can see that the bonus can be pretty hefty, depending on the number of selections you've made.
That's not all, folks!
Bet365 offers other promotions regarding a multitude of sports. Australian Racing is also very popular here, with 9 promotions in total.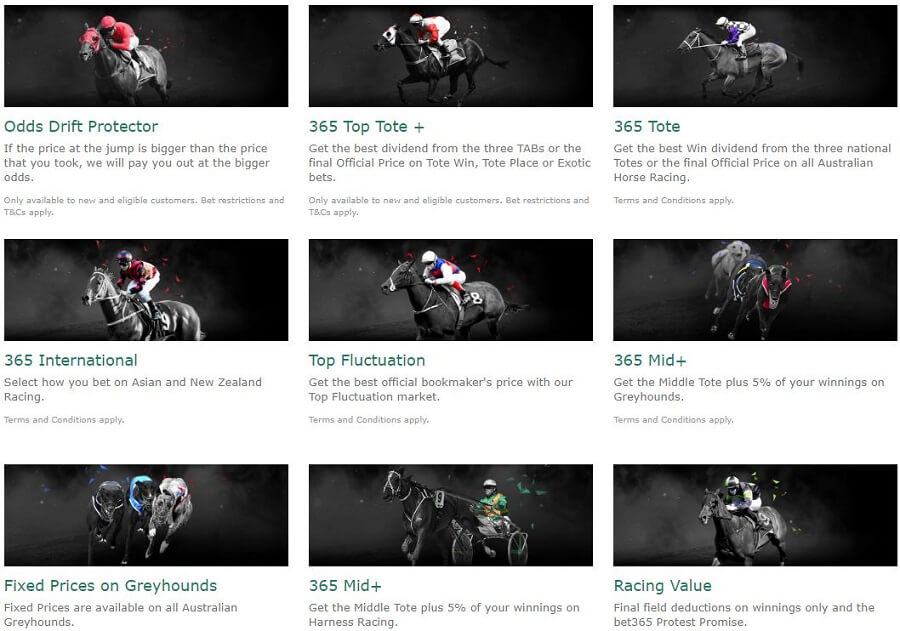 We can go on and on about them, but you get the idea. Even the most demanding players will be more than satisfied with what Bet365 has to offer. If you bet on Australian Racing, this is actually the best UK bookmaker in this regard.
With tons of promotions and bonuses, you'll be constantly enticed to keep playing on Bet365.
Check out all the promos offered by bet365 >
Deposit/Withdrawal Methods and Limits
Betting online and winning no money is definitely not very fun. Speaking of money, let's review the payment methods that you're going to find on this online bookmaker. First off, we like how Bet365 categorized its payment methods.
It divided them into two categories – deposits and withdrawals. Furthermore, every method has its deposit/withdrawal limits and waiting times that you need to take into account. All of this crucial info is beautifully displayed on the bookmaker's website.
We said that Bet365's interface isn't one of the prettiest out there. But, it definitely does some things right. Let's check deposit methods first: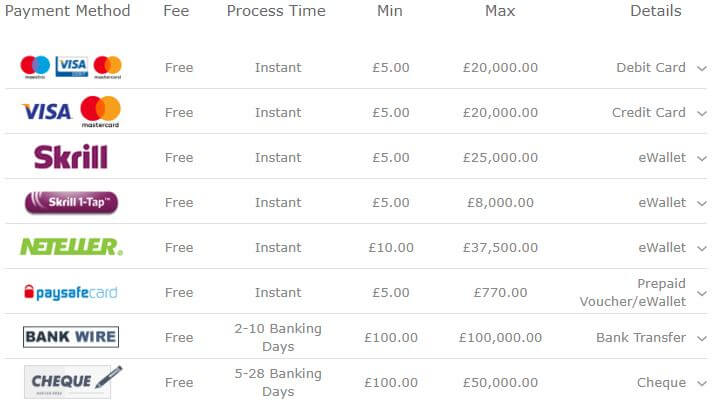 Deposit methods include pretty much the most popular online banking platforms – credit/debit cards, Skrill, Neteller, Paysafecard, Bank Wire, and Cheque. You'll notice one thing – there's no PayPal, which is in the case of this bet365 in-depth review, not very good.
We fund our gambling accounts using this method, and whenever it's not available, it makes things a bit harder for us. But it's no big deal, as deposit limits, both upper and lower, are pretty competitive. For instance, the minimum deposit is £5, for every method except Neteller, Bank Wire, and Cheque.
The maximum deposits vary, but if you're using Bank Wire, you'll be able to deposit up to £100,000. Even if you're a high-stakes player, you'll still be happy with a deposit limit of £20,000 when using VISA or £37,500 when using Neteller.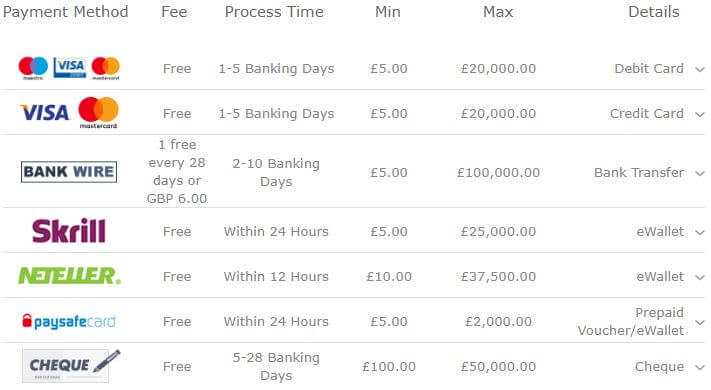 For withdrawals, the situation is slightly different. Whereas deposits are instant, withdrawals take some time to arrive at your account. The best methods for withdrawing your cash are Skrill, Neteller, and Paysafecard. They take up to 24 hours to complete and there are no fees.
As for withdrawal limits, they're pretty much the same as deposit limits. The minimum withdrawal £5, while the maximum depends on the method you're using. Once again, Bank Wire can go up to £100,000, while Neteller and Skrill go up to £37,500 and £25,000 respectively.
Bet365 Betting Variety
In the UK, sports betting is a very popular activity. While many betting lovers bet mainly on football matches and horse racing, there are more demanding players who love having all the sports and non-sports events at their hand's reach. That's not a problem, as UK online bookies usually satisfy all the needs.
Is Bet365 one of them? It surely is. We were quite impressed with the number of events they've managed to cover. To be exact, we're talking about 28 of them, including E-Sports and even Politics and Lotto. Here's the screenshot from the bookmaker's website: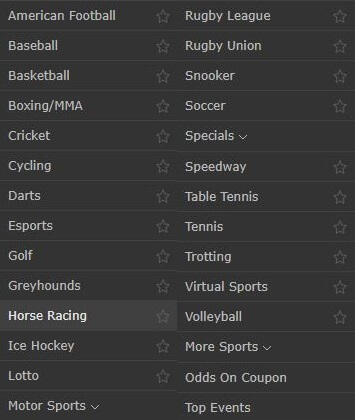 While lots of sports are covered here, not all of them have main sports events. For example, if you want to bet on Motorsports, you can bet on Nascar and other less-known events. No F1 or FIA Championship. But maybe it was just because of the lockdown. On the brighter side, football and horse racing are the most popular choices here, and in general, they give you the best betting experience.
Betting Options
What exactly are the betting options? Simply put, betting options allow you to place different bets, and not just the fixed ones, making it more interesting and easier to win some money. For example, you don't have to bet on a football team to win. Instead, you can bet on who is going to score the first goal or get a yellow card.
Discover all the betting possibilities offered by bet365 >
Since we touched on football, let's see what are the options there:

Bet365 offers an impressive market of bets. Apart from fixed outcomes (1, X, and 2), you can try to guess the full-time results, Draw No Bet, Double Chance, Both Teams to Score, and so forth. Another betting option that we like is the ability to make your own, personalized bets. More about that in a minute.
What really impressed us here is how thorough the tennis betting section is. And just so you know, the image below is only a FRACTION of what Bet365 really offers!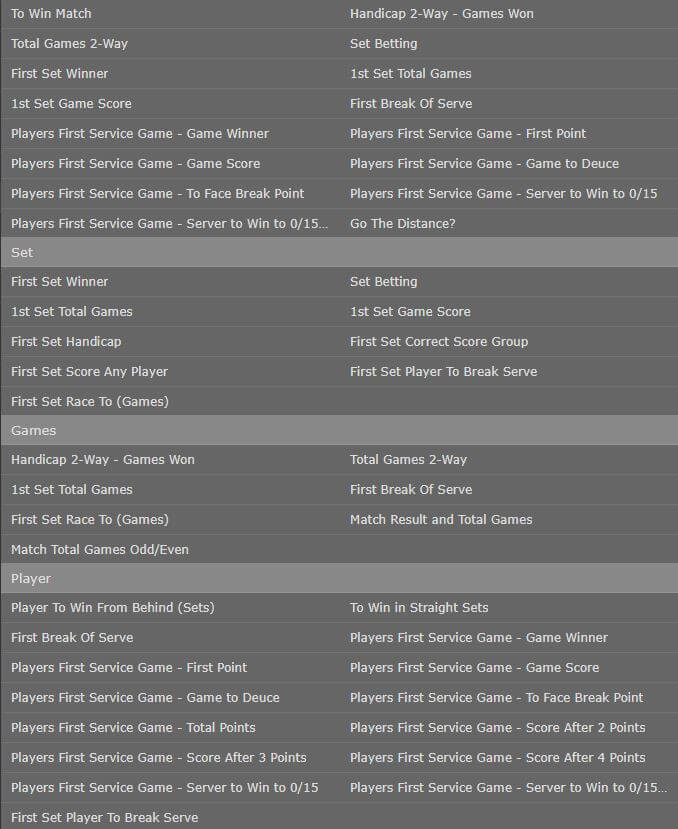 You can bet not only on the match itself, but also on sets, games, and even players. First Set Winner, Total Games 2-Way, and First Break of Server are only some of the best you can place here. Tennis lovers will definitely enjoy placing bets on Djokovic, Nadal, or Wawrinka!
If you decide to place bets In-Play, you can get a Cash-Out, as well.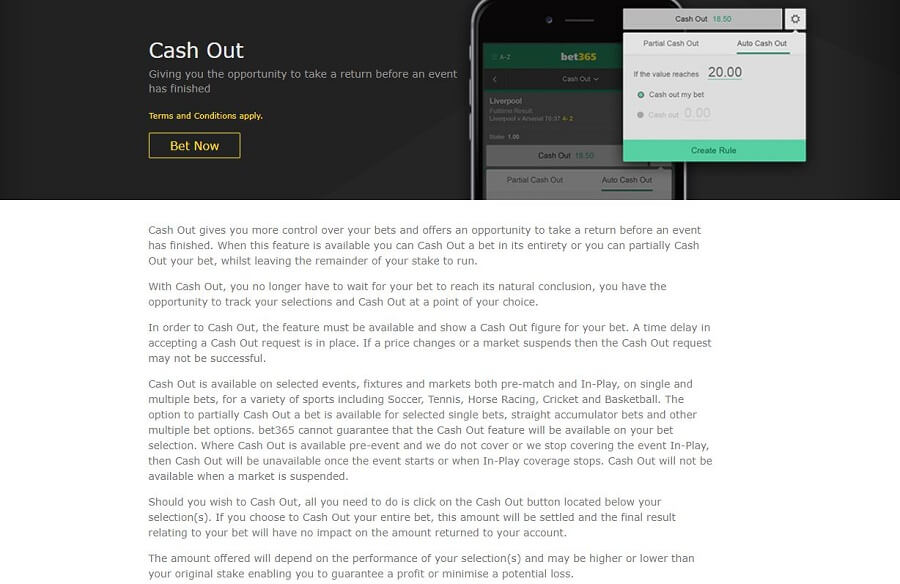 This is an amazing betting feature that will sometimes prevent you from losing money on a losing bet. Before the match finishes, you can make a return or use a Partial Cash Out to get some of your money back.
Luckily, this feature is available on all the major sports – Soccer, Tennis, Horse racing, Cricket, and Basketball. It's easy to see why Bet365 is one of the largest online bookmakers out there – that's how you treat your loyal players!
The Odds at Bet365 – Are They Competitive Enough?
Another point where Bet365 will impress you is the odds. This review wouldn't be complete without this section, as odds are practically the most important part of gambling. If the odds are higher, you can get more money and vice versa.
In our 888Sport Review, we saw that Bet365 goes hand-to-hand with this bookmaker. While 888Sport is a bit better in this regard, Bet365 is also a very competitive sportsbook. Below is the comparison with Betway, another top-grade UK online bookie:

On the two same matches, Bet365 takes the lead when it comes to the odds. In the first match, it has higher odds on Union Berlin, while in the second match, the odds are higher for both home and away teams.
It's impressive how you can earn significantly more on some matches on Bet365 when compared to Betway. For example, if you bet £1,000 on Paderborn 07 and it wins,  you can get £8,500 on Bet365, while on Betway, you only get £7,500.
Check out all the odds on bet365 >
Don't say that a £1,000 difference is a small one!
Bet365 Special Features
After a while, placing simple bets and enjoying the simplest betting features starts to get boring. When that happens, special features can drastically improve your time at a certain online bookmaker's website. Let's review the special features offered by Bet365.
In-Play Betting & Live Streaming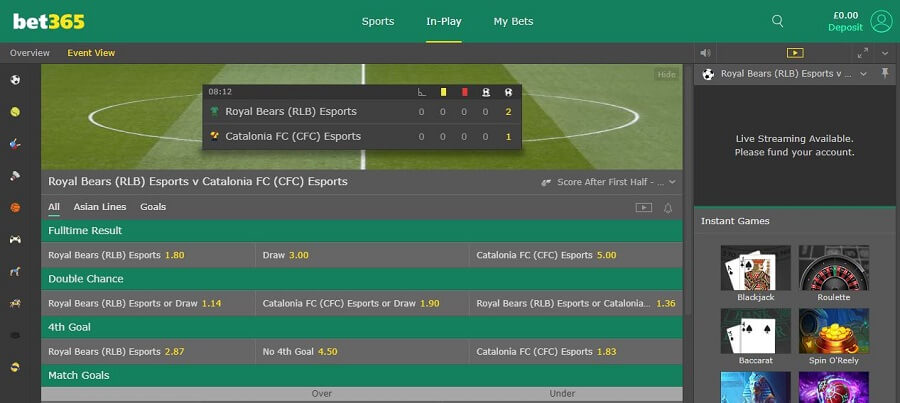 In-Play betting is the same as live betting, and it's a very important feature of every online bookmaker. As its name implies, it lets you place bets while a match or a game lasts. We showed you a glimpse of it above, and as an example, we used the E-Sports match.
Needless to say, you can do the same for horse racing, basketball, soccer, handball, and so forth. Live betting will drastically increase the chance of winning. Why? Because you know exactly what happens during a particular match.
If a team has one red card, for example, it plays with one player less, meaning that it has higher chances of losing. To make things even better, Bet365 offers a live streaming feature right next to the match statistics.
The only thing to do is to bet on a particular match and the live stream will initiate. This way, you can determine your next bet easier, and in turn, increase your chances of placing a winning bet.
Horse Racing Antepost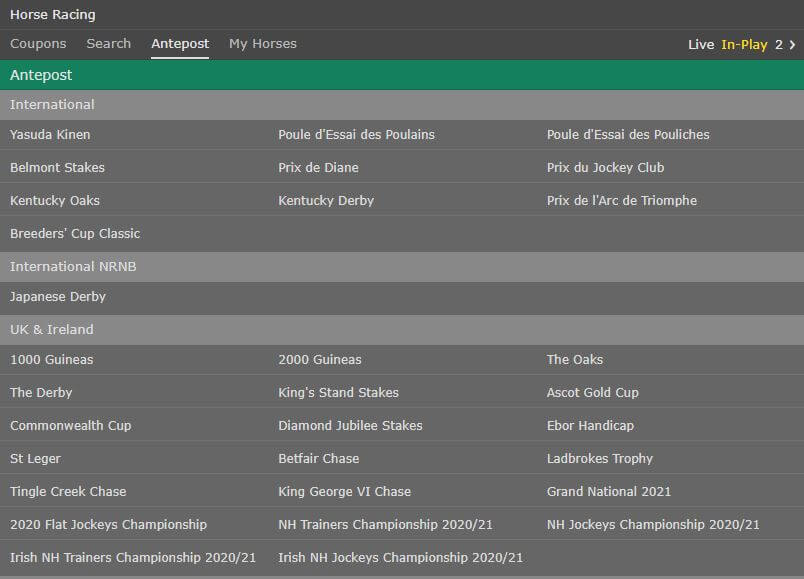 Horse Racing fans will get one awesome special feature from Bet365, called Horse Racing Antepost. Here, you can see every horse race that takes or will take place in the United Kingdom and worldwide. Simply click on the event and you can see the statistics and place bets.
We also like the ability to add your horses. By doing so, you can track their performance and place bets on them if you find it suitable. In-Play betting is also available here.
Bet Builder

Lastly, we have Bet365's Bet Builder feature. It's available for Soccer, Basketball, and Tennis, and is very useful for more advanced gamblers. Bet Builder lets you build your own bets, which you can use on every match from the supported sports.
This can lead to some unique odds and outcomes, making your betting experience more enticing.
Bet365 Mobile Gaming Experience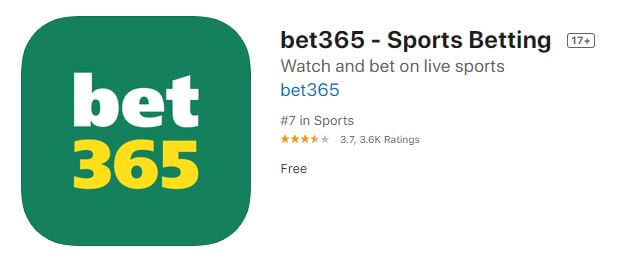 Talking about gambling on a smartphone, Bet365 is one of the most popular apps out there. It's number 7 on the Apple Store, with 3.7 stars out of 3,600+ ratings. Unfortunately, the app isn't available for Android, so if you have an Android device, you're going to have to access the bookmaker from your browser.
The good news is that both instances are pretty much the same, although the app functions much better. We like that the app is identical to the website. In the upper part, you can choose to sort the sports from A to Z, enjoy In-Play betting, and check your bets.
In the upper-left corner, you can open the menu, where you can enjoy all the functions that the website offers, even online banking, and contacting the support. Furthermore, the app also supports live streaming, which is definitely something we appreciate.
Get the bet365 application now >
From your small smartphone screen, you can both enjoy watching the match and place bets on it at the same time. In short, it's convenient, easy to use, and lightweight – a perfect recipe for success!
How Fair and Secure is Bet365?
Being a world-renowned online bookmaker, Bet365 enjoyed quite a lot of accolades. Some of them are SBC Bookmaker of the Year (4 times), eGaming Operator of the Year, and EGR In-Play Operator of the Year, which it won 5 times.
An untrustworthy UK bookmaker won't be able to win all of these, right? If that's enough evidence for you, that's completely okay. If not, you can scroll down to the bottom of the bookmaker's website and read more about it.
You can see that it has a license from UKGC and MGA, as well as its exact address and registration number. This amount of information tells us that the bookmaker is indeed trustworthy, reliable, and fair.
Since it uses an industry-standard 128-bit SSL encryption as well, your information and banking methods will stay strictly confidential. Not many UK bookmakers manage to get to this level – kudos to Bet365!
Loyalty Program
Unfortunately, Bet365 doesn't have a loyalty program for its Sports section. That's quite disappointing on one end, but on the other end, it isn't so much. The reason being is because it offers plenty of promotions that everyday players can take advantage of.
If you forgot about all the promotions offered by bet365, feel free to return to the start of our review and read more about them. And if the fact that Bet365 doesn't have a VIP program bothers you, you can always bet at 888Sport, which has a pretty decent loyalty program.
Bet365 Customer Support
Should you encounter any problems with betting, payments, or whatever it may be, you can contact Bet365's customer support.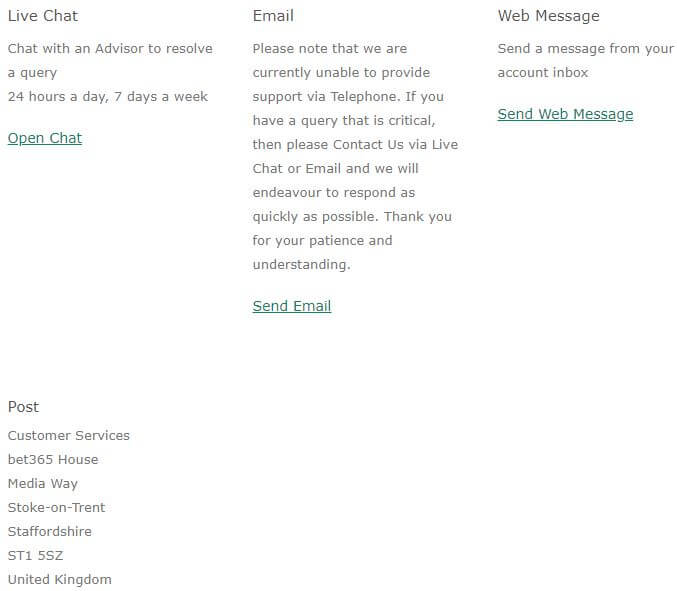 There are all means of contact available here, which is always a good thing. Live chat is definitely our favorite. It's available 24/7 and you get a response from the support team in less than a minute. At the time of writing this review, Bet365 couldn't provide phone support, but email support takes its place.
If you write an email, you'll also get a response pretty fast – in about an hour. Alternatively, you can use a Web Message feature to send a message from your account inbox. And if you have a pigeon and you want to send them a direct letter, you have the full address below.
What do Other Users Think About Bet365?
Before ending our review, it's time to see what other users online think about Bet365. First, we'll analyze a positive review about bet365, and after that, we'll go over one negative feedback.

This user is extremely satisfied with the bookmaker. He says that the winning funds are in the bank instantly if you use a nationwide bank card, implying that he's satisfied with the withdrawal funds. He also mentions that it's better than SkyBet, to which we agree.

On the other hand, we have this negative and anger-filled bet365 review. The user mentions placing 300 bets on virtual races and winning just once, which is not a reason to complain. You didn't win and that's all. Bet365 or any other online bookie is NOT guilty of that.
Interestingly, Bet365 has a 1.6 score on Trustpilot, and negative reviews usually sound like this, with not much justification for the opinions.
Conclusion – Should You Bet on It?
Bet365 is probably the largest betting brand in the world. While not particularly the best in the UK, we can't help but end this review ofbet365 on a positive note.
This online bookmaker has a lot to offer, from a plethora of betting features and sports to numerous special features and competitive odds. New users will need some time to get used to its interface, while more ambitious players will want a loyalty program.
But, when we take a look from a broader perspective and take into account everything that the bookmaker offers, these flaws are minor. With that in mind, Bet365 is worth betting on, so deposit your £5 now and get a £25 welcome bonus!
How to Register on Bet365?
As always, we willend our in-depth reviewof bet365 with the registration process. Why is it important? Well, to be able to place bets on Bet365, you need to be a registered user. It's not like your local bookmaker, where you can get in, drink some Heineken, and enjoy betting.
Sure, you can do the same here, but only after you pass the registration and verification process. So, how do you register on bet365?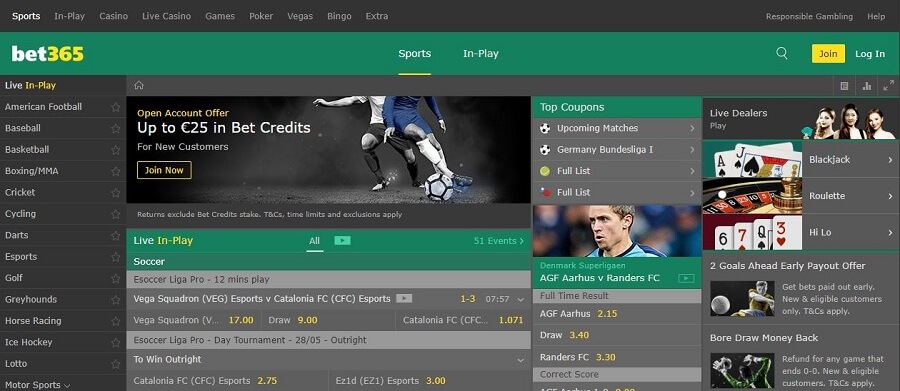 Do you see the yellow Join button in the top-right corner? That's where you should click. Bet365 has a slightly intimidating interface at first. And to be honest, it's not among our favorites. However, you'll get used to it pretty quickly – in a few days. When you click Join, the new window will open: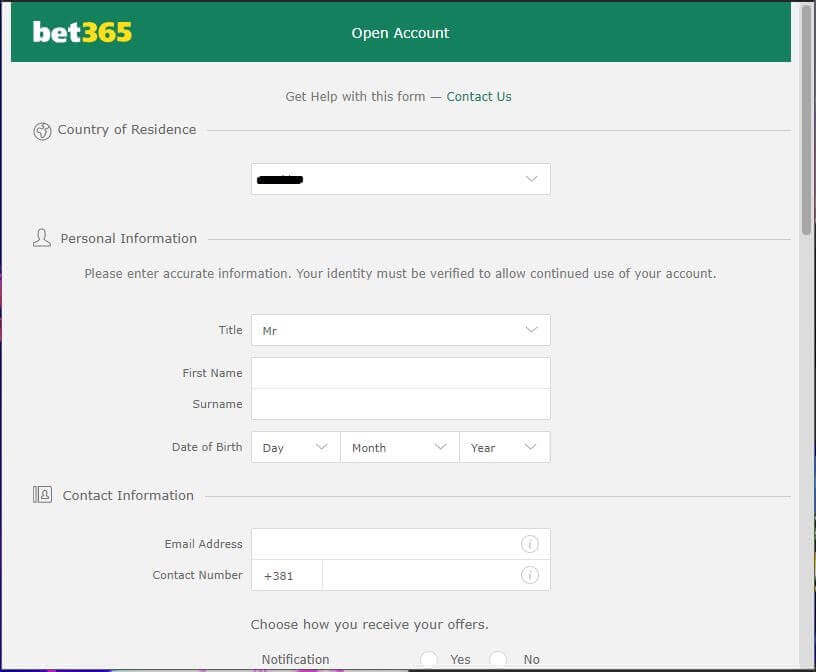 Actually, the whole registration process is done in a single window, which is always a good thing. The first thing to do is to choose your country of residence. Bet365 is available worldwide, and not just in the United Kingdom. But, since we live in the UK, we chose that country.
Next, you'll have to enter some of your basic info – title, full name, and date of birth. The bookmaker will then want your email address and contact number. This number is for notification purposes, where they will send you new promotions, bonuses, and so forth.
If you want, accept the notifications. We wouldn't do that, though, as we have accounts on hundreds of online bookmakers in the UK and that would make our messages and emails constantly full.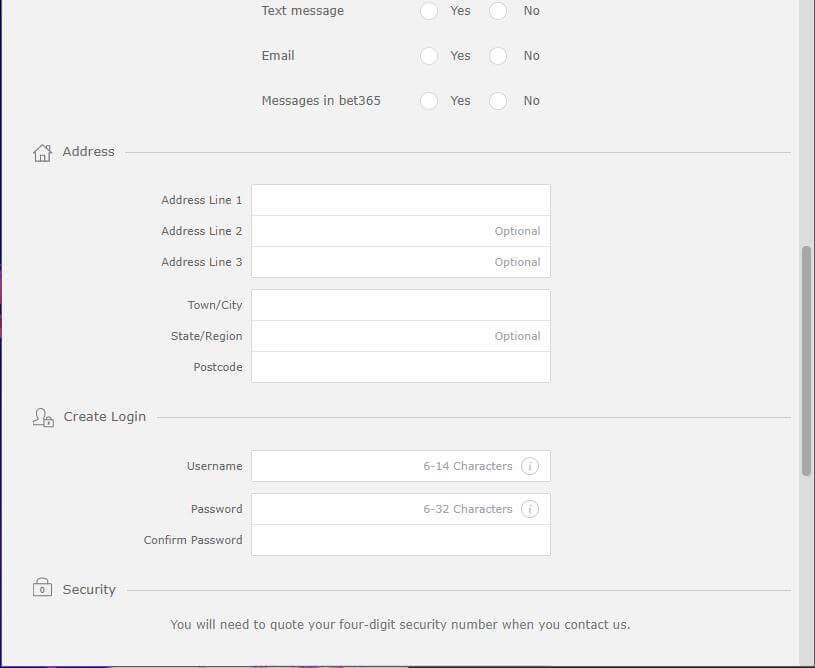 This is a very important part of the registering process review of bet365. You'll need to enter your address, the town you're living in, state, and postcode. Upon registration, bet365 online bookmaker will ask you to VERIFY this information, so make sure that it's 100% genuine.
After that, you need to come up with a unique username and password. For many, this is the hardest part, but we can't help you in this regard – you've gotta do it on your own!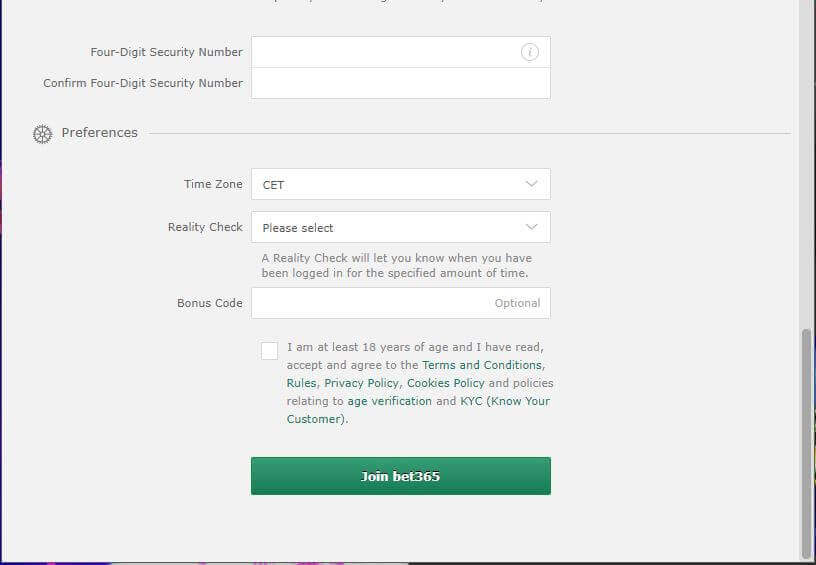 Finalizing the registration process, you only need to enter a few more things. One of them is the four-digit security number. This number is very important, as you must use it when contacting the support team.
They'll ask you to quote it and after you do so, they'll talk to you and fix your problems. We find that pretty clever from the security standpoint. Given that it's only you who knows it, Bet365 can easily see if you've entered your account or somebody else hacked into it.
Lastly, choose your time zone and reality check options, and apply the bonus code if you have one. Confirm that you're over 18 and click Join Bet365. You'll receive no confirmation emails, meaning that your account is ready to rock and roll instantly.
Verification Process – What Do You need?
A while ago, we mentioned verification in our 2021 review of bet365. Is it really the mandatory step? Unfortunately, or better said, fortunately, it is. Bet365 is a huge online bookmaker in the UK and it can't afford any irregularities.
That's why ALL of the users must have verified accounts. After all, bookmakers work with a lot of money on a daily basis, and when money is into play, everything must be fair & square. Let's see how to verify your account at Bet365 online bookmaker.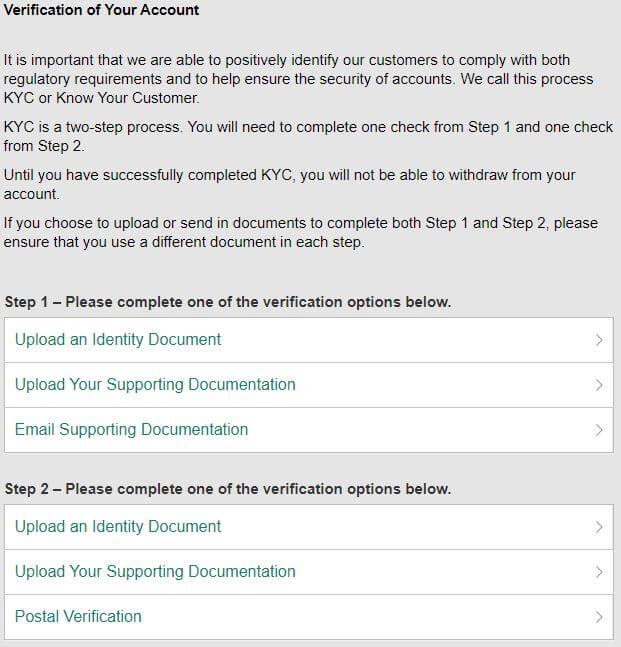 As we can see, Bet365 has a two-step verification process. Each step contains 3 options for verifying your account. Basically, you can use one option from the first step and one from the second, and that's it – you're done.
The first step is more like identity verification. Here, you need to upload a scan of your ID, passport, or driving license. It needs to show your full name, picture, date of birth, and so forth. The second step is regarding address verification.
Documents we mentioned above aren't showing your address, and since you gave it in the registration process, you must confirm it. In that case, Bet365 will want you to photograph your utility bill or a bank statement not older than 3-6 months.
You just upload a photo that shows your full address and the support team will verify it quickly. After both steps are done, you're allowed to withdraw your money and bet freely on Bet365.
FAQ
Before wrapping up this review of bet365, let's answer some of the questions we didn't touch on earlier.
? How long does the Bet365 withdrawal take?
How long will the withdrawal take, depends on the payment method you're using. It can be from 24 hours to a few business days.
❌ Is Bet365 down?
No, it isn't. Bet365 is a fully-functional online betting website.
? How to withdraw money from Bet365?
To withdraw money from Bet365, log in to your account, click Services, and from the drop-down menu, choose Withdraw. A separate window will open, allowing you to choose how much do you want to withdraw. Finally, click Confirm and the money will be in your account within a few days.