The Grand Ivy Casino was founded in 2016 and it immediately caught the attention of numerous UK players. It has a beautiful website, tons of games to play, helpful customer support, and a great live casino section. Judging by what we said, this casino is perhaps one of the best in the United Kingdom – and it is. Today, we're going to see how good this casino is and how it stacks up next to the other casinos we reviewed. We suggest you get your favorite beverage, sit comfortably, and continue reading – this will be an in-depth review of the Grand Ivy Casino.
How to Register on The Grand Ivy Casino?
Let's start our review of The Grand Ivy Casino with the registration process. Logically, to be able to become a member of this casino, you'll need to register. Thankfully, The Grand Ivy Casino has a beautiful site that lets you easily see the registration button and initiate this process.
Create an account on The Grand Ivy Casino >
Here it is:
When you click on Join Now, the first registration screen will open and it looks like this: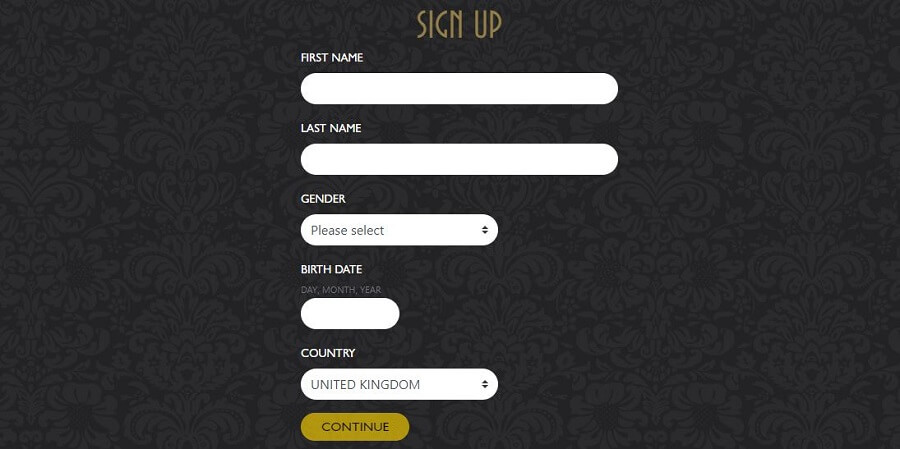 Here, you'll need to enter your basic info, such as your name, gender, birth date, and country from where you're going to play. Although the United Kingdom is the default option, The Grand Ivy Casino is available in at least 20 more countries around the world. Some countries where it's not available are the USA, Bulgaria, Serbia, and so forth.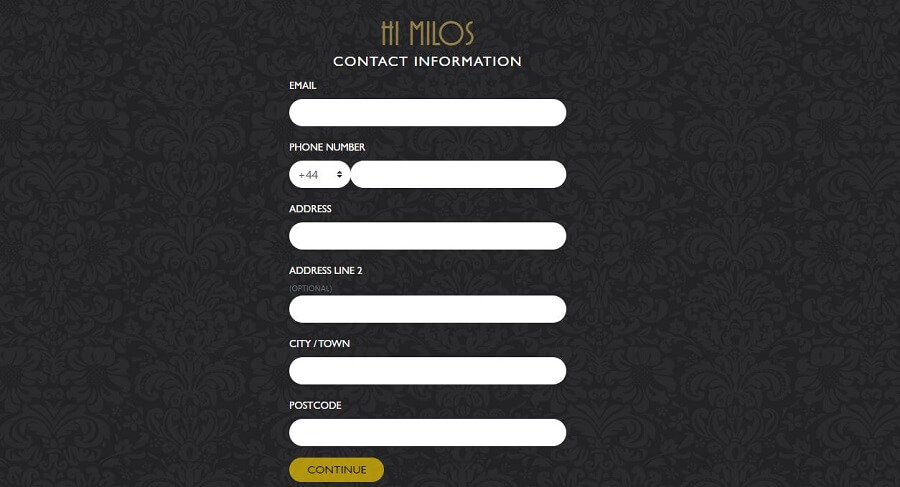 If you already filled the firsts screen, it's time for more direct information. Here, your email is needed but also your phone number, to make sure that you aren't a bot or some sort of scammer. Next is your street address, city, and your postcode. If you've entered this information correctly, the button should become bright yellow, indicating that you can proceed.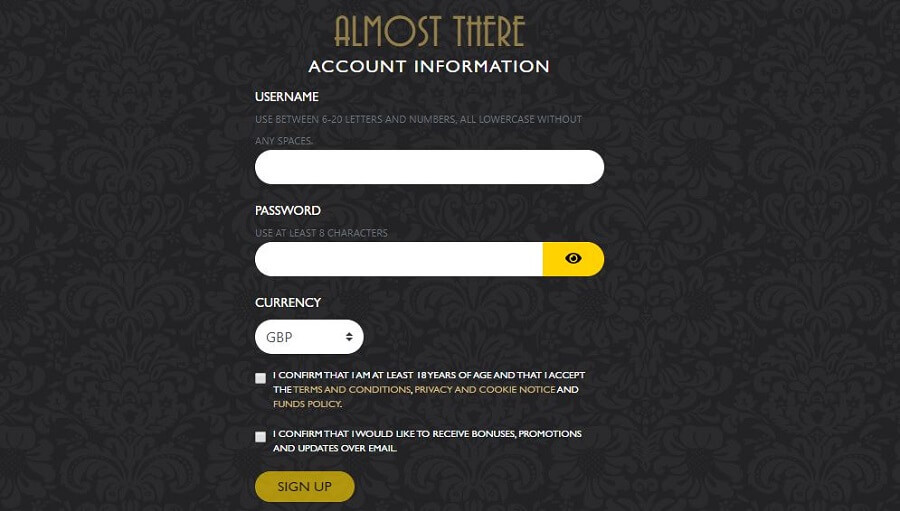 To finish the registration process, enter the unique username, create a password, and choose the currency you want to use. Tick the first box to confirm that you're over 18 and click Sign Up. Interestingly, The Grand Ivy Casino lets you immediately claim your welcome bonus:

But, to do that, you'll need to verify your account first. We'll talk about that in a second. For now, we feel the need to praise how easy the registration process is on The Grnad Ivy Casino. We like that it lets you get your bonus right away, without having to search or dig deeper to find how to claim it. That's definitely a big plus.
Verification Process – What Do You need?
Of course, casinos in the UK spin millions of dollars on a daily basis, and wherever the money is spinning, legal stuff comes into play. The Grand Ivy Casino can't pay thousands of dollars to someone who they don't know who is and that's understandable.
For that reason, some sort of verification is obligatory. Remember when you ticked the box that you're 18 or older? Well, you're gonna have to prove it in every possible way. Thankfully, The Grand Ivy Casino clearly states what it wants from you when it comes to verification, so let's see: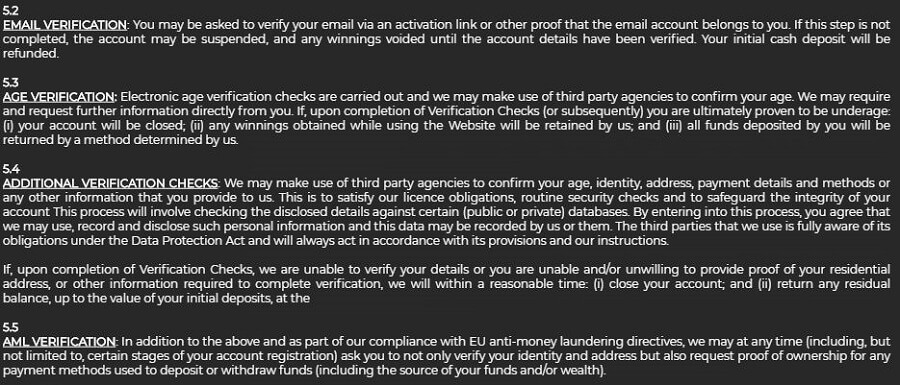 The first paragraph is about email verification, which is very important. Sometimes, this UK casino will send you a verification email, just to see if the email belongs to you. In case you don't respond to it in a certain period, your account will be suspended and your initial cash deposit refunded. Strangely, we haven't received this email during our review of The Grand Ivy Casino.
The next one is age verification and this is a crucial step. If you're under 18, just know that gambling under 18 is a criminal offense. You can see that they use electronic age verification and in some cases, they'll use third parties to confirm your age. Also, they can request further info from you, which is usually in the form of valid ID, driver's license, and so forth.
In case they prove that you're under 18, you'll meet the same fate – terminated account.
The Grand Ivy Casino has additional verification checks and these are quite deep if you will. As stated, they use third-party agencies to confirm basically everything about you, including age, address, payment details, and other info you've provided. However, if you enter this process, you must agree that they can record, use and disclose your personal info which is recorded by either this casino or third parties.
Finally, there's AML verification where they'll basically conduct an anti-money laundering test. They'll want you to prove that the payment method is really your, to make sure that everything is under control. It seems complicated but in fact, it's very easy.
If you've been honest, verifying your account will be quick and easy, so don't worry. After that, you can claim your welcome bonus, and just so you know – it's hefty!
The Grand Ivy Casino Welcome Bonuses – Are They Generous?
The Grand Ivy Casino welcome bonus is a pretty good one as we've seen during our in-depth review. Or should we say bonuses because there are three of them – oh, yeah! Although not everything is very bright, we still thin that the casino is very generous. Let's say you've verified your account and now, you want to deposit your money.
Your first deposit needs to be at least £20 to be eligible for a first welcome bonus. The first deposit gets a bonus of 100%, up to £300, and 25 free spins on Starburst. So, if you get a deposit of £300, you get another £300, and you get £600 to play with. That's pretty good.
Get up to £800 on The Grand Ivy Casino >
What about your second deposit? Well, it gets a bonus of 25%, up to £800, and 50 free spins on Aloha Cluster Pays. For example, you can deposit £100 and you'll get £25 as a bonus. Or deposit £800 and get £200 as a bonus.
Finally, your third deposit on The Grand Ivy Casino gets another bonus of 50%, up to £400, and 25 spins for Gonzo's Quest. The example would be if you deposit £800 and you get £400, which is the maximum bonus in this case.
Now, one thing here isn't that good – the wagering requirements. The wagering requirements here are 35 times and since bonus funds are separate to the cash funds, you'll need to wager your total bonus, cash, AND your bonus spins.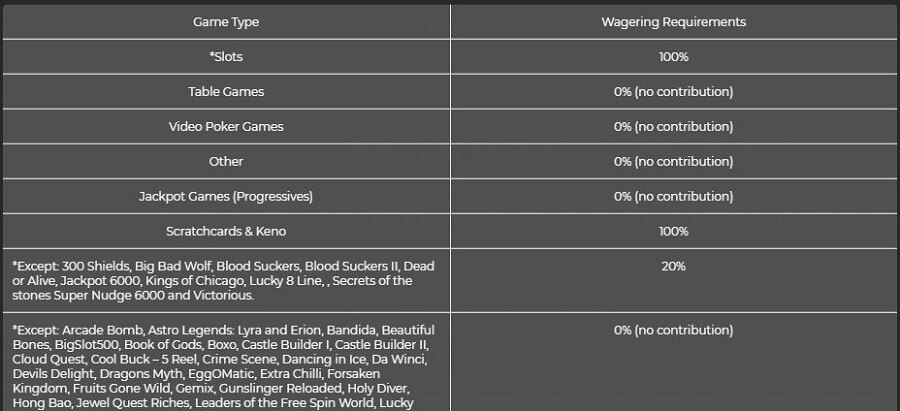 In the image above, you see what games contribute the most to the wagering requirements. Simply put, if you want a 100% contribution, you'll need to play slots and Scratchcards & Keno. The 20% you see apply to some slots games shown in the table.
So, is our review of welcome bonuses a good one? Sure. It is. But if you mind about high wagering requirements, you won't find it very attractive. In that case, Play Ojo might be a good option for you since it doesn't have any wagering requirements.
The Grand Ivy Casino Promotions – Are There Some?
The Grand Ivy Casino's promotions are actually its welcome bonuses. They even have a special page called "Promotions" and when you visit it, you get this screen: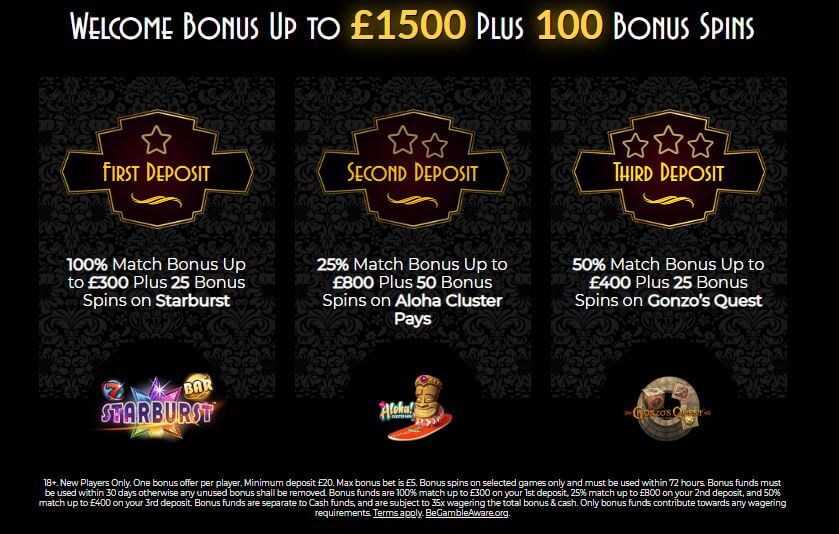 The promotions in this casino equal welcome bonuses. If you see £1,500 above and 100 bonus spins, you're probably wondering how to get it. Let's do the math with the 3 welcome bonuses. £300 plus £800 plus £400 equals £1,500. And if we add the spins, 25 spins plus 50 spins plus 25 spins equals 100 spins – do you get it?
The Grand Ivy Casino just added these numbers and said that your bonus can go up to £1,500 but it actually can't. It's just a number that represents a sum of all three bonuses, given that they're always in the upper limit.
Did you think that was all for this part of our review? Surprise, surprise…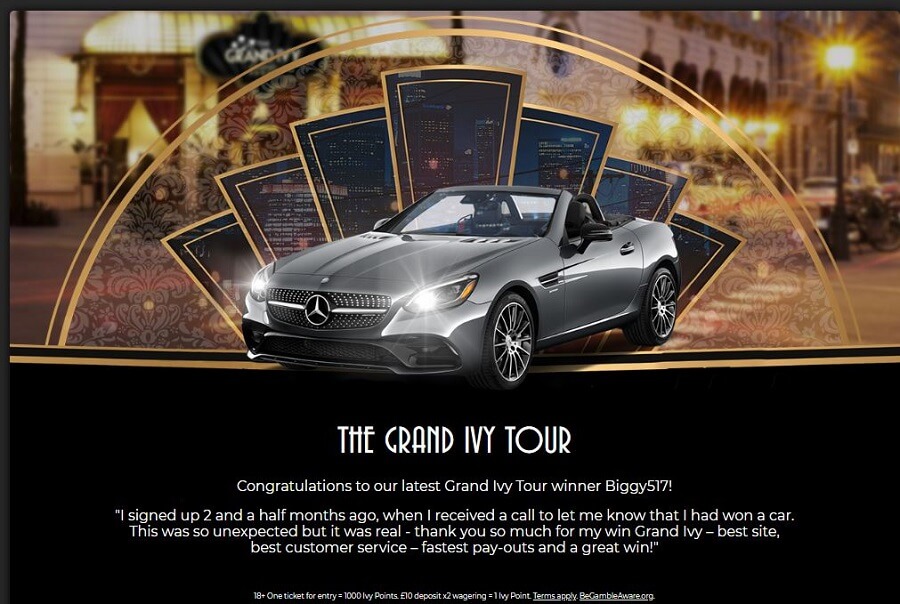 Yes, your eyes still serve you well – that's a brand new Mercedes-Benz SLC 200 Sport that you can win by playing on The Grand Ivy Casino. To be eligible, you must earn a so-called Ivy Ticket that costs 1,000 Ivy Points. Now, to get one Ivy Point, you'll need to wager  £10 two times. Basically, you'll need to wager a total of  £20,000 in a month to be eligible for getting this beauty.
Check out all the promotions offered by The Grand Ivy Casino >
Just so you know, this car costs more than £30,000.
Deposit/Withdrawal Methods and Limits
It's time to talk more about withdrawal and deposit methods offered by The Grand Ivy Casino in our review. Of course, to start earning some real cash, you've got to invest some real cash.
The Grand Ivy Casino's minimum deposit requirement is £10. However, this amount of money isn't eligible for a welcome bonus, just so you know.
To remind you, you need to deposit £20 or more to be eligible for a welcome bonus. In case you don't want a bonus for some reason, depositing £10 just to try it out might be a good idea. When depositing your cash, you don't have to wait for anything, as it's instant. Also, there aren't fees, so everything you transfer is your to play with.
When it comes to withdrawal, you can withdraw a minimum of £20, with a maximum of £5,000 per week. Withdrawals usually take up to 24 hours when using PayPal. For Visa and Master Card, the period bumps up to 3 to 5 days.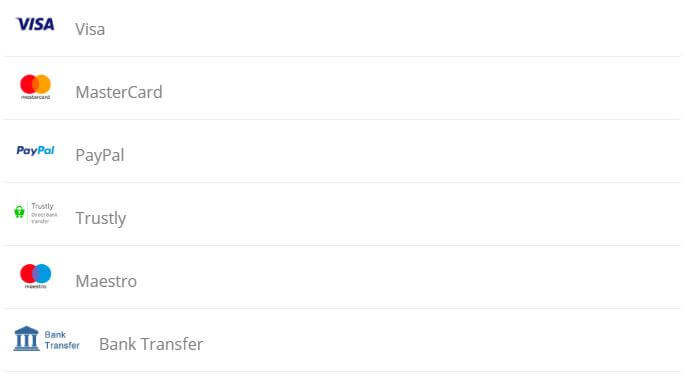 As you can see, Neteller and Skrill aren't on the list, which is very strange, given that many casinos support these methods. Nevertheless, we're still satisfied with what you get here. There's even a bank transfer that usually allows for much bigger sums of money at a cost of slower transactions.
If you're going to use the only e-wallet on the list, know that The Grand Ivy Casino is one of the best casinos that support PayPal.
The Grand Ivy Casino Game Variety & Software
Online casinos in the UK are all about having fun and playing tons of different games. If you're already going to make an account, at least try everything and see what fits the best for you. Luckily for us, The Grand Ivy Casino has a multitude of popular and less popular games, making it perfect for those who want to experiment.
At the time of writing this review, The Grand Ivy Casino has 500+ games at your disposal, which is definitely an imposing number. The majority of these games are slots but there are also a lot of table games, blackjack variants, roulette, video poker, and even scratchcards.
Progressive jackpots are also here and they let you win an enormous sum of money. In terms of software, The Grand Ivy Casino doesn't impress but also doesn't disappoint. To play it on your computer, you'll simply need a web browser such as Google Chrome or Mozilla Firefox.
No apps are developed, which also applies to mobile phones, which we're going to talk about later in our review.
The interface is pretty intuitive, lets you easily choose the game you want. Furthermore, graphics look outstanding and the gameplay is fluid, letting you enjoy your favorite games at 60 frames per second. Now, let's review different games that this UK casino offers.
Slots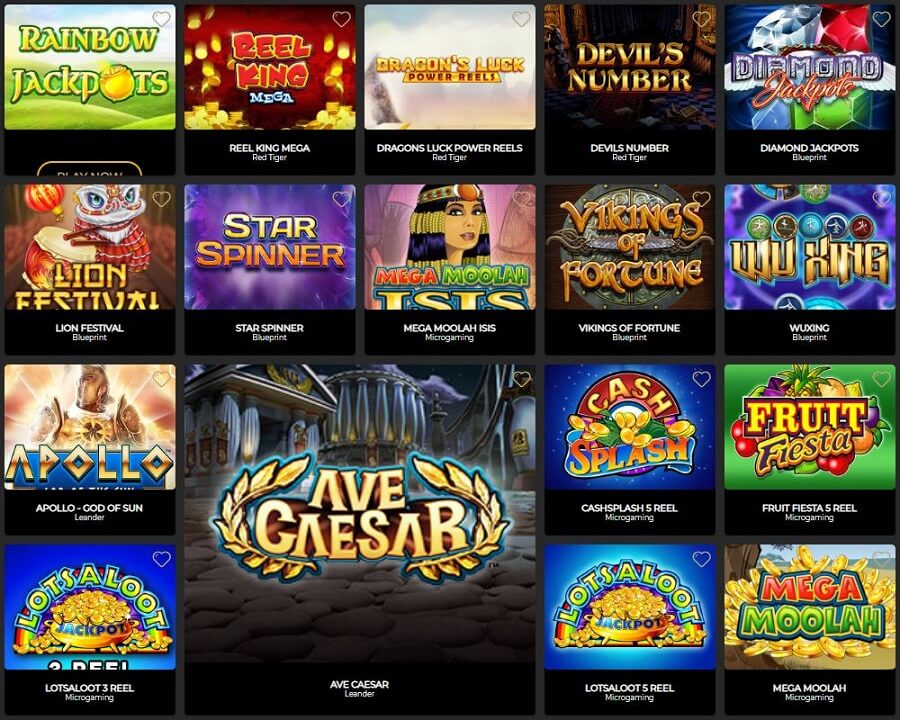 Just look at this image! The Grand Ivy Casino offers so many slots, that you can easily drown in them and forget where you're located. Needless to say, this is just a fraction of what the casino offers. It has 400+ slots games, ranging from jackpots to normal slots games for less-ambitious players.
Some of the games you're going to find here are Mega Moolah, Wuxing, Vikings of Fortune, Lion Festival, Rainbow Jackpots, Diamond Jackpots, and so forth. We like how these games play and look, and they're fairly quick to boot up, too. Some of them can even be played for FREE.
Play Slot Games on The Grand Ivy Casino >
Although they give you a 100% bonus contribution, we're a bit disappointed by its RTP of "just" 95%. This means that if you play £100, your chances are that you get £95, and if you play £1,000, you get £950, which isn't great, considering that you lose £50.
Blackjack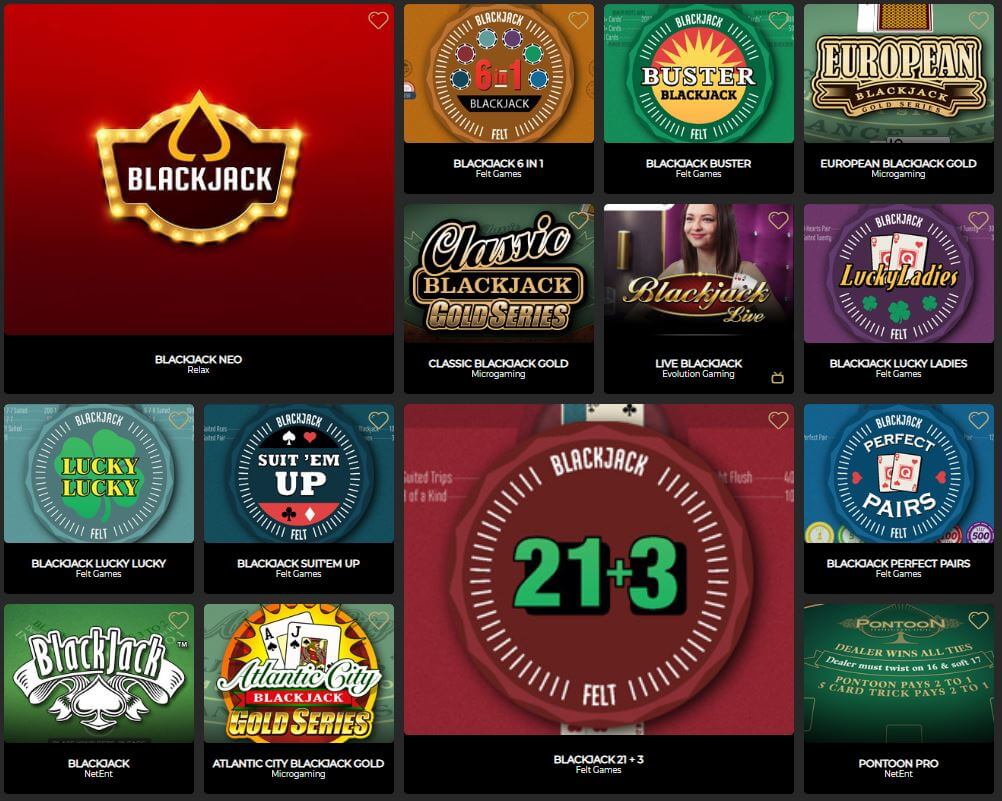 Are you up for some old-school blackjack? You've come to the right place, friend. The Grand Ivy Casino offers more than 30 types of blackjack, so you can switch things up if you're getting bored. The most popular blackjack games include Buster Blackjack, Blackjack Lucky Lucky, 6 in  Blackjack, Lucky Ladies Blackjack, and so forth. Live blackjack is also here but we'll talk more about that later.
If you want a very high RTP, this is the best type of game to play on The Grand Ivy Casino. Blackjacks offer an RTP of around 99.7%, which is impressive. You basically get almost everything you win. Some blackjack games can also be played for free, so feel free to practice if you need it.
Roulette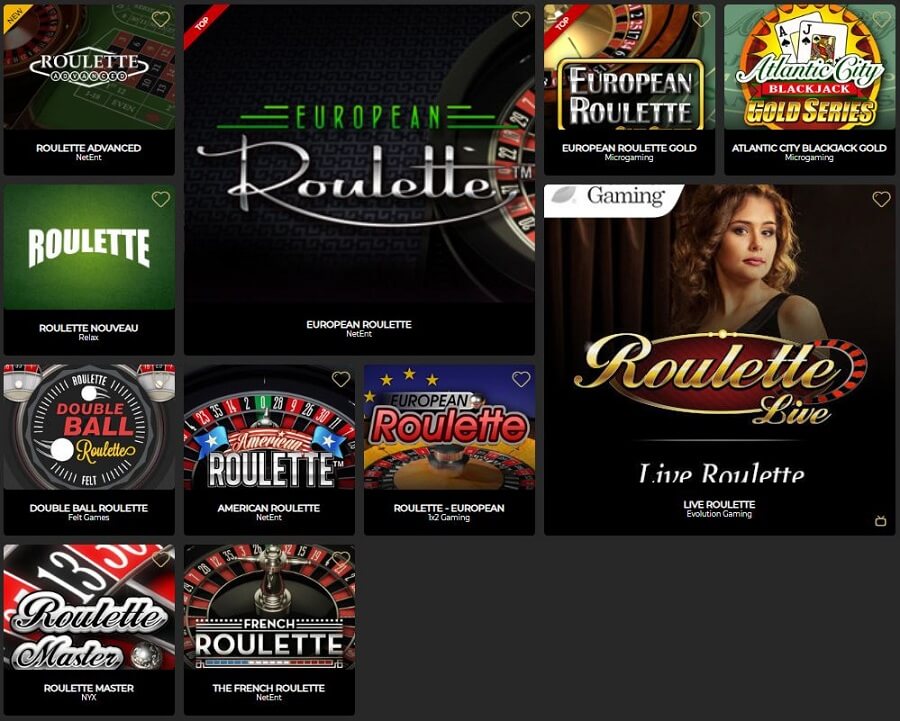 There's definitely something special about spinning that goddamn wheel, which is why millions of people love playing roulette. In the UK, this is among the most popular games that depend more on your luck, than on your gambling skills. In fact, it's all about luck here, so if you're born under a lucky star, go on and try it.
During our in-depth review, we found out that The Grand Ivy Casino offers 18 types of roulette, which is solid. Some of the most played games here include American Roulette, French Roulette, Roulette Master, Roulette Nouveau, VIP Roulette, and so forth. And if you're looking at that lovely lady above… well, that's a live roulette and you can play it, too!
Roulettes have an RTP of up to 98%, which is extremely good.
Table & Other Games
What else does The Grand Ivy Casino offer? It offers practically everything. Table games are the most abundant here, there's 70+ of them, so here's a fraction of what you can expect: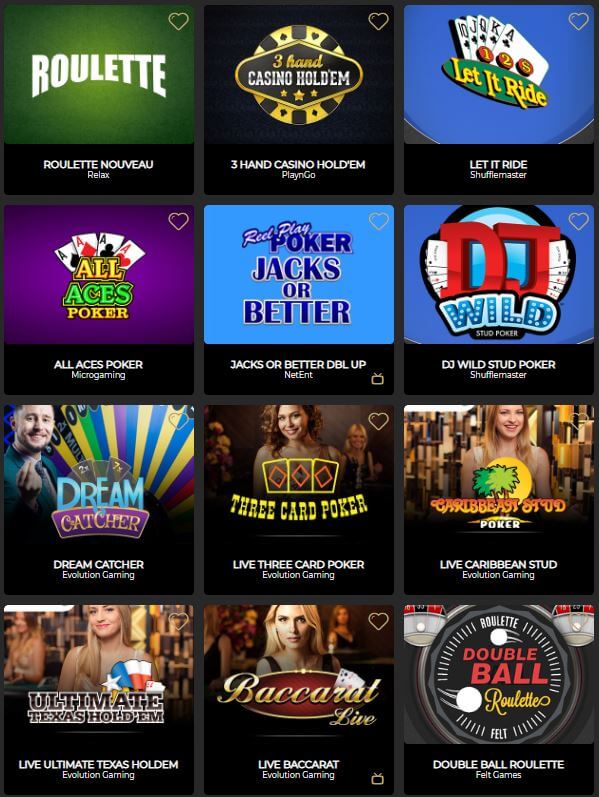 There's Baccarat, Pontoon, Punto Banco, Texas Hold'em Poker, Three Card Poker, Let It Ride, and many other games. Video poker is also here and some of the best games include Jacks or Better, Aces and Eights, and Joker Wild. As for the scratchcards, The Grand Ivy Casino offers about dozens of them but they're not very popular.
You have Koi Cash, Rush Horses Go, Pots O Luck, and many others. Interestingly, video poker has an RTP of 99.5% – that's pretty good. On the other hand, table games have about 98% and scratchcards 95%.
Game Providers
The Grand Ivy Casino offers tons of game providers, so much so, that it's hard to count them down effectively. Here are some of the most prominent providers that you can find:
NetEnt
Microgaming
NextGen Gaming
Blueprint
Leander
Genesis
Quickspin
iSoftBet
Evolution Gaming (Live Casino)
Most of the games on The Grand Ivy are made by Microgaming, NetEnt, Leander, and Blueprint. We're glad to see Microgaming here, as this is, in our opinion, the best game provider, alongside Evolution Gaming, which hosts live casino games.
The Grand Ivy Casino Mobile Gaming Experience
Before we review the mobile experience you can get with The Grand Ivy Casino, it's important to mention that the gambling platform doesn't have mobile apps. This is both good and bad.
Bad, because there aren't any dedicated apps and good because you just need a browser to play it, and every mobile device supports browsers, making compatibility better. Here's how to get it for your phone or tablet: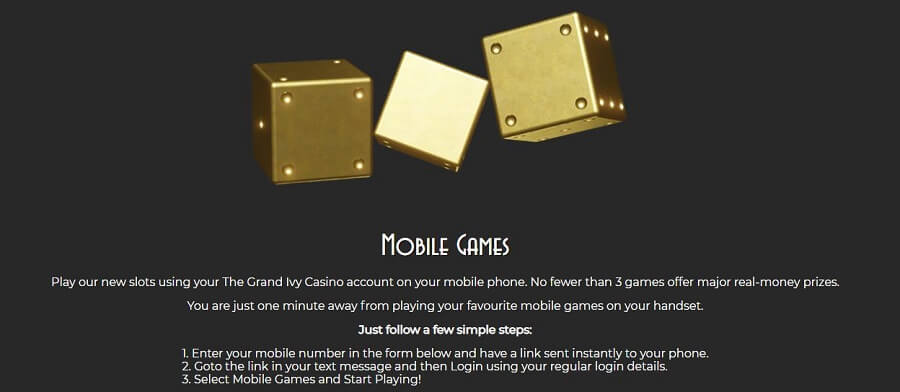 Just enter your number and they'll send you a link directly. Login using your credentials, and start playing.
Despite not having an app, this casino offers an impressive roster of games that you can play on your smartphone. In total, about 200+ games can be played. Whether you like blackjack, roulette or slots, all of these games are here. The game variety is very similar to the full-fledged computer site and these 200 games are mostly comprised of slots – 130 of them.
Starburst is perhaps the most popular mobile slots games but games like Mega Fortune and Batman are also here. Furthermore, the casino offers progressive jackpots on your phone, so you can win big money from your few-inch device. The interface is beautiful on the smartphone and we found it easy to switch games around and play them.
Even on the small screen, the games are surprisingly smooth and you don't have to have the latest flagship device to enjoy them. All in all, the mobile gaming experience is exceptional on The Grand Ivy Casino.
The Grand Ivy Live Casino – How Good is It?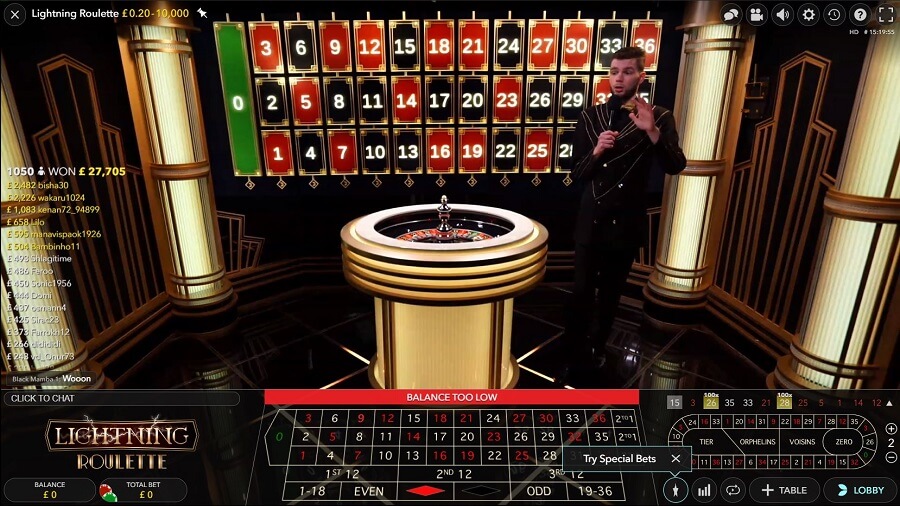 Wanna go live? No problem. The Grand Ivy Casino offers an exceptional Live Casino department with all the latest and greatest games that you can play in real-time. In the image above, we tried Lightning Roulette and within two seconds, we managed to join this thrilling game.
You see how it looks now. The dealer spins the wheel and you follow the numbers. If your number is on the screen, you won – hooray! In the top-right corner, you can find advanced options. There's chat which you can use to chat with other members or the dealer. You can also disable sound if you want to, and change camera angles, which is a neat feature.
Play Live on The Grandy Ivy Casino >
This way, you make sure that nothing's happening under the table and that the game is fair and square. We also must praise the live dealers here, they're phenomenal! This dude, in particular, radiates positive energy, he's funny, he jokes around and is generally a pleasant person to play with. You'll surely want to stay here for more than an hour!
In terms of game variety on the live section of The Grand Ivy Casino, you can play basically everything you enjoy playing on the normal online casino. Live Baccarat is here, and so are Live Blackjack, Dream Catcher, Live Roulette, Monopoly, Super Sic Bo, and dozens of other games.
All in all, The Grand Ivy Live Casino is among the best ones we used. If you don't have money, you can just access the games and watch other people play, which can be thrilling, too.
How Fair and Secure is The Grand Ivy Casino?
When you scroll down the home page of the casino, you should see something like this:

What exactly are these logos? Well, these companies are here to make sure that the games are fair and that the casino is verified. You can also see the BeGambelAware.org logo, which is here to make sure you're gambling responsibly. More about that in our FAQ section.
For now, it's important to mention that The Grand Ivy Casino uses 128-bit SSL encryption for making your data safe. Thanks to this encryption, your payments are also secured, which is quite an important aspect for us during our review, especially if you manage to win a jackpot.
License-wise, this casino is verified by the UKGC, as well as Curaçao eGaming, so it's safe to say that nothing unusual will happen to you. We'd like to see eCOGRA do the business here but unfortunately, that's not the case. GeoTrust is here, on the other hand, and it handles IT security.
Loyalty Program
The Grand Ivy Casino is, as we've seen before in our review for 2021, very generous. Just go back to our Promotions section and you'll see what we're talking about. No other casino is willing to give you a Mercedes-Benz car! Apart from that beautiful vehicle, the casino gives you a loyalty program with some pretty good rewards.
First of all, you earn loyalty points that you can exchange for bonuses. The first deposit gives you 500 loyalty point and you earn 2 points every time you wager £10. The wagering requirements for different games are below: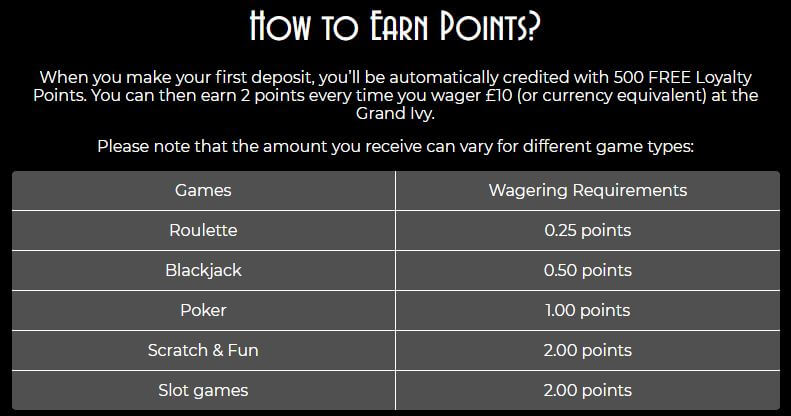 Redeeming your loyalty points is possible if you go to the 'My Account' section. Here, you'll see that you'll need a minimum of 1,000 loyalty points before you can redeem them. 200 loyalty points equal £1 and 1,000 points are £5, so you can exchange them for money.
The Grand Ivy Casino Customer Support
Every good casino in the United Kingdom must have proper customer support. Since The Grand Ivy Casino is one of our top picks, it offers amazing, responsive, and helpful support.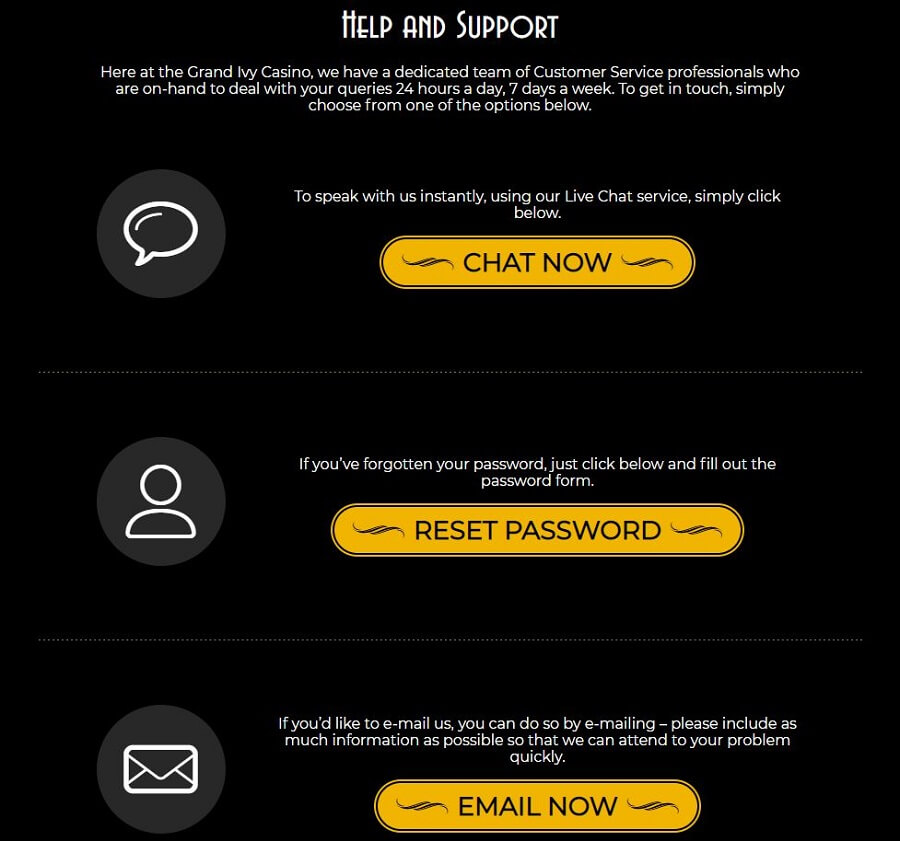 The first thing you'll see is the live chat option, where you can contact the support team right away. They usually respond in 60 seconds, which is outstanding, given how many users play on it. It's also important to mention that they're available 24/7, so you can contact them whenever you wish.
In the middle, we see the option to reset your password, and at the bottom, there's email support where you can use their support@grandivy.com email to contact them. This type of support is much slower but they can also solve more serious issues.
Either way, The Grand Ivy Casino has excellent customer support, making it a joy to play here, knowing that someone will always fix potential problems. For those who'd like to call the casino, unfortunately, they didn't leave their phone number. But, as the live chat is here, we don't see it as a downside.
Conclusion – Should You Play on It?
To conclude our review, you should definitely try and play on The Grand Ivy Casino.
Apart from slightly higher wagering requirements and the absence of dedicated mobile apps, this casino nails it in every other department. It has hefty welcome bonuses, a user-friendly website, 500+ games, live chat support, and most importantly – it gives you a freaking Mercedes-Benz if you have enough luck and win at the promotion.
With everything we just said in the review, The Grand Ivy Casino is among the best casinos in the UK and you'll enjoy playing the variety of games that it offers.
Get the £800 bonus offered by The Grand Ivy Casino >
FAQ
Let's go over some of the frequently asked questions about The Grand Ivy Casino:
? Does The Grand Ivy offers Live Casino games?
Of course, The Grand Ivy Casino offers a wide variety of live casino games. This applies to roulette, blackjack, monopoly, etc. To discover all the gaming tables, go directly to The Grand Ivy Casino website.
? Is The Grand Ivy Casino from the UK?
The Grand Ivy Casino is owned by the White Hat Gaming group that also holds several more casinos in the United Kingdom. This company is based in London, so yes – the casino is from the UK.
⚠️ Can I enjoy games without verifying my account?
Yes, some games can be played for free and you can enjoy them without verifying the account. However, to earn real money, verification is mandatory.
❌ Can I temporarily disable my account on this casino?
Yes, thanks to the responsible gambling that the casino has. Here's a part of its Responsible Gaming tab, so you can see what it means to take a break here:

And in case you want to read the full policy, you can do it here.