The United Kingdom residents who gamble and bet know about Betway. Being one of the largest online bookmakers in this country, it's a choice of millions of British people. Of course, that's not without a reason. Betway is indeed a solid online sportsbook that offers a lot in terms of betting options and features. New day – new review. Today, we're going to analyze Betway Sports in-depth and give you our comprehensive review of it. See what we liked and what we didn't like about it below.
Betway Welcome Bonus – Is It Generous?
Let's start off our review about Betway with the welcome bonus. When you register on a betting site, whether it's casino, bingo, or sportsbook, you're probably most interested in welcome bonuses. While UK online casinos offer welcome bonuses in cash, the online bookmakers do it in Free Bets.
In some bookmakers, you need to wager the Free Bets a couple of times to be able to withdraw bonus-related winnings, for example. Before we get more into that, let's see what Betway offers as a bonus.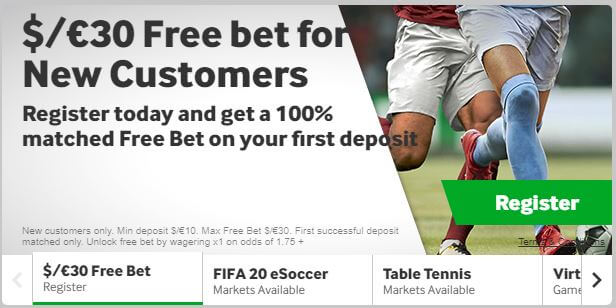 As you can see, you get a 100% matched Free Bet on your first deposit, up to £30. This applies only to the new consumers whose accounts aren't older than one month. If one month expires, you can't use the welcome bonus anymore.
The minimal deposit eligible for a welcome bonus is £10. You need to place a bet for a £10 stake on the odds of at least 1.75 (3/4), and regardless of the outcome, you get a £30 bonus. Sounds easy, right? Well, Betway made it much easier, as it allows you to claim the bonus not only by betting on a single match.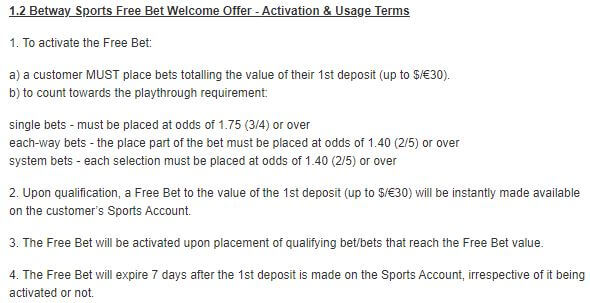 In terms and conditions, we can see that multiple types of bets are eligible for a bonus. If you play on a single bet, the condition from above applies. However, there are each-way bets and system bets that both require the odds of at least 1.40 (2/5).
All in all, claiming this welcome offer should'nt be a problem, especially since Betway gives you plenty of options to do so.
Betway Promotions – Are There Some?
To entice new players into betting further, UK online bookmakers use promotions. These are a great way of claiming more Free Bets, earning more money, or getting Cash-Outs on certain matches. Generally speaking, every online bookie in the UK has them, but some of them aren't very impressive.
When compared to Bet365, for instance, Betway is… well, not that great in this department. Apart from the welcome bonus, there are a few more promotions.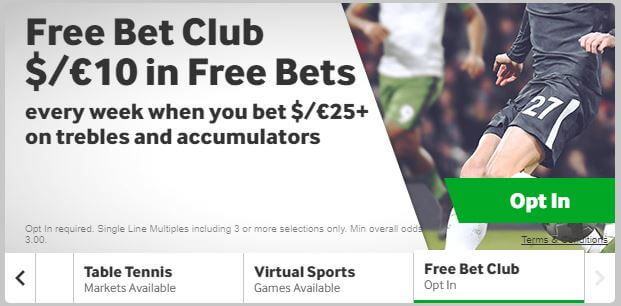 The first promotion is called the Free Bet Club. Here, you have the chance to win £10 in Free Bets if you bet £25+ every week on trebles and accumulators. Before you can become eligible for a promotion, you just have to opt-in and follow the instructions.
Basically, you have to place £25 on the odds of at least 3.00 (2/1) first. Regardless of its outcome, you get £10 in Free Bets, but in two separate days. For example, you get £5 on Saturday and another £5 on Monday.
For this promotion, every market is eligible, so you can bet on horse racing, tennis, rugby, or any sport you want.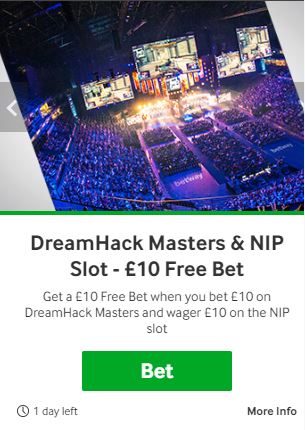 Another promotion is made available by Betway – at least at the time of writing this review. Interestingly, this is an E-Sports promotion that gives you £10 in Free Bets if you bet £10 on DreamHack Masters and wager £10 on the NIP slot. The odds need to be at least 1.50 (1/2).
When it comes to promotions, that's all. As we can see, Betway isn't very generous in this regard, but that's not a problem, as it still offers a proper betting experience that we're going to talk about in just a minute.
Deposit/Withdrawal Methods and Limits
While many people use online UK bookies for fun, many of them are making quite a lot of money from betting. Sure, it's fun to place bet and gamble, and we do it every day, but if you lose money, well, that's not very fun, ain't it?
Let's talk about money in our review of Betway. Betway is one of the largest online bookmakers in the United Kingdom, and as such, it's a rest haven for high-stakes players. It lets you deposit quite a lot of money and lets you do so using a plethora of banking methods. Let's examine them: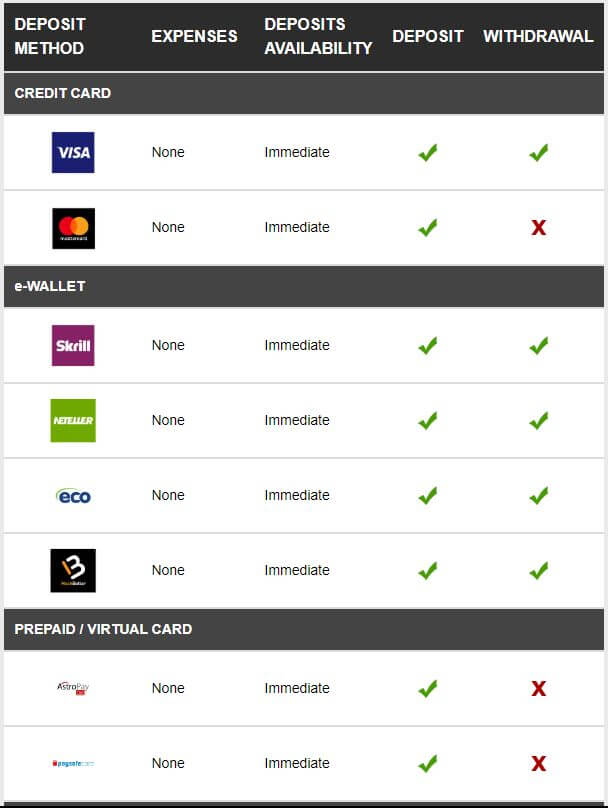 The payment methods are split into three different categories here – credit cards, E-Wallets, and Prepaid/Virtual cards. In credit cards, have VISA and MasterCard, of which VISA is a much better option. Why? Because it allows both deposits and withdrawals, whereas, MasterCard doesn't allow withdrawals.
For us, though, the best banking methods are always E-Wallets, and if you look at them, you'll notice that PayPal is missing. That's not a good thing, as we fund our betting accounts using this method. Nevertheless, Neteller and Skrill are there. Both of them, luckily, allow for both withdrawals and deposits.
In fact, every E-Wallet on this list allows it, making them the best methods.
Finally, we have prepaid cards that can be a great option for depositing but not withdrawing your cash. Our recommended options are Neteller and Skrill. They offer instant deposits, with no fees.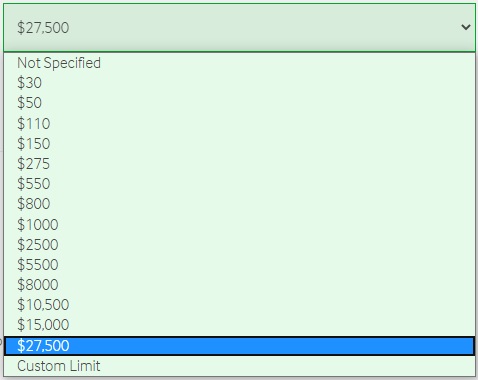 When you register your account, you'll have the choice to limit your deposits. This is a part of the Responsive Gaming, preventing you from spending too much money on betting. As we can see, the maximum deposit is £27,500, while the minimum deposit is £10 – the amount of cash eligible for welcoming Free Bets.
What about withdrawals? Betway doesn't mention them anywhere, except for the lower limit, which is £10. The upper limit is probably up to £99,000, given that the maximum deposit is pretty high. We like everything money-related here, as it's well-suited for high-stakes players.
Needless to say, beginners will also enjoy it.
Betway Betting Variety
Betway is a genuine UK online bookmaker. We mentioned at the beginning of the review that it's basically from the United Kingdom. However, it's based in Malta and regulated by the UK, making it more British than Maltese.
Despite that, it doesn't focus strictly on football and horse racing, even though these are the most popular sports in the UK. Instead, you have a plethora of sports markets to bet on, so much so, that you'll find yourself having a hard time choosing the one you want.
Here's what you can enjoy betting on thanks to Betway sportsbook: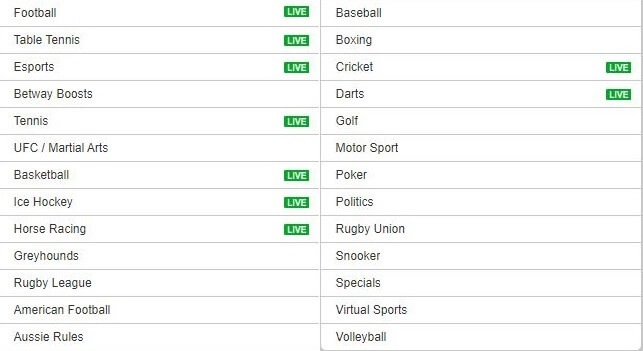 Some of these sports are available for live betting at the time of writing this review of Betway. Of course, this may change if some of the sports events are played at the moment of checking the website. A few sports are, however, always available live – football, horse racing, and basketball.
Betway doesn't miss out on anything here, even offering to bet on political outcomes, snooker, virtual sports, E-Sports, UFC, Greyhounds, Aussie Rules, and so forth. If we count all of the sports down, we get 26 of them in total, which is more than impressive.
Betting Options
If you're a demanding user and you place advanced, system bets, or any other type of bets, you'll enjoy Betway all the way. Actually, you'll be like a kid with a lollipop – that's the level of enjoyment you're gonna get!
This UK bookmaker doesn't waste your time offering you only simple, fixed-odds bets. Sure, you can always go for 1X2, but in many cases, that's not your best option. What you can do is go a bit more in-depth. And just look at what Betway offers! By the way, that's not even the half of it.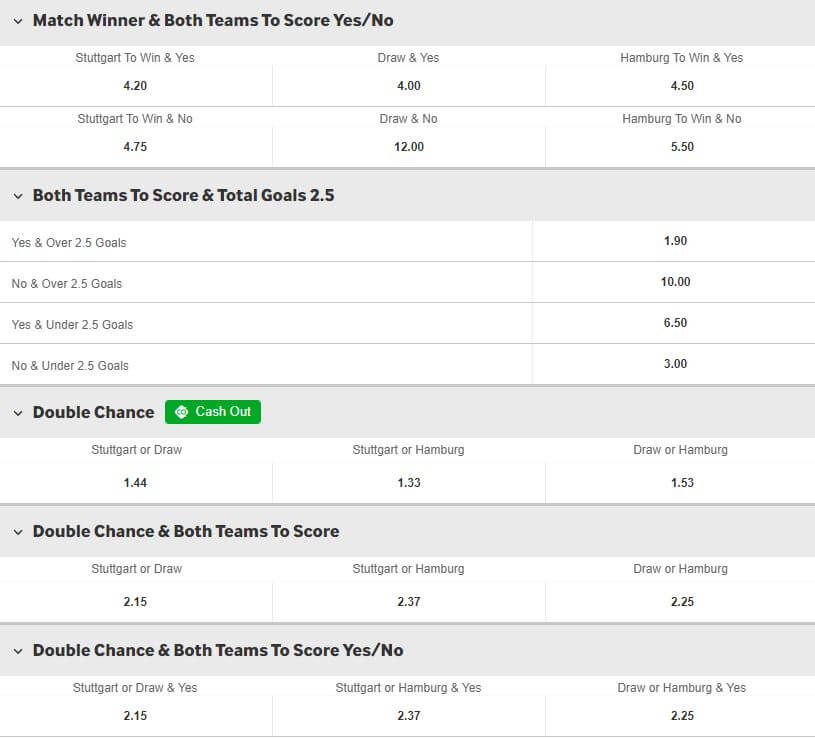 This is an example of a football match. We can already see how good the odds are on these bets. For example, you can bet on a certain team to win and on both teams to score a goal. Or perhaps, one team to win and to be the only team that scores a goal.
Moreover, Double Chance bets are available, and on some of them, you get a Cash-Out option – more about that in a second. Don't think that we always talk about football. Oh, hell no! Even Darts are advanced here, letting you bet on every single aspect of the match.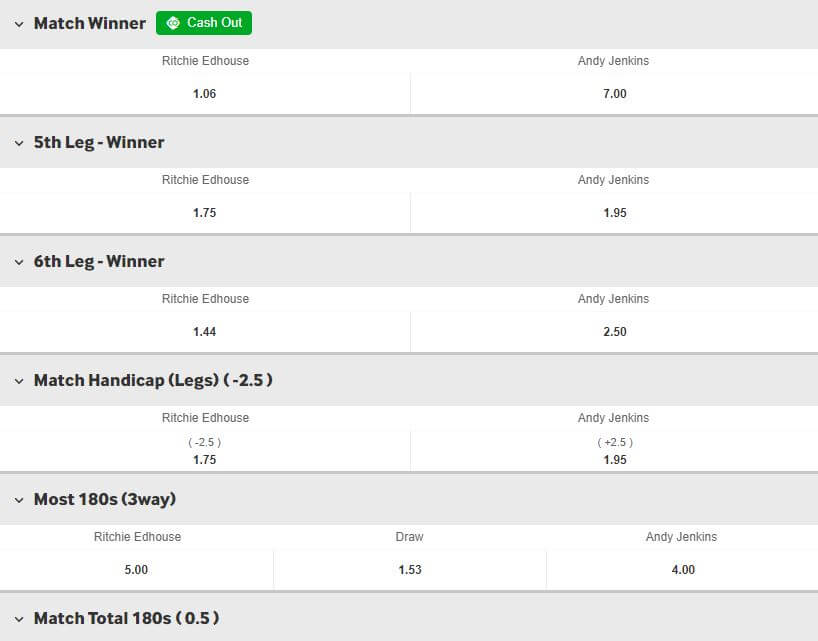 Here, if you bet on the match-winner, you can get a Cash-Out, which is interesting. Apart from that, you can place different bets, including Most 180s, Match Total 180s, Leg Winners, and so forth. We were also impressed during our review of Betway by the betting options for UFC/MMA: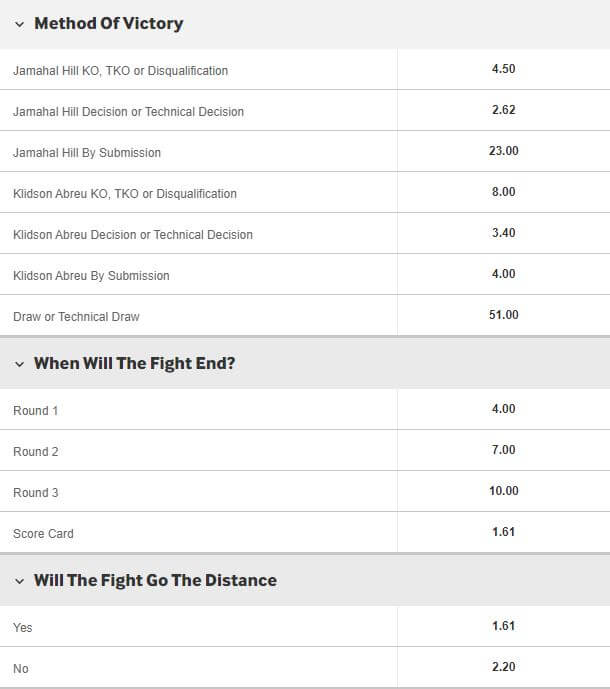 You can bet on the method of victory, the round at which the fight is going to end, etc, etc. Of course, this is just a part of what Betway offers. And the best of all is that it applies to ALL sports.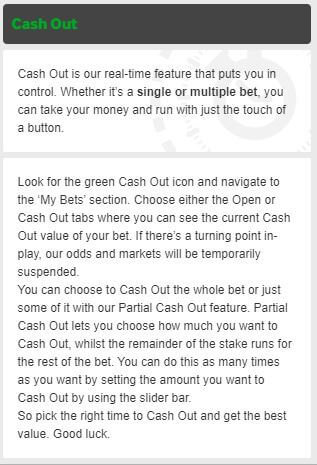 Did someone mention Cash-Outs? Well, here you go. Betway allows you to take your money back and stop betting on a particular outcome. If you see that a fighter you vouched for is taking punches, simply get your money back and run for the hills.
Furthermore, there are partial Cash-Outs, that let you get back a particular amount of money, and just in case your bet wins, you can leave some of it intact.
We can go on and on about it, but it's clear that Betway doesn't mess around. It's a serious online bookmaker that aims for the top – a big plus in our review!
The Odds at Betway – Are They Competitive Enough?
In the screenshots above, you've seen some pretty high odds. Are they always like that? Well, for the most part, they are. Sure, they're not higher than the odds on 888Sport or bet365, but they're pretty competitive, we must admit.
As always, we take three different matches and compare the odds side by side. This time, we have a comparison between Betway and 10Bet, another very good online bookmaker. Here's how it looks: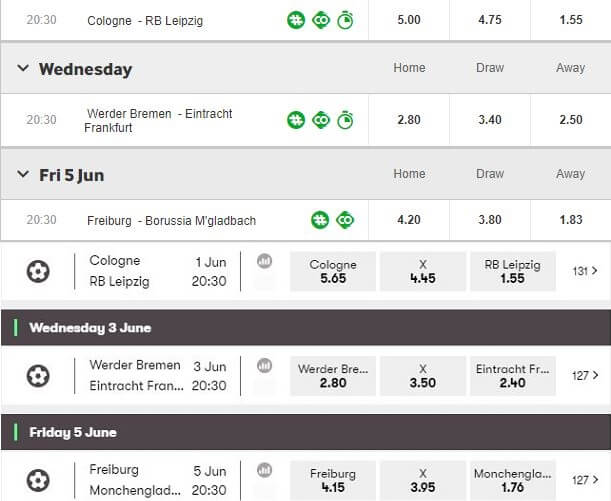 Bundesliga is definitely one of our favorite sports leagues, as it's fun to watch, but also has some decent odds. Three matches are here, and in the majority of cases, Betway has higher odds than 10Bet.
In some cases, 10Bet puts up a good fight, while in the second match, for instance, Betway takes the win. The third match also goes to Betway, as it offers higher odds for both the home and away teams.
We can see that this bookie isn't as dominant as Bet365 and 888Sport, though, but the difference is enough to be noticed, especially at high stakes.
Betway Special Features
As is the case with any quality online bookmaker in the United Kingdom, Betway offers some special features for its players. They greatly enhance your online betting experience and are a necessity, in our opinion. A great online bookmaker must make you feel like you're at your local sportsbook, and sometimes, even better than that!
Let's see what Betway has to offer in terms of special features:
In-Play Betting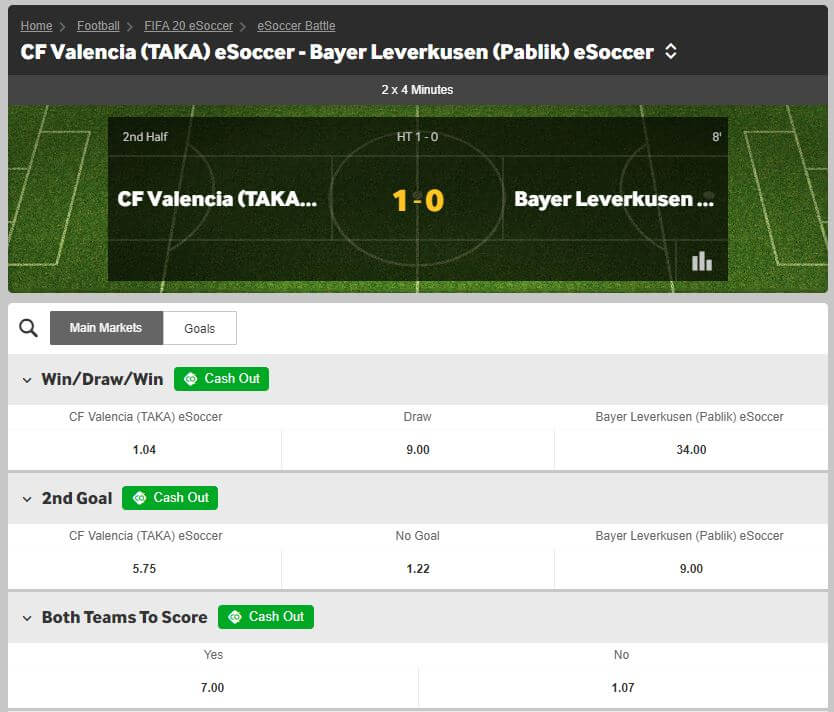 We know that in-play betting isn't so special feature, but Betway does it really nicely. And for those who don't know what in-play betting is, it's basically live betting. You place bets while the match lasts, and this way, it's much easier to guess a winner.
The reason why Betway is doing it so well is that it gives you a Cash-Out pretty much on every bet. This reduces the amount of money you're going to lose, making your betting much more efficient.
Live Streaming

We've noticed during our complete review that Betway offers a pretty good selection of matches to live-stream. While many UK bookmakers let you watch football and horse racing only, this one lets you enjoy Greyhounds, eSoccer, Ice Hockey, and many other sports.
You just need to register on Betway, place a bet on the match that you're going to watch, and you're good to go. The streams are in HD quality, so you won't get annoying, blurry, and low-quality videos.
Bet Builder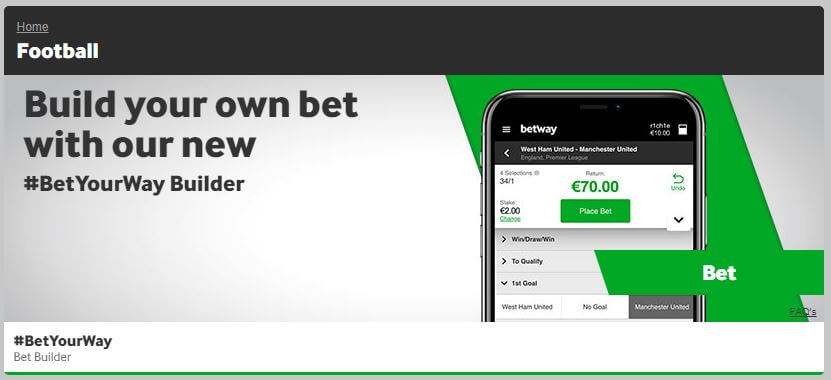 You don't have to be a bodybuilder when you can be a bet builder! Jokes aside, this is an amazing special feature of Betway that more advanced users will take advantage of. It's exactly what it sounds like – a feature that lets you build customizable bets and place them on certain matches.
This way, you can make some crazy-high odds or combinations that will potentially win you big money.
Betway Boosts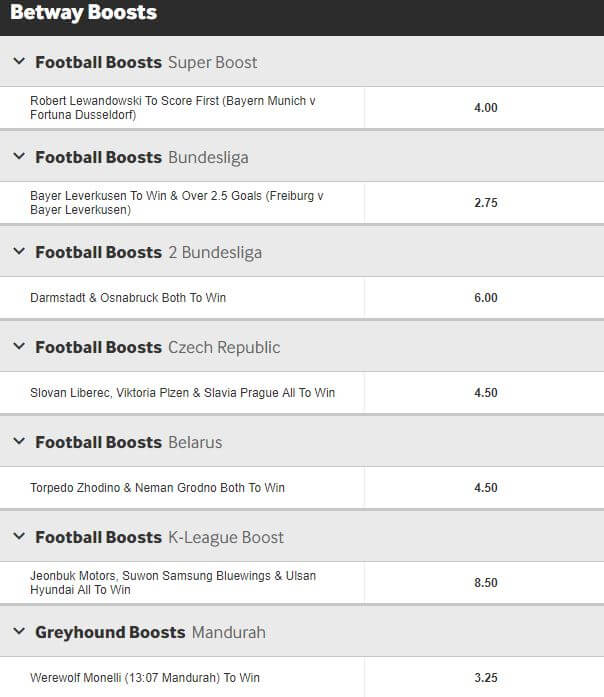 Who said that you can't boost the odds a little? Betway allows you to do that, as well! However, these boosts aren't applied to every match. When we wrote this review of Betway, these were the matches we got, and as you can see, not a single odd is below 2.00 (1/1).
If you want to boost some of your winnings, this is a great feature to use.
Betway Mobile Gaming Experience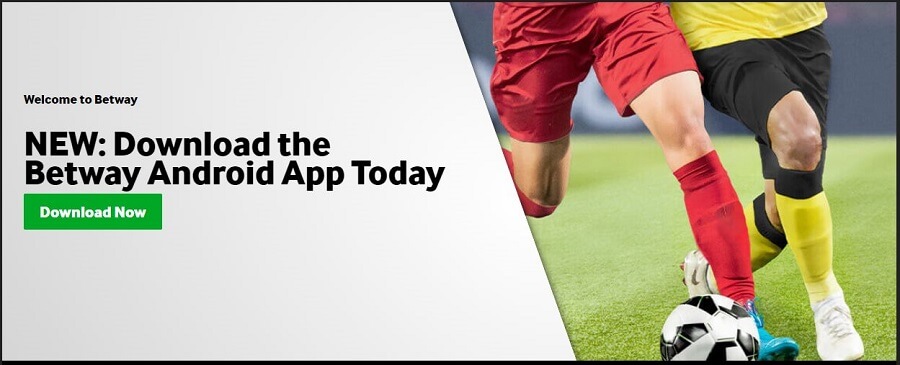 One of the main delights of online betting is that you can bet pretty much on every platform. Betway offers its mobile app for both Android and iOS, and it's an excellent one. For the start, it's not very similar to the website, but in a good way.
It's actually a bit easier to use and since you can open the new menu in the top-left corner, more options can be stuffed in. We like that it's a full-fledged betting app. You can use it for betting, but also for live streaming, and use the special features we mentioned above.
Furthermore, online banking options are available as well. Betway mobile app allows you to deposit or withdraw cash to your account, making it easy to manipulate your money on the fly. During our review and test, we had a blast betting on Betway Mobile, on both Android and iOS platforms.
Thus, we recommend this betting app if you're a fan of mobile betting.
How Fair and Secure is Betway?
Betway isn't a new online bookmaker in the UK. In fact, it's a very old brand that stormed the market more than a decade ago. During that time, the bookmaker established itself as one of the most relevant betting sites in the United Kingdom and worldwide.
We can see that it has a license from MGA (Malta Gaming Authority) and UKCG. The number of licenses is displayed clearly, and so is the company's full address. The bookmaker also works with several Responsible Gaming companies, such as Gambling Therapy and IBIA.
This is very important, as Betway takes proper care of its players who have problems with betting or gambling. It even lets you contact them and talk more about your issues related to gambling. Finally, this online bookmaker uses 128-bit SSL encryption for keeping your data safe and secure.
And if you bet on Virtual Sports, eCOGRA is here to take care of fairness. Betway works like a well-oiled machine that isn't going to stop any time soon!
Loyalty Program
It's time to review Betway's loyalty program… if it exists. Luckily, it does. Betway bookmaker's loyalty scheme is a classic one – you collect loyalty points and exchange them for some sort of bonus. Here's how it looks like: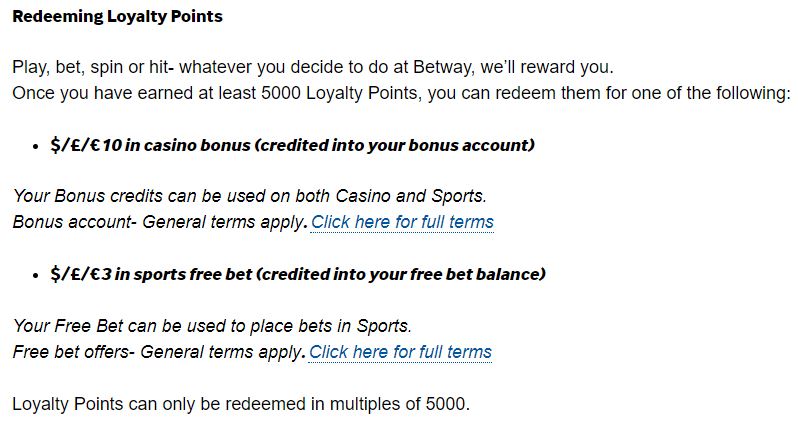 To redeem your loyalty points for a bonus, you must have at least 5,000 of them. This is the minimal amount of loyalty points eligible for a reward. Casino players with 5,000 loyalty points can obtain £10 as a bonus, while players on the bookmaker can get £3 in Free Bets.
Conversely, if you have 10,000 points, that would be £6 in Free Bets, and so on.
Tier tokens are also here and they're an indicator of your loyalty level. Every time you wager £10, you earn up to 5 tier tokens. Different odds contribute differently to these wagering requirements:

The odds of 1.75 or above are your best bet if you want to gain tier tokens quickly. By doing so, you'll get to a higher loyalty level, and in return, you'll get better rewards, promotions, and bonuses from Betway.
Betway Customer Support
Should you encounter some problems while betting, Betway's friendly customer support team is here to settle things down for you.
The bookmaker offers literally every contact method you can think of. On the left, we see the classic ticketing system, which works fine. You fill it out and get a response usually in a few hours. On the right, we have live chat, where you can get help instantaneously.
We like the addition of a phone number, which is, by the way, toll-free for the UK players. And finally, there's an email address, if your problems aren't urgent. Important to notice is that support is available 24/7.
What do Other Users Think About Betway?
Before we wrap up our review, it's time to see what other people online think about Betway. We're going to take a look at Trustpilot's reviews, as it's the most relevant website for this scenario.
Betway is generally praised among Trustpilot users, and this review showcases it. We can see that this user thinks logically, even stating that many people write bad reviews due to their money losses, which we're going to see in just a second.
The user is very satisfied with the bookmaker, stating that he has to say "only positive things." He praises withdrawal times, although he says that they aren't the fastest, and overall, he seems to enjoy it.
Now, look at this anger-induced review about Betway:

You can see it in the first sentence – the worst site I have ever seen. And the next sentence, as well – I lost a lot of money, blah, blah… For us, a review like this doesn't have any credibility. But, as we said, this user is in the minority, as most users seem to love Betway.
Conclusion – Should You Bet on It?
Yes, you should absolutely bet on Betway! Despite its shallow promotions, this UK online bookmaker has a lot to offer in terms of sheer betting experience and special features. With numerous leagues, matches, and markets covered, you'll enjoy its vast betting variety.
Moreover, Betway has outstanding customer support, a decent loyalty program, and even two licenses, making it a trustworthy and reliable betting site. To conclude our review, we only have to say one thing – register now using the button below and get your £30 bonus today!
How to Register on Betway?
There are still a few things we haven't mentioned in our review of Betway, and one of them is registration. Let's quickly go over it and see how you can register on the site.

On the home page, click on the Register button in the upper portion of the website.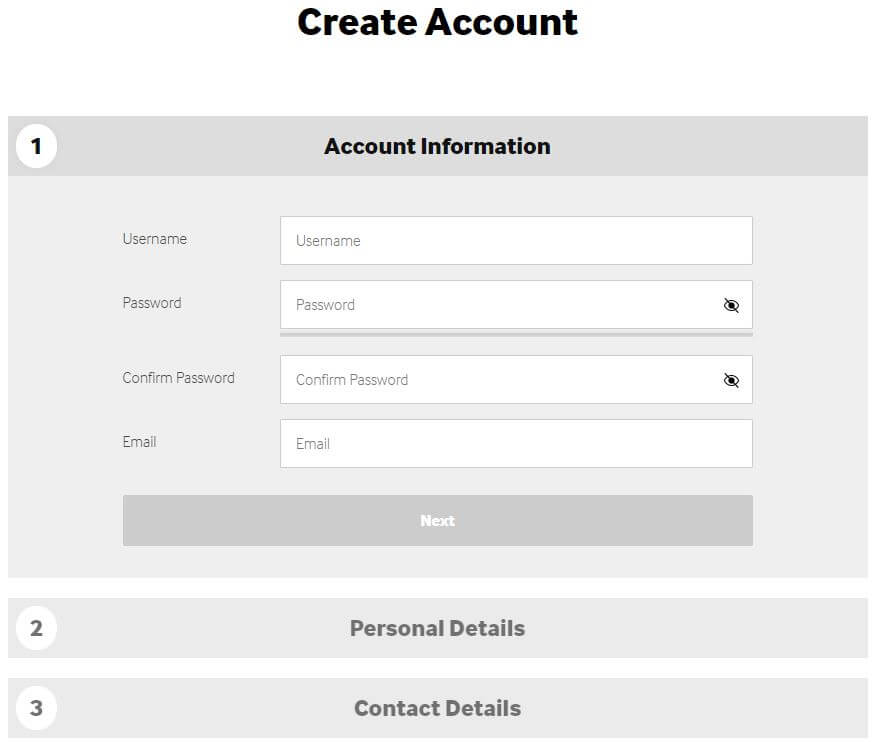 The first step is to enter your username and password. This is a simple step and doesn't require any personal information. However, in the second step, you'll have to enter genuine information, and here's why: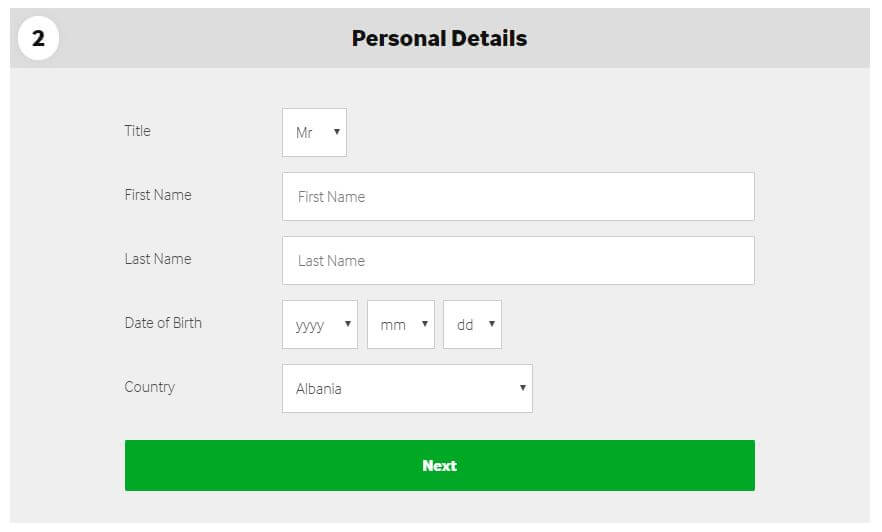 Your real name, date of birth, and country, MUST be genuine because you'll have to verify it later. Don't lie about your age and if you're younger than 18, please stop the registration process. In the UK, underage gambling is ILLEGAL!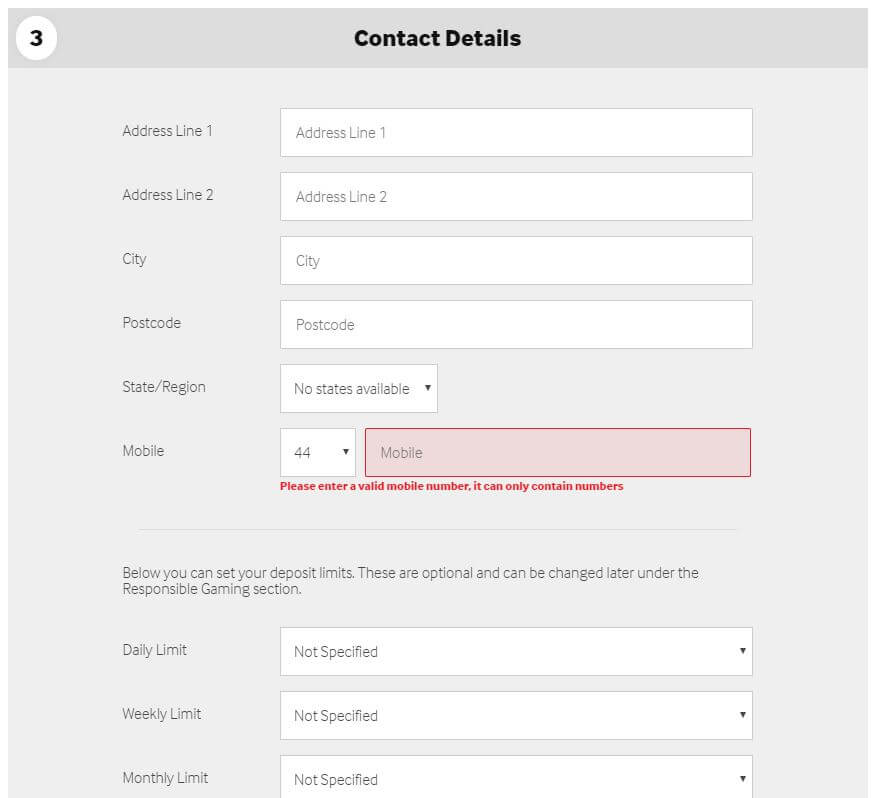 Next, you'll have to enter contact details that include your address, city, postcode, region, and mobile phone. This information also needs to be genuine, as Betway will ask you to verify your address. Lastly, you can choose to limit your deposits e.g. set your daily, weekly, or monthly limits if you want to.
After that, just click on Register and your account will be ready. You get no confirmation emails after that and if you want to bet and withdraw money, you need to go through one more step – verification.
Verification Process – What Do You need?
Verifying your account on a sportsbook is a piece of cake if you're a serious player. Of course, if your info is genuine, you have nothing to worry about. Just scan or photograph the required documents and you're good to go.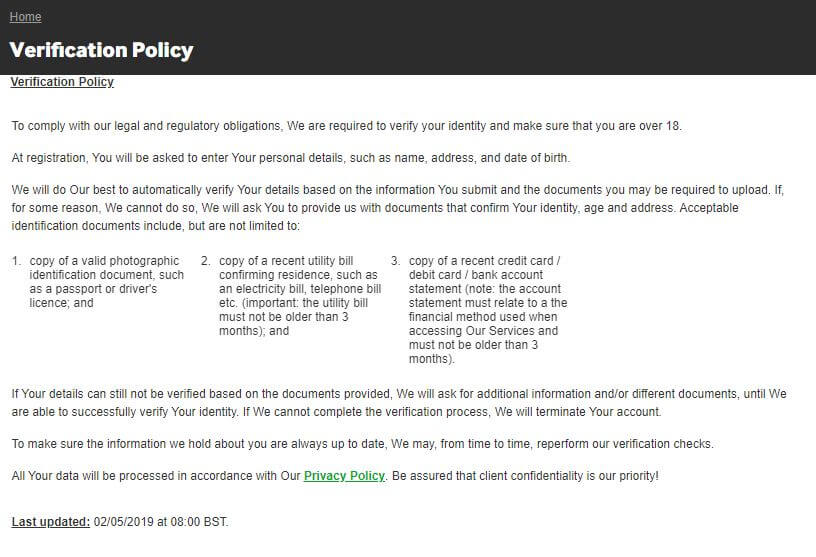 This is Betway's verification policy. We can see that the three documents are required. One document will verify your identity, one will verify your address, while the last one will verify your payment method.
The first step is to scan or photograph a valid ID, passport, or driving license. Here, the bookmaker can see your full name. Next, you'll have to provide a utility bill or a bank statement not older than 3 months. It'll show your residence i.e. city and address.
Lastly, a copy of a credit/debit card also must not be older than 3 months. This provides evidence that your payment method is valid and belongs to you, not to somebody else. If you pass these tests, Betway will not bother you anymore.
It's needed only for the first withdrawal and serves as a security measure.
FAQ
For the end of this Betway review, let's briefly answer some of the commonly asked questions:
☎️ How do I contact Betway UK?
There are three ways you can contact Betway UK – through email, using live chat, or a phone number. The latter is for more urgent and serious issues, while live chat is reserved for more minor problems.
? Is Betway trustworthy?
Yes, it's absolutely trustworthy and legit. We explained that a few moments ago.
? How does Betway pay?
Betway pays through some of the most popular payment methods, including VISA, Neteller, Skrill, Paysafecard, and MasterCard. Beware that there is no PayPal in the payment options.