As computer graphics progressed, we started straying away from conventional sports. Sure, sports like football, basketball, and tennis still reign supreme, but then, there's a special kind of sport that many people love – Esports. Esports is basically competing in video games, which don't necessarily have to be sport-oriented. Today, we're here to tell you everything you need to know about Esports betting and give you our top 5 betting sites where you can bet on it.
Ranking of the best Esport betting sites for 2021:
bet365
MansionBet
888Sport
Betway
Unibet
What is Esports?
Before we start talking more about Esports betting, we need to talk more about this type of sport. As we said, for the newcomers, it's very unusual. People sitting around, each of them staring in a computer monitor, playing games, and competing.
Well, in 2021, it's already a big deal.
The most impressive thing about this sport is that it grows VERY fast. This industry is already worth millions of dollars and winners of some competitions get thousands of dollars as a reward. Now, one thing is Esports and another is Esports betting.
Quite frankly, the latter grows significantly faster at this point. Teams and players are pretty much on the same level, as we see, more or less, the same teams and competitions. However, in recent years, online bookmakers in the UK started benefiting a lot from this type of betting.
Users started to place bets on Overwatch, CSGO, League of Legends, Dota 2, Apex Legends, PUBG, StarCraft II, and Fortnite. If you're a gamer, these titles are very familiar to you. Some of them are shooters, some are MOBA games, while some are role-playing titles or RPGs.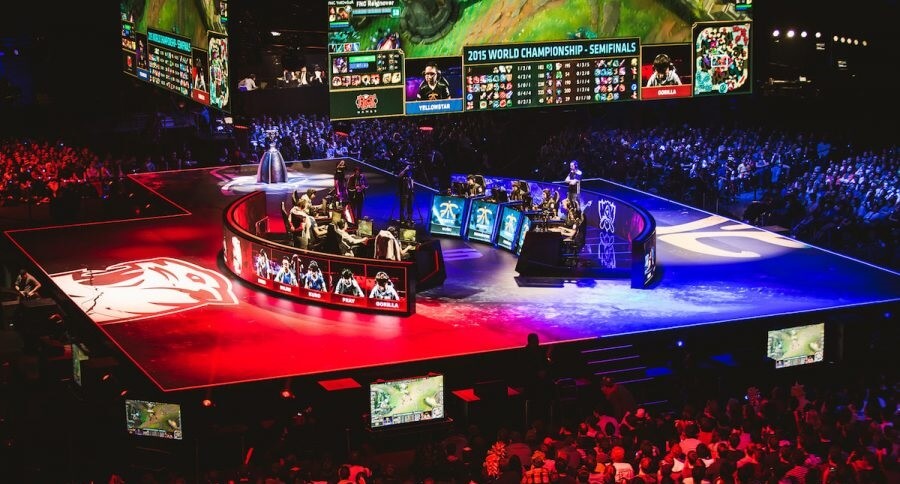 Is Betting on Esports Safe?
The main question that many newcomers ask is if this kind of betting is safe. Who can guarantee that one team will not let the other team win? Or if they're playing CSGO, who can guarantee that some of the players are not cheating?
A few years ago, a famous player named "Forsaken" was caught cheating, for instance. Not to mention that this was a very appreciated player in this community. But, if we translate to normal sports, the same things happen, right?
Whether it's football, basketball, tennis, or MMA, let's face it – the risk of fixed matches is always there. And they will ALWAYS be there, so you can't do anything about it. Betting on Esports is usually safe, although there isn't a regulatory body for this sport, except for ESL.
To avoid fraud, we recommend betting on a verified online UK bookmaker, as they're more likely to fight against fraud. Bet365, for example, is the largest worldwide bookmaker that has a whole Esports department on the site.
This bookmaker, due to how important it is in the industry, does its best to fight Esports match-fixing. If you bet on this site, you can rest assured that it's going to be safe and fair. Furthermore, this section of the website became quite large, offering better prize pools and even special promotions dedicated to it.
Best Esports Betting Sites in the UK – Our Top 5 Picks for 2021
If you're hell-bent on making your first move on Esports betting sites, now is the right time. We carefully analyzed dozens of UK bookmakers to find the best choices for you. Needless to say, these are all legit and safe sites that you can use right away. Speaking of them, our top 5 choices are below:
1. bet365

bet365 is one of the best Esports betting sites and overall, one of the best betting sites on the planet. The thing about bet365 is that it offers everything a demanding bettor can imagine. Apart from dozens of different sports, there are generous promotions, competitive odds, quality customer support, and tons of special features.
Users who visit the site for the first time aren't exactly the most satisfied. The reason being is because bet365 packs a unique interface that isn't the most intuitive for many people. However, this interface hides lots of betting options, especially when we talk about Esports titles.
The bookmaker offers betting on games like League of Legends, CSGO, Dota 2, and StarCraft II. There are quite a lot of betting options as well, wit decent odds. When betting on CSGO, you can go for match lines, Map 1 or 2, match rounds, and many other options.
Or if you like betting on League of Legends , you can bet on the map winner but also alternative match handicap, correct score, and so forth. Esports lovers will not like that bet365 doesn't offer any promotions related to this sport.
On the flip side, a welcome bonus of up to £25 in Bet Credits is a decent one. You only need to deposit £5, place a qualifying bet at the odds of 1.20 (1/5), or greater, and you'll get £25 with NO wagering requirements.
Enjoy Esports Betting on bet365 >
2. MansionBet

Those who love playing at online casinos know that Mansion Casino is perhaps the best in the UK. However, the Mansion brand has other tricks upon its sleeve. Apart from a top-notch casino experience, you can also enjoy a quality betting site that offers a multitude of sports.
With the black, eye-saving interface, you won't have a problem sitting for hours in front of your screen. Thankfully, this site comes with a very extensive Esports section that even branches out to different leagues and countries. bet365, for instance, throws everything it has at you, while MansionBet sorts it out beautifully.
If you visit that section, you'll see that there are multiple countries – China, Portugal, Spain, South Korea, Turkey, and International. Leagues like LOL Champions Korea, Starcraft 2 GSL, and CSGO ESEA are all here. The odds are pretty good, as well, and they're up to par with bet365, if not better in some cases.
What you'll enjoy the most is the sheer number of leagues and fixtures. It's really thorough and will never leave you with nothing to bet on. For an additional thrill, you can enjoy in-play betting even for this kind of sport. Quite a lot of matches are always available, so you can hop in and ride it out.
Lastly, for users who want to register on MansionBet, the bookmaker offers a pretty good welcome offer. When you bet £10 on a qualifying bet at the odds of 2.0 (1/1) or greater, you get £20 as a bonus. This is more than enough to see how things work in Esports betting.
Place an Esports Bet on MansionBet >
3. 888Sport
888Sport is the best betting site in the UK and that's not to be questioned. This site impressed us with pretty much everything it offers. Not only does it have the highest odds statistically but it also gives you a loyalty program that's very good. To make things better, this program is accompanied by a substantial number of promotions, so you can expect maximum rewards.
Being a UK-based bookie, the most popular sports here are football and horse racing. The site even offers horse racing live streaming, while other sports don't get this treatment. However, that doesn't mean that it isn't a good Esports betting site. In fact, we think it's decent.
Let us be clear, 888Sport isn't better than bet365 in this department. It offers a total of 4 titles – CSGO, Dota 2, League of Legends, and Starcraft 2. We expected Overwatch, but at the time of writing the article, it wasn't available.
You can sort out the matches in two categories – Live & Upcoming and All Esports. In the first case, the bookie offers game titles and when you click on one, the menu expands and shows you the matches. In the second case, you can use the League view and choose the gaming league you want to explore.
In-play betting is, of course, here, and if you're a welcome bonus freak, you're at the right place. 888Sport offers a £30 Free Bet bonus if you place the first bet of £10 on the odds of at least 1.5 (1/2), with no wagering requirements. That's one of the most generous welcome bonuses we've seen!
Bet Safely on Esports on 888Sport >
4. Betway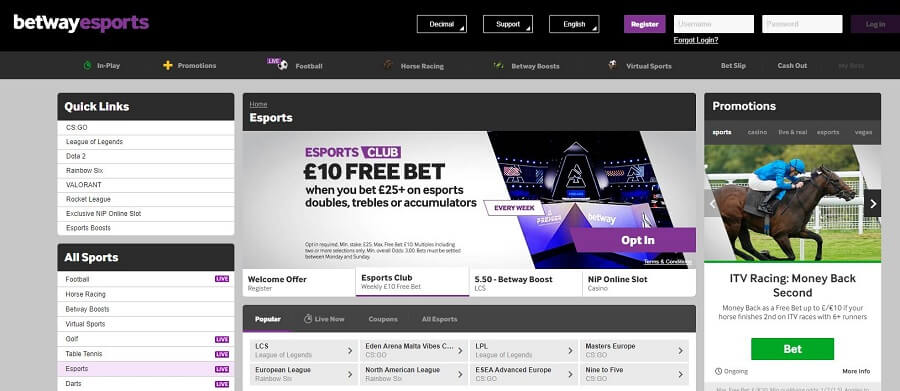 Players from the UK are well aware of what Betway is. Simply put, it's one of the largest betting and gambling brands available strictly in the UK and Ireland. In our list of top ten bookmakers, we saw that Betway took a pretty good spot because of many reasons.
First of all, it offers an extensive betting market with the ability to live stream not only horse racing but other sports, too. We were pleasantly surprised to see that you can live-stream Esports events, which raises the whole betting experience to another level, or better said – dimension.
Betway knows its business, giving very good odds on pretty much all sports. Moreover, when it comes to Esports, the betting market is wide, offering options like handicap betting, round winner, map winner, and so forth.
Many of these options include a Cash Out feature, where you can retract the bet if you think it's a losing one. This way, you can use your money to bet on another match that you think is going to pan out better.
We like the betting variety of Betway. Apart from your standard CSGO, Dota 2, and LoL matches, you can bet on Rainbow Six, and Starcraft Broodwar. Exclusive NiP Online Slot is another game you can play, although it's related to the casino.
In terms of welcome bonuses, Betway offers one and it's a £30 welcome bonus in free bets when you place £10 on a qualifying bet. Beware that there are 1-time wagering requirements though.
Visit Betway and Bet on Esports >
5. Unibet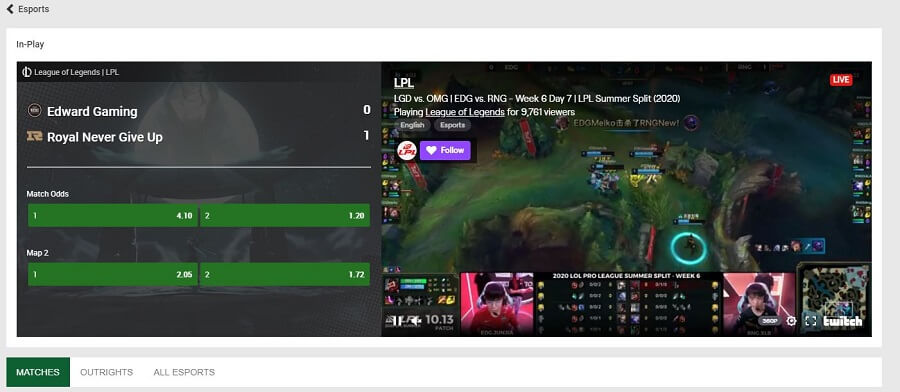 Unibet took the last spot because it's generally an inferior bookie when compared to the others on the list. But, if we talk about Esports betting, it offers perhaps the best betting experience out there – not kidding! Unibet, for the start, gives you more than 30 sports to bet on, including Esports.
Furthermore, the welcome promotion here is jam-packed. You get £40 as a money-back if your bet is lost, plus £10 for playing at Unibet's online casino. The wagering requirements of 3 times aren't unrealistic and as soon as you wager the bonus, you can expect more than £120 in your balance.
Esports betting is done phenomenally here. You click on that section, and you get a big Twitch screen that streams some of the matches live – it was Dota 2 in our case, RNGU vs EHOME. Underneath, you can see all the sports and matches, as well as enjoy in-play betting if you want.
The games that you can find here include CSGO, Dota 2, League of Legends, and Starcraft 2. There are basic bets such as 1 or 2, but if you click on the match, the whole betting market will display, along with statistics during a particular match, if it's live.
Apart from everything we said, Unibet is a really good bookmaker. If Esports isn't all you want to bet on, you're looking at sports like football, cricket, horse racing, snooker, and dozens more. With the addition of live streaming for many of them, you probably won't want to change your betting site any time soon.
Get a Great Esports Betting Experience on Unibet >
How Did We Rank These Esports Betting Sites?
Our ranks are never coincidental. Before doing them, we spend at least a week sorting them out and inspecting their offerings. We have special criteria we use that we want to show you, to see that each and every bookmaker deserved its place on the list.
Licensing & Reputation
The most important thing about every UK bookmaker is the license. It's basically an audit that confirms that the bookmaker is safe, secure, and fair. Every bookmaker we mentioned above has a license from the UKGC, which stands for the United Kingdom Gambling Commission.
Without that license, the bookie isn't allowed to operate in the UK. Some of these bookies also have licenses from countries like Malta and Gibraltar. These are some of the worthiest licenses out there.
On the bookmaker's website, you should be able to clearly see the number of the license and there should be a link pointing towards the license itself. As we said, the websites we gave you above all have everything we mentioned now, so you don't have to check anything.
That's why we recommend using strictly the sites we recommended. If you use a less-popular and non-verified site, and you get burned, we aren't responsible for that. Our sites have very a good reputation and will give you the betting experience you want.
Welcome Bonuses
Some bookmakers offer welcome bonuses for Esports betting but that's very rare. Betway used to do so up until recently, but such promotions don't exist anymore. The good thing is that you can use a normal welcome bonus that includes free bets to bet on Esports.
This way, you're free to bet on any sport you like for FREE. The welcome bonus you get doesn't need to be the largest. Sometimes, the largest bonuses come with excruciating wagering requirements that you can't meet.
888Sport, in our opinion, gives the most balanced bonus. You get £30 but you don't have to wager a single penny. Be aware when depositing cash, as many sites don't support Bitcoin Esports betting. Instead, use your credit/debit card and you're safe.
Esports Betting Experience
The betting experience is in many cases relative but there are some things that we can all agree on. For example, if the classic betting experience is spiced up with live betting, bet boosters, and promotions, that's already a good start.
Here, we're talking about Esports betting experience that can greatly vary from site to site. For us, Unibet was the best in this regard, although its welcome bonus comes with wagering requirements.
You have to try a couple of sites and see which one works best for you. If betting feels clunky and you can't find your way around the interface, quit it. William Hill's interface is almost unbearable for us and we don't exactly like what bet365 has to offer in this regard.
For you, it might be something else.
Banking Options & Payment Times
Since we focused our talk on Esports betting, we didn't mention banking and payment options. Given that every bookie is available in the UK, the payment methods are pretty much the same, with a few exceptions here and there.
Generally speaking, the bookie should offer as many payment methods as it can, including credit/debit cards, PayPal, Neteller, Skrill, Paysafecard, and many more. You also want to keep a lookout for payment times.
Deposits should be instant and withdrawal times as short as possible. Our bookies above are all fast when ti comes to banking and they don't impose any fees, making them perfect in this regard.
Esports League Coverage
We think that this one is pretty clear. The bookie should offer a plethora of leagues and matches to bet on. The more it has, the better it is. We liked what Betway has to offer, but also MansionBet, which has a surprisingly in-depth Esports betting section.
Types of Esports Betting
There are a few types of Esports betting that players can enjoy. In this article, we're going to go through each of them briefly:
1. Traditional Esports Betting
Traditional Esports betting is the type of betting you already know. You register on a bookmaker's site, bet on the outcome or different bet combinations, and win cash. This is the safest method of betting, as you play on a verified sportsbook (hopefully) and correctly wager the money.
The downside of this is that many bookies are still not well-acquainted with Esports. This means that the number of matches and leagues will fluctuate from site to site. As we said, the best site for this purpose is bet365.
2. Fantasy Esports Betting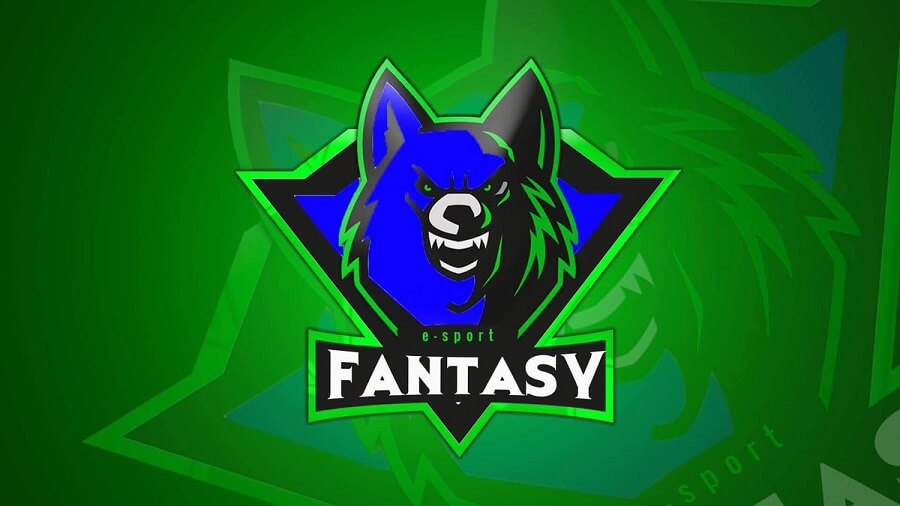 Another type is fantasy Esports betting, which gained its popularity in the USA. If you didn't know, online betting in the USA is restricted by the law. However, thanks to UIGEA (Unlawful Internet Gambling Enforcement Act), this fantasy betting is permitted.
This type of betting is, in many ways, different than traditional betting. In traditional betting, you bet on a team or individual that you think is going to win the match. Here, the players build their fantasy teams in certain Esports, and if their team performs the best, it wins.
Basically, you're competing with the other players and not the house i.e. sportsbook. Sites that offer fantasy Esports betting are extremely rare and it's mainly available on the US and not the UK betting site.
3. Item Esports Betting
This category of Esports betting is pretty controversial. Let's just call it Item betting and people who play a lot of MMO/RPGs will know what we're talking about. Here, you're not betting for real money but for items or skins for your videogame characters.
On rare occasions, you can win money, although it's not betting but purchasing the item you want. We can say that this type of betting is a bit "underground" since there's no insight into it. Our approximation is that thousands of players participate in wagering different skins and items for game characters, which often have surprisingly high stakes.
Instead of getting in-game stuff, you can get an item in exchange for some bigger, real-life rewards, which can include cash if you want to meet with the person you're betting with. Needless to say, this is a very RISKY betting market as it's not regulated by any regulatory agency.
This means that anyone can cheat and violate the "rules" you both agreed to.
4. Streamers Betting
Recently, a new type of Esports betting emerged, and it's called streamers betting. Instead of betting on entire Esports teams, as you would do in traditional betting, here, you bet on the streamer.
A betting site will have the list of streamers that you can bet on, where the odds are constantly changing, depending on the game and the game result, if you're playing live. This is perhaps a very good way of betting because it's unlimited when compared to traditional Esports wagering.
Depending on what streamer you choose, you can bet on him in the variety of Esports titles. It doesn't have to be LOL or CSGO. Instead, the streamer may play PUBG, Fortnite, Apex Legends, and other titles of this type.
For those who don't want to bet on humongous tournaments with high stakes, this is a good way of investing cash. So far, only the site GG.bet offers something like this. There may be a few of them on the market but they're not on the same level.
5. Betting on Esports With Your Friends
Finally, if you want to engage in social activities and you're not a complete introvert, this type of Esports betting might be for you. It's practically a casual way of betting with your friends on the outcome of a particular game, event, or match. You're playing against your friend and you compete for a sum of money that you two dictate.
If you have very close friends, this will be a lot of fun but be careful – if you beat him or he beats you significantly, we doubt that your friendship will ever be the same.
Recap of the best Esport betting sites for 2021:
FAQ
Before we wrap up our article about this topic, let's quickly answer some of the questions related to Esports betting.
? Where to bet on Esports?
Pretty much every UK online bookmaker offers betting on Esports. Our recommendation is bet365, but bookies like 888Sport and MansionBet offer a quite good betting experience. These bookies offer very competitive odds and cover a lot of leagues and matches.
On them, you can bet on CSGO, LOL, Dota 2, and many other titles.
❓ How to bet on Esports?
Betting on Esports is pretty easy, as it works, more or less, the same way as sports betting. Of course, betting markets are a bit different but the betting itself functions the same. Choose the event or game you want, place a bet, and it'll appear on your bet slip.
Similarly to football and basketball, you can place handicap bets, fixed bets, and even an outright bet for certain tournaments.
⚠️ Is Esports betting legal?
Yes, conventional Esports betting is indeed legal. Sites that we mentioned, such as bet365, MansionBet, and 888Sport are all legal and you'll have no problems betting on them. Some types of Esports betting can be deemed illegal for some of the governments. For instance, Item betting.
Since no one regulates it, it's hard to tell if it's illegal or not. But, "real" sports betting as you'll find on the betting sites is completely legal.
? How big is Esports betting?
It's quite huge.  By 2024, it's estimated that this type of betting will generate more than £674 million in revenue. We won't get into details too much but as we said, Esports betting is even bigger than Esports itself.
This means that this betting market is crowded with new players on a daily basis, which drastically raises this sport's popularity.
? Can you bet on Esports?
Yes, you can and you can do it very easily. Just visit some of the sites from our list, register, get a welcome bonus, and bet on your favorite Esports teams. This is one of the most thrilling betting experiences you can get, especially if you're a gamer or you just want to test out new ground.