LeoVegas is a relatively popular online UK casino that will satisfy the needs of a less-demanding user. However, this betting brand also has a Sports department where you can place bets on various sports and virtual sports. Founded in 2011, LeoVegas Sports had a lot of time to land properly on the market and build the name for itself on the UK betting landscape. Did it manage to do so? Well, that's what we intend to find out in our LeoVegas 2021 review.
LeoVegas Sports Welcome Bonus – Is It Generous?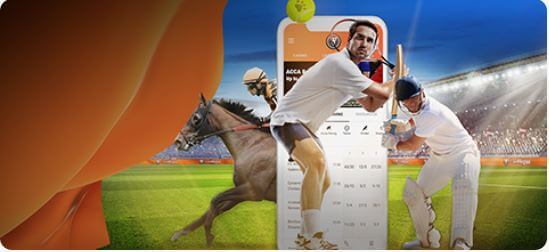 In our review of LeoVegas Casino, we saw that the casino is capable of giving a pretty good welcome bonus. On top of that, you also got a no deposit bonus, which greatly helps the new players kickstart their gambling journey.
This time, we're starting our review with the welcome bonus from LeoVegas Sports, to see if it's going to make the new players excited.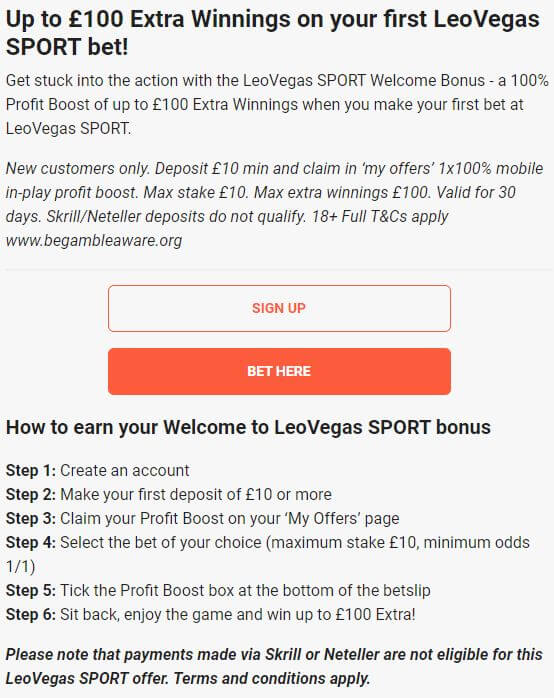 Right from the get-go, LeoVegas promises a welcome bonus of up to £100, on your first sports bet. This is a 100% bonus that you can get if you deposit at least £10 and claim it via mobile phone.
Yes, you've read that well – LeoVegas Sports offers a welcome bonus for mobile users. Users who play on the computer won't be able to claim it, unlike the casino bonus, which can be claimed from any platform.
Furthermore, make sure that you do NOT use Skrill or Neteller while depositing funds. These payment methods aren't valid for receiving a welcome offer.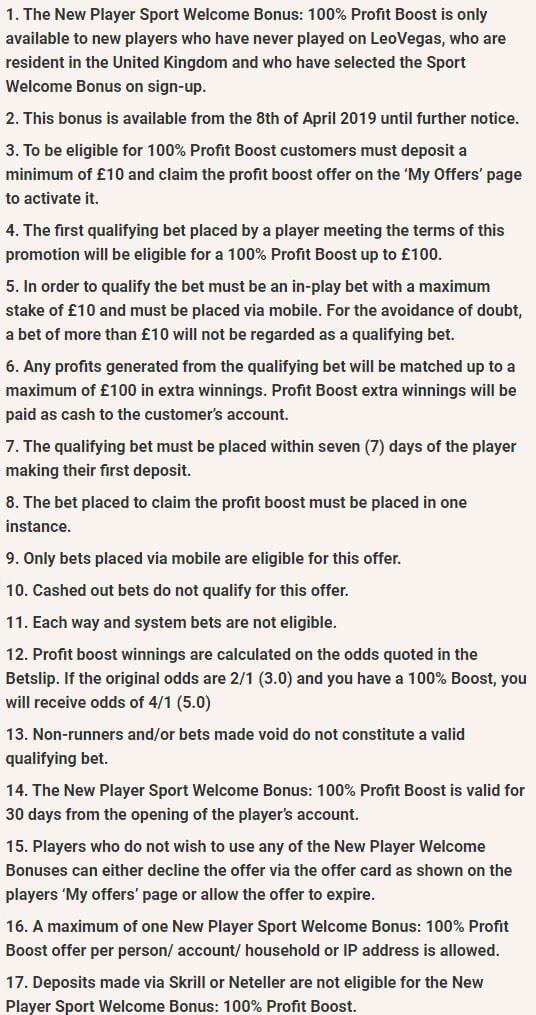 Let's take a look at more conditions. When you deposit money, you need to place a qualifying bet on the odds of at least 1/1 (2.0) and be from the UK. Stakes that are higher than £10 will not qualify for the welcome bonus, so make sure that you place exactly £10. Normally, you should do this on your mobile phone.

Once you place the initial bet at the odds of 1/1 or higher, there are wagering requirements to withdraw your bonus-related winnings. Unlike other UK online bookies, LeoVegas Sports have very simple requirements.
Your bonus funds shall be placed at the odds of at least 1/2 (1.5) or higher. Only then, if you win, you can withdraw your bonus-related money. Since the aforementioned odds aren't very high, chances are that you'll successfully wager the bonus.
LeoVegas Sports

Promotions – Are There Some?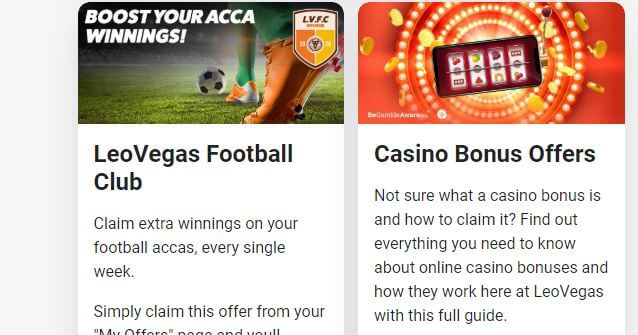 There's one thing we don't quite understand about LeoVegas Sports. On one hand, it's a gambling/betting brand for the people from the United Kingdom. On the other, it isn't treating these people right.
In the sea of online bookies in this country, LeoVegas is vastly overshadowed by its competition when it comes to promotions. Our favorite bookmaker, 888Sport, is much better in this regard, offering a plethora of promotions for frequent and new users. Here?
You get just ONE sportsbook promotion and TWO promotions for a casino, resulting in 3 promotions for both departments. That sounds minuscule, right?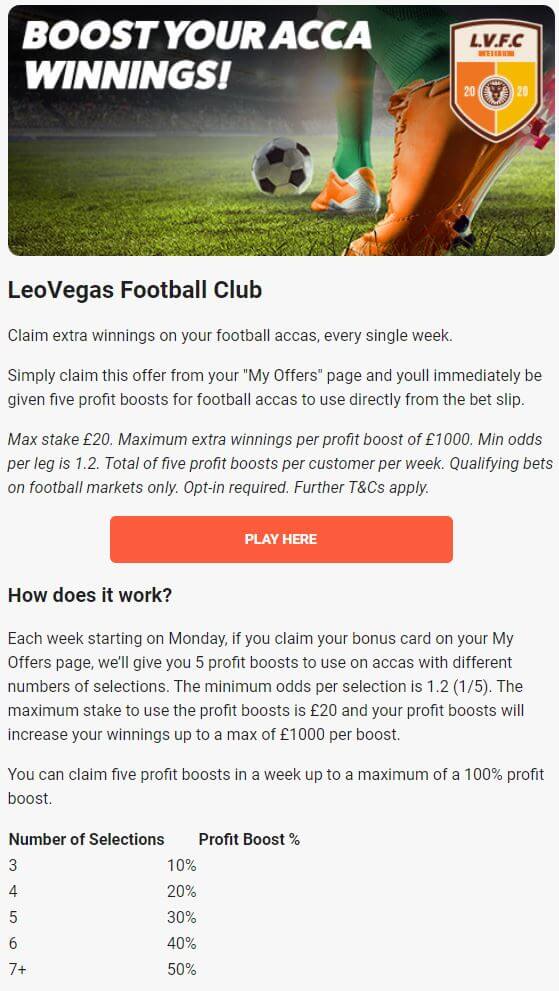 The only promotion you're going to get here is called LeoVegas Football Club. It's nice that football is very popular here, but they could've included a promotion tied to horse racing, which is another popular sport in the UK.
This promotion requires you to place a maximum stake of £20, where you can earn a maximum of £1,000 through boosted profits.
Let us explain. The minimum odds for each selection on your bet slip are 1.2 and you can get up to 5 boosts per week. Moreover, the promotion is only for football, so don't try to bet on other sports if you want to get it.
You need to have at least three selections on the bet slip, where you'll see a 10% profit boost. Seven or more selections yield a 50% profit boost, for instance. For instance, if your potential winnings are £100, a boost of 10% would make it £110. Conversely, if you've placed 7 or more selections, a 50% boost will give you potential winnings of £150.
Deposit/Withdrawal Methods and Limits

So far, what we said in the review, probably isn't going to make you keen on registering on LeoVegas Sports. But, if you're a modest player and you want your adventures to start here, by all means, do so.
As soon as you register and verify your account, you'll want to check out the payment methods. The bookmaker isn't very generous in this department, but you still get some of the most relevant payment services – PayPal, VISA, Apple Pay, Neteller, Skrill, Trustly, etc.
All of the methods in the image above are supported in the United Kingdom, while PayPal, for example, is unavailable in Germany for some reason. The minimum deposit is £10 here, while Apple Pay allows you to deposit £5 if you another £5 mean something to you. As for withdrawals, the limits are a bit higher and start at £20 for all payment methods, except for Apple Pay, which lets you withdraw as low as £10.
Deposits on all methods are instant, while withdrawals are pretty slow. On average, you can expect to wait for at least 3 days, which can extend to 5 days more often than not. Luckily, no fees are imposed on any of the methods, so everything you withdraw or deposit is yours.
LeoVegas Sports

Betting Variety
LeoVegas Sports is far from being the best bookmaker in the UK, and you can see that right away. The website is more focused on its casino counterpart, where betting is just an addition for casino players.
Unlike Betfair that ticks all the boxes, LeoVegas doesn't put much effort into its sports compartment. Surprisingly, though, the betting variety is pretty good, with the bookie offering 27 sports at your disposal.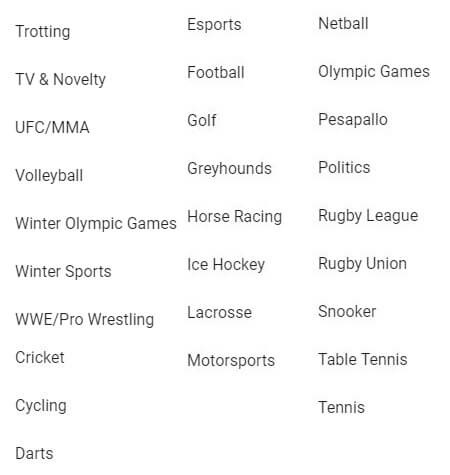 We can see that the list is pretty extensive. Actually, it's so tall when you scroll down, that we had to cut it into pieces, edit the image, and put it this way. Our editing skills might not be the best but hey – you see all that you want, right?!
The bookmaker offers sports like football, volleyball, Esports, winter sports, WWE/Pro wrestling, darts, tennis, and many more. We like the addition of fancy categories like TV & Novelty, but also politics, where you can bet on presidential elections, and other countries' political happenings. Overall, we can't complain about the betting variety, as you'll surely find what you like.
Betting Options
What is more important for us is the number of betting markets. Since pretty much every bookie offers a similar number of sports, it's important to compare which betting options each of them offers. LeoVegas Sports puts special importance on football, so let's check what kinds of bets you can place here.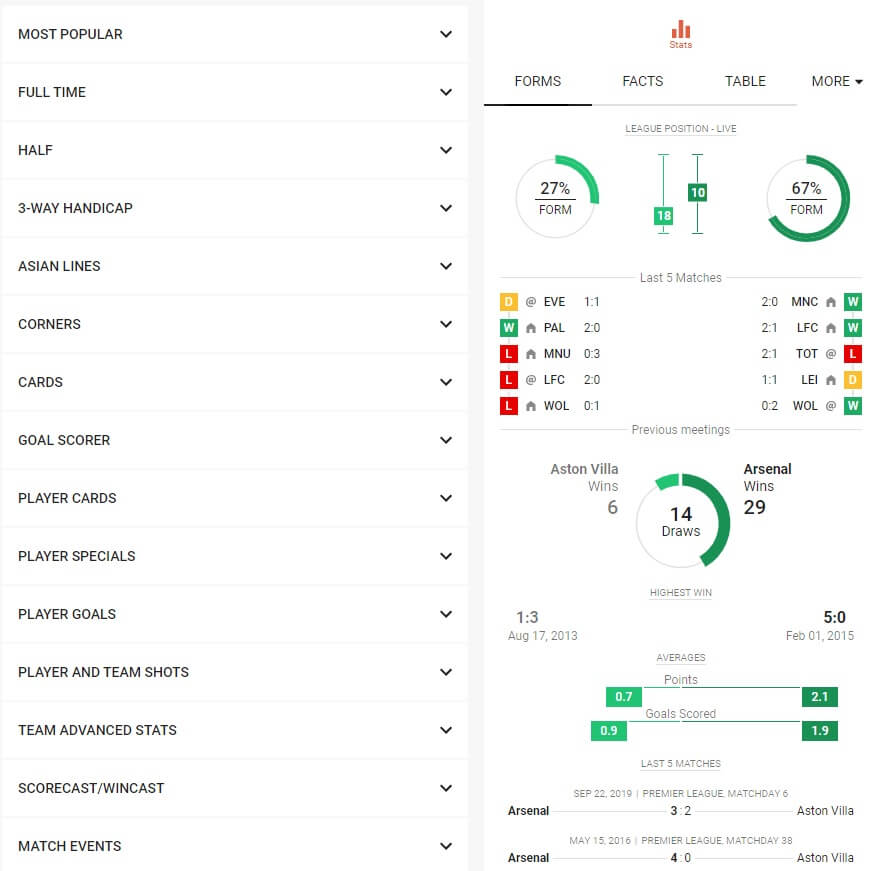 On the left, we have dozens of drop-down menus, which represent betting markets. If you open the Most Popular menu, you can see fixed bets, like 1, X, or 2, as well as betting on the number of goals, and other popular options.
However, if you want some "exotic" bets, you can bet on many factors, such as cards, goal scorer, player goals, match events, Asian lines, 3-way handicap, half, full time, etc, etc.
LeoVegas Sports justified its love for football, especially in terms of the betting interface, which looks quite good. Just take a look at the right. We can see statistics, facts, tables, and other in-play statistics during the match.
If you transfer over to tennis, you'll be greatly disappointed, as the bookmaker offers literally one betting market. You can bet on the winner of the match and that's all. No sets, games, or points – nothing!

What about boxing? Well, LeoVegas Sports will give you an uppercut to the jaw once again. You can bet on the match outcome, but also Draw no Bet, where the site seemingly hasn't sorted out the odds on one of the participants.
We wanted to give LeoVegas Sports a chance for redemption in this review and tried to bet on chess.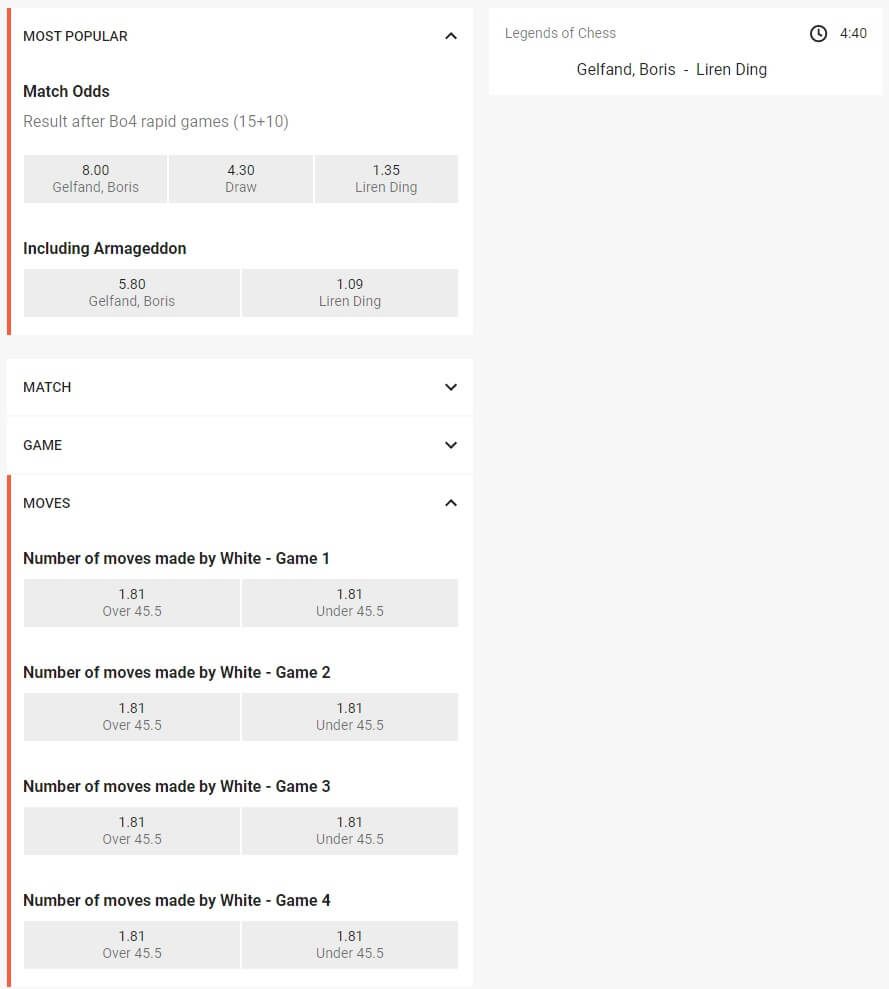 Chess players have a lot to look forward to. Not only you can bet on the outcome but also different parts of the match, such as the number of moves, or Armageddon. A few betting markets related to the Game and Match are also here, giving you a great chess betting experience.
Still, we're baffled at how bad this bookmaker is in terms of betting markets. For more in-depth betting, we recommend 888Sports instead.
The Odds at

LeoVegas Sports

– Are They Competitive Enough?
The odds are probably one of the most important factors in betting. They determine the probability of a certain outcome to happen, but also the amount of money you can potentially win. Simply put, the higher the odds, the more money you're able to get.
Let's review the odds that LeoVegas Sports offers and see if they're competitive enough.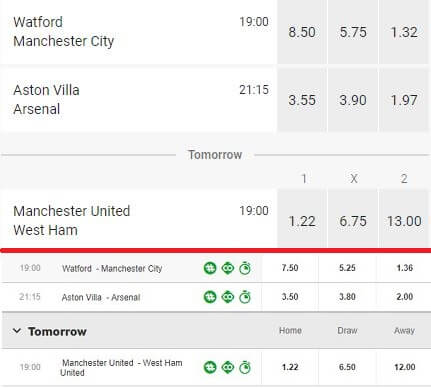 For this part of our review, we compared LeoVegas Sports odds with the odds that Betway offers. As many of you know, Betway is one of the best online bookies around, meaning that the bookmaker we review has a pretty hard task keeping up.
If we take a look at the odds above, we can see that LeoVegas holds its ground pretty well, even offering higher odds for some bets. In the three matches we checked, LeoVegas Sports actually had higher odds on average, but not by a huge margin.
This makes it a slight winner in this comparison, which is impressive. But then again, Betway offers a much more extensive betting market, making it way superior to this bookie.
LeoVegas Sports

Special Features
Every online bookmaker in the UK has a set of special features that users can take advantage of. LeoVegas doesn't offer anything groundbreaking but after all, that's what we've come to expect from it.
In-Play Betting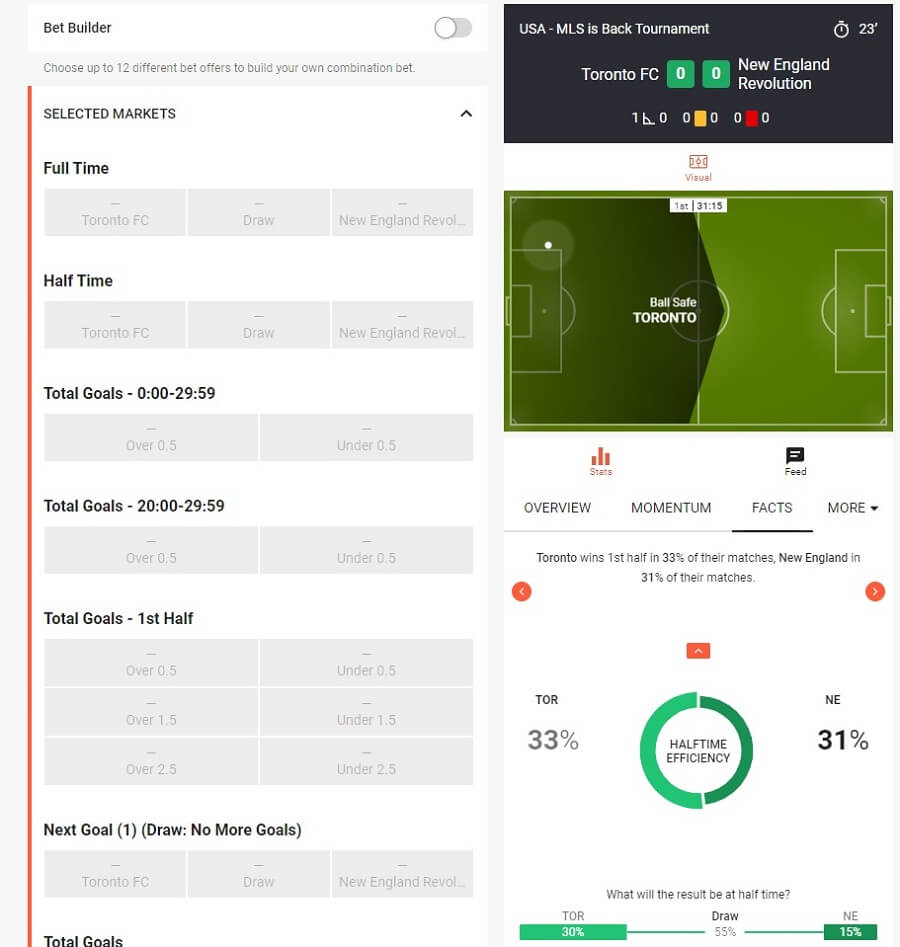 Live betting or in-play betting, as some call it, is the most popular type of betting. Here, you bet while the match lasts, trying to predict the next outcome. LeoVegas Sports does this great, allowing you to use many betting markets accompanied by in-depth statistics and overview.
There's no live streaming. However, you get something similar to it, that lets you follow the match's happenings in real-time. You can see when the ball goes out of the field, red cards, fouls, penalties, goals, and so forth.
We like what the bookie has to offer in terms of live betting,  but the addition of live streaming would be awesome.
Bet Builder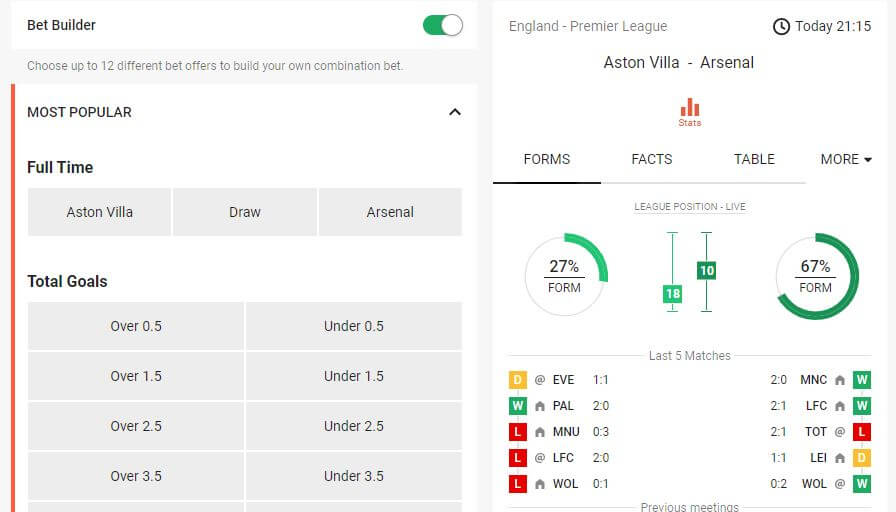 LeoVegas sportsbook offers one feature that's a must-have for us – bet builder. Bet builder can easily be enabled by using the button above the betting markets. Click on it and it'll turn green. Now that you've enabled it, it allows you to "chain" multiple bets together, creating unique odds and bets.
You can, for example, bet on the team to win, to score two goals in the first half, and one goal in the second half. All of this combined will give you the particular odds, which may be higher of those without a bet builder.
Sports Blog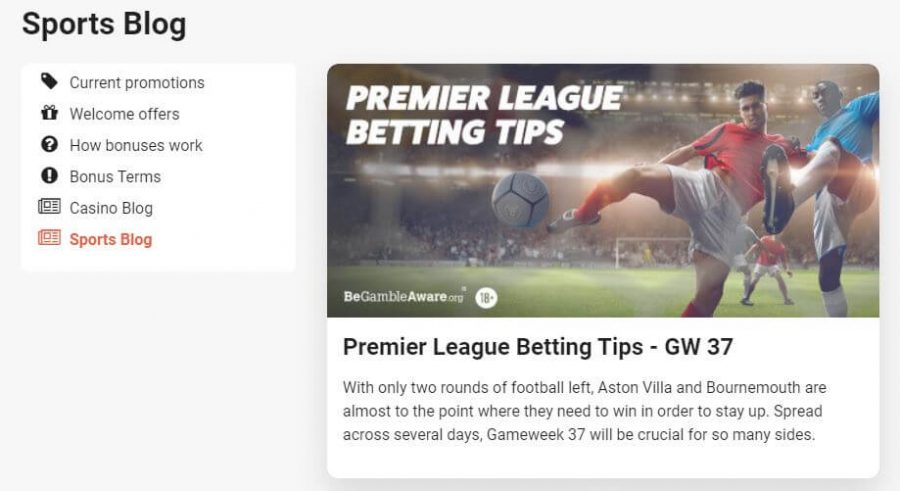 Lastly, if you want some time away from betting, you can read the sports blog on LeoVegas. This blog mainly contains sports betting tips and not so many news about different sports events.
We found it useful enough, but nowhere near Betfair blog, where actual players and fellow players write articles on a daily basis. Betfair's blog is much more engaging compared to this one, which is a bare-bones section designed to give you some leeway between betting sessions. Chances are that you won't give a rat's ass about it!
LeoVegas Sports Mobile Gaming Experience

LeoVegas Sports app is far from being the most popular on mobile platforms. In fact, it's available only for iOS, where it has a 5-star rating, but only 5 users rated it. Our experience showed that the app is very good and functions great on our iPhone 11.
We downloaded it, signed in, and immediately started betting. The app contains all the necessary options that you'd find on the website. Apart from the same betting markets, you also get in-play betting and bet builder for added convenience.
On the Apple Store, LeoVegas displays live streaming within the app, which is pure deception, as it's NOT available even on the PC. We like that the app allows for internet banking, meaning that you can withdraw or deposit your money on the go.
Also, if you have an iPhone with a Touch ID feature, you can log in simply by touching your fingerprint sensor – that's super neat.
How Fair and Secure is LeoVegas Sports?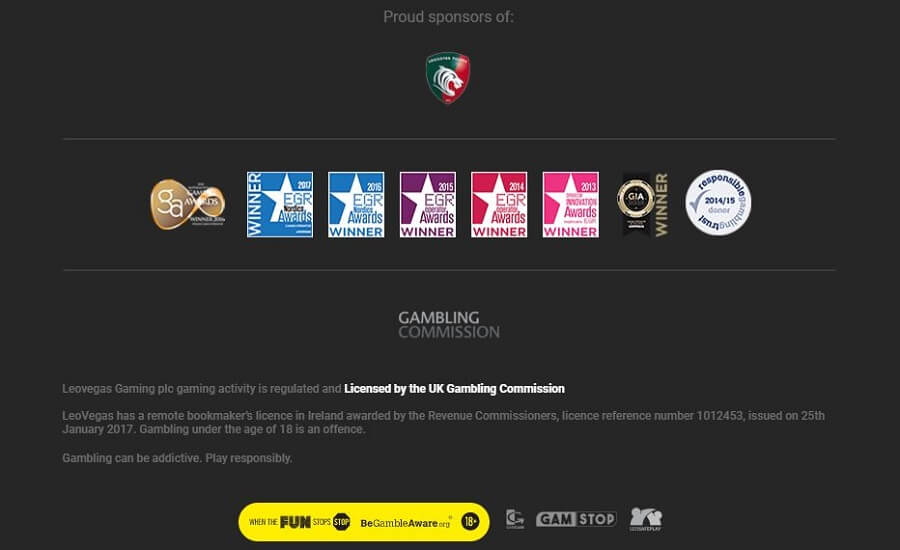 LeoVegas is an online bookmaker founded in 2013 and owned by LeoVegas International Ltd. This is a very popular gambling brand in the UK that also holds Royal Panda. As a reminder, Royal Panda isn't available in the UK anymore, so it circumvents its traffic to LeoVegas.
The brand behind this online bookie already has some experience in the field, which made it receive a license from the UKGC. Given its availability in Ireland, as well, there's a license from Revenue Commissioners, which the bookmaker received in 2017.
Furthermore, responsible gambling companies BeGambleAware and GamStop are here, fixing gambling addiction problems, if they occur. The brand has also received numerous EGR rewards for the best gambling operator, making it clear that we're talking about a safe, fair, and verified online bookmaker.
Loyalty Program
When a bookmaker doesn't have a loyalty program, that's usually countered with a multitude of promotions. LeoVegas Sports, as we saw, has only one promotion and a welcome bonus, which simply isn't enough to keep you going.
Needless to say, it doesn't have a loyalty program, which is a shame, given that it could make this bookmaker a tiny bit better. After all, this is a bare-bones bookmaker that does even the basic things not so great.
If you want a UK online bookmaker with a quality VIP program, our suggestion is again 888Sport.
LeoVegas Sports Customer Support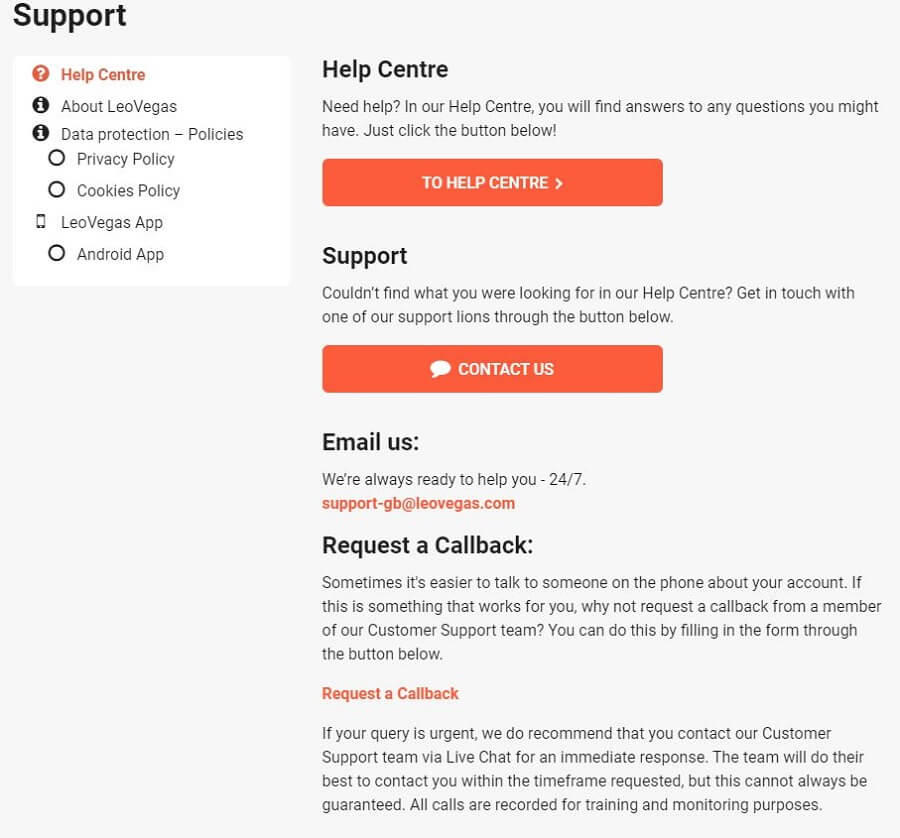 On the flip side, the bookmaker's customer support team is decent. You get two methods of contact – live chat and email. We like that you can request a callback, where the member of the support team will call you to fix the issues you have.
When using live chat, LeoVegas Sports will respond pretty much instantaneously. We had to wait for around 30 seconds to get a response, which is exactly the purpose of this functionality. Many bookies will show you the live chat widget, only for it to be a contact form. Here, it's genuine.
The support team is available 24/7/365. This means that you can contact it even in the middle of the night, should you encounter any problems with the site or betting.
What do Other Users Think About LeoVegas Sports?
A review is just an opinion about a certain product, software, or whatever it is. Sure, one review may have some credibility, but it's always great to hear what other people think about the product you're reviewing, LeoVegas sportsbook in this case.
Our main source of reviews and feedbacks is Trustpilot, where thousands of users review online bookmakers on a daily basis. What we found about LeoVegas as a brand isn't very pretty.

Relatively new feedback implies that this online casino might be a scam. Allegedly, they use your deposited funds to purchase "things" from other companies, which is exactly what this user explains. He intends to take legal actions against the bookmaker as a result, so in the future, we might see evidence about it, or lack thereof – the time will tell.

Just when we thought that this was a unique bad review, we have another one regarding LeoVegas that's quite similar. This user posted his feedback just a day before the one above, saying that the bookie doesn't pay your winnings and steal money from your bank account.
LeoVegas has just 1.9 stars on Trustpilot, making it one of the worst-rated bookies in the UK.
Conclusion – Should You Bet on LeoVegas Sports?
With everything we said about this online UK bookmaker, it's time to conclude our comprehensive analysis of it.
LeoVegas Sports is a painfully mediocre online bookmaker that doesn't offer anything to look forward to. Its welcome bonus is generous enough, and luckily, it's not hard to wager. But, as soon as you spend your welcome bonus, you'll find that nothing special awaits you.
The promotions are practically non-existent, there aren't many betting markets and the withdrawal times are very slow. In short, we don't recommend playing and betting on LeoVegas Sports. A much better option is 888Sport, which is our favorite UK online bookmaker.
How to Register on LeoVegas Sports?
Registering on LeoVegas Sports is very simple. Actually, it's exactly like registering on LeoVegas Casino. The account on the casino allows you to access the Sports section and vice versa. Let's review the process in short.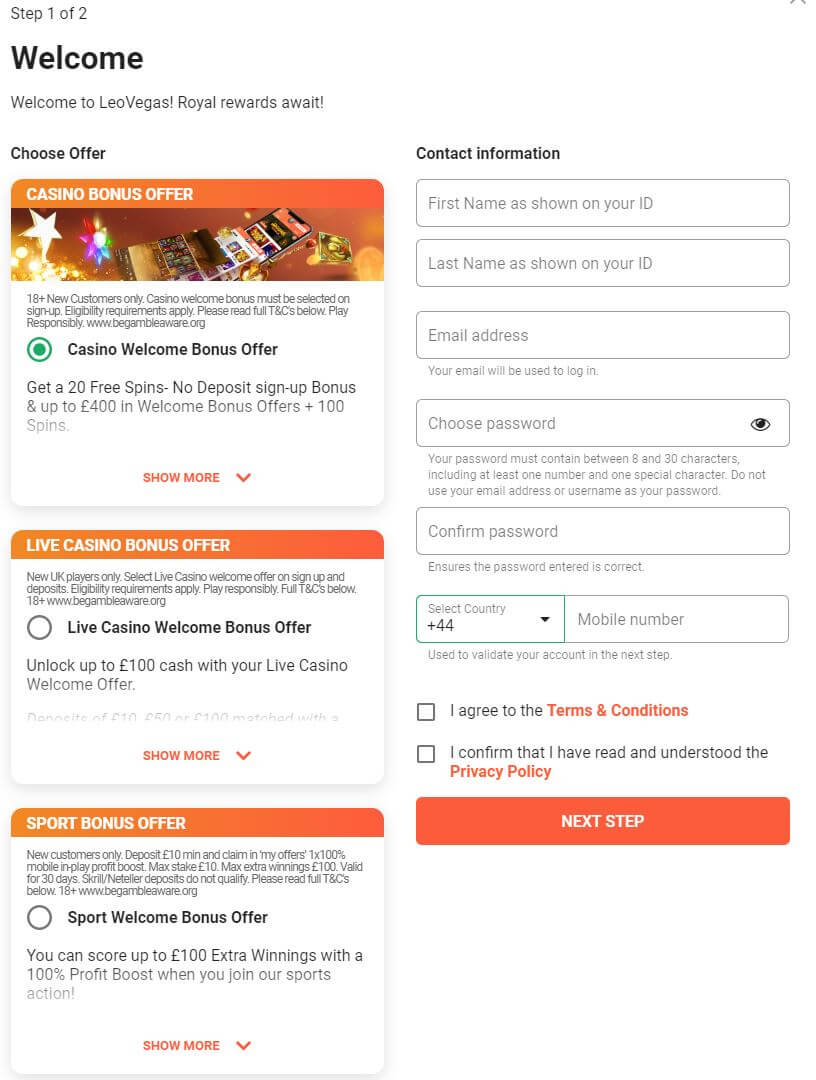 Once you click on the Registration button on the home page, the initial registration screen will appear. On the left, you can choose which bonus you want, or if you don't want a bonus, you can just skip this part altogether.
In this step, you'll need to enter your full name, email address, password, and a mobile number. The mobile number doesn't have to be necessarily from the UK, as the site is available in a few other countries as well.
Just be careful that it's really your number and that your name is the same as in your national ID. Once you fill in the info, just click Next Step.
This is where you need to be 100% honest because this information is needed for the verification process later on. One way you can do this step is by typing your postcode. The site will then automatically find your address and you can finish it in a few seconds.
If not, manually entering your address is possible, but be careful to make it congruent with the info in your ID. After that, type in your date of birth and choose your gender. Click on the Next Step to finish.
As you can see, this process is very simple, but you need to verify your account afterward.
Verification Process – What Do You need?
Verification is, for the most part, the same on every UK online bookmaker. LeoVegas Sports makes things easier by explaining the process and the required documents.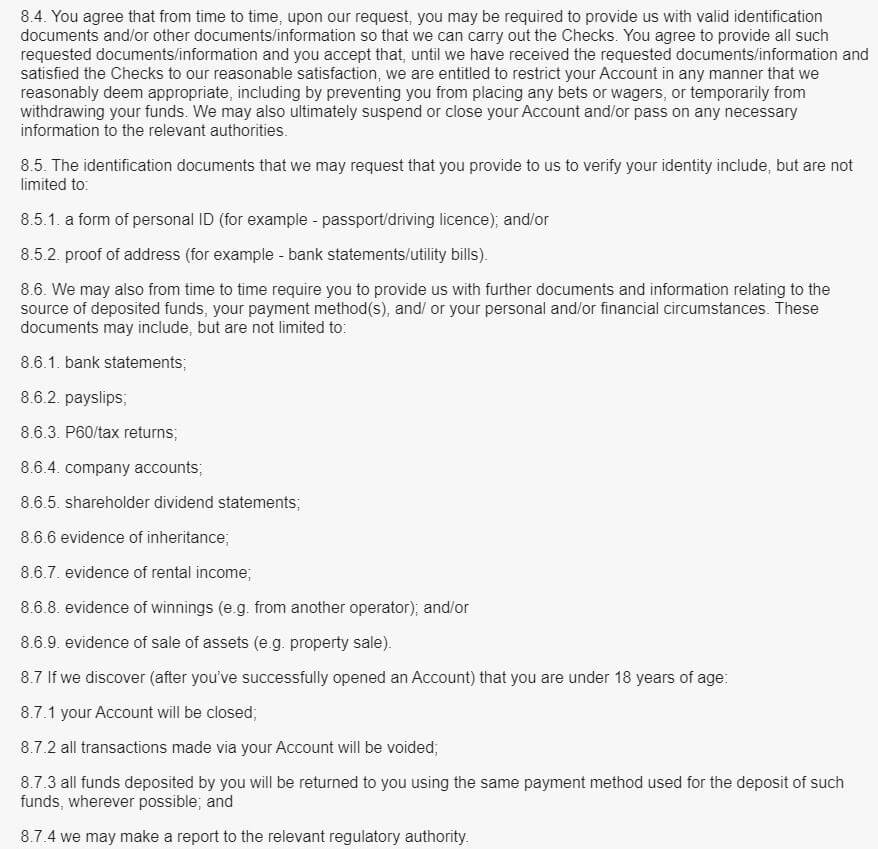 The two basic types of verifications are:
Age verification (you must be 18+)
Address verification
If you successfully pass these two, everything else will be a breeze. Verifying your age can be done via one of the three documents:
National ID
Passport
Driving license
On the other hand, address verification can be done with the following documentation:
Bank statement
Utility bill
Make sure you take a few quality photos of each so that the support team can easily verify the account. Should the issues arise or they need more info, they'll want some of the documents from the image above.
But, in most cases, you won't have any issues if you were genuine during the registration.
Remember – verification is mandatory for being able to deposit and withdraw money. Without it, an online UK bookmaker can terminate your account and give you a permanent ban.
FAQ
To wrap things up in this in-depth review, let's answer some of the frequently asked questions related to LeoVegas Sports:
⏳ How long do withdrawals take on LeoVegas Sports?
Withdrawals on LeoVegas Sports take anywhere from 3 to 5 days, which applies to almost every payment method that the bookmaker offers.
💰 Are there any withdrawal fees on LeoVegas Sports?
No, there aren't, regardless of what payment service you're using. However, if you want to withdraw money more than 3 times in a month, the site will charge you £3.
📌 Who owns LeoVegas Sports?
LeoVegas is owned by a Swedish company called LeoVegas International Ltd. It's a company founded in 2011, with a few gambling operators under its ownership.