Paddy Power is one of the best Irish online bookmakers out there. Since its inception in 1988, the bookmaker did things differently and led its business in a unique way. Today, the company is closely tied to Betfair, which was one of its biggest rivals from the United Kingdom. With relatively competitive odds and interesting promotions, Paddy Power might be an interesting station for those looking for a new online bookie. Our comprehensive review of Paddy Power is below, so strap yourself, and let's delve into it!
Paddy Power Welcome Bonus – Is It Generous?

As always, we like to start our review with the welcome bonus. After all, it will probably be the most important thing for you when you sign up for an online bookmaker. Welcome bonuses are an excellent way of enticing new players into betting on your website, and these experienced betting sites know that.
Paddy Power is no exception, offering the Irish version of a welcome bonus. We can see that the bookmaker offers a welcome bonus in the form of free bets, up to £10. Only deposits via credit/debit cards and Apple Pay are accepted, so you can pretty much forget about using PayPal or Neteller for this purpose.
To be eligible for a welcome bonus, you must be located in Ireland or the United Kingdom first. Let's review other welcome bonus conditions imposed by Paddy Power: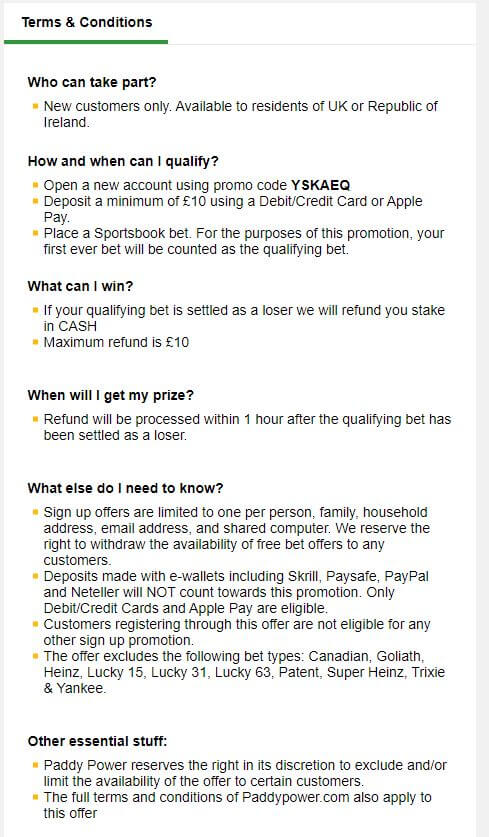 If you want to get a welcome offer, you'll need to use the promo code YSKAEQ. Type it in upon registration, and the bookmaker will immediately allow you to claim the promotion, once you fulfill the basic requirements. Now, the question is – what are the basic requirements?
First of all, you'll need to deposit at least £10. Then, you need to place a qualifying bet, and if it loses, you get up to £10 in cash, depending on your stake. The good thing is that Paddy Power counts your first ever bet as a qualifying one. No needs to worry about the odds or other conditions.
Simply choose the match you want to bet on, place a bet, and hope for the best. We must mention that the bonus applies only to your first bet. If it wins, you have NO chance of getting the bonus again.
Oh, and Paddy Power also doesn't impose any wagering requirements, meaning that the welcome bonus and its related winnings are yours to take.
Paddy Power Promotions – Are There Some?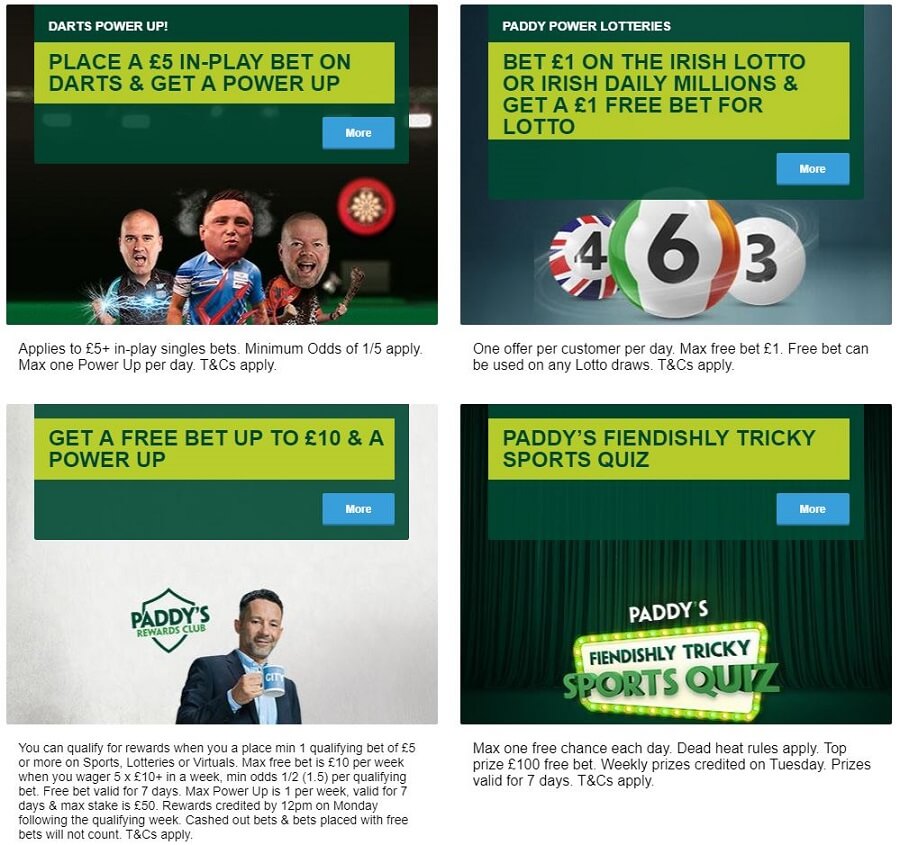 Paddy Power is a great UK bookmaker for a reason. Actually, for multiple reasons. Apart from its welcome bonus that is easy to get and wager, the bookmaker offers a multitude of different promotions. We got promotions related to darts, Lotto, and even the bookmaker's Sports Quiz, called Trivia. Let's take a look at some of the promotions we liked the most.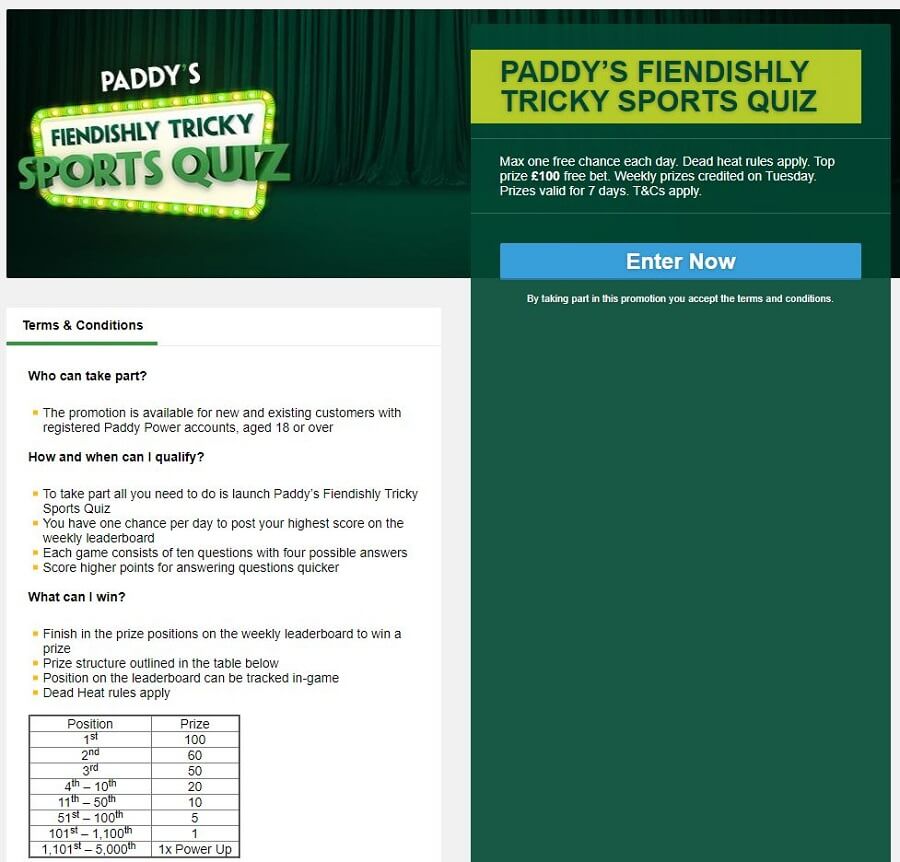 If you're tired of betting at some point, you can play a completely free Sports Quiz, yet still earn a reward in the form of CASH. How to apply for this promotion? Well, just play Fiendishly Tricky Sports Quiz, and if you're good enough, you have the chance to win some serious rewards.
This quiz gives you a couple of games, where each game has 10 questions with 4 possible answers. You gain score not only by answering right but also by answering fast. Should you become the best on the weekly leaderboard, you can earn £100 in free bets. We can see that players on the much lower places can also get prizes, although they're not very generous.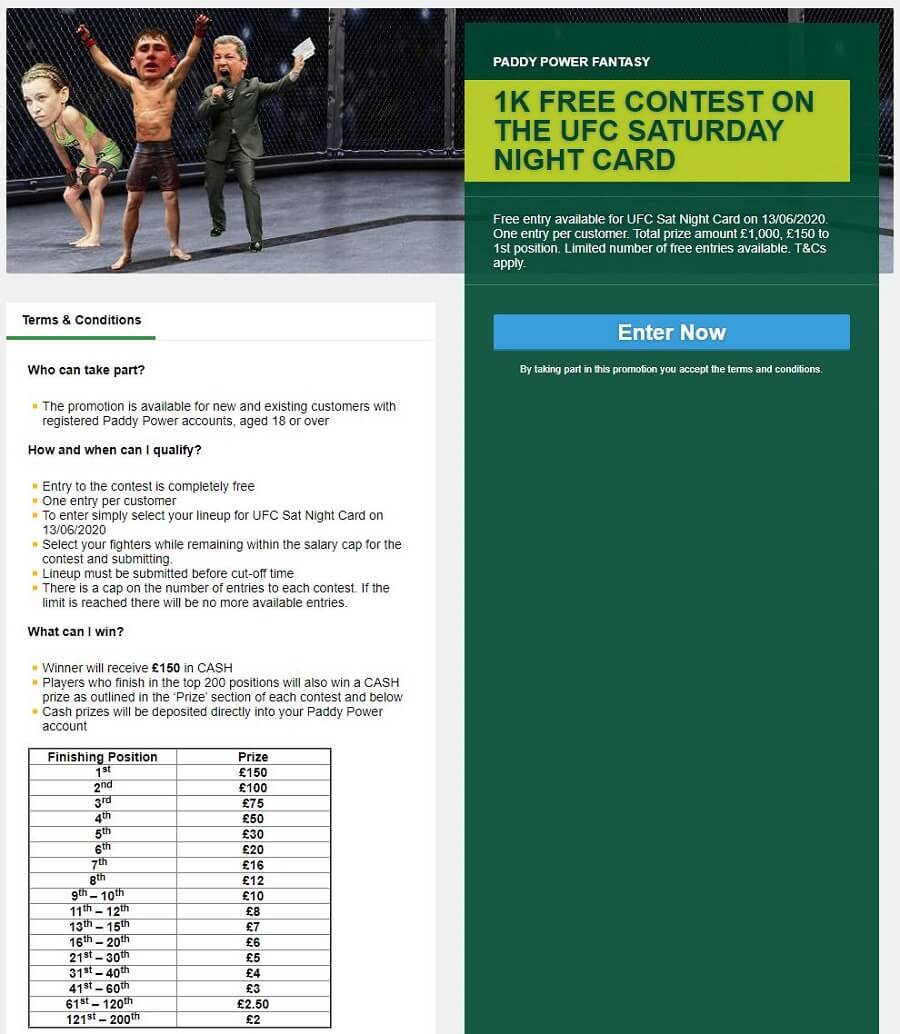 Do you love betting on UFC? That's a kinda bloody sport (pun intended), but people tend to love it for that. What a twisted race!
Nevertheless, Paddy Power gives you an excellent offer – pay attention.
To opt-in for this promotion, you need to select a lineup for UFC Sat Night Card that will transpire on June 13th, 2021. This is a current promotion, at the time of writing this Paddy Power review, just so you know. A winner in this promotion will earn £150 in cash, while second and third places win £100 and £75 respectively.
Paddy Power is generous when it comes to promotions and a welcome bonus, which is already a good sign. There are a few more promotions on the website, but we'll not discuss them. We suggest you take a look and see if there's anything you like.
Deposit/Withdrawal Methods and Limits
Since you probably bet and hope to earn some good cash, we need to talk about money. At Paddy Power, money spins like a roulette table, given the magnitude of the bookmaker. It doesn't serve just Irish residents, but also thousands of UK-based players. As such, it must have tons of payment methods to make sure that every player can use it effortlessly.
We visited its FAQ option and found the bookmaker's payment options:

In the FAQ section, the bookmaker offers information for every payment method, as well as withdrawal/deposit limits and times. We like it when the bookmakers do something like this. It immediately tells you how good the particular method is and if you should use it as your primary means of payment.
Credit/debit cards are on the list, accompanied by Skrill, Neteller, PayPal, Bank Transfer, Paysafecard, and many more. The most popular payment methods are E-Wallets and credit/debit cards, so we'll talk a bit more about them.
The minimum deposit for all payment methods is £5 and deposits are instantaneous, except in the case of Bank Transfer, where you can wait up to 5 working days. Logically, this is NOT our recommended option for deposits.
What about minimum withdrawal? Well, Paddy Power lets you withdraw as low as £0.01 or £1, in the case of Neteller and PayPal. Bank Transfer is the most inferior method here, with the minimum withdrawal of £10 and withdrawal times of up to 5 working days.
Neteller and PayPal are the best in this regard, completing your withdrawal in 4 to 24 hours, which is extremely fast.
Also, the bookmaker doesn't impose any fees for your withdrawals and deposits. So, whatever the sum of money you withdrew or deposited, it remains yours, with no cuts.
Paddy Power Betting Variety
In the betting world, Ireland and the United Kingdom are virtually the same. They both adore football matches and horse races. Even if you're not from this country, you probably love the thrill of watching a high-octane football match or intense horse race. Despite that, the bookmaker treats all sports equally, making even the players from abroad feel welcome.
Here are all the sports you can bet on Paddy Power: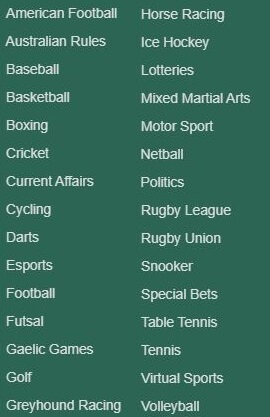 When compared to Betfair, Paddy Power is definitely inferior. It offers 30 sports, whereas, Betfair offers slightly more. That's not a big deal, though. This sports variety is still good and even if you're a demanding player, you probably won't complain a lot.
Aside from football and horse racing, the bookmaker offers golf, futsal, boxing, netball, table tennis, virtual sports, and so forth. We like the addition of politics, lotteries, and snooker, as well.
While all the sports are pretty much equal, some of them jump ahead of the pack. Is that football? Well, yes. One of them. Paddy Power is a rest haven for football lovers, offering more than a dozen leagues and competitions.
Betting Options
To prove its worth, Paddy Power will need to give us plenty of betting options. Betting options are the number of bets that you can place on the match or a game. The more varied bets the bookmaker has, the better it is. We'll review betting options for football, and after that, we're going to take a look at two more examples: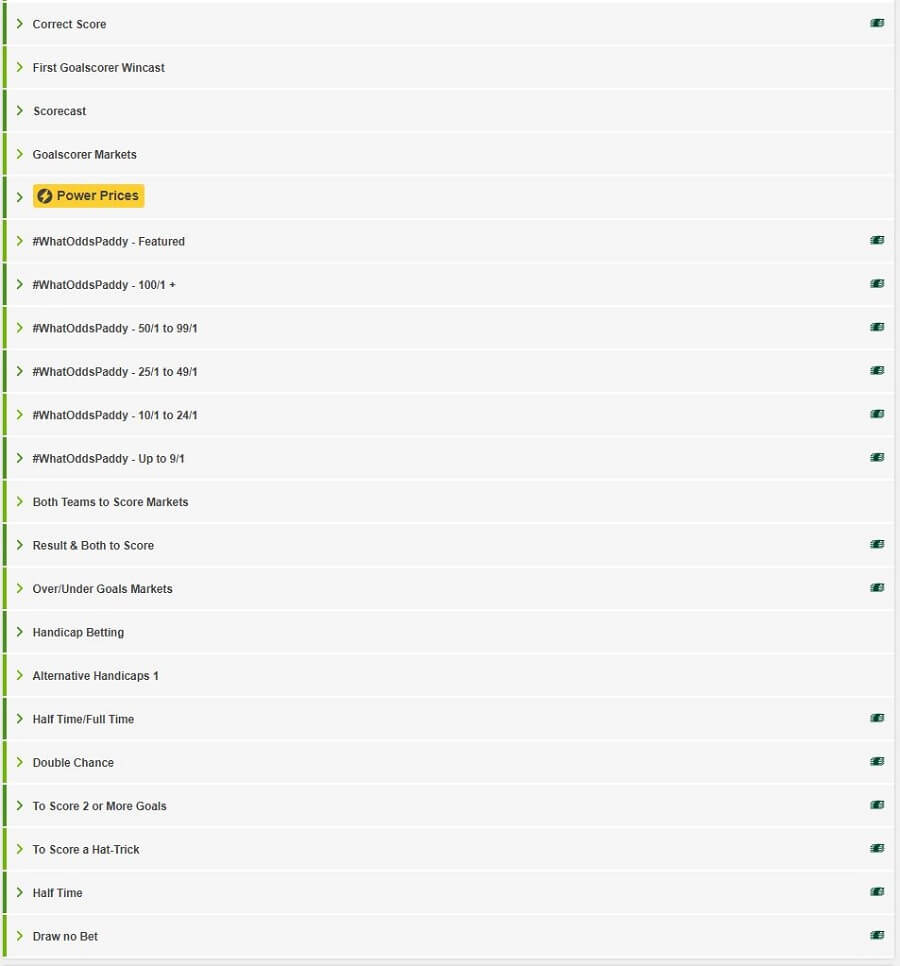 This is all you get if betting on football is your thing. Before you say it's not impressive, just look at the list. You can bet on the correct score, handicap betting, double chance, half time, draw no bet, both teams to score, and so on. Football lovers will appreciate so much variety that can help them win more money with a unique bet.
A while ago, we mentioned UFC. This sport also got special treatment on Paddy Power. And when you think about it better, why wouldn't it? Ireland has one of the best UFC fighters ever – Conor McGregor!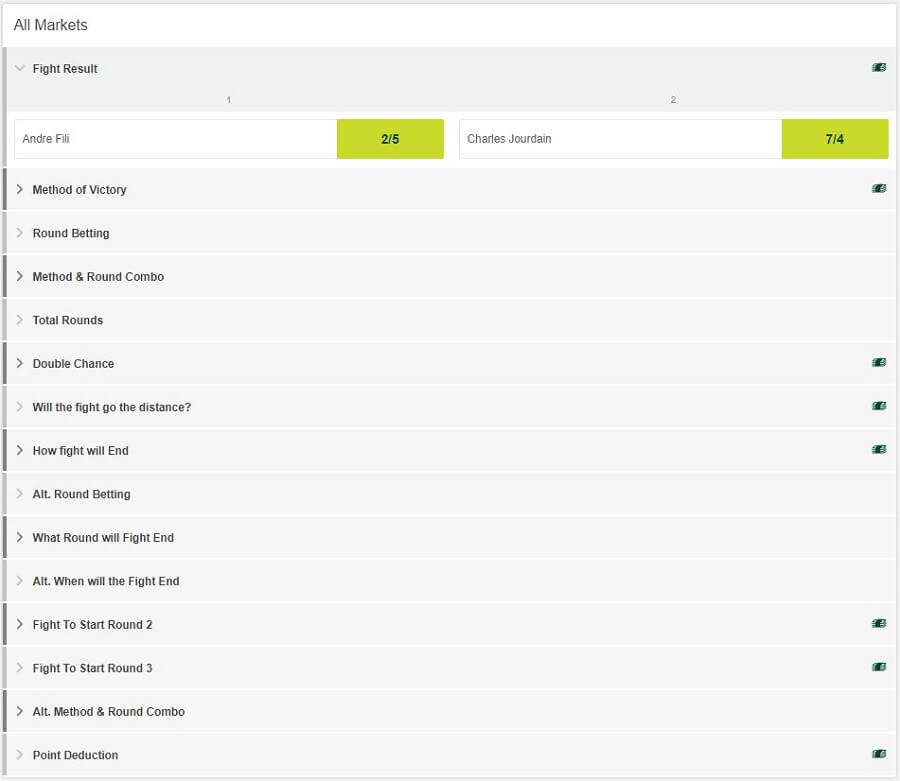 Paddy Power will knock you out of your chair with all the options at your disposal. You can bet on the method of victory, double chance, total rounds, the end of the fight, etc. We like that you can bet on the rounds, too. For example, one fighter to win the first round, and another to win the second. Or point deduction, for that matter.
You can try to guess which fighter will be bereft of a certain amount of points.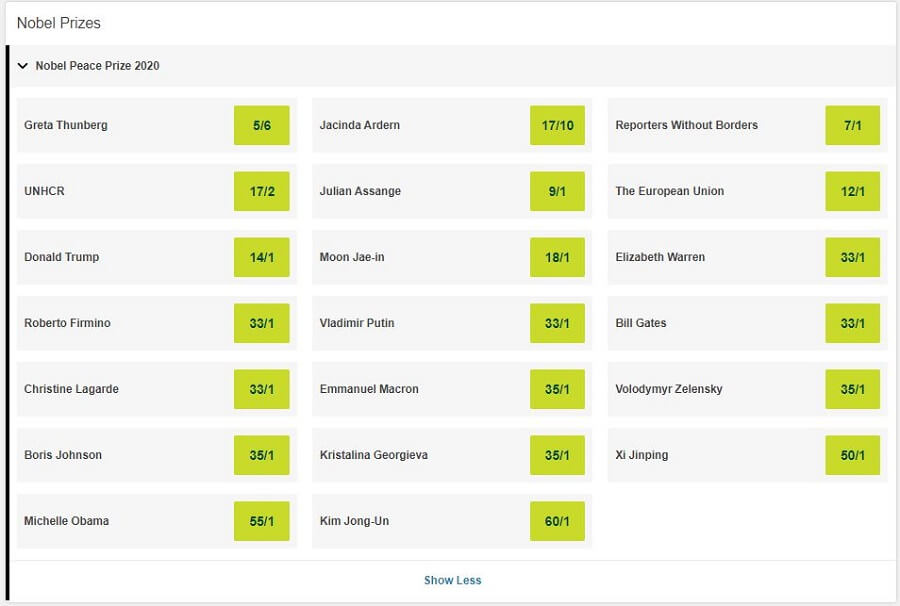 We found it amusing that you can bet on the next person to get a Nobel Prize. Bill Gates, Donald Trump, and Vladimir Putin are all on the list. Michelle Obama is here, as well. Can she follow in her husband's footsteps and get this prize? Try to guess, and if you do, you'll win some big money, given how big the odds are.
All in all, betting options at Paddy Power are abundant and you won't have any issues enjoying it in the long run.
The Odds at Paddy Power – Are They Competitive Enough?
For a bookmaker to sustain its power on the market, it must have competitive odds. Without decent odds, your business is going to fall apart, as you'll be overshadowed by the fierce competition on the UK betting landscape. Paddy Power isn't exactly a synonym for high odds. However, it's also not notorious for non-competitive odds.
We decided to compare it with Karamba, a UK bookmaker with really good odds, to see how well it stacks up: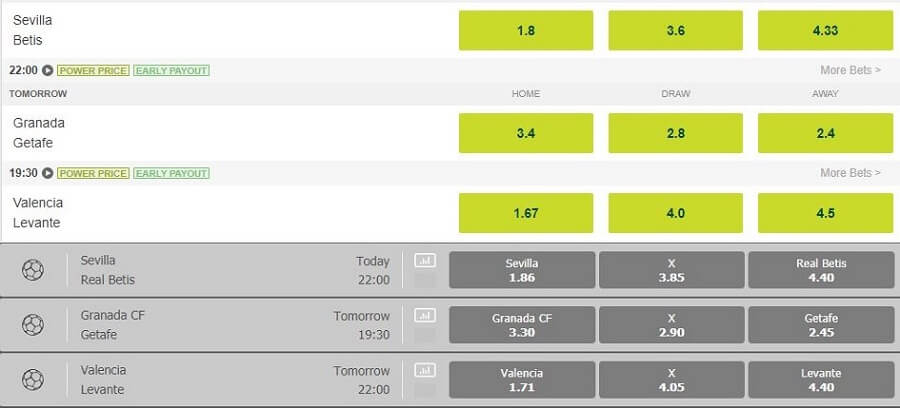 Primera is a very exciting football league where you can always find some decent odds. Both Paddy Power and Karamba armed themselves with high odds, so it's going to be a good battle. In the first match, Karamba takes the round, with slightly higher odds on all 3 outcomes. The difference here goes up to 0.25, which isn't negligible.
In the second match, Paddy Power loses but has bigger odds on the first outcome. Lastly, Paddy Power has higher odds on the third outcome in the third match, while Karamba takes the rest.
When we compare it to Karamba, it seems like it doesn't have competitive odds. But, on the grand scheme, that's actually not true. Karamba has very good odds overall and keeping up with it is always impressive. Since it's not better than this bookmaker, though, we can't say that Paddy Power has the most competitive odds on the market.
That title still goes to 888Sport.
Paddy Power Special Features
Does Paddy Power have any special features? Sure. Let's review them and see what's good about them.
Live Streaming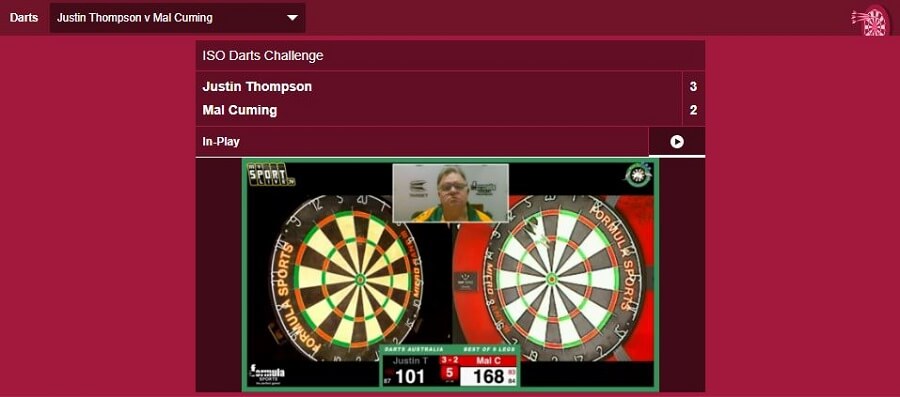 Live streaming is a feature that most high-end UK online bookies offer. The thing is that almost all of them require to have either a positive balance in your account or place a bet in the last 24 hours. Paddy Power isn't like that. It's more generous, requiring just to register an account, and you're good to go.
No need to verify or deposit any money. As soon as you register, click on Live Streaming, choose the sport that's available, and enjoy. You can see that we tried streaming darts, but sports like football, horse racing, and greyhounds are also available.
Power Prices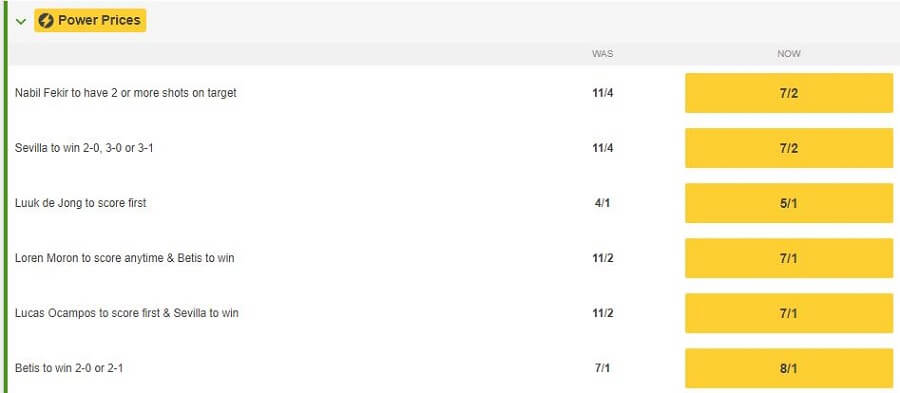 Power Prices is a fancy name for a bet booster. But, as we always say, we don't care about fancy names as long as the features behind them work as intended. At this online bookie, Power Prices are really a game-changer. In the image above, you can see that the boosts are pretty significant. When we convert the first odds into decimal odds, the difference is 0.75, for instance.
That's all but a negligible difference!
In-Play Betting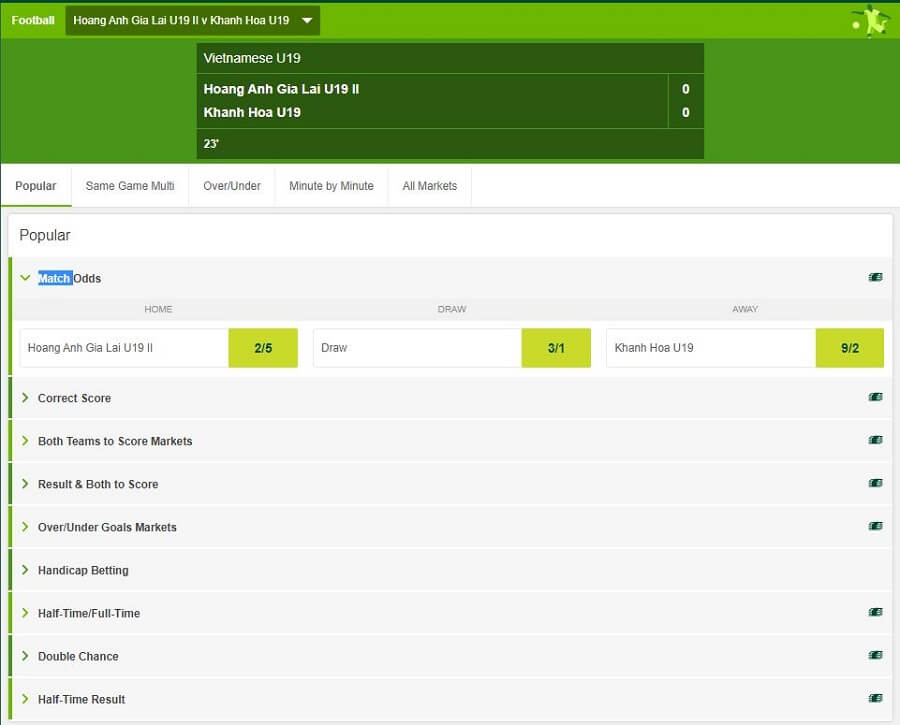 When done correctly, live betting is more enjoyable than your classic pre-match betting. Paddy Power isn't the best bookie for live betting we saw. The interface here is pretty uninspiring and you don't have the graphics that display when it's a corner, foul, out, or a goal. You can just see the results and that's all.
The good thing is that it functions well, but on the other side, the experience is much less immersive due to the things we mentioned now.
Before we move to the next section of this Paddy Power review, we must say that we're surprised by the lack of a bet builder. Every UK-based bookie has it, yet Paddy Power doesn't. Such a shame.
Paddy Power News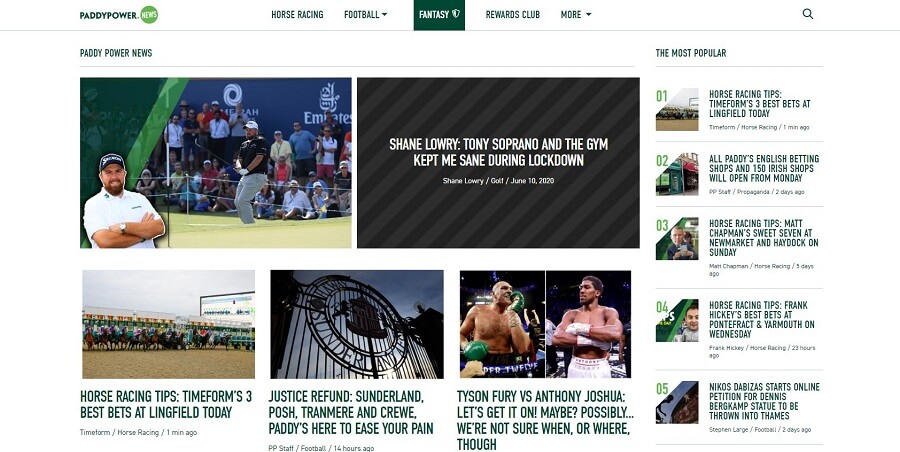 If you want to take a break from betting, the bookmaker offers a special section called Paddy Power News. Here, you can read more about sports in general and get some betting tips, to make your betting more lucrative. It's similar to Betfair's blog, and while it's not better, it's serviceable for those who want a more fulfilling experience on this site.
Paddy Power Mobile Gaming Experience
Mobile betting took off when more powerful mobile hardware emerged. A few years ago, our phones were clunky and small. Nowadays, with 6+ inches of screen, we can sit back, relax, and bet on the fly. Paddy Power has an impressive app on the Apple Store, with 91.7K ratings, and almost a 5-star score. You can also find the app on Google Play, but this one is a bit more optimized and works flawlessly.
The app looks basically like the website. To find the sport you want, you open the side menu, and all the betting markets show up on the screen. From there, you can click on the bet you want to place, which is then added to your bet slip. Since the app is very versatile, it allows you to deposit and withdraw money from the phone, so you can freely place bets.
Moreover, the Paddy Power app allows for live streaming and also has power prices, so you can enjoy boosted odds even on a small screen.
How Fair and Secure is Paddy Power?

Being established in the past century, Paddy Power operates successfully even to this day. This speaks volumes about the bookmaker and tells us about what kind of company we're talking about. We can see that multiple Responsible Gambling companies work with the bookmaker, such as GamStop, and When The Fun Stops. Furthermore, two betting licenses are there – from MGA (Malta Gaming Authority) and UKGC (the United Kingdom Gambling Commission).
For security, Paddy Power uses 128-bit SSL encryption, making sure that your data never gets into the wrong hands. With all being said, Paddy Power is a fair, secure, and verified online bookmaker in the UK.
Loyalty Program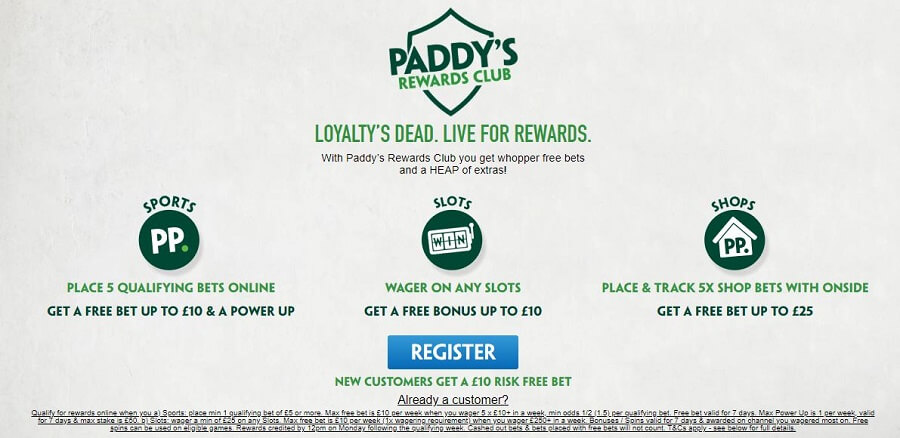 Does Paddy Power have a loyalty program? Well, we think that the image above speaks louder than words.
"Loyalty's Dead. Live For Rewards." – said Paddy Power.
The bookmaker calls its loyalty program Reward Program. Those who bet on sports have the chance of winning up to £10 and a power-up if they place 5 qualifying bets online.
Should you decide to opt-in for promotion, you need to know certain conditions:
To qualify for the promotion, you'll need to place at least one bet of £5 or more. You can also go for 5 bets of £5 or 5 bets of £10. The maximum free bets you can win is £10 per week, as well as 1 power-up per week. Wagering requirements are here, too, so you'll need to wager 5 x £10 in a week, and place bets on the odds of at least 1/2 (1.5).
Bets under the aforementioned odds won't count towards wagering requirements. Once you successfully wager the amount of money, you get £10 in free bets. A promotion like this is surely welcome, but the bookmaker could've gone easier on the players. Wagering your money 5 times isn't an easy task and you receive just £10.
Paddy Power Customer Support
Catering to your players' needs is one of the things that many online bookies try to do. You can't always help everyone, but the goal is to make every player feel like home. Paddy Power, for that reason, offers multiple means of contact – there's phone support, email support, live chat, and even a Twitter account.
Phone support is for more urgent issues, and logically, it's the fastest method. Then, we have live chat, where the support team answers in about five minutes. It's used for mild issues, but it's a very good option for those who need help with something urgent.
Email support is the slowest, and here, you'll get a response in less than 24 hours. The Twitter account is a decent addition, but writing there is a gamble, given that the profile isn't always active.
Support is available 24/7, on the brighter side, and it's helpful enough for fixing issues or just answering questions about the company in general.
What do Other Users Think About Paddy Power?
Paddy Power isn't the most respectable online bookie in the UK, which we can see in the Trustpilot reviews. It has an aggregate score of 1.5 stars, based on 1,161 reviews. Nevertheless, we're going to take one good and one bad review, and see what's it all about. Here's the good one first:

This user is completely satisfied with the bookmaker. He mentions that customer support is great, and praises the sports selection and the odds. Despite having a few issues with withdrawing his funds, the service agent successfully fixed them, making him give a 5-star review to Paddy Power.

On the other side, we have bad reviews like this. The user complains because he/she can't win anything anymore, which isn't a credible reason for giving a particular bookmaker a bad review.
Needless to say, not all the reviews are like that. People on Trustpilot complain about a plethora of things, ranging from customer support to odds, which aren't the best on the market, as we said.
Overall, Paddy Power isn't the most respected UK bookmaker online.
Conclusion – Should You Bet on It?
It's time to give this review a proper conclusion. Paddy Power is by no means the best online bookmaker, but at the same time, it's far from being the worst. We liked its welcome bonus, a multitude of payment methods, and lots of sports to bet on. However, it feels as though something is missing here. The odds aren't the best and features like Bet Builder are missing.
We'd say that Paddy Power is worth betting on if you're not the most demanding player. But, if you want the best possible online betting experience, we'll gladly recommend to you 888Sport.
This online bookie has fantastic odds and all the special features you'd expect from it.
How to Register on Paddy Power?
If you're still hell-bent on registering on this site, here's how to do it in a single step.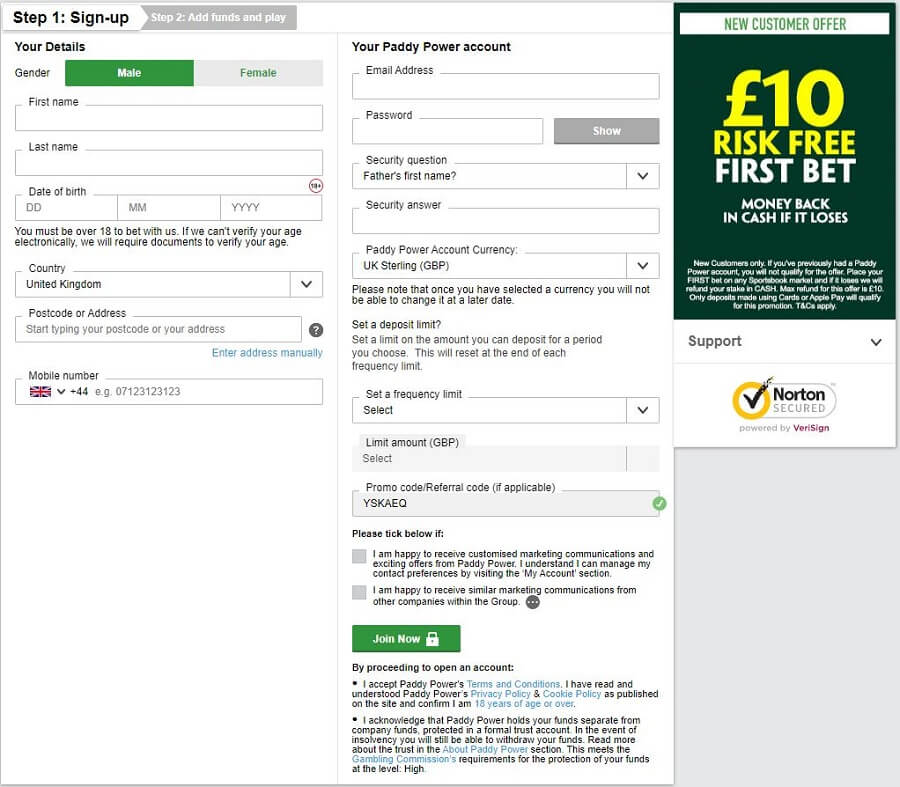 If it looks familiar to you, you're not the only one. The same registration screen can be seen in Betfair, the bookmaker we associated Paddy Power with, in our review. This is because both companies are owned by Flutter Entertainment, one of the biggest betting companies in the world.
In this screen, we see everything you need to become a registered user. Your full name, date of birth, country of residence, mobile number, password, email address, and so forth. After that, you just need to enter a promo code, choose a currency, and click on Join Now.
Verification Process – What Do You need?
After registration, Paddy Power will try to verify your account right away, based on the information you gave. In many cases, that's not possible, so you'll have to provide photos of particular documents. Here's how to do it: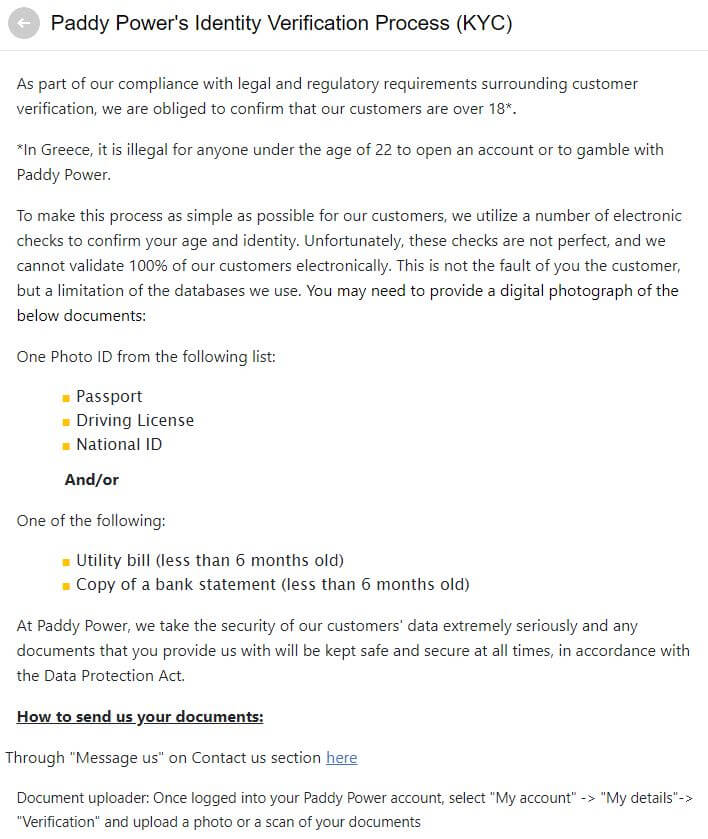 There are two types of verifications – identity verification and address verification. For the first one, you'll need to provide your passport, national ID, or a driving license. To verify your address, simply take a photo of the utility bill or a bank statement, not older than 6 months.
After that, visit the Verification menu, upload the documents, and the support team will verify your account in the fastest possible time.
FAQ
To end this review properly, let's answer some of the frequently asked questions related to Paddy Power:
? Who owns Paddy Power?
Paddy Power is owned by Flutter Entertainment, a company based in Malta.
? Can I use Paddy Power abroad?
It depends on the country you're located in. Despite being a UK bookmaker, Paddy Power is available in many other countries. If you're in a country that's on the list, you can use it abroad.
? Are Paddy Power and Betfair the same?
No, they aren't the same, even though they share some similarities. The parent company behind these two are the same, though – Flutter Entertainment. Generally speaking, Betfair is a much better bookmaker.