In today's day and age, we live fast and busy lives. Therefore, we don't have much time to spend in front of our computers. Gambling lovers who love being able to gamble wherever they are will be happy because of a multitude of gambling apps available for smartphones. Since not all apps are great, we're here today to give you our top 5 mobile casinos in the UK, with apps that will satisfy your need for gambling.
Best Mobile Casinos in the UK
Gambling and betting on your mobile devices is a joy, especially if you find the right casino that looks and feels premium. Without wasting a second of your time, we decided to give you our list of top choices right away.
And if you wish to stay after that, we talk more about mobile casinos in general, to make sure you're properly introduced to them before you start your gambling journey. Here are our top 5 picks for the United Kingdom:
1. Mansion Casino (iOS)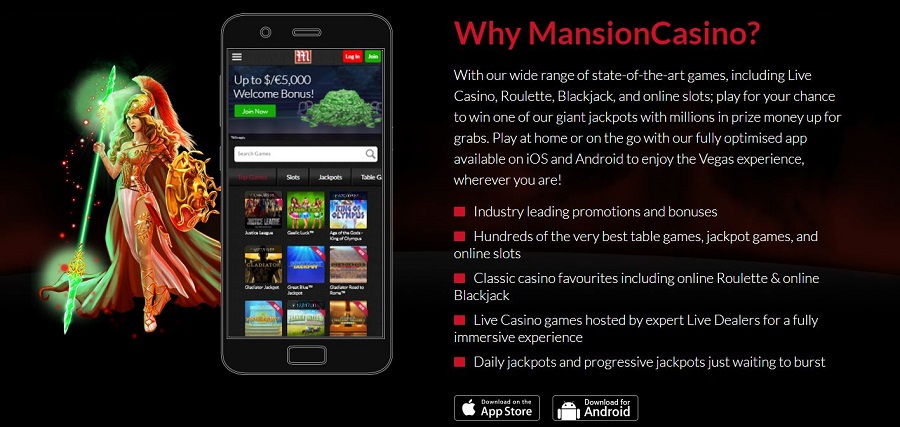 Mansion Casino is, for us, the best online casino in the UK, and not just for mobile platforms. This gambling operator offers the best online casino iPhone app, while Android casino users will have to be satisfied with the browser version.
Nevertheless, both versions of the casino are top-notch, offering a buttery-smooth gambling experience. You'll like that Mansion Casino offers a pretty hefty welcome bonus, which is one of the best in the industry. You get a 100% welcome bonus, up to £500, with only 20 times wagering requirements that apply only to the bonus.
Moreover, you get a high roller bonus if you deposit at least £1,000, in which case you can get up to £5,000 with only 15 times wagering requirements. Mansion Casino can also take pride in the number of games it has – 500+ of them.
Of course, mobile users get around 200+ titles, which is still an okay number. You get to play slots like Gonzo's Quest and Starburst, accompanied by popular roulette, blackjack, and poker titles.
Users who prefer having a lot of payment methods will jump in excitement when registering on this casino. Not only do you get PayPal and Neteller, but also Bitcoin as a deposit method. We're NOT kidding!
Mansion Casino works with the best game providers around, which is reflected in its games. Apart from Microgaming, there are NetEnt, Evolution Gaming, and many other companies. You'll surely enjoy HD graphics and high framerates, as well as live casino games that are as immersive as on the PC.
Enjoy Mansion Casino on Your Smartphone >
2. 888Casino (Android & iOS)

888 is a pretty big brand in the UK, and luckily, it's one of the most valuable. The brand started doing business more than 20 years ago, only to expand to multiple gambling branches a few years later.
Today, we have Casino, Sport, and Poker brands that dominate the UK gambling landscape with ferocious force. If you decide to register on it, even through your mobile phone, you'll be able to get a pretty good welcome offer. To be precise, a 100% bonus, up to £140, with 30 times wagering requirements.
Furthermore, there's a free spin no deposit bonus that will let you take 30 free spins for NetEnt games. Speaking of NetEnt, this is only one of the providers that make 888Casino's game come to life. Other companies include NextGen Gaming, Dragonfish, Barcrest, and a few more.
In terms of games, the casino offers about 300 games for PC users, while mobile users get slightly less than 200. You'll say that it's not an impressive number, which is true. However, the game variety is so good, that you'll quickly forget about that. There are tons of blackjack and roulette variants, accompanied by slots and progressive jackpots.
Mobile users will enjoy live casino games, but also video poker that yields some of the highest RTPs (return to player). And if you decide to cash out your winnings, 888Casino will let you use PayPal, credit/debit cards, Skrill, Neteller, and many other payment methods.
Its apps are available for both Android and iOS, although the iOS app is a bit better.
Gamble on 888Casino on Your Mobile Phone>
3. Betway Casino (Android & iOS)

Unlike many other casinos available in this country, Betway is a true UK brand. Proof that this brand is very valuable lies in its ranking on both Google Play and Play Store. With more than 4 stars on both platforms, you'll surely have fun with its intuitive and responsive app.
Betway Casino treats its players like kings, with great promotions and bonuses that will quickly suck you in. You get a 100% bonus, up to £250, with 50 times wagering requirements. This is far from being the best, but it's enough for non-demanding users.
One of the most impressive things about Betway Casino is its blackjack roster. With around 90 blackjack games, it's hard not to get impressed. Although it has "just" 650 games, the game variety is second to none.
There are titles like Tomb Raider, Mega Moolah, and Starburst, accompanied by live games, game shows, and variants of poker. Betway Casino doesn't offer the highest RTPs in the industry. But, on the brighter side, you get tons of payment methods and quick payout times of just 1 to 3 days.
The software provider here is Microgaming, a company that provides pretty much all of the casino games on this site. For those who don't know, Microgaming is one of the best companies in this industry, especially when it comes to developing HD games for mobile phones.
Lastly, if live games are your thing, you'll be happy to enjoy what Evolution Gaming and NetEnt have done. These games are intuitive, easy, and fun to play on a mobile phone – just what you needed on your beloved smartphone!
Register on Betway Casino Mobile >
4. PlayOjo (iOS)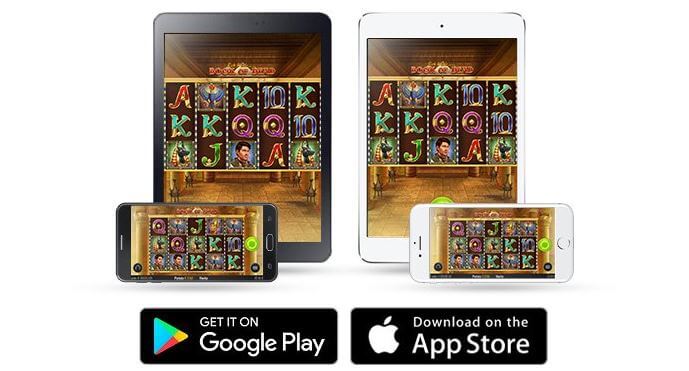 If you want our biased opinion, PlayOjo is one of our favorite casinos. Why? Because of its colorful interface that pulls you in the second you start exploring the website. Unfortunately for Android users, the app for their platform doesn't exist, despite what you see on the website.
But, the website is optimized pretty well for mobile use, so they can still get their hands on this outstanding UK online casino. iOS users, on the other hand, can enjoy a full-fledged app that offers all of the amazing features of the PC version. Except for all the games – logically.
In terms of games, PlayOjo outplays all of its competition. You get around 3,000 titles, packing mostly slots, but also jaw-dropping jackpots, table games, and arcade games. Mobile users will get about half of that number, which is still a pretty good, if not the best deal.
Now, if you don't like playing slots, PlayOjo probably won't be your cup of tea. Instead of cash, it gives you 50 free spins that you can get by depositing just £10. The good thing, though, is that there are NO wagering requirements – hooray! Everything you win will land in your pocket for you to spend or keep for gambling.
We said that Betway Casino doesn't offer the highest RTPs. Well, PlayOjo irons that out, with an average RTP of 96.9%, which is just 0.1% short of the industry-standard of 97%. Nevertheless, you'll quickly forget about that when you get an instant withdrawal with Neteller and Skrill.
iOS users will also be able to enjoy live casino games on a mobile phone. They're hosted by NetEnt and Evolution Gaming, which promises a great experience and lots of fun during your free time.
Get 500 Free Spins on Mobile on Play Ojo >
5. Grosvenor Casino (iOS)

If we talk about land-based gambling operators, Grosvenor trumps its competition easily. It has more than 50 locations scattered throughout the UK and a pretty good online gambling website. Sadly, it doesn't have an app for Android, albeit, its website is pretty optimized for this platform.
iOS, once again, is treated better, with an app that has more than 4 stars on the Apple Play Store. Not only can you play it on your iPhone, but also on your iPad tablet, which will give you a PC-like experience in terms of immersion.
Grosvenor Casino offers just around 250 games, give or take. The game variety isn't very impressive, but it's just enough to satisfy slightly more demanding gambling lovers. Titles like European Roulette, Classic Blackjack, Jacks or Better, and Starburst are here, with many other live casino games.
What you'll like here is the selection of jackpots, with daily, progressive, and mega jackpots that allow you to win millions of pounds. Mobile users will get around 130 games in total – far from impressive – which is one of the reasons we put Grosvernor Casino at the last spot.
There's another side of the medal and it's the average RTP that goes 0.15% above the industry standard – 97.15%. Game providers that make the gambling experience joy are Microgaming, Novomatic, and IGT, while live casino games are hosted mainly by Evolution Gaming.
For the end, the welcome bonus at Grosvenor Casino isn't the largest. You get just £20 on your deposit of £20, but there are only 5 times wagering requirements. This is not a generous bonus but it's easy to wager.
Enjoy Gambling on Grosvenor Casinos Mobile >
How Did We Rank UK Mobile Casinos?
Are you still there?
Good.
Before you start thinking that our ranking was random, let us tell you something – it isn't. We took our time to vet out every UK mobile casino, to be able to give you our ranking properly. While doing so, we had several criteria which you can find more about below:
Welcome Bonuses
In our experience, people who register on a new gambling site are instantly going to think about the welcome bonus. This is simply one of the most important factors and we can't deny it.
A welcome bonus might be "wasted" quickly but it gives you the chance to win something for the start. When playing on your mobile phone, you want to be able to get a welcome offer easily, and you want it to be generous.
For us, a generous offer is not only about quantity but about wagering requirements. You can get thousands of pounds but if you can't wager them, they disappear, you're left broke as a joke.
Our choices above all give, more or less, generous bonuses that you can easily wager. Moreover, the bonuses you get on your smartphone are going to be the same on the PC. This means that both PC and mobile players are treated equally.
Mobile Apps Quality & Gambling Experience
During our gambling years, we encountered many atrocious gambling apps. We know that it's a bit "ugly" term but it's true. We saw clunky apps that offer only a fraction of functions that don't work as intended.
Because of that, our team made sure that all the apps are properly rated, verified, and tested by hundreds of users online. And if you don't believe us, search for them online and check both Apple Store and Google Play. Almost all of the casinos have a 4-star or higher rating.
Apart from apps themselves, you also want a smooth gambling experience outside of it. Not every casino offers an app – some are played via the browser. Even in that case, you want to be able to enjoy gambling, with no stuttering and all the functions available.
Needless to say, our best mobile casinos will allow you to do so.
Number of Games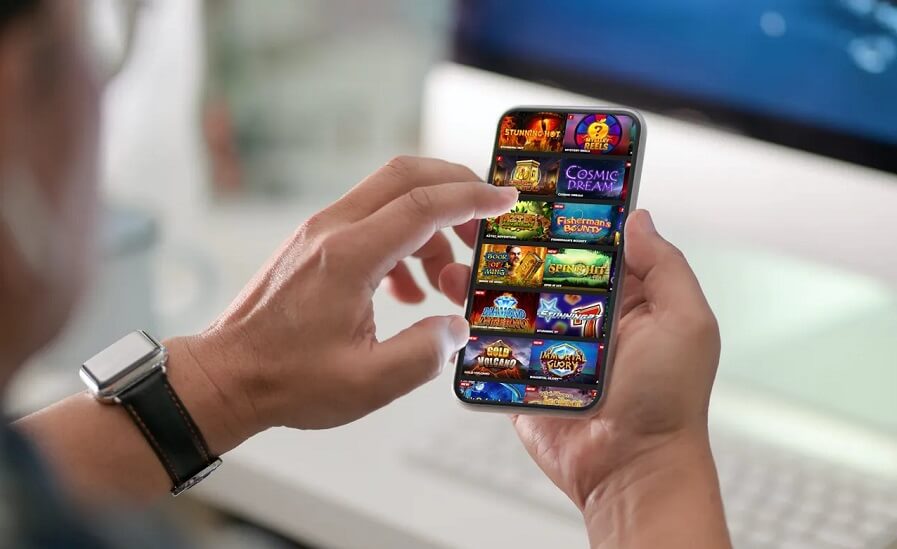 It's pretty common for online casinos to offer 1,000+ games, but only for the PC players. Mobile players, however, always get a much smaller number since not all games are mobile-compatible.
That's how things work and complaining about such things is pointless. But, the number of mobile games is pretty important for players who love variety, and not just playing one type of game.
Our casinos from above all have at least 100 quality titles for iOS and Android, which will allow you to enjoy gambling in the long run. The best casino in this regard is PlayOjo, that offers more than 1,500 games, followed by Mansion Casino with 200 games at your disposal.
Mobile Game Providers
Let's get something out of the way. There are dozens of game providers on the UK market, which doesn't mean that all of them are at the top. Some stand out from the crowd, such as Microgaming, Evolution Gaming, NetEnt, NextGen Gaming, Playtech, and a few more.
These are, by the way, some of the best mobile and live casino game providers that you can get. All of the casinos from the list fulfill this criterion, allowing you to enjoy beautiful HD graphics, even on a low-end smartphone.
Payment Methods & Payout Times
When you win some money, you want to be able to transfer it to your wallet quickly. We're pretty impatient when it comes to money and we understand that you want fast payments.
You also want a lot of payment methods, right? Well, that's an easy feat, given that the casinos from above offer the most popular payment services – VISA, MasterCard, Skrill, Neteller, PayPal, Paysafecard, etc, etc.
All of these methods allow for pretty quick deposit and withdrawal times that go from instant to five working days.
Licensing
In terms of licensing, we won't waste too much time talking about it. ALL of the casinos above are FULLY LICENSED by the United Kingdom Gambling Commission, which allows them to operate in the UK.
Depending on where they're registered, they may have one, two, or more licenses. Usually, they're registered either in Malta or Gibraltar, so they carry the licenses from these countries with them.
Mobile vs Desktop Casinos – Which is Better?
Is it better to gamble on a mobile phone or PC?
Well, that's the question we get asked a lot, and we always give the same answer – it depends.
Wait. It depends on what exactly?
Simply put, it depends on what you want from your casino. One type offers what the other doesn't, and vice versa, so you've got to live with the compromises.
Mobile Casino Pros & Cons
Let's examine the pros and cons of mobile casinos to see what you can expect when gambling on a smartphone.
Pros
Can be played from anywhere given that you have a proper internet connection.
You can use both an app or a browser version, which allows you to save space.
The touchscreen is more intuitive and natural for some players.
Cons
Finding a stable internet Wi-Fi connection on the go is very hard.
Live casino games are bandwidth-hungry, which is bad for players who use mobile data.
Fewer games.
Smaller screen.
Desktop casino Pros & Cons
Now, let's see what desktop casinos bring, or don't bring to the table.
Pros
You're playing using your home internet, with a stable connection.
Games look better due to higher resolutions and a bigger screen.
More game variety.
No need to download the app.
Cons
You can't play on the go.
So, What's Better?
Judging by the pros and cons we just gave, it's clear that desktop casinos are better. But you have to take into account that not all users prefer the same thing. You might value more games, while we value the ability to be able to play anywhere.
If you want an honest opinion, we prefer desktop casinos and we use mobile casinos just as a complement to our desktop gambling. When we need to claim a bonus or gamble when on a longer trip, that's when our mobile phones come in handy.
Generally speaking, mobile casinos allow more flexibility, as you can play pretty much at any time, given that you have a stable internet connection. Without an internet connection, all of the benefits of mobile casinos are voided.
However, if you have an internet connection, even if it's an enormous amount of mobile data, you probably won't face any issues. Using mobile data is the best way to play on your smartphone, especially live games, where every bit of connection needs to be squeezed.
To conclude, mobile casinos are better for flexibility, while desktop casinos are for pure functionality and number of games.
How Can I Install a Mobile Casino App?
Installing a casino app on a smartphone is very easy, but for those who never did it, let's explain the process for both iOS and Android devices.
iOS (iPhone & iPad)
iOS isn't an open-source system like Android, so things are pretty straightforward. You visit the Apple Store or iTunes, type in the name of the mobile casino app you want, and tap on Install to get it.
After it's installed, you only need to run it, sign in, and enjoy gambling.
Android (Smartphones & Tablets)
On Android, you have two options – to download the casino app directly from the site or via Google Play.
Downloading it via Google Play is simple. Visit the site, search for the casino app you want, tap Install, and wait for the process to finish. Run the app afterward, and enjoy gambling.
Now, if you decide to download the app via the casino site or any third-party site, you can get an error message, implying that your phone can't install the app from unknown sources. This will happen when you try to run the app's setup file. To fix it, follow these steps:
Go to Settings.
Tap on Security.
Select "Allow installations from unknown sources."
Once you do so, find the setup file in your smartphone again and install the app manually. The rest is the same – run the app and gamble.
FAQ
To wrap things up, let's answer some of the commonly asked questions related to online mobile casinos in the UK.
Can I play live casino on a mobile phone?
Yes, live casino games function well on a mobile phone. The only problem might be an internet connection which must be stable for a proper gambling experience. If you don't have a stable internet connection, you can miss out on bets or the information that the dealer gives to players.
We suggest using mobile data for this purpose, but only if you have a lot. If you have only a few gigabytes per month, try to find a good Wi-Fi hotspot.
Do mobile casinos consume a lot of internet data?
Yes, and no, depending on the game you're playing. We tested it out by using our mobile data and found out that slots and roulette will consume the least amount of megabytes. On average, one spin on roulette or slots will consume 1 or 2 kilobytes, depending on the game.
However, we need to take into account HD graphics, animations, and graphical details that can consume a bit more data. The better the game looks, the more it will consume. The type of game that consumes the most data is any live casino game.
It's basically streaming a video on YouTube or any other platform, with the addition of gaming interface. Live casino games will drain your mobile data quickly and will consume, on average, 500+ megabytes per GAME.
Can I use my mobile web browser to play casino games?
Yes, you can play on your web browser. Albeit, mobile apps are much better, which is why we value them more. They cram in more features, such as fingerprint sign in, banking options, live casino, and faster loading times.
In almost every case, an app will be MUCH better than any website on the phone. And if you're worried about the space it will take, don't worry. The apps are usually lightweight and will take only a few megabytes.
Are UK mobile casinos rigged?
No, they aren't, if we talk about licensed and verified online casinos.
The casinos we gave you above are 100% safe, secure, and fair. This means that there are no patterns or schemes that you can predict and try to win. Instead, all the games are random, with random rewards, cards, and every element that decides whether or not you've won.
Avoid casinos that don't have a license from UKGC if you're from the UK and you won't face any problems with rigged games or fixed RTPs.
What are the most popular casino games for mobile phones?
On mobile phones, players usually enjoy playing slots, roulette, and blackjack games.
Some of the most popular titles are:
Starburst
Gonzo's Quest
Mega Moolah
Age of the Gods
Live Blackjack
Live Roulette
Pretty much all the most popular games on these platforms (iOS and Android) are made by NetEnt and Microgaming. As we mentioned, these are some of the best providers in this regard.
How to get a welcome bonus on mobile casinos?
You can get a welcome bonus by registering on the site, verify your account, and depositing cash. Sure, there are no deposit bonuses, but almost every casino will require that you deposit money.
Luckily, the minimum deposit eligible for a welcome bonus is often £10, while some casinos like Grosvenor Casino will require £20.
Can I play casino games for FREE on my mobile phone?
Yes, you can, but not on every casino. Some casinos offer demos of their games, they give you virtual cash, and you can play slots, roulette, blackjack, and other games for free.
Which platform is better for mobile casinos – iOS or Android?
You can play online casino games on both platforms, but we give a slight advantage to iOS. This platform has more casino apps in general, and their quality is on a higher level.
More UK gambling operators are optimizing their apps for iOS nowadays, especially since Apple hold's around 47% of the market share in the United Kingdom.