At this point in time, experienced betting lovers are well-acquainted with different betting brands. One of them is Ladbrokes, perhaps the oldest bookie on the market, founded in 1886. Even your grandpa wasn't born at that time! Reports say that the company has around £5 billion of turn-over a year, making it among the most significant names in the betting world. Today, we're going to review Ladbrokes and see if it lives up to its name. We suggest you don't leave just yet!
Ladbrokes Welcome Bonus – Is It Generous?

As always, we start our review with the welcome bonus offered by Ladbrokes. Welcome bonuses are the most important thing for new players. New players want instant rewards and have very high expectations of every new online bookmaker. Being on the market for more than a century, Ladbrokes definitely knows its business, offering a generous bonus with lukewarm expectations.
Let us explain.
The bookmaker will give you £20 in free bets if you place a bet of at least £5. If the odds are above 1/2 (1.5), you'll get 4 x £5 free bets once your bet is settled. After you get the bonus, you have exactly 7 days to take advantage of it. Let's check more terms and conditions: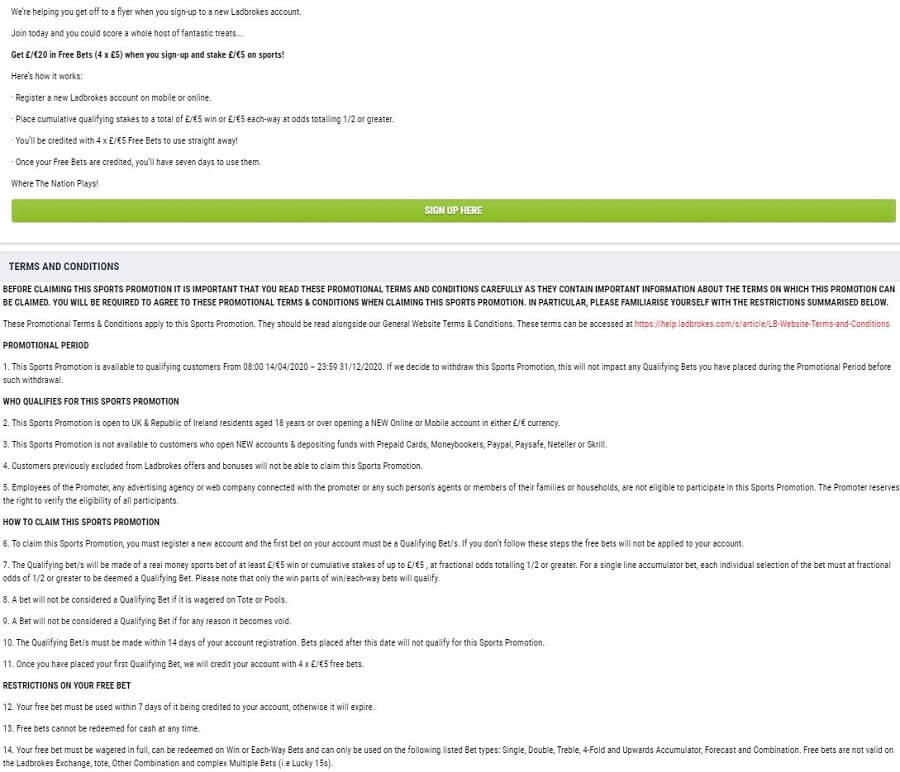 We can see that not many players are eligible for a welcome bonus. Despite being available even in southern Europe, Ladbrokes isn't keen on giving its users free bets. You must reside within either the UK or Ireland and you must be over 18 years old to get a promotion from Ladbrokes. Furthermore, the bonus isn't available for those who deposited money using some of the following methods:
Prepaid cards
Moneybookers
PayPal
Paysafe
Neteller
Skrill
If you fulfill all the conditions from above, we suggest using your VISA card to deposit cash. Only then you'll be able to enjoy the welcome bonus. Oh, and just one more thing. Ladbrokes tells that you must wager the bonus in full, which is 1x since the bookmaker doesn't mention anything.
Given how that you need to deposit just £5 to get a welcome bonus on Ladbrokes, it's a pretty generous offer and you don't need to wager it multiple times. Off to a good start for this Ladbrokes review!
Ladbrokes Promotions – Are There Some?
Recently, we reviewed BetVictor, which is generally a decent bookmaker. However, it lacked one of the most important things – promotions. Ladbrokes has nothing to do with BetVictor, except that they're both working in the UK.
Fortunately, they have nothing to do with each other in the Promotions section, as well. This is what you will find: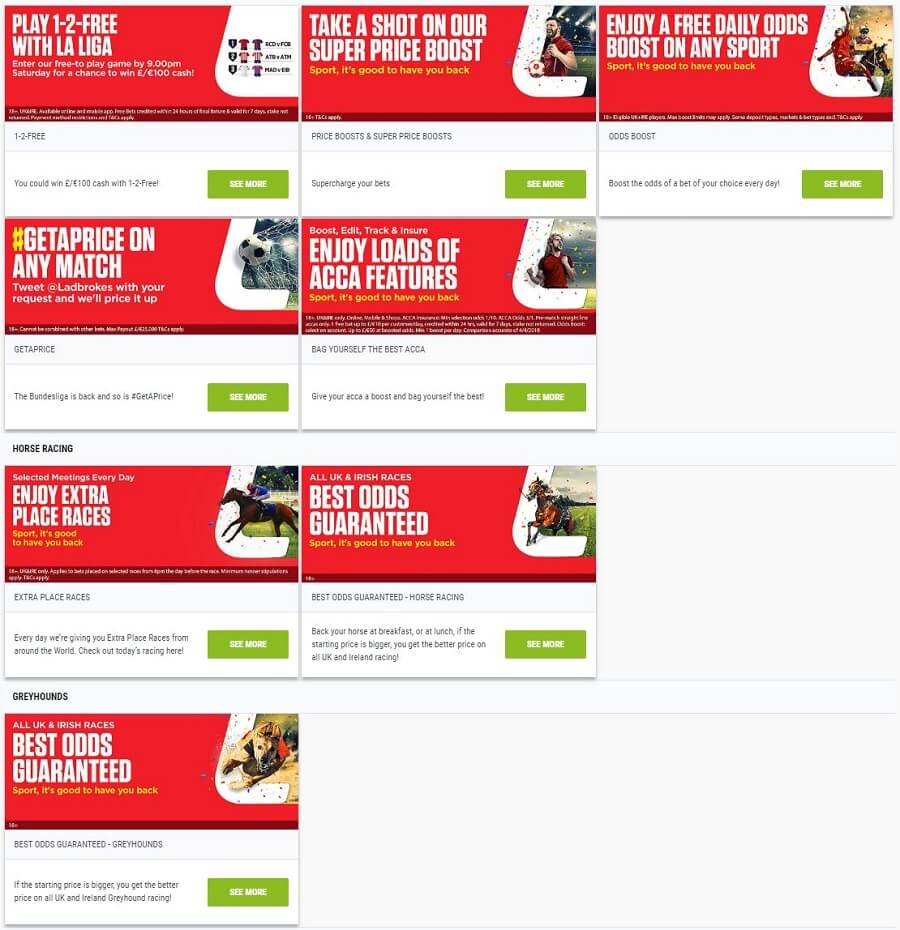 What you see in the image above are promotions… lots of promotions! The good news is that this is not all. If you visit the Promotions page on Ladbrokes, you'll see that you can scroll up and down, to see more offers. Nonetheless, we decided to show you a portion of it and talk about a few promotions in general. If you love betting on horse races and greyhounds, you're in for a treat.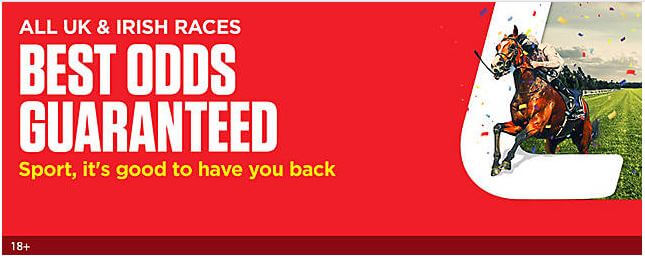 Your eyes are serving you well – Ladbrokes is offering best odds guaranteed on BOTH horse racing AND greyhounds. The way this promotion works is very simple. You don't have to opt-in or anything. Just place a qualifying bet on a particular match and the bookmaker will pay you bigger odds, or better said, best odds.
Are you interested in more promotions from this UK online bookie? Here you go – something for football lovers: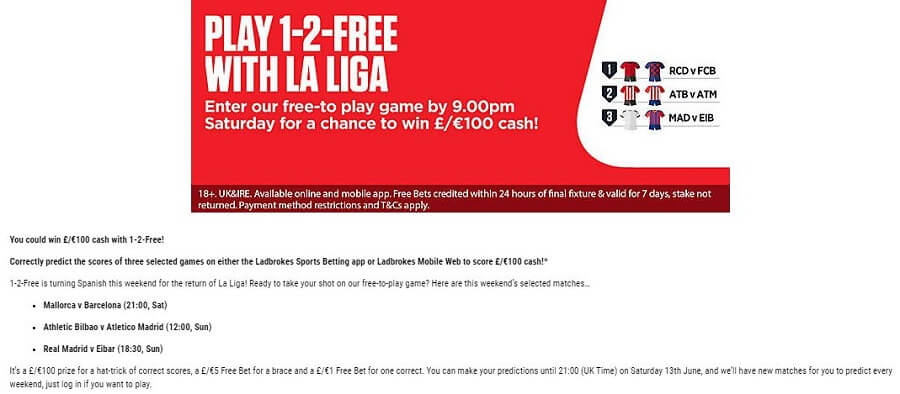 Football is always the most varied sport when it comes to betting and it comes as a no surprise that Ladbrokes gave it some attention. The bookmaker gives you a free-to-play game that lets you win up to £100 in cash if you predict the scores of three selected games. For predicting two games, you get £5, and for one game, you get £1 in free bets.
We like how Ladbrokes took care even of those not capable of guessing all three scores. Sure, your reward will be much lower, but every reward is a good reward. Ladbrokes has tons of other promotions and talking about them in this review would be too long.
Our suggestion is to visit the website yourself and see what promotions you can expect.
Deposit/Withdrawal Methods and Limits
Honestly, we're tired of having to "enjoy" modest betting varieties in some UK sportsbooks. For us, a bookmaker needs to offer at least 10 payment methods to be able to fulfill the players' needs. After all, the UK isn't a small country – it has millions of residents and many of them love betting. One thing where Ladbrokes will impress you is exactly what we're talking about:

Offering around 20 payment methods in total, Ladbrokes is going to easily adapt to its users' needs. Some of the standard methods include credit/debit cards, Neteller, PayPal, EntroPay, Moneybookers, Bank Transfer, Cheque, Ukash, and so forth. We like that PayPal is here, as this is our preferred method of paying, even though it's sometimes not the best.
In the image above, we can also see that the minimum deposit for all of the payment methods is £5 unless stated differently. Furthermore, Ladbrokes doesn't charge you for depositing/withdrawing cash and doesn't impose any fees. On the other side, your bank or any other eligible agency might impose a fee, which is out of the bookmaker's control.
Okay, let's get back to numbers. The maximum deposit on Ladbrokes is £99,000. Minimum withdrawals are quite low – £5, while the maximum withdrawal is £99,000 as well. With limits so flexible, Ladbrokes will easily adapt to both beginners and ambitious players, which is one of the reasons why it's so popular.
In terms of withdrawal and deposit times, we need to mention that deposits are instant, and luckily, withdrawal times are one of the fastest around. When using PayPal, you need to wait for about 6 hours to get your money! VISA cards usually take longer, 1 to 3 days. If we compare it to other bookies, Ladbrokes is a clearly a winner – for the most part, at least.
Ladbrokes Betting Variety
For some things in life, age is of the utmost importance, and so is for wine and ale, for example. Ladbrokes stood the trial of time, not only persevering but also upgrading its business model to a much higher level. What we want to say is that it's a really good UK bookmaker in terms of sports variety and sports markets. In some cases, even better than our top pick 888Sport.
Take a look at the screenshot from Ladbrokes website:

The sports at Ladbrokes are sorted from A to Z, to make it easier to find the one you want. That's always a good thing that other bookmakers should incorporate as well. In terms of sports variety, we're looking at more than 30 sports at your disposal, which is one of the highest numbers we've seen.
On Ladbrokes, the most popular sports are football and horse racing. For horse racing, the bookmaker offers three of them. You have classic horse racing, the one on distances, and International Tote.
Moreover, you get access to all the necessary info about each horse and its performance in the past, letting you determine the outcome easily. Other sports worth mentioning are football, darts, cycling, boxing, rugby, snooker, and many more. The addition of non-sports events is a welcome one, too. You can find politics, TV & Specials, and even WWE on Ladbrokes.
Betting Options
Betting markets on Ladbrokes are abundant and you won't have a problem finding the one that suits you. In William Hill, we saw that they were quite hard to find, as the interface isn't as intuitive. Ladbrokes doesn't have that issue and it immediately gives you the available options as soon as you click on the match you want to bet on.
Let's give you the proof of that by taking a look at the football markets: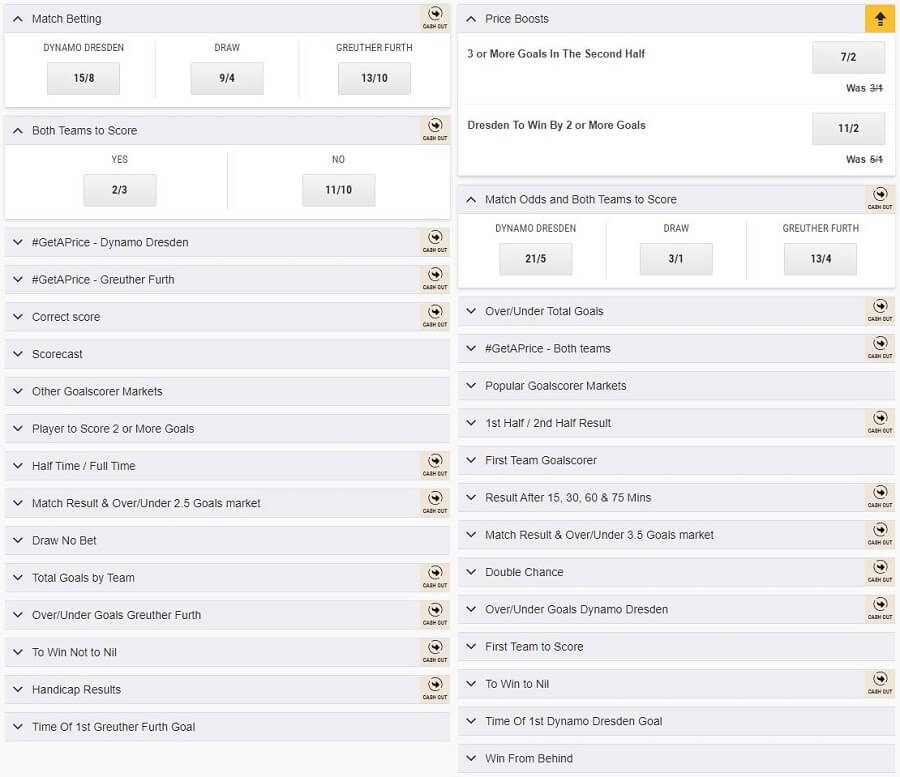 Apart from the match betting, the bookmaker offers a plethora of different options, including Price Boosts and Cash-Outs on almost every option. Speaking of options, we have draw no bet, scorecast, correct score, double chance, handicap results, win from behind, and many more. On some of the options, you get a Price Boost, which skyrockets the odds significantly.
As we mentioned, Cash-Outs are available on Ladbrokes, and you can utilize them whenever you deem fit. If you think that your bet is going to lose, simply take your money back and try another one.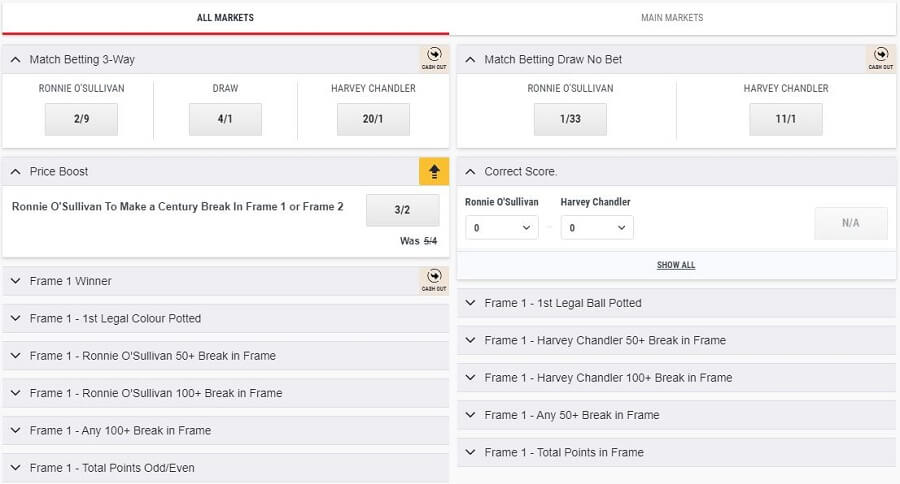 Do you want to bet on Ronnie O'Sullivan in snooker? If so, Ladbrokes will give you a handful of options and even some Price Boosts. For example, we have a price boost from 5/4 to 3/2 here and it's a pretty reasonable one. Ronnie O'Sullivan to make a century break in frame 1 or 2… well, that's entirely possible, given his nickname "The Rocket!"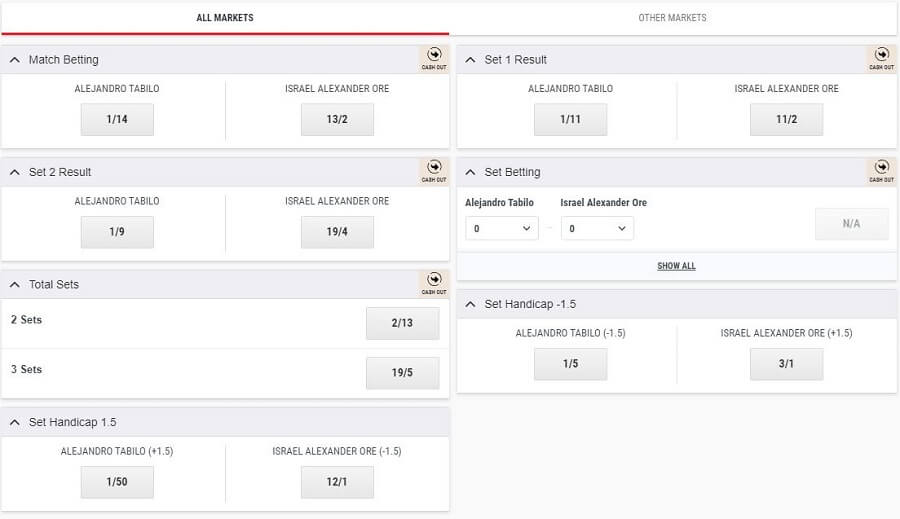 If tennis is your cup of tea, the bookmaker will offer a decent array of betting options, although not the best we've seen. You can bet on set handicap, total sets, set results, and so on.
All in all, Ladbrokes isn't going to disappoint you when it comes to betting variety and options. With so many options and promotions, winning money at this bookmaker will be a breeze!
The Odds at Ladbrokes – Are They Competitive Enough?
It's time to talk about odds in this 2021 review of Ladbrokes. If you ask old-school gamblers about the most important factor in a bookmaker, they'll probably mention the odds. Simply put, they determine how much money you can potentially win on a particular bet if it's a winning one. The odds for the same bet won't be the same on every UK online bookmaker.
For that reason, we need to compare two of them and see if Ladbrokes is competitive enough. Here's our comparison with Bet365: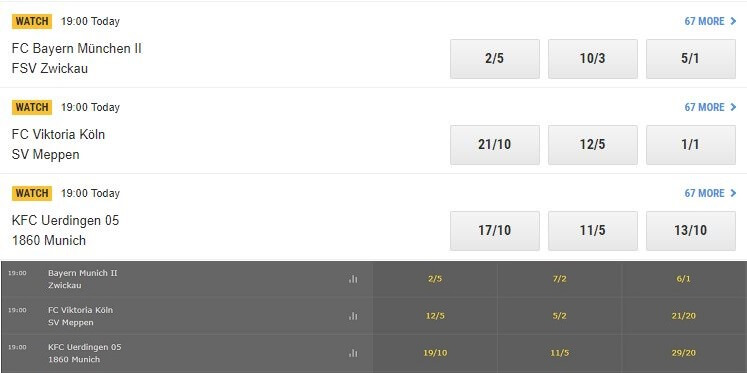 We tend to do only the fair comparisons and not to compare two bookmakers outside the same rank. You can argue all you want, but Ladbrokes and Bet365 are, more or less, in the same ballpark. Ladbrokes is much older and is very popular, while Bet365 is one of the largest online bookmaker websites.
In literally EVERY case, Bet365 has higher odds, and in some cases, significantly higher. If we compare the first match, Bet365 wins in every bet, except for the first one, which comes with the same odds. The second match is completely for Bet365, which can also be said for the third one, where only the "X" bet has the same odds.
We also want to show you how much of a difference it sometimes is. In the first match, when translated to decimal odds, 5/1 equals 6.00 (Ladbrokes). For Bet365, it's 6/1, which is 7.00 when translated to decimal odds, for the same bet. For a stake of £100, you can win £600 when playing on Ladbrokes and £700 when playing on Bet365.
Now, imagine placing a higher stake. Will the difference be negligible? Not really. That's why Bet365 is better than Ladbrokes in this regard.
Ladbrokes Special Features
Special features are a mandatory part of every online bookmaker in the United Kingdom, and as such, Ladbrokes has plenty of them. Let's see which features are available:
In-Play Betting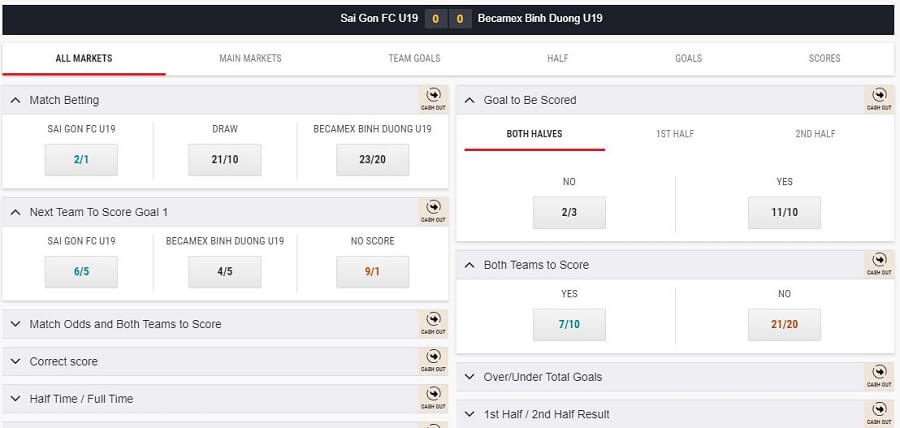 In-Play betting or live betting, as it's often called, is one of the features you can enjoy on Ladbrokes. Unfortunately, it's not done very well, with no stats or animations that show you what is happening during the match.
Almost every online bookmaker has this, yet this one doesn't for some reason. If some of the support team members of Ladbrokes are reading this review, please take our complaint into account.
Live Streaming

Enjoying live streaming on this website is a hassle-free experience. You need to register an account and have a positive balance to do so. After that, you can stream sports such as horse racing, greyhounds, and even football. We also like the addition of live commentary that will do the job if you can't watch the live stream.
Bet Builder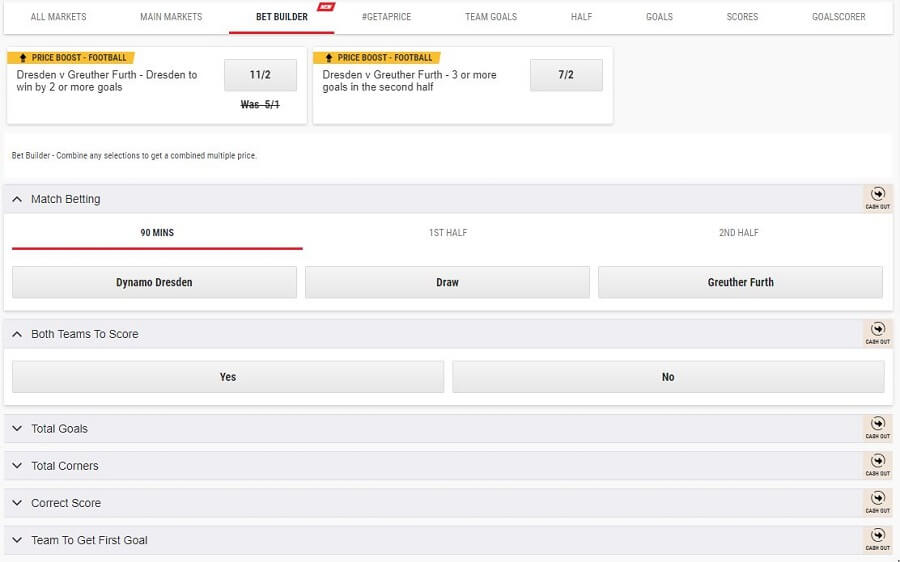 Should you decide to place advanced bets, Bet Build is here to help you do so. You can combine up to 2 different bets and create your own, unique bet, with unique odds. This makes betting so much more interesting and gives you the chance to earn more money if the odds you came up with are good.
Bet Filter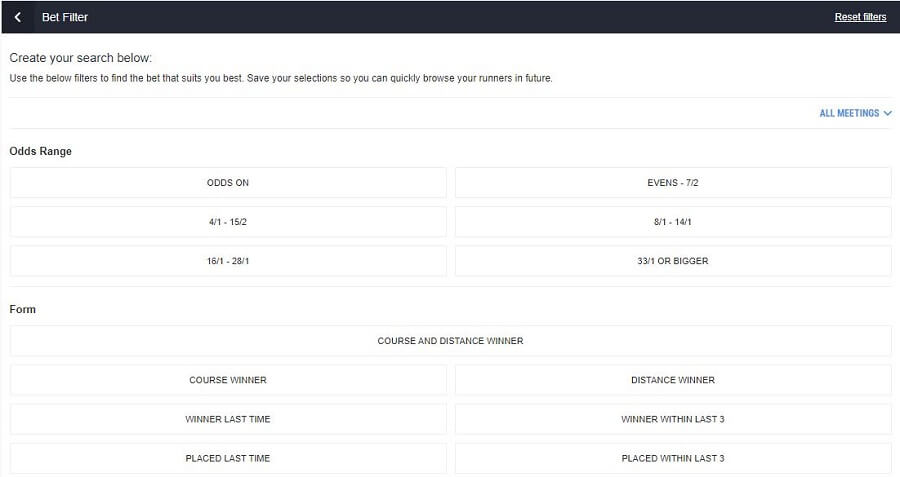 The most interesting feature of Ladbrokes is called Bet Filter. If you want to narrow your bet search, this is a feature that will allow you to do so. You can choose to see or not see the bets by filtering the odds and forms. For instance, you can see the bets with the odds of at least 33/1 or bigger, or any other bet you want.
Ladbrokes Mobile Gaming Experience

Pretty much every UK online bookmaker has an app for mobile platforms. It's a must, given that many people prefer using a phone over a computer, due to the busy and fast lives we live. Ladbrokes Sports Betting app is available for both Android and iOS, which is a breath of fresh air. Finally, a bookmaker that treats Android and iOS equally – thank you!
Enough bantering around. How good the app is?
Well, first of all, it's really intuitive, lightweight, and works almost flawlessly. Second, it offers every special feature we mentioned above. This makes it easy to enjoy a full-fledged betting experience even on a small screen.
The sports list is above, placed horizontally, while matches and bets are below, vertically. You can easily place a bet, and when you're done, you can open the bet slip and place a stake. Everything flows really well and the app is well-optimized even for weaker devices, promising a decent betting experience for everyone.
How Fair and Secure is Ladbrokes?

Ladbrokes isn't your new bookmaker that emerged a few months ago. It's a strong betting and gambling brand that built its name for decades. It's logical that we're talking about a serious name in the game, that's safe, secure, and fair to its loyal followers.
In the image above, we see that multiple Responsible Gambling companies work in conjunction with Ladbrokes. GamCare, GamStop, and IBAS are only some of them. They make sure that your gambling-related problems are in check.
Furthermore, the company has a license from UKGC and Malta, as well as Belgium and Australia. Not that the second two licenses are important for players in the UK, but they speak volumes about this sportsbook.
Lastly, Ladbrokes uses 128-bit SSL encryption for keeping your data intact. It's an industry-standard that probably isn't going to change any time soon.
Loyalty Program
What about a loyalty program? Does this bookmaker have one? Unfortunately, no. If you're interested in Ladbrokes casino, that's where you'll find a loyalty scheme. On Ladbrokes Sports, that's not possible, which is okay, given that you can enjoy tons of promotions on a daily basis as we've seen earlier in this review.
Those who find the lack of a loyalty program bad can visit 888Sport, our top UK online bookmaker. It offers tons of promotions AND a loyalty program.
Ladbrokes Customer Support
Customer support at Ladbrokes is a pretty decent one. Let's see what contact methods it offers and then, we'll discuss its helpfulness.

At the time of writing the review, Ladbrokes couldn't provide phone support due to COVID 19 outbreak. However, it's important to mention that phone support exists and that UK players can easily use it. Apart from phone support, you can use live chat for more urgent issues. In that case, the customer support team answers within two minutes, which is pretty fast.
The customer support team is pretty helpful and answered our annoying questions about the bookmaker peacefully and correctly. If the issue you have is a complex one, you'll want to use email support. Here, the bookmaker will respond in about 2 hours. That's pretty good, considering that many will take 24 hours, and sometimes more.
Generally speaking, support at Ladbrokes is more than good, offering knowledgeable support members and quick answers.
What do Other Users Think About Ladbrokes?
In this part of the review, we take two reviews from Trustpilot to see what users online think about a particular bookmaker (Ladbrokes in that case).
One is a good review and the other one is bad. People write bad reviews because they lost money, but the same principle applies to good reviews if the user wins some cash. Let's take a look at fact-based feedbacks, starting with the good one:

In this positive review, we can see that Ladbrokes helped the new customer get a welcome bonus, despite him using the wrong code. That's a positive experience we also had with the customer support. Another user doesn't seem to think the same as we do:

We won't get into details too much, but in short, the user spent 4 hours on the live chat, trying to get a $20 poker ticket he won. He didn't mention the outcome of the situation, but given the one-star review, we can't say he's the most satisfied user on Ladbrokes.
Conclusion – Should You Bet on It?
An in-depth review like this deserves a proper conclusion, so let's see if you should bet on Ladbrokes.
This old-school UK online bookie does a lot of things right. We enjoyed the betting experience in general, with plenty of sports to bet on, as well as numerous betting markets. The promotions are definitely one of the best we've seen and the odd boosters add more possibility to win additional cash.
We didn't like the odds, though. They weren't competitive enough, especially when compared to Bet365 or 888Sport. Sadly, we can't recommend betting on Ladbrokes outright, as the two aforementioned options are way better.
Our recommendation for UK players would be 888Sport and if you're not from the UK, Bet365 will do the job just fine.
How to Register on Ladbrokes?
Let's quickly go through the registration process on Ladbrokes.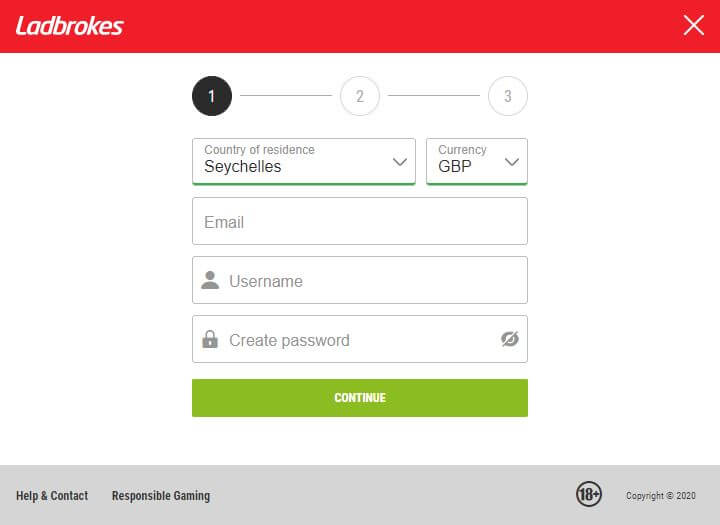 It's a 3-step registration that you can complete with no hassle. In the first step, choose the country of your residence, type in your email, username, and password, and choose the currency you want to use. Click Continue once you complete the step: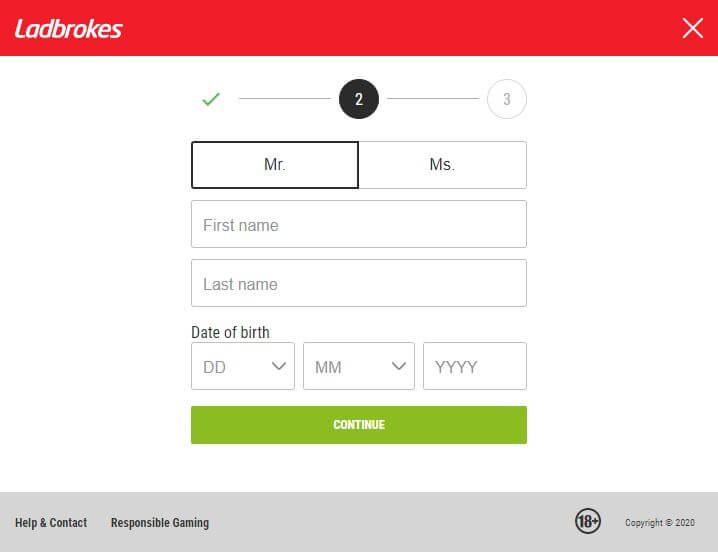 The second step is more about your personal info. Choose your gender, enter your full name, and date of birth. Move on to the last step.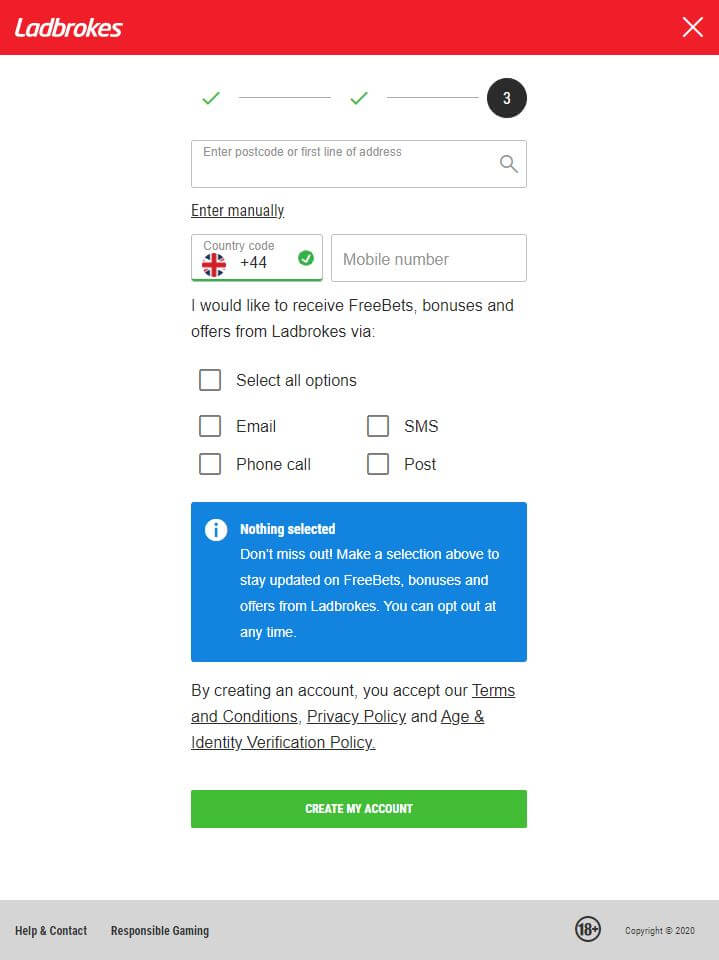 Completing the last step is very easy. Type in your address and the website will give you a list of addresses. Choose your address, enter your phone number, and click Create My Account. If you want, you can also choose to get info about promotions and bonuses before creating an account on Ladbrokes.
The registration process is, as you can see, one of the simplest we've seen so far. You'll spend not more than 2 minutes on it – and even that's a lot!
Verification Process – What Do You need?
Before depositing and withdrawing cash to and from your account, you need to go through the verification process. Here's what documents are needed for that purpose: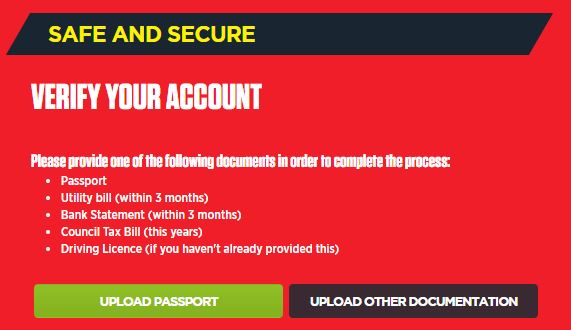 You need to verify your identity and address. For identity, passport, driving license, or your national ID is enough. These documents show your picture and full name, which is a must for this online bookmaker.
To verify your address, you can use either a utility bill or a bank statement. If you want, you can give them a photo of your Council tax bill, as well. Make sure that photos of these documents are crystal-clear, with all the required information visible.
After uploading the photos, the bookmaker will verify your account relatively quickly, letting you enjoy betting almost instantaneously.
FAQ
To finish this review of Ladbrokes, let's answer some of the questions related to Ladbrokes.
? Who owns Ladbrokes?
The company behind the sportsbook is called GVC Holdings. GVC Holdings bought the bookmaker in December 2017.
⏳ How long does Ladbrokes withdrawal take?
Withdrawals at Ladbrokes are very fast and will take from 6 hours to 3 days, depending on the payment method. E-Wallets give you faster withdrawals, while credit/debit cards are slower – about 3 days for withdrawal.
? How to redeem free bet on Ladbrokes?
Claiming free bets on Ladbrokes is easy. Register on the website, deposit at least £5 and place a qualifying bet at the odds of at least 1/2 (1.5). After the bet is settled, the bookmaker will give you 4x £5 in free bets.