William Hill is a bookmaker that exists for almost a century, being founded in 1934. Nowadays, it's one of the most popular online bookmakers in the UK and is a choice of thousands of players in that country. The bookmaker is known for fairly high odds, lots of promotions, and generally pleasant betting experience. How did we like it, though? Is it as good as many think it is? Well, you're about to find that out in our comprehensive review of William Hill for 2021.
William Hill Welcome Bonuses – Are They Generous?

Kicking off our review, it's time to talk about welcome bonuses offered by William Hill.
There's no better way of starting your betting journey on the website than to get a welcome bonus first. William Hill is an old brand, and it's not strange that it learned all the tricks to attract and keep the players around. New players can get up to £30 in free bets, which will be credited as 2 x £15 bets if they use a promo code P30.
The good thing is that you don't have to use a promo code! How? Well, just click on the button below to sign up for William Hill and we'll automatically apply it, letting you claim your welcome bonus easily.
What are the conditions of William Hill welcome bonus? For the start, you'll have to place a bet with a stake of £10, on the odds of at least 1/2 (1.50).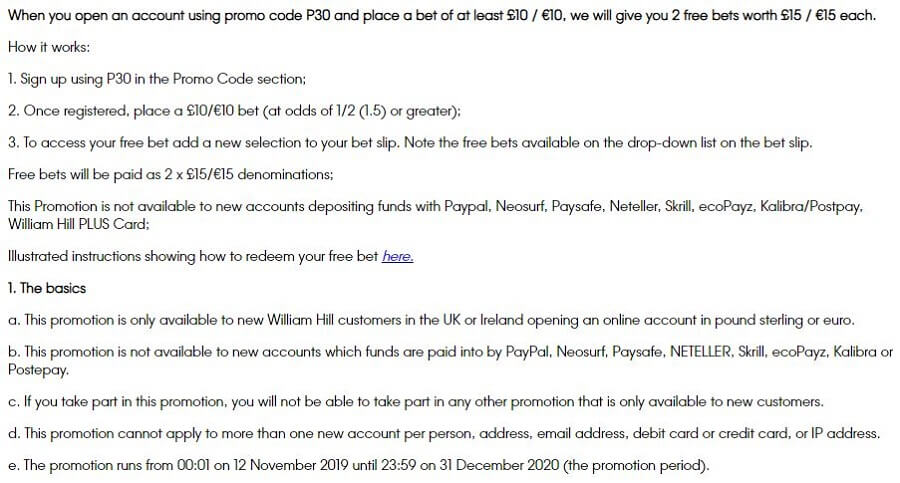 However, before you do that, you must NOT deposit your money using some of the methods shown in the image above. Basically, the best bet is to deposit using a VISA or MasterCard, as methods like PayPal, Neosurf, Neteller, and Skrill aren't eligible for a welcome bonus. Moreover, players from the UK and Ireland are the only ones eligible for this promotion.
If you live outside these countries, you will not be able to claim it – just so you know. Another thing is that there are no wagering requirements, as we saw on MansionBet, for example. On William Hill sportsbook, you just get your bonus, start betting, and withdraw your winnings in a simple manner.
William Hill Promotions – Are There Some?
A welcome bonus is already some sort of promotion, but William Hill doesn't stop there. It properly rewards all of its UK and Irish players with tons of promotions each day. Let's take a deeper look at some of them.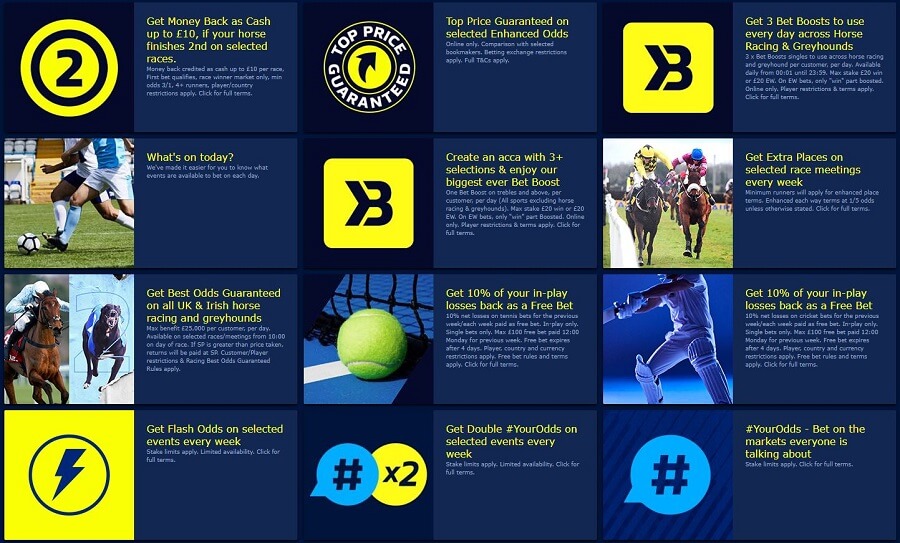 We must admit that this is one of the biggest promotions galore we've ever seen. William Hill is a serious online bookie, hence we didn't expect anything less. The first promotion in the top-left corner is a pretty good one, for example.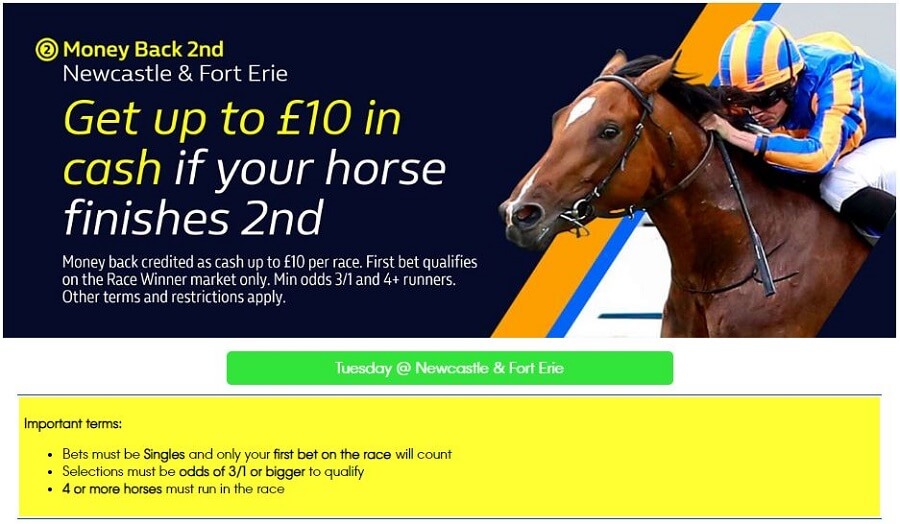 It's a promotion related to horse racing, which is, by the way, one of the most popular sports on William Hill.
William Hill will give you up to £10 in cash if the horse you bet on finishes second. That's very good news for horse racing fans, as they can now earn money even if their bet isn't the winning one. Some of the conditions are that the bet must be single, the odds must be at least 3/1, and that at least 4 horses are in the race.
That's not all – this bookmaker has another promotion that will increase your chances of earning some cash.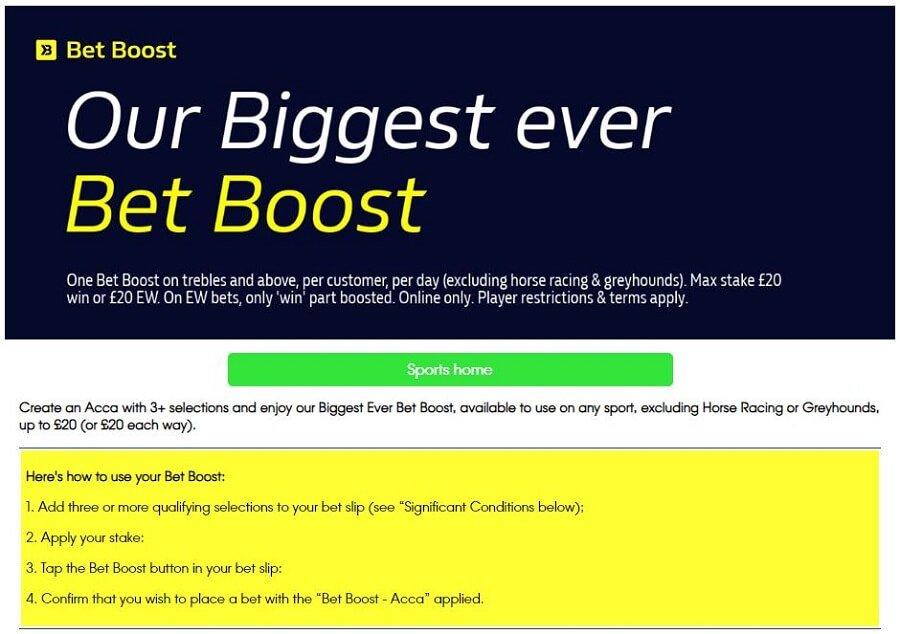 Have you ever heard of bet boosts? Well, now you have! What you need to do here is to create an Acca with 3+ matches and enjoy the £20 bonus offered by William Hill. Basically, every sport is eligible, apart from Greyhounds and Horse racing.
We saw during the making of this review, that the majority of promotions at William Hill are focused on horse racing, which isn't a bad thing. After all, we're talking about a native UK online bookmaker, and in the UK, this is the most popular sport alongside football. Speaking of football, we don't like that the bookmaker doesn't have any football-oriented promotions.
Being from Europe, we like this sport and at least one promotion would be decent.
Deposit/Withdrawal Methods and Limits
To be able to bet using real money, you first must deposit some of it from your bank account, E-Wallet, or any other method you're using.
Thankfully, William Hill offers many payment methods that many newcomers will find suitable. The bookmaker even goes as far as showing you what deposit limits are and what are the waiting times for your withdrawals, which is super neat.
Let's start with the basic payment methods – VISA and MasterCard.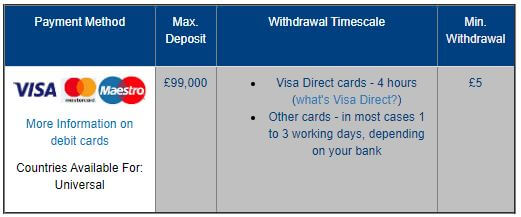 VISA, Maestro, and MasterCard are all available worldwide, so even if you're not from the UK, you can use them. The minimum amount of money you can deposit across all payment methods is £10. However, the maximum deposit for this method is £99,000, while the minimum withdrawal is £5. Depending on your bank, you'll need to wait for 1 to 3 working days for the money to arrive at your bank account.
William Hill offers a vast array of E-Wallets as well, and the image above doesn't show everything. We decided to go with the most relevant methods for this part of our review, and if you're interested, you can visit William Hill website. PayPal is first on the list and it's not very suitable for high-stakes players. Since you can deposit up to £5,500, it's inferior to VISA in that regard. However, the minimum withdrawal is £5, and withdrawal times are much shorter – 24 hours.
Interestingly, Skrill and Neteller aren't available for users in the United Kingdom. That's not good news! WebMoney and YandexMoney, for instance, are much less popular E-Banking methods, yet they're still available for the UK players. Finally, we have these two: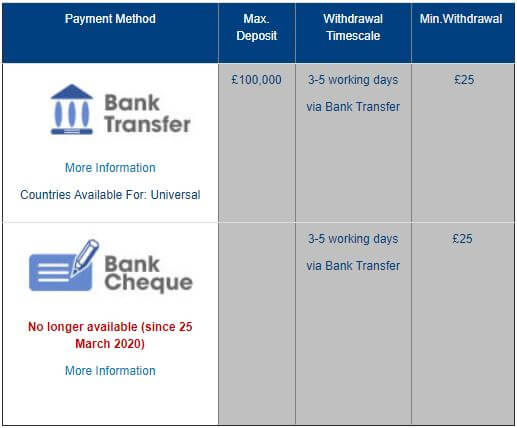 Bank Cheque, as you can see, is eliminated in March 2021. should you want to use Bank Transfer as your primary method, you'll enjoy slightly higher maximum deposits, but also slightly higher lower limits for withdrawals. The maximum deposit is £100,000, while the minimum withdrawal is £25. And if you win something, withdrawing your cash can take up to 5 working days.
All in all, we can say that William Hill did a decent job here, judging by the review above. But, we still can't help but dislike the absence of Skrill and Neteller for UK players. These are usually really good methods, with low to no fees, fast withdrawal times, and hefty deposit limits. If you're going to use E-Wallets, our suggestion is PayPal, and for the majority of cases, credit/debit cards do a much better job.
William Hill Betting Variety
If you're a die-hard sports fan, you'll be pleasantly surprised at what this UK online bookie has to offer. In this regard, it's a bit of a mixed bag, and in a minute, you'll see why.
Let's start with the positive stuff first – sports variety. William Hill offers a total of 29 sports and non-sports events to bet on, which is one of the largest numbers we've seen so far.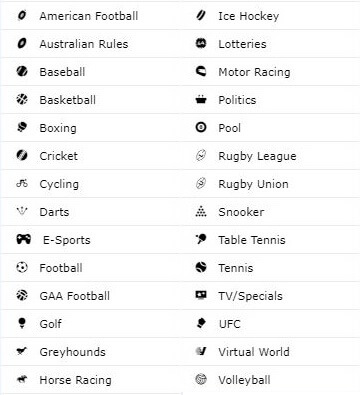 Despite being a UK online bookmaker, it has a bit of everything for everyone – if you know what we mean. Some people simply don't like football or horse racing, in which case, they can bet on darts, boxing, golf, ice hockey, snooker, table tennis, basketball, and so forth. We like the addition of TV/Specials, where you can bet on certain shows like Britain's Got Talent, Next James Bond, and so forth.
By the way, the odds for James Norton being a new James Bond are pretty good – can he really be the one?
Politics are also here on William Hill, in case you want to bet on US Presidential Election or bet on the new Prime Minister in the United Kingdom. Lotteries are here if you want to test your luck, and sports like pool and Virtual World greatly benefit this website in terms of variety. Spoiled betting lovers are highly unlikely to find a reason to dislike his bookmaker… or are they?
Betting Options
William Hill is, at moments, a mixed bag, as we mentioned above in this review and test. While it does give you lots of sports and events to bet on, it sometimes falls short of betting options. Let's examine a few sports and see what it's all about. The image above shows you some of the bets you can place on football matches: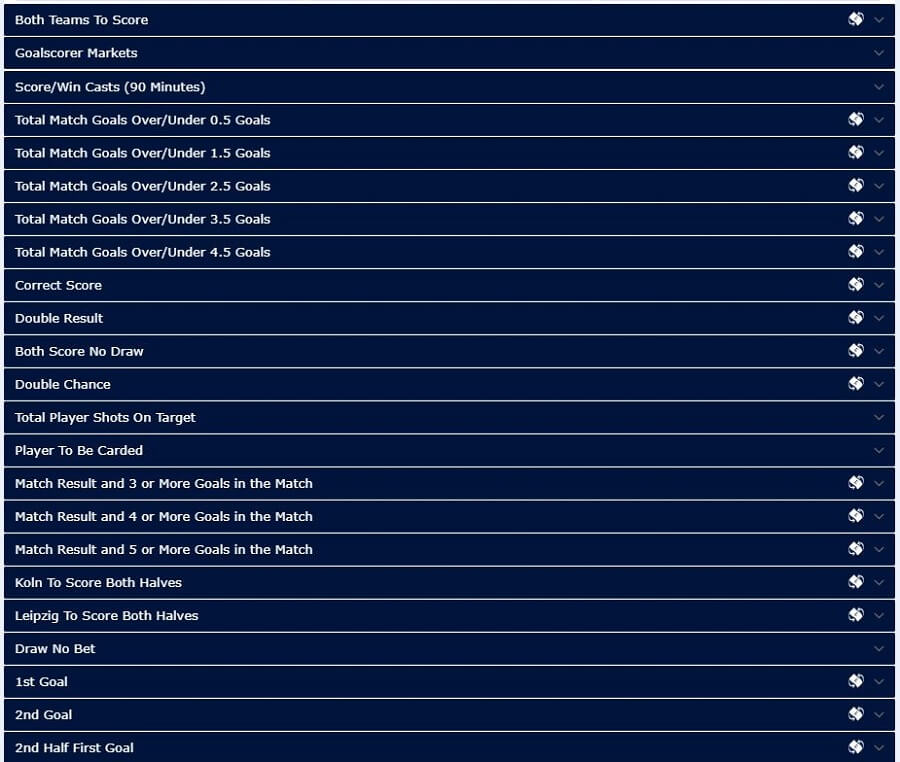 This is really good. With more than 20 options at your disposal, you can virtually bet on every aspect of the football match. Both teams to score, correct score, double result, double chance, player to be carded, and draw no bet are only some of the options you can go for here. Even 1st and 2nd goals are on the list, allowing you to guess which player is going to score the first or the second goal.
Furthermore, you can even bet on when the goal is going to be scored. As always, football matches have the most betting options and that's nothing new. Other sports, though, such as basketball and tennis also have, or better said, SHOULD have. Unfortunately, William Hill leaves much to be desired when it comes to tennis:

You can place fixed bets, set bets, and 1st set bets here. That's quite poor compared to the likes of Bet365 and 888Sport, for instance. These bookmakers give you a plethora of options, such as the ability to bet on the number of tie breaks, first serve, and so forth. Users who place basic bets will probably be satisfied, but since we're experienced players, we want more, given that William Hill isn't a new name in the game.

We decided to put MMA last. Just look at this – you can bet on one of the two fighters and that's all. No round betting, and so forth. That's really shameful for William Hill, as they could've done a much better job in this regard.
To avoid misunderstanding, the whole website isn't like that. You still have some more betting options in other sports. Albeit, we still felt the need to mention it in our review of William Hill, just in case you're a demanding player.
The Odds at William Hill – Are They Competitive Enough?
Odds for an online bookmaker are like wheels to a car. There are tons of sportsbooks out there, yet not many of them are capable of delivering competitive odds that will keep the players around. In some of our past reviews, we mentioned that Bet365 and 888 Sport are the best bookmakers in this regard – and they truly are. Bet365 is, in some instances, even better than 888 Sport.
And honestly, no other bookmaker can compete with these two. This doesn't mean that other bookmakers are bad. In fact, William Hill offers pretty good odds overall, and if we compare it to 10Bet, you'll see what we're talking about.
These are the three same football matches, and William Hill clearly takes the lead here. In the first match, the odds are better on this bookmaker, in the second one, it's almost a draw, while in the third match, this bookie has higher odds on the home team. We don't want to waste your time – take a look at the comparison above and be the judge.
William Hill Special Features
This bookmaker might be the oldest in the game, but it's not stupid. Oh, hell no! We like the approach that it takes, focusing more on the quality, rather on the quantity. The truth is that William Hill doesn't offer many special features, but those that are available are exceptionally done. Let's review them briefly.
In-Play Betting
In-Play betting, or as some call it, live betting, is the most fun way of betting for us. You enter the live match and place bets while it lasts. During this time, you can see what happens, how many red cards are there, corners, penalties, possession, and so forth – for football, at least. We also like how you see the playing field, as you can see in the image above.
When the team is attacking, you see this arrow that shows where the ball goes, who got it, and where did it end. Another great thing is that many betting options allow for cash-outs and partial cash-outs, letting you return your money if you predict that your bet is going to lose. We had a blast betting live on William Hill – that's how you do it!
Live Streaming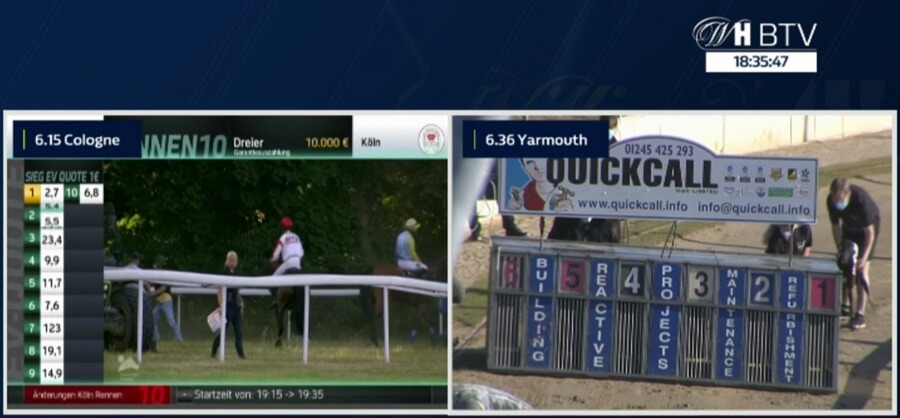 Isn't it annoying when you have to pay for live streaming? Many UK online bookies force you to place a bet of £1 or so to enjoy live streaming. Well, this one doesn't!
You just need to register your account, and even without verification from William Hill, you can jump right into the live stream. Sure, you can't enjoy lots of sports, but horse racing, for example, is available, as well as Greyhounds.
William Hill Mobile Gaming Experience
If you search for William Hill on Apple Store or Google Play Store, you'll see that it's pretty popular. On the Apple Store, we can see that it has 4.6 stars and 18k+ ratings, which is truly a LOT! Logically, the app must be very good, right? Absolutely!
While doing this review of William Hill, we saw that the bookmaker did an excellent job of optimizing it for both iOS and Android platforms, making it easy for both sides to enjoy betting. In some cases, it's even more intuitive than the website, as it allows you to control it with one hand. Every menu is at your palm's reach, and options like online banking and live streaming are here.
We also tested it on a tablet, and the app looks phenomenal! Just imagine enjoying live streaming on a 10-inch tablet, while on the go – incredible. Even if you have a low-end phone, the app will not stutter or freeze. Betting is easy, seamless, and effortless. And should you win some money, you can easily withdraw it using your mobile device, and not necessarily a PC.
How Fair and Secure is William Hill?

While the majority of UK online bookmakers are stationed in Malta, William Hill is in Gibraltar. This is a fantastic jurisdiction for this type of company because it has strict gambling laws that bookies adhere to. The bookmaker, apart from the UKGC license, also has a license from GGC (Gibraltar Gambling Commissioner). We can also see that the bookmaker displays the number of its licenses, to prove that these are indeed genuine, and not fake.
In the upper portion of the image, we can see some well-known companies, such as GBCA, Gambleaware, and GT. These are all Responsible Gaming companies that will keep you safe and secure, in case betting becomes more of a problem to you than enjoyment. These companies are a must for every verified bookmaker.
Lastly, William Hill uses 128-bit SSL encryption for keeping your data intact. Even if someone tries to hack it, this level of encryption is impenetrable, making your data always protected.
In short, the bookmaker is safe and secure, as we pretty much knew from the get-go.
Loyalty Program
In our William Hill Casino review, we saw that it has a pretty good loyalty program that can lead you to the VIP Club. That's not the case here. If you decide to bet, the bookmaker won't provide you with any loyalty programs. Instead, you can enjoy promotions that are available on a daily basis and earn some free bets that way.
Not many UK online bookies have a loyalty program, but our number-one choice has – 888 Sport. So, if the lack of the loyalty program bothers you, you can always play on 888 Sport and enjoy all the benefits of this reward system.
William Hill Customer Support
What about customer support? Is William Hill as impressive? Let's see: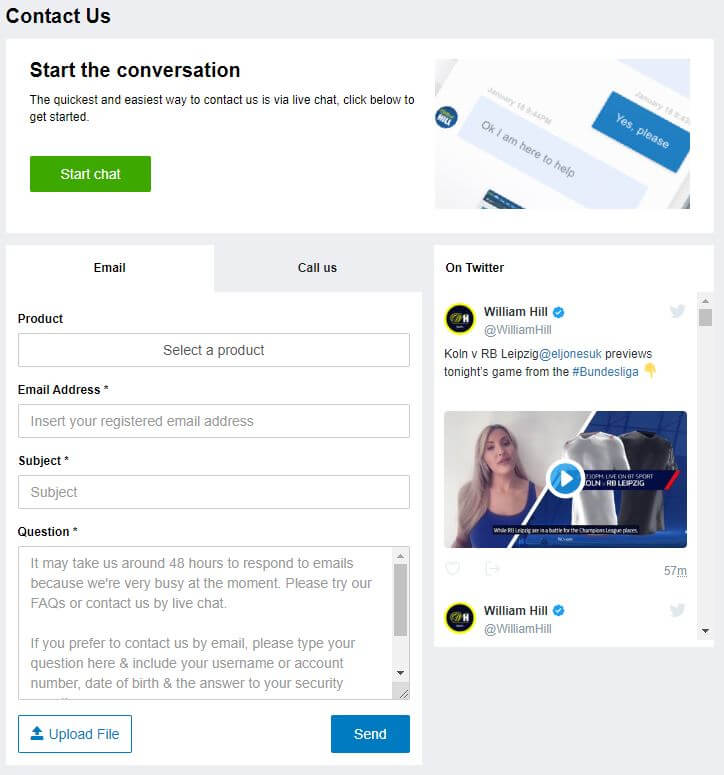 Some good news from the start. The bookmaker offers literally every contact method you can think of. You can either use live chat, email or call the company directly. We tested customer support on Sunday, and even when using live chat, we got a response in less than two minutes, which is impressive. The customer support team is knowledgeable and will help you fix potential issues right away.
For more serious problems, you can either use email or a phone number, depending on the severity of your problems. The good thing is, as we said, that the customer support team knows its business and won't hesitate to help you in your time of need.
What do Other Users Think About William Hill?
Before we wrap up our review about William Hill, let's see if this UK online bookmaker is favorable among the users online. First, we're going to show you a positive review, and then the negative one, to see that not every negative review is justified:

This Trustpilot user is fairly satisfied with William Hill. In his words, withdrawals are on time, but he complains about the odds that are very low. Interestingly, for us, the bookmaker is pretty competitive in this regard, but that's what reviews are – subjective opinions.
And now, take a look at this review of William Hill:

This user *thinks* that the site is run by "fix people" who control games, blah, blah…
He doesn't explain why he thinks like that, what made him think like that, and so forth. For us, these types of reviews have no credibility and should be immediately discarded.
Conclusion – Should You Bet on It?
With all we've said in the review of William Hill, we can conclude our in-depth analysis of this UK online bookie. William Hill is an exceptional sportsbook with lots to like and admire. Its name is perhaps the oldest in the game, its betting experience is excellent, and you get a quality mobile app.
In terms of downsides, we'd mention the lack of the loyalty program, as well as mediocre betting options.
So, should you bet on William Hill? In our opinion, yes, you should definitely enjoy this gigantic UK online bookmaker! Sign up now and get your £30 welcome bonus using the button below.
How to Register on William Hill?
If you want to register on William Hill, know that it's a very easy thing to do. We'll quickly go over it and see how you can complete the registration process in a few minutes.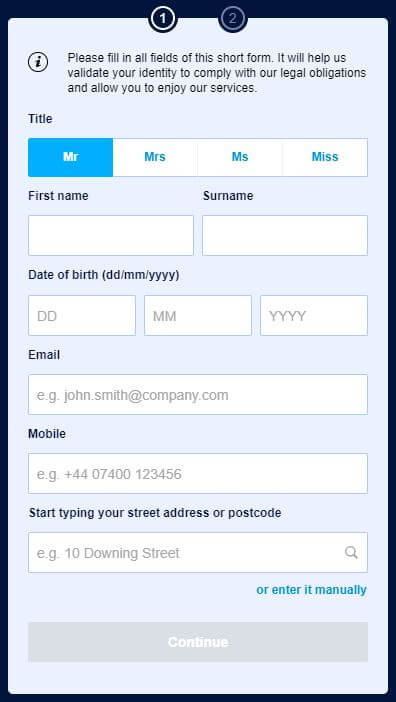 Click on the yellow Join button in the top-right corner and the first registration screen will appear. Here, you need to choose your title, enter your full name, date of birth, email, mobile phone, and your address. Make sure that this information is genuine, otherwise, you won't be able to verify your account later on. Click Continue and proceed to the next (last) step.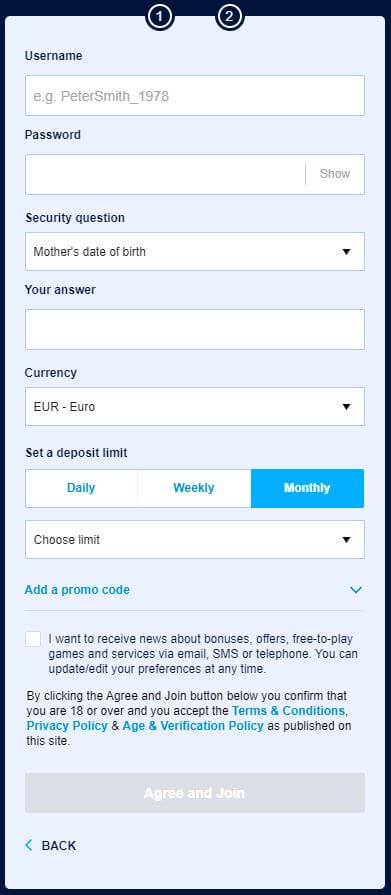 In this step, no personal info is needed. Just come up with a unique password and username, add your security question, and choose the currency you want to use. You can then limit your deposits on a daily, weekly, or monthly basis, so do that if you want. As for the promo code, it's P30, but you don't need to enter it if you used our button above. Just click Agree and Join.
After that, you'll get no verification email or anything similar, leaving you to explore the website freely. Of course, if you want to withdraw your winnings, you're going to need to verify your account.
Verification Process – What Do You Need?
Speaking of verification, this process is as easy as the registration process. Here's how to go through it: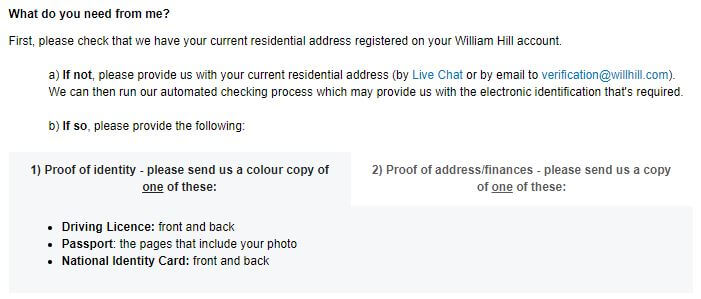 There are two verifications to do – identity verification and proof of address/finances.
In the first case, you need to send a copy of one of the three documents – driving license, passport, or national ID. These documents show your full name and picture, which verifies your identity.
In the second scenario, you'll need to prove your address and finances. Documents like a utility bill or a bank statement not older than a few months will do the job. Just make sure that you've photographed it clearly so that the support team can easily verify your account.
FAQ
Now, let's answer some of the commonly asked questions we didn't answer in our William Hill review:
⏳ How long do William Hill withdrawals take?
It depends on the payment method. But a general rule is 1 to 5 working days.
? Is William Hill app safe?
Yes, it is safe. William Hill app is available on the Apple Store and the Google Play Store.
? How do you claim your free bet on William Hill?
You can claim your free bet by placing a bet with a £10 stake on the odds of at least 1/2 (1.5). This is a welcome bonus and applies only to new customers. To get it, just click here.